This Caramel Chocolate Chip Cheesecake recipe is the stuff dreams are made of. The vanilla cheesecake base is studded with chocolate chips for days & topped with the most buttery, delicious homemade caramel sauce! I'm in love!
You can't beat cheesecake recipes that are filled with chocolate chips. If you love this Caramel Chocolate Chip Cheesecake you'll definitely want to try this easy Chocolate Chip Shortbread Cheesecake recipe and these delicious little Chocolate Chip Cookie Dough Cheesecake Balls.
This post is sponsored by ALDI, but all opinions are my own.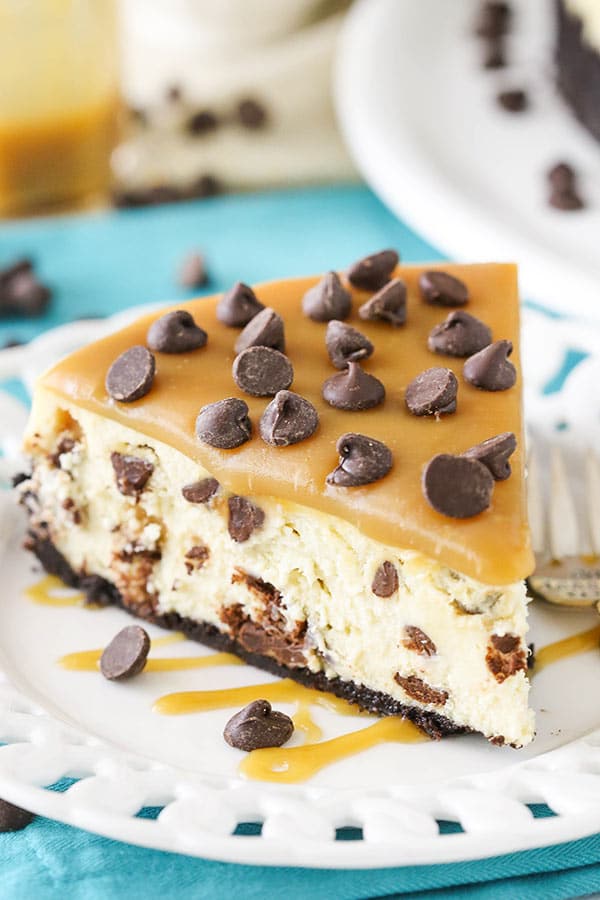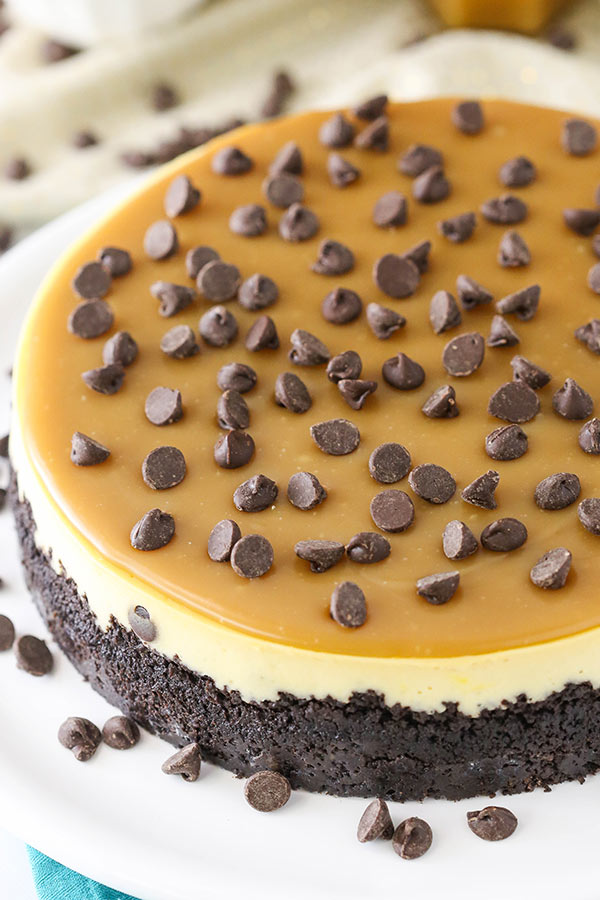 A Delicious Homemade Caramel Cheesecake
I'm excited to say that I'll be partnering with ALDI again this year to bring you tasty desserts like this cheesecake. If you follow me on Instagram stories, you may have seen that I was in Chicago a couple weeks ago. For part of the trip, I was visiting my cousin and waiting for her baby to pop out (it didn't, and I was bummed). For the other part, I got to eat lots of good ALDI food and check out one of their newly renovated stores.
They are renovating the majority of their stores over the next couple of years and I have to tell you I'm pretty pumped. The new store was beautiful! From design-type things like pretty lighting around the wine (helllllooo inexpensive yummy wine) and opening up the aisles, to expanding the fresh produce section. I can't wait for ours to get the updates!
I was also excited to see lately that they've expanded their meats to include hormone-free options, like chicken. I've been trying to stick to hormone-free meat lately since we will be starting IVF soon and it's recommended. I'm loving that there are some good less expensive options for that at ALDI.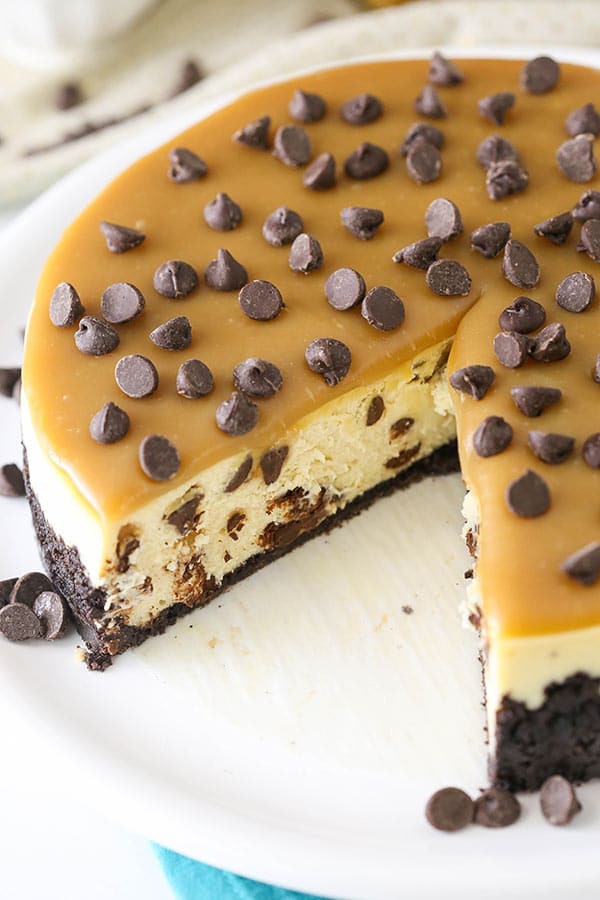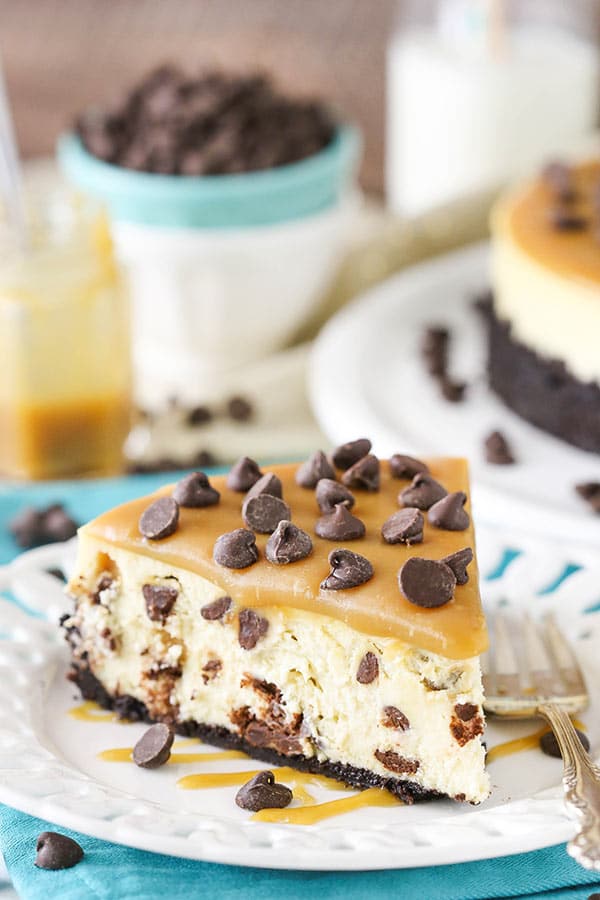 How To Make this Chocolate Chip Cheesecake With Homemade Caramel Sauce
And then of course there's plenty of baking options, which were used in the making of this glorious cheesecake!
There are so many times where I wish I could give you a taste of something through the computer screen and this is one of them. For the crust, I started off with some chocolate sandwich cookies and a little melted butter. So hard to go wrong with this kind of crust and it's perfect with the chocolate chips.
The base of the cheesecake is vanilla with a hint of brown sugar. It's super smooth and creamy. It's also studded with a full cup of chocolate chips. I considered trying the mini chocolate chips, but I'm so glad I used the full sized ones. Every bite of chocolate chip delivers just enough chocolate with the creamy cheesecake!
And then the caramel on top. Oh, the caramel! It's an easy one to make right on the stove. You just toss everything into the pan to get started. Let it sit on medium heat for a bit while the butter and brown sugar melt, then bring everything to a boil. The caramel flavor and color will deepen and everything will begin to thicken. Once it's done, let it cool for about 15 minutes or so while it thickens a little more. You want it to still be pourable, but also able to hold its place on the cheesecake.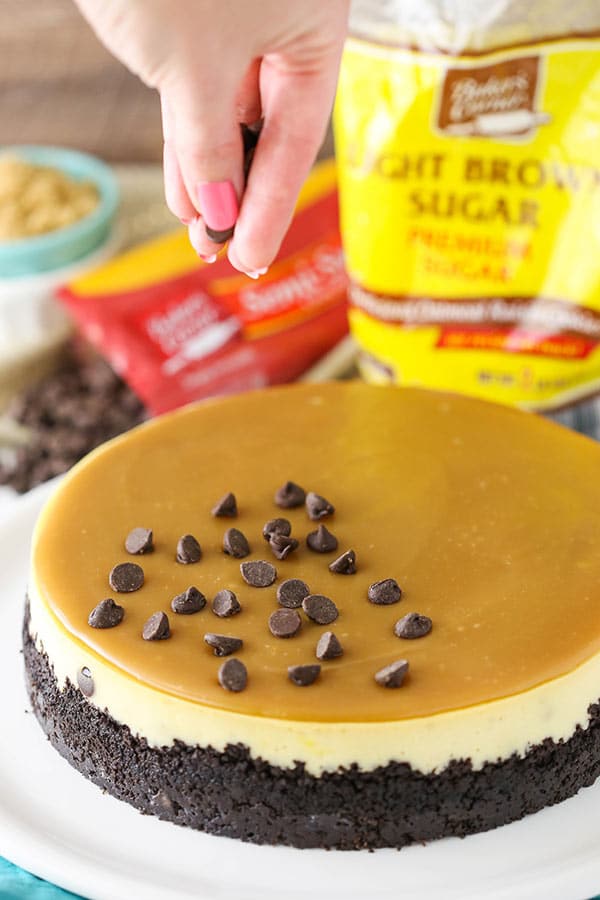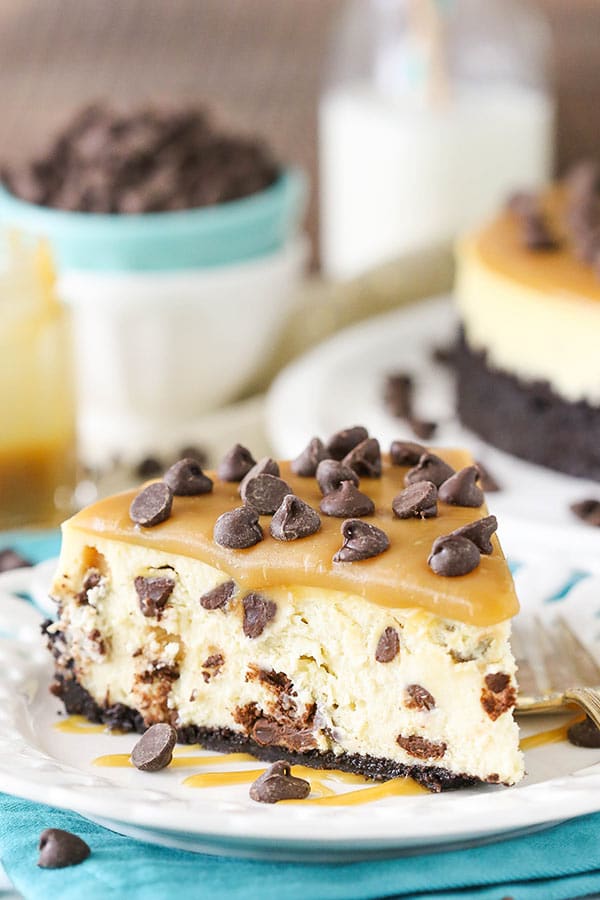 Pour the sauce on the cheesecake, add some more chocolate chips for good measure and devour! Seriously, devour is the right word. The pops of chocolate, the smooth and creamy cheesecake and the buttery brown sugar caramel sauce are absolutely amazing together. I actually took the cheesecake to share with some friends and one person literally stopped everything we were doing just to tell me how good it was. It's time to get on it people! Who's ready to make a cheesecake?!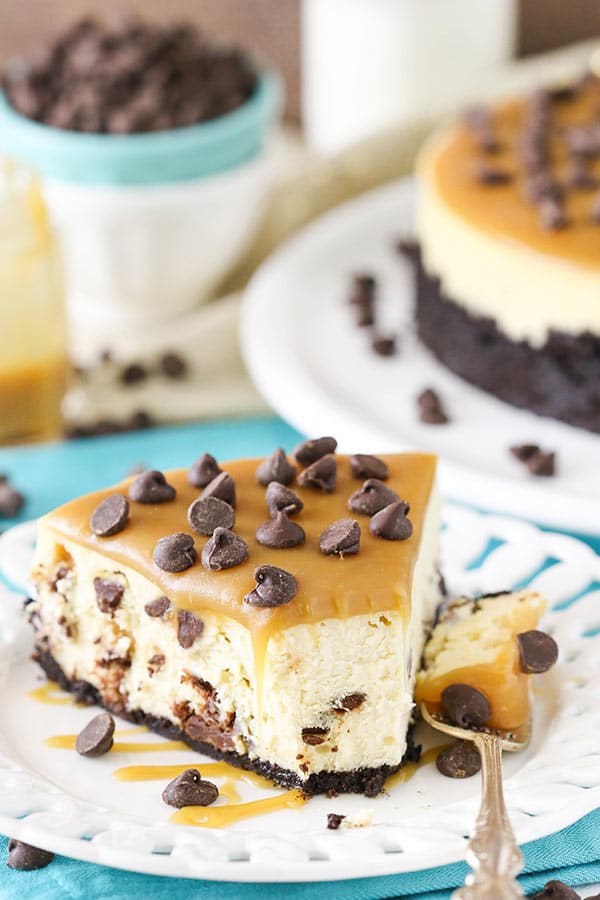 Read transcript
Print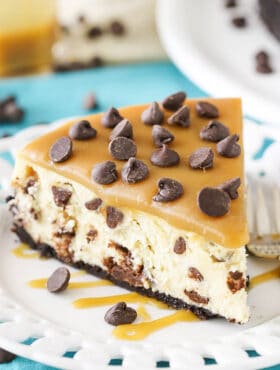 Recipe
Caramel Chocolate Chip Cheesecake
Author:

Prep Time:

1 Hour

Cook Time:

2 Hours, Plus Cooling

Total Time:

3 Hours, Plus Cooling

Yield:

12-14 Slices

Category:

Dessert

Method:

Oven

Cuisine:

American
---
Description
This Caramel Chocolate Chip Cheesecake recipe is the stuff dreams are made of. The vanilla cheesecake base is studded with chocolate chips for days & topped with the most buttery, delicious homemade caramel sauce!
---
Ingredients
CRUST
2 ¼ cups

(

302g

) Benton's Chocolate Sandwich Cookie crumbs

5 tbsp

(

70g

) Countryside Creamery Salted Butter, melted
CHOCOLATE CHIP FILLING
24 ounces

(

678g

) Happy Farms Cream Cheese, room temperature

1/2 cup

(

104g

) Baker's Corner Sugar

1/2 cup

(

90g

) Baker's Corner Light Brown Sugar

3 tbsp

(

25g

) Baker's Corner All-Purpose Flour

1 cup

(

230g

) Friendly Farms Sour Cream

1 tbsp

 Stonemill Vanilla Extract

4

 Goldhen Eggs, room temperature

1 cup

(

172g

) Baker's Corner Semi-Sweet Chocolate Chips
CARAMEL SAUCE
4 tbsp

(

56g

) Countryside Creamery Salted Butter

2/3 cup

(

150g

) Baker's Corner Light Brown Sugar, packed

3/4 cup

(180ml) Countryside Creamery Heavy Whipping Cream

1 tsp

 Stonemill Vanilla Extract

2 tsp

 Baker's Corner Corn Syrup
---
Instructions
CRUST

1. Preheat oven to 325°F (163°C). Line a 9-inch (23cm) springform pan with parchment paper in the bottom and grease the sides.
2. Combine the crust ingredients in a small bowl. Press the mixture into the bottom and up the sides of the springform pan.
3. Bake the crust for 10 minutes, then set aside to cool.
4. Cover the outsides of the pan with aluminum foil so that water from the water bath cannot get in. Set prepared pan aside.
CHEESECAKE FILLING AND TOPPING
5. Reduce oven to 300°F (148°C).
6. In a large mixer bowl, mix the cream cheese, sugars and flour until well combined (Use low speed to keep less air from getting into the batter, which can cause cracks). Scrape down the sides of the bowl.
7. Add the sour cream, then the vanilla, mixing on low speed until well combined.
8. Add the eggs one at a time, beating slowly and scraping the sides of the bowl after each addition.
9. Stir in the chocolate chips.
10. Pour the cheesecake filling into crust and spread into an even layer.
11. Place springform pan (covered with aluminum foil) inside another larger pan. Fill the larger pan with enough warm water to go about halfway up the sides of the springform pan. The water should not go above the top edge of the aluminum foil on the springform pan.
12. Bake for 1 hour and 10 minutes.
13. Turn off heat and leave cheesecake in oven with door closed for 30 minutes.
14. Crack oven door and leave the cheesecake in the oven for about 30 minutes.
15.Remove cheesecake from oven and chill until firm, 5-6 hours or overnight.
CARAMEL SAUCE AND ASSEMBLY
16. Combine all ingredients in a medium sauce pan.
17. Heat on medium-low until sugar is melted, then turn heat to medium-high to bring to a boil.
18. Boil for 3 minutes, stirring occasionally, then remove from heat and immediately pour into a heat-proof glass bowl.
19. Let the sauce cool for 15 minutes or so, then pour over the top of the cheesecake and spread evenly.
20. Top the cheesecake with some additional chocolate chips.
21. Refrigerate cheesecake until ready to serve. Cheesecake is best when well covered for 3-4 days.
---
Nutrition
Serving Size:

1 Slice

Calories:

397

Sugar:

34.7 g

Sodium:

276.8 mg

Fat:

24.1 g

Carbohydrates:

40.3 g

Protein:

7 g

Cholesterol:

68.4 mg
Keywords: homemade caramel sauce, caramel cheesecake recipe, easy cheesecake recipe, chocolate chip cheesecake recipe, how to make cheesecake, homemade cheesecake
Filed Under:
Enjoy!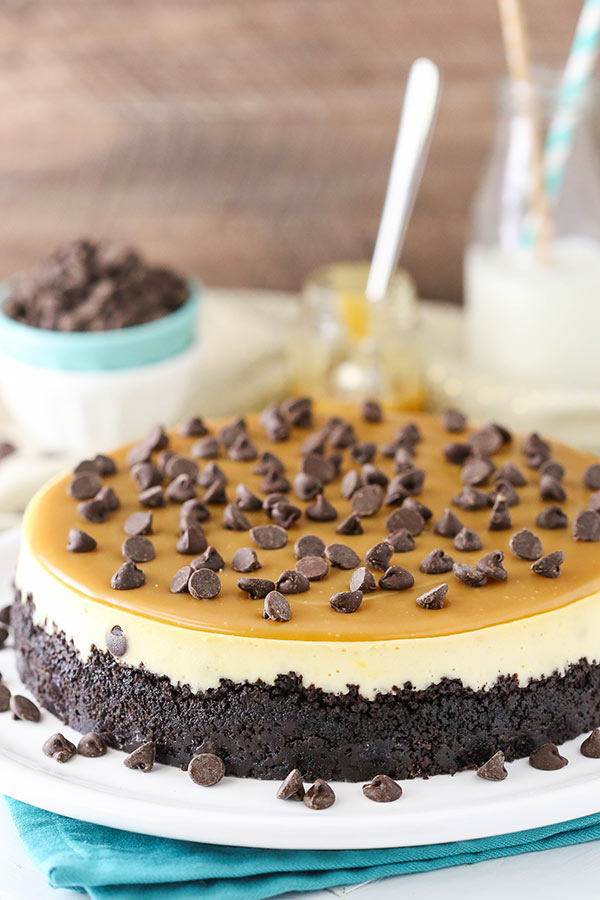 This post may contain affiliate sales links. Please read my disclosure policy.