This post may contain affiliate sales links. Please read my disclosure policy.
I'm back with more about our South African adventure today! A few weeks ago, I told you all about our visits with animals and the safari's we went on in my post – South African Safari Part 1. Today is all about Cape Town, known by many as one of the most beautiful places in the world. It's very far south and has the Indian Ocean on one side and the Atlantic Ocean on the other. We had lots of things in mind for this part of the trip, but we didn't quite get to all of it.
The view from our room.
One bummer was that since we were in Cape Town during their winter, it ended up being pretty foggy around the mountains. Apparently it's not like that during the summer. So one of the things I was most looking forward to (Table Mountain), we were unable to do. When it's not foggy, you can see the mountain from the city and it's supposed to be beautiful. You can also take a cable car up and look out over Cape Town. I really was bummed we didn't get to do that, but we still had a great time.
The first day we had was the prettiest. Sunny, but foggy up the mountains. We chose that day to drive along the coastline and check things out. It was amazing and there was so much more along the way than I realized. The red line on the map below is the route we took.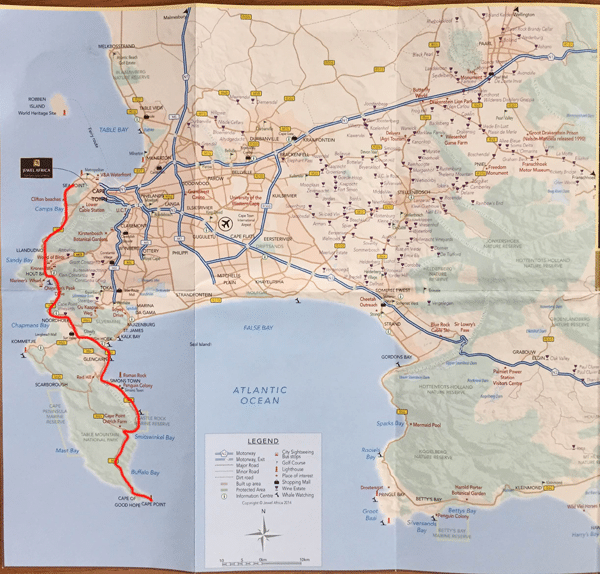 First up was Clifton. It's the fanciest of the beach areas. Honestly, the coastline reminded me a fair amount of California. Very rocky and cliffy. Another similarity to California – all the wineries (SO many!). The little purple wine glasses on the map above are just some of them.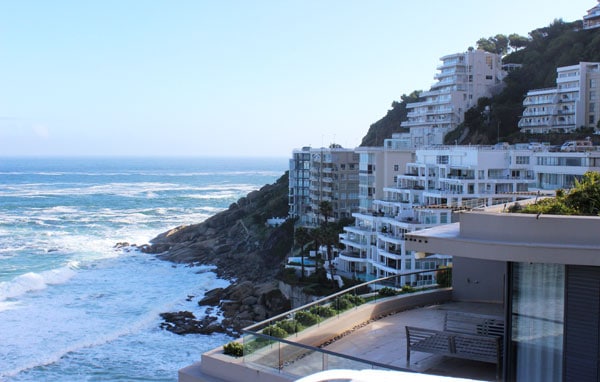 It was so cool to see how all the houses were built into the hills. I wanted every other house we saw. Especially the ones built onto the beach. Could you imagine stepping out of your backdoor and onto that sand? Bring it.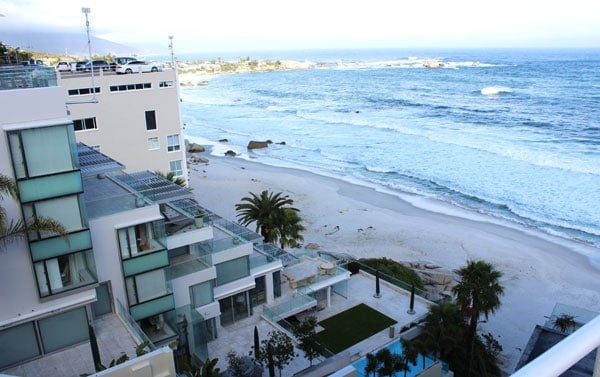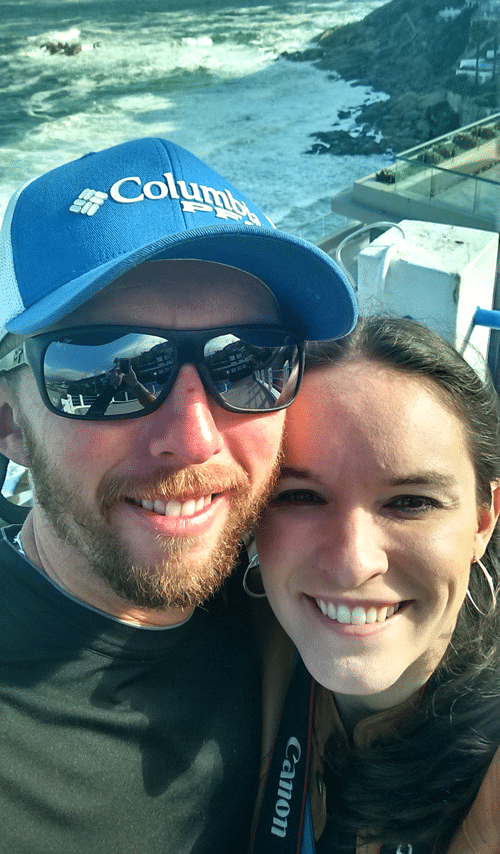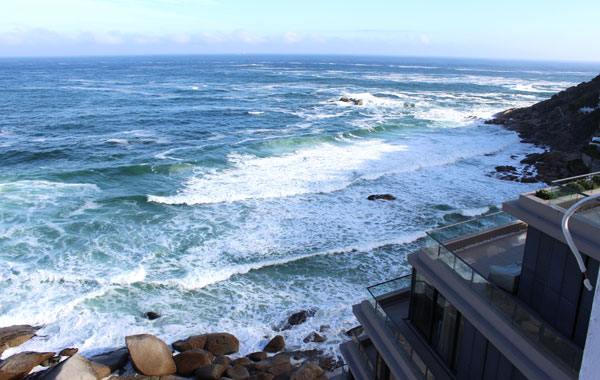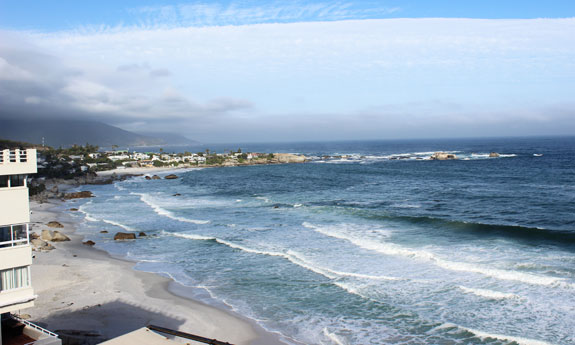 Despite all the fog, the mountains were also very pretty. It was cool to see beach, homes/town, then mountains. So much beauty in such a small space.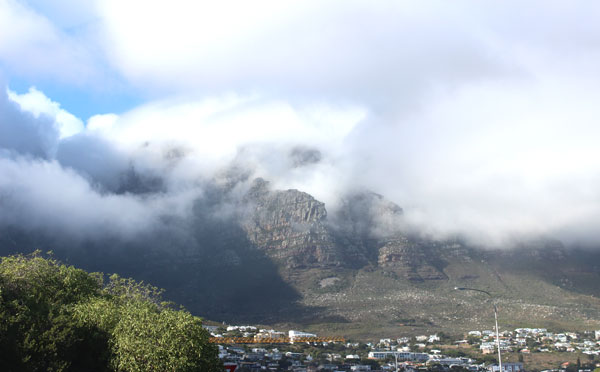 Next was Camps Bay. This one was probably our favorite. It was easy to get to, had a neat little area to walk around and grab food and the beach was very accessible as a beach to actually go to and enjoy the day.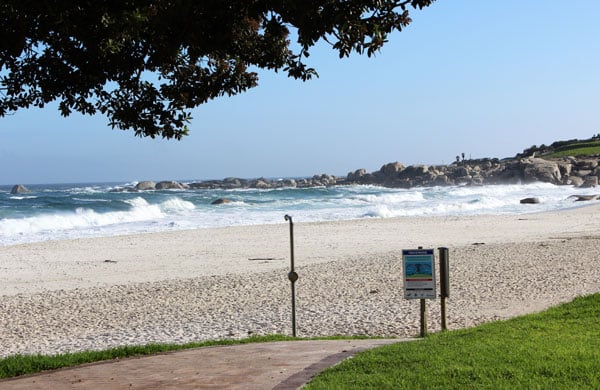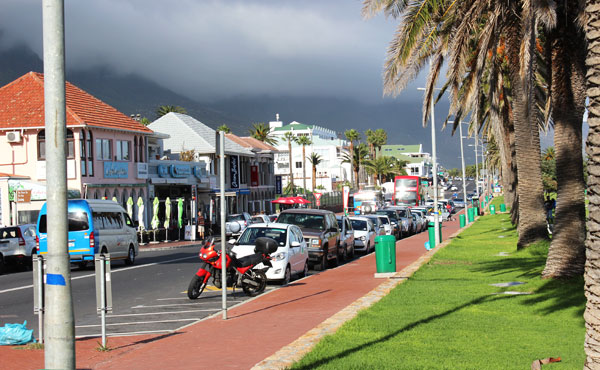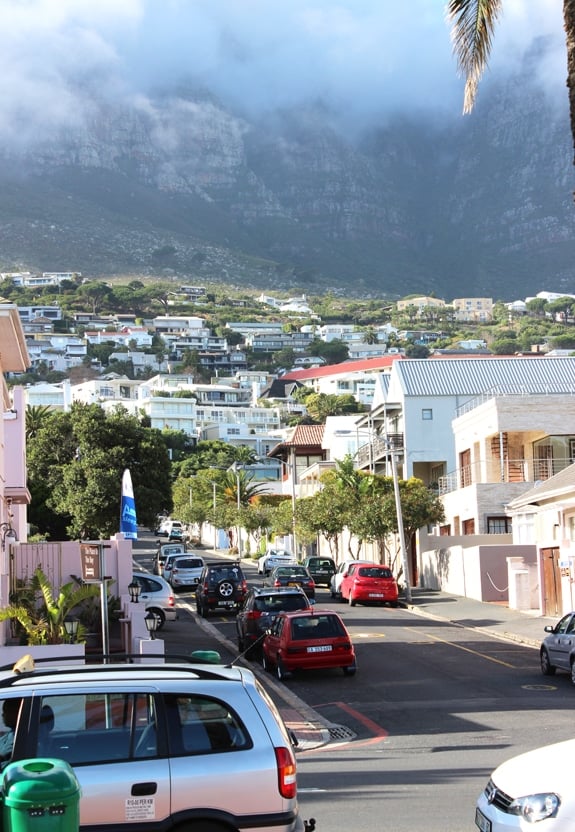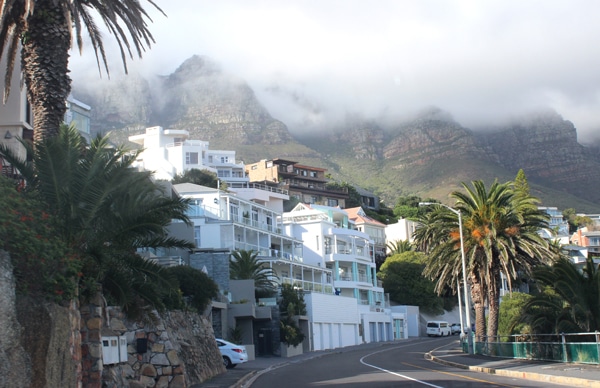 Then we got to Houte Bay, known for all their fishing. We had wanted to stop at Mariners Wharf for fish and chips (because the hubs has only been telling me how good it is since high school), but we had a lot of ground to cover, so he decided we should come back another day.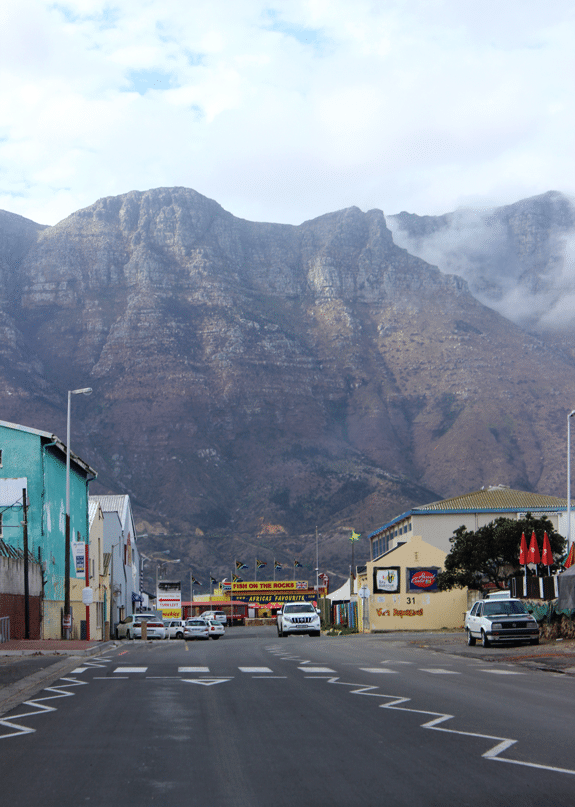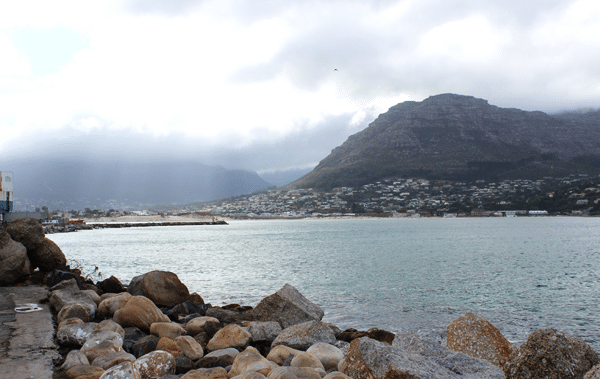 Sea lion!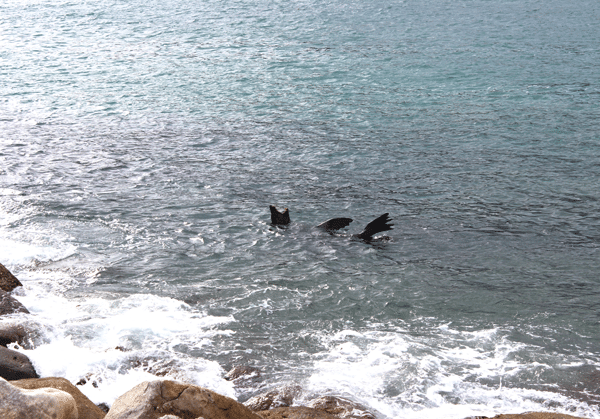 There was also a good beach here, surrounded by beautiful mountains.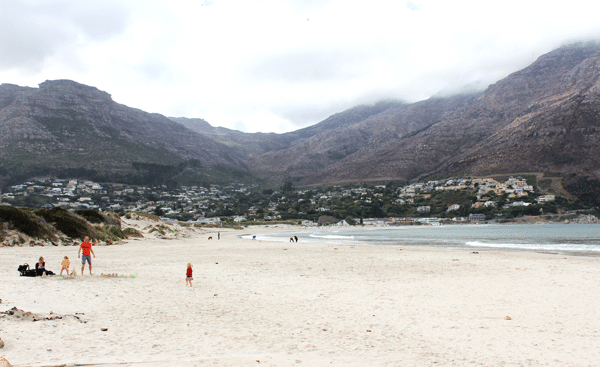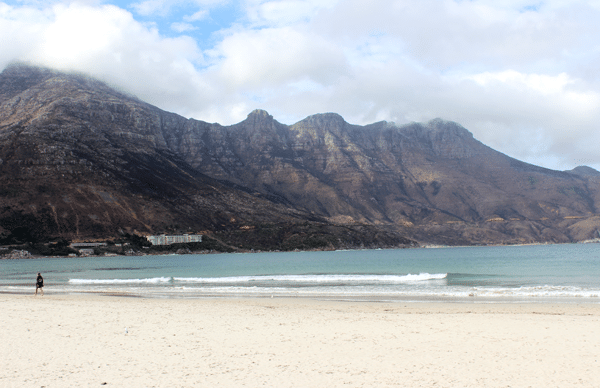 Looking back at Houte Bay as we continued our drive.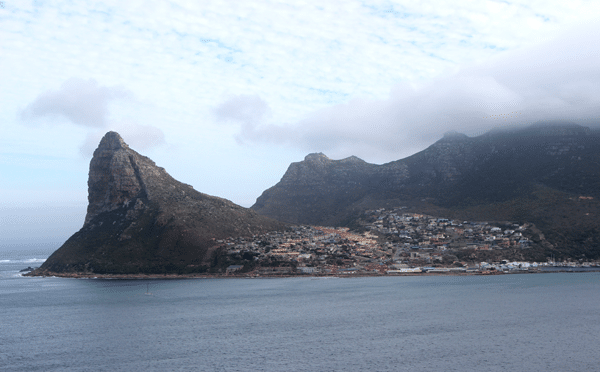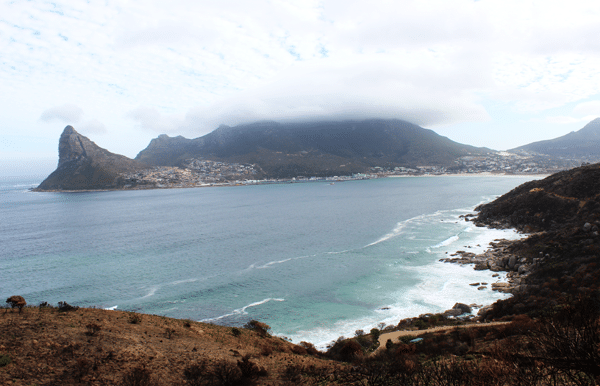 I thought the mountains and rockiness was super cool, so there's several pictures. 🙂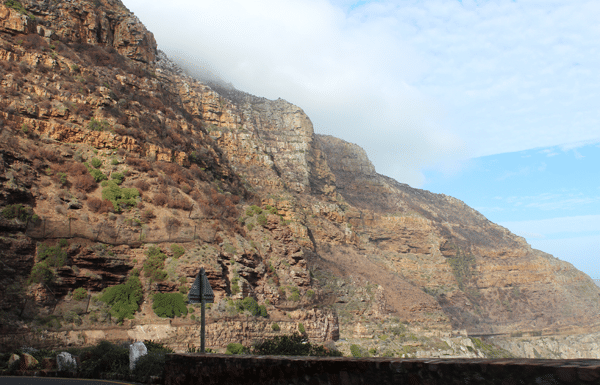 Another beautiful beach – Chapmans Bay.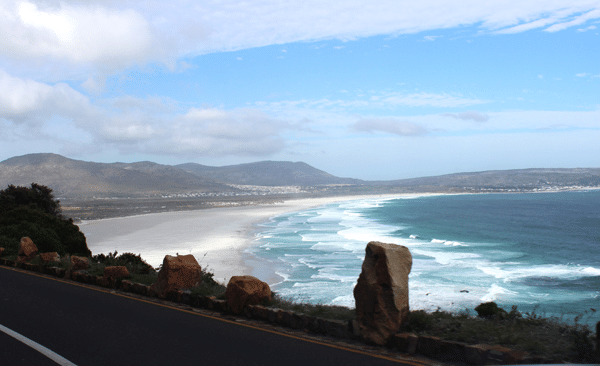 It was here that we finally were super hungry, but didn't want to have to stop. So what did we see? McDonalds! Because why wouldn't there be a McDonald's in Africa? So yea, we got a burger. 🙂 It tasted exactly the same.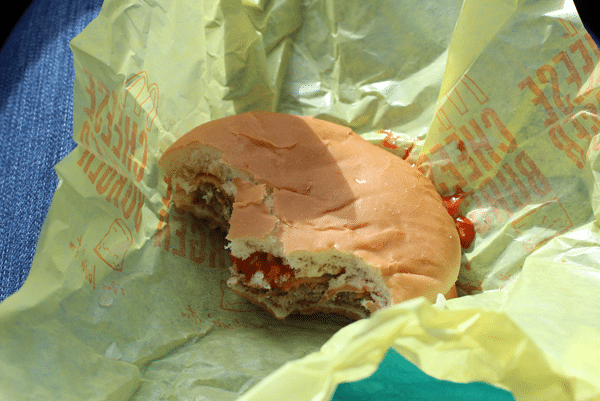 Then we crossed over to the other coast.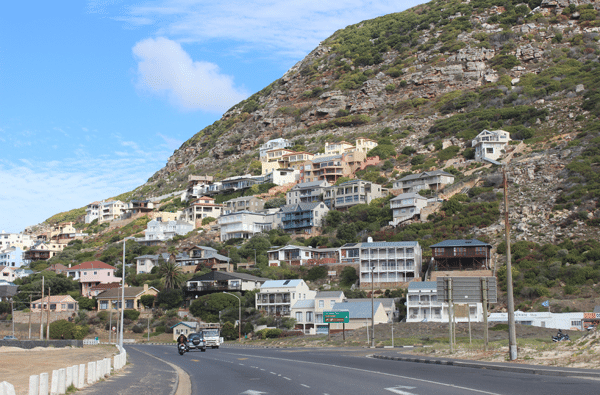 Driving into Simon's Town, there was some of the bluest water. I had no idea South Africa had such beautiful water and coastline. Seriously.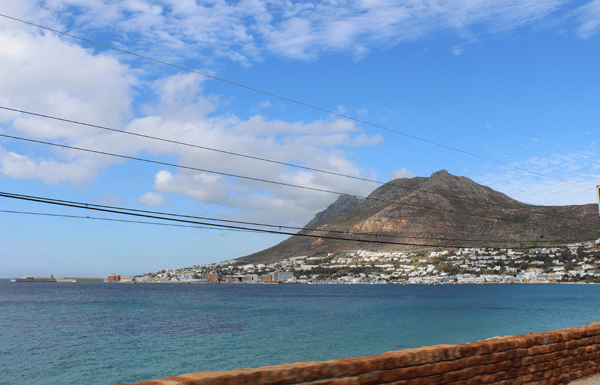 Such a cute town!
A sign you don't see every day – caution! Penguins!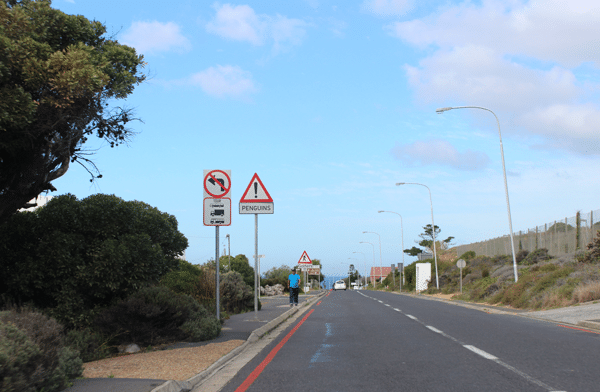 They might even be under your car!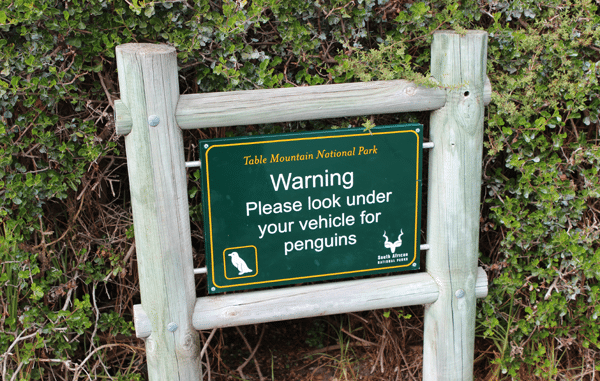 Right by Simons Town is the penguin colony with TONS of penguins. Of course I had to check it out.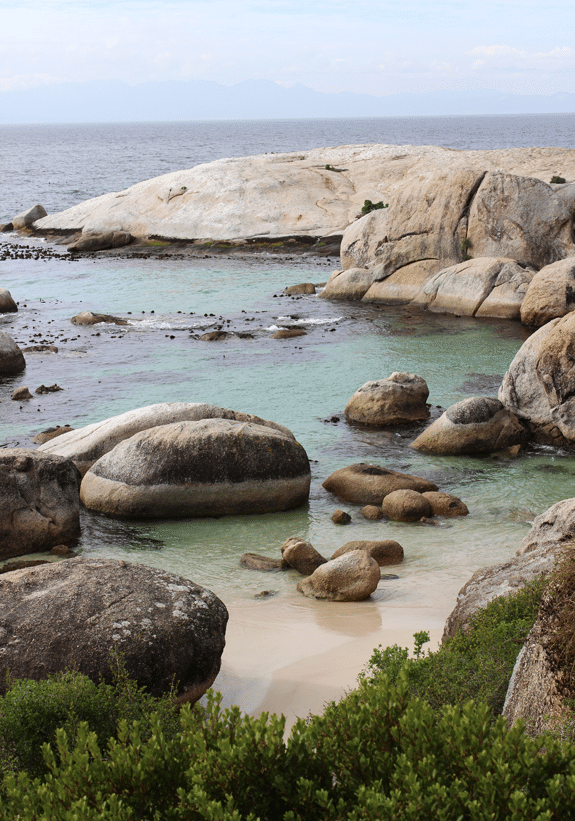 I'm pretty sure they have some of the best real estate.
They were all along the walkway.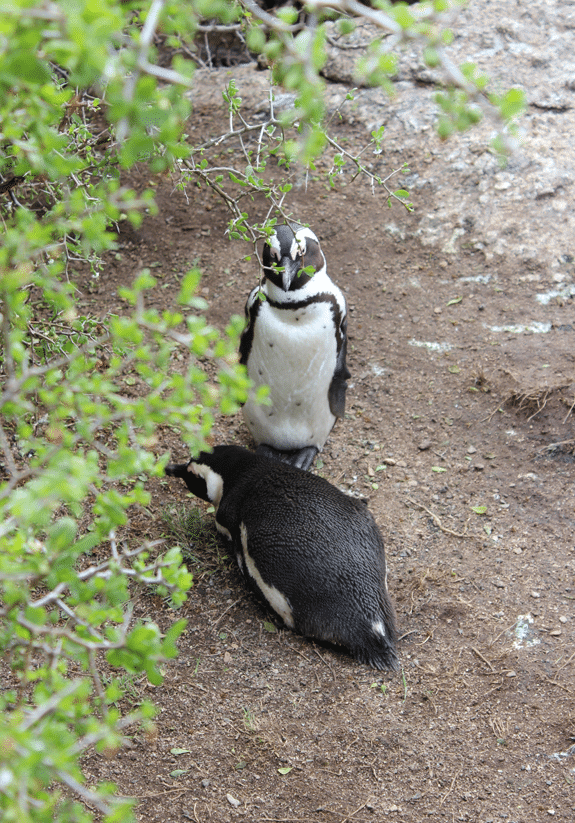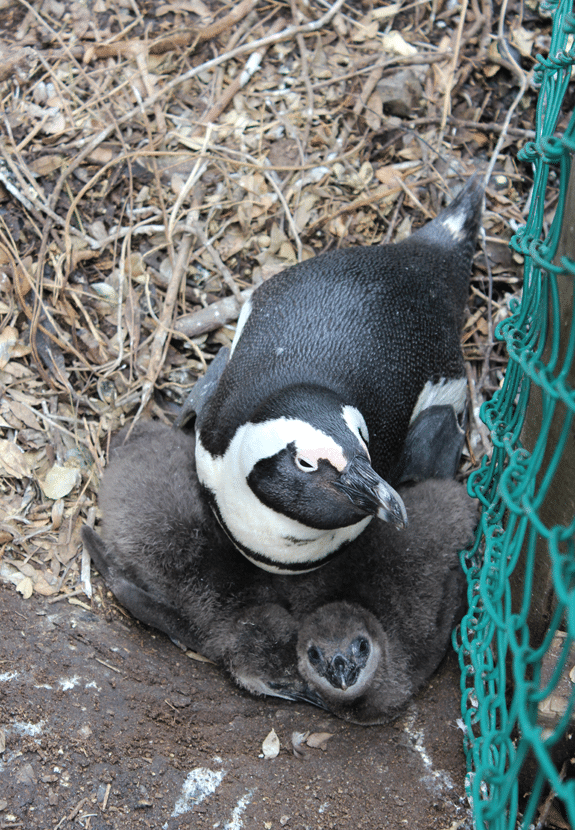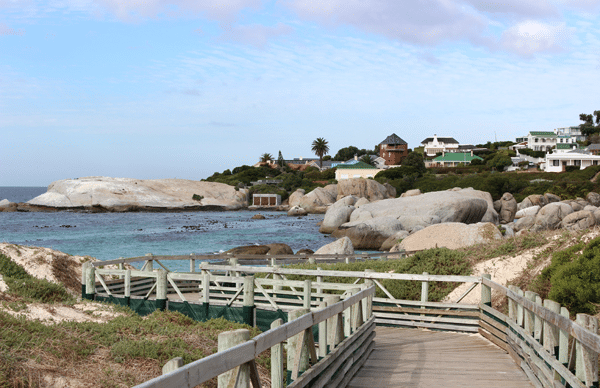 And ALL OVER the beach.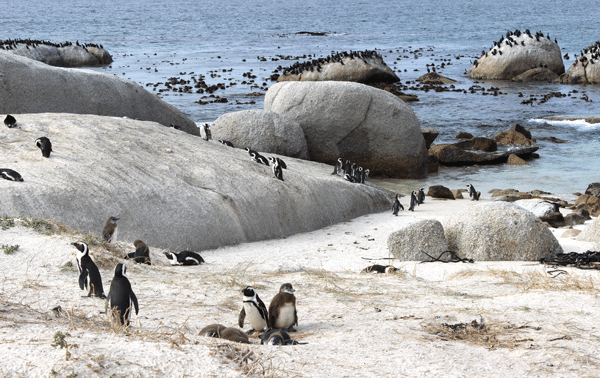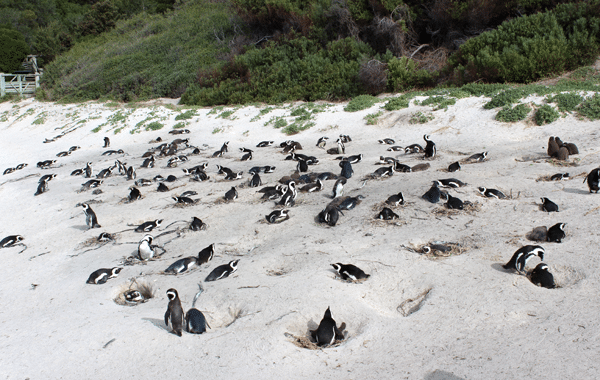 Aren't they so cute?!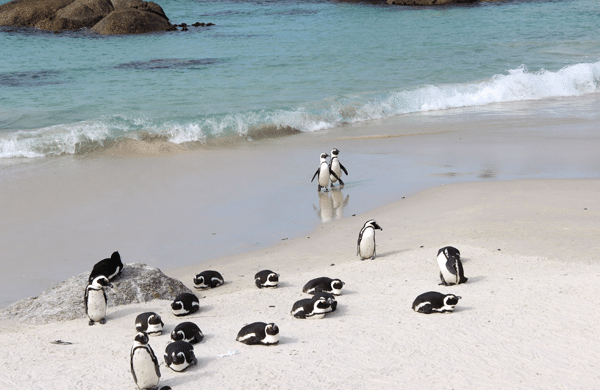 Then we kept driving…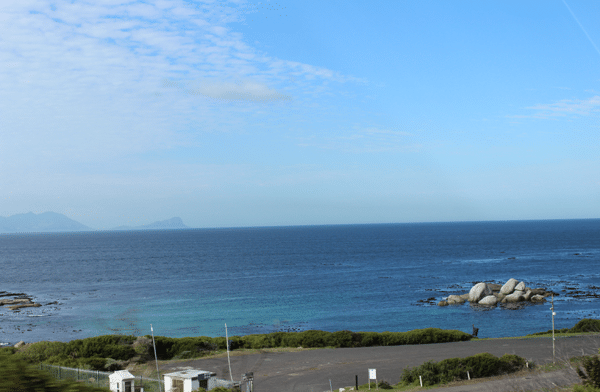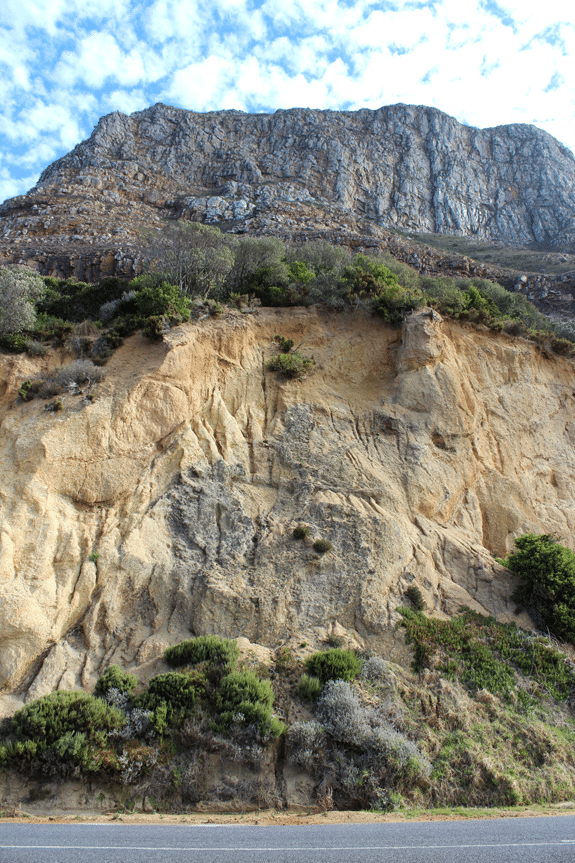 When we got to Cape Point and The Cape of Good Hope, we got out to walk around. I hadn't realized it was the kind of place you get out and walk around/hike. I figured you drive up, check it out and that was it. But no. Wrong. There's a LOT of walking involved. You'll notice in some pictures that I wore flats. Not a good call. Hiking around mountains in flats is no good. It was worth it, I'd just wear sneakers next time.
Baboons everywhere. On cars. Stealing people's food. I didn't get a picture, but there was one area where there had to be at least 20 of them just hanging out. Nutty.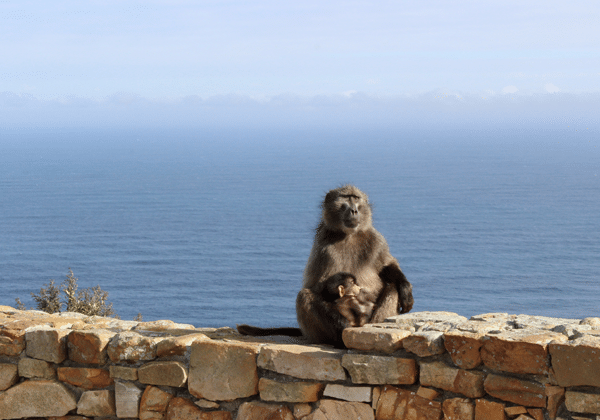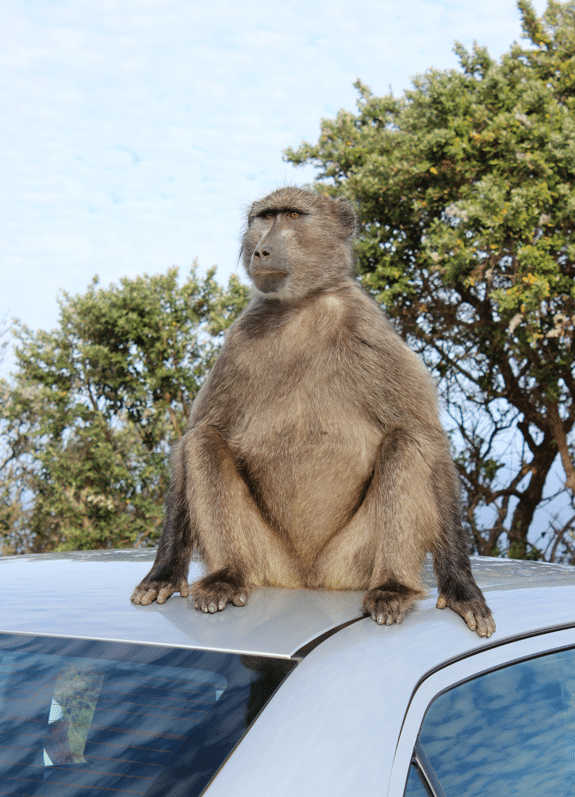 So at Cape Point, there's two lighthouses. This point of South Africa is a hard area for boats to be able to get around. There's actually a few wrecked boats out there and because of the fog they get, they had to move the original lighthouse. This is the original one. It was built up high so boats could see it. But because of the fog, it was hidden a lot and boats couldn't see it.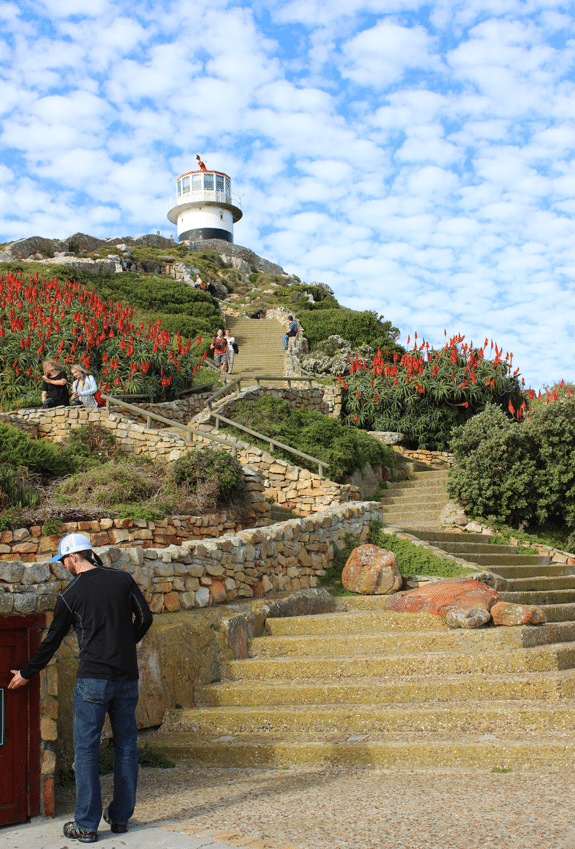 So this is the new one, built lower so it'll be out of the fog. Darn fog.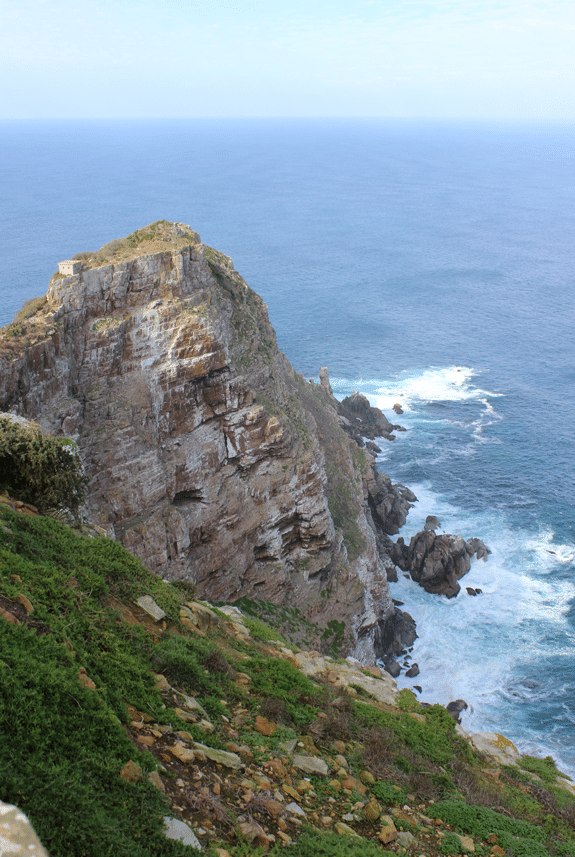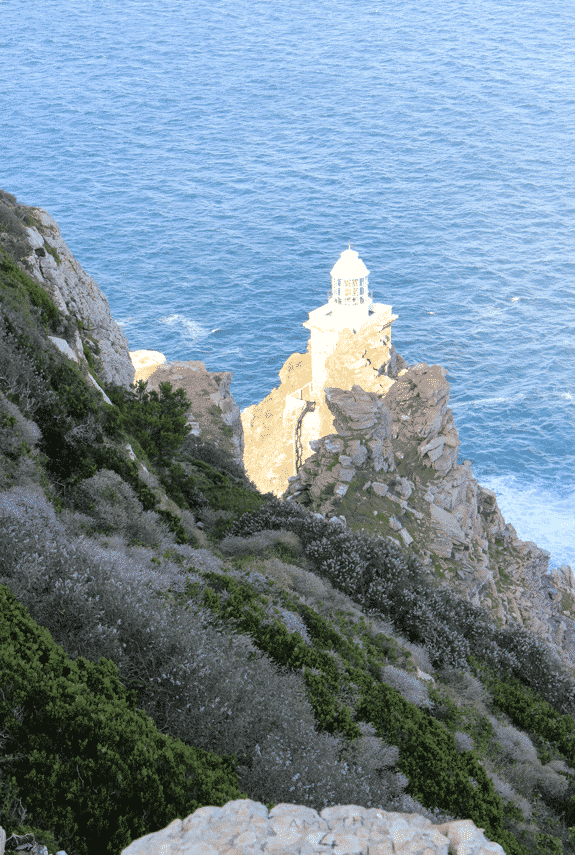 And this is Dias Beach. It sits between Cape Point and Cape of Good Hope. So beautiful.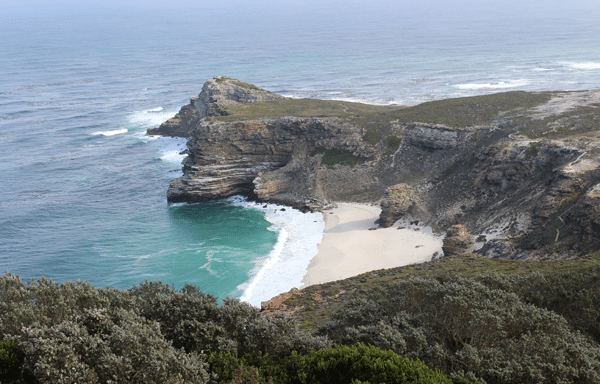 We decided to make the walk down to where the new lighthouse was and to get to the farthest point south that we could. 🙂 It was this tiny little path.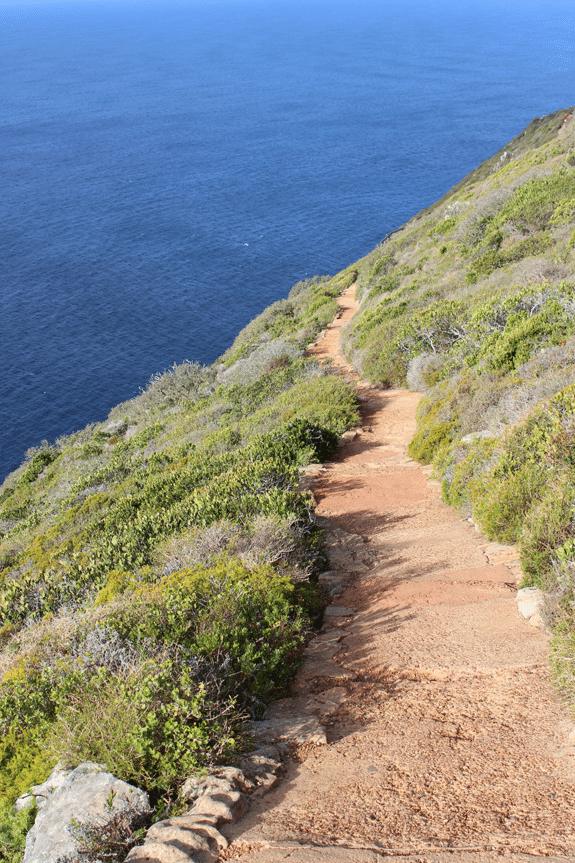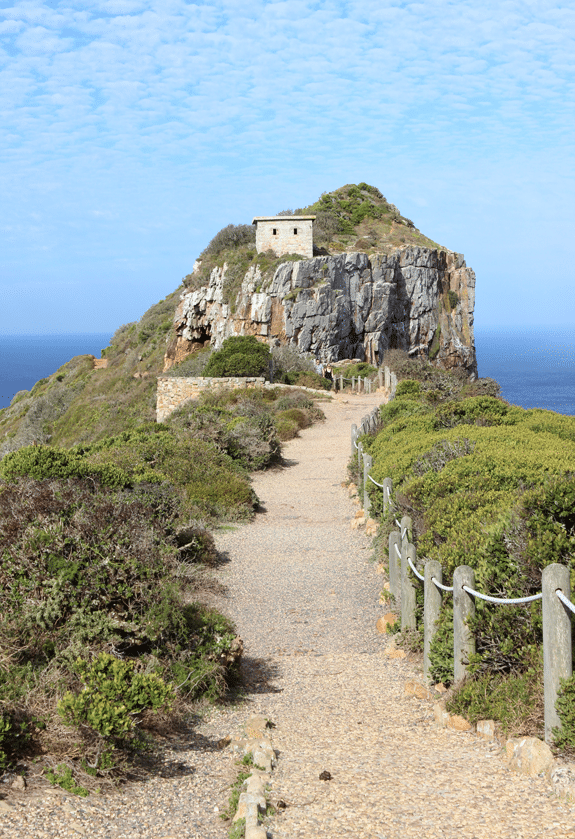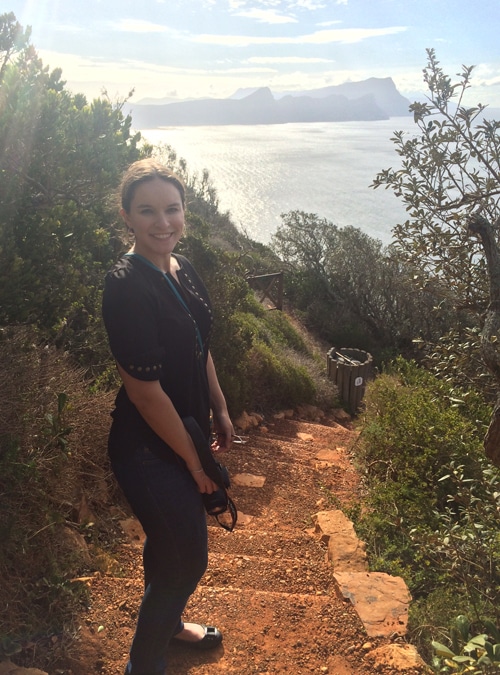 The view back from the point was beautiful.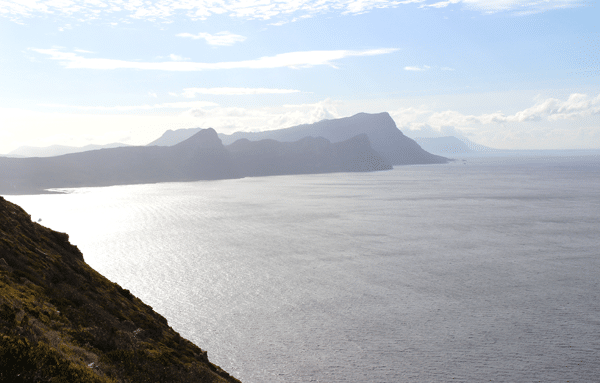 And we sat and watched the waves for a while. So pretty, we had to take it all in.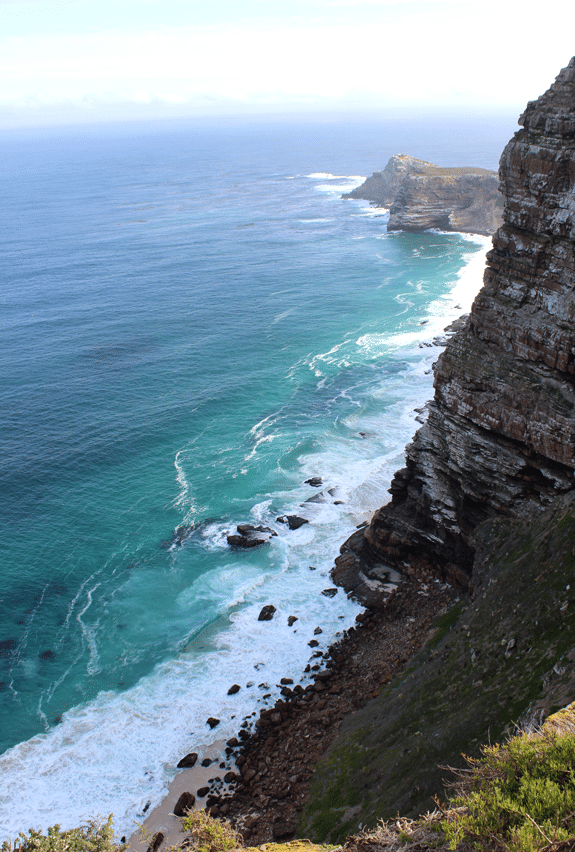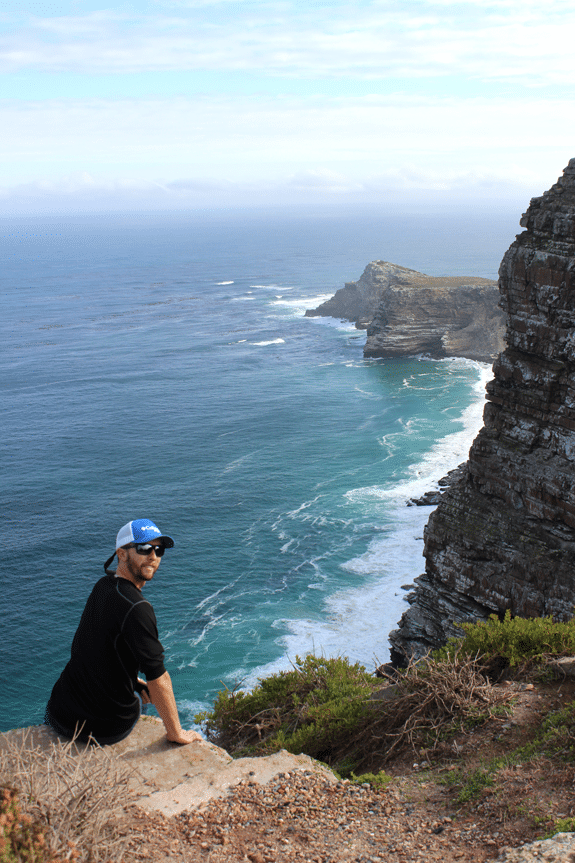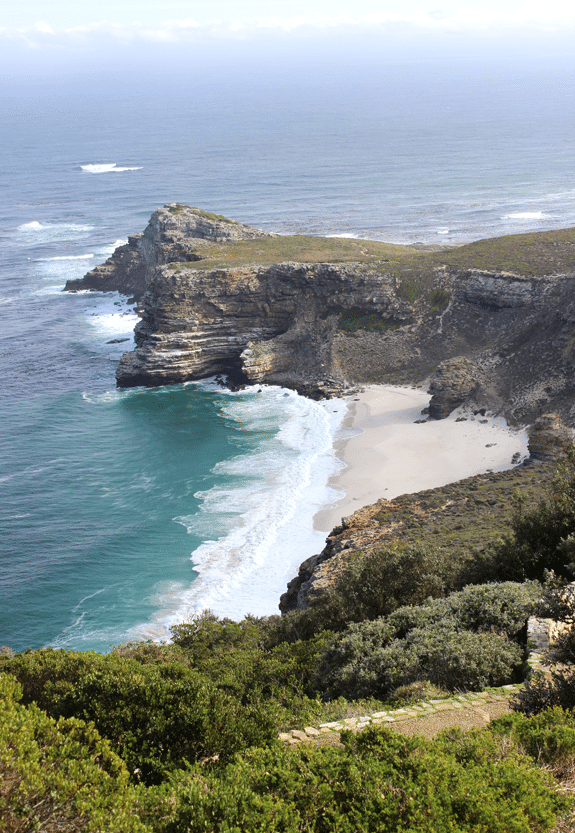 Then we drove over to where we could walk around the Cape of Good Hope.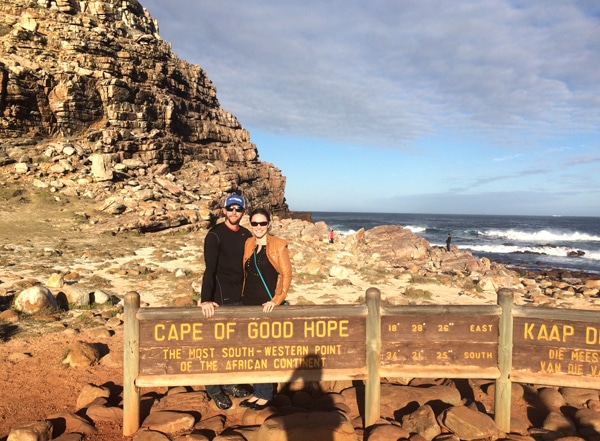 Another tiny path. 🙂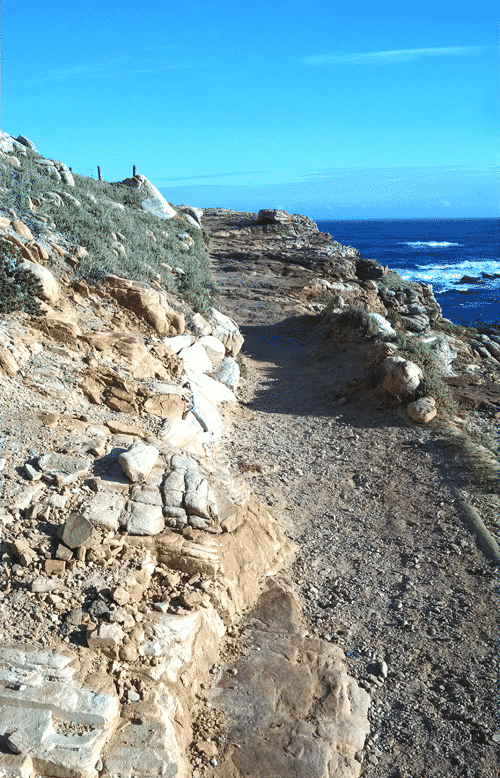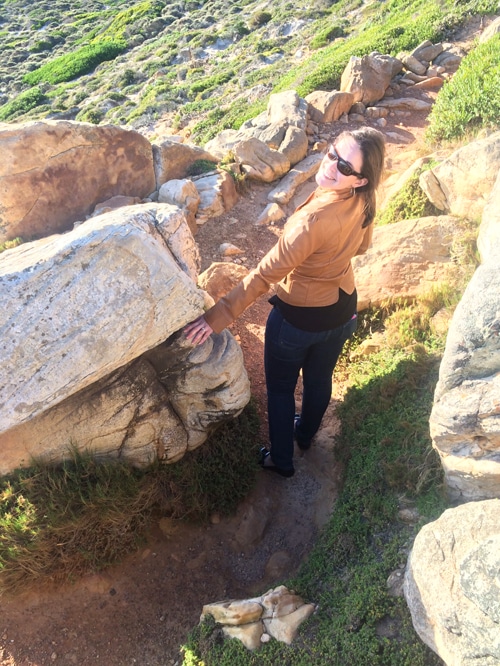 And hiking. So many beautiful views.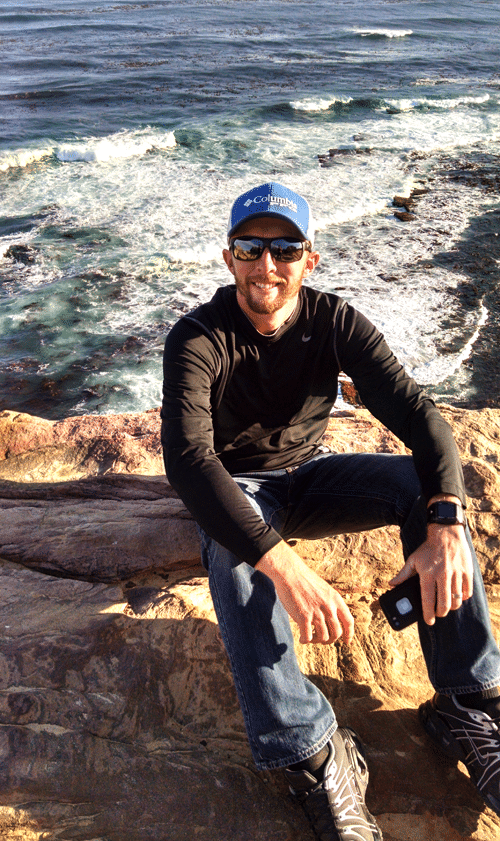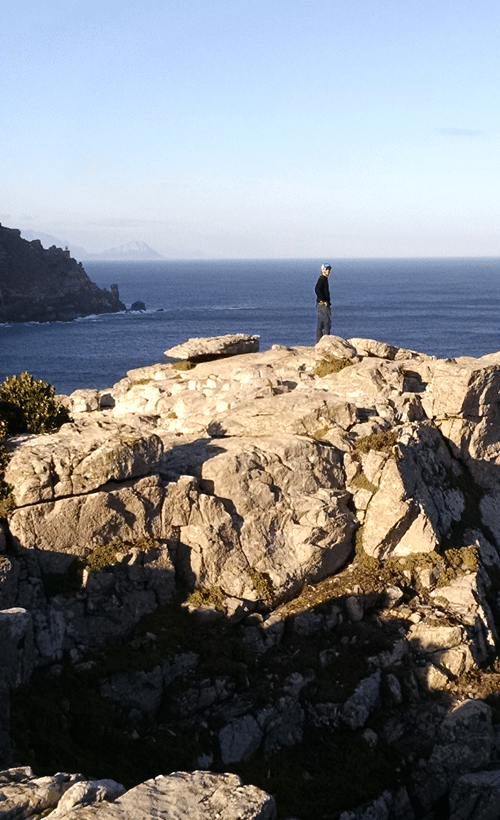 I sat and looked at my beach (which is what I started calling Dias Beach) for a while. It was so pretty, so untouched. I was dying to find my way down there and put my footprints right in that beautiful white sand. 🙂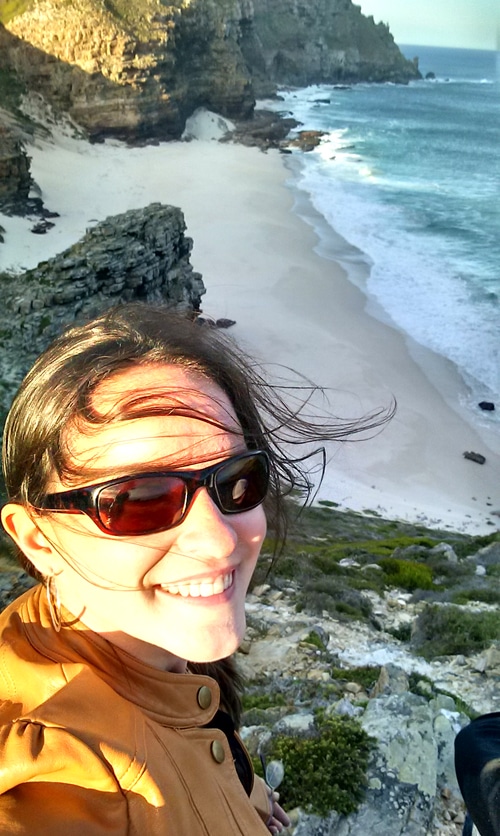 Then we had to go. 🙁 We had to meet some of the hubs' family for dinner and we had quite a drive back, so we got up to go and started walking. This is where it got real.
We'd noticed some ostrich chillin' when we were walking over. One big mom and maybe 6-8 "kids". They weren't babies, but they weren't fully grown. I remember thinking, "Oh that's cool. We hadn't seen ostrich yet. Check that off the list."
No. No. No.
We came over a little hill and right in the path, less than 10 feet away, was the big momma ostrich. She looked right at us and was not happy. Immediately, the hubs was like, "Turn around. Go. Now."
Apparently you do not mess with a big ostrich.
So we walked. We got over a hill, where we couldn't see her anymore, and waited. She had followed. So we kept walking.
We got over another hill and waited. We were looking back to see if she came. All of a sudden her head popped up over the hill, looking for us.
I about crapped myself.
At that point, we just kept walking. I was pretty sure we were gonna die. The hubs was all, "Don't run, she'll chase"
I was all, "We're gonna die."
The hubs remembered another path we'd seen and suggested we try that, so we did.
Well that path ended at a cliff. No go.
I had no idea what we were gonna do. There was only one way back to the car, unless we took the path back over to Cape Point, which would've taken almost 2 hours. The sun was setting and the park was closing in about 45 minutes.
Death was surely imminent.
Next thing I know, the hubs is all, "We have to get to dinner. We are going through those birds."
I'm like, "Forget dinner, we need to live."
He started gathering rocks and getting very bossy. 🙂 And very serious. So what did I do? I took photos. If we lived, I needed proof of this ridiculousness.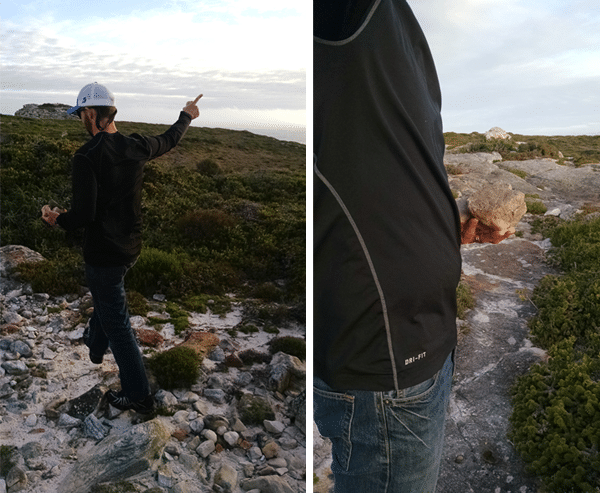 Of course I took the pics very covertly. If the hubs had noticed he'd have not been happy. Once it was over though (obviously we lived) he was glad I had them. 🙂
So I'll try not to make this story too long. Basically, we came back down the path and a "kid" ostrich was there. He was not bothered by us at all, but also wasn't moving. The hubs brilliantly started making some noises that got him moving, so we followed and tried to get down the path.
Then we came over a hill and there was momma ostrich again. Boy was she a mean looking bird.
The hubs continued with the noises – and she ran off! It was amazing! It was then that I realized we might just live!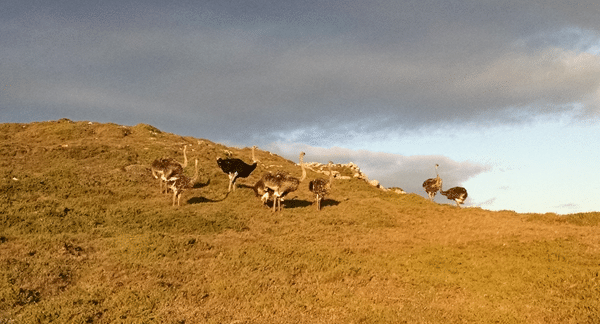 They moved out of the path, though not too far away, and we moved quickly. We got to a little bridge that was made of wooden slats, which we knew they wouldn't cross, and were relieved.
Life! We were gonna live!
And coincidentally enough, the dinner we were meeting his family for was a preset menu – with ostrich as the main course.
We win. 😉
I was quite windblown when we finally made it back to the car. And relieved to be alive.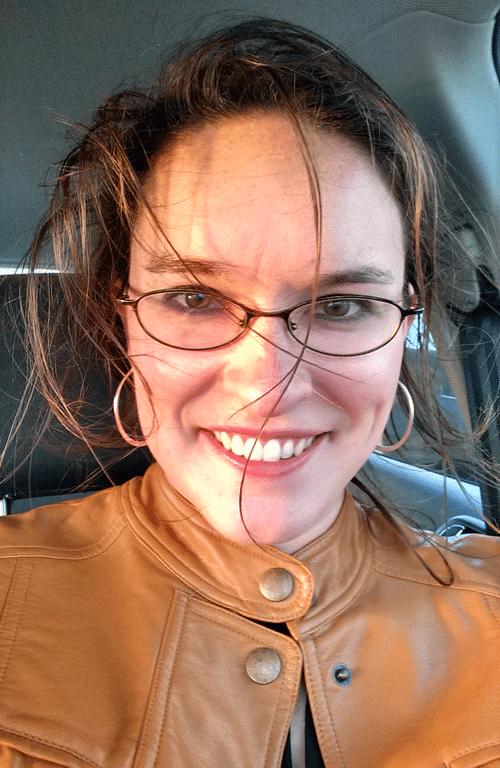 The rest of the trip was not life threatening, fortunately. The next day we went to the area called the V&A Waterfront. It's on the water, with a mall and lots of shopping. Yay!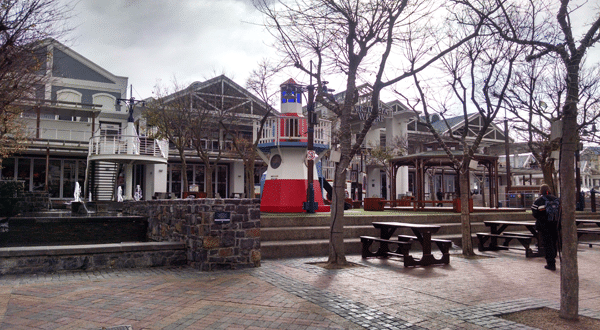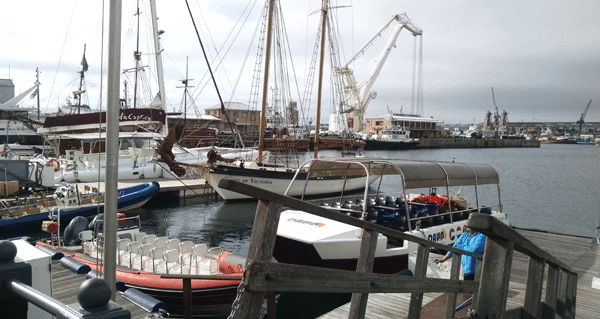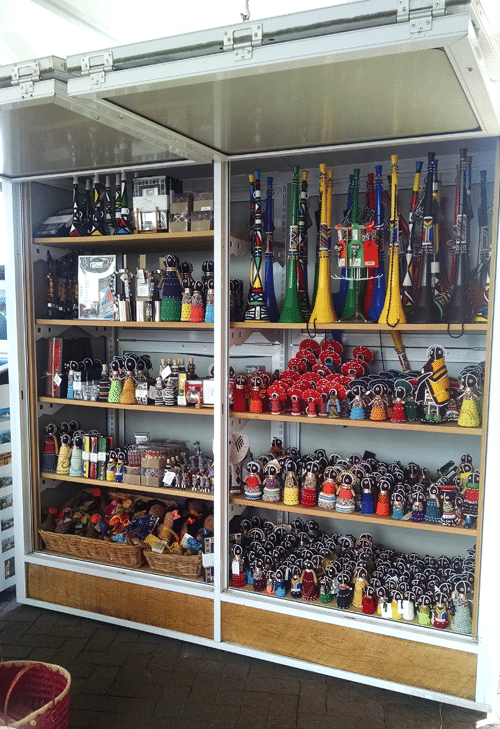 This lion is made entirely of beads. Impressive!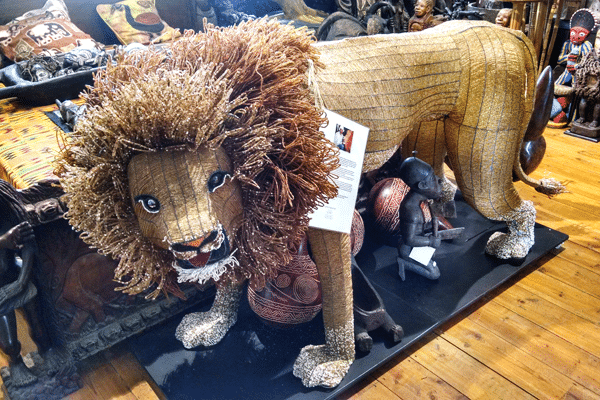 We rode on the ferris wheel to try and get a few of the views we wouldn't be able to see from up on Table Mountain. Not quite the same, but oh well.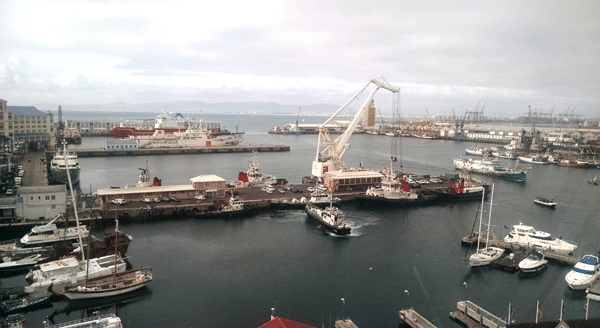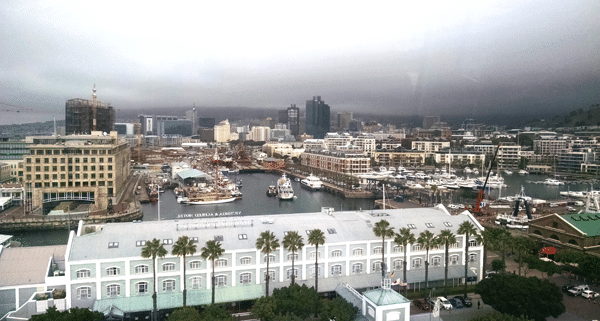 We also did some wine tasting! I'm not really a huge wine person, so we weren't sure if we'd do it or not, but I'm SO glad we did. If you go back up to that map at the top, you should be able to see the wineries noted by little wine glasses. You could seriously spend a whole week going from winery to winery and still not get to them all. SO many! And they aren't even all on the map. We passed a lot that weren't on there.
The first one we went to was actually not on the map. It was called Constatia Glen.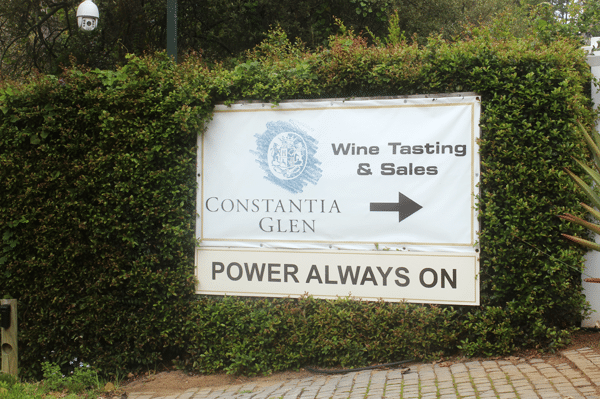 Wondering about the sign that says "POWER ALWAYS ON"? Yea, so I'll talk more about this in my next post, but basically South Africa has this thing called load sharing going on where there's not enough power to go around, so there are scheduled power outages everyday, everywhere.
Everyday. Everywhere.
There was one day when we were in Joburg and were visiting family. We went from home to home and everywhere we went they had load sharing going on. It's seriously nuts. And a big deal for businesses. So having power always on was a big deal, as you can tell.
This was easily my favorite of the wineries. We only had time for 3. I wish I'd known I'd enjoy it so much – I could have spent days doing it. But this one had an AWESOME experience. You sat down at a table and could order cheeses and meats and they had a preset flight of wines to taste.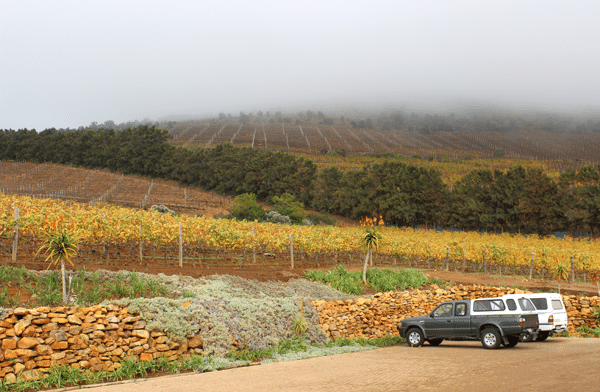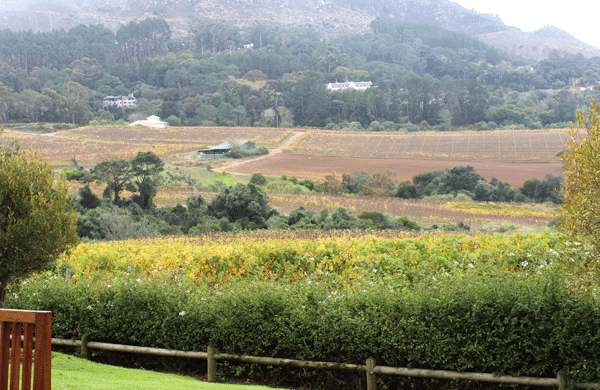 The guy that did it brought the cheeses we ordered and gave us one wine at a time, telling us all about the wine before leaving us to eat, sip and enjoy. He only came back when he saw we were ready for the next one. It was so pleasant, informational and overall a fun experience. We also really liked their wine.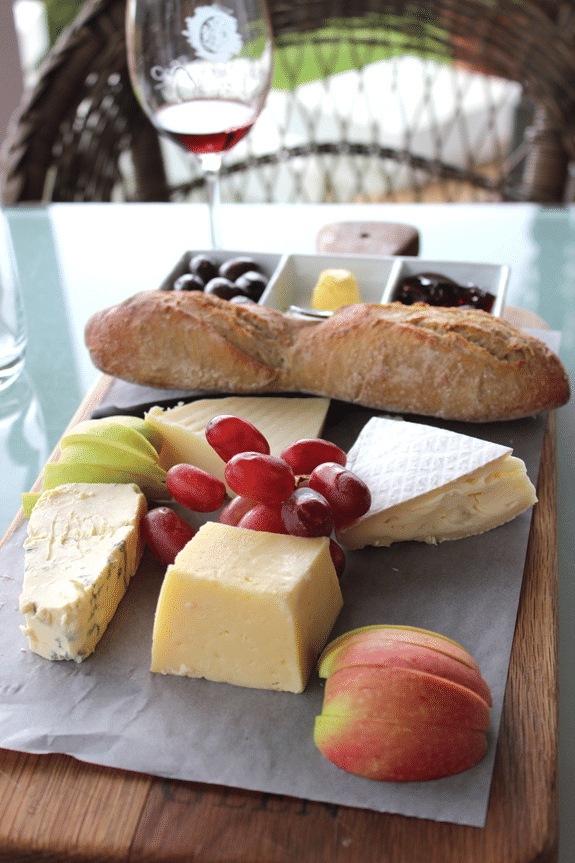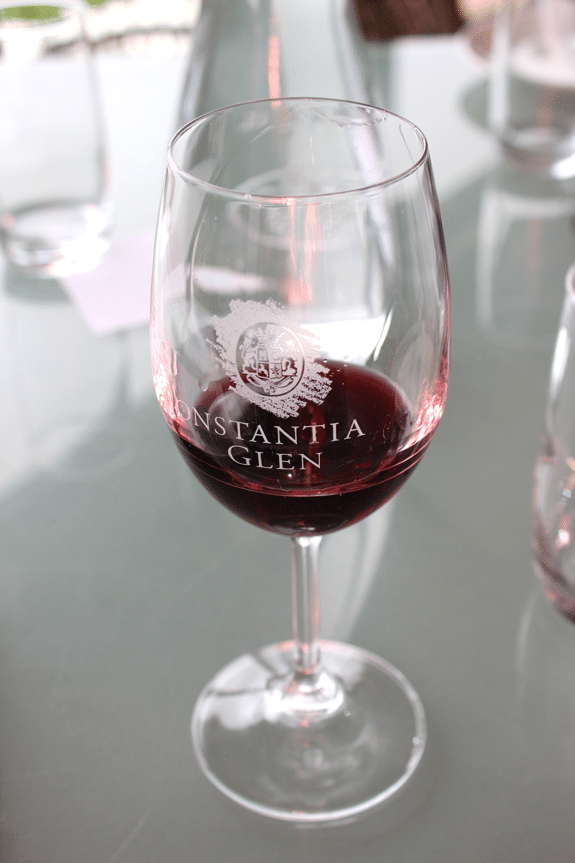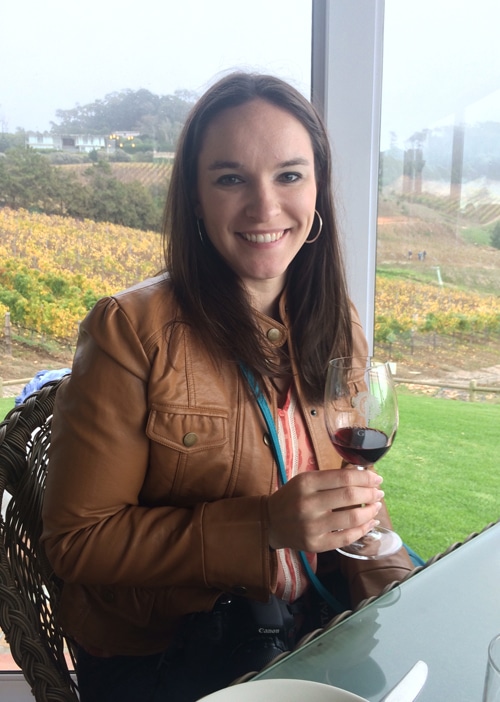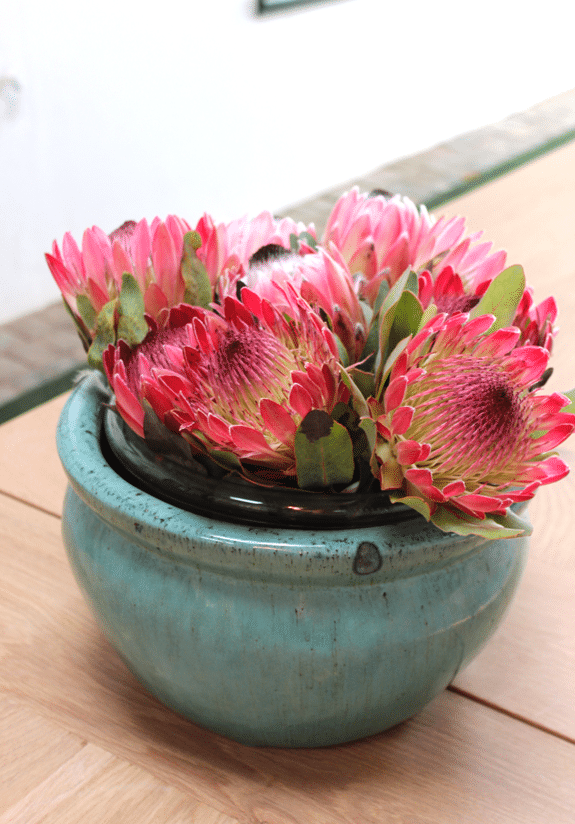 Next we went to Constantia Groot, which is a very well known, older winery. They had lots of wines to choose from. There were long tables that you could sit at and then go up to the bar to chose the wines you wanted to taste. There were also some crackers to eat.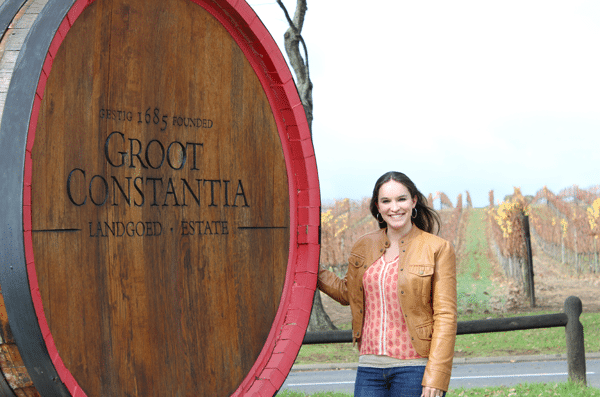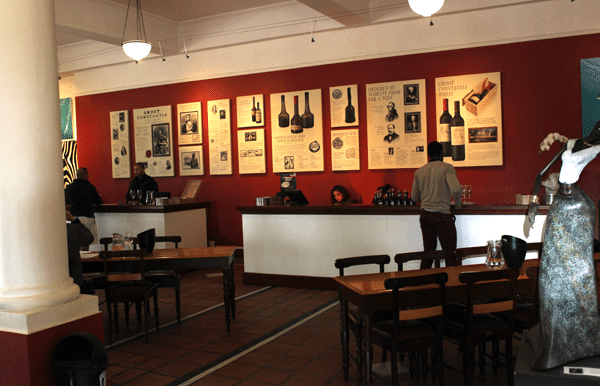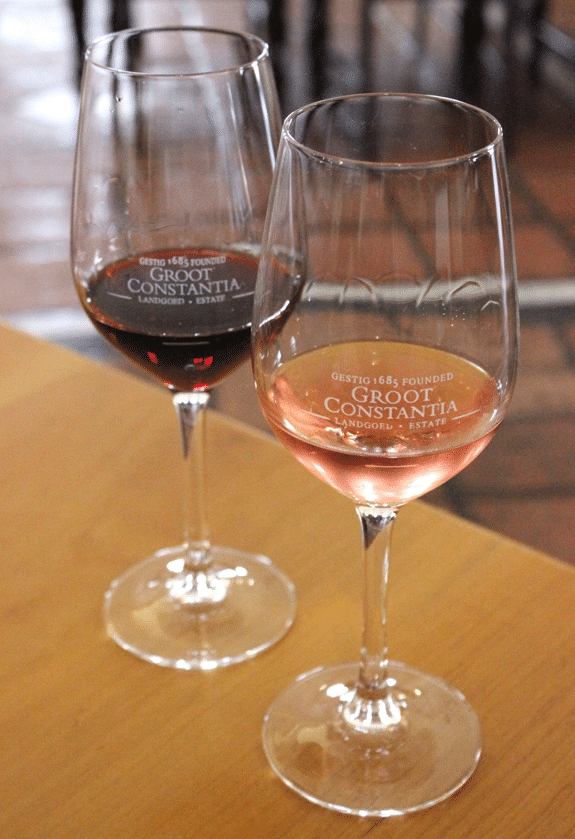 We did buy a bottle of wine. There are two kinds of wine specific to South Africa – Pinotage and Chenin Blanc. They had a Pinotage that the hubs loved, so we got some.
At this point, we took a break to go back to Houte Bay and get the fish and chips at Mariners Wharf.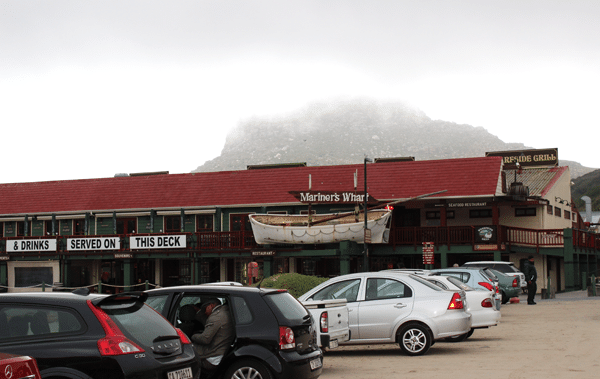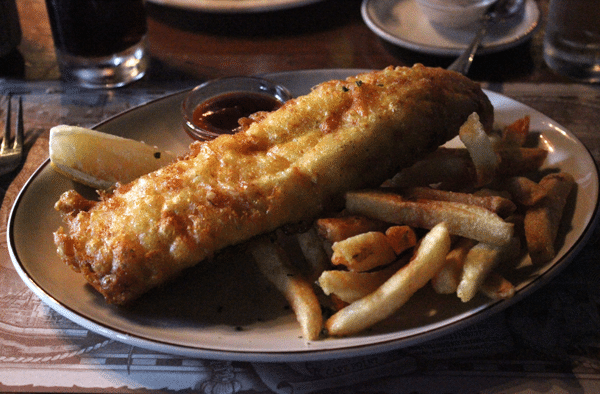 Delish!
Then we went to one more winery – Klein Constantia.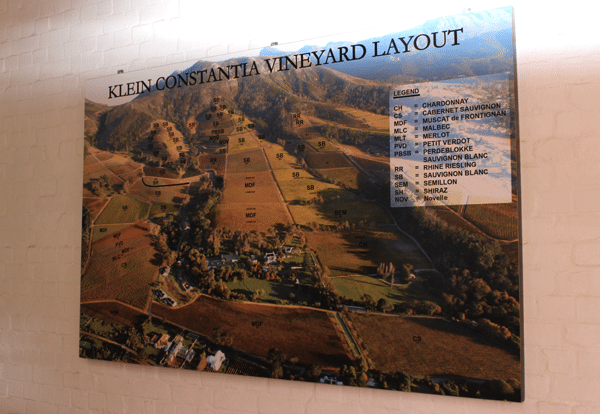 It really was fun to taste everything and even though all the experiences were so different, it was fun to check them all out.
Next, we went to high tea. I'd never been to one before and it was recommended by the hubs' cousin. So many desserts! Which was obviously the main draw for me. 🙂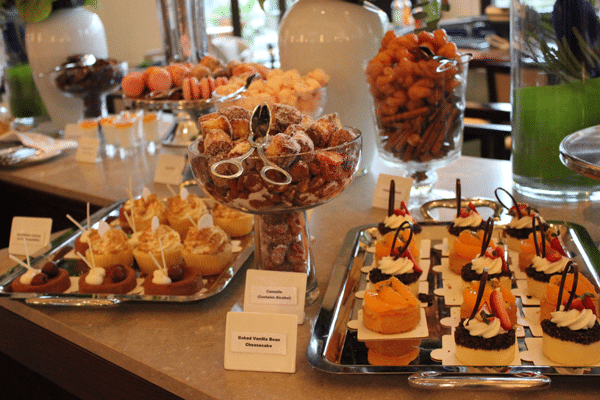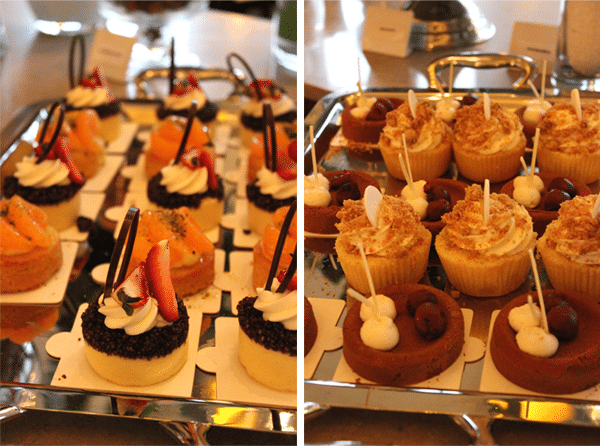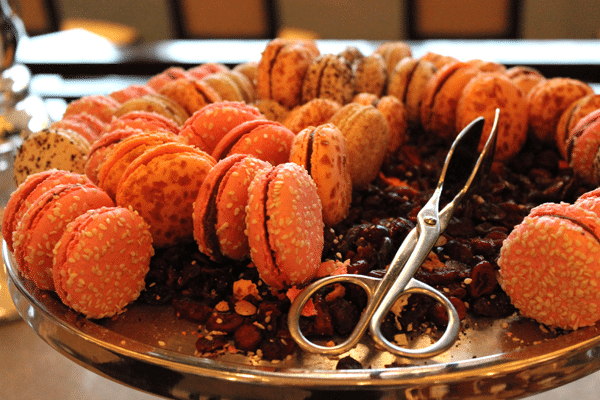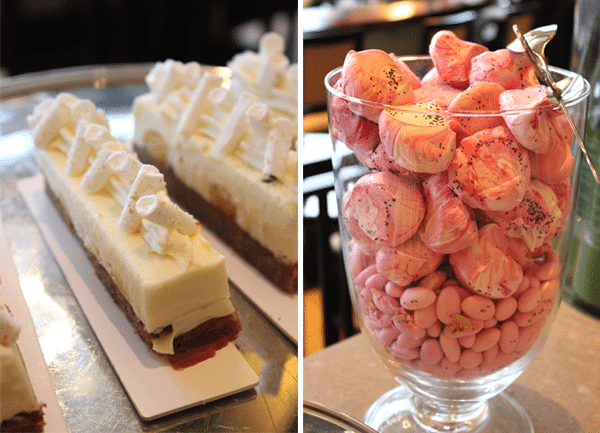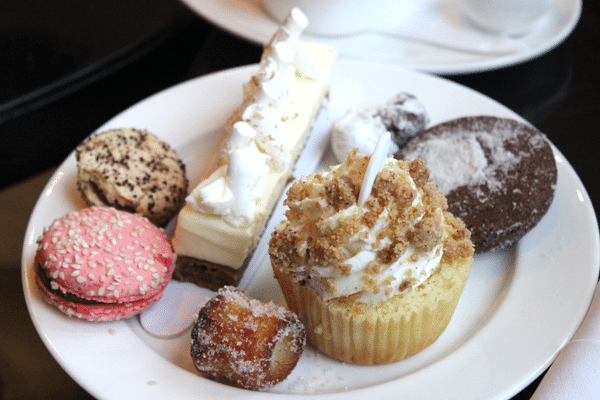 Despite the fact that I wouldn't call myself a tea person, I actually loved the tea. They had so many options. I had the strawberry vanilla one that came in this cool pot and glass and it was delicious. I could've had several pots of it.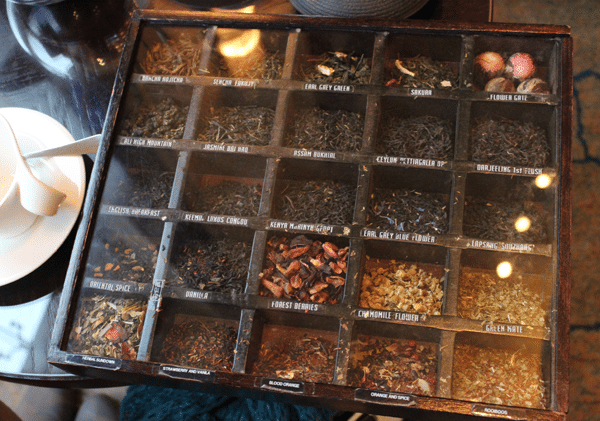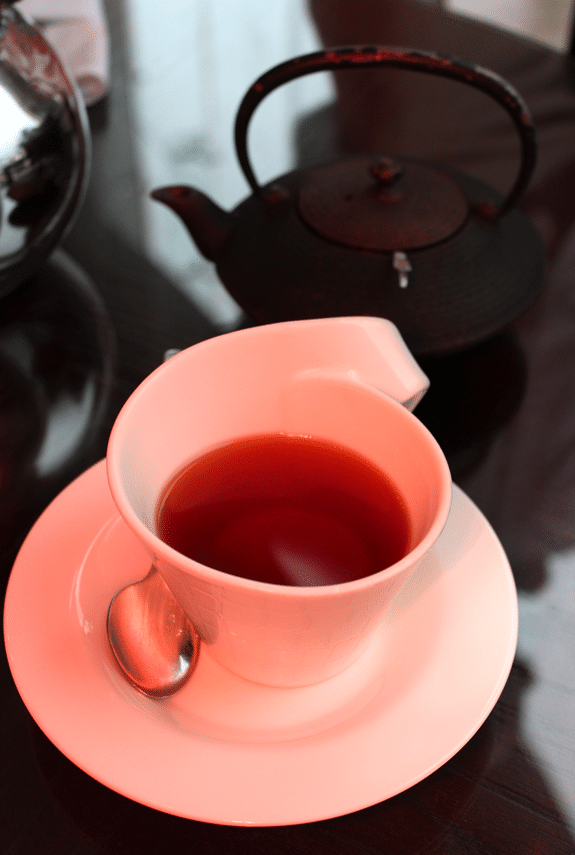 On our last night, we decided to back to Camps Bay and check it out again – one last time.
We walked along the beach and the hubs pointed out the little water hole areas that they have for families with kids and stuff. Aren't they cool? Keep out the sharks and it's so calm.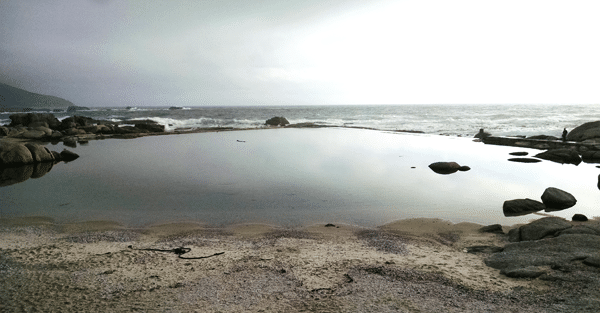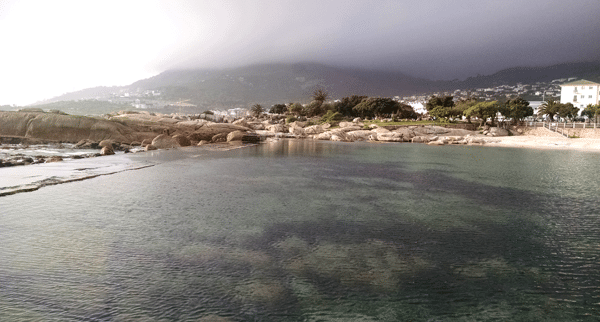 We watched the waves crash until the sun went down and said goodbye. It wasn't just the last day in Cape Town, but the last day before we left South Africa. Bittersweet.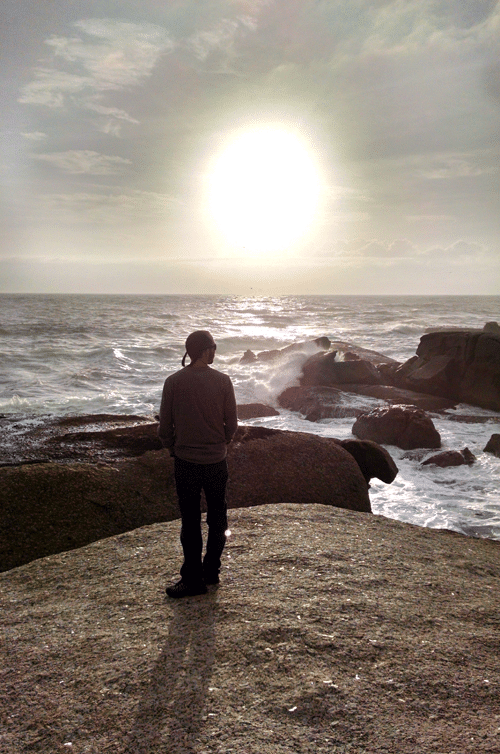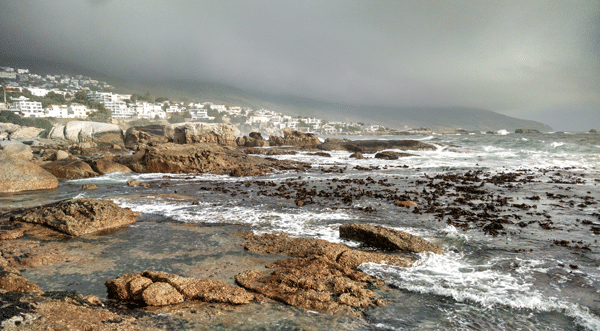 Thanks for sticking with me, if you've gotten all the way to the end. 😉
So there you have it! Cape Town in a nutshell! I will have one more post to tell you all about Johannesburg (Joburg). We spent a lot of time there with the hubs' family and it was probably the most eye opening and interesting part of the trip. Also the most real. Be sure to check that out soon!