November 8, 2017
Gingerbread Cheesecake
This post is sponsored by Walkers Shortbread, but all opinions are my own.
This Gingerbread Cheesecake recipe is made with a delicious shortbread crust, gingerbread cheesecake filling and a molasses mousse topping! Perfect for the holidays!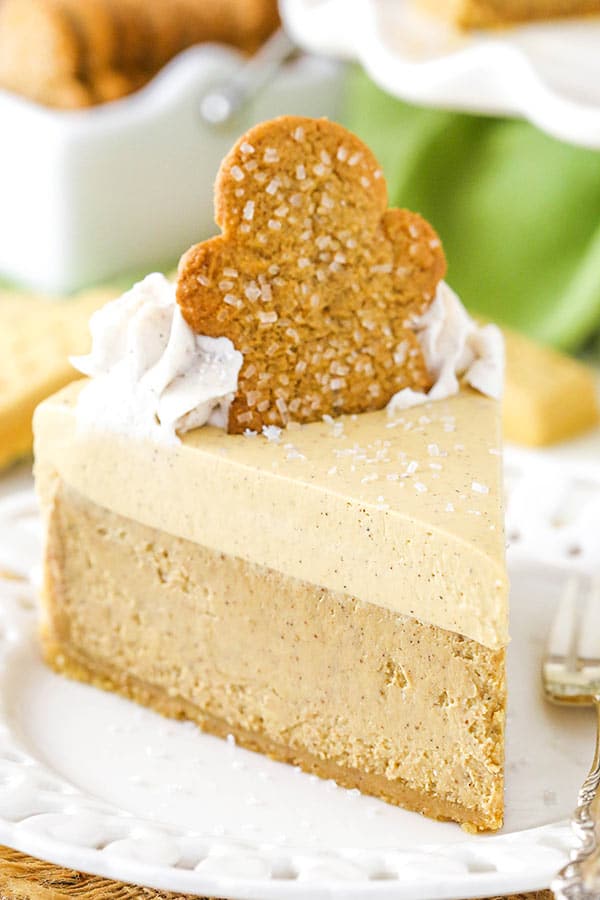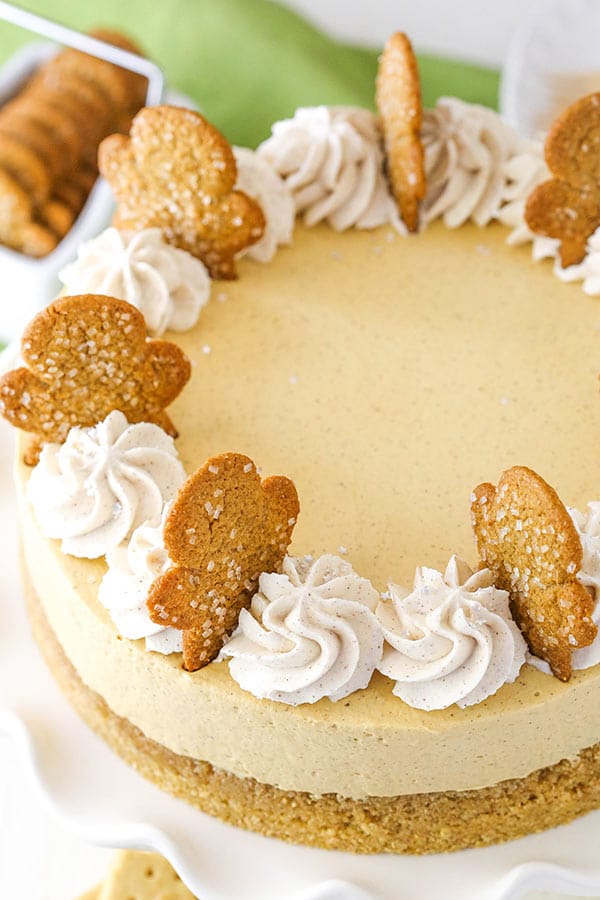 November is in full swing and I feel like the end of the year is moving quickly! We had a baby shower this past weekend in Charlotte with family and friends and it was wonderful. It was not only beautifully done, it was also very special. We celebrated with a group of people that I've known most of my life and are very familiar with our journey to getting pregnant and it was so wonderful to feel everyone's excitement and be able to celebrate with them.
But now things really feel like they are moving! We've been busy getting ready to move into our new house, our current house is under contract and the holidays are fast approaching. Before we know it, Thanksgiving and Christmas will be upon us. It's such a fun time of year and a great time for baking – I can't wait!
Gingerbread is one of my favorite flavors of the season. All the spices are just what this time of year is about. And this cheesecake has three great components that make it especially delicious – the shortbread crust, the thick and creamy cheesecake filling and the smooth mousse topping. So fun!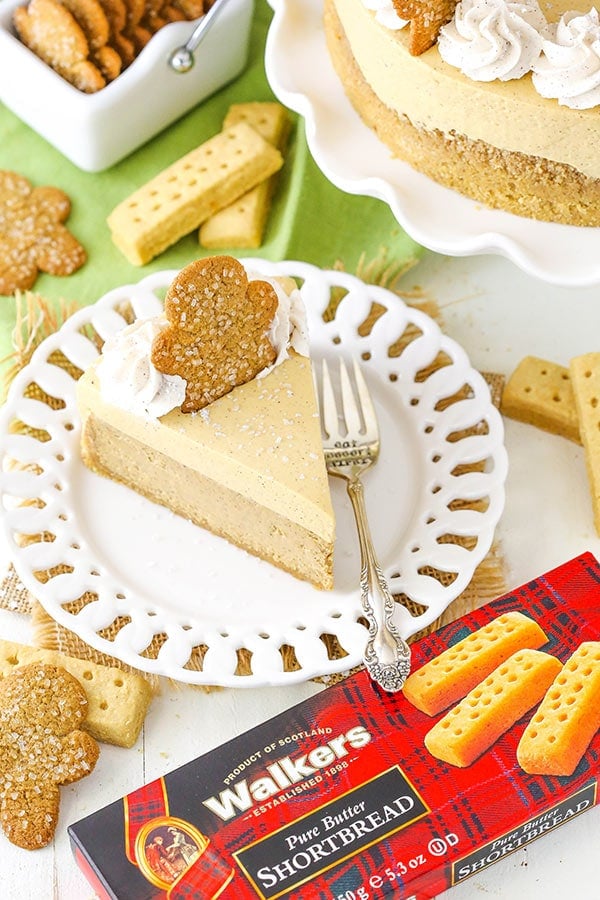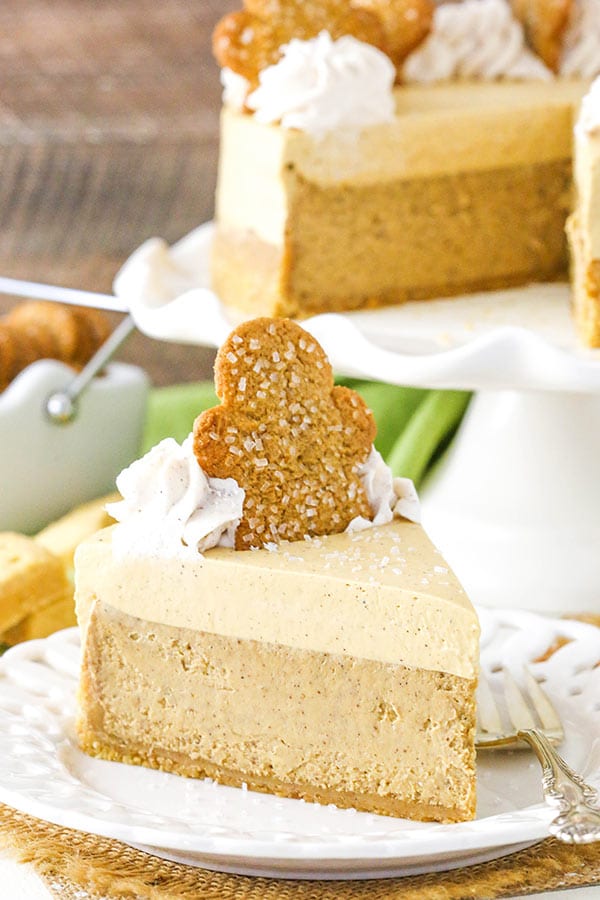 How to Make Shortbread Crust for a Cheesecake
To get started with the crust, you'll want to get your hands on a couple boxes of Walkers Shortbread. I used the shortbread fingers, but feel free to use one of the other varieties. If you've never tried their shortbread before, you really should. It's the best! So buttery and delicious – it's hard to stop eating. And it makes a delicious crust. Pop the shortbread into a food processor to grind it into crumbs. It's combined with a little sugar, cinnamon and butter and then pressed into a springform pan and pre-baked.
How to Make the Gingerbread Cheesecake Filling
The filling is flavored with brown sugar, molasses and lots of tasty spices! Of course ginger is the star of the show here, but there's also a good bit of cinnamon and nutmeg, as well as some cloves. All the spices are what makes gingerbread so darn tasty! Be sure not to mix the filling at too high of a speed, as it can add extra air to the filling and can cause cracks during the baking and cooling process.

MY OTHER RECIPES
Once the cheesecake is baked and cooled, you'll want to add the mousse. It's a molasses mousse with some cinnamon and nutmeg. You'll add the mousse topping to the cheesecake while it's still in the springform pan, then allow it firm up a bit before removing the sides. The cheesecake is then finished off with some swirls of whipped cream and a few gingerbread men.
The final cheesecake is fun, festive and delicious! It was a big hit with all my taste testers and is perfect for the holidays – whether for a party or for your dinner table. I can't wait for you to try it!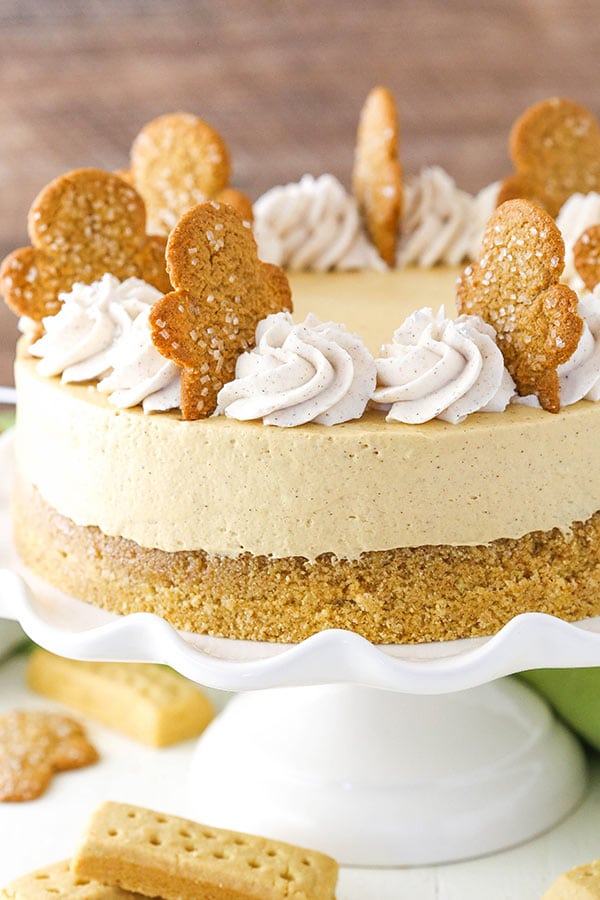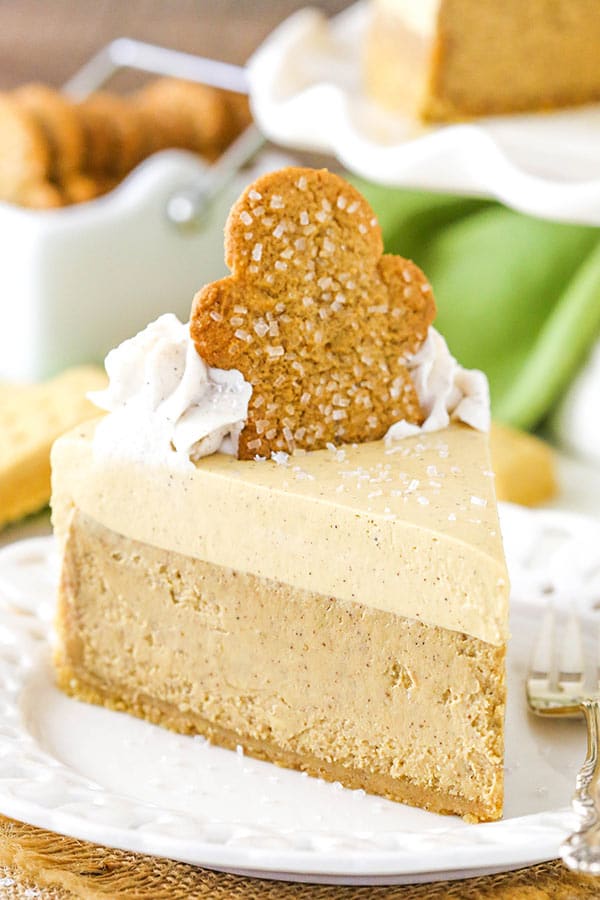 Gingerbread Cheesecake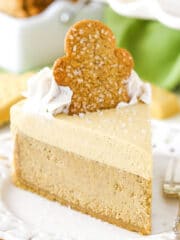 This Gingerbread Cheesecake recipe is made with shortbread crust, gingerbread cheesecake filling and a molasses mousse topping! Perfect for the holidays!
Author:
Yield:

12-14 Slices

Category:

Dessert

Method:

Oven

Cuisine:

American
Ingredients
CRUST
CHEESECAKE FILLING
24 ounces (678g) cream cheese, softened
1 cup (225g) packed brown sugar
3 tbsp (25g) all purpose flour
3/4 cup (173g) sour cream
1/4 cup (60ml) molasses
1 tsp vanilla extract
2 tsp ground ginger
1 1/2 tsp ground cinnamon
1 tsp ground nutmeg
1/2 tsp ground cloves
4 eggs
MOUSSE TOPPING
1 1/4 cup (300ml) heavy whipping cream
1/2 cup (58g) powdered sugar
3 tbsp (45ml) molasses
3/4 tsp ground cinnamon
1/4 tsp ground nutmeg
8 ounces (226g) cream cheese, softened
WHIPPED CREAM
3/4 cup (180ml) heavy whipping cream
6 tbsp (44g) powdered sugar
1/2 tsp ground cinnamon
1/2 tsp vanilla extract
Instructions
CRUST
1. Preheat oven to 325°F (163°C). Line a 9-inch (23cm) springform pan with parchment paper in the bottom and grease the sides.
2. Combine the crust ingredients in a small bowl. Press the mixture into the bottom and up the sides of the springform pan.
3. Bake the crust for 10 minutes, then set aside to cool.
4. Cover the outsides of the pan with aluminum foil so that water from the water bath cannot get in. Set prepared pan aside.
CHEESECAKE FILLING AND TOPPING
5. Reduce oven to 300°F (148°C).
6. In a large mixer bowl, mix the cream cheese, sugar and flour until well combined (Use low speed to keep less air from getting into the batter, which can cause cracks). Scrape down the sides of the bowl.
7. Add the sour cream, molasses, vanilla extract and spices and mix on low speed until well combined.
8. Add the eggs one at a time, beating slowly and scraping the sides of the bowl after each addition.
9. Pour the cheesecake filling into crust and spread evenly.
10. Place springform pan (covered with aluminum foil) inside another larger pan. Fill the larger pan with enough warm water to go about halfway up the sides of the springform pan. The water should not go above the top edge of the aluminum foil on the springform pan.
11. Bake for 1 hour and 20 minutes.
12. Turn off heat and leave cheesecake in oven with door closed for 30 minutes.
13. Crack oven door and leave the cheesecake in the oven for about 30 minutes.
14. Remove cheesecake from oven and chill until firm, 5-6 hours or overnight.
15. When cheesecake has chilled and is firm, make the mousse topping. Add heavy whipping cream, powdered sugar, molasses and spices to a large mixer bowl and whip until stiff peaks form.
16. Set the whipped cream aside and in another bowl, beat cream cheese until smooth.
17. Fold whipped cream into cream cheese until well combined.
18. With the cheesecake still in the springform pan, pour the mousse on top and spread into an even layer.
19. Set in the fridge for another 1-2 hours, until mousse is firm, then remove from the springform pan.
20. Add the ingredients for the whipped cream to a large mixer bowl and whip until stiff peaks form.
21. Pipe whipped cream around the edges of the cheesecake and decorate with gingerbread men.
Refrigerate until ready to serve.
Keywords: cheesecake recipe, holiday cheesecake recipe, gingerbread cheesecake, shortbread cheesecake crust
Enjoy!