This post may contain affiliate sales links. Please read my disclosure policy.
This easy Cranberry Fudge Swirl Cheesecake recipe is a thick and creamy cheesecake with cranberry filling and chocolate fudge swirled throughout! It's a delicious and fun dessert recipe that's perfect for the holidays!
If your family loves cheesecake during the holidays, be sure to check out this creamy Eggnog Cheesecake and my Classic Cheesecake Recipe. Both are perfect for sharing during family gatherings!
This post is sponsored by ALDI, but all opinions are my own.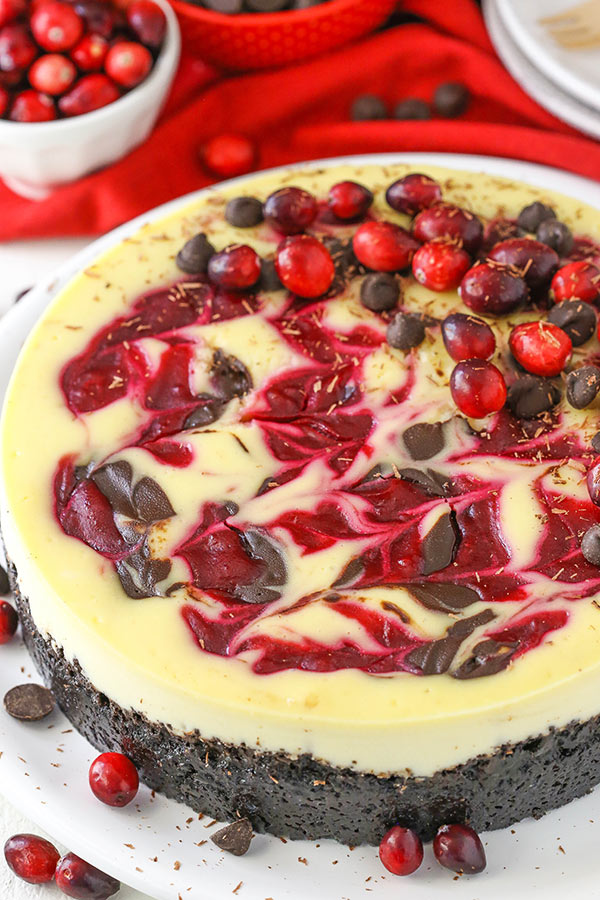 Easy Holiday Dessert Recipe
Can you believe Thanksgiving is just over a week away?! I can't wait! Best meal of the year! It's hard to decide what the best part of a Thanksgiving meal is. Naturally I am a fan of sweet potato casserole. It's like having an excuse to eat dessert as part of a meal. And then of course we usually have about 3 kinds of potatoes. I love them all. And then there's dessert. Dessert is always something to look forward to. Always. Normally I like to try and get in on the cooking action, but with my growing belly this year I think I'll mostly likely sit most of the cooking out. Hopefully I can make dessert though. 🙂
Normally I'd also look forward to the holiday cocktails, but I won't be able to indulge this year. That's ok, because ALDI has me covered with their Nature's Nectar Sparkling Pumpkin Cider. It's nonalcoholic (though you could spike it) and totally delicious. I've been drinking it for years and I always look forward to seeing it in their stores this time of year. For those that aren't pregnant, they also have wonderfully priced and delicious wines and champagne.
ALDI also has a wonderful selection of baking items for this time of year. I used their dark chocolate morsels in this cheesecake, along with their fresh cranberries. Their low prices are a welcome sight this time of year, when there's so much going on and so much food to buy.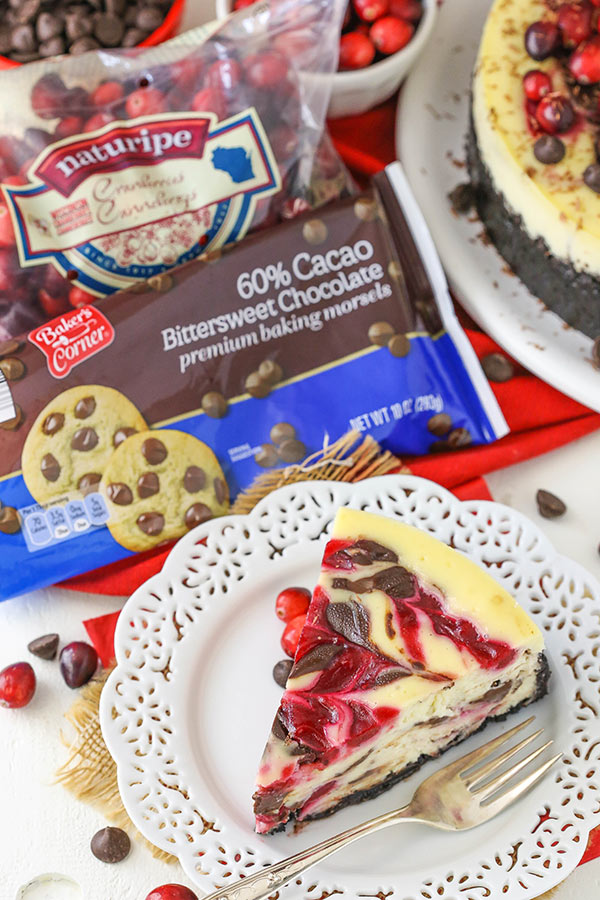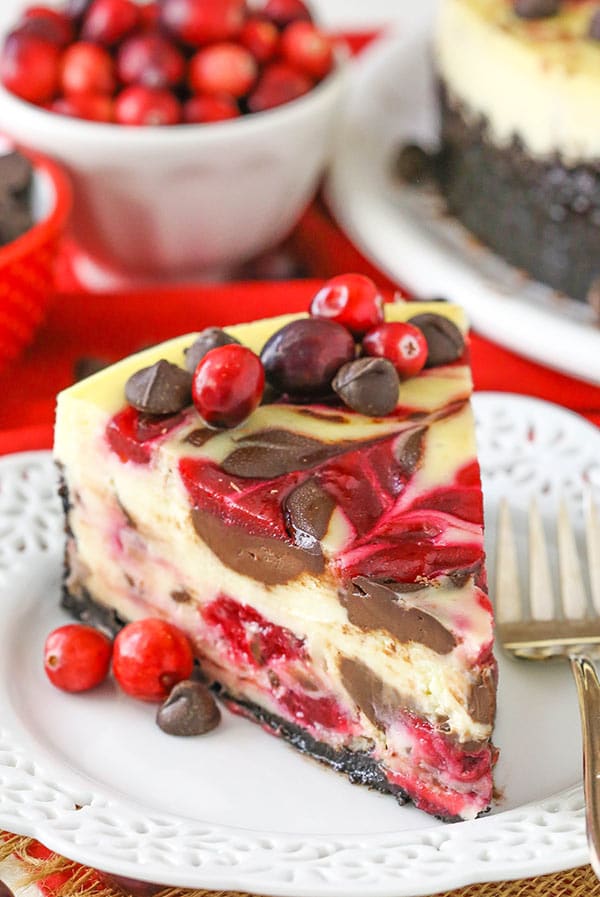 How To Make This Cheesecake Recipe
So let's talk a bit about this cheesecake. The combination of chocolate and cranberries is spot on! So darn good together! Every bite left me wanting more.
To start, there's the cranberry filling. The cranberries are cooked right over the stove along with some sugar, cornstarch and a touch of water. Cranberries are naturally pretty tart, so they are sweetened in the filling. Of course if you prefer some of that tartness, you could always reduce the sugar a bit.
Once the cranberries start to pop, the mixture is pureed in a food processor until smooth and then strained to remove the skins. Set that mixture aside to cool.
Next up is the crust, which naturally is chocolate to complement the chocolate fudge in the cheesecake.
The fudge filling itself is really more of a chocolate ganache, but when baked into the cheesecake and cooled in the thick and creamy cheesecake, it's much like eating fudge filling. SO good!
The cranberry and fudge fillings are layered into the cheesecake in three layers, the final one being on top for decor. With each layer, the fillings are swirled into the cheesecake. As the cranberry filling and chocolate filling sit prior to adding to the cheesecake, they can start to thicken. Just give them a good stir before dropping by the spoonfuls into the cheesecake filling and it'll make them a little easier to swirl around.
Once the cheesecake is baked and cooled, it's ready to go! One of the great things about this cheesecake is there's nothing fancy you need to do to it once it's done. The swirl on top is decoration enough and a nice little preview of the deliciousness on the inside.
The final combination of thick and creamy cheesecake with the cranberry and fudge swirl is really heavenly! It's even better than you'd expect! So, so delicious and such perfect flavors to finish off that Thanksgiving meal or celebrate any time over the holidays.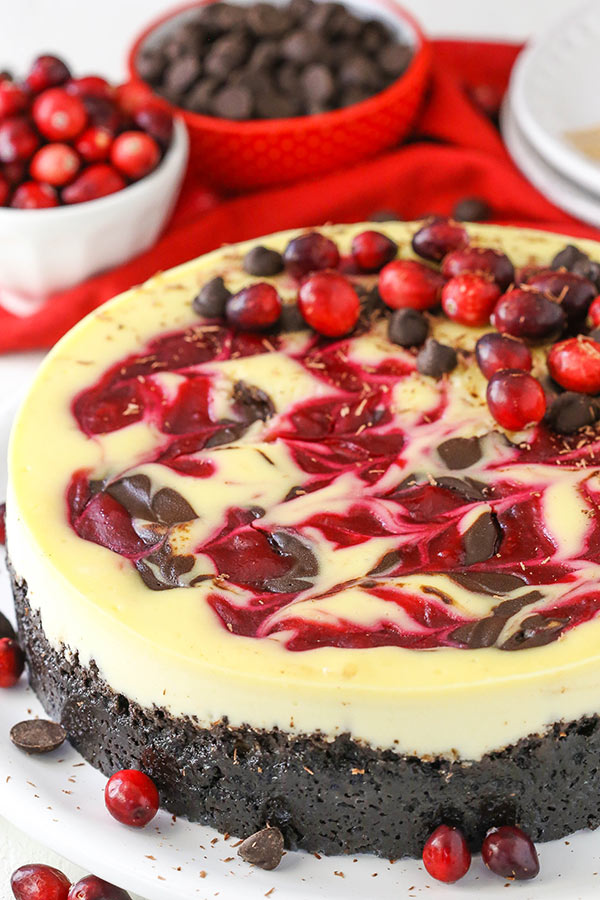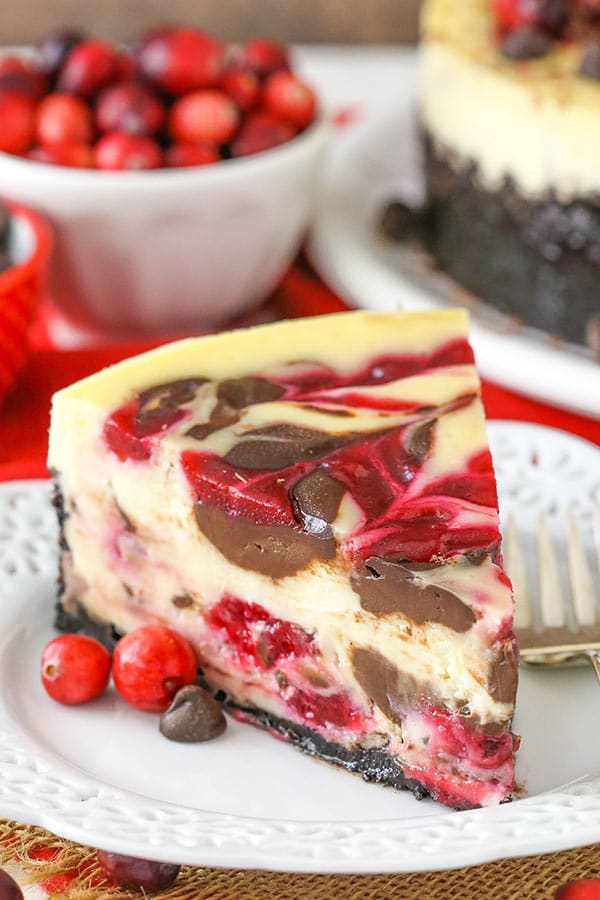 Also, to help bring more food to more people this month, ALDI is teaming up with Venmo and Feeding America® to encourage people to add a new tradition of giving to their Friendsgiving celebrations. Every time the custom Friendsgiving Turkey Hand emoji is shared on Venmo this November, ALDI will donate 10 meals to be provided to people in need, up to one million meals!
To find an ALDI store near you, use the locator included on their site.
You might also like:
Cranberry Fudge Layer Cake
Sparkling Cranberry White Chocolate Cake
Sparkling Cranberry White Chocolate Bundt Cake
White Chocolate Dipped Cranberry Oatmeal Cookies
Print
Recipe
Cranberry Fudge Swirl Cheesecake
Author:

Prep Time:

1 Hr. 10 Minutes

Cook Time:

2 Hrs. 20 Minutes, Plus Cooling

Total Time:

3 Hrs. 30 Minutes, Plus Cooling

Yield:

12-14 Slices

Category:

Dessert

Method:

Oven

Cuisine:

American
---
Description
This easy Cranberry Fudge Swirl Cheesecake recipe is a thick and creamy cheesecake with cranberry filling and chocolate fudge swirled throughout! It's a delicious and fun dessert recipe that's perfect for the holidays!
---
Ingredients
CRANBERRY FILLING
2 cups

(

215g

) fresh cranberries

3/4 cup

(

155g

) Baker's Corner Sugar

1 1/2 tbsp

 Baker's Corner Cornstarch

3 tbsp

water
CRUST
2 ¼ cups

(

302g

) Benton's Chocolate Sandwich Cookie crumbs

5 tbsp

(

70g

) Countryside Creamery Salted Butter, melted
CHOCOLATE FUDGE FILLING
6 oz

(

169g

|

1 cup

) Baker's Corner Dark Chocolate Morsels

1/2 tsp

 Stonemill Vanilla Extract

1/2 cup

(120ml) Countryside Creamery Heavy Whipping Cream
CHEESECAKE FILLING
24 ounces

(

678g

) Happy Farms Cream Cheese, room temperature

1 cup

(

207g

) Baker's Corner Sugar

3 tbsp

(

25g

) Baker's Corner All-Purpose Flour

1 cup

(

230g

) Friendly Farms Sour Cream

1 tbsp

 Stonemill Vanilla Extract

4

 Goldhen Large Eggs, room temperature
---
Instructions
CRANBERRY FILLING

1. To make the cranberry filling, add the cranberries, sugar, cornstarch and water to a medium saucepan.
2. Cook over medium heat, stirring occasionally until cranberries soften and pop, about 8-10 minutes.
3. Add the cranberry mixture to a food processor and puree until smooth.
4. Press and strain the puree through a fine mesh sieve to remove the skins.
5. Set aside to cool to room temperature.
CRUST
6. Preheat oven to 325°F (163°C). Line a 9-inch (23cm) springform pan with parchment paper in the bottom and grease the sides. Check out my tutorial to see how I set up my pan and prevent it from leaking.
7. Combine the crust ingredients in a small bowl. Press the mixture into the bottom and up the sides of the springform pan.
8. Bake the crust for 10 minutes, then set aside to cool.
9. Cover the outsides of the pan with aluminum foil so that water from the water bath cannot get in. Set prepared pan aside.
FUDGE AND CHEESECAKE FILLING
10. To make the fudge filling, add the chocolate morsels and vanilla extract to a medium bowl.
11. Heat the heavy whipping cream until it begins to boil, then pour over the chocolate chips.
12. Allow the cream to sit for roughly 5 minutes, then whisk until the mixture is smooth. Set aside.
13. Preheat oven to 300°F (148°C).
14. In a large mixer bowl, mix the cream cheese, sugar and flour until well combined (Use low speed to keep less air from getting into the batter, which can cause cracks). Scrape down the sides of the bowl.
15. Add the sour cream and vanilla extract and mix on low speed until well combined.
16. Add the eggs one at a time, beating slowly and scraping the sides of the bowl after each addition.
17. Fill the crust with about 1/3 of the cheesecake filling.
18. Drop small spoonfuls of the cranberry filling and chocolate fudge filling onto the cheesecake filling, using about 1/3 of each. Use a toothpick to run through the spoonfuls and swirl them around.
19. Repeat with another layer of cheesecake filling and cranberry and fudge filling.
20. Add a final layer of cheesecake filling and the remaining cranberry and fudge filling, again swirling to create a swirled pattern on top.
21. Place the springform pan (covered with aluminum foil) inside another larger pan. Fill the larger pan with enough warm water to go about halfway up the sides of the springform pan. The water should not go above the top edge of the aluminum foil on the springform pan.
22. Bake for 1 hour and 20 minutes.
23. Turn off heat and leave cheesecake in oven with door closed for 30 minutes.
24. Crack oven door and leave the cheesecake in the oven for about 30 minutes.
25.Remove cheesecake from oven and chill until firm, 5-6 hours or overnight.
26. Once firm, remove the cheesecake from the pan and serve.
Nutrition
Serving Size:

1 Slice

Calories:

477

Sugar:

34.8 g

Sodium:

320.2 mg

Fat:

25.5 g

Carbohydrates:

55.9 g

Protein:

9.1 g

Cholesterol:

95.6 mg
Keywords: how to make cheesecake, easy cheesecake recipe, best cheesecake recipe, holiday dessert,
Filed Under:
Enjoy!