This No Bake Lemon Cheesecake recipe is creamy, tart and easy to make! It's full of lemon flavor and such a great dessert for spring and summer!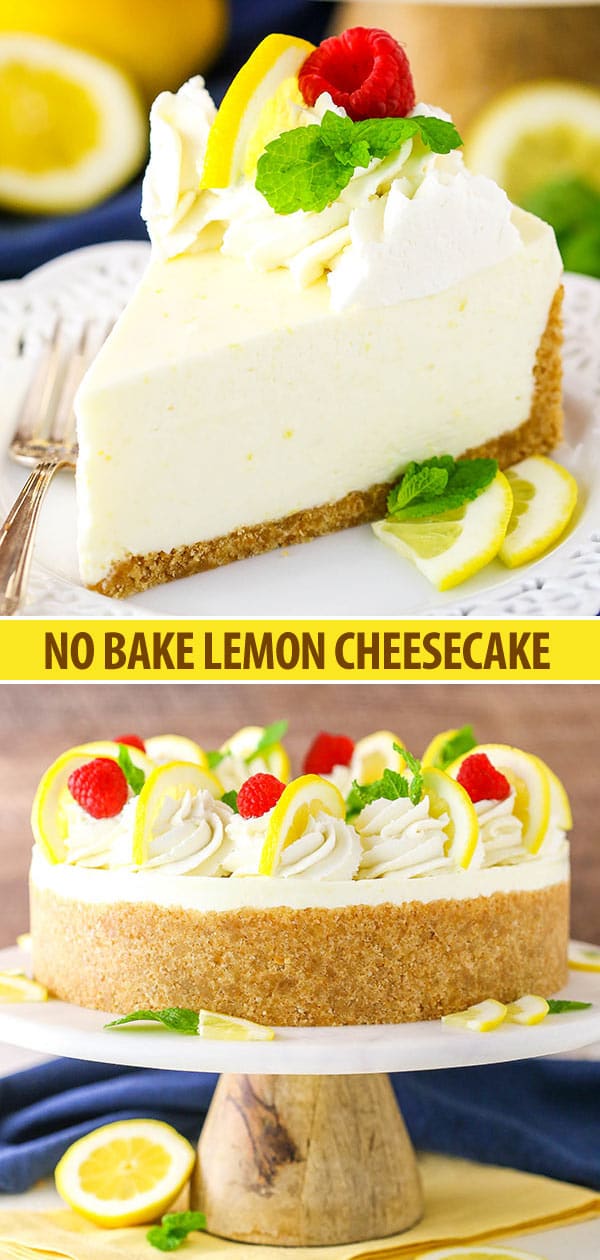 NO BAKE LEMON CHEESECAKE RECIPE
Lemon is one of my favorite flavors for this time of year! With Easter coming, it's such a cheerful color and flavor for pretty much any dessert. And when it comes to cheesecake, lemon is a must-have recipe.
I've been bringing you guys some great classic no bake cheesecakes lately, like this Best No Bake Cheesecake and Easy No Bake Chocolate Cheesecake, so finally this No Bake Lemon Cheesecake had to happen. Stick around a few more weeks, and there'll be a yummy strawberry one too. Bring on the no bake cheesecakes!
This cheesecake starts with a vanilla wafer crust, has a lovely lemon filling and some whipped cream on top. It's decorated with some lemon slices and raspberries for a fresh, springy look! So let's talk about how to put this baby together.
HOW TO MAKE NO BAKE LEMON CHEESECAKE
The best cheesecakes have a good, flavorful crust that's not too thick and not too thin. I made this crust with vanilla wafer cookies because I'm a fan of the flavor, but feel free to swap it out for a classic graham cracker crust, if you prefer. Once the crust is made, pop it in the fridge to firm up while you make the filling.
When I set out to make this cheesecake, I knew I didn't want to use Jello. I have nothing against it, but I wanted a true, fresh lemon taste. The tricky thing about a fresh lemon cheesecake though, is that you need a fair amount of lemon juice in order to really be able to taste the flavor in the cheesecake, but that thins out the filling. So to get that flavor and have a thick enough cheesecake, I used two things.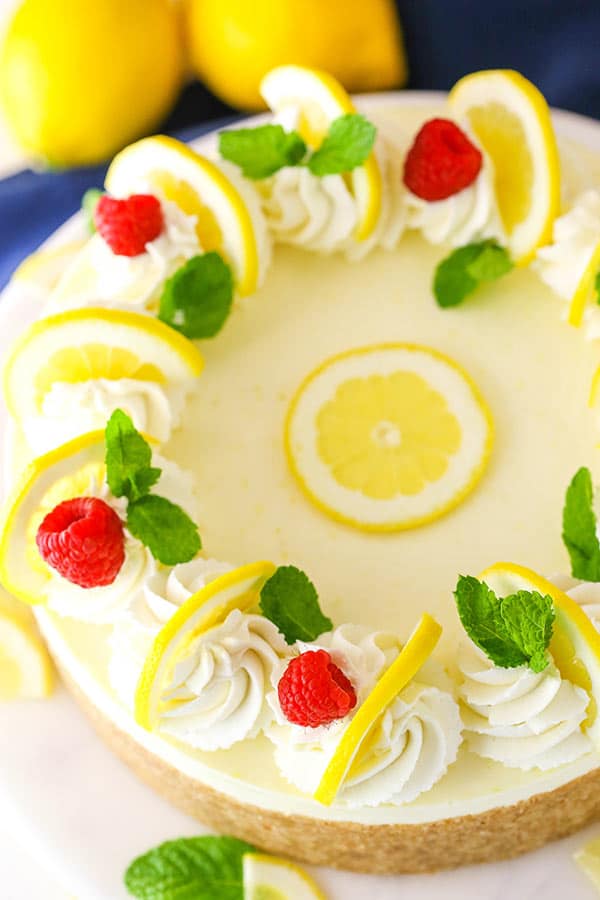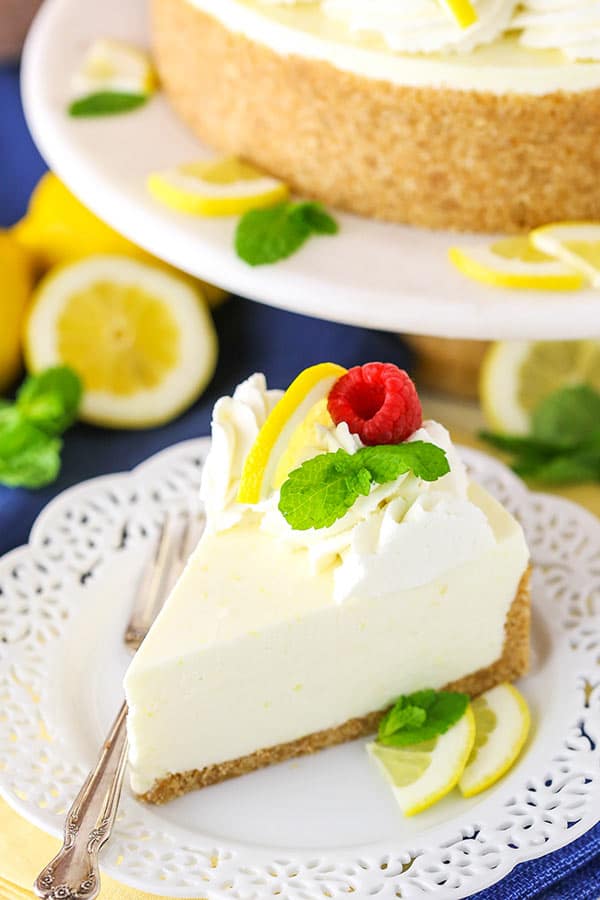 The first is the built in powder of lemon juice combined with cream – in this case, sweetened condensed milk. When combined, the acid in lemon juice basically "spoils" the milk and therefore thickens it.
The second thing is a little gelatin. I tried to avoid the gelatin, because I know it can seem intimidating to use if you haven't used it before and it adds a couple more steps. But the cheesecake just didn't firm up as much as I like for a cheesecake without it. That said, I really don't care for cheesecakes that have too much gelatin in them. When that happens, you really taste it and you not only sacrifice flavor, but also texture. This no bake cheesecake has just the right amount so that you get the right amount of firmness, without sacrificing anything.
So to add both things to the cheesecake, you'll start with the gelatin. Sprinkle the powder over the lemon juice so that it can "bloom". Gelatin needs a cool liquid for this step. Let it sit for about 5 minutes, then heat it a little until it's melted.
Stir the gelatin and lemon mixture into the sweetened condensed milk (just enough milk to help things thicken, but not so much that the cheesecake tastes heavily of sweetened condensed milk) and let it sit while you move on to the next steps.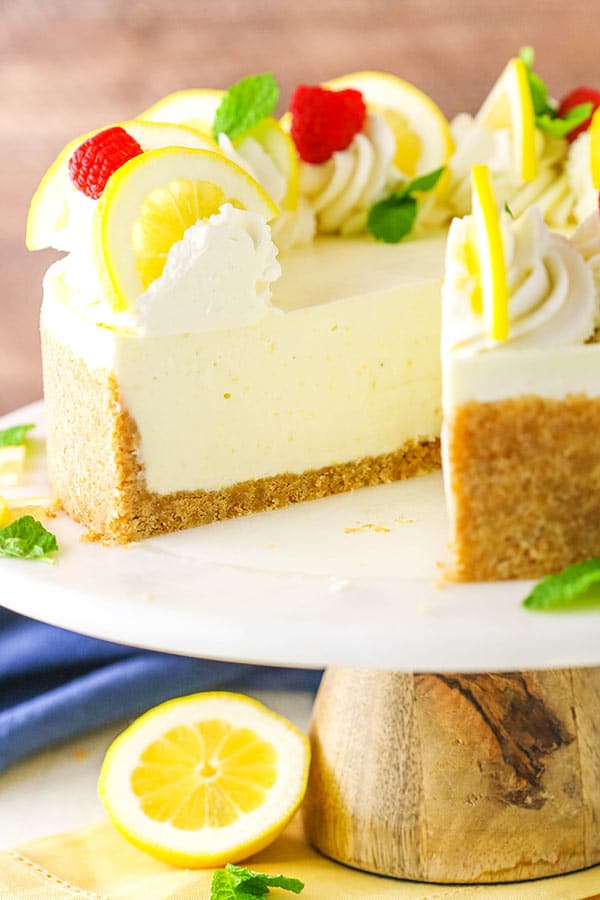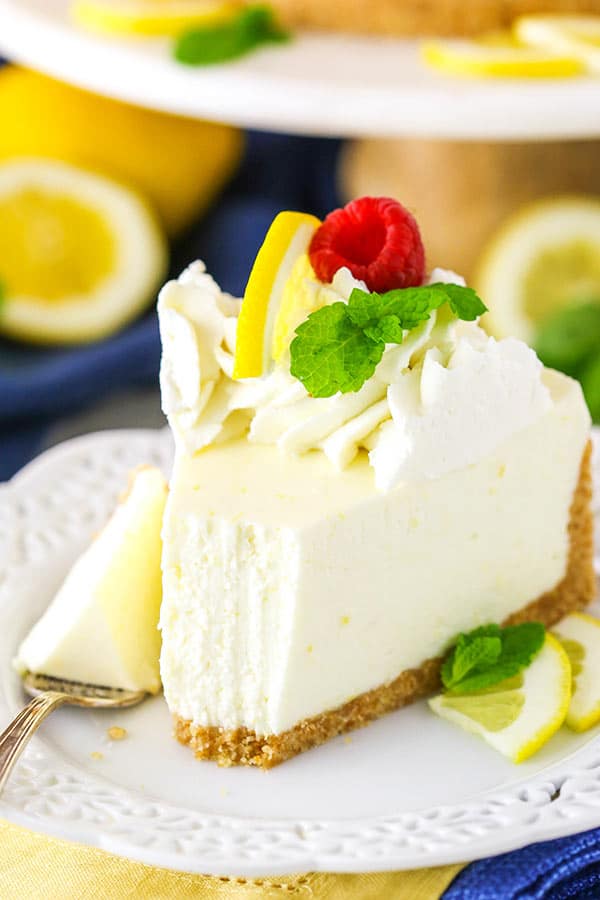 The rest of the ingredients are exactly what you'd expect:
Cream cheese
Sugar
Sour cream
Lemon zest (more lemon flavor!)
Heavy whipping cream and powdered sugar, which makes whipped cream
The whipped cream is gently folded into the cheesecake filling, so that it doesn't deflate. Add the filling to the crust and then let it set in the fridge for 5-6 hours. With the combination of the gelatin and the cream, the lemon cheesecake firms up perfectly!
The final No Bake Lemon Cheesecake is so creamy and refreshing! It's a wonderfully light dessert that's easy to make and perfect for the warm weather coming our way! It's been getting warmer here already and our boys LOVE being outside! I can see us hanging outside and enjoying the warm days all summer long – with a slice of this No Bake Lemon Cheesecake right beside me. Sounds perfect!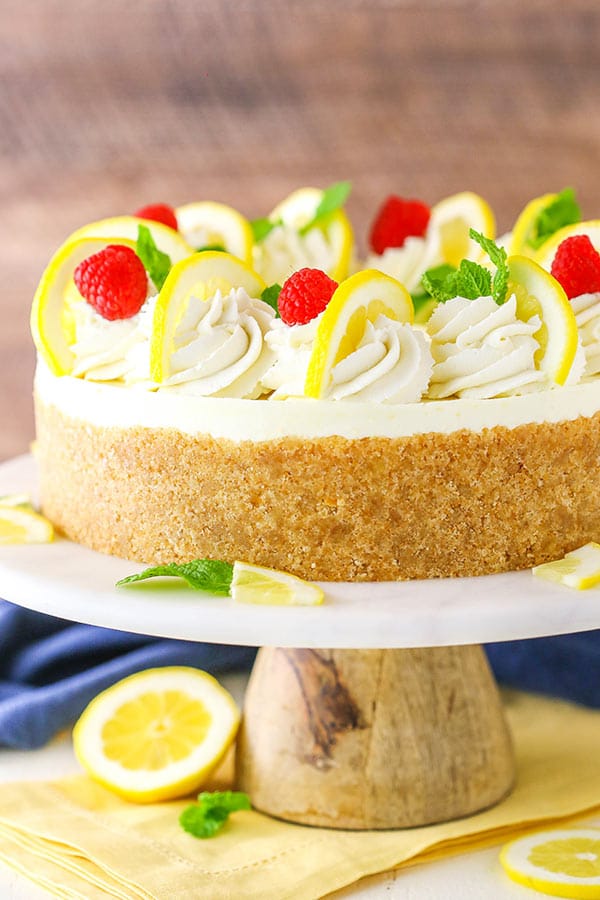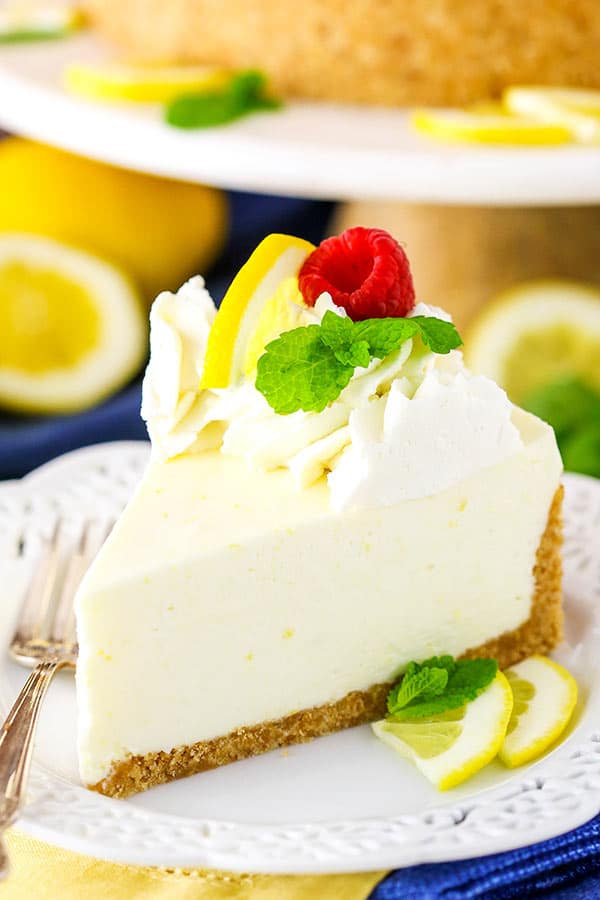 MORE LEMON DESSERTS FOR YOU TO LOVE
Lemon Cheesecake
Lemon Blueberry Cheesecake
Lemon Meringue Cheesecake
Lemon Curd (would also be great as a topping on this cheesecake!)
Lemon Cake with Lemon Bavarian Cream
Lemon Raspberry Cupcakes
Lemon Mascarpone Cream Pie (also no bake!)
Read transcript
NOTE: There is a full 24 ounces of cream cheese used in this recipe. In the video, the third bar of cream cheese is hidden beneath the two on top.
Print
Recipe
No Bake Lemon Cheesecake
Author:

Prep Time:

2 hours

Total Time:

2 hours, plus refrigeration

Yield:

12-14 slices

Category:

Dessert

Method:

No Bake

Cuisine:

American
---
Description
This No Bake Lemon Cheesecake is creamy, tart and easy to make! It's full of lemon flavor and such a great dessert for spring and summer!
---
Ingredients
CRUST
2 1/4 cups

(

302g

) vanilla wafer crumbs

2 tbsp

(

26g

) sugar
Pinch of salt

10 tbsp

(

140g

) unsalted butter, melted
CHEESECAKE FILLING
1/2 cup

fresh squeezed lemon juice (

3

–

4

lemons)

0.25 oz

package unflavored gelatin

1/4 cup

sweetened condensed milk

24 oz

(

678g

) cream cheese, room temperature

1/2 cup

(

104g

) sugar

2 tbsp

(

29g

) sour cream

2 1/2 tbsp

lemon zest

1 1/4 cups

(300ml) heavy whipping cream, cold

3/4 cup

(

86g

) powdered sugar
WHIPPED CREAM
1 cup

(240ml) heavy whipping cream, cold

1/2 cup

(

58g

) powdered sugar

1 tsp

vanilla extract
---
Instructions
1. In a medium bowl, combine the crust ingredients and mix well to combine completely.
2. Press the mixture into the bottom and up the sides of a 9-inch springform pan. Set in the fridge to chill.
3. In a medium sized bowl, add the lemon juice, sprinkle the powdered gelatin evenly over it and let stand for 4-5 minutes.
4. Heat the lemon juice and gelatin in the microwave for 10-20 seconds, until just warm and smooth.
5. Stir the sweetened condensed milk into the lemon juice mixture, then set the mixture aside to cool to room temperature.
6. In a large mixer bowl, beat the cream cheese and sugar together until well combined and smooth.
7. Add the sour cream and lemon zest and mix until well combined and smooth.
8. Add the cooled lemon juice mixture and mix until well combined and smooth. Set mixture aside.
9. In another large mixer bowl, add the heavy whipping cream and powdered sugar. Whip on high speed until stiff peaks form.
10. Carefully fold the whipped cream into the cream cheese mixture in two parts until well combined.
11. Add the filling to the crust and spread into an even layer.
12. Refrigerate cheesecake until firm, 5-6 hours or overnight.
13. To finish off the cheesecake, remove it from the springform pan and set on a plate or serving platter.
14. Add the heavy whipping cream, powdered sugar and vanilla extract for the whipped cream topping to a large mixer bowl. Whip on high speed until stiff peaks form.
15. Pipe swirls of whipped cream around the edge of the cheesecake. Top the cheesecake off with your desired toppings, such as fresh fruit. I used lemon slices, raspberries and mint leave.
16. Refrigerate cheesecake until ready to serve. Cheesecake is best for 4-5 days.
Nutrition
Serving Size:

1 Slice

Calories:

456

Sugar:

31 g

Sodium:

241.8 mg

Fat:

32.1 g

Carbohydrates:

37.6 g

Protein:

6.3 g

Cholesterol:

96 mg
Keywords: No Bake Lemon Cheesecake
Filed Under:
This post may contain affiliate sales links. Please read my disclosure policy.