This Lemon Blueberry Cheesecake is thick, creamy and flavored with tangy lemon and blueberries throughout. It sits in a graham cracker crust and is topped with a homemade blueberry sauce.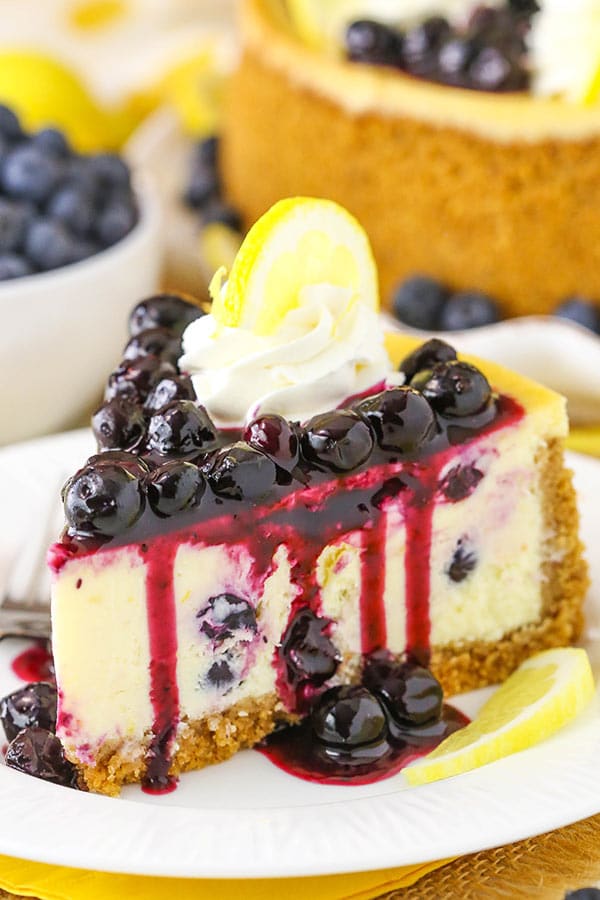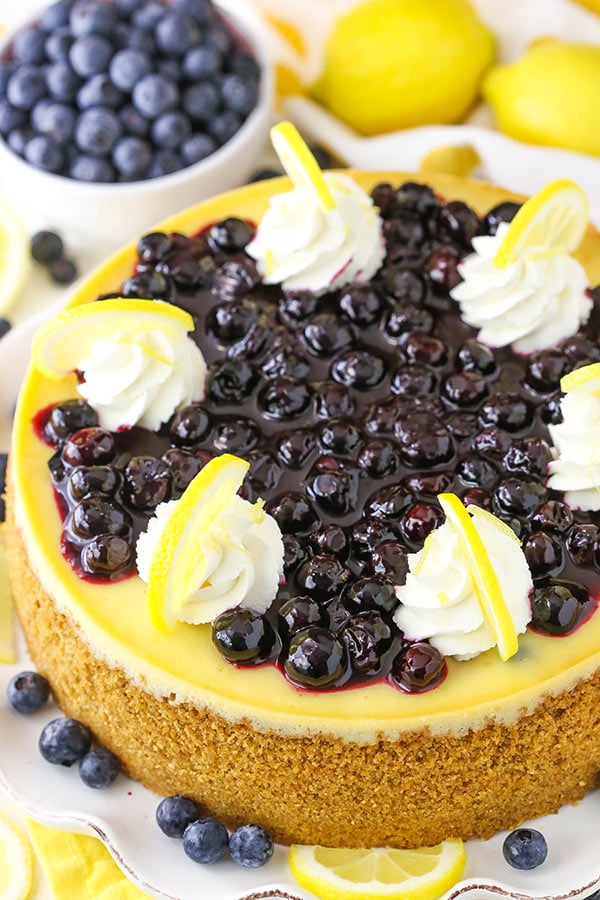 I am a big fan of lemon. Despite the hubs not being a fan, I continue to make lemon dessert after lemon dessert much to his dismay. I mean, how can you resist delicious things like this Lemon Cake. You can't. It wouldn't be right. And fortunately for me, my mom is a big lemon fan so I share these desserts with her.
Cheesecake is also a favorite of mine and with berries in season and so tasty lately, I decided to combine all these tasty things into one great cheesecake. There's just enough tart and sweet lemon flavor, fresh pops of blueberry in the cheesecake and then it's all topped with homemade blueberry sauce. Pure heaven!
So how would you make a Lemon Blueberry Cheesecake?
To start, you'll make the crust. I went with a classic graham cracker crust this time around and loved it. Combine the graham cracker crumbs, some sugar for sweetness and little butter to hold it all together, then press it into the pan. It bakes for about 8 minutes and then it's ready to go.
Next up is the filling. The lemon base of this Lemon Blueberry Cheesecake is easily my new favorite lemon cheesecake base. If you've ever made my lemon curd, you'll recall that it's made with egg yolks, no egg whites. I find that this gives a better lemon flavor, so I used that idea in this cheesecake and swapped out one of the whole eggs for egg yolks. It really accentuated the lemon flavor, making this lemon base the best!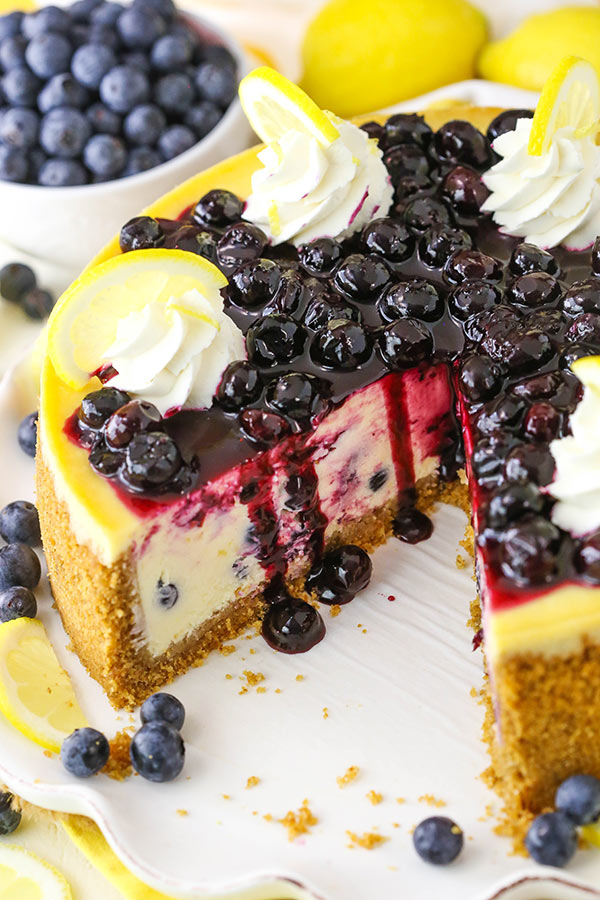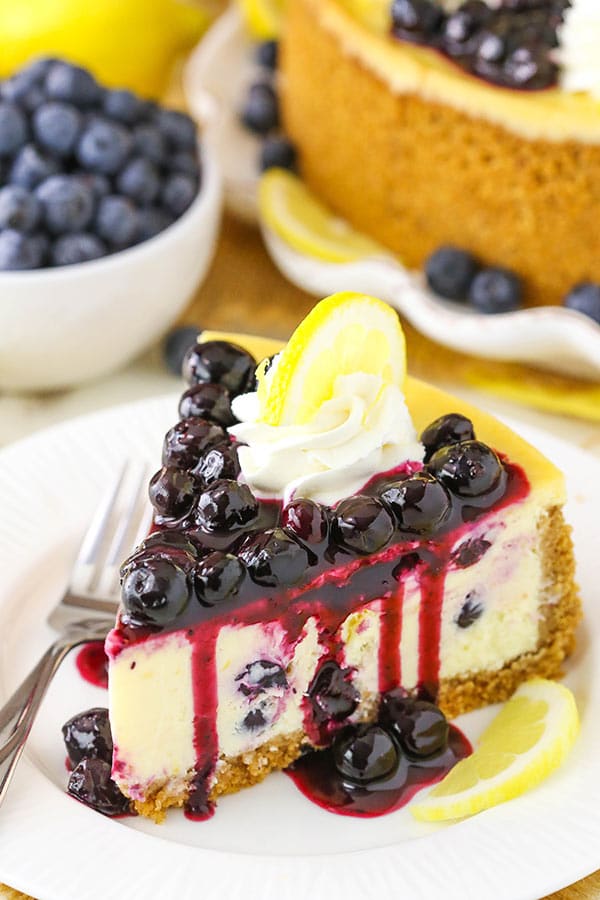 So to actually make the filling, you'll start by combining the cream cheese, sugar and flour. The flour adds a little texture to the cheesecake that I love. Next up is the sour cream, lemon juice and zest. All add great flavor to the cheesecake. You'll then add the eggs, which we've discussed, and finally the blueberries.
The cheesecake is baked in a water bath, which I'm a firm believer in. Without it, you often get a browned cheesecake that sinks in the middle and has cracks. To be fair, this cheesecake can end up with a few small cracks, because of the blueberries that float to the top and create little cracks, but they are small and not noticeable.
The whole cheesecake is covered with fresh homemade blueberry sauce. It's the perfect compliment to the thick and creamy cheesecake and adds just enough additional blueberry flavor to offset the wonderful tang of the lemon cheesecake.
With the addition of a little whipped cream and some lemon slices, this cheesecake is ready to go! It's a classic flavor combination and a cheesecake that really isn't hard to make, though it takes a little time. The hardest part is waiting for everything to cool so you can dig in!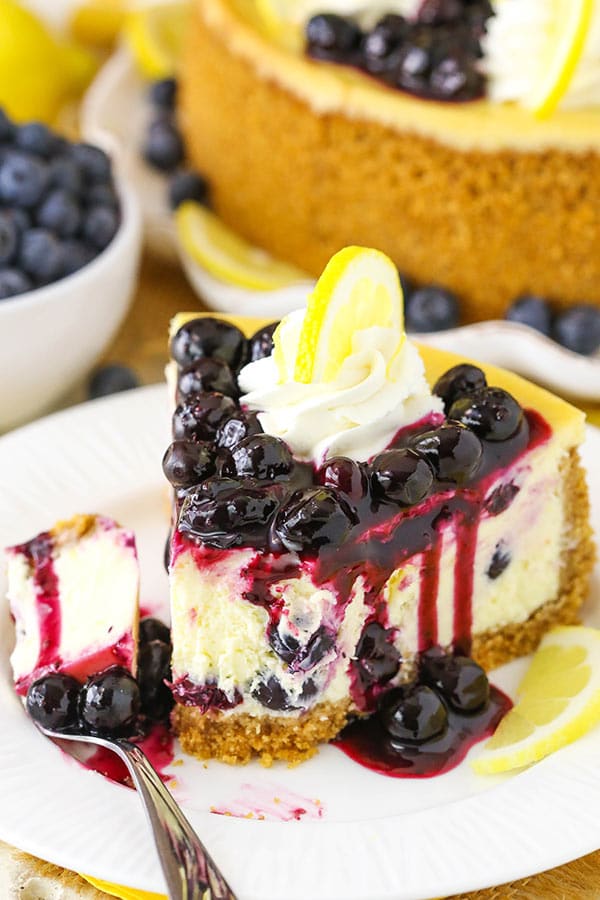 You might also like:
Lemon Blueberry Poke Cake
Lemon Cheesecake
Lemon Blueberry Cupcakes
Lemon Blueberry Shortbread Mousse Cake
Lemon Blueberry Scones
Read transcript
Print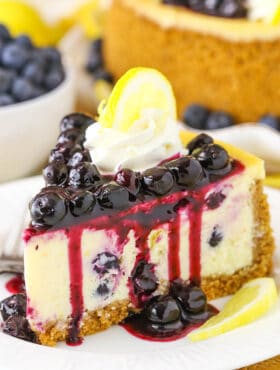 Recipe
Lemon Blueberry Cheesecake
Author:

Prep Time:

1 hour

Cook Time:

2 hours 40 minutes

Total Time:

3 hours 40 minutes

Yield:

12-14 slices

Category:

Dessert

Method:

Oven

Cuisine:

American
---
Description
This Lemon Blueberry Cheesecake is thick, creamy and flavored with tangy lemon and blueberries throughout. It sits in a graham cracker crust and is topped with a homemade blueberry sauce.
---
Ingredients
CRUST
2 1/4 cups

(

302g

) graham cracker crumbs

10 tbsp

(

140g

) salted butter, melted

3 tbsp

(

39g

) sugar
LEMON BLUEBERRY FILLING
24 ounces

(

678g

) cream cheese, room temperature

1 cup

(

207g

) sugar

3 tbsp

(

24g

) all purpose flour

3/4 cup

(

173g

) sour cream

6 tbsp

(90ml) lemon juice

2 tbsp

lemon zest

3

large eggs, room temperature

2

large egg yolks, room temperature

1 1/2 cups

blueberries
BLUEBERRY TOPPING
1/4 cup

(

52g

) sugar

1 tbsp

cornstarch

2 tsp

water

2 cups

(

277g

) blueberries
WHIPPED CREAM
1 cup

(240ml) heavy whipping cream, cold

1/2 cup

(

58g

) powdered sugar

1 tsp

vanilla extract
Lemon slices, for decorating, optional
---
Instructions
CRUST

1. Preheat oven to 325°F (163°C). Line a 9-inch (23cm) springform pan with parchment paper in the bottom and grease the sides.
2. Combine the crust ingredients in a small bowl. Press the mixture into the bottom and up the sides of the springform pan.
3. Bake the crust for 10 minutes, then set aside to cool.
4. Cover the outsides of the pan with aluminum foil so that water from the water bath cannot get in (see how I prepare my pan for a water bath). Set prepared pan aside.
CHEESECAKE
5. Reduce oven temperature to 300°F (148°C).
6. In a large bowl, beat the cream cheese, sugar and flour on low speed until well completely combined and smooth. Be sure to use low speed to reduce the amount of air added to the batter, which can cause cracks. Scrape down the sides of the bowl.
7. Add the sour cream, lemon juice and lemon zest and mix on low speed until well combined.
8. Add the eggs one at a time, mixing slowly to combine after each addition, then add the egg yolks and mix until combined. Scrape down the sides of the bowl as needed to make sure everything is well combined.
9. Gently stir the blueberries into the batter.
10. Pour the cheesecake batter evenly into the crust.
11. Place the springform pan inside another larger pan. Fill the outside pan with enough warm water to go about halfway up the sides of the springform pan. The water should not go above the top edge of the aluminum foil on the springform pan.
12. Bake for 1 hour 15 minutes. The center should be set, but still jiggly.
13. Turn off the oven and leave the door closed for 30 minutes. The cheesecake will continue to cook, but slowly begin to cool as well.
14. Crack the door of the oven for 30 minutes to allow the cheesecake to continue to cool slowly. This process helps prevent cracking.
15. Remove the cheesecake from the oven and water bath wrapping and place the cheesecake in the refrigerator to cool completely.
TOPPING
16. While the cheesecake cools, make the topping. Combine the sugar, cornstarch and water in a medium-sized saucepan over medium heat and stir to combine. Heat until the mixture is wet and the sugar begins to melt.
17. Add the blueberries and stir to coat with the sugar mixture.
18. Continue to cook until the blueberries start to soften and let out juice.
19. Remove from heat when blueberries are a bit juicy and the juice has begun to thicken. Pour the mixture into another bowl and refrigerate until cool.
20. When you're ready to serve the cheesecake, make the whipped cream. Add the heavy whipping cream, powdered sugar and vanilla extract to a large mixer bowl and whip on high speed until stiff peaks form.
21. Remove the cheesecake from the fridge and remove the sides of the springform pan. Set the cheesecake on a serving plate.
22. Pipe swirls of whipped cream around the edge of the cheesecake, then top with the blueberry topping and slices of lemon.
23. Refrigerate cheesecake until ready to serve. Cheesecake is best when stored well covered and best eaten within 3-4 days.
Nutrition
Serving Size:

1 slice

Calories:

555

Sugar:

35.3 g

Sodium:

384.2 mg

Fat:

35.9 g

Carbohydrates:

52.9 g

Protein:

7.9 g

Cholesterol:

160.7 mg
Keywords: lemon blueberry cheesecake, cheesecake recipe, how to make cheesecake
Filed Under:
Enjoy!

This post may contain affiliate sales links. Please read my disclosure policy.