This moist & fluffy Marble Cake may look fancy, but it's incredible easy to make! Learn how to make an old-fashioned marble cake with swirls of vanilla and chocolate cake, all covered in chocolate buttercream frosting!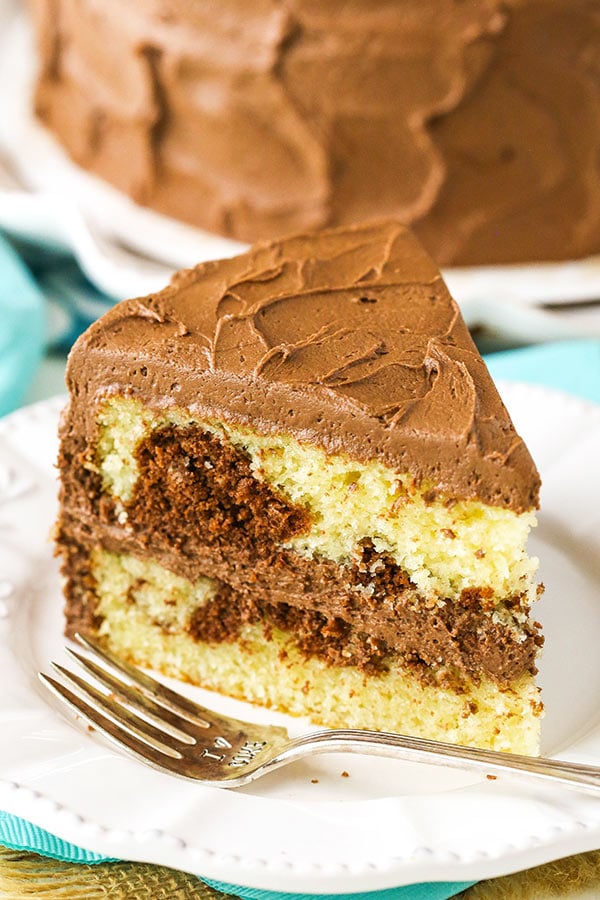 An Easy Marble Cake Recipe
After many, many versions of this Marble Cake, I'm so excited to share the final one with you. I've gotten lots of requests for a Marble Cake lately, so I knew I needed to share this recipe as soon as I had it right. I even went to my Instagram Stories to ask what makes a good Marble Cake, so that I could be sure to incorporate everything.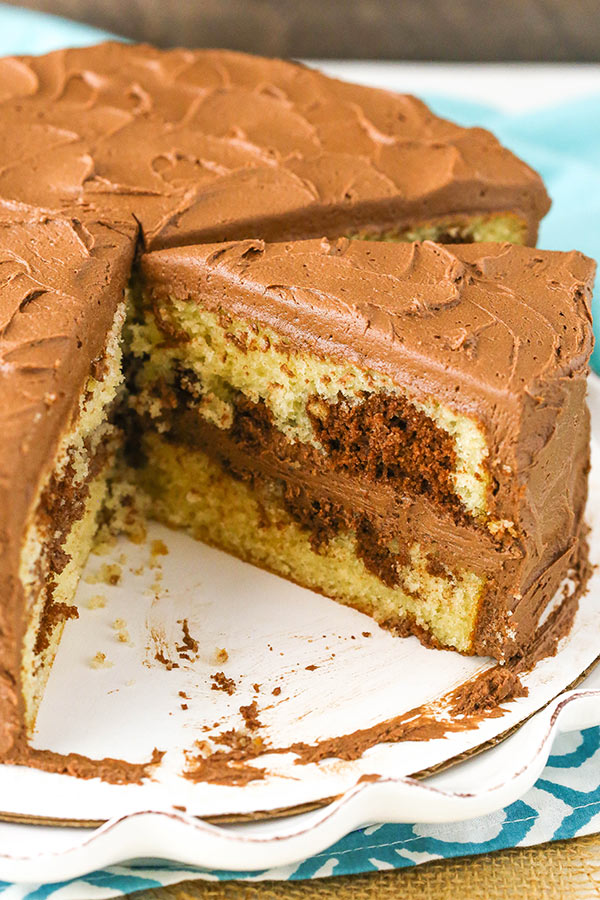 What Makes a Good Marble Cake?
I have to say this cake is all that we want it to be!  It's moist with distinctly chocolate and vanilla flavored swirls of fluffy cake.
Plus, both the chocolate and vanilla cake come from the same batter, making this marble cake super quick and easy to put together. Love it!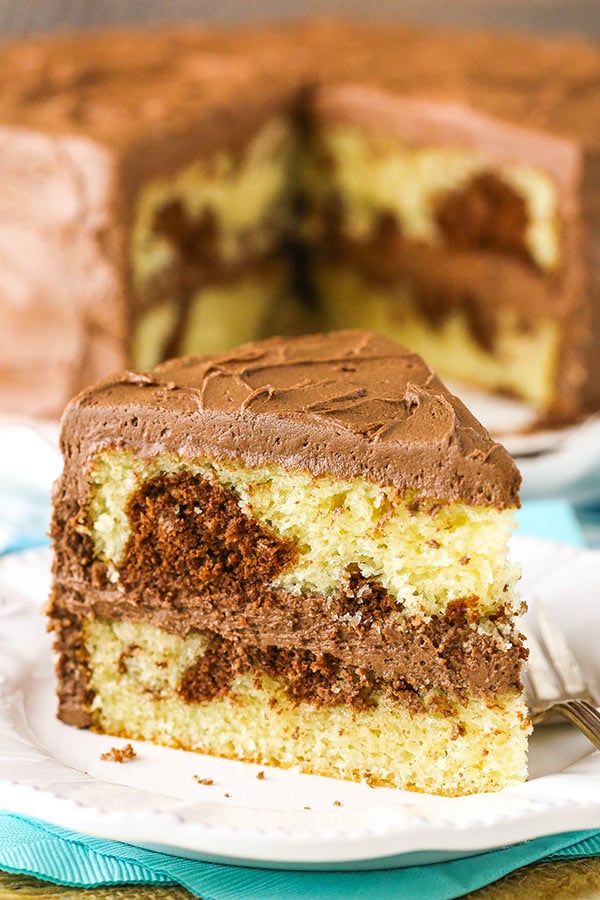 How to Make Marble Cake
Step 1: Make the Vanilla Cake Batter
So to get started making this Marble Cake, you'll make the vanilla cake batter. A combination of butter and vegetable oil are used to add both flavor and moisture to the cake. Butter adds the flavor you really love in a vanilla cake, while oil adds the ever important moisture.
The butter, oil and sugar are all creamed together until nice and fluffy, then the eggs are added. I love that this batter uses whole eggs, so there aren't any egg yolks or whites left over that you're either throwing away or trying to find a use for.
Next up is the vanilla extract and buttermilk, which are added in between the two additions of the dry ingredients. I love the extra flavor and tenderness that the buttermilk adds, but it could be replaced with regular milk, if you prefer.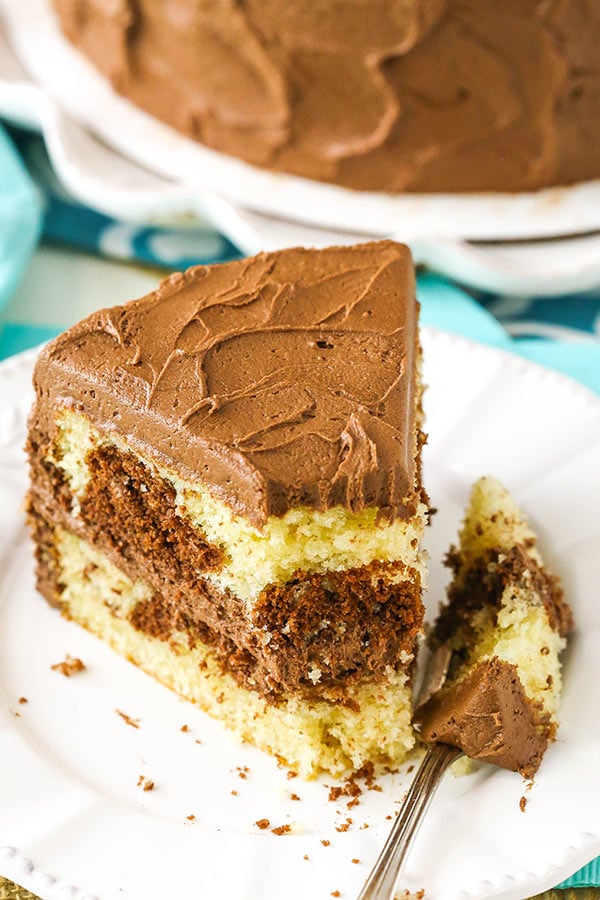 Step 2: Add Chocolate to Some of the Cake Batter
Once the batter is all combined, 1 1/4 cups of batter should be separated and the melted chocolate added. I played around the most with this particular step. How much of the batter should be used for the chocolate, what kind of chocolate to use and how much chocolate? All such important questions!
What Kind of Chocolate to Use?
The kind of chocolate was the first thing I played with. The chocolate you use actually makes a significant different in the final texture and taste of the chocolate cake.
I knew I wanted to use melted chocolate, so I initially started out using pure 100% chocolate. It ended up not being my favorite option because it made the chocolate cake noticeably different in texture from the vanilla and was more dense and dry. Not to mention that it was a little more bitter tasting.
I then tried semi-sweet chocolate, which is a favorite of mine in baking. While it improved the texture of the cake, I found the chocolate flavor to not really be enough. It was fine, but just a bit lost.
Next up was a bittersweet chocolate, which is kind of a middle point between the 100% cocoa and semi-sweet, since it's a 60% cocoa. The bittersweet chocolate was perfect! Great chocolate flavor, but not overpowering or bitter. I also messed around with the amount of melted chocolate used and decided that a little less melted chocolate went a long way. It added plenty of flavor and did a better job of maintaining the same cake texture between the chocolate and vanilla batters. Too much added chocolate still messed with the texture more than I wanted it to.
How Much Chocolate Batter to Make?
The final decision was how much cake batter to actually add the melted chocolate too. I have to say this was the hardest thing to decide on. I decide to go with 1 1/4 cups of batter being used for the chocolate part of the cake. One cup would work and 1 1/2 cups would work, but I felt as though 1 1/4 cups was just right. That said, you could totally adjust that to your preference without having to adjust anything else about the recipe. It's flexible like that.
Step 3: Swirl the Batters Together in Your Pan & Bake
As for marbling the cake when you add the cake batters to the pans – you don't want to overdo it. I really liked having them a little more separate so that you got the distinctly chocolate and vanilla flavors. Too much marbling and the chocolate can kind of take over, so keep that in mind. I ran a knife in a swirl through the cake in one direction once, then the opposite direction once and that was it.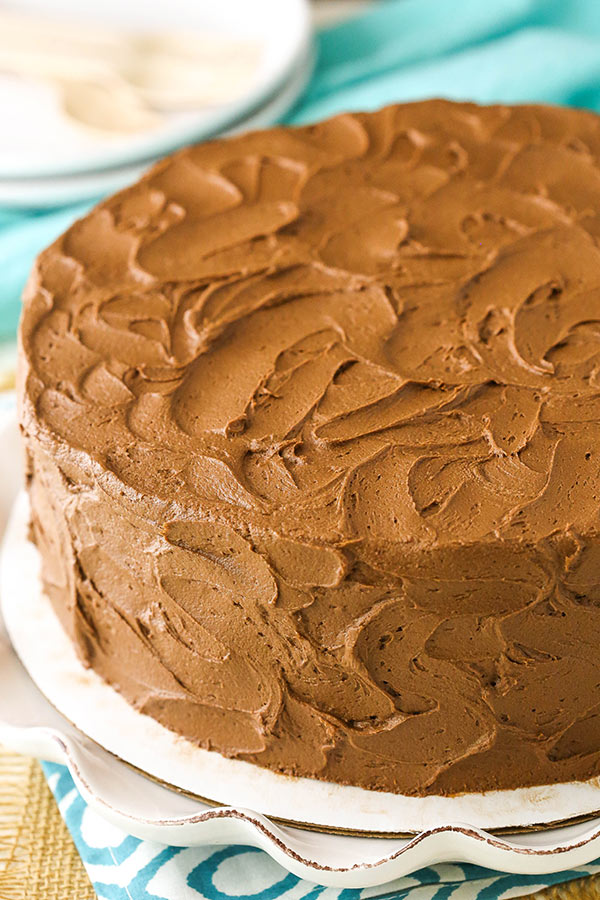 Step 4: Frost Your Cake!
The final step is covering your marble cake in homemade chocolate buttercream frosting! It finished it off perfectly! However, you could totally use a vanilla frosting as well.
The great thing about Marble Cake is that there are many ways to go about it and this recipe is pretty flexible. The cake is moist, flavorful and easy to put together too, which are all winners in my book. I hope you enjoy it!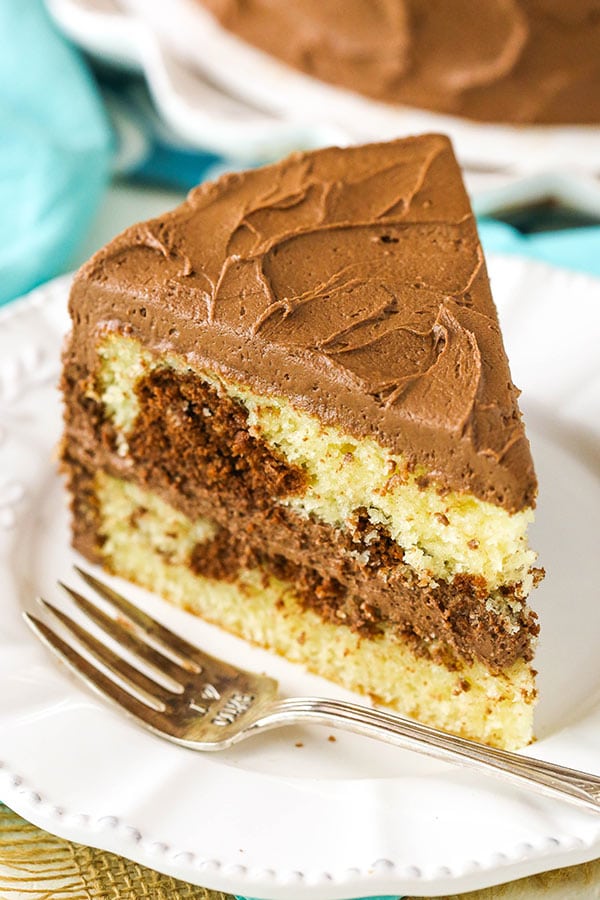 You might also like these cake recipes:
Moist Vanilla Cake
Best Chocolate Cake
Chocolate Marble Mini Cheesecakes
Print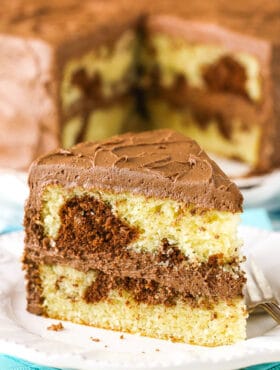 Recipe
Marble Cake
Author:

Prep Time:

1 hr 30 minutes

Cook Time:

22 minutes

Total Time:

1 hour 52 minutes, plus cooling

Yield:

12-14 slices

Category:

Dessert

Method:

Oven

Cuisine:

American
---
Description
This Marble Cake is wonderfully moist and made with a swirls of vanilla and chocolate cake! It's covered in chocolate frosting for a classic cake!
---
Ingredients
MARBLE CAKE
2 1/4 cups

(

293g

) all purpose flour

2 1/2 tsp

baking powder

1/2 tsp

salt

1/2 cup

(

112g

) unsalted butter, room temperature

1/2 cup

vegetable oil

1 1/2 cups

(

310g

) sugar

4

large eggs

1 tbsp

vanilla extract

1 cup

(240ml) buttermilk*

2.5 oz

bittersweet chocolate (60% cacao), chopped**
CHOCOLATE BUTTERCREAM FROSTING
1 1/4 cups

(

280g

) butter

1 cups

(

189g

) shortening

8 cups

(

920g

) powdered sugar

2 tsp

vanilla extract

1 cup

(

114g

) natural unsweetened cocoa powder

6

–

8

tbsp (90-120ml) water/milk
---
Instructions
1. Prepare two 9 inch cake pans with parchment paper circles in the bottom and grease the sides. Preheat oven to 350°F (176°C).
2. Combine the flour, baking powder and salt in a medium sized bowl and set aside.
3. Add the butter, vegetable oil and sugar to a large mixer bowl and beat together until light in color and fluffy, about 3-4 minutes. Do not skimp on the creaming time.
4. Add the eggs two at a time, mixing until well combined after each. Scrape down the sides of the bowl as needed to be sure all ingredients are well incorporated.
5. Add half of the dry ingredients to the batter and mix until combined.
6. Add the milk and vanilla extract and mix until well combined.
7. Add the remaining dry ingredients and mix until well combined and smooth. Scrape down the sides of the bowl as needed to be sure all ingredients are well incorporated. Do not over mix the batter.
8. Set aside 1 1/4 cups of batter, then divided the remaining batter between the two cake pans and set them aside.
9. Melt the chopped chocolate, then add it to the batter that was set aside and gently fold together to combine.
10. Drop spoonfuls of batter over the top of the vanilla batter that is already in the cake pans. Use a knife to swirl the chocolate and vanilla batters together, being careful not to over combine them. I ran a knife in a swirl through the cake in one direction once, then the opposite direction once and that was it.
11. Bake for 18-22 minutes, or until a toothpick inserted comes out clean.
12. Remove the cakes from the oven and allow to cool for about 2-3 minutes, then remove to cooling racks to cool completely.
13. To make the frosting, beat the butter and shortening together until smooth.
14. Add half of the powdered sugar and mix until smooth.
15. Add the vanilla extract, cocoa powder and 4-5 tablespoons of water or milk and mix until smooth.
16. Slowly add the remaining powdered sugar and mix until smooth. Add additional water or milk, as needed to get the right consistency of frosting.
17. To put the cake together, use a large serrated knife to remove the domes from the top of the cakes so that they're flat. These cakes don't have a large dome, but I like to make sure they're completely flat.
18.Place the first cake on a serving plate or a cardboard cake round.
19. Spread about 1 cup of frosting evenly on top of the cake.
20. Add the second layer of cake on top , then frost the outside of the cake.
Store in an air-tight container. Cake is best when eaten within 3-4 days.
---
Notes
*I use powdered buttermilk. Regular milk would work fine as a substitute.
**I strongly recommend sticking with bittersweet chocolate for this cake. I find it gives the best flavor and texture to the chocolate cake portion.
NOTE: If you'd like to use a vanilla frosting on this cake, replace the cocoa powder with an equal amount of additional powdered sugar and increase the vanilla extract to 3 teaspoons (1 tablespoon).
Keywords: marble cake, marble cake recipe, how to make marble cake, chocolate vanilla cake recipe,
Enjoy!
This post contains affiliate links.

This post may contain affiliate sales links. Please read my disclosure policy.