August 6, 2014
Best Chocolate Cake
This Chocolate Cake is seriously the best chocolate cake you'll ever make. I absolutely love it. So moist and chocolatey! It totally turned me into a chocolate cake lover!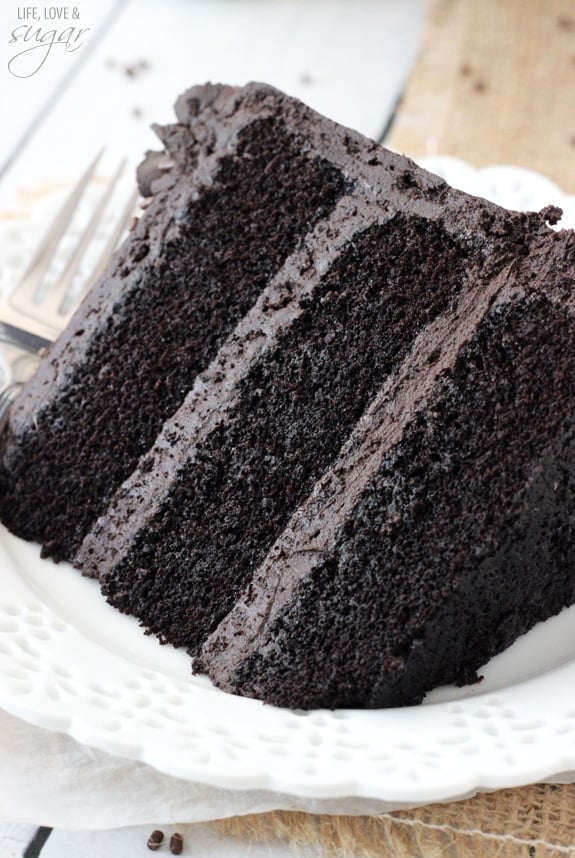 So when I said that this cake turned me into a chocolate cake lover, were you wondering if I wasn't before? Well, it's true. I wasn't. Growing up, I was more of a vanilla or other fun flavor kinda kid. I think it's because store-bought chocolate cakes just do not compare to homemade. I don't bother with them. Not chocolatey enough.
But once I made this for the first time a fews years, my chocolate world came right. I literally cannot stop eating this cake every time I make it. It is so moist and chocolatey, it should be illegal.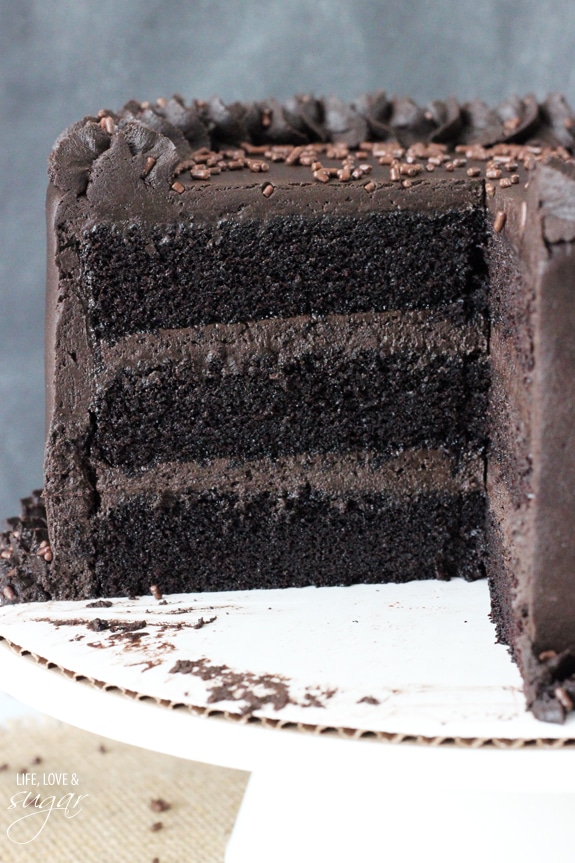 I actually made it again last week for another cake creation and even when I cut the domes off the top, I keep them and eat them. No part of a cake this good should ever go to waste! I offered the hubs a bite, and he took one, but then didn't want anymore. His ability to resist sweets is inhuman.
But then he came back to me later wanting some. He was all, "where's the chocolate cake?" and I was all "there wasn't that much and you declined. I ate it. You snooze, you loose, my friend."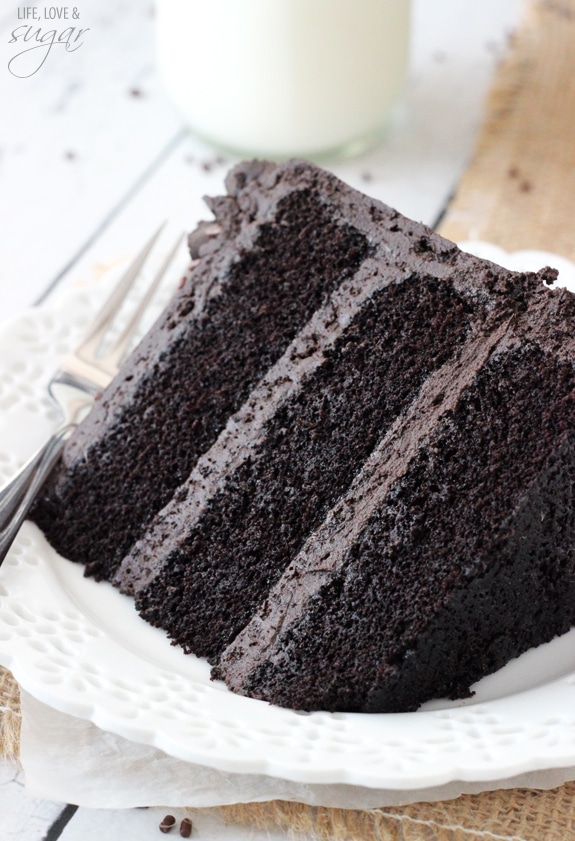 And I know there are like, a bagillion chocolate cake recipes out there, but seriously. This is a must try. And I really recommend using the dark chocolate cocoa, instead of regular cocoa. It adds such a deep chocolate flavor. Unlike biting into a piece of dark chocolate candy, it's not bitter at all in cake with all the added sugar. 🙂
Plus, like all terrifically easy cakes, you only need one bowl! I LOVE easy!
Be prepared though, it is a very thin batter. And no, it's not a typo down there. It's a slow-bake cake and bakes at 300 degrees – crazy stuff!

MY OTHER RECIPES
I made it for my niece's birthday last year, by request. Like I said, it's a favorite.
Well, when it was served, one of the moms asked my sister-in-law where she'd gotten the cake. She pointed at me and the mom came over to ask me about it. Turns out she has two restaurants in Atlanta and was curious if I'd be interested in making cakes for her restaurant.
Whaaaaaat?!?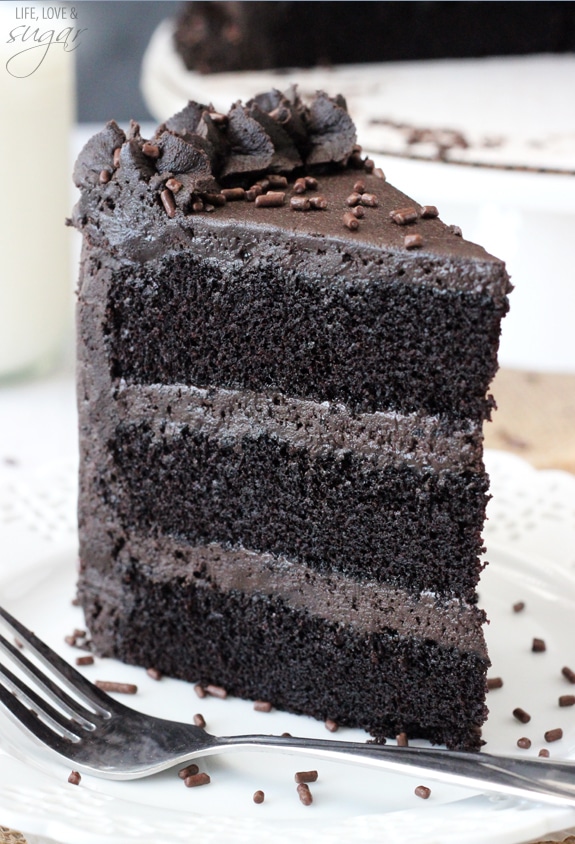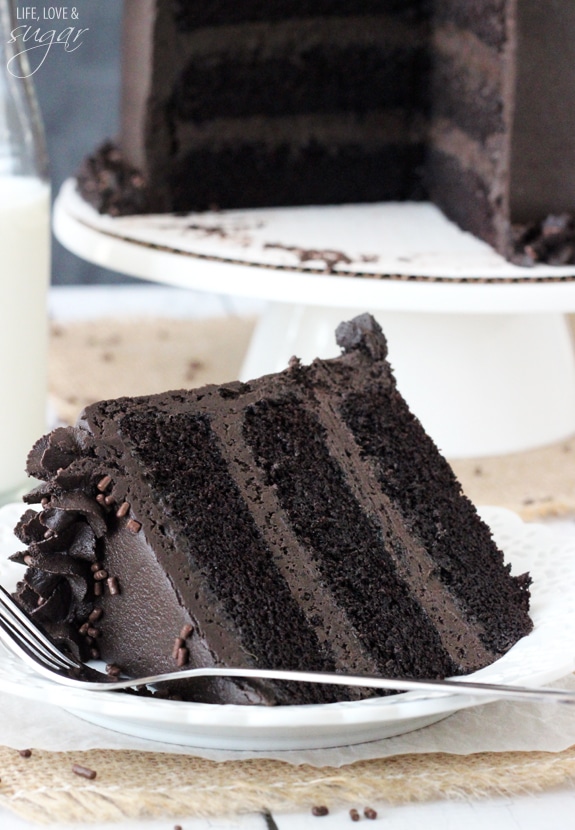 Pretty neato, but I actually said no. Between working full-time, blogging and having some semblance of a life, I've got little time for anything else. Sure I could've taken time away from something else to do it, but the great thing about blogging is that it's on my time, not someone else's. At least, for the most part.
But the point is – this cake is THAT good! Make it and you just might be asked to bake for a restaurant. And whether you want to actually do that or not, don't you want to be the one with a cake that's so could you could bake for a restaurant? You know you do. 🙂
Best Chocolate Cake
Yield: 8 inch layer cake, 12-14 slices
The moistest chocolate cake you'll ever eat!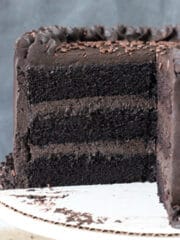 Ingredients:
Chocolate Cake
2 cups (260g) flour
2 cups (414g) sugar
3/4 cup (70g) Hershey's Special Dark Cocoa powder
2 tsp baking soda
1 tsp salt
2 large eggs
1 cup (240ml) buttermilk
1 cup (240ml) vegetable oil
1 1/2 tsp vanilla
1 cup (240ml) boiling water
Chocolate Frosting
1 1/4 cups (280g) butter
1 1/4 cups (237g) shortening
9 cups (1035g) powdered sugar
2 tsp vanilla extract
1 cup (94g) Hershey's Special Dark Cocoa powder
1/4 cup (60ml) water/milk
Directions:
1. Prepare three 8 inch cake pans with parchment paper circles in the bottom, and grease the sides. Preheat oven to 300°F (148°C).
2. Add all dry ingredients to a large bowl and whisk together.
3. Add eggs, buttermilk and vegetable oil to the dry ingredients and mix well.
4. Add vanilla to boiling water and add to mixture. Mix well.
5. Divide batter evenly between cakes pans and bake for 30-33 minutes, or until a toothpick comes out with a few crumbs.
6. Remove cakes from oven and allow to cool for about 10 minutes, then remove to cooling racks to cool completely.
7. Make frosting while cakes cool. Beat together butter and shortening until smooth.
8. Slowly add 4 cups (460g) of powdered sugar and mix until smooth.
9. Add vanilla and half of the water or milk and mix until smooth.
10. Add another 5 cups (575g) of powdered sugar and mix until smooth.
11. Add cocoa and mix until smooth.
12. Add remaining water or milk until the frosting is the right consistency.
13. Once cakes are cool, remove cake domes from top with a large serrated knife.
14. Place first layer of cake on cake plate. Spread about 3/4 cup of frosting on top in an even layer.
15. Add second layer of cake and add another 3/4 cup of frosting on top in an even layer.
16. Add final layer of cake on top and frost the outside of the cake.
17. Finish off with sprinkles or other decoration.
Enjoy!

You might also like:
Chocolate Chip Cookie Dough Ice Cream Cake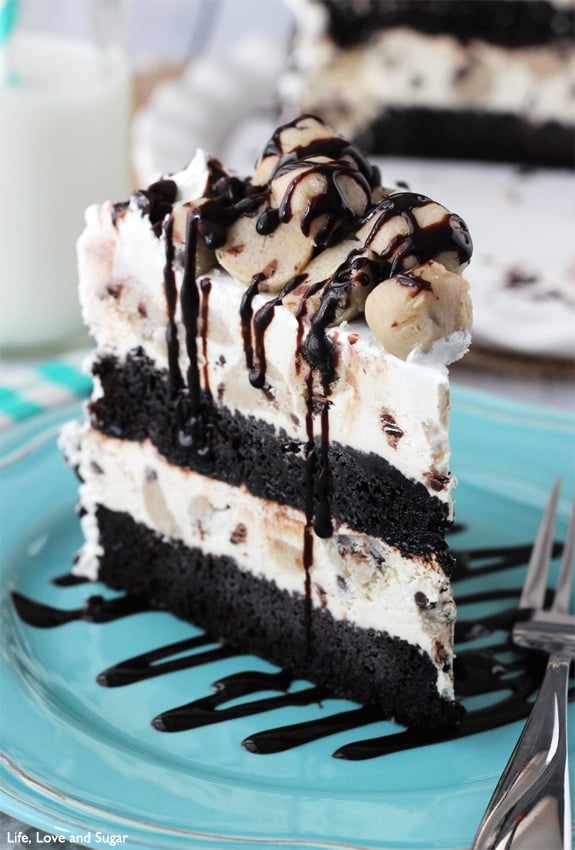 Peanut Butter Cookie Dough Brownie Layer Cake