August 6, 2014
Best Moist Chocolate Cake
This Moist Chocolate Cake is seriously the best chocolate cake you'll ever make. It is so moist and rich in chocolate flavor! Not to mention that it's super easy to make! It totally turned me into a chocolate cake lover!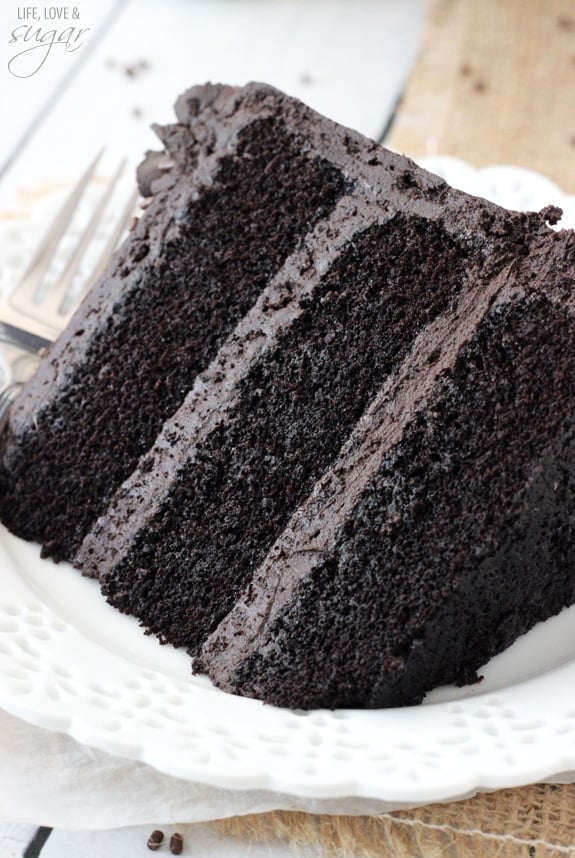 So when I say that this cake turned me into a chocolate cake lover, it implies that I wasn't before. But how could that be? Well, growing up, I was more of a vanilla or other fun flavor kinda girl. I think it's because store-bought chocolate cakes just do not compare to homemade. They never really seemed worth it to me.
But once I made this cake the first time, it opened up a whole new world of rich, moist chocolate cake to me. I literally cannot stop eating this cake whenever I make it. It is so moist and tasty, it should be illegal.
This cake has actually become the base for many other flavor combinations I've made and it's always a hit! Nutella Chocolate Cake anyone? Baileys Chocolate Poke Cake? Mint Chocolate Chip Layer Cake, Turle Chocolate Layer Cake, Red Wine Chocolate Cake, Chocolate Oreo Cake and more.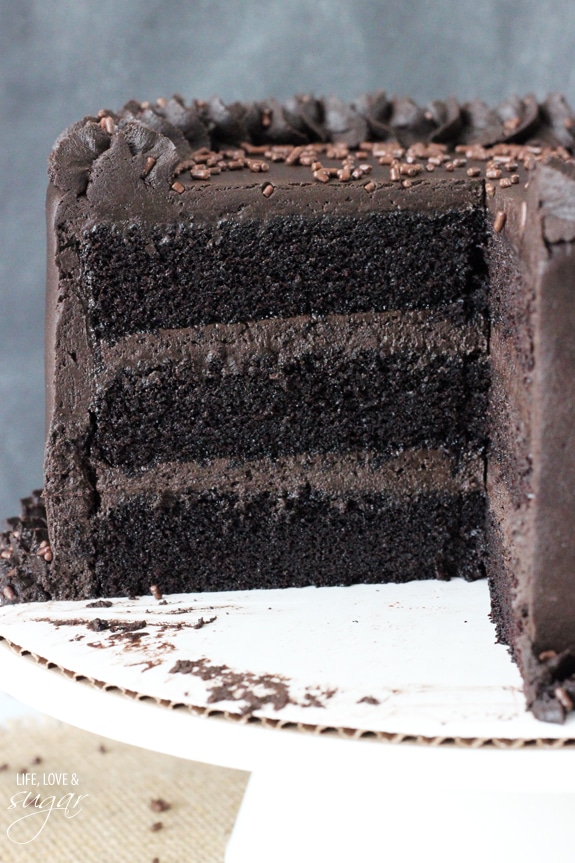 I know there are so many moist chocolate cake recipes out there, but this one seriously is a must try. Not only is it delicious, it's super easy. You only need one bowl to make it. Just whisk everything together and you've got your cake batter. Talk about en easy cleanup!
This chocolate cake is also made with oil, instead of butter. It's makes SUCH a moist cake! Additionally, I often make this cake with dark chocolate cocoa. It gives the cake an even more rich chocolate flavor. That said, regular cocoa works too and is also wonderful.
One thing to note is that this chocolate cake has a very thin batter. And no, it's not a typo – it's a slow-bake cake and bakes at 300 degrees.
I made this moist chocolate cake for my niece's birthday last year. When it was served, one of the moms asked my sister-in-law where she'd gotten the cake. She pointed at me and the mom came over to ask me about it. Turns out she has two restaurants in Atlanta and was curious if I'd be interested in making cakes for her restaurant.

MY OTHER RECIPES
Whaaaaaat?!?
Pretty neat, but I actually said no. However, this cake is THAT good! Make it and you just might be asked to bake for a restaurant. And whether you want to actually do that or not, don't you want to be the one with a cake that's so could you could bake for a restaurant? You know you do. 😉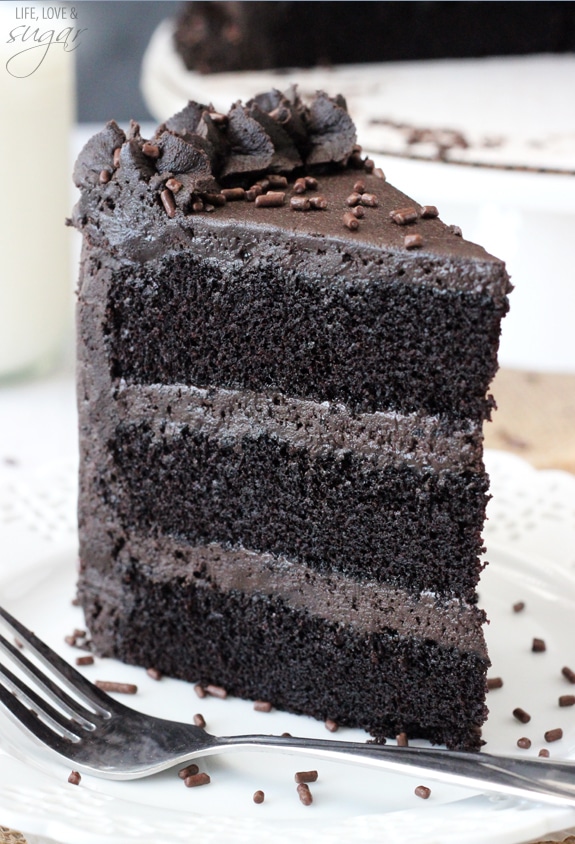 You might also like:
Moist Homemade Chocolate Cupcakes
Easy Moist Chocolate Cake
Mini Chocolate Cheesecakes
Chocolate Mousse Cake
Chocolate Lover's Cheesecake
Homemade Chocolate Whipped Cream
Best Moist Chocolate Cake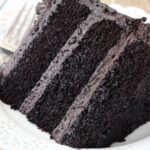 This chocolate cake is SO moist and easy and the best you'll ever have!
Author:
Prep Time:

40 minutes

Cook Time:

30 minutes

Total Time:

1 hr, 10 minutes, plus decorating

Yield:

12-14 slices

Category:

Dessert

Method:

Oven

Cuisine:

American
Ingredients
CHOCOLATE CAKE
2 cups (260g) flour
2 cups (414g) sugar
3/4 cup (70g) natural unsweetened cocoa powder*
2 tsp baking soda
1 tsp salt
2 large eggs
1 cup (240ml) buttermilk
1 cup (240ml) vegetable oil
1 1/2 tsp vanilla
1 cup (240ml) water
CHOCOLATE FROSTING
1 1/4 cups (280g) butter
1 1/4 cups (237g) shortening
9 cups (1035g) powdered sugar
2 tsp vanilla extract
1 cup (94g) natural unsweetened cocoa powder (I used Hershey's Special Dark)
1/4 cup (60ml) water/milk
Instructions
1. Prepare three 8 inch cake pans with parchment paper circles in the bottom, and grease the sides. Preheat oven to 300°F (148°C).
2. Add all dry ingredients to a large bowl and whisk together.
3. Add eggs, buttermilk and vegetable oil to the dry ingredients and mix well.
4. Add vanilla to boiling water and add to mixture. Mix well.
5. Divide batter evenly between cakes pans and bake for 30-33 minutes, or until a toothpick comes out with a few crumbs.
6. Remove cakes from oven and allow to cool for about 10 minutes, then remove to cooling racks to cool completely.
7. Make frosting while cakes cool. Beat together butter and shortening until smooth.
8. Slowly add 4 cups (460g) of powdered sugar and mix until smooth.
9. Add vanilla and half of the water or milk and mix until smooth.
10. Add another 5 cups (575g) of powdered sugar and mix until smooth.
11. Add cocoa and mix until smooth.
12. Add remaining water or milk until the frosting is the right consistency.
13. Once cakes are cool, remove cake domes from top with a large serrated knife.
14. Place first layer of cake on cake plate. Spread about 3/4 cup of frosting on top in an even layer.
15. Add second layer of cake and add another 3/4 cup of frosting on top in an even layer.
16. Add final layer of cake on top and frost the outside of the cake.
17. Finish off with sprinkles or other decoration.
Notes
* I used Hershey's Special Dark Cocoa for the cake in the photos. Feel free to use either regular or dark cocoa.
Keywords: chocolate cake, moist chocolate cake, easy chocolate cake, dark chocolate cake
Enjoy!