Snickers Cheesecake is a vanilla cheesecake full of chopped Snickers bars, layered with chocolate & caramel sauce and nestled in an Oreo crust. It's an amazing thick, creamy and gooey treat!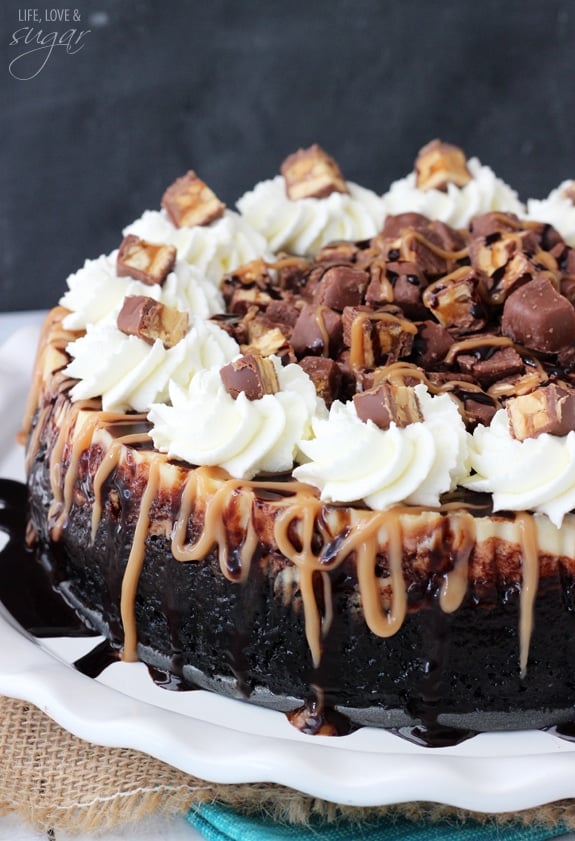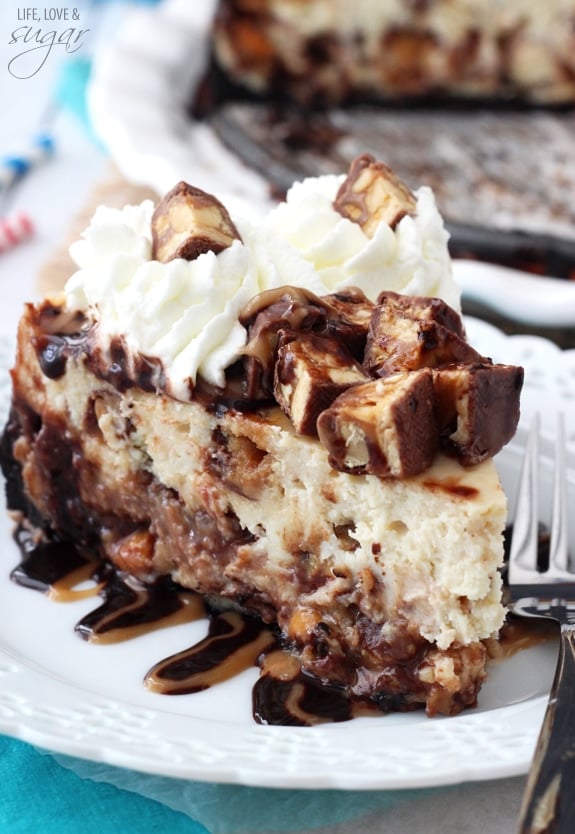 Snickers Cheesecake
I am completely in love with this cheesecake. It is all of my Snickers dreams come true. And it's also the perfect way to celebrate National Cheesecake Day!
Did you know that National Cheesecake Day is actually a thing? Well it is! There's actually a bajillion holidays dedicated to different foods. Clearly these are the kind of holidays we should get a day off for. How else will we overindulge in cheesecake?
Of course if overindulgence is your thing, you're in the right place. I pretty much love anything that is over the top. And to celebrate today, a bunch of us bloggers are posting cheesecake, so if you want to check them out, scroll to the bottom of the post. There's quite a few, which equals some serious indulgence.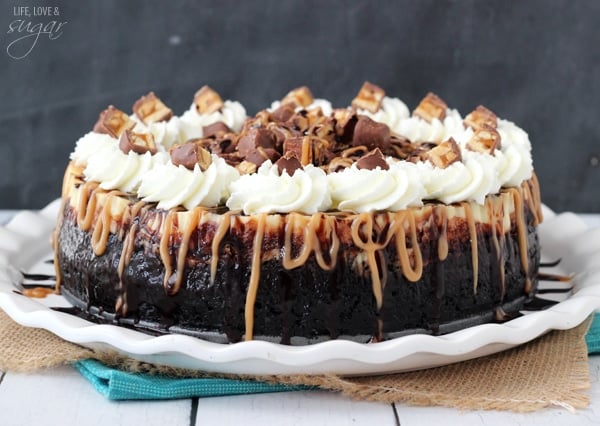 So as of Monday, the hubs has started working with a personal trainer. They have decided to trade personal training for tennis lessons.
The hubs wants to really work on building his strength and this trainer is going to work not on making him bulky, but on making him lean and strong. Certainly there's no body fat on him to lose.
In fact, back in the day (high school) I worked at a women's gym for a short while with my mom. The hubs (who wasn't the hubs yet, we were 17) came to visit and my mom thought it'd be fun to see what his body fat percentage was with the little contraption we had.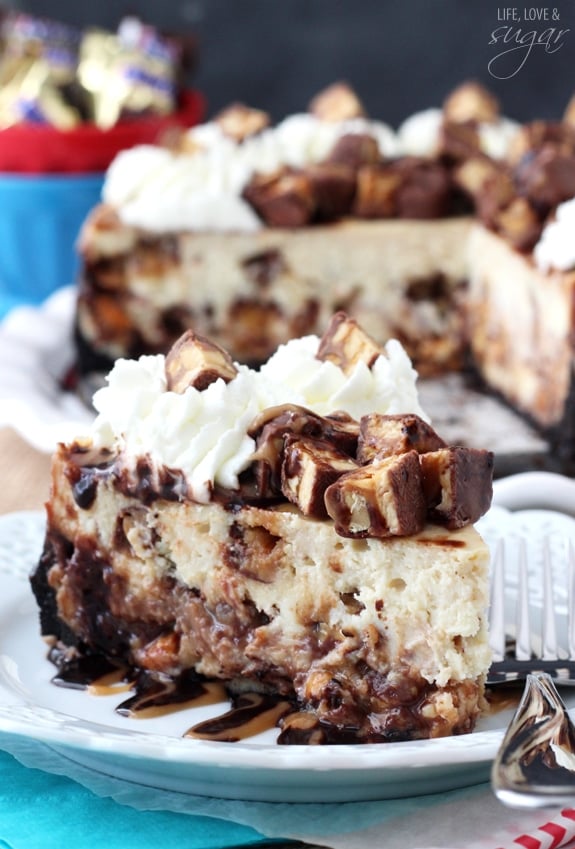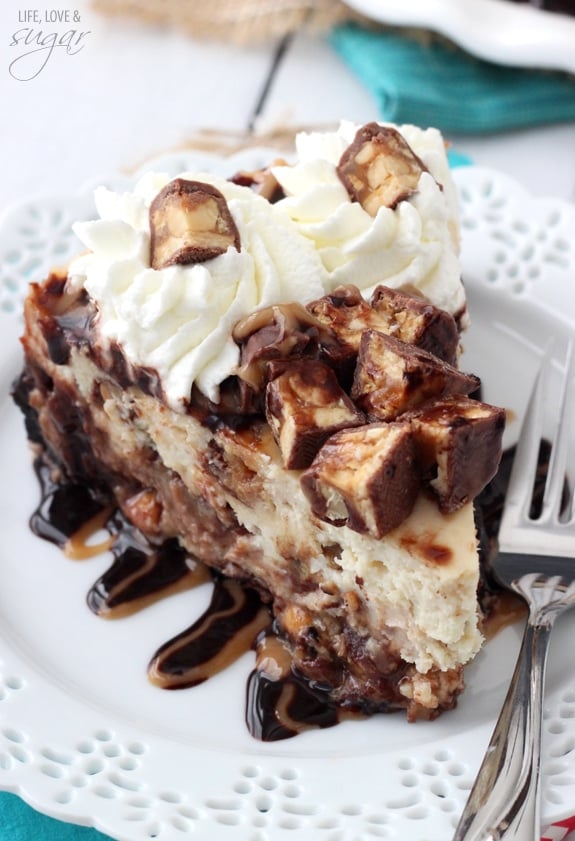 So she put in all the things it asked for like height, weight, etc and gave him the thingy to hold onto. It did it's thing and then gave us his reading:
"ERR"
The guy has so little body fat, the machine thing thought it was an error. And he hasn't changed a bit.
I guess I'm going to have to get motivated. He's really going to make me look bad. I mean, he literally worked so hard the first day that he threw up. Twice.
I think the only kind of workout I'd do that might make me throw up is the one required to lift cake to my mouth. And even then, getting to the point of throwing up…no. Just…no.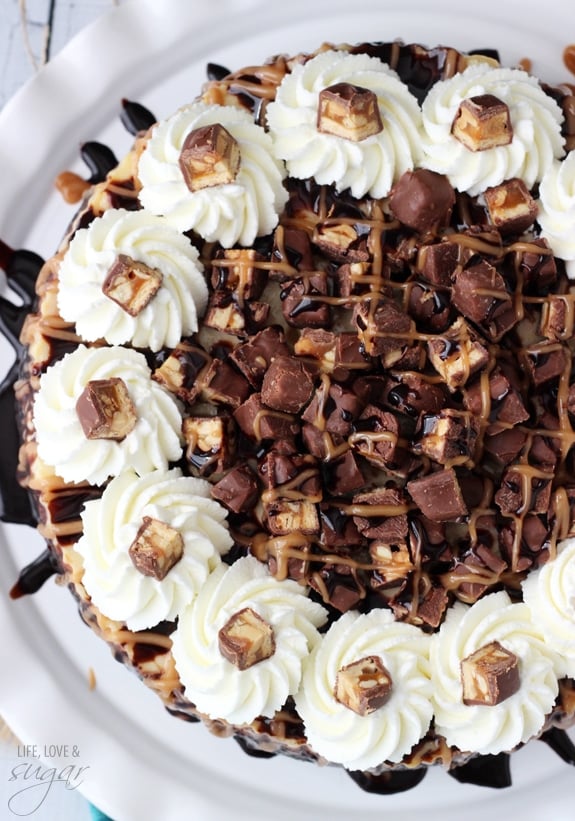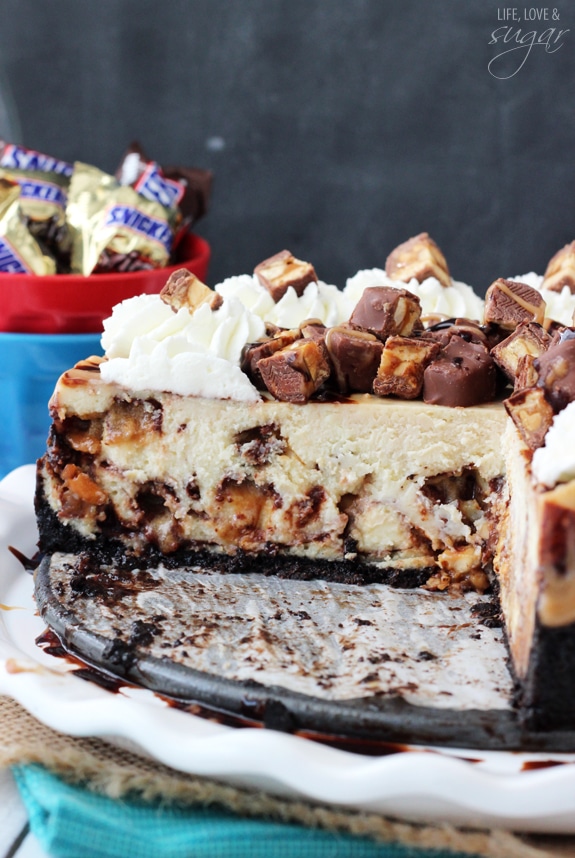 However, he has been making breakfast in the mornings to make sure he's ready for his workouts. I've been getting in on that action and I'm kinda diggin' it.
Just like I dug my fork right into this cheesecake.
You guys.
This cheesecake tops the ridiculousness scale for me. So stinkin' good.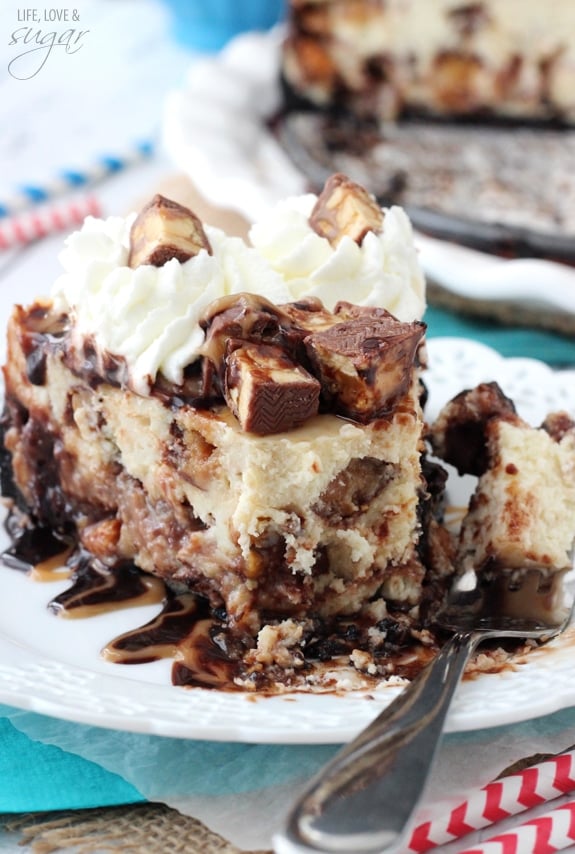 The way the chocolate and caramel sauce gets baked into it leaves a pretty spectacular gooeyness throughout most of the cheesecake. The texture of it with the creamy, thick cheesecake is pure heaven.
Add to that the crunch from the peanuts in the chopped Snickers and you might as well admit defeat. This cheesecake will win you over.
I brought a good bit of it home with me last weekend and I thought my brother was going to fight anyone that tried to take a few bites from him.
As we were packing up to leave, he was shoveling into his mouth like he couldn't breathe without it. Once I told him I wasn't taking it with me and he didn't have to eat it all at once, he relaxed. But it's that good.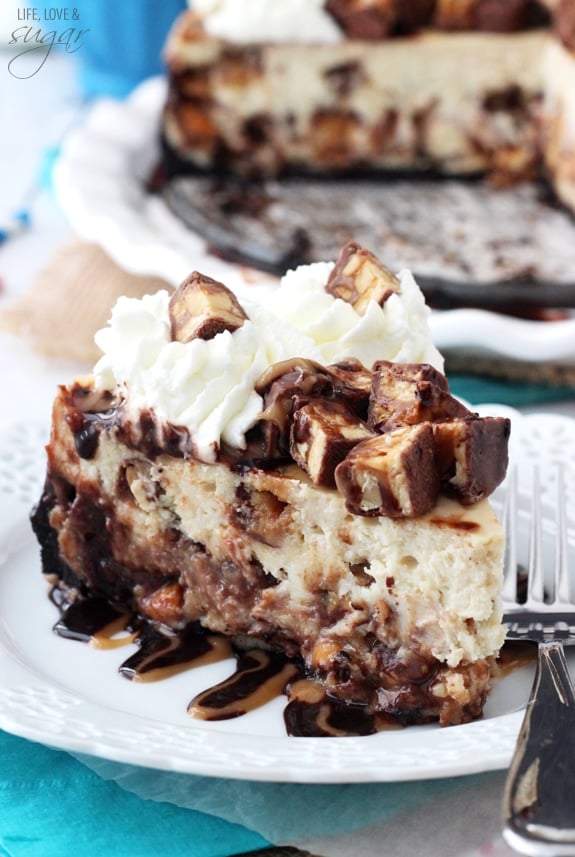 I started with my same cheesecake base that I've used in my other recipes, so if you've made those, this one will be a breeze.
I've actually come to love making cheesecake. I've always loved eating it, but making it seemed scary. Once I played around with it while making my Banana Pudding Cheesecake, I got hooked. Once you get past the fear of it and using a water bath, it really is so simple to make. And so easy to change up and make fun variations.
So get ready. There'll be more coming your way. But in the meantime, make this one. You won't regret it.
Print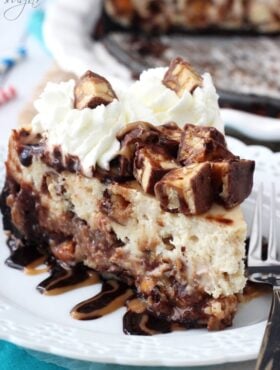 Recipe
Snickers Cheesecake
Author:

Prep Time:

20 minutes

Cook Time:

1 hour 45 minutes

Total Time:

2 hours 5 minutes

Yield:

12-14 Slices

Category:

Dessert

Method:

Oven

Cuisine:

American
---
Description
Snickers Cheesecake is a vanilla cheesecake full of chopped Snickers bars, layered with chocolate & caramel sauce and nestled in an Oreo crust. It's an amazing thick, creamy and gooey treat!
---
Ingredients
CRUST
2 cups

Oreo crumbs

4 tbsp

butter, melted
CHEESECAKE FILLING 
24 ounces

packages of cream cheese, room temperature (three

8 ounce

packages)

1 cup

sugar

2 tbsp

flour

4

eggs, room temperature

1 cup

sour cream

1 1/2 tsp

vanilla extract

30

–

35

mini snickers bars, chopped

1/4 cup

chocolate sauce

1/4 cup

caramel sauce
TOPPING
---
Instructions
CRUST
1. Heat oven to 325 degrees.
2. In a small bowl, combine crust ingredients and mix well.
3. Press mixture into the bottom and up the sides of a 9-inch springform pan with parchment paper in the bottom.
4. Bake crust for 10 minutes then remove.
5. Cover the outsides of the pan with aluminum foil so that water from the water bath cannot get in, and set aside.
CHEESECAKE FILLING
1. Reduce oven to 300 degrees.
2. In a large bowl, blend the cream cheese, sugar and flour with an electric mixer until combined (Use low speed to keep less air from getting into the batter, which can cause cracks). Scrape down the sides of the bowl.
3. Add eggs one at a time, beating slowly and scraping the sides of the bowl after each addition.
4. Add the sour cream and vanilla extract. Beat on low speed until well combined.
5. Gently stir in the chopped Snickers.
6. Add about half of the filling to the springform pan.
7. Pour the chocolate and caramel sauce on top of the filling. Then, use an offset spatula to swirl the sauces into the filling.
7. Pour the remaining cheesecake filling into the pan and again use the offset spatula to swirl around the chocolate and caramel sauces.
8. Drop the cheesecake on the counter a few times to release air bubbles that can cause cracks.
9. Place springform pan inside another pan. Fill outside pan with enough warm water to go about halfway up the sides of the springform pan. The water should not go above the top edge of the aluminum foil on the springform pan.
10. Bake for 1 hour and 35-40 minutes.
11. Turn off heat and leave cheesecake in oven with door closed for 20 minutes.
12. Crack oven door and leave the cheesecake in the oven for another 20 minutes or until set. This cooling process helps the cheesecake cool slowly to prevent cracks.
13. Remove cheesecake from oven and chill.
14. Remove springform pan sides from cheesecake and top with additional chocolate and caramel sauce, chopped mini Snickers and whipped cream.
---
Notes
I used an entire 19.50 oz bag of mini Snickers. After adding about 35 chopped mini Snickers to the cheesecake, I used the remainder for the top of the cheesecake. You could get by with less Snickers if you don't add as much to the top.
Nutrition
Serving Size:

1 Slice

Calories:

1014

Sugar:

55.4 g

Sodium:

726 mg

Fat:

74.4 g

Carbohydrates:

73.7 g

Protein:

16.2 g

Cholesterol:

241.7 mg
Keywords: snickers cake, snickers cheesecake, caramel cheesecake, caramel chocolate cake, chocolate cheesecake recipe, best cheesecake recipe, homemade cheesecake recipe, how to make cheesecake, how to make homemade cheesecake
Filed Under:
Enjoy!
This post contains affiliate links.
You might also like
Snickers Peanut Butter Brownie Ice Cream Cake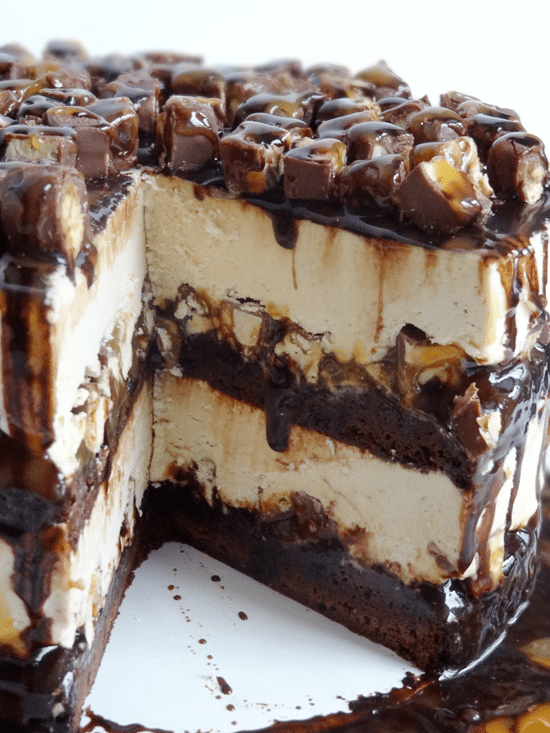 No Bake Samoa Cheesecake (no Samoa cookies needed!)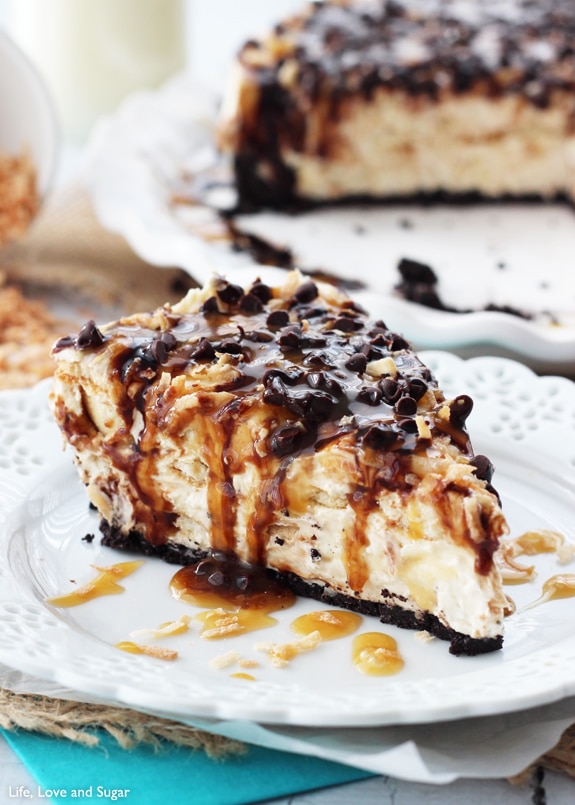 Snickers Chocolate Cookie Cups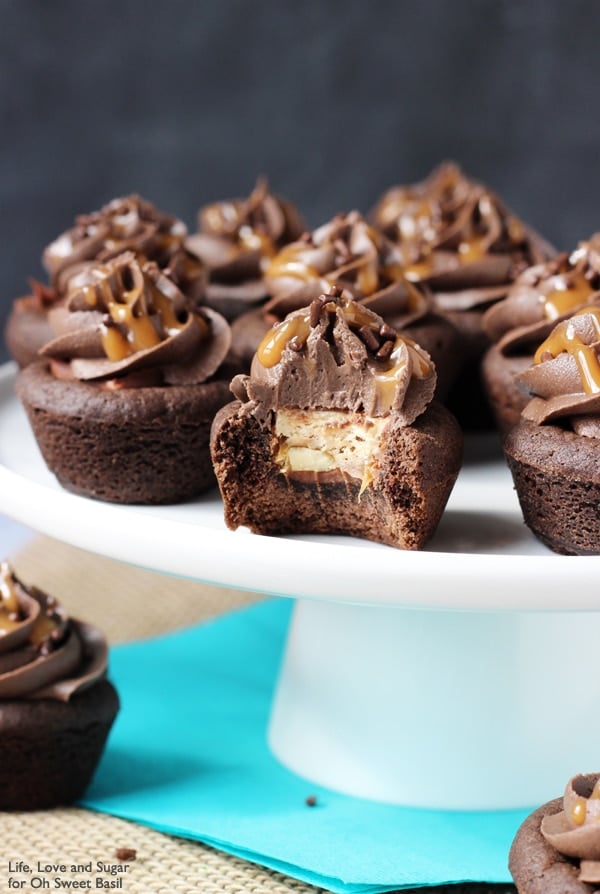 More cheesecake indulgence
Pear cheesecake with gingersnap crust from Roxana's Home Baking
Strawberry Chocolate Ganache Cheesecake Bars from A Kitchen Addiction
No-Bake Peanut Butter Cheesecake from Crunchy Creamy Sweet
Frozen Peanut Butter Cheesecake with Nutter Butter Crust from Crazy for Crust
Caramel Overload Cheesecake Bars from Crumbs and Chaos
Blackberry Goat Cheese Cheesecake from Baking a Moment

This post may contain affiliate sales links. Please read my disclosure policy.