This Butterfinger Cheesecake is a rich, thick and creamy peanut butter cheesecake filled with chopped Butterfingers in an Oreo crust topped with chocolate ganache and more Butterfingers!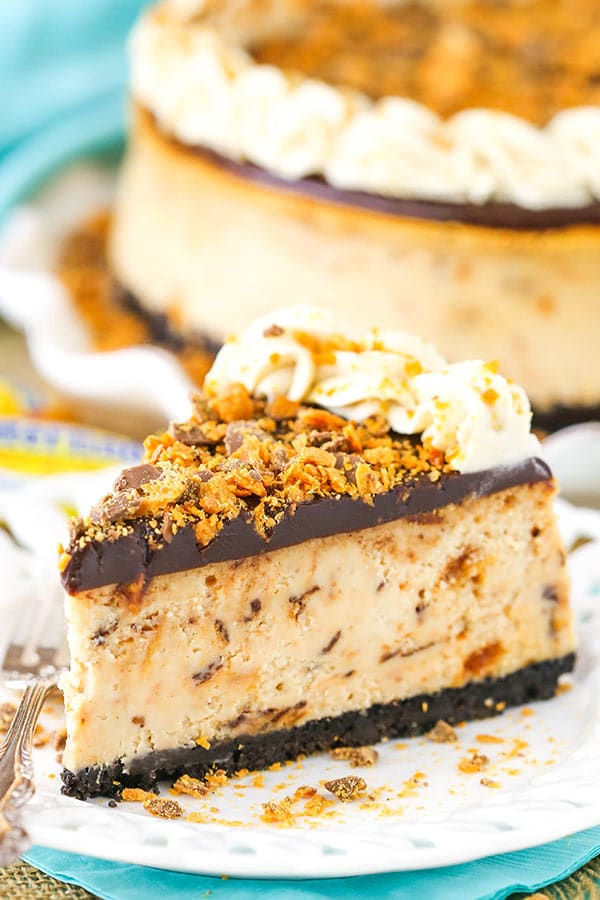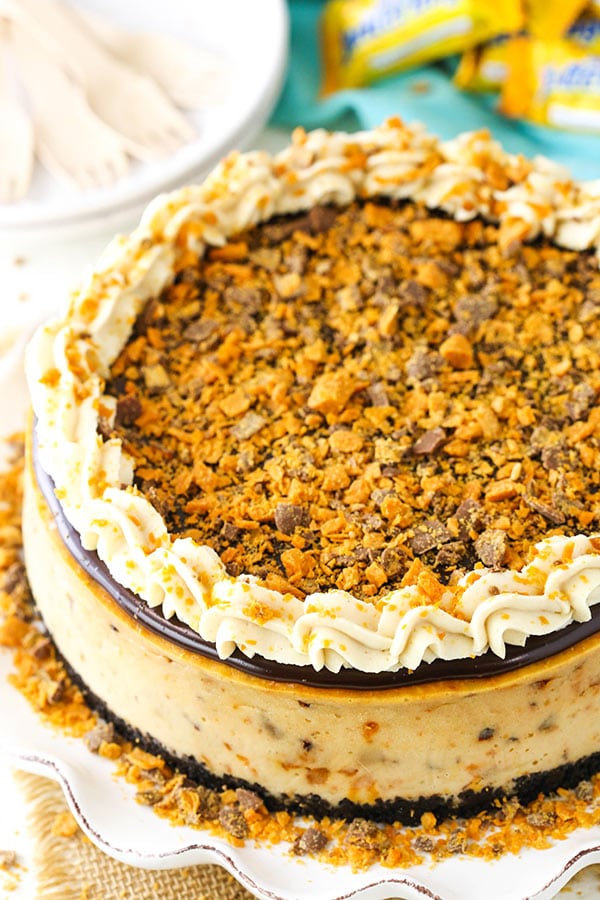 Despite having twin babies at home, the hubs and I are trying to do our best do enjoy some of the things we've always enjoyed. Quality things like watching The Bachelor and binge watching new series.
We've recently discovered that Netflix actually has some pretty solid movies and series. We can't catch up on new shows as quickly as we used to, but we make a solid effort when we can. Since we have to man the baby monitor, binge-watching is our biggest thrill and we gladly take it. 🙂
Speaking of big thrills, cheesecake has been one of my big baking thrills lately. If there's one dessert I've been loving making, it's cheesecake. I've had so many new flavors and ideas popping in my head, it's been hard to keep up. There are just do many things you can do! But of course I can't share cheesecake alone, so I'm doing my best to pace myself.
Today is all about the peanut butter and butterfingers. Surprisingly, I don't actually have a baked peanut butter cheesecake on the blog yet. That changes today with a cheesecake that is wonderfully delicious and rich. The specks of baked Butterfingers throughout the cheesecake entice with every bite!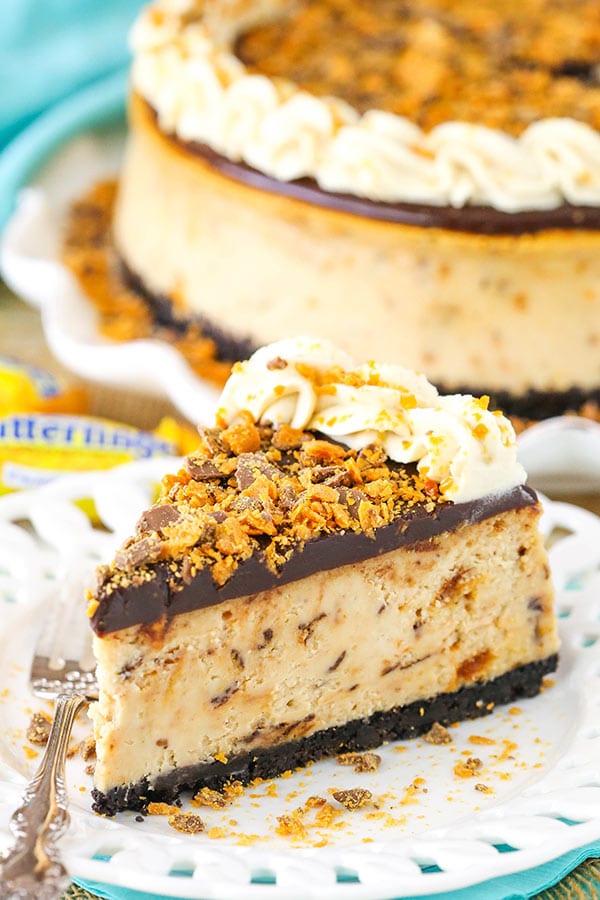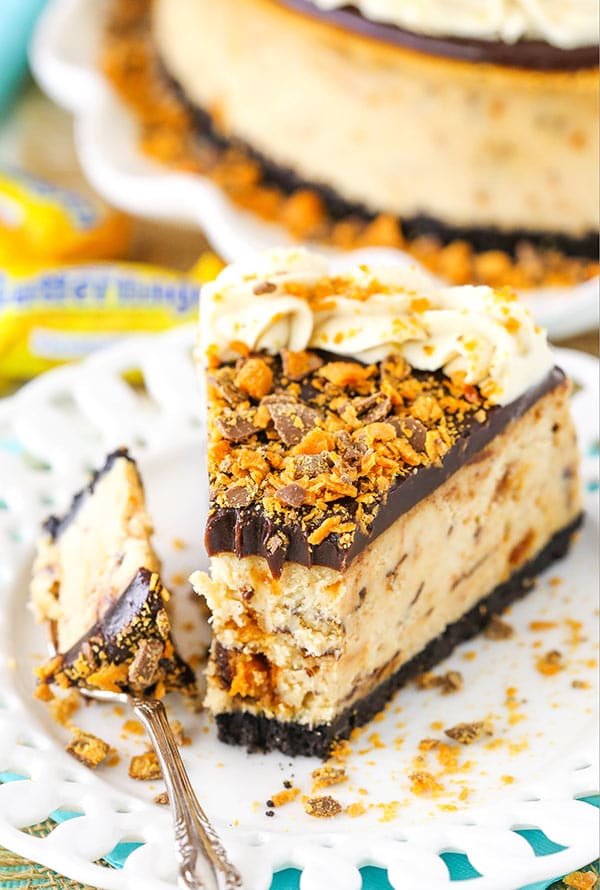 How to make Butterfinger Cheesecake
The base of this Butterfinger cheesecake is an Oreo crust – one of my favorites. The chocolate naturally goes perfect with this candy bar flavored cheesecake. Bake the crust prior to adding the filling so that it holds together better.
The peanut butter cheesecake filling is full of plenty of peanut butter flavor, with a full half cup of peanut butter and 1 1/2 cups of chopped butterfingers. Any cheesecake with that many butterfingers (12 fun-sized bars!) had got to be good! It's made with plenty of the usual ingredients as well – cream cheese, sugar, sour cream and eggs.
Once everything is combined, it's baked in a water bath. I know water baths can be a pain, but they are definitely worth it. You end up with a more creamy cheesecake that doesn't crack, dry out or sink in the middle.
After the cheesecake has baked and cooled, it's topped with chocolate ganache, more chopped butterfingers and some peanut butter whipped cream! The final Butterfinger cheesecake is thick, creamy and delicious! The peanut butter, pops of Butterfinger candy, chocolate topping and peanut butter whipped cream all combine to make a rich cheesecake with lots of texture and flavor. A new hit!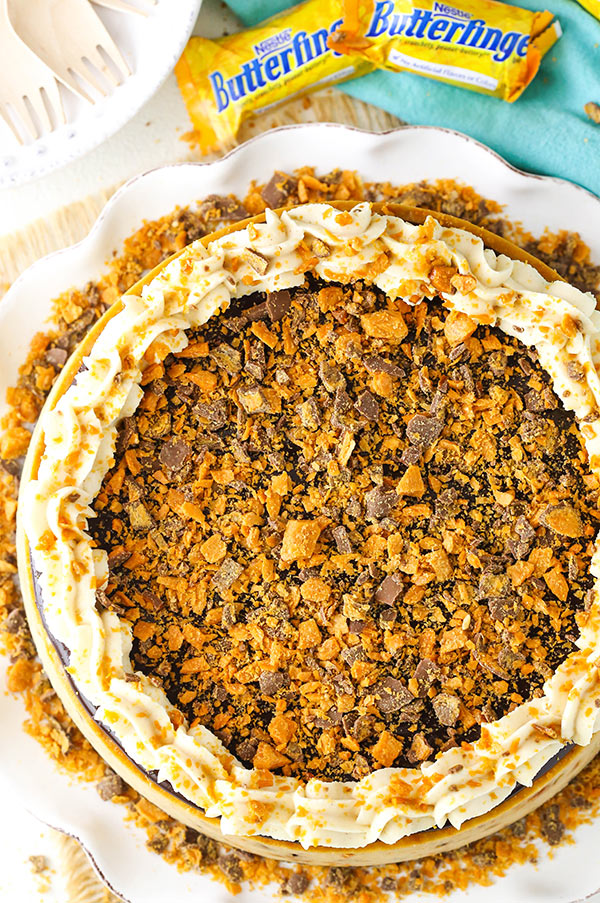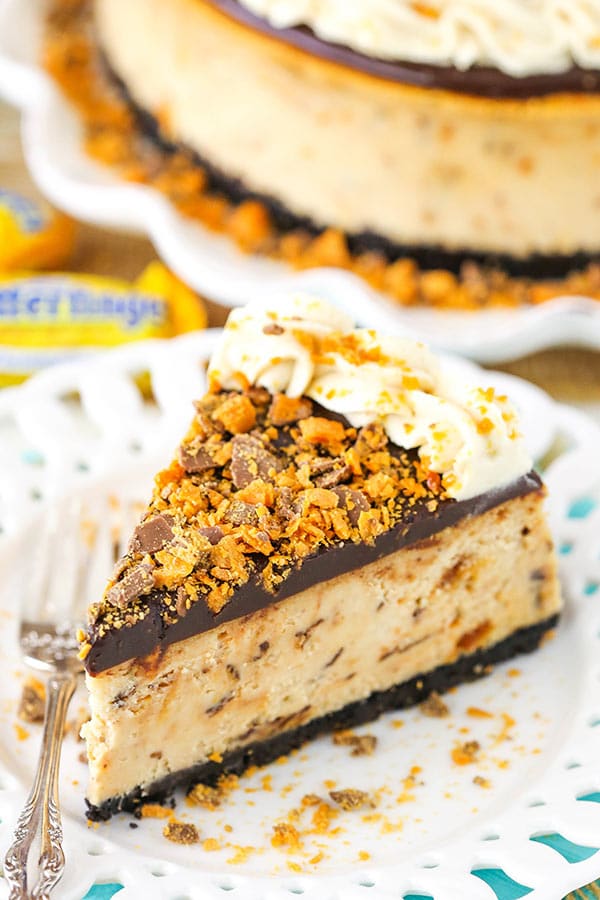 You might also like:
Butterfinger Cupcakes
Fudgy Brownies with Crunchy Butterfingers Crust
No Bake Reeses Peanut Butter Cheesecake
Mini Reeses Peanut Butter Cheesecake
Loaded Peanut Butter Layer Cake
Print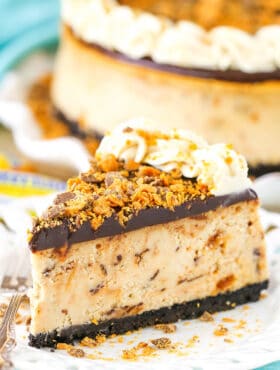 Recipe
Butterfinger Cheesecake
Author:

Prep Time:

45 minutes

Cook Time:

2 1/2 hours

Total Time:

3 hours, 15 minutes, plus cooling time

Yield:

12-14 slices

Category:

Dessert

Method:

Oven

Cuisine:

American
---
Description
This Butterfinger Cheesecake is a thick and creamy peanut butter cheesecake filled with chopped Butterfingers in an Oreo crust!
---
Ingredients
CRUST
2 1/4 cups

(

302g

) Oreo crumbs

4 tbsp

(

56g

) salted butter, melted
FILLING
24 ounces

(

678g

) cream cheese, room temperature

1 cup

(

207g

) sugar

3 tbsp

(

24g

) all purpose flour

3/4 cup

(

173g

) sour cream, room temperature

1/2 cup

(

140g

) peanut butter

1 tsp

vanilla extract

4

large eggs, room temperature

1 1/2 cups

(

12

fun sized bars) chopped Butterfingers
CHOCOLATE GANACHE
6 oz

semi sweet chocolate chips

1/2 cup

heavy whipping cream
PEANUT BUTTER WHIPPED CREAM
3/4 cup

heavy whipping cream

1/2 cup

(

58g

) powdered sugar

2 tbsp

(

35g

) peanut butter

1/4 tsp

vanilla extract
Chopped butterfingers
---
Instructions
CRUST

1. Preheat oven to 325°F (163°C). Line a 9-inch (23cm) springform pan with parchment paper in the bottom and grease the sides.
2. Combine the crust ingredients in a small bowl. Press the mixture into the bottom and of the springform pan.
3. Bake the crust for 10 minutes, then set aside to cool.
4. Cover the outsides of the pan with aluminum foil so that water from the water bath cannot get in (see how I prepare a pan for a water bath). Set prepared pan aside.
CHEESECAKE
1. Reduce oven temperature to 300°F (148°C).
2. In a large bowl, beat the cream cheese, sugar and flour on low speed until well completely combined and smooth. Be sure to use low speed to reduce the amount of air added to the batter, which can cause cracks. Scrape down the sides of the bowl.
3. Add the sour cream, peanut butter and vanilla extract and mix on low speed until well combined.
4. Add the eggs one at a time, mixing slowly to combine after each addition. Scrape down the sides of the bowl as needed to make sure everything is well combined.
5. Stir in the chopped Butterfingers.
6. Pour the cheesecake batter evenly into the crust.
7. Place the springform pan inside another larger pan. Fill the outside pan with enough warm water to go about halfway up the sides of the springform pan. The water should not go above the top edge of the aluminum foil on the springform pan.
8. Bake for 1 hour 25 minutes. The center should be set, but still jiggly.
9. Turn off the oven and leave the door closed for 30 minutes. The cheesecake will continue to cook, but slowly begin to cool as well.
10. Crack the door of the oven for 30 minutes to allow the cheesecake to continue to cool slowly. This process helps prevent cracking.
11. Remove the cheesecake from the oven and water bath wrapping and refrigerate until firm, 5-6 hours or overnight.
12. When the cheesecake is cool and firm, remove from the springform pan and set on a serving plate.
13. To make the chocolate ganache. Put the chocolate chips in a heat proof bowl.
14. Microwave the heavy whipping cream until it just begins to boil, then pour it over the chocolate chips. Allow it to sit for 2-3 minutes, then whisk until smooth.
15. Pour the ganache onto the cheesecake and spread into an even layer.
16. To make the whipped cream, add the heavy whipping cream, powdered sugar, peanut butter and vanilla extract to a large mixer bowl and whip on high speed until stiff peaks form.
17. Pipe the whipped cream around the edge of the cheesecake, then sprinkle with additional chopped butterfingers.
18. Refrigerate cheesecake until ready to serve. Cheesecake is best when stored well covered and eaten within 3-4 days.
---
Nutrition
Serving Size:

1 Slice

Calories:

583

Sugar:

42.2 g

Sodium:

373.6 mg

Fat:

36.4 g

Carbohydrates:

56.1 g

Protein:

12.3 g

Cholesterol:

116.4 mg
Keywords: cheesecake recipe, how to make cheesecake, butterfinger dessert recipe
Filed Under:
Enjoy!

This post may contain affiliate sales links. Please read my disclosure policy.