This Vanilla Sheet Cake is a wonderfully moist and fluffy vanilla cake recipe that is easy to make! It's covered in a creamy vanilla buttercream and made in a 12×18 inch pan, so it's perfect for a crowd!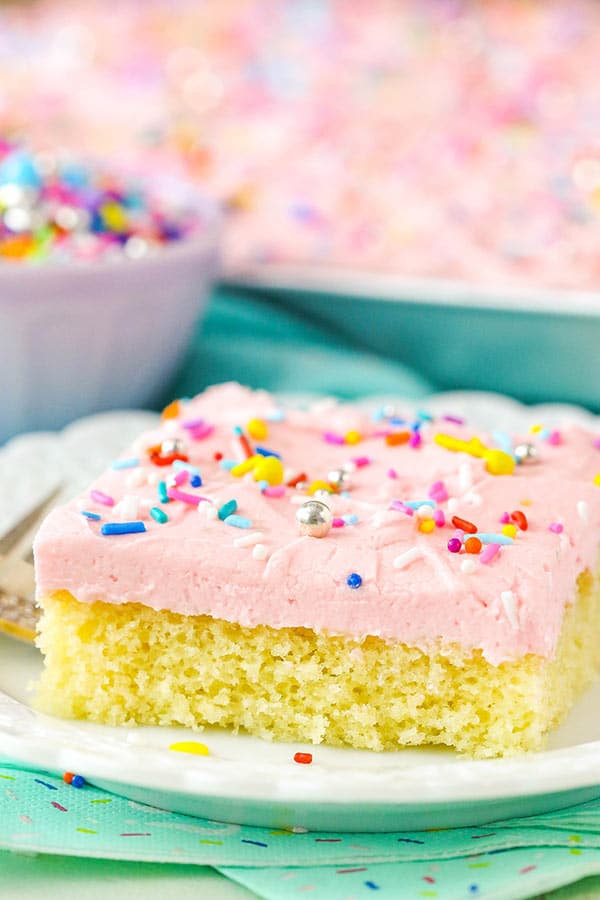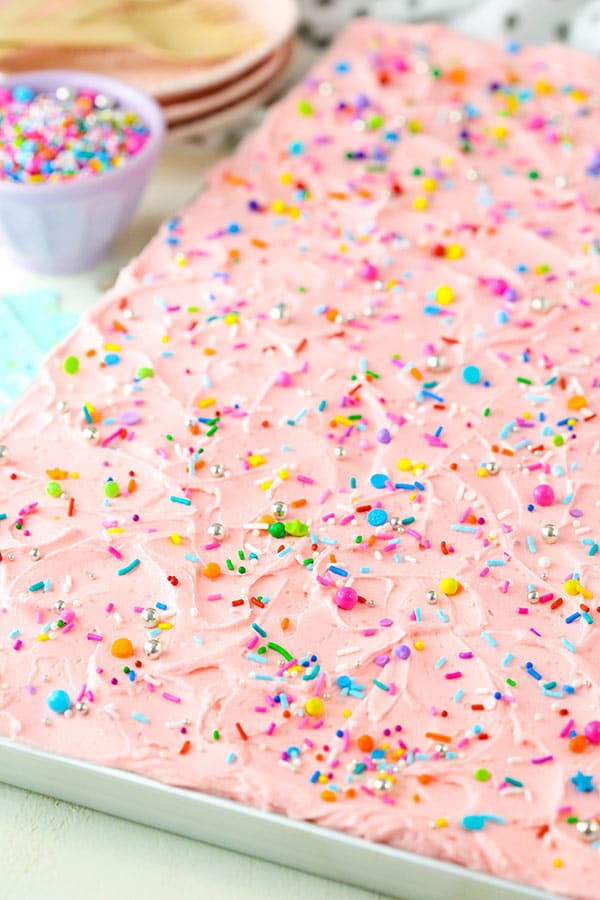 Is it weird that I'm already starting to think about what I'll do for the boys' first birthday? Yes, they are just over 6 months old, but they are already starting to show preferences for things and gravitating towards certain foods and toys, so themes are popping into my head.
If you're like my mom, then you don't understand the whole first birthday party thing and why people make a big deal out of it when the kids don't even remember it. Well I've discovered as a new parent to twins that the real reason for a first birthday party is not for the kids – it's for the parents. When we make it to that one year mark, it'll not only be a celebration of a whole year with those sweet boys, but a celebration that we made it! These early months are precious, but boy are they hard too! Especially with two!
Seriously though, if there's one thing I should be good at as a mom, it should be cakes and birthday parties. I'm thinking that parties with friends and such will feature my fair share of cakes, so I'm getting ready with this Vanilla Sheet Cake. It's a classic birthday party cake! Pink frosting is optional, of course. 🙂
One thing that's great about sheet cakes is the ease of making them. You know I'm a lover of layer cakes, but when baking for a larger group or with only a little time to prepare, sheet cakes are handy to have.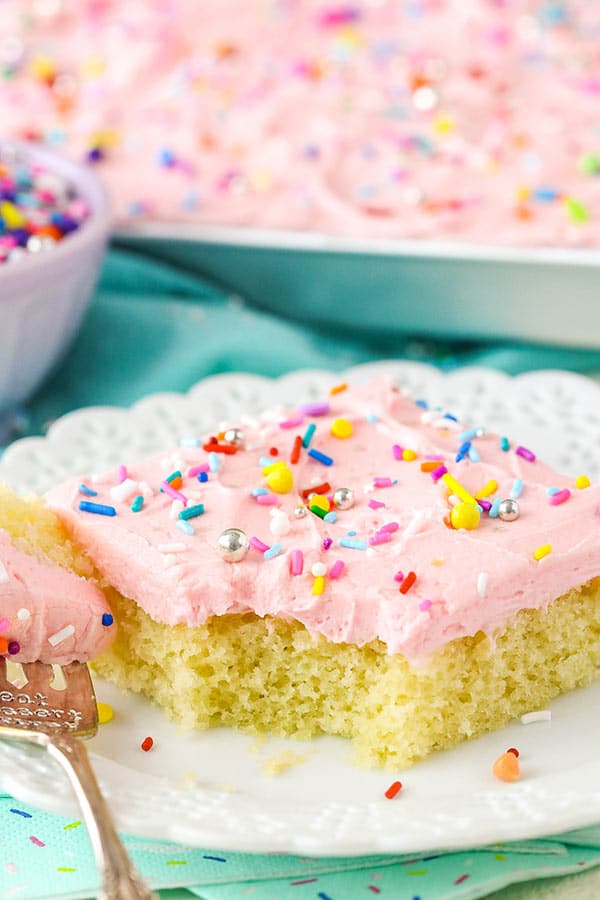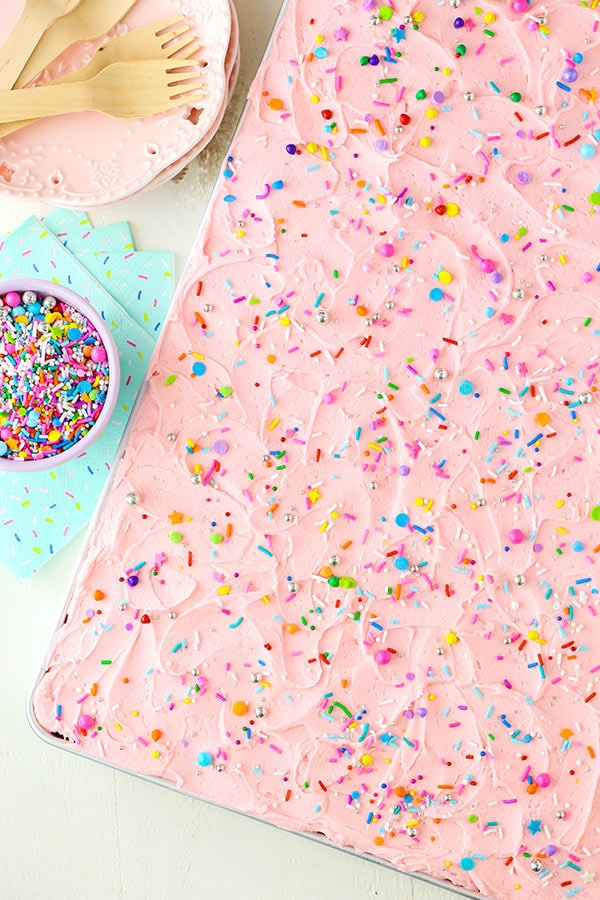 How to make a Vanilla Sheet Cake
To get started with this vanilla sheet cake, you'll want to cream your butter, sugar and vegetable oil together until they are light in color and fluffy. Don't skimp on the creaming – it adds air to the batter that gives the final cake part of its fluffy texture. The butter adds great flavor and moisture to the cake, while the vegetable oil adds some additional moisture that sticks around for days.
The remaining ingredients are all staples – eggs, vanilla extract, flour, baking powder, salt and milk. I chose to go with all purpose flour and regular milk, but I also tested this sheet cake with cake flour and buttermilk.
The hubs and I really preferred this cake with the all purpose flour, but cake flour was also delicious. The texture is completely different! The all purpose flour gave a looser crumb, while the cake flour was tighter and reminded me a little more of a "bakery-style" cake. Even though we had our preference, you really couldn't go wrong with either.
As for the milk, I liked both but didn't see enough difference using buttermilk to use that as the final ingredient. While I always have buttermilk powder handy and ready to use, most people don't and for the purpose of keeping this sheet cake simple and approachable, I stuck with trusty, classic milk.
The frosting is a lovely, light vanilla buttercream. I added a little corn syrup to it, but you could substitute that with a little honey. The corn syrup helps keep it soft and smooth and perfect for topping a light cake! I finished it off with some fun sprinkles, because what birthday cake doesn't have sprinkles?
This vanilla sheet cake was a BIG hit! It is so soft and moist with a tender crumb. The flavor is rich and buttery with great vanilla flavor. Everything just melts in your mouth. I shared a good bit of this cake with a friend and I dare say we took forks to it and left few crumbs behind. It's totally addicting and so delicious!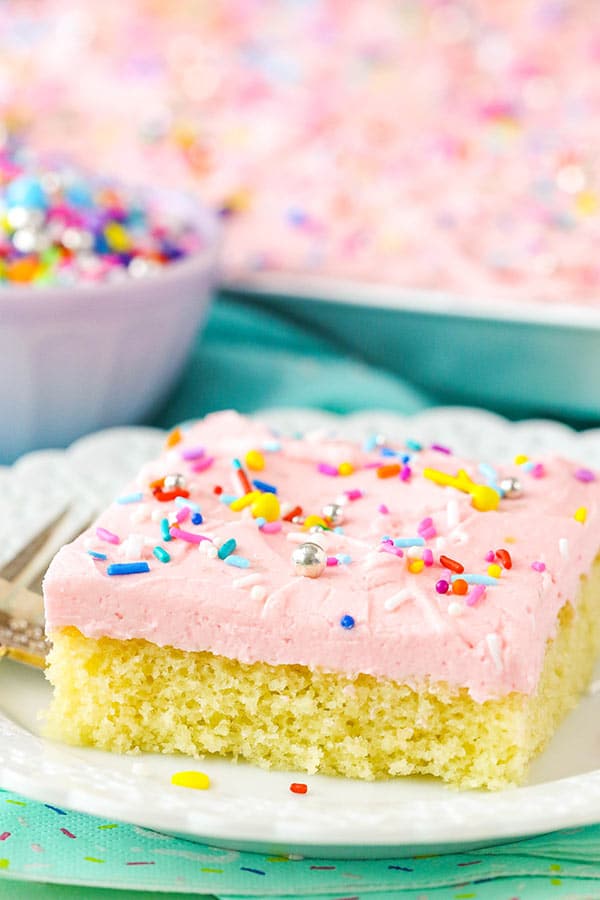 Read transcript
You might also like:
Moist Vanilla Layer Cake
Moist Vanilla Cupcakes
Moist and Fluffy Vanilla Cake
Favorite Moist Vanilla Cupcakes
25 Irresistible Sheet Cakes
Print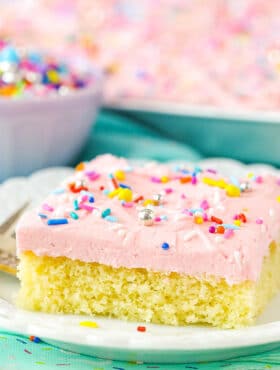 Recipe
Vanilla Sheet Cake
Author:

Prep Time:

45 minutes

Cook Time:

15 minutes

Total Time:

1 hour, plus cooling time

Yield:

25-30 slices

Category:

Dessert

Method:

Oven

Cuisine:

American
---
Description
This Vanilla Sheet Cake is a wonderfully moist and fluffy vanilla cake recipe that is easy to make! It's covered in a creamy vanilla buttercream and made in a 12×18 inch pan, so it's perfect for a crowd!
---
Ingredients
Vanilla Sheet Cake
2 1/4 cups

(

293g

) all purpose flour

2 1/2 tsp

baking powder

1/2 tsp

salt

3/4 cup

(

168g

) unsalted butter, room temperature

1/4 cup

vegetable oil

1 1/2 cups

(

310g

) sugar

4

large eggs

1 tbsp

vanilla extract

1 cup

(240ml) milk
Vanilla Buttercream Frosting
1 cup

unsalted butter

1/2 cup

shortening*

6 cups

(

690g

) powdered sugar

1/8 tsp

salt

2 tsp

vanilla extract

1 tbsp

corn syrup (or honey)

4

–

6

tbsp water or milk
Pink, Peach and Ivory gel icing color
---
Instructions
1. Prepare a 12×18 inch sheet pan/jelly roll pan with non-stick baking spray. Preheat oven to 350°F (176°C).
2. Combine the flour, baking powder and salt in a medium sized bowl and set aside.
3. Add the butter, sugar, and oil to and large mixer bowl and beat together until light in color and fluffy, about 3-4 minutes. Do not skimp on the creaming time.
4. Add the eggs two at a time, mixing until mostly combined after each addition. Scrape down the sides of the bowl as needed to be sure all ingredients are well incorporated.
5. Add half of the dry ingredients to the batter and mix until mostly combined.
6. Slowly add the milk and vanilla extract and mix until well combined.
7. Add the remaining dry ingredients and mix until well combined and smooth. Scrape down the sides of the bowl as needed to be sure all ingredients are well incorporated. Do not over mix the batter.
8. Spread the batter evenly into the prepared pan and bake for 12-15 minutes, or until a toothpick comes out clean.
9. Remove the cake from the oven and allow to cool.
10. To make the frosting, beat the butter and shortening together until smooth.
11. Slowly add half of the powdered sugar and the salt and mix until smooth.
12. Add the vanilla extract, corn syrup and 4 tablespoons of water or milk and mix until smooth.
13. Slowly add the remaining powdered sugar and mix until smooth. Add additional water or milk, as needed to get the right consistency of frosting.
14. Color the frosting to your desired shade. I used a little bit of pink, peach and ivory gel icing colors.
15. Spread the frosting evenly onto the cooled cake and then top with sprinkles. Cover the cake well and store at room temperature. Cake is best when eaten within 3-4 days.
Notes
* I like to use some shortening with the butter for reasons you can read about in this vanilla buttercream post. Feel free to substitute it with additional butter, but keep in mind that you might want to refrigerate the cake and frosting.
Nutrition
Serving Size:

1 Slice

Calories:

315

Sugar:

30.7 g

Sodium:

64.8 mg

Fat:

17.2 g

Carbohydrates:

38.7 g

Protein:

2.8 g

Cholesterol:

54.5 mg
Keywords: vanilla cake recipe, vanilla sheet cake recipe, best vanilla cake recipe
Filed Under:
Enjoy!
This post contains affiliate links.

This post may contain affiliate sales links. Please read my disclosure policy.