This Oreo Brookie Cheesecake recipe is made with a chewy brownie bottom, chocolate chip cookie cheesecake filling and Oreo whipped cream! This recipe is FULL of chocolate and so addicting!
If you love Oreo cheesecake, you've got to try my Best Oreo Cheesecake recipe, and for a simple no bake option, this easy No Bake Oreo Cheesecake. They will not disappoint!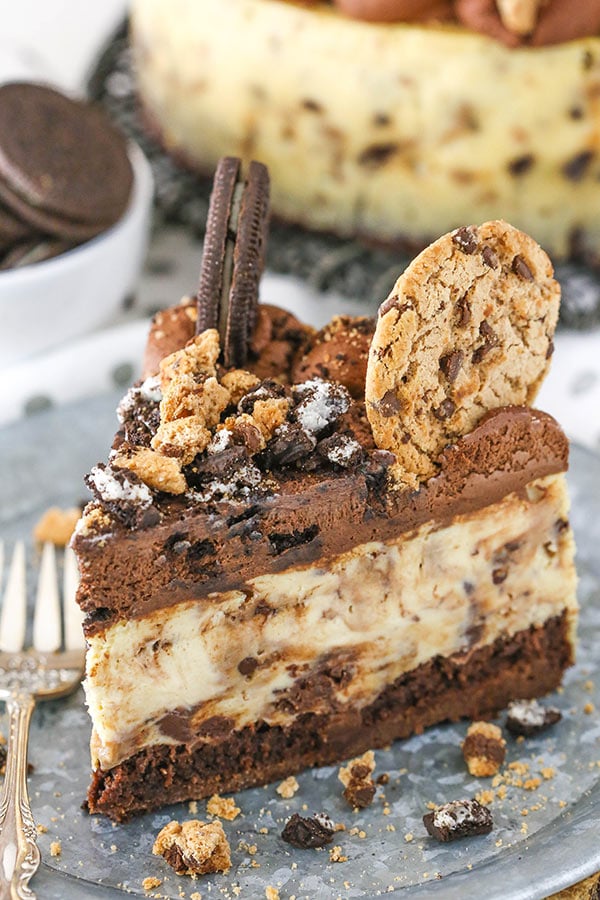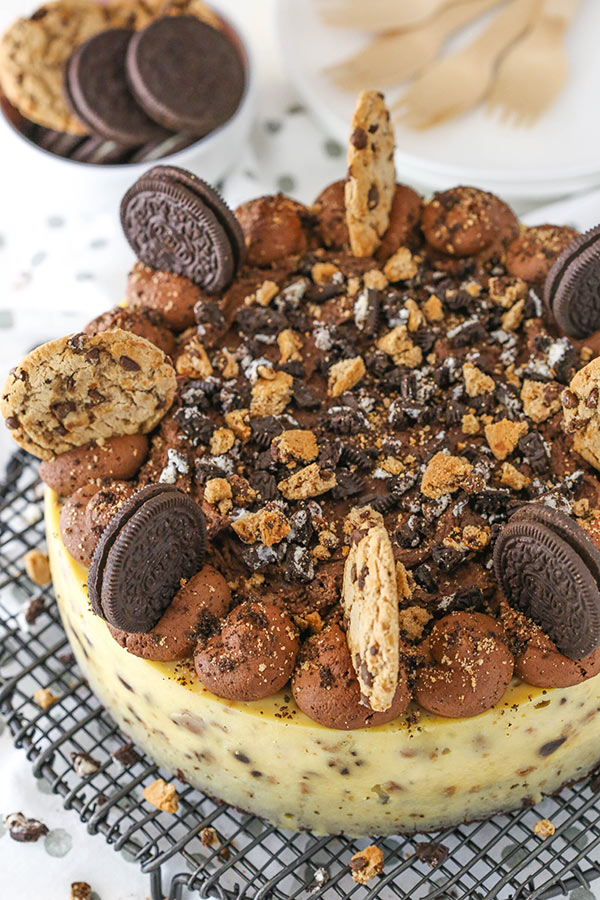 One of my Favorite Oreo Cheesecakes
It's hard to believe that 4 weeks from today, we will be welcoming our twins into the world. We have delivery scheduled, unless they come on their own sooner. It's a little bit surreal and borderline overwhelming to think of all that we'd like to get done before then and all that will change afterwards.
I'd like to say that I'm still going strong and baking my butt off, but there's no doubt I've slowed down. This belly has gotten quite large and the perinatologist has instructed less activity and more calories (mostly protein). So I'm pretty much a baby incubator right now. 😉
I'm powering through pretty well though. The kitchen isn't completely closed yet, I'm just really slow and take lots of breaks. I don't get as much done as I normally would in the same amount of time. And since I'm supposed to be eating protein, rather than empty calories, I'm pretty sure I need to bake some protein powder into a cake or cookies or something. 🙂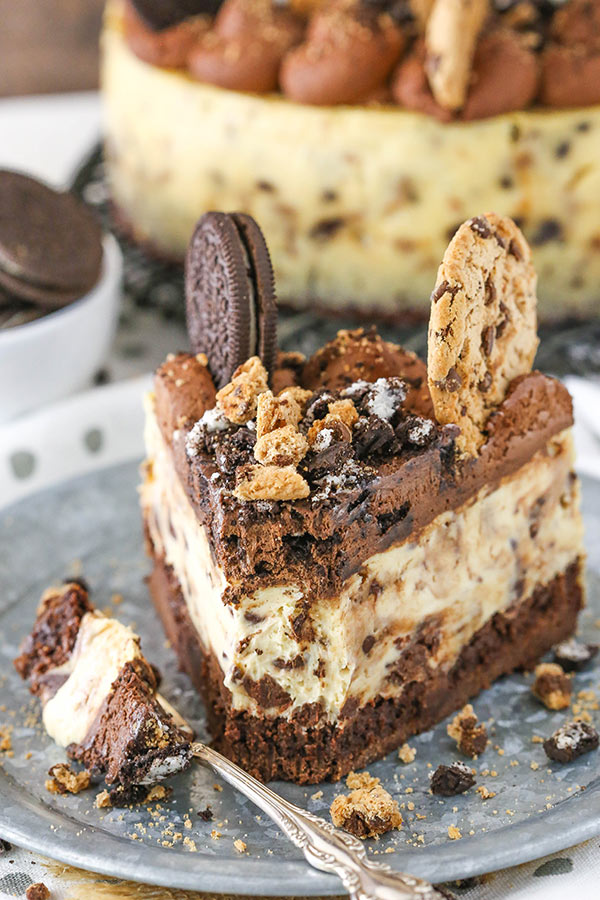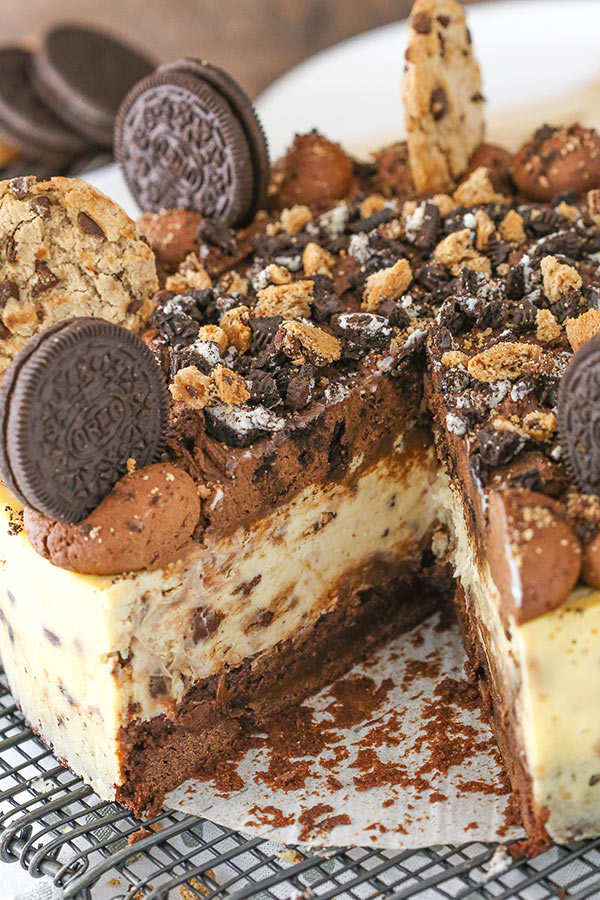 Especially since I'd really rather eat delicious things like this cheesecake. Oh. Em Gee. The combination of brownie, Oreos and chocolate chip cookies is one that I've been a fan of for some time now. I've shared an Oreo Brookie Layer Cake, Ore Brookie Ice Cream Cake and even a fun Oreo Brookie Tiramisu. Now today, I've got everything in cheesecake form.
How to Make this Oreo Cheesecake
If you've made my Kahlua Coffee Brownie Cheesecake (and you really should), then you'll find that the brownie bottom of this cheesecake is made with the same method. Bake the brownie in the same springform pan you'll use for the cheesecake. Then before adding the cheesecake filling, wash off the sides of the pan, respray with non-stick spray and reattach it to the bottom of the pan. It helps things stay in place once the cheesecake is baked and you want to remove the sides of the pan without it messing up the sides of the cheesecake.
The middle layer is the cheesecake filling and it's full of chocolate chips and chocolate chip cookies. To die for! Probably my favorite of the three layers. SO so good! After the filling is added on top of the brownie, the cheesecake it baked.
Another quick tip for making sure the sides of your cheesecake stay nice is to jiggle it around (slowly and carefully!) when you remove it from the oven. Just kind of roll it to the sides to loosen the cheesecake from the edges of the pan. This loosens things up to again try and make sure you get lovely looking sides at the end after cooling.
The top layer is where the Oreos come in and they are mixed into a tasty chocolate whipped cream that's added after the cheesecake has completely cooled. Easy to make and a great way to top off the cheesecake. Add a few cookies and crumbs to the top for decoration and you are ready to go!
This cheesecake is a total masterpiece – both in it's fun-ness and how delicious it is. I've been loving chocolate lately and it totally hit the spot. For something fun and different, this is an awesome cheesecake to enjoy!
Print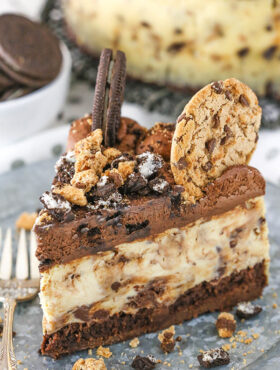 Recipe
Oreo Brookie Cheesecake
Author:

Prep Time:

1 hour 20 minutes

Cook Time:

2 hours 30 min

Total Time:

3 hours 50 minutes

Yield:

12-14 Slices

Category:

Dessert

Method:

Oven

Cuisine:

American
---
Description
Oreo Brookie Cheesecake made with a chewy brownie bottom, chocolate chip cookie cheesecake filling & Oreo whipped cream! A chocolate dessert dream!
---
Ingredients
BROWNIE BOTTOM
10 tbsp

(

140g

) unsalted butter, melted

1 cup

(

207g

) sugar

1 tsp

vanilla extract

2

eggs

3/4 cup

(

98g

) all purpose flour

6 tbsp

(

43g

) natural unsweetened cocoa

1/4 tsp

baking powder

1/4 tsp

salt
COOKIE CHEESECAKE FILLING
24 ounces

(

678g

) cream cheese, room temperature

1 cup

(

225g

) brown sugar

3 tbsp

(

24g

) all purpose flour

1 cup

(

230g

) sour cream, room temperature

1 tbsp

vanilla extract

3

large eggs, room temperature

1 1/2 cups

(

128g

) chopped chocolate chip cookies

3/4 cup

(

128g

) chocolate chips
OREO WHIPPED CREAM
2 cups

(480ml) heavy whipping cream, cold

1/2 cup

(

58g

) powdered sugar

1/2 cup

(

57g

) natural unsweetened cocoa

1 1/2 tsp

vanilla extract

1/2 cup

Oreo crumbs

5

–

6

chopped oreos
---
Instructions
TO MAKE THE BROWNIE:

1. Preheat oven to 350°F (176°C). Line a 9-inch (23cm) springform pan with parchment paper in the bottom and grease the sides.
2. In a medium sized bowl, combine the flour, cocoa, baking powder and salt. Set aside.
3. In a large bowl, combine the butter, sugar and vanilla extract.
4. Add the eggs and mix until well combined.
5. Add the dry ingredients to the egg mixture and mix until well combined.
6. Pour the batter into the prepared pan and spread evenly.
7. Bake for 20-25 minutes, or until a toothpick comes out with a few moist crumbs.
8. When the brownie is done baking, reduce the oven temperature to 300°F (148°C). Remove the brownie from the oven and allow to cool for about 10 minutes.
9. Remove the sides of the springform pan, wash, respray with non-stick spray and reattach to the springform pan bottom, with the brownie still on it. You can skip this step, but I find that the edges of the final cheesecake look best if you wash the sides of the pan before adding the cheesecake filling.
TO MAKE THE CHEESECAKE FILLING:
1. In a large bowl, beat the cream cheese, sugar and flour on low speed until well completely combined and smooth. Be sure to use low speed to reduce the amount of air added to the batter, which can cause cracks. Scrape down the sides of the bowl.
2. Add the sour cream and vanilla extract and mix on low speed until well combined.
3. Add the eggs one at a time, mixing slowly to combine after each addition. Scrape down the sides of the bowl as needed to make sure everything is well combined.
4. Stir in the chocolate chip cookies and chocolate chips.
5. Pour the cheesecake batter evenly over the brownie.
6. Wrap the outside of the pan with aluminum foil, then place the springform pan inside another larger pan. Fill the outside pan with enough warm water to go about halfway up the sides of the springform pan. The water should not go above the top edge of the aluminum foil on the springform pan.
7. Bake for 1 hour. The center should be set, but still jiggly.
8. Turn off the oven and leave the door closed for 30 minutes. The cheesecake will continue to cook, but slowly begin to cool as well.
9. Crack the door of the oven for 30 minutes to allow the cheesecake to continue to cool slowly. This process helps prevent cracking.
10. Remove the cheesecake from the oven and water bath wrapping and refrigerate until firm, 5-6 hours or overnight. I like to gently jiggle the cheesecake around inside the pan to loosen it from the edges of the pan before I put it into the fridge. It can help the pan sides be removed later. Once completely cool and firm, remove from the springform pan sides and place on a serving plate.
TO FINISH OFF THE CHEESECAKE:
1. To make the whipped cream, add the heavy whipping cream, powdered sugar, cocoa and vanilla extract to a large mixer bowl and whip on high speed until stiff peaks form.
2. Stir in the Oreo crumbs and chopped Oreos.
3. Pipe swirls of the whipped cream around the outside edge of the cheesecake. Because of the chunks in the whipped cream, it's best to use a round tip. I used Ateco 808.
4. Fill in the center of the cheesecake with the remaining whipped cream and top with additional chopped Oreos and chocolate chip cookies.
5. Refrigerate cheesecake until ready to serve. Cheesecake lasts best for 3-4 days when well covered and refrigerated.
Nutrition
Serving Size:

1 slice

Calories:

556

Sugar:

38.1 g

Sodium:

242.3 mg

Fat:

36.1 g

Carbohydrates:

50.7 g

Protein:

10.8 g

Cholesterol:

160.6 mg
Keywords: how to make cheesecake, brookie recipe, oreo dessert, oreo cheesecake, oreo cheesecake recipe, chocolate cheesecake, easy cheesecake
Filed Under:
Enjoy!
This post may contain affiliate sales links. Please read my disclosure policy.