This Mint Oreo Cheesecake is exactly as it sounds: A mint Oreo crust filled with chopped mint Oreos, chocolate sauce and mint cheesecake! It's a mint chocolate lover's dream!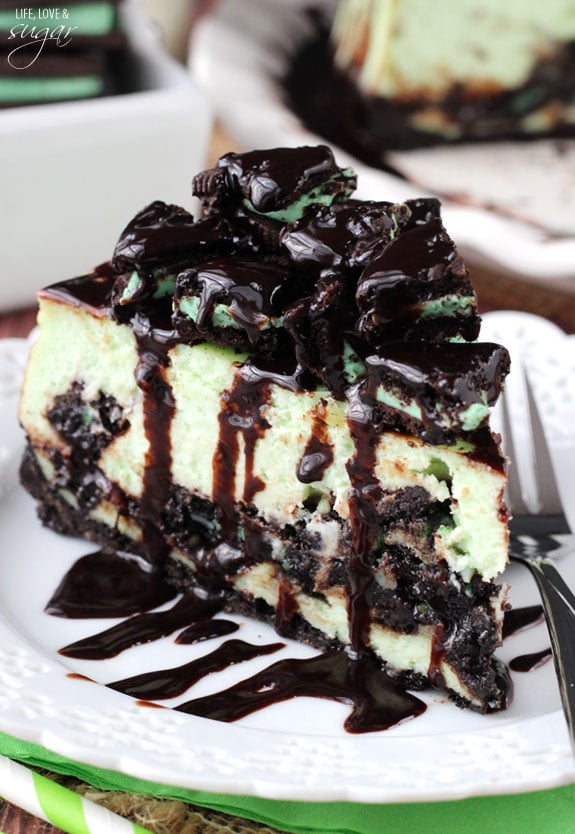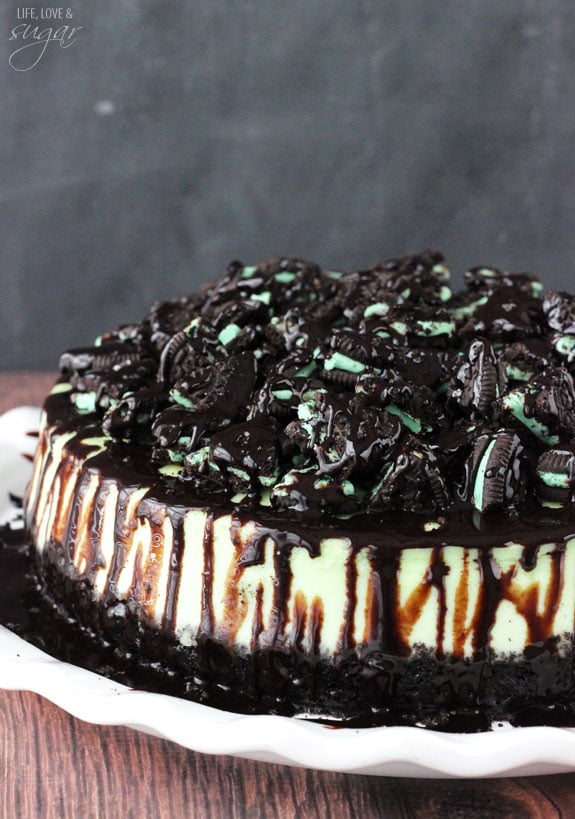 This cheesecake was made especially for my bloggy BFF, Julianne from Beyond Frosting. This Friday is her second blogiversary, so I wanted to help celebrate with something I knew she'd love. If there are two things I know she's a fan of it's mint chocolate and cheesecake, so this dessert is perfect for her!
I love making cheesecakes. Certainly, I have always loved eating them as well. Growing up, cheesecake was well known to be my favorite. These days, it's hard for me to pick a favorite type of cake because I love them all, but cheesecake remains a top lover.
Thing is, I'm picky about my cheesecake. It must be thick, creamy and not too gelatin-y or it isn't worth the calories to me. This cheesecake is made with my usual base that I just love. Everyone always comments on the wonderful thick and creaminess of it. It's just right.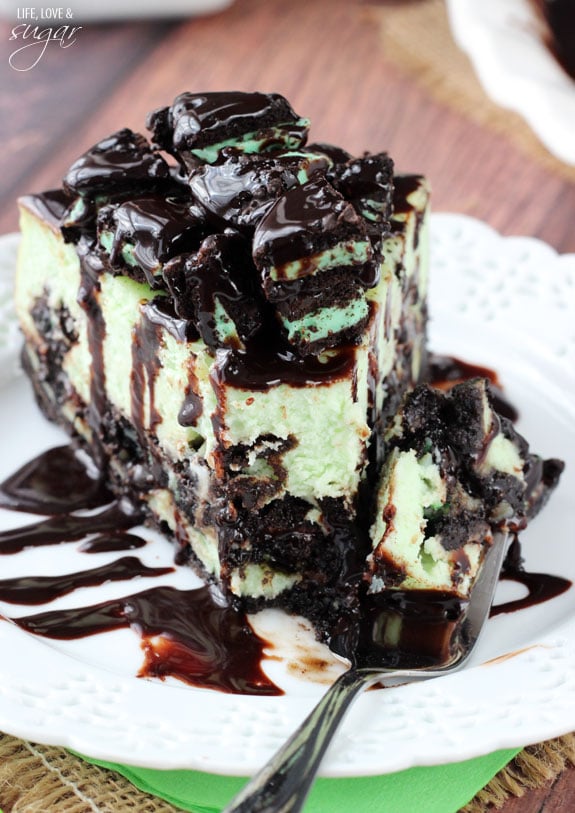 And this mint chocolate version is to die for.
How to Make Mint Oreo Cheesecake
The mint Oreos are chopped up in the bottom of the cheesecake and then covered with chocolate sauce. The chocolate sauce adds awesome gooeyness and moistens the Oreos just enough. They retain some of their crunch, but mixed with the chocolate sauce, they are delightfully gooey. Then paired with the cheesecake, the whole combination is thick, creamy, crunchy, gooey – all you could want out of a dessert!
I did quite a bit of experimenting a while back with cheesecake and there are a few key things to remember in order to get a beautiful cheesecake.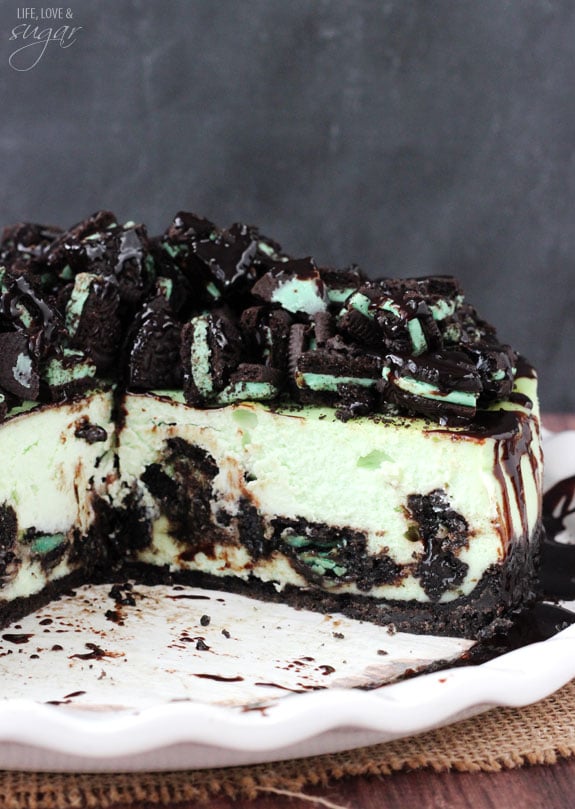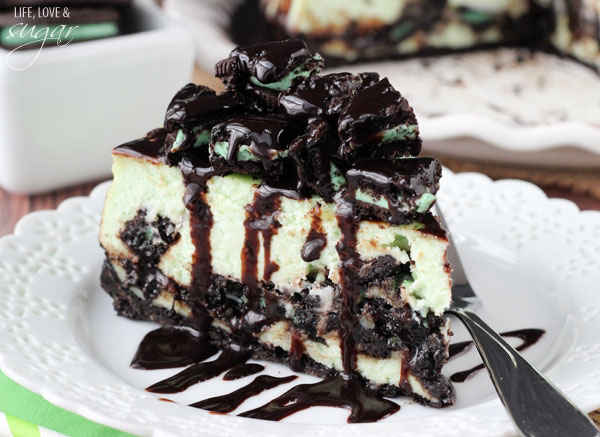 1. Room temperature cream cheese. Very important. When mixing the ingredients for a cheesecake, you don't don't want to add a lot of air to the batter. Air is bad! It can cause cracks. Air gets added in the mixing process, so you want to minimize the mixing. It your cream cheese is not as soft as it can be, you'll have to do more mixing to get it smooth, adding more air.
2. You don't want to over bake it. The cheesecake is done baking when there's still about a 3 inch ring in the center of the cheesecake that looks jiggly and undercooked. The center will continue to bake as the cheesecake cools and firms.
3. Piggy backing off of number 2, cooling a cheesecake slowly helps the center finish cooking, while slowly cooling it to help prevent cracks.
4. A water bath. I hate to have to deal with them, but for a nice looking cheesecake, they're necessary. Without them, the center of the cheesecake falls and you get that crater in the middle. The cheesecake will still taste good, but I prefer pretty and tasty. 🙂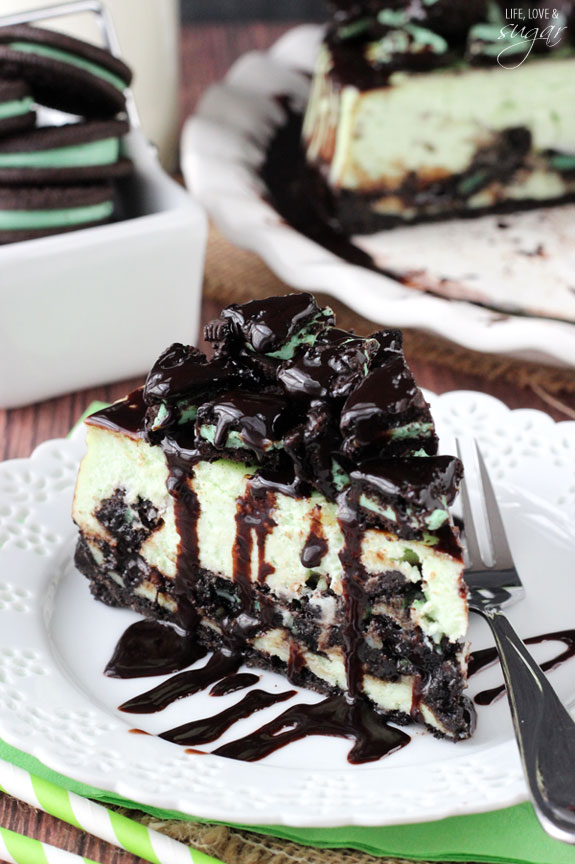 This particular cheesecake might have some air bubbles in it after you add the batter because of the air pockets created with the Oreos piled up in the middle. You'll want to drop the filled pan on the counter a few times to release them before you bake it.
And if all else fails and you get a crack or two, you can cover it will more Oreos or chocolate sauce or both, so no one will even notice!
To go along with a tasty cheesecake for celebrating, I also joined with Julianne and some other bloggers for a great giveaway. You get to choose between a Kitchen Aid 5 Quart Mixer, an iPad Mini2 or a $350 Amazon gift card! What a hard decision! Be sure to enter the giveaway below!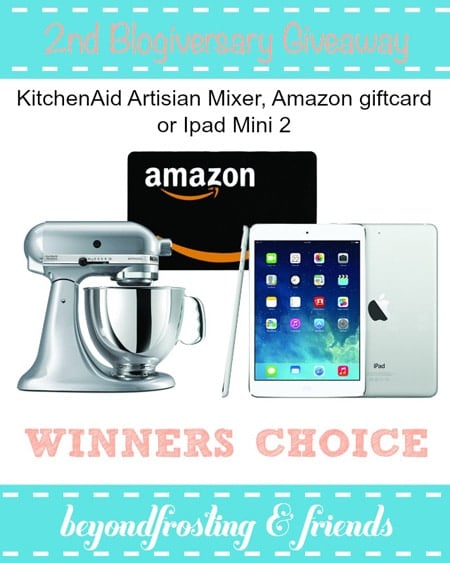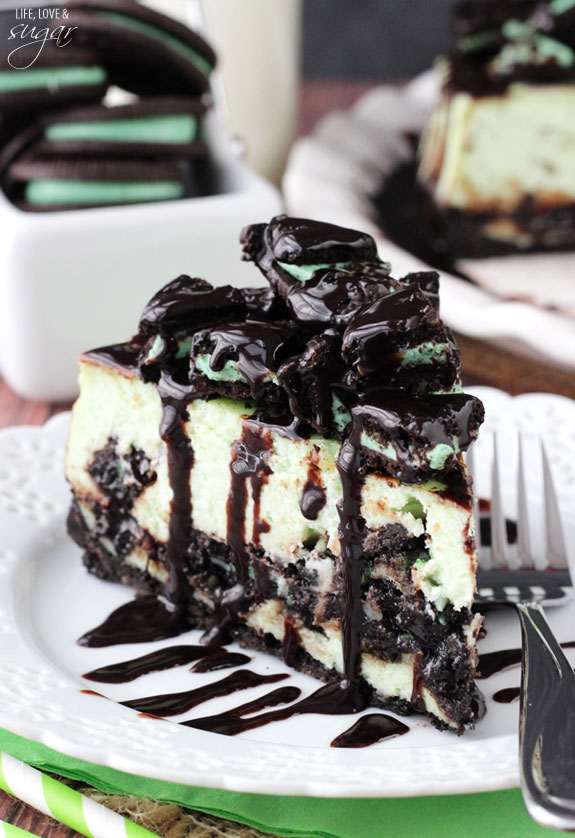 a Rafflecopter giveaway

This post contains affiliate links.
You might also like:
No Bake Oreo Cheesecake
Mint Oreo Icebox Cake
Oreo Cookies and Cream Ice Cream Cake
Oreo Cookies and Cream Cookie Cake
Double Mint Chocolate Poke Cake


Print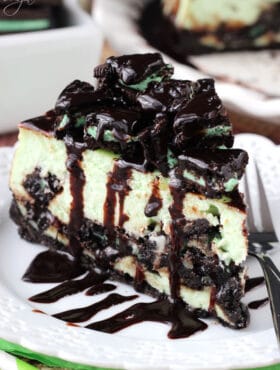 Recipe
Mint Oreo Cheesecake
Author:

Prep Time:

30 minutes

Cook Time:

1 hour 30 minutes

Total Time:

2 hours

Yield:

12-14 Slices

Category:

Dessert

Method:

Oven

Cuisine:

American
---
Description
Mint Oreo Cheesecake is made with an Oreo crust filled with chopped mint Oreos, chocolate sauce and mint cheesecake! It's a mint chocolate lover's dream!
---
Ingredients
CRUST
2 cups

Mint Oreo crumbs (about

20

Oreos)

4 tbsp

butter, melted
FILLING
24 oz

cream cheese

1 cup

sugar

3 tbsp

flour

4

eggs

1 cup

sour cream

2 1/2 tbsp

mint extract

15

–

20

Mint Oreos, chopped

1/2 cup

chocolate sauce (I used Smucker's Chocolate Sundae Syrup)

7

drops green food color, optional
TOPPING
additional Mint Oreos
additional chocolate sauce
---
Instructions
CRUST:
1. Heat oven to 325 degrees and grease the sides of a 9-inch springform pan. I also like to place parchment paper in the bottom of the pan.
2. In a small bowl, combine crust ingredients and mix well.
3. Press mixture into the bottom and up the sides of the prepared pan.
4. Bake crust for 10 minutes then remove.
5. Cover the outsides of the pan with aluminum foil so that water from the water bath cannot get in, and set aside.
CHEESECAKE FILLING:
1. Reduce oven to 300 degrees.
2. In a large bowl, blend the cream cheese, sugar and flour with an electric mixer until combined (Use low speed to keep less air from getting into the batter, which can cause cracks). Scrape down the sides of the bowl.
3. Add eggs one at a time, beating slowly and scraping the sides of the bowl after each addition.
4. Add the sour cream and mint extract and optional green food color. Beat on low speed until well combined.
5. Add a little bit of cheesecake filling to the bottom of the pan and spread into an even layer
6. Add chopped Oreos in an even layer
7. Top Oreos with chocolate sauce
8. Pour remaining cheesecake filling over Oreos and chocolate sauce.
9. Drop the cheesecake on the counter a few times to release air bubbles, which can cause cracks. There may be a few large air bubbles trapped from the Oreos, so a few good taps would be good.
10. Place springform pan inside another pan. Fill outside pan with enough warm water to go about halfway up the sides of the springform pan. The water should not go above the top edge of the aluminum foil on the springform pan.
11. Bake for 1 hour and 10-20 minutes.
12. Turn off heat and leave cheesecake in oven with door closed for 10-15 minutes.
13. Crack oven door and leave the cheesecake in the oven for another 10 minutes or until set. This cooling process helps the cheesecake cool slowly to prevent cracks.
14. Remove cheesecake from oven and chill.
15. Remove springform pan sides from cheesecake and top with additional chopped Oreos and chocolate sauce.
---
Notes
You'll need 2+ containers of mint Oreos (about 30 oreos per container).
Nutrition
Serving Size:

1 Slice

Calories:

520

Sugar:

35.9 g

Sodium:

377.5 mg

Fat:

30.5 g

Carbohydrates:

54.6 g

Protein:

8.7 g

Cholesterol:

117.1 mg
Keywords: oreo cheesecake recipe, oreo dessert, mint chocolate cheesecake recipe, mint chocolate dessert
Filed Under:
Enjoy!

This post contains affiliate links.
SaveSave
This post may contain affiliate sales links. Please read my disclosure policy.