February 15, 2017
Oreo Chocolate Poke Cake
This Oreo Chocolate Poke Cake is made with a delicious, moist homemade chocolate cake soaked in chocolate ganache and topped with chocolate Oreo whipped cream and loads of crushed Oreos! So good!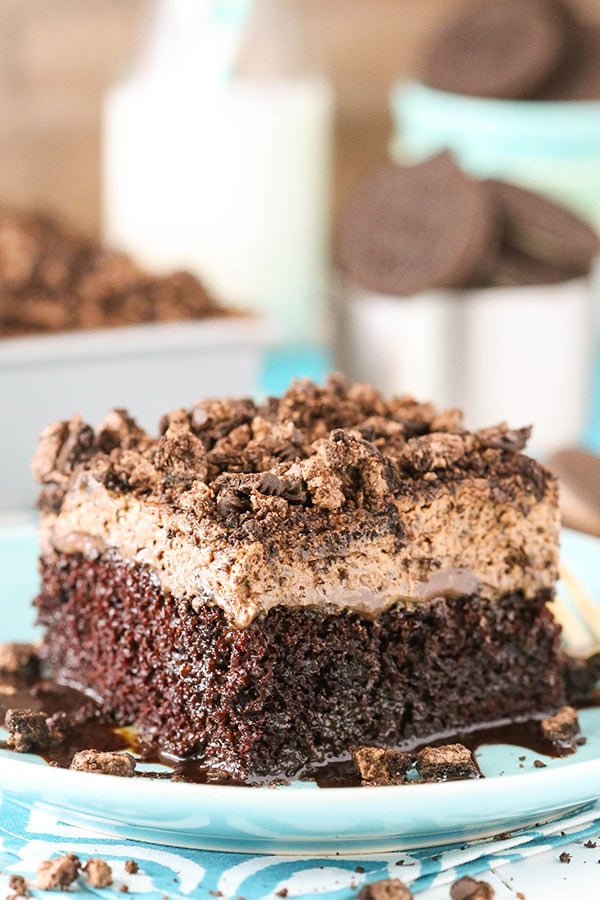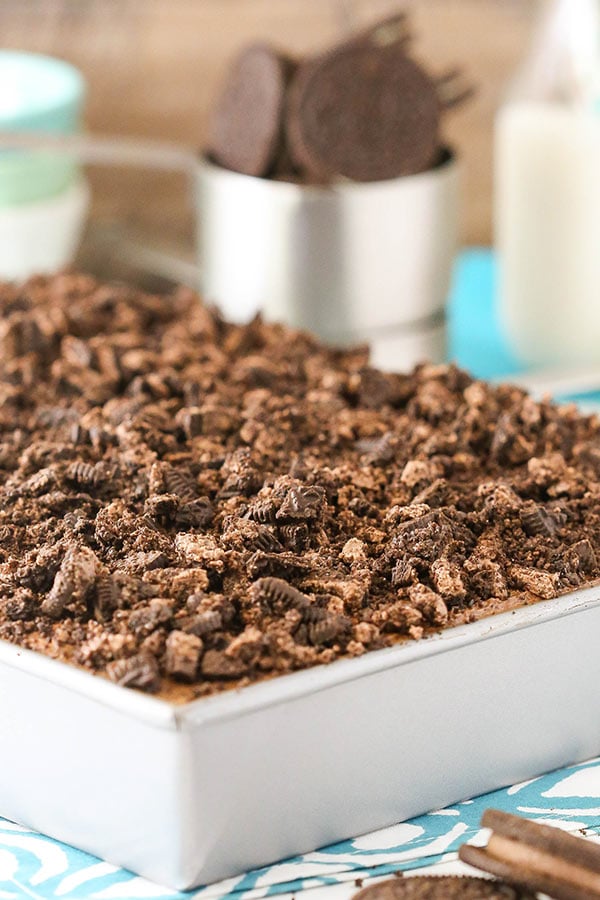 So this past weekend my parents were in town visiting and Saturday night when I got together with them and my brother's family, my dad had a pretty funny story for me. Apparently my niece is reading a book that includes recipes with it and she wanted to make a coconut cream pie from the book. I'm sure this was music to my dad's ears, since coconut cream pie is a favorite of his.
It was a fairly typical custard pie recipe that cooks on the stove and they had a great time putting it together. My dad taught my niece how to separate egg yolks from the whites. Her method of putting an egg in a bowl and reaching in to pull out the yolks was surprisingly ineffective. 🙂
Even better was when it came time to make and add the whipped cream. It was a homemade whipped cream so it called for heavy whipping cream. Having never made homemade whipped cream before, they were uncertain of what to so. They apparently whipped by hand with a whisk for a few minutes, but since nothing happened they just poured it onto the pie and tried to bake it for a little bit. HA!
Of course they told me this story followed by questions about whether or not it was even a real pie recipe since it didn't quite work right. Hilarious! But apparently the custard part was still delicious. 🙂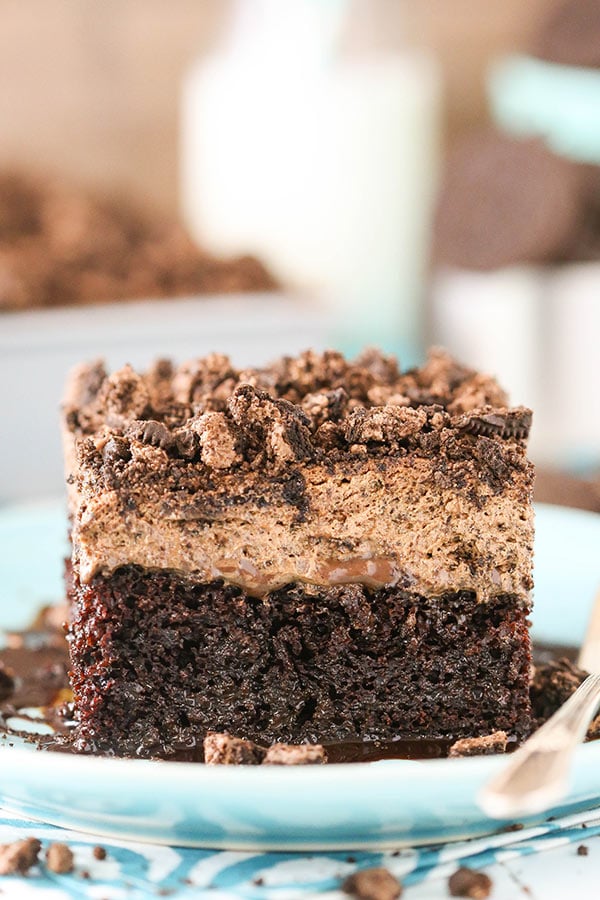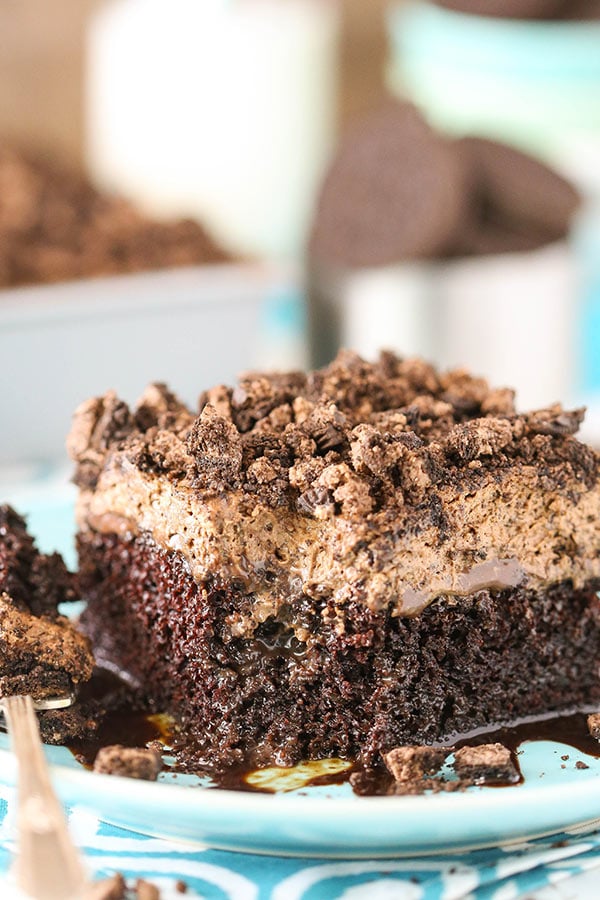 Please note that the topping of this cake is a homemade chocolate Oreo whipped cream and will require a mixer. It should whip up nice and firm before being put on the cake. 😉
But first, let's make the cake! I started off with my easy most chocolate cake. It really is so easy. It's just about as easy as putting together a box mix, but it's homemade. Score!

MY OTHER RECIPES
When the cake comes out of the oven, poke holes all over – hence the "poke" cake name. I use a knife sharpener I have, but you could use the end of a spatula, a straw or something similar. A chocolate ganache mixture made with chocolate chips and sweetened condensed milk is poured over the cake and soaks into the holes, making the cake insanely moist and delicious.
To top the cake off is a chocolate whipped cream that's full of Oreos! The whipped cream is stabilized with powdered sugar and cocoa so it won't wilt after being added to the cake. If you're tempted to reduce them, I suggest not to or you could get wilting whipped cream and nobody wants that. The cake is finished with more crushed up Oreos for a cake that is FULL of chocolate and Oreos!
This poke cake is seriously amazing! It stays moist and delicious for days with all the moisture poured over it. It was huge hit for us and I know it will be for you too!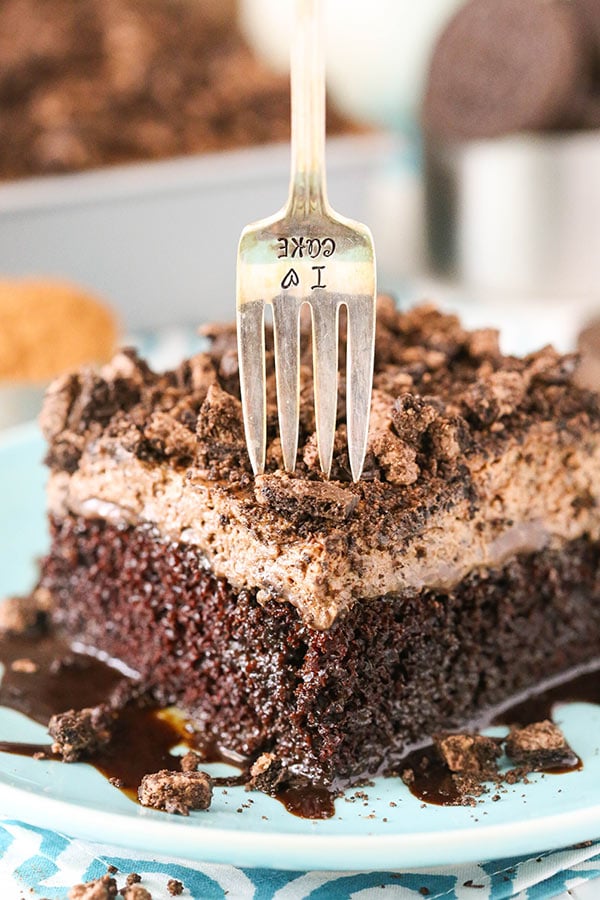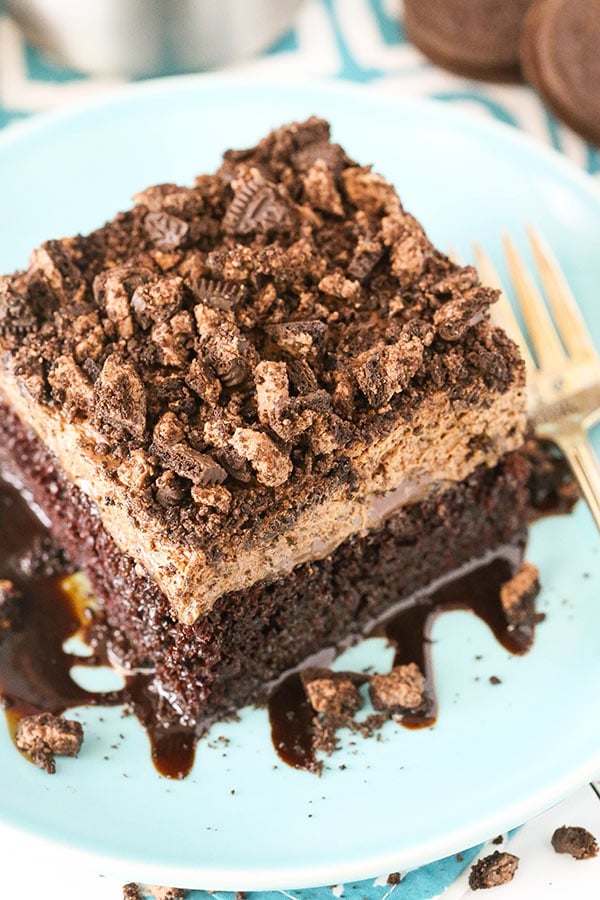 Oreo Chocolate Poke Cake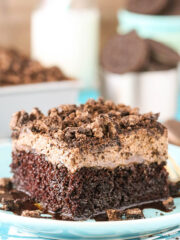 Yield:

12-14 Servings

Category:

Dessert

Method:

Oven

Cuisine:

American
Ingredients
CHOCOLATE CAKE
1 3/4 cups (228g) all purpose flour
2 cups (414g) sugar
3/4 cup (85g) natural unsweetened cocoa powder
2 1/4 tsp baking soda
1/2 tsp baking powder
1 tsp salt
1 cup (240ml) milk
1/2 cup (120ml) vegetable oil
1 1/2 tsp vanilla extract
2 large eggs
1 cup (240ml) hot water
14 oz sweetened condensed milk
1 cup (169g) semi sweet chocolate chips
OREO WHIPPED CREAM TOPPING
2 cups heavy whipping cream, cold
3/4 cup (86g) powdered sugar
1/4 cup (29g) natural unsweetened cocoa powder
1 tsp vanilla extract
2 cups (235g) chopped Oreos and crumbs
15 Oreos, crushed
Instructions
1. Preheat oven to 350°F (176°C) and prepare a 9×13 inch cake pan with non-stick baking spray.
2. Add the flour, sugar, cocoa, baking soda, baking powder and salt to a large mixer bowl and combine. Set aside.
3. Add the milk, vegetable oil, vanilla extract and eggs to a medium sized bowl and combine.
4. Add the wet ingredients to the dry ingredients and beat until well combined.
5. Slowly add the hot water to the batter and mix on low speed until well combined. Scrape down the sides of the bowl as needed to make sure everything is well combined.
6. Pour the batter into the prepared cake pan and bake for 29-32 minutes, or until a toothpick comes out with a few moist crumbs.
7. Remove cake from oven. Using the end of a spatula, straw or something similar, poke holes all over the cake.
8. In another bowl, combine the chocolate chips and sweetened condensed milk. Heat in the microwave until hot, about 1 minute.
9. Whisk the chocolate mixture until smooth, heating for additional time if needed.
10. Pour the chocolate mixture over the cake and spread it into the holes. Allow the cake to cool.
11. To make the whipped cream topping, add the heavy whipping cream, powdered sugar, cocoa and vanilla extract to a large mixer bowl. Whip on high speed until stiff peaks form.
12. Stir in the Oreos and crumbs.
13. Spread the whipped cream on top of the cooled cake, then top with additional chopped Oreos.
14. Refrigerate cake until ready to serve.
Enjoy!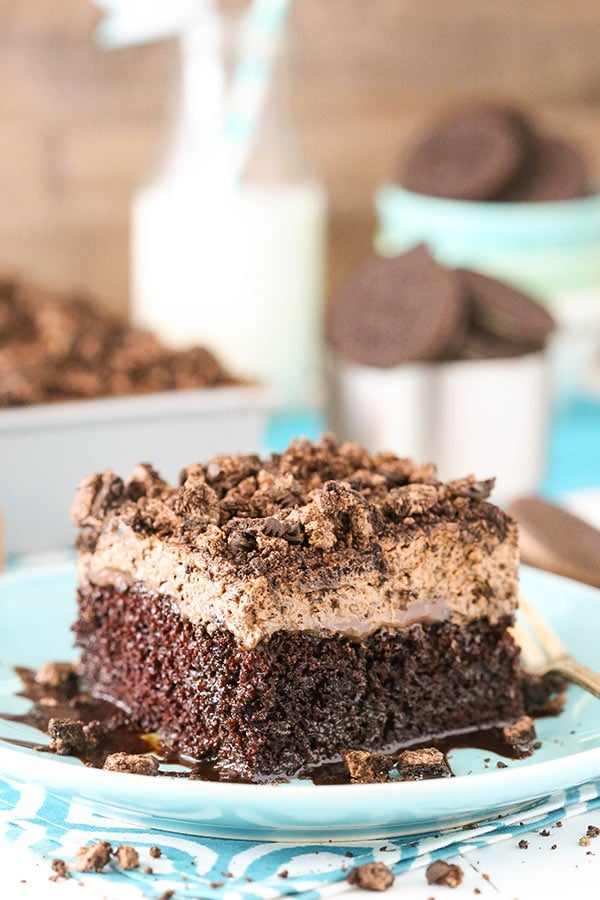 You might also like: