June 12, 2017
Loaded Peanut Butter Layer Cake
This Peanut Butter Layer Cake is loaded with peanut butter in the cake, frosting and decorations. It's a dream cake for any peanut butter lover!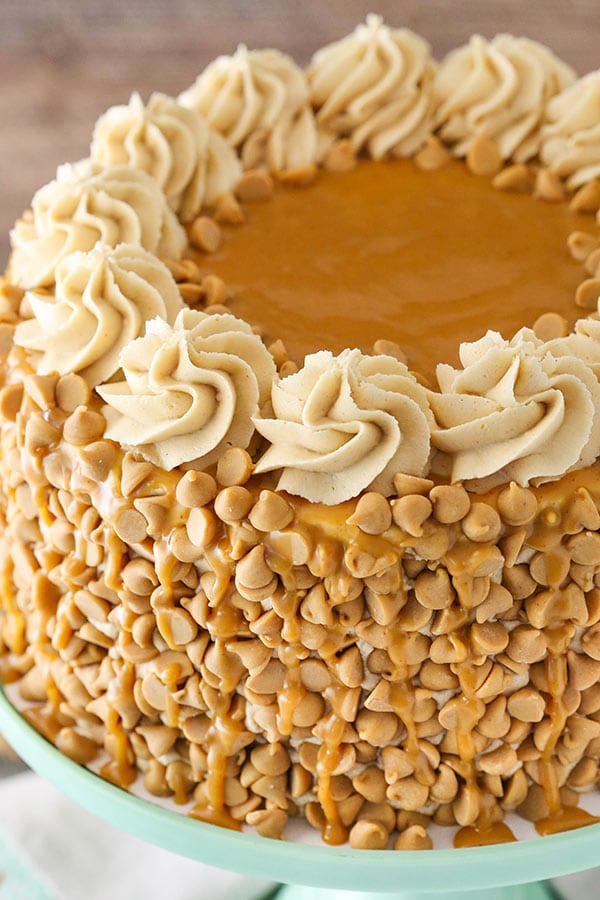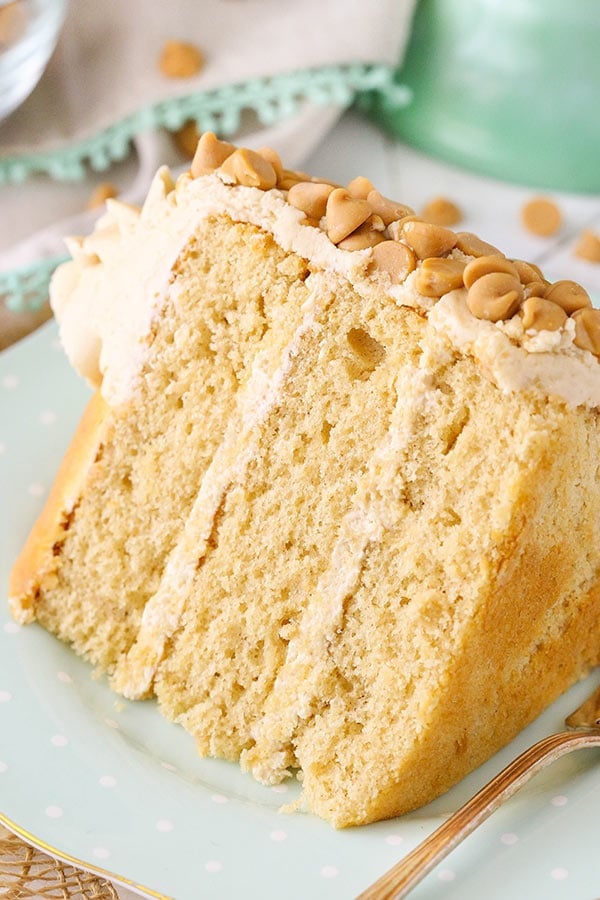 I think the biggest peanut butter lover in our house is probably Jessie, our black lab. There are few things that get her attention quite like the smell of peanut butter. She can be up in our bedroom fast asleep and I'll open a jar and all of sudden she appears right beside me.
Her favorite days are ones where I'm baking with peanut butter. I let her lick the spoons and measuring cups and when I get to the bottom of a jar, she gets to finish that off too. Such a spoiled pup!
Of course she couldn't understand why I wouldn't feed her this entire cake. She followed me everywhere as I carried it between rooms so that I could take photos of it. The drool was out of control.
We definitely loved this cake too, but we've got nothing on her level of peanut butter obsession.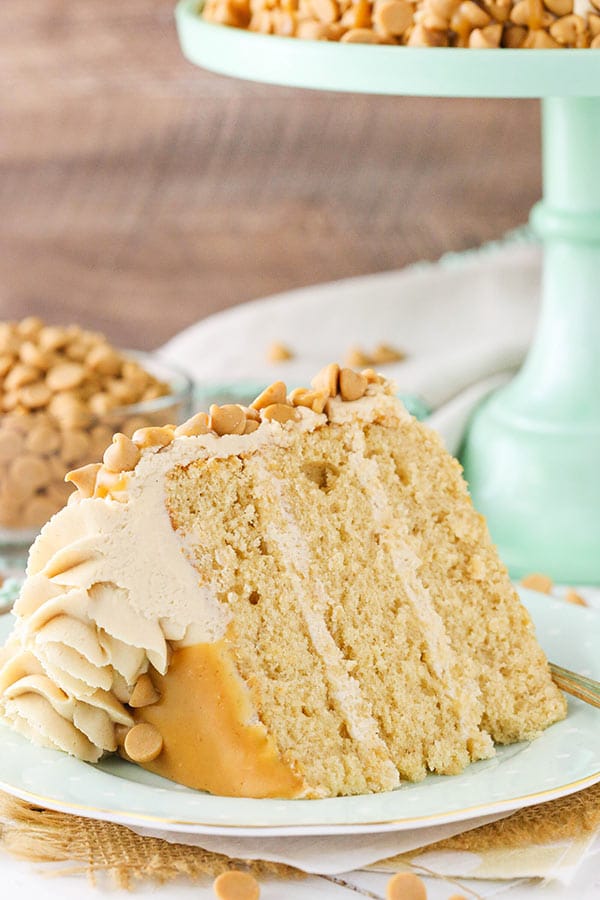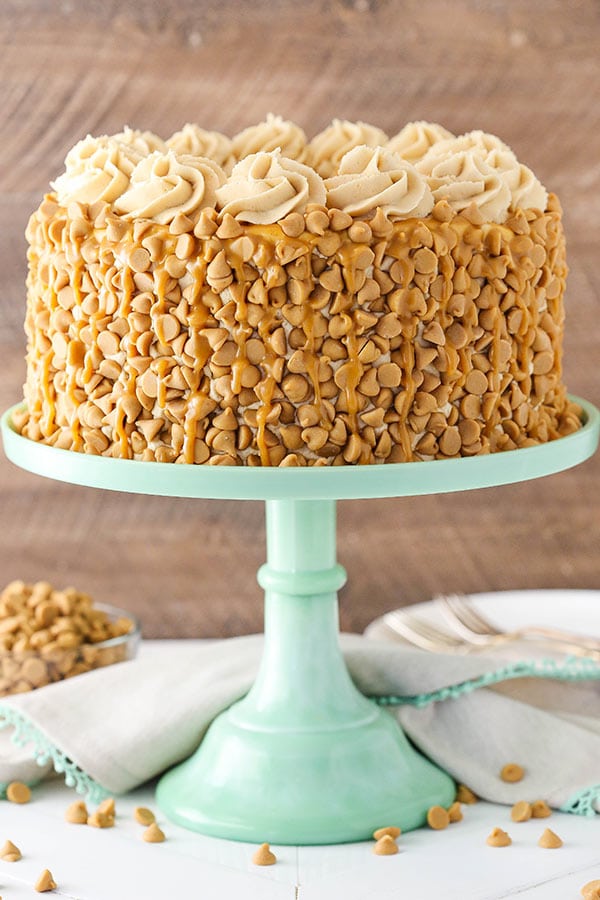 This cake is truly meant for those who love peanut butter just as much as Jessie. It's full of it! There's peanut butter in the cake and frosting and then it's decorated with peanut butter chips and drizzled with more peanut butter ganache. The final cake just screams peanut butter and is so good!
The cake itself is fairly straight forward. It starts by creaming the butter, sugars and peanut butter. To enhance the peanut butter flavor a bit, this cake uses both regular white sugar and brown sugar.
Then you've got vanilla extract and some sour cream for adding additional moisture. I'm a big fan of using sour cream. It adds moisture like nothing else and I love the additional flavor it adds.
Next up are the eggs, dry ingredients and some additional milk and water for more moisture. Why water? It adds some additional moisture without adding heaviness. You'll find I usually have a bit of water in my cakes for that reason.
The frosting is a typical peanut butter american buttercream and it's delicious! The peanut butter chips and ganache just add to the loaded peanut butter flavor. The final cake is pure heaven and so good! Time to grab your jar of peanut butter and indulge a bit! 🙂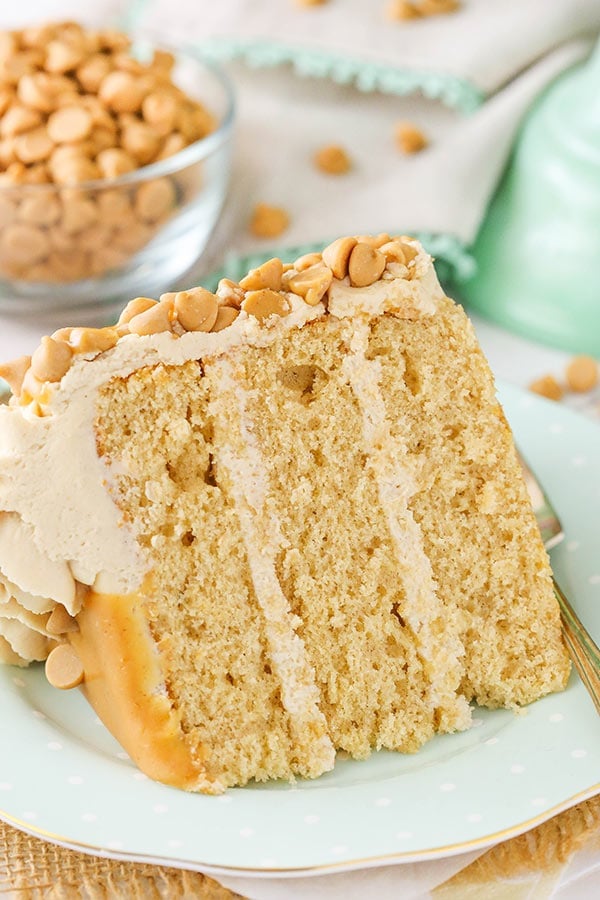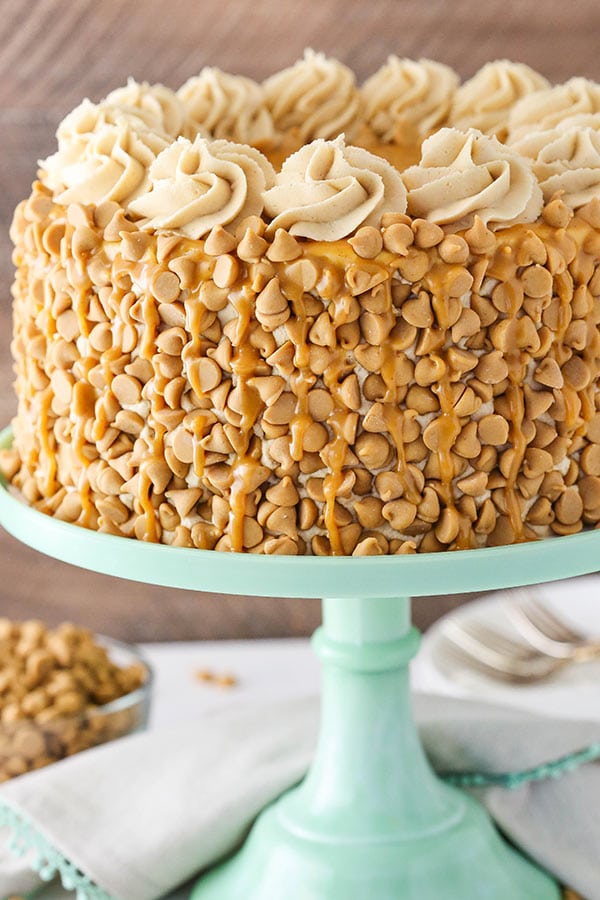 SHOP THE RECIPE
[show_shopthepost_widget id="2704616″]
Loaded Peanut Butter Layer Cake
Yield: 12-14 slices

MY OTHER RECIPES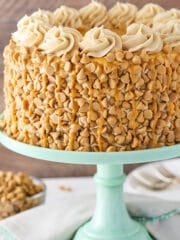 Ingredients:
Peanut Butter Cake
1/2 cup (112g) unsalted butter, room temperature
3/4 cups (155g) sugar
3/4 cup (108g) brown sugar, loosely packed
3/4 cup (210g) peanut butter
1/2 cup (115g) sour cream
2 tsp vanilla extract
3 large eggs
2 1/2 cups (325g) all purpose flour
2 3/4 tsp baking powder
1/2 tsp salt
1/2 cup (120ml) milk
1/4 cup (60ml) water
Peanut Butter Frosting
2 cups (448g) salted butter, room temperature
1 1/4 cups (350g) peanut butter
9 cups (1035g) powdered sugar
6-7 tbsp (90-105ml) water or milk
10 oz peanut butter chips
Peanut Butter Ganache
6 oz peanut butter chips
1/2 cup (120ml) heavy whipping cream
Directions:
TO MAKE THE CAKE LAYERS:
1. Prepare three 8 inch cake pans with parchment paper circles in the bottom and grease the sides. Preheat oven to 350°F (176°C).
2. In a large mixing bowl, cream the butter, sugars and peanut butter together until light in color and fluffy, about 3-4 minutes. Do not skimp on the creaming time.
3. Add sour cream and vanilla extract and mix until well combined.
4. Add the eggs one at a time, mixing until just combined after each. Scrape down the sides of the bowl as needed to be sure all ingredients are well incorporated.
5. Combine dry ingredients in a separate bowl, then combine the milk and water in a small measuring cup.
6. Add half of the dry ingredients to the batter and mix until well combined. Add the milk mixture and mix until well combined. Add remaining dry ingredients and mix until well combined. Scrape down the sides of the bowl as needed to be sure all ingredients are well incorporated.
7. Divide the batter evenly between the cakes pans and bake for about 21-23 minutes, or until a toothpick comes out with a few crumbs.
8. Remove the cakes from the oven and allow to cool for about 2-3 minutes, then remove to cooling racks to cool completely.
TO MAKE THE FROSTING:
9. In a large mixer bowl, beat the butter and peanut butter together until smooth.
10. Slowly add half of the powdered sugar and mix until smooth.
11. Add 5-6 tablespoons of water or milk and mix until smooth.
12. Slowly add the remaining powdered sugar and mix until smooth. Add additional water or milk, as needed to get the right consistency.
TO ASSEMBLE THE CAKE:
13. To put the cake together, use a large serrated knife to remove the domes from the top of the cakes so that they're flat. Place the first cake on a serving plate or a cardboard cake round.
14. Spread about 1 cup of frosting into an even layer on top of the cake.
15. Add the second layer of cake on top of the frosting.
16. Add another cup of frosting on top of the cake and spread into an even layer.
17. Top the cake with the remaining layer and frost the outside of the cake. Refer to my tutorial for frosting a smooth cake, if needed.
18. Press peanut butter chips into the sides of the cake.
19. To make the peanut butter ganache, add the peanut butter chips to a medium sized bowl.
20. Heat the heavy whipping cream until it begins to boil.
21. Pour the hot cream over the peanut butter chips and allow to sit for 3-5 minutes, then whisk until smooth.
22. Drizzle the ganache around the edge of the cake.
23. Use the remaining frosting to pipe swirls around the top of the cake (I used Ateco tip 844), then fill in the center with the remaining ganache.
Enjoy!


This post contains affiliate links.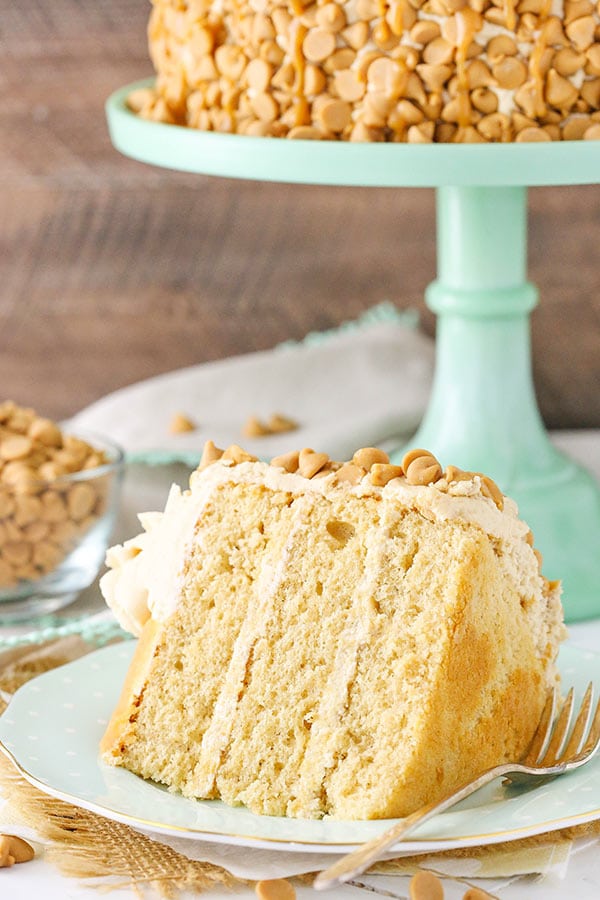 You might also like:
Peanut Butter Chocolate Layer Cake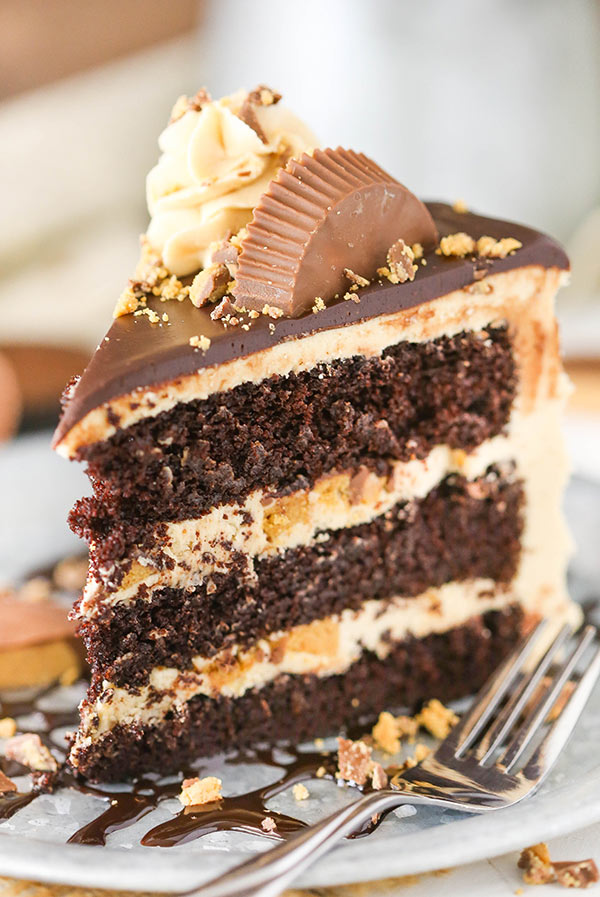 Peanut Butter Chocolate Mousse Cake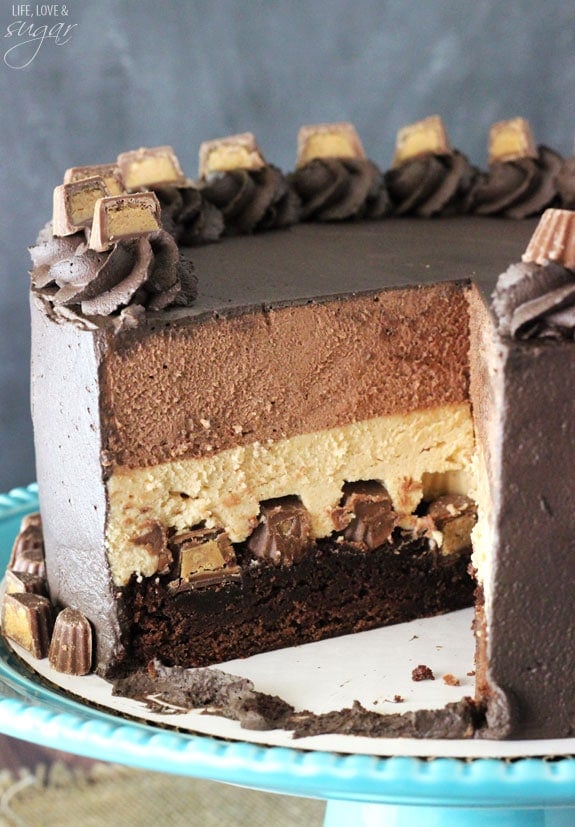 Peanut Butter Chocolate Icebox Cake