June 14, 2017
Strawberry Pretzel Salad Cupcakes
These Strawberry Pretzel Salad Cupcakes are made with a pretzel crust, vanilla cupcake, cream filling and strawberry frosting! They are inspired by the classic dessert and so fun!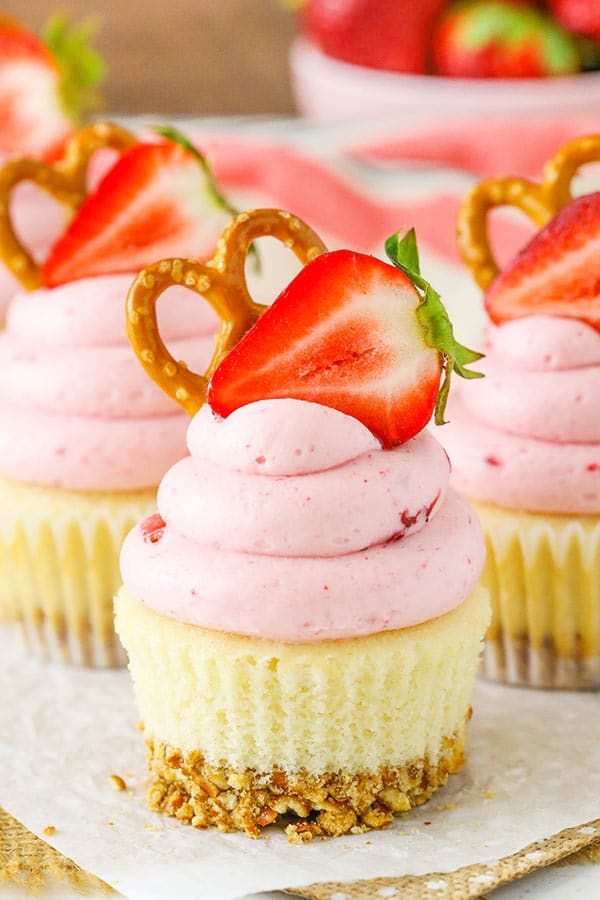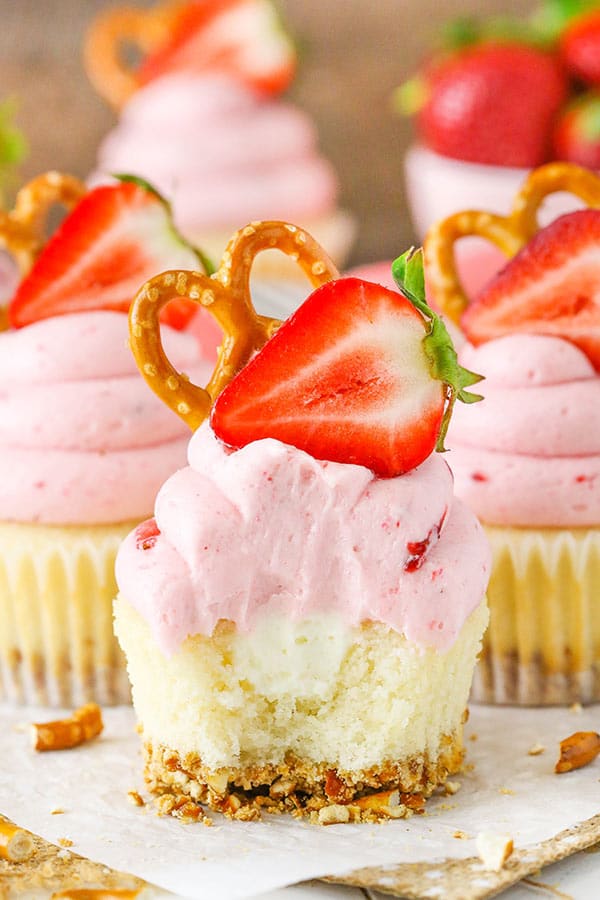 So I've seen strawberry pretzel salad recipes around for a while now. I can't say that it really appealed to me as something to try. I'm not entirely sure why, but it just didn't. I was curious about it, but not curious enough to make it.
Well as luck would have it, we were at a friend's house for Easter and it's one of the things they served. I was excited to finally get to try it. I was pleasantly surprised too! SO good! I guess I shouldn't be that surprised. I do love a good sweet and salty treat. But the combination of pretzel, cream and strawberries and jello was even better than I thought it might be. The hubs had several helpings.
So naturally I wanted to make a dessert inspired by the classic. It took a while to decide exactly how I wanted to execute it and it took even longer to get the frosting just right, but I'm so pleased with how they turned out. And our hosts from Easter got to try them and they got a big fat stamp of approval!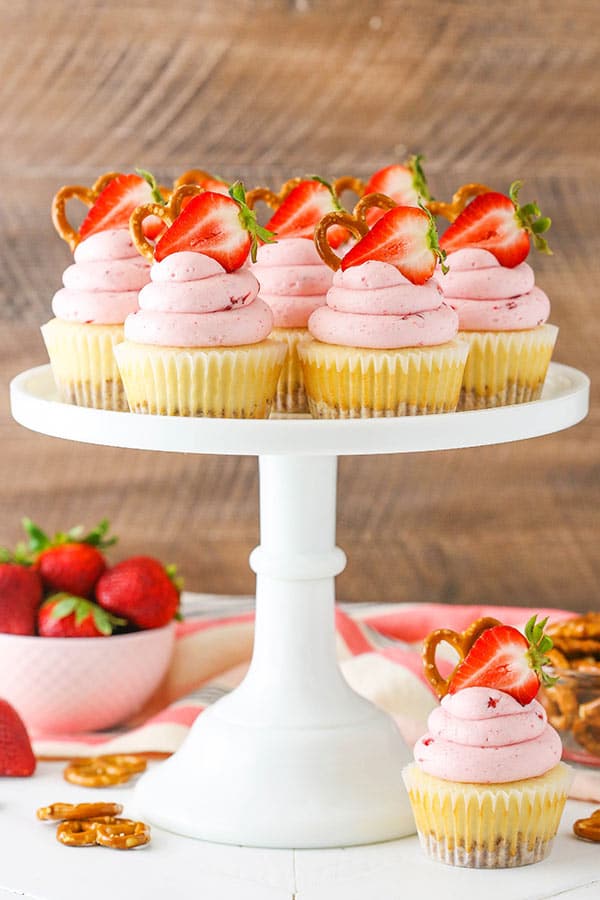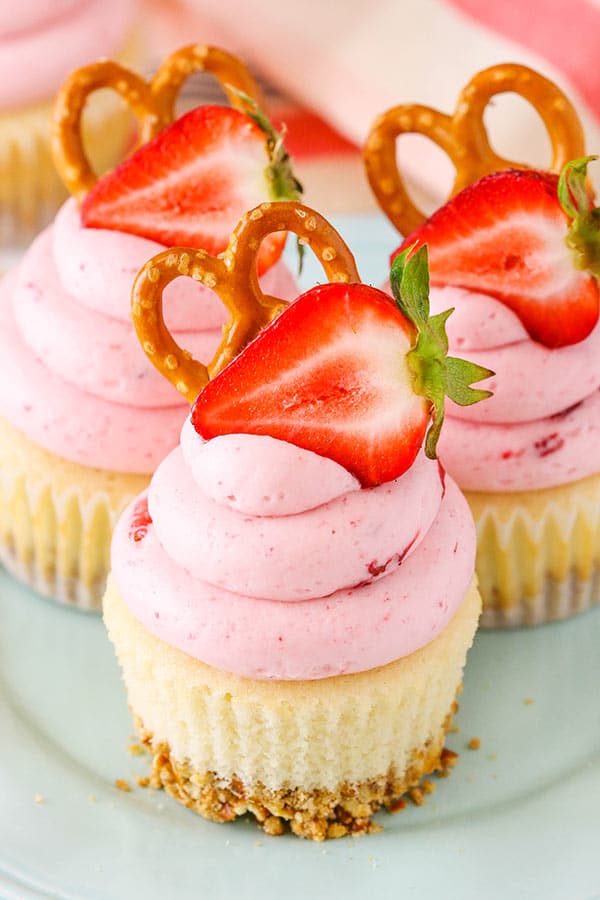 So to start, there's the pretzel crust. That's kind of a no brainer. Just be aware that like the classic dessert, a pretzel crust doesn't hold together as well as a graham cracker crust. Try to grind the pretzels into somewhat fine crumbs so that they hold together better. I used my food processor and while they were a bit crumb-y, they held together pretty well.
Next up was the cupcake. I toyed with making it strawberry but went with vanilla. With the middle layer of the classic dessert being vanilla/cream, it seemed most appropriate. To further the cream filling layer, there's a cream filling in the cupcake. It's made with cream cheese, just like the classic, and it's light and yummy!
Topping the cupcake is the strawberry frosting. Since the classic dessert uses strawberry JELLO, I felt it only appropriate that the frosting did too. And then of course, fresh chopped strawberries.

MY OTHER RECIPES
I initially wanted to use a cream cheese frosting, but it didn't end up being the best idea. Cream cheese frosting tends to be softer and with the fresh strawberries mixed in (which adds more moisture), it just didn't hold it's place on top of the cupcakes well.
So I went with a more standard buttercream. To add the JELLO, I dissolved a little strawberry jello powder in some hot water and added that to the frosting. I tested it with both the original JELLO and their new Simply JELLO. I have to say I much preferred the Simply JELLO. It dissolved better in the hot water, which in turn resulted in a better frosting. If the powder doesn't dissolve well, you end up with a grainy frosting and nobody wants that. I also preferred the more natural strawberry flavor and color.
When adding the strawberry JELLO water to the frosting, be sure not to add too much. You'll add the chopped strawberries next and they'll add even more moisture to the frosting. You don't want it to get too thin.
The final cupcake is a sweet and salty treat that definitely models the classic strawberry pretzel salad! The lightly crunchy pretzel crust, moist cupcake, smooth cream filling and strawberry frosting are SO good together! They make a super fun way to switch up your pretzel salad eating ways. 🙂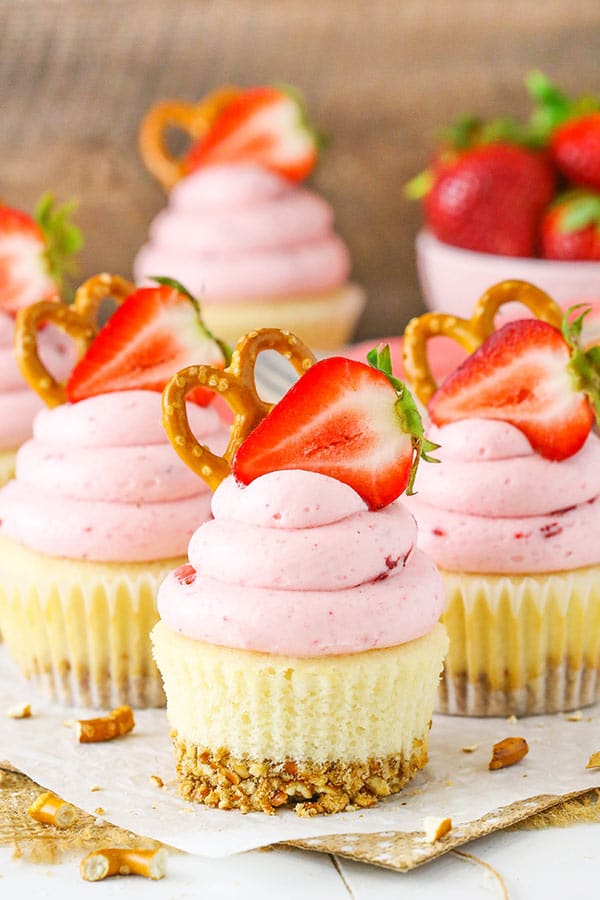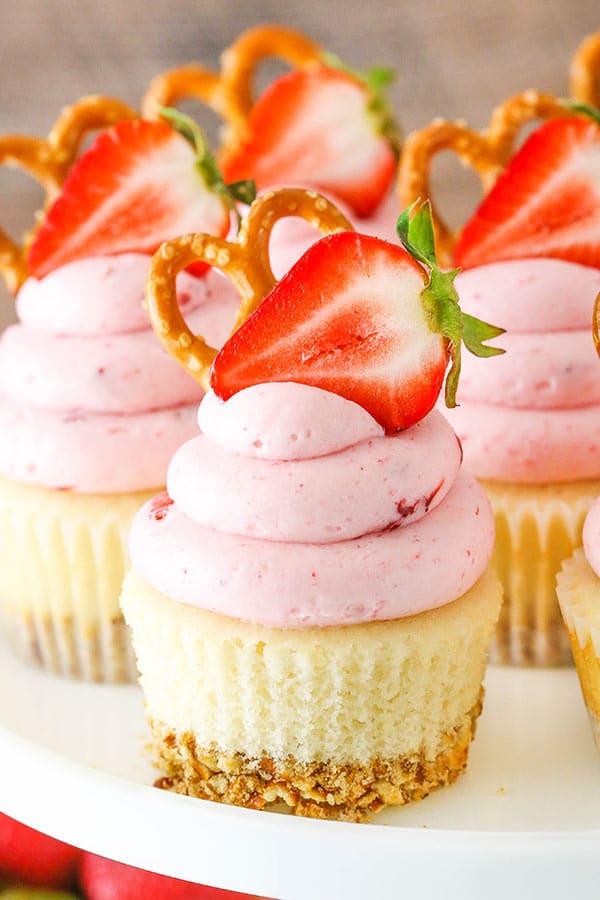 SHOP THE RECIPE


Strawberry Pretzel Salad Cupcakes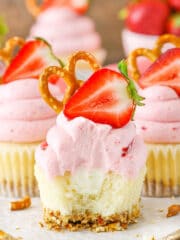 Yield:

About 18 Cupcakes

Category:

Dessert

Method:

Oven

Cuisine:

American
Ingredients
CRUST
1 1/4 cup (168g) pretzel crumbs
5 tbsp (70g) butter, melted
3 tbsp (39g) sugar
CUPCAKES
6 tbsp (84g) unsalted butter, room temperature
3/4 cups (155g) sugar
6 tbsp (86g) sour cream
2 tsp vanilla extract
3 egg whites
1 1/4 cups (163g) all purpose flour
2 tsp baking powder
1/4 tsp salt
6 tbsp (90ml) milk
2 tbsp (30ml) water
FILLING
1/2 cup (120ml) heavy whipping cream, cold
1/4 cup (29g) powdered sugar
4 oz cream cheese, room temperature
3/4 tsp vanilla extract
2 tbsp sugar
FROSTING
3/4 cup (168g) butter
1/2 cup (95g) shortening
5 cups (575g) powdered sugar
2 tbsp (30ml) hot water
4 tbsp Simply Good Strawberry Jello powder
1/2 cup (80g) very finely diced strawberries
Additional strawberries, for decor
Additional pretzels, for decor
Instructions
1. Heat oven to 325°F (162°C) and prepare a cupcake pan with liners.
2. In a small bowl, combine crust ingredients and mix well.
3. Press about 1 1/2 tbsp of the mixture into the bottom of each cupcake liner.
4. Bake crusts for 7 minutes then remove and set aside.
5. To make the cupcakes, preheat oven to 350°F (176°C) and prepare a cupcake pan with cupcake liners.
6. In a large mixing bowl, cream butter and sugar together until light in color and fluffy, about 3-4 minutes. Do not skimp on the amount of creaming time.
7. Add sour cream and vanilla extract and mix until well combined.
8. Add egg whites in two batches, mixing until well combined after each. Scrape down the sides of the bowl as needed to be sure all ingredients are well incorporated.
9. Combine dry ingredients in a separate bowl, then combine the milk and water in a small measuring cup.
10. Add half of the dry ingredients to the batter and mix until well combined. Add the milk mixture and mix until well combined. Add remaining dry ingredients and mix until well combined. Scrape down the sides of the bowl as needed to be sure all ingredients are well incorporated.
11. Fill the cupcake liners with the baked crusts about three quarters full with batter. Bake for 14-16 minutes, or until a toothpick inserted comes out with a few crumbs.
12. Remove cupcakes from oven and allow to cool for 2-3 minutes, then remove to cooling rack to finish cooling.
13. To make the filling, add the heavy whipping cream and powdered sugar to a large mixer bowl. Whip on high speed until stiff peaks form. Set aside.
14. Add the cream cheese, vanilla extract and sugar to a mixer bowl and mix until smooth.
15. Fold the whipped cream into the cream cheese mixture in two batches. Set in the fridge.
16. To make the frosting, combine the butter and shortening in a large mixer bowl and mix until smooth.
17. Add 2 cups of powdered sugar and mix until smooth.
18. Add the JELLO powder to the hot water and stir until dissolved.
19. Add 1 tablespoon of the JELLO mixture to the frosting and mix until smooth.
20. Add remaining powdered sugar and mix until smooth.
21. Add remaining JELLO mixture as needed and mix until smooth.
22. Mix in the diced strawberries.
23. Use a cupcake corer to remove the centers of the cupcakes, then fill with the filling.
24. Pipe the frosting onto the cupcakes. I used Ateco tip 808. Top the cupcakes with a strawberry half and pretzel if desired.
Enjoy!


This post contains affiliate links.