November 7, 2016
Browned Butter Pecan Layer Cake
This Browned Butter Pecan Layer Cake has three layers of buttery vanilla cake filled with toasted pecans that are covered with the most delicious browned butter frosting! It's the perfect cake for the holidays!
This post is sponsored by Challenge Dairy, but all opinions are my own.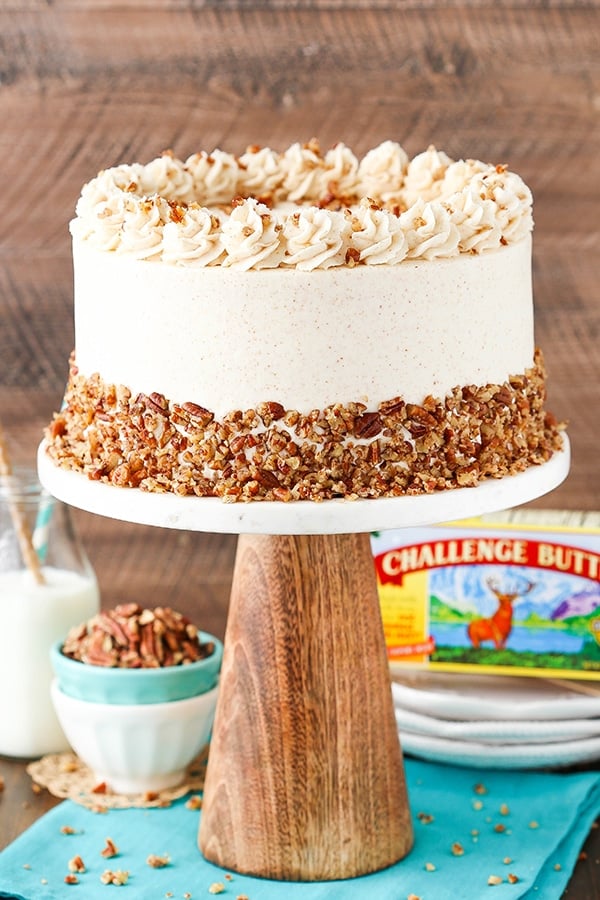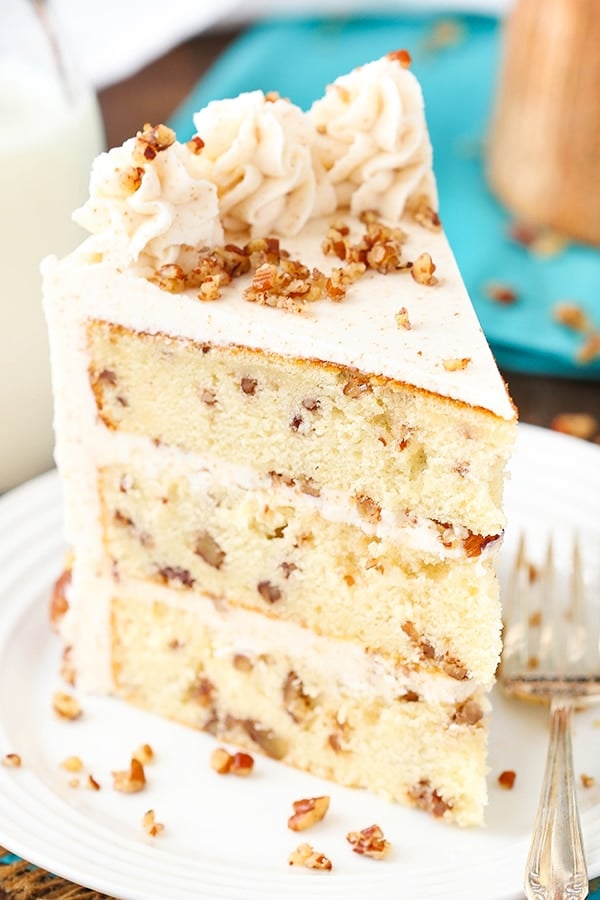 Can you believe that it's November already? The holidays are approaching fast. I mean, not to freak you out or anything, but Thanksgiving is two weeks from Thursday. I'm not sure I can even wrap my head around that. We will actually spend the holiday with my family in Charlotte this year though, so I guess that means the pressure isn't entirely on me. 🙂
We are getting into one of my favorite times of year – the holidays. Not only do I love the food and all the vacation days off, but I also love the time spent with family, slowing down a bit and being thankful for all that surrounds me and all that has happened during the year.
And this year we have so much to be thankful for. The hubs' job has been going well, I released a cookbook and (breaking news!) I'm leaving my other job to blog full-time starting in December. Not to mention so many other wonderful things that we take for granted every day. Ultimately it's the seemingly little things that we should be most thankful for.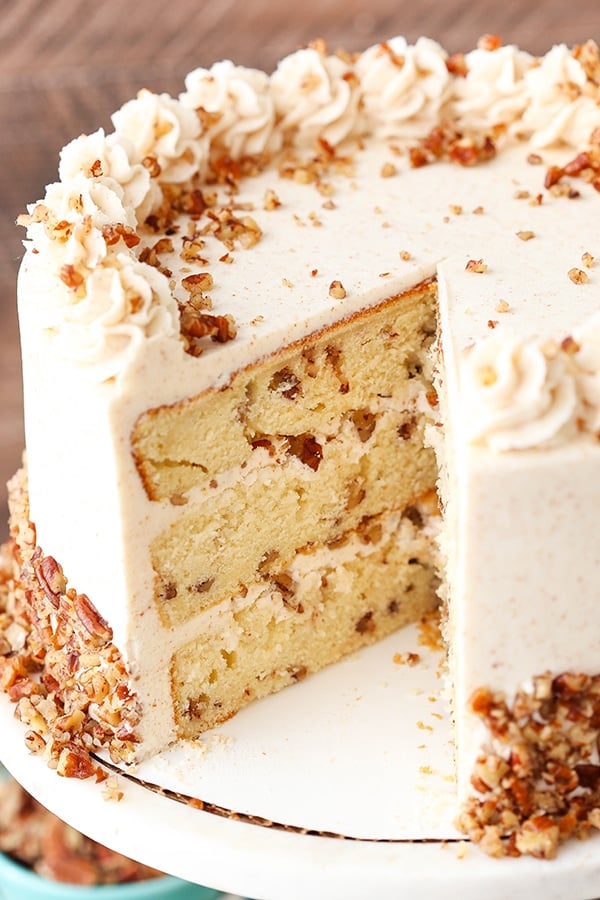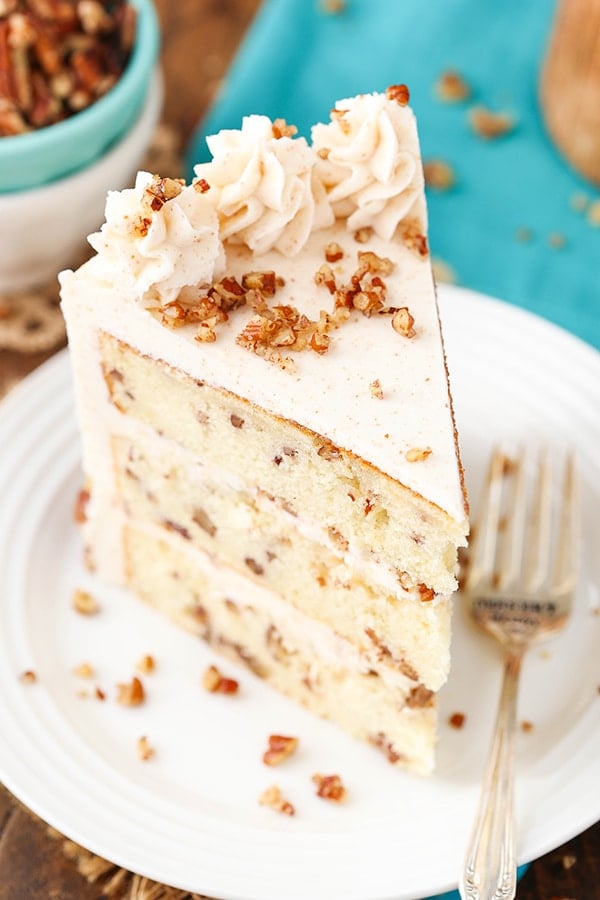 One thing I totally take for granted is cake, since I've pretty much always got some in our house. But you know I love it and this cake is no exception.
The cake layers are a moist, buttery vanilla cake spotted with toasted pecans. The flavor of the cake alone is delicious. The pecans add a whole other level of awesome. Before adding them to the cake batter though, they are tossed with butter and brown sugar and toasted. Don't skip this step! The flavor of the cake is so much better with the pecans toasted versus un-toasted. If you've never toasted pecans, all you need to do is put them in the oven on a cookie sheet for about 5 to 7 minutes until they've browned a bit and you can smell them. A wonderful way to make your house smell delicious and like the holidays have arrived!
The cake layers are frosted with my new favorite frosting. It begins with browned butter, which is heavenly and lends a caramel-y flavor to the frosting that pairs so well with the toasted pecans. Of course I used Challenge Butter, which is such a wonderful, good quality butter. And browned butter is just as it sounds – butter that is browned right on your stove top. The frosting recipe uses a good bit of browned butter so it takes a bit of time to brown, but you really just melt the butter and allow it to brown. It'll get a little foamy as it cooks, but eventually the foam will subside and you'll be done.
The butter is chilled until it's firm again and then you can use it in your frosting! I love it! The full finished cake is super moist and delicious!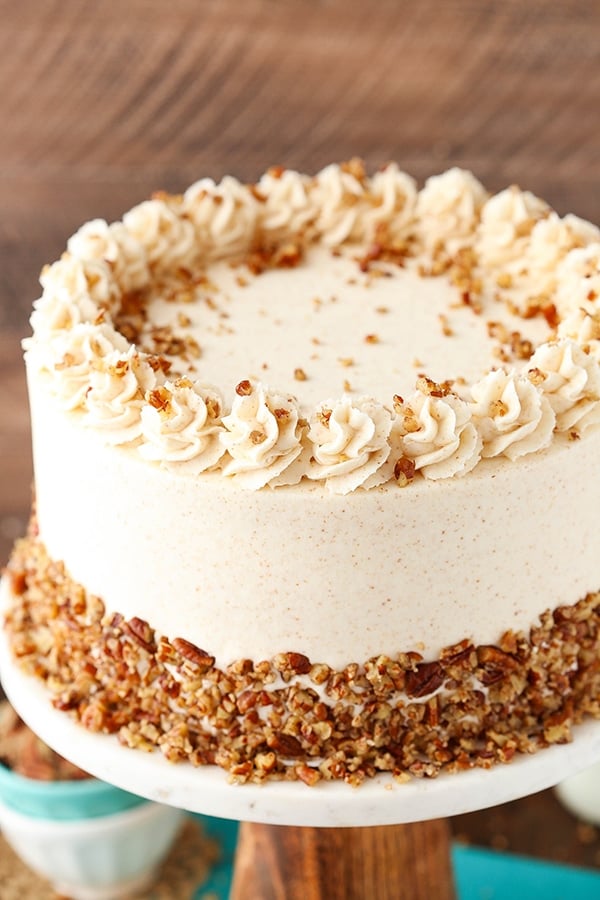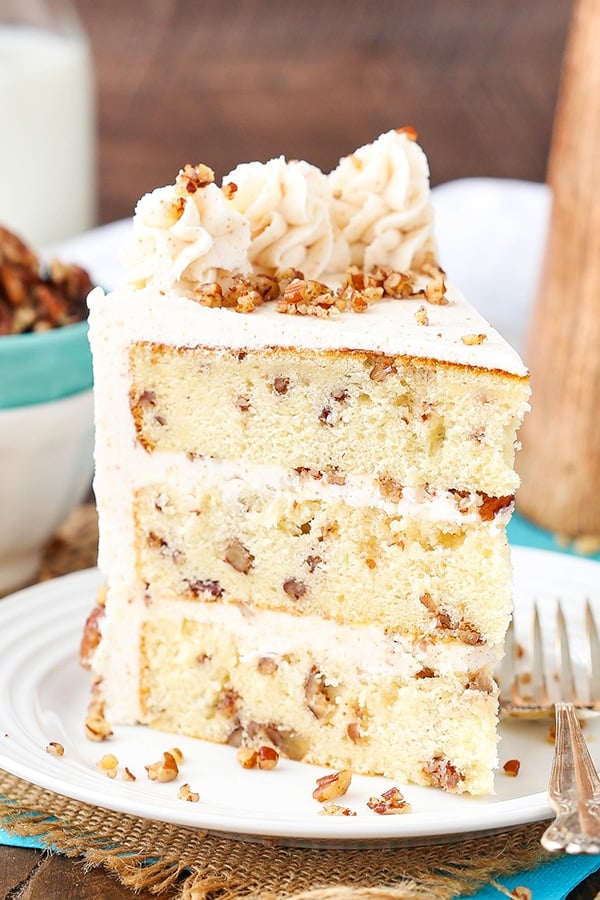 And in the spirit of the season and being thankful, Challenge Dairy is giving back. They are joining forces with UNICEF to fight and raise awareness of the childhood malnutrition crisis – which results in the unnecessary loss of nearly three million young lives a year. To do that, every recipe pinned from Challenge Butter's "2016 Pin a Recipe, Feed a Child" pinterest board will result in a meal being donated to UNICEF for a child in need. Challenge Dairy hopes to provide up to 75,000 means to UNICEF, so let's help them make this a reality! Here's the pin for this recipe, if you'd like to pin that.
I hope you're able to hop over and pin a recipe (or two!) and give this delicious recipe a try! You won't regret either!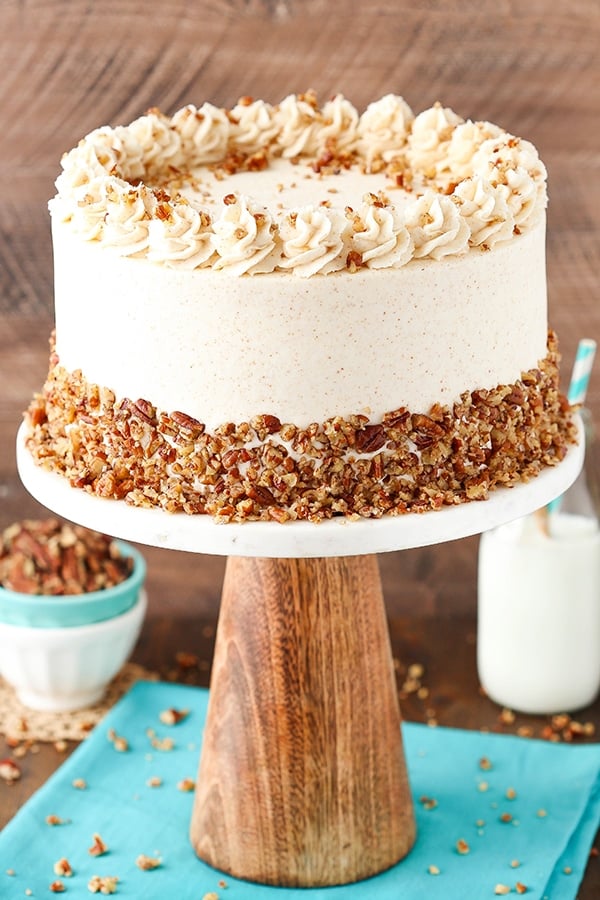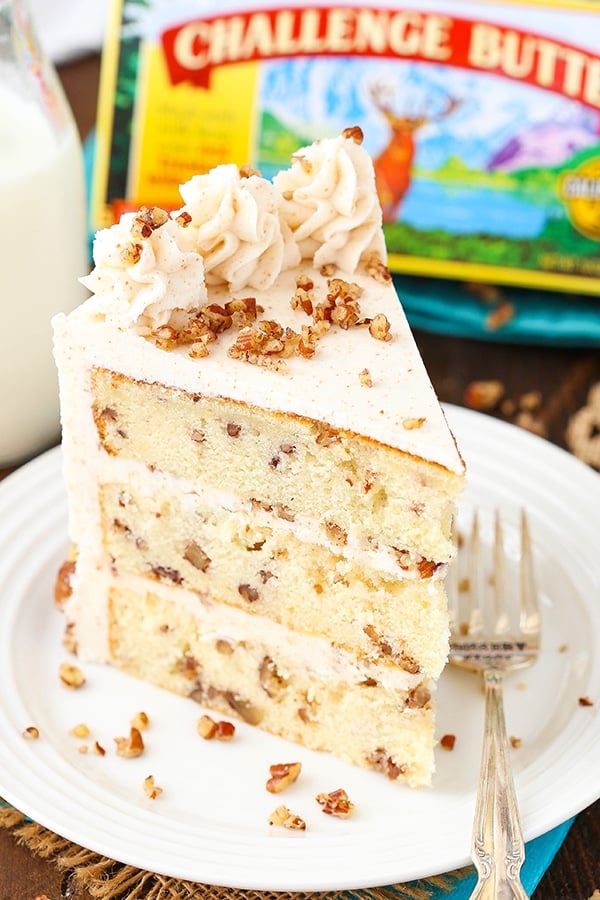 Browned Butter Pecan Layer Cake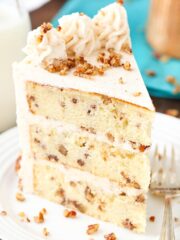 Yield:

12

-

14

Slices

1

x
Category:

Dessert

Method:

Oven

Cuisine:

American
Ingredients
TOASTED PECANS
1/4 cup

(56g) salted Challenge butter, melted

2 1/4 cup

s (370g) finely chopped pecans

2 tbsp

light brown sugar, loosely packed
CAKE LAYERS
3/4 cup

(168g) unsalted Challenge butter, room temperature

1 1/2 cup

s (310g) sugar

1 cup

(231g) sour cream, room temperature

1 tbsp

vanilla extract

5

large eggs, room temperature

3 cup

s (390g) all purpose flour, preferably sifted

4 tsp

baking powder

3/4 tsp

salt

1 cup

(240ml) milk, room temperature

2 tbsp

(30ml) water, room temperature
BROWNED BUTTER FROSTING
2 1/4 cup

s (504g) salted Challenge butter, room temperature

1 1/4 cup

s (237g) shortening

10 cup

s (1150g) powdered sugar

6 tbsp

(90ml) water or milk
Instructions
TOAST THE PECANS:
1. Preheat the oven to 350°F (176°C). Line a cookie sheet with parchment paper or silicone baking mat.
2. Combine the melted butter, pecans and brown sugar in a medium sized bowl and toss to coat.
3. Spread the pecans evenly onto the cookie sheet and bake for 5-7 minutes, or until toasted.
4. Set pecans aside to cool.
MAKE THE CAKE LAYERS:
5. Prepare three 8 inch cake pans with parchment paper circles in the bottom and grease the sides. Leave the oven at 350°F (176°C).
6. In a large mixing bowl, cream the butter and sugar together until light in color and fluffy, about 3-4 minutes. Do not skimp on the creaming time.
7. Add the sour cream and vanilla extract and mix until well combined.
8. Add the eggs one at a time, mixing until combined after each. Scrape down the sides of the bowl as needed to be sure all ingredients are well incorporated.
9. Combine the dry ingredients in a separate bowl, then combine the milk and water in a measuring cup.
10. Add half of the dry ingredients to the batter and mix until well combined. Add the milk mixture and mix until well combined. Add remaining dry ingredients and mix until well combined. Scrape down the sides of the bowl as needed to be sure all ingredients are well incorporated.
11. Gently stir 1 cup of the toasted pecans into the batter.
12. Divide the batter evenly between the cakes pans and bake for about 24-26 minutes, or until a toothpick comes out with a few crumbs.
13. Remove the cakes from the oven and allow to cool for about 2-3 minutes, then remove to cooling racks to cool completely.
MAKE THE FROSTING:
14. Melt 2 cups of butter in a saucepan over medium heat. It's best to use a light colored pan so that you can see the butter browning. Whisk the butter occasionally so that it cooks evenly.
15. Cook the butter until turns a nice toasty brown. It will foam up at first, particularly since this is a good bit of butter, but it will eventually subside and you'll have browned butter. Some of the brown bits may separate, but that's ok. Once the butter has browned, pour it into a heat-proof bowl and set it in the fridge to cool completely.
16. Bring the butter back to room temperature, then add it to a large mixer bowl with the additional 1/4 cup of butter and the shortening. Beat until smooth.
17. Slowly add about half of the powdered sugar and mix until smooth.
18. Add 4-5 tablespoons of water and mix until smooth.
19. Slowly add the remaining powdered sugar and mix until smooth.
20. Add the remaining water, if needed, and mix until smooth.
TO ASSEMBLE THE CAKE:
21. Use a large serrated knife to remove the domes from the top of the cakes so that they're flat. Place the first cake on a serving plate or a cardboard cake round.
22. Spread about 1 cup of frosting evenly on top of the cake, then top the frosting with 3-4 tablespoons of the remaining toasted pecans.
23. Add the second layer of cake, another cup of frosting and 3-4 tablespoons of pecans.
24. Top the cake with the remaining layer and frost the cake. Refer to my tutorial for frosting a smooth cake, if needed.
25. Pipe swirls of frosting around the top edge of the cake and press the remaining pecans into the sides of the cake and sprinkle some over the top. Store the cake in an airtight container. Cake is best for 2-3 days.
Enjoy!