This Pumpkin Spice Baked Alaska is completely no-bake and layered with no-churn pumpkin spice ice cream and buttery shortbread! It's topped with an easy meringue frosting to finish it off! So tasty!
Love pumpkin spice? This Pumpkin Spice Donut Cheesecake Trifle is decadent and delicious!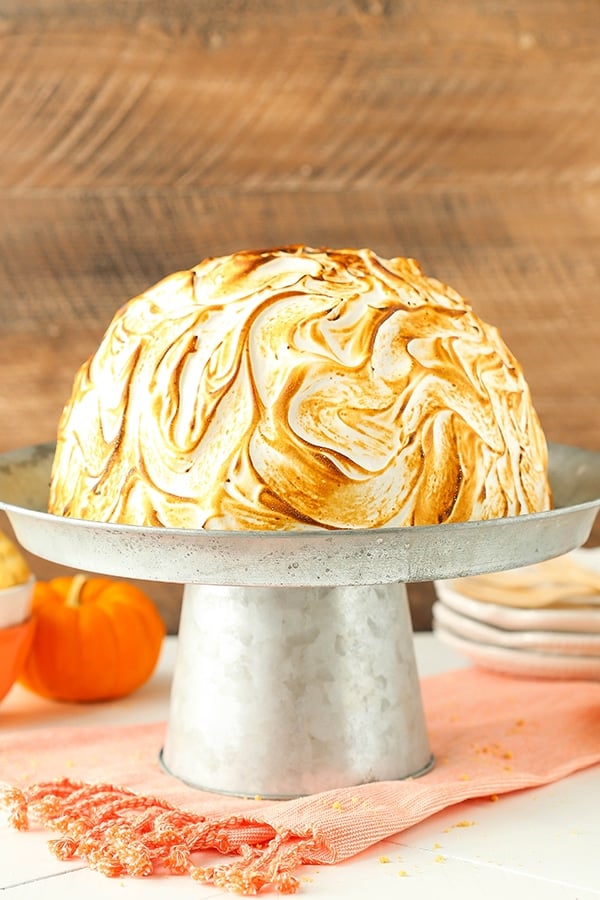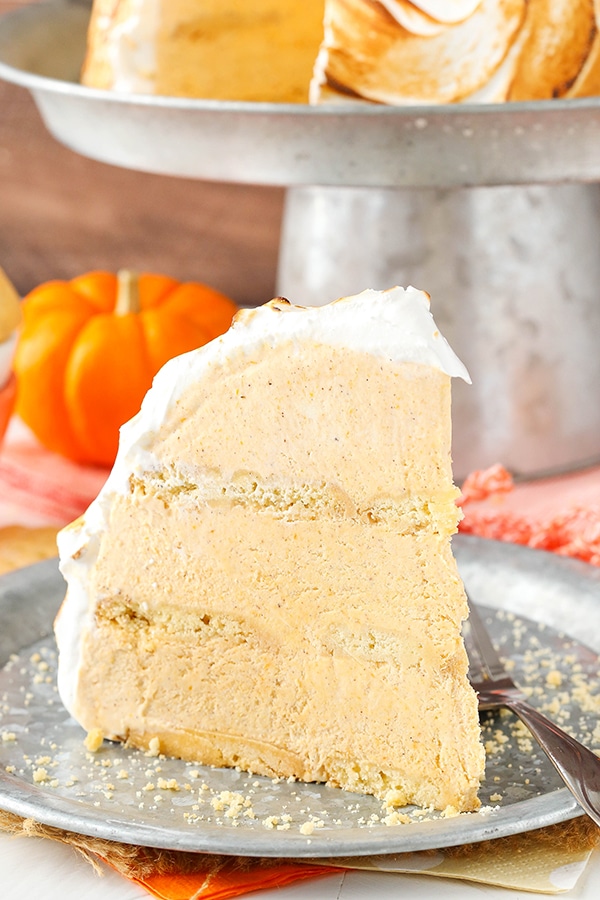 Pumpkin Spice Baked Alaska Recipe
This post is sponsored by Walkers Shortbread, but all opinions are my own.
Baked Alaska is a dessert my mom has been telling me for years that she loves. I had never had it before and remember feeling like it seemed totally intimidating the last time I looked at a recipe for it. Honestly, I didn't even really know what it was.
Then when I was in Portland in July, I saw it on a menu at a restaurant. That was the first time I realized that Baked Alaska was basically an ice cream cake with meringue frosting. How had I not known this?!? Not only is that amazing to realize, but this particular one had a mix of banana and dulce de leche ice cream. Um, yes, please!!
It was totally delicious and at that moment I knew I needed to make a Baked Alaska. 🙂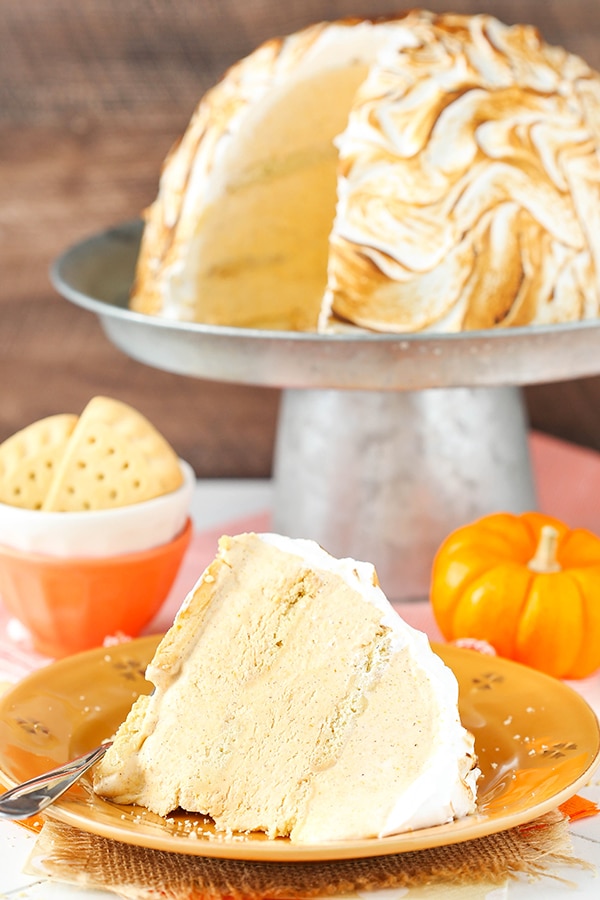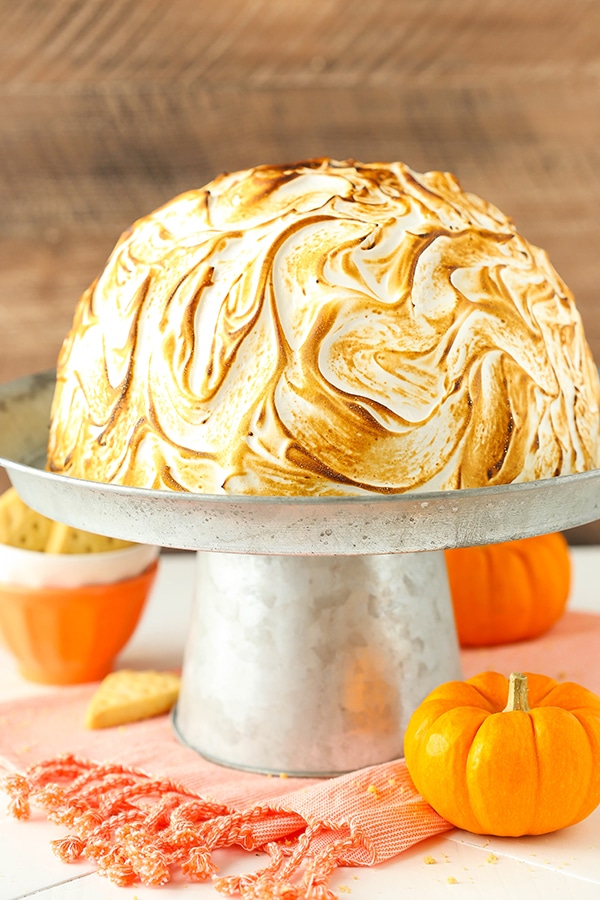 How to Make Pumpkin Spice Baked Alaska
This Pumpkin Spice Baked Alaska is SO easy to make and perfect for fall! The pumpkin spice flavor is spot on and hard to resist. It starts with a no churn ice cream, which is my favorite kind to use for an ice cream cake. It makes the cake easier to layer since the ice cream is naturally thicker and it holds up better when being served.
The pumpkin ice cream is spiced with cinnamon, nutmeg, ginger and cloves and combined with sweetened condensed milk. Whipped cream is folded into the pumpkin mixture and then you have your ice cream base. How easy is that?!
Baked Alaska is typically made in a large bowl. This cake is a regular to large sized cake and is made in a 3 quart bowl. You could definitely cut the recipe in half and use a 1.5 quart bowl if you wanted a smaller version.
The ice cream is added to the bowl in layers, alternating with layers of Walkers Shortbread. I used the triangles and they fit well in this round cake, but you could use other shapes as well. As you may already know, I'm a big fan of Walkers Shortbread. Their shortbread is so buttery and delicious – it's perfect on it's own. But it also makes the perfect no bake and cake-like alternative for this Baked Alaska. They soften and end up like buttery cake layers and I love them!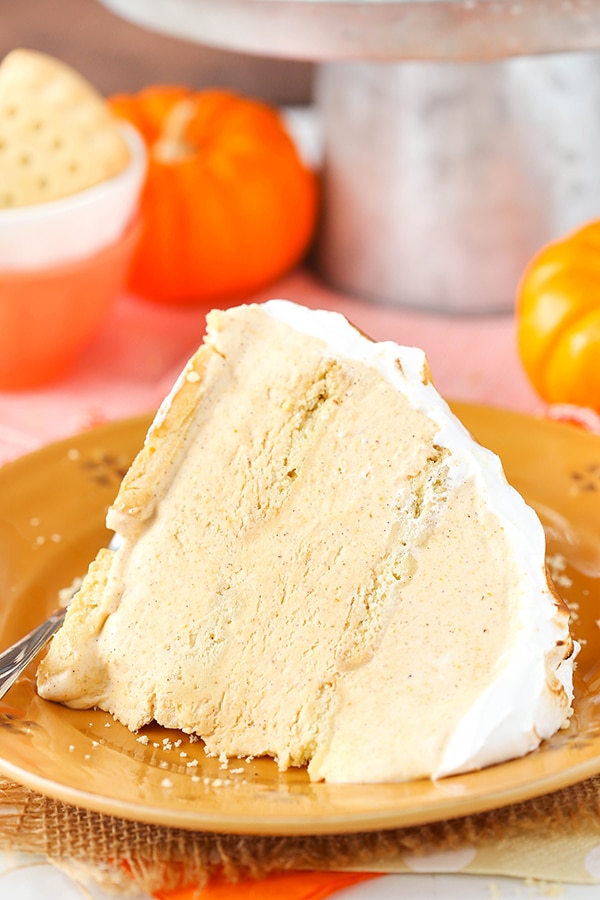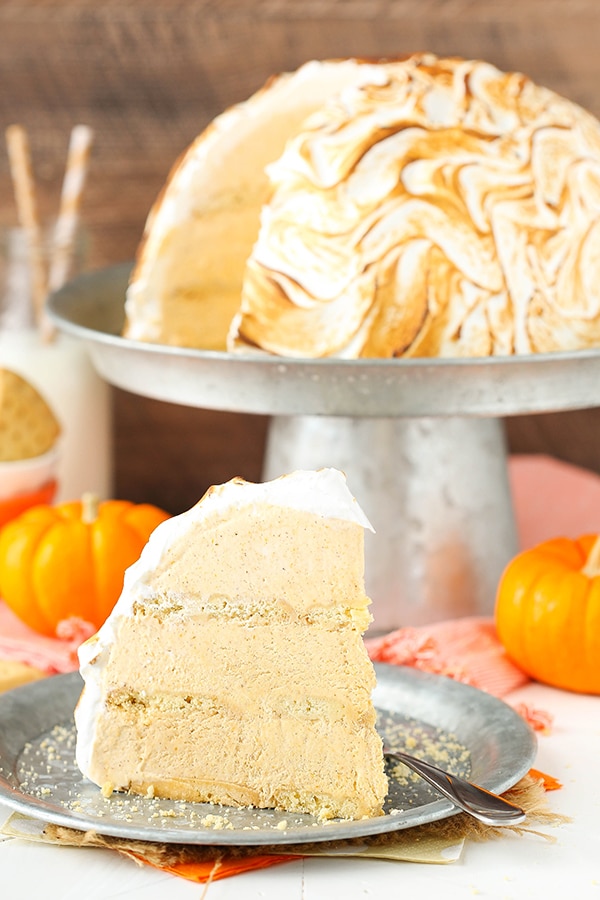 The topping of this Pumpkin Spice Baked Alaska is a toasted meringue. It's basically the defining characteristic of a Baked Alaska and makes it so beautiful! And while meringue might seem intimidating, it really shouldn't. It's much like making whipped cream and is basically whipped egg whites. You combine egg whites, some sugar for sweetness and cream of tarter for stability over a double boiler, or in a mixer bowl over a pot of simmering water (which I use). The mixture is heated until the sugar is dissolved and reaches between 120 and 140 degrees and is cooked. The cooked mixture is then whipped until it reaches stiff or glossy peaks and you're done! It really is quick and easy, I promise!
The meringue is spread onto the frozen ice cream cake, then toasted. I used my kitchen torch to toast it, but you could also pop it in the oven on convection for several minutes. Once toasted, it's ready to go! You can freeze it until you're ready to serve it, or serve it right away.
You guys, this Pumpkin Spice Baked Alaska is delicious! It's full of pumpkin flavor, buttery shortbread and marshmallow-like meringue frosting! My Baked-Alaska-loving-mom was a big fan and I know you will be too!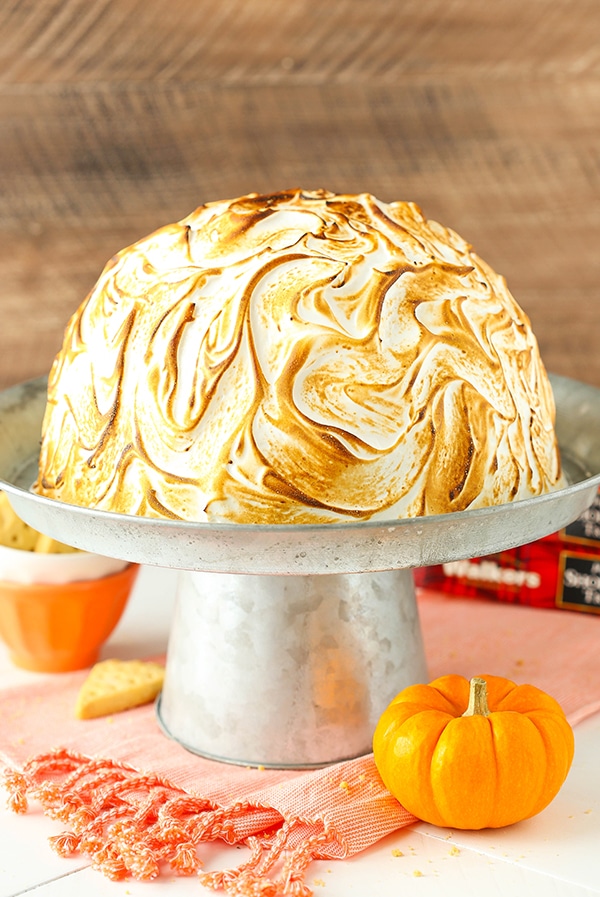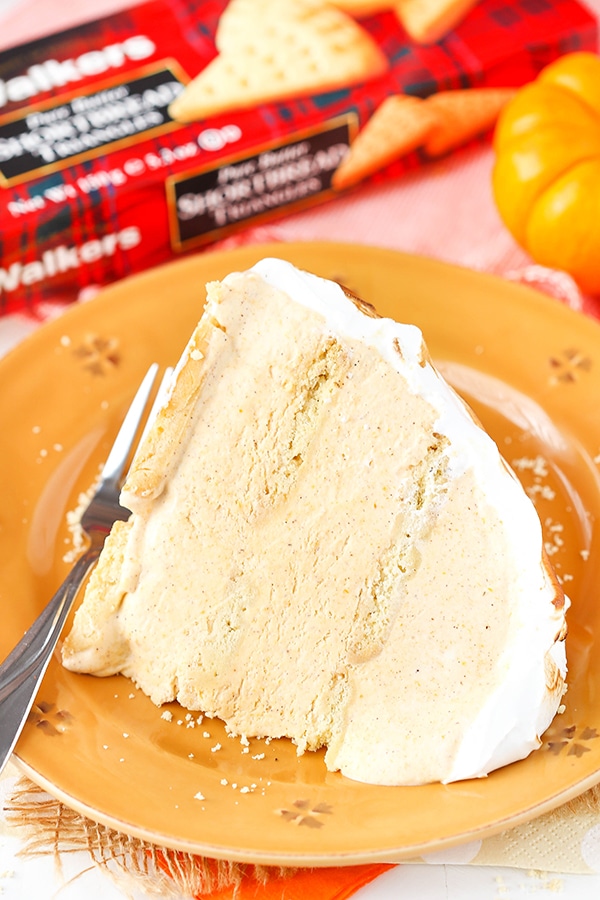 [adthrive-in-post-video-player video-id="ZpjDlv4W" upload-date="Tue Nov 08 2016 20:07:12 GMT+0000 (UTC)" name="Pumpkin Spice Baked Alaska" description="Pumpkin Spice Baked Alaska"]
Read transcript
Print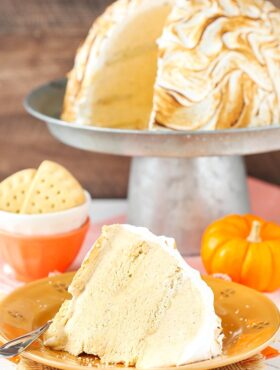 Recipe
Pumpkin Spice Baked Alaska
Author:

Prep Time:

25 minutes

Cook Time:

5 minutes

Total Time:

30 minutes

Yield:

12-14 slices

Category:

Dessert

Method:

Stove

Cuisine:

American
---
Description
This Pumpkin Spice Baked Alaska is completely no-bake and layered with no-churn pumpkin spice ice cream and buttery shortbread! It's topped with an easy meringue frosting to finish it off! So tasty!
---
Ingredients
PUMPKIN SPICE ICE CREAM
1 1/4

(291g) cups canned pumpkin puree

2 tsp

ground cinnamon

1/2 tsp

nutmeg

1/2 tsp

ground ginger

1/4 tsp

cloves

2

(14 oz) cans sweetened condensed milk

1 tsp

vanilla extract

3 1/2 cups

(840ml) heavy whipping cream

1 cup

(

115g

) powdered sugar
ADDITIONAL
1/2 cup

(120ml) milk

2 1/2

(5.3 oz) packages Walkers Shortbread Triangles

4

egg whites

1 cup

(

207g

) sugar

1/2 tsp

cream of tarter
---
Instructions
1. To make the ice cream, combine the pumpkin puree, cinnamon, nutmeg, ginger and cloves.
2. In a separate large bowl, add the sweetened condensed milk and vanilla. Add the pumpkin mixture and combine. Set aside.
3. Add the heavy whipping cream and powdered sugar to a large mixer bowl fitted with the whisk attachment and whip on high speed until stiff peaks form.
4. Add the sweetened condensed milk mixture to the whipped cream in two parts, carefully folding them together until well combined. Set aside.
5. Put the milk into a small bowl.
6. Line a 3 quart bowl with a layer of clear wrap.
7. Fill about 1/3 of the bowl with the pumpkin ice cream mixture.
8. Add a layer of shortbread on top of the pumpkin ice cream, dipping each piece of shortbread into the milk before adding it. Create a full layer.
9. Top the shortbread with another layer of pumpkin ice cream, followed by another layer of shortbread dipped into the milk.
10. Add the remaining ice cream and then a final layer of shortbread, dipped into the milk.
11. Freeze the ice cream and shortbread layers until completely firm and frozen, 7-8 hours or overnight.
12. Turn the bowl over onto a serving platter and place the cake on the platter. You can use the clear wrap to help you remove it from the bowl. If it has trouble coming out of the bowl, just leave it overturned until it slips out. Set the cake back into the freezer.
13. To make the meringue, combine the egg whites, sugar and cream of tartar in a metal heatproof mixer bowl. Place the bowl over a saucepan with simmering water.
. Whisk constantly until sugar is dissolved and whites are warm, at 160 degrees, about 4-6 minutes. Remove from heat.
. Using the whisk attachment, beat on low speed, gradually increasing to high, until stiff, glossy peaks form, 5 to 7 minutes.
16. Get the cake out of the freezer and fully cover with the meringue. Use the underside of a spoon to create a swirled pattern.
17. If you have a kitchen torch, use it to toast the meringue. You could also toast it in the oven quickly.
18. Freeze cake until ready to serve.
---
Nutrition
Serving Size:

1 Slice

Calories:

489

Sugar:

47.3 g

Sodium:

123.5 mg

Fat:

28.3 g

Carbohydrates:

53.7 g

Protein:

7.5 g

Cholesterol:

81.5 mg
Keywords: baked alaska recipe, what is baked alaska, pumpkin spice recipe, pumpkin dessert, pumpkin dessert recipe, no bake dessert recipe, pumpkin recipe, easy pumpkin recipe, how to make pumpkin spice
Filed Under:
Enjoy!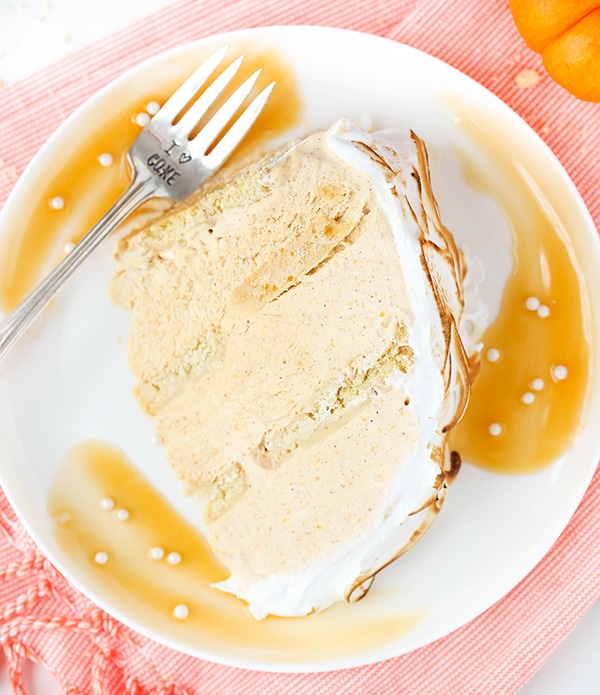 Ice cream modified from Simply Recipes.
This post includes affiliate links.
This post may contain affiliate sales links. Please read my disclosure policy.