Snickers Peanut Butter Brownie Ice Cream Cake
Just looking at these pictures makes my mouth water. Imagine what it's like in person. As I was making it, the hubs said he wanted to put his face in it. As fun as that would have been to see, 'face' isn't really an ingredient in this particular cake. 🙂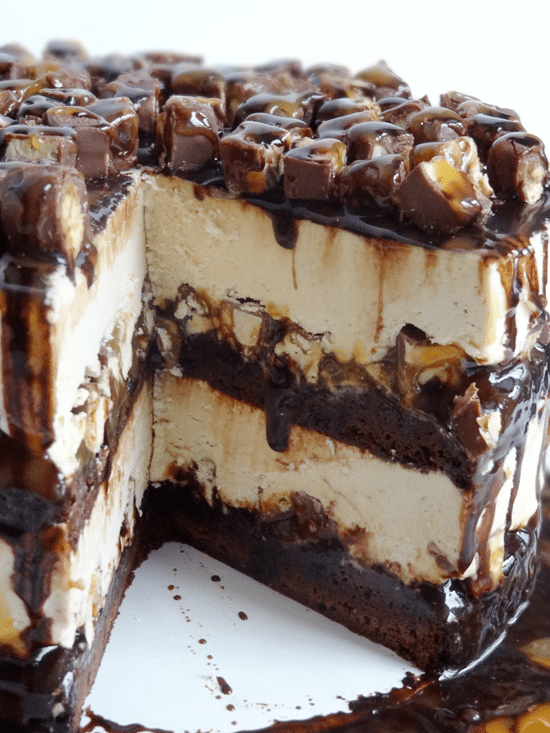 This cake was actually made to celebrate the birthdays of a couple people in our small group. We had a little par-tay at the house and I actually made this, as well as my chocolate chip cookie cake, which was requested.
That cookie cake is easily the most viewed recipe on my blog and gets rave reviews whenever I make it, but dare I say this ice cream cake stole the attention completely away from that cookie.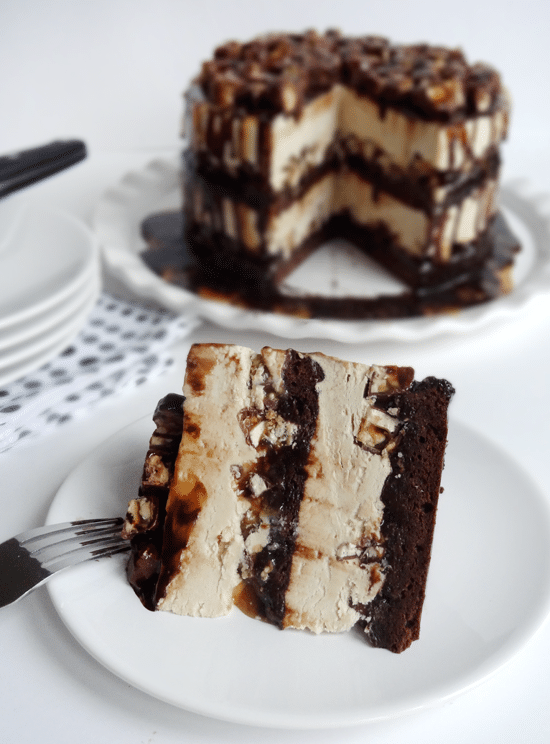 The peanut butter ice cream is really the star in this ice cream cake show. Despite my clearly stellar dessert making abilities everyone seemed surprised to know that I'd made it from scratch.
Either they just don't know me well enough yet, or the ice cream is THAT good.
I prefer to go with it's just THAT good. 🙂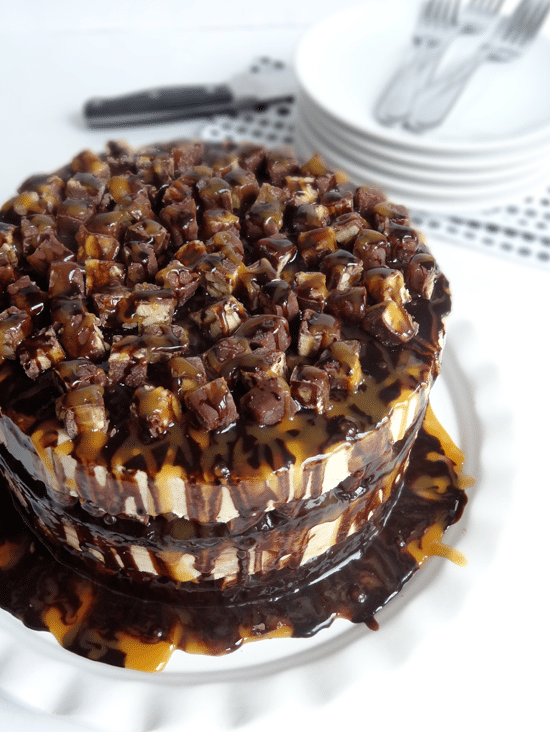 This baby is rich. Perfectly rich. It rocks 4 layers of awesome:
1. Brownie
2. Caramel and chocolate sauce
3. Chopped snickers
4. Peanut butter ice cream
A snicker lovers dream.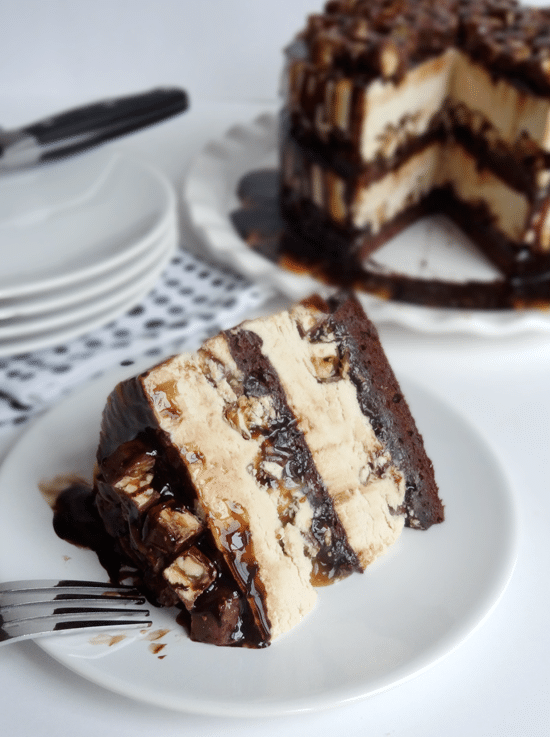 It's also nice and easy to make. There's no ice cream machine needed and I used a boxed brownie mix and store-bought caramel and chocolate sauce to make it even easier. Once you have the brownies made, it's just a matter of layering and freezing. Piece of cake. 😉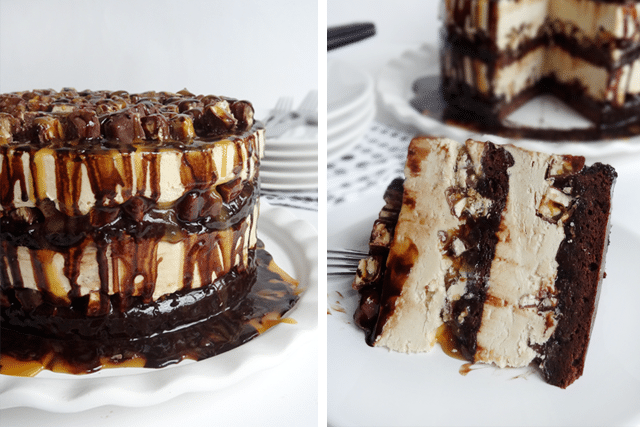 Snickers Peanut Butter Brownie Ice Cream Cake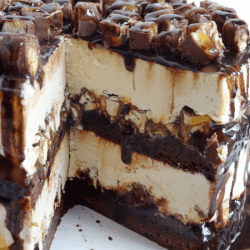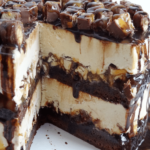 This Snickers Peanut Butter Brownie Ice Cream Cake is made with layers of brownie and no churn peanut butter ice cream, all layered with chopped Snickers, chocolate and caramel sauce!
Author:
Prep Time:

1 hr 10 mins

Cook Time:

20 mins

Total Time:

1 hr 30 mins

Yield:

12

-

14

Slices

1

x
Category:

Dessert

Method:

Oven

Cuisine:

American
Ingredients
1

box brownie mix, plus ingredients required on box

1/4 cup

milk

8 oz

cream cheese, softened

1/2 cup

sugar

1 1/2 cups

peanut butter

8 oz

Cool Whip, thawed (OR

1

recipe of homemade whipped cream)

1

20 oz bottle chocolate sundae syrup (Here's the 

one

I used)

1

20 oz bottle caramel sundae syrup

1

11.5 oz bag mini snickers, chopped, divided into

three g

roups
Instructions
NOTE:
 An 8-inch springform pan is best for this recipe so that you can easily remove the cake once it's been assembled. If you do not have a springform pan, line your pan with clear wrap before adding your parchment paper and cake board. You can use the clear warp to lift your cake out of the pan once it's assembled and frozen.
BROWNIES:
1. Make brownie dough according to instructions on back of box.
2. Grease two 8-inch pans (preferable springform pans, see above) and line the bottoms with parchment paper to allow for easy removal. Bake at temperature on box, reducing baking time to about 20 minutes (You can also bake 1 big brownie – which would cook for the normal time – and cut it in half, but cutting a brownie in half isn't super easy).
3. When brownies are done baking, allow to completely cool.
ICE CREAM:
1. Combine milk, cream cheese, sugar and peanut butter together in the bowl of a stand mixer, or with a hand mixer. Mix until completely combined.
2. Fold in the cool whip.
ASSEMBLING IT ALL:
1. Line the sides of an 8-inch springform pan with parchment paper. The parchment paper should stick up above the top edge of the pan, since the cake will probably be a little taller than your pan. If you want, put a cardboard cake circle in the bottom of the pan.
NOTE:
You should be using the same 8-inch pan you used for the brownies. Not all 8-inch pans are exactly the same size. Your brownie needs to fit in this pan.
2. Put the first brownie layer in the bottom of your pan.
3. Spread 1/2 cup caramel sauce and 1/2 cup chocolate sauce over the brownie. Top with first group of chopped snickers.
4. Top with half of the peanut butter ice cream.
5. Add second brownie to the pan, on top of the ice cream.
6. Again cover with 1/2 cup caramel sauce and 1/2 cup chocolate sauce. Top with second group of chopped snickers.
7. Top with remaining peanut butter ice cream.
8. Allow ice cream cake to freeze completely.
9. When frozen, remove from springform pan and remove parchment paper from sides.
10. Top with additional caramel sauce and chocolate sauce, allowing it to drizzle down the sides.
11. Cover with remaining chopped snickers and a little more caramel and chocolate sauce.
Keywords: snickers peanut butter brownie ice cream cake
Enjoy!
This post includes affiliate links.
You might also like: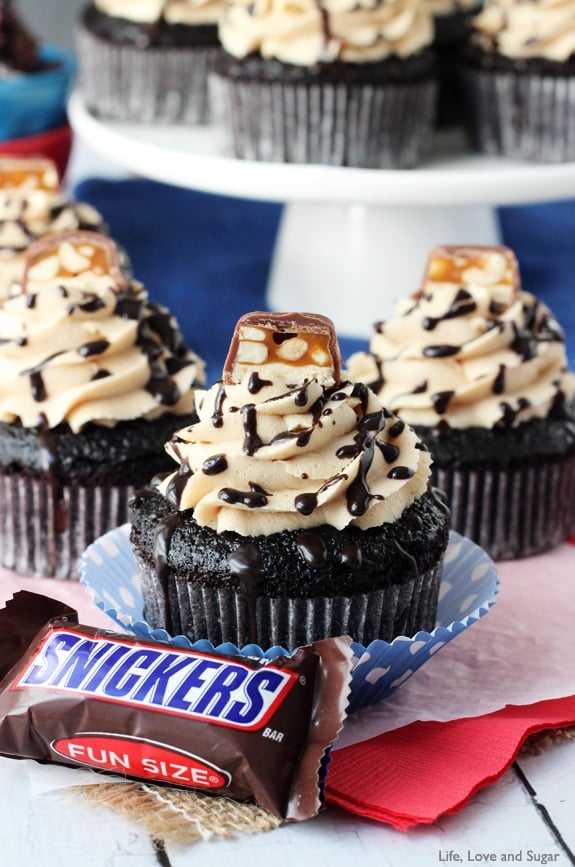 Chocolate Chip Cookie Dough Ice Cream Cake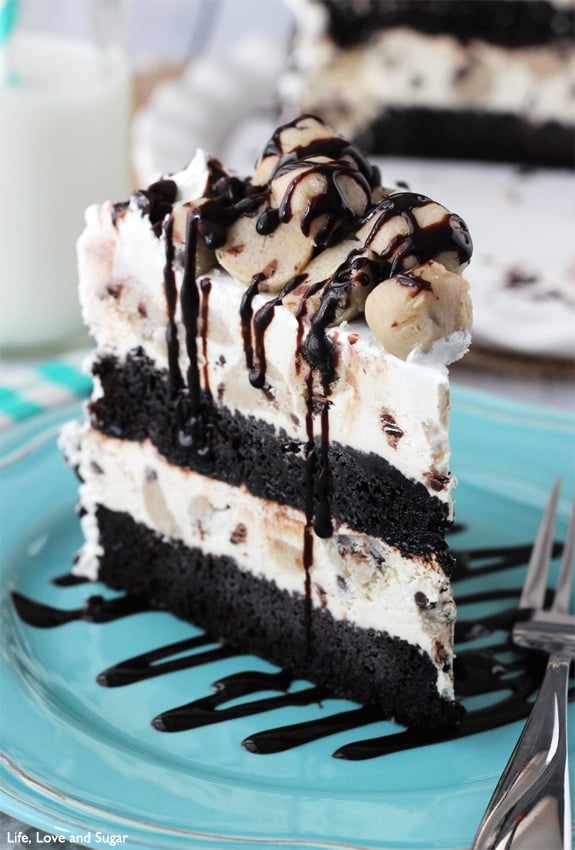 This Oreo Cookies and Cream Ice Cream Cake is the jam!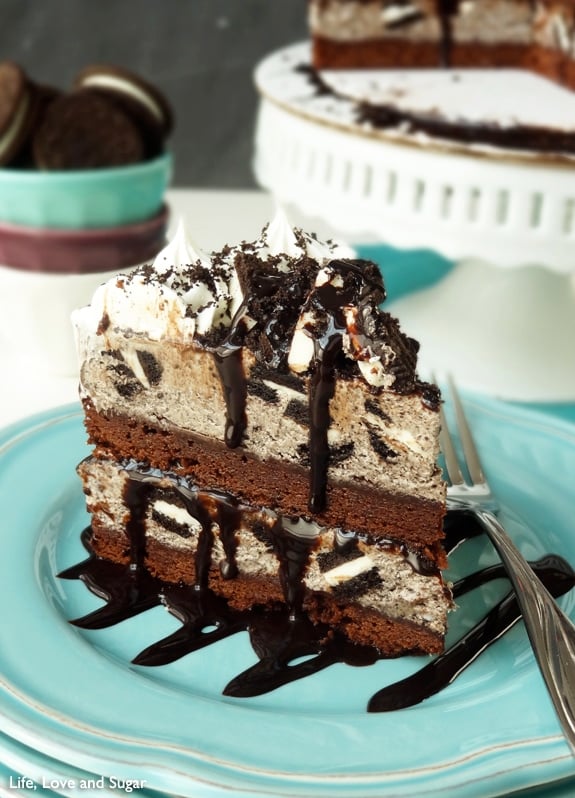 No Bake Samoa Cheesecake (no Samoa cookies needed!)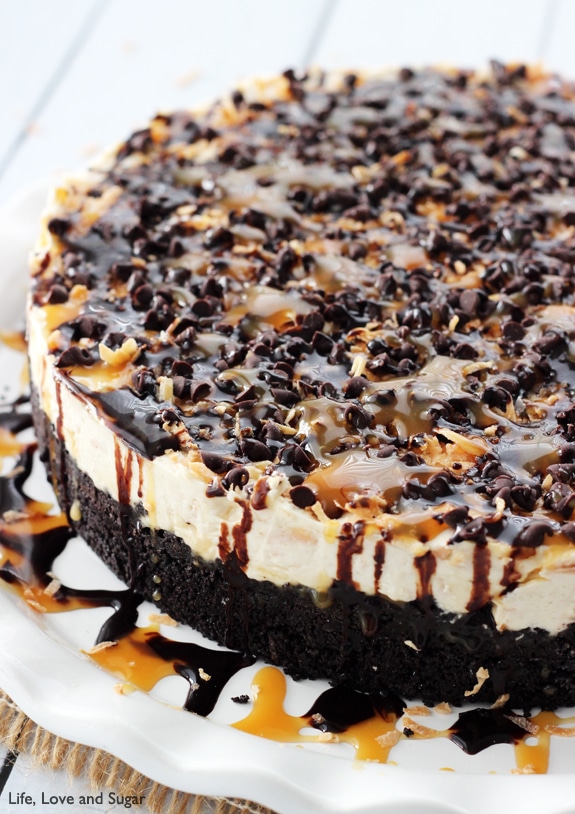 This Reese's Peanut Butter Chocolate Chip Cookie Cake is a favorite!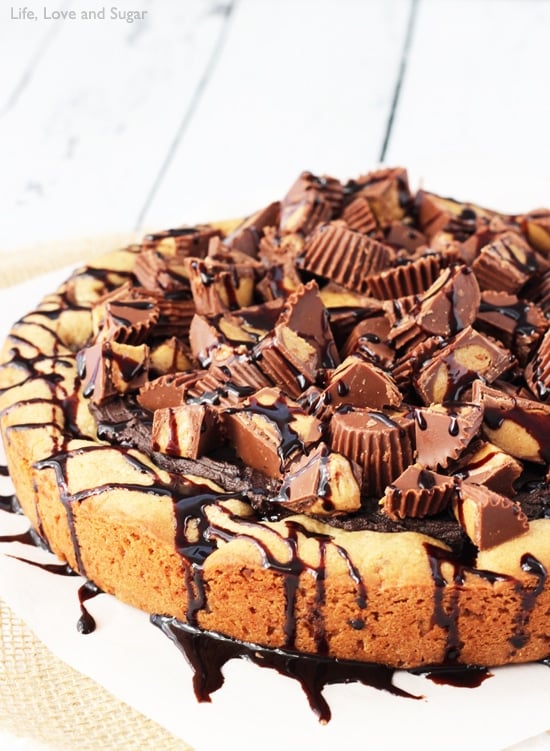 Mint Oreo Brownie Ice Cream Cake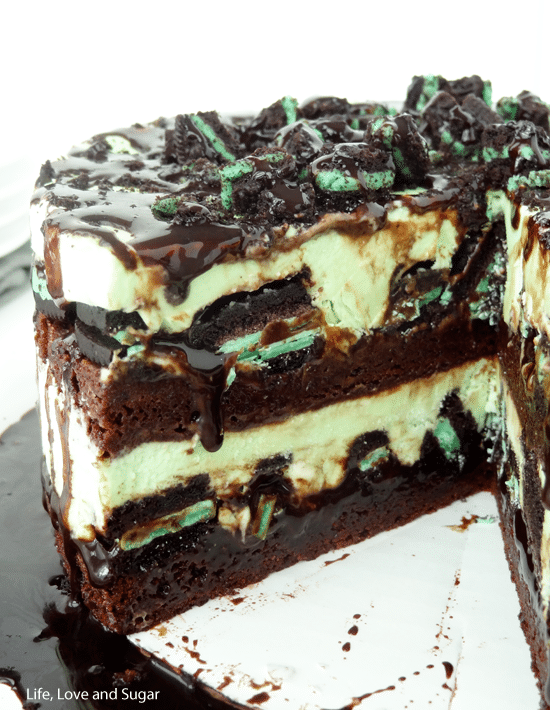 This Chocolate Chip Cookie Dough Ice Cream Pie is the jam!