November 1, 2017
Pecan Pie Layer Cake
This post is sponsored by Challenge Dairy, but all opinions are my own.
This Pecan Pie Layer Cake is made with moist layers of brown sugar cinnamon cake, homemade pecan pie filling and cinnamon frosting! It's a delicious cake reminiscent of eating the classic pie!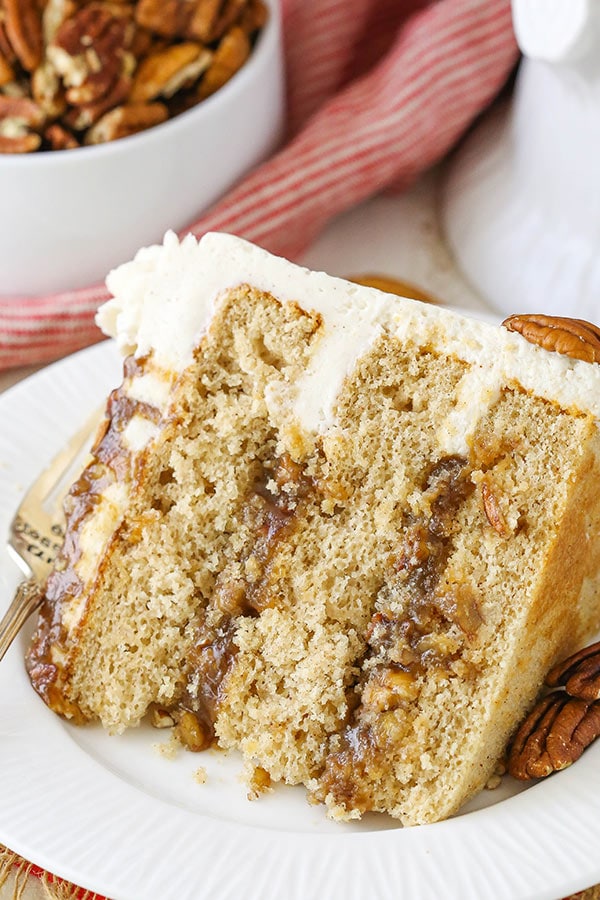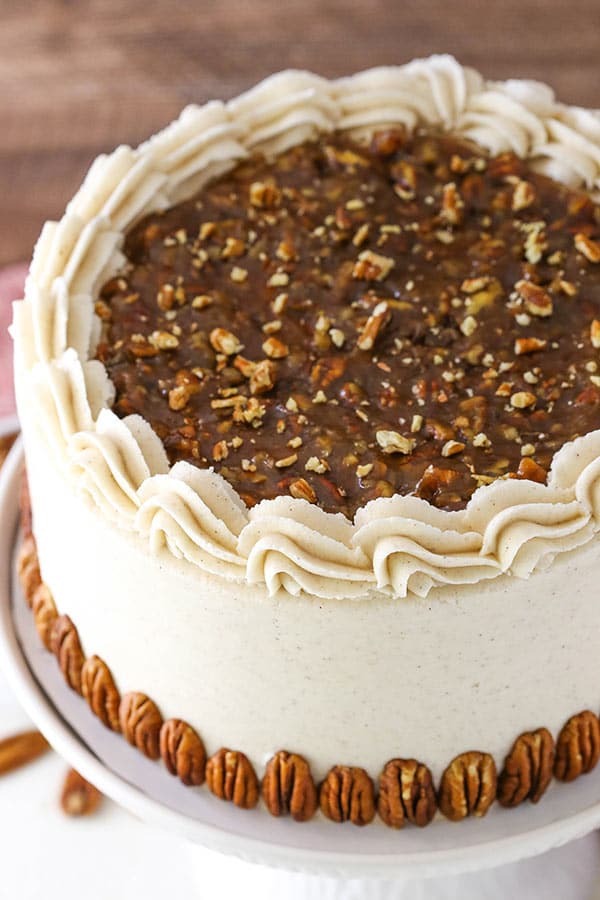 Now that Halloween has come and gone, it's time to move on to the next holiday – Thanksgiving! The one problem is that I still have plenty of candy sitting in our kitchen. Our house sits at the top of a bit of a hill, so not as many kids come up to our house. Yet I still always get plenty of candy just in case. I just can't help it.
This year I made the mistake of getting candy that I actually really like. With so many leftovers, I need to get rid of them quickly, otherwise I might eat it all myself! And that's not good because I need to keep plenty of room for all the other holiday treats that will be coming in the next couple months. After all Thanksgiving is one of the best food holidays of the year!
So I'm kicking off the mad dash to Thanksgiving with this cake. It's a fun twist on one of the classic pies. If you're looking for a way to switch up your favorite pie, this cake is for you!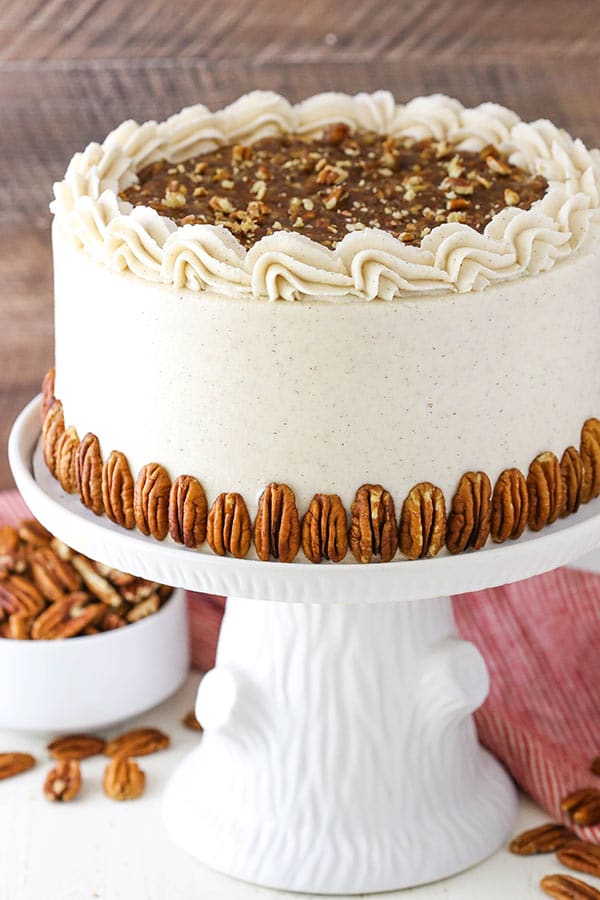 To start, there's the pecan pie filling. It's basically a straight pecan pie filling but it's cooked over the stove, so it really is like eating pecan pie. The eggs serve as the thickener while the flavor is all about that dark brown sugar and pecans. You could use light brown sugar, but I definitely prefer the deeper flavor of the dark brown sugar.
The cake layers are a brown sugar and cinnamon spin on one of my favorite cakes. It's wonderfully moist and fluffy! Just be sure to not skimp on the creaming of the butter and sugar. It adds air to the batter that helps give it the fluffiness that it needs. Speaking of the butter, I use Challenge butter. Challenge butter is 100% real cream and farm to fridge in two days. It really is so creamy! I always love that when I soften it to room temperature to bake with, I can really tell just how creamy it is and it stays that way, unlike other brands. Makes a wonderful cake! Find it in your local store here.

MY OTHER RECIPES
And finally the cake is frosted with a cinnamon buttercream frosting. It finishes off the cake perfectly! The final combination is a wonderful twist on the pecan pie! The moist fluffy cake with the pecan pie filling and cinnamon frosting is a wonderful combination! I do recommend cutting the cake at room temperature. It will be a little easier to cut through the sticky filling.
This cake was a big hit for us, so I hope it's a big hit for you as well!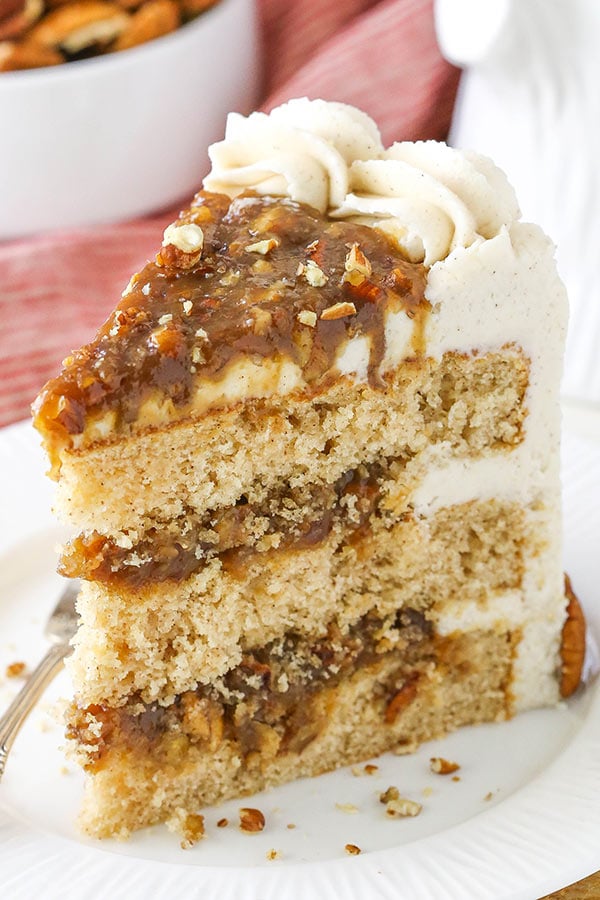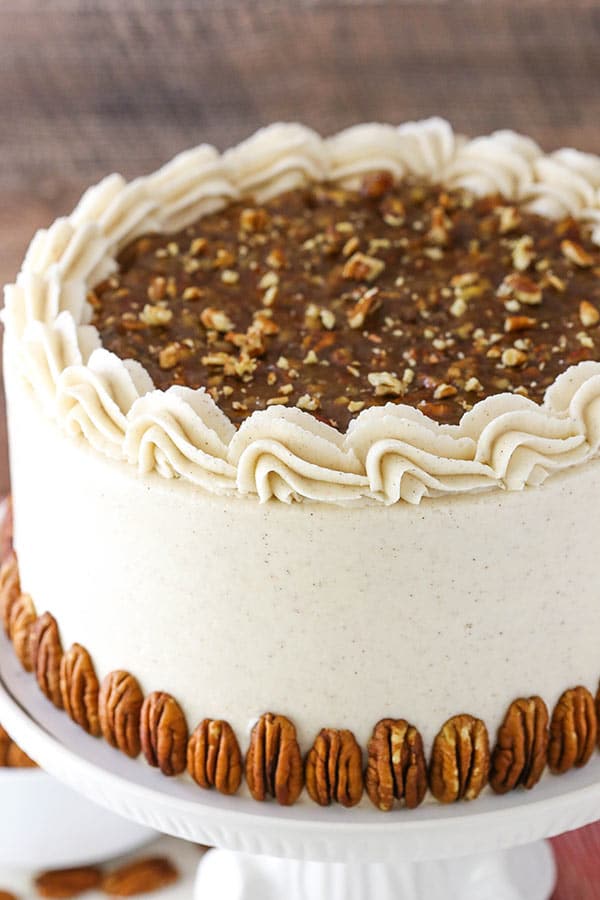 Pecan Pie Layer Cake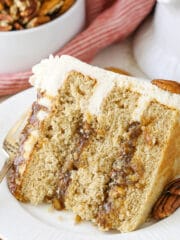 Yield:

12-14 Servings

Category:

Dessert

Method:

Oven

Cuisine:

American
Ingredients
PECAN PIE FILLING
3 large eggs
3/4 cup dark corn syrup
3/4 cup (108g) dark brown sugar
1 tsp vanilla extract
1/4 cup Challenge unsalted butter, cubed
1/2 tsp salt
2 cups (200g) chopped pecans
CAKE LAYERS
3/4 cup (168g) Challenge unsalted butter, room temperature
1 1/2 cups (225g) packed light brown sugar
1/2 cup (104g) sugar
3/4 cup (173g) sour cream, room temperature
2 tsp vanilla extract
6 large egg whites, room temperature
2 1/2 cups (325g) all purpose flour
4 tsp baking powder
1 1/2 tsp ground cinnamon
½ tsp salt
3/4 cup (180ml) milk, room temperature
1/4 cup (60ml) water, room temperature
FROSTING
1 1/4 cup (280g) Challenge salted butter, room temperature
1 1/4 cups (237g) shortening
10 cups (1150g) powdered sugar
1 tbsp vanilla extract
1 tsp ground cinnamon
5-6 tbsp (75-90ml) water or milk
Additional pecan halves, for decorating
Instructions
TO MAKE THE PECAN PIE FILLING:
1. To make the pecan pie filling, combine all ingredients except the pecans in a saucepan. Heat over medium until it begins to boil, stirring constantly.
2. Add the pecans and allow to boil for 30 seconds.
3. Remove mixture from the heat and refrigerate until cool and thickened.
TO MAKE THE CAKE LAYERS:
4. To make the cake layers, prepare three 8-inch cake pans with parchment paper circles in the bottom and grease the sides. Preheat oven to 350°F (176°C).
5. In a large mixing bowl, cream the butter and sugars together until light in color and fluffy, about 3-4 minutes. Do not skimp on the creaming time.
6. Add sour cream and vanilla extract and mix until well combined.
7. Add egg whites in two batches, mixing until well combined after each. Scrape down the sides of the bowl as needed to be sure all ingredients are well incorporated.
8. Combine the dry ingredients in a separate bowl, then combine the milk and water in a small measuring cup.
9. Add half of the dry ingredients to the batter and mix until well combined. Add the milk mixture and mix until well combined. Add remaining dry ingredients and mix until well combined. Scrape down the sides of the bowl as needed to be sure all ingredients are well incorporated.
10. Divide the batter evenly between the cakes pans and bake for about 21-23 minutes, or until a toothpick comes out with a few crumbs.
11. Remove the cakes from the oven and allow to cool for about 2-3 minutes, then remove to cooling racks to cool completely.
TO MAKE THE FROSTING AND ASSEMBLE CAKE:
12. To make the frosting, combine the butter and shortening in a large mixer bowl until smooth.
13. Add about half of the powdered sugar and mix until well combined.
14. Add the vanilla extract, cinnamon and 3-4 tablespoons of water or milk mix until well combined and smooth.
15. Add the remaining powdered sugar and mix until combined.
16. Add additional water or milk as needed to get the right consistency and mix until well combined and smooth.
17. To assemble the cake, use a large serrated knife to remove the domes from the top of the cakes.
18. Place the first layer of cake on a serving plate or a cardboard cake round. Pipe a dam of frosting around the outside of the cake. I use Ateco tip 808 for the dam so that it's tall.
19. Spread about 1/3 of the pecan pie filling evenly on top of the cake layer, inside the dam, then smooth out the dam of frosting so that it's all even.
20. Add the second layer of cake and repeat the dam and pecan pie filling.
21. Add the final layer of cake on top, then smooth out the frosting around the sides of the cake.
22. Frost the outside of the cake. Feel free to use my tutorial for frosting a smooth cake.
23. Finish off the cake by piping a border around the top edge of the cake and filling it in with the remaining pecan pie filling. Press pecan halves into the sides of the cake.
24. Refrigerate cake until ready to serve. Cake is best for 2-3 days and best served at room tempe
Enjoy!