These Moist and Chewy Banana Oatmeal Cookies are hands down the best banana flavored cookie I've ever had. Not only are they moist and chewy for days, they are unmistakably banana-y!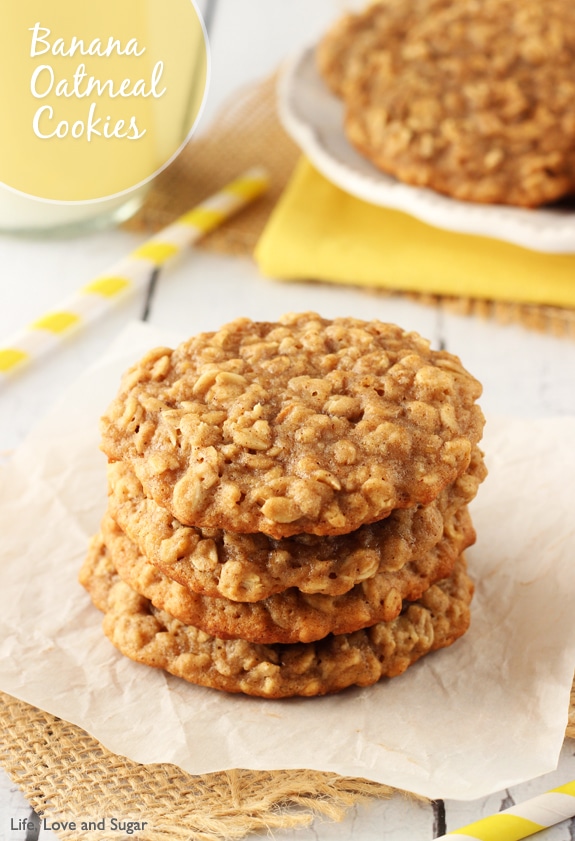 Moist and Chewy Banana Oatmeal Cookies
Banana can be one of those flavors that can get lost when you bake with it. It can be really subtle flavor. It always bums me out when that happens, because I LOVE the taste of banana. And so does the hubs.
So when good flavored banana treats come along, we go a little crazy for them.
These cookies make the list of banana things to go crazy for. Without a doubt. Its a tie between them and my banana bread recipe!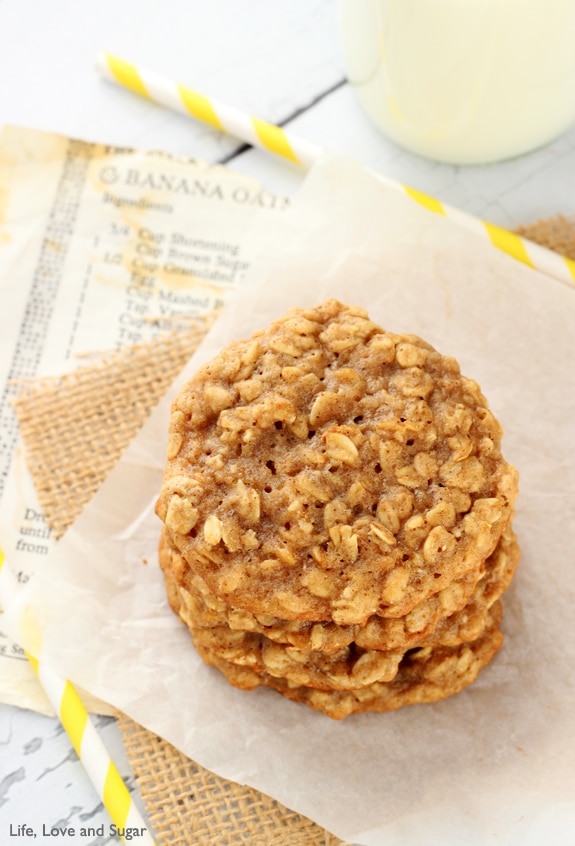 And they're so moist, they almost melt in your mouth. Plus, with both banana and oats in them, they're basically healthy, right? 😉 And perfect for breakfast!
Making them is just as easy as eating them.
You've got the usual suspects – butter, brown sugar, white sugar, an egg, vanilla and mashed bananas. You start by mixing all those lovely ingredients together.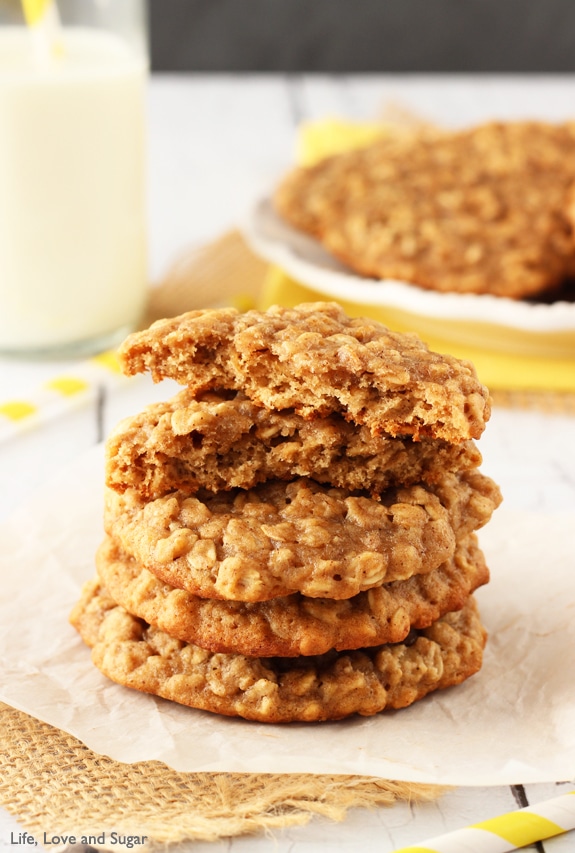 I must warn you. The smell of that mixture – with the banana – is intoxicating. The hubs was in the kitchen making the dough with me (we made a deal that included him baking with me) and we both had to work hard to not put our faces, or a straw, straight into it.
Then you add all the dry ingredients (which means you only use one bowl – yay!) and mix it all together!
To bake them, spoon out about a tablespoon of dough and make a thick disc, rather than a ball. They spread a bit when baking, so don't put them too close together. Bake them for about 10-12 minutes for a nice, moist cookie. So yummy!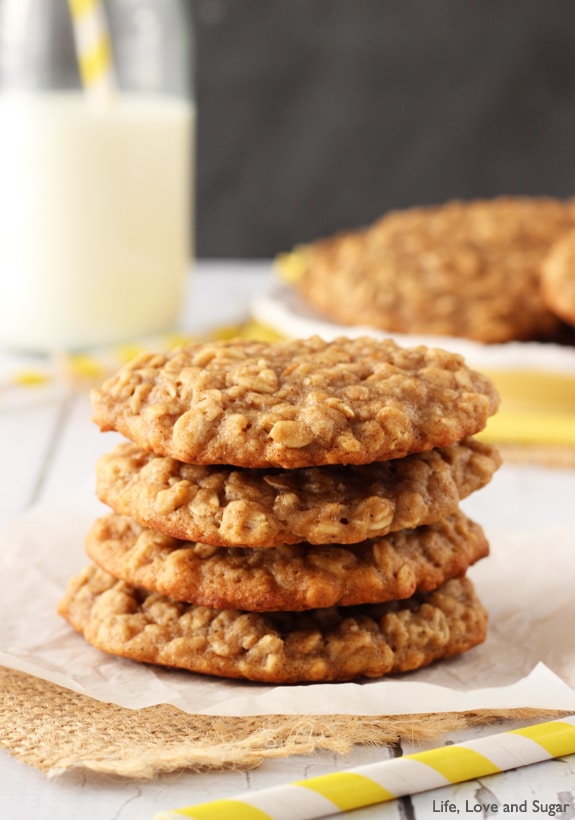 One other thing I love about this recipe is where it came from.
My grandmother (my dad's mom) passed away in 2008. After I started baking a lot a few years ago, my uncle gave me her cookbook that he'd had and didn't use. I've had it on my list to make a number of her desserts ever since.
My dad and I made her gaufrettes (a French cookie – my great grandparents were French) a year or so ago. It was a tradition for my grandmother to make them every Christmas! She gave everyone a big tin of them, which was quite a feat with 6 sons.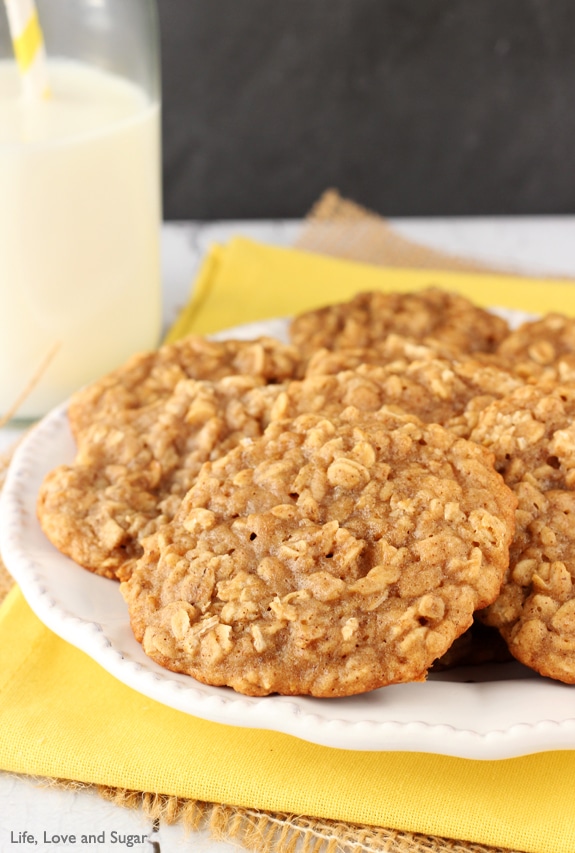 I now know just how much of a feat it was! My goodness. She made them with a traditional gaufrette iron that goes over an open flame. My dad and I had them on the stove. They cook very quickly and you have to be precise. Too little time and they kind of disintegrated into the iron. Too long and they burned into the iron and we had to wash it out.
My dad was pouring the batter and removing the cookies, I was working the iron, the hubs was timing things. It took quite a few tries to get it right, but they were so good! I've tried to make them again on my own and it never works. I'd love to share the recipe, but the dang irons are so hard to find. And expensive. At some point, I'd like to just make a cookie with the same gaufrette flavor.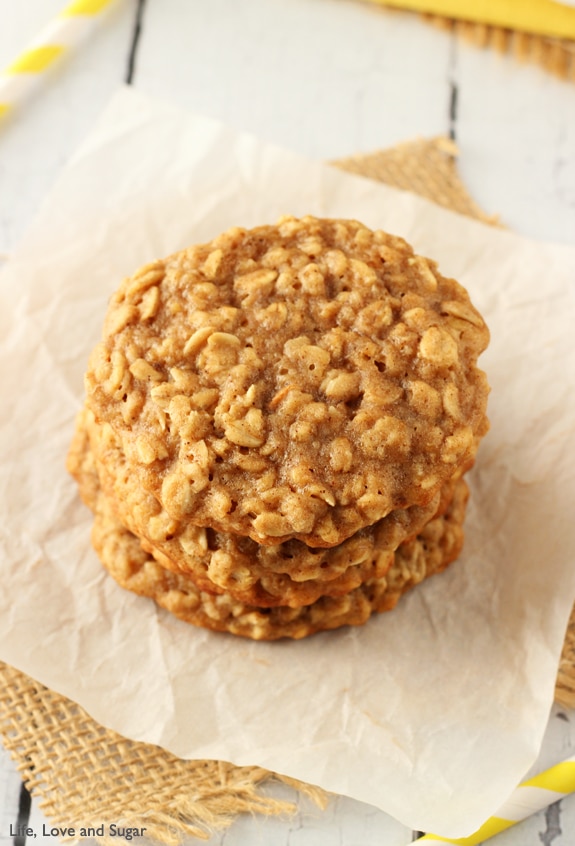 For now though, I'm sharing these cookies. I don't think I ever had them when she made them, but they are from her book.
It's such a fun recipe book to look through, too. There are so many handwritten pages, clippings and newspaper recipes that were taped into the book. I love the way they used to write recipes in the paper – they had the person who submitted it's name and cute little stories. It's so fun to read through them! What a different time in the world!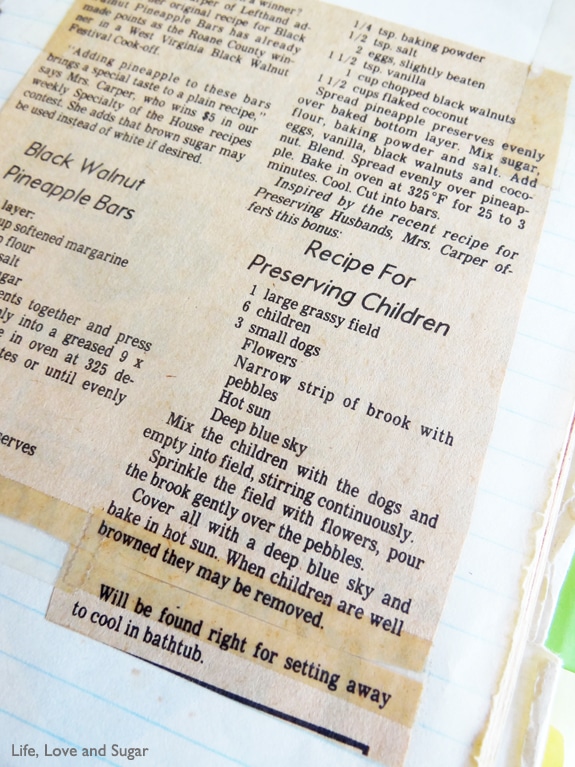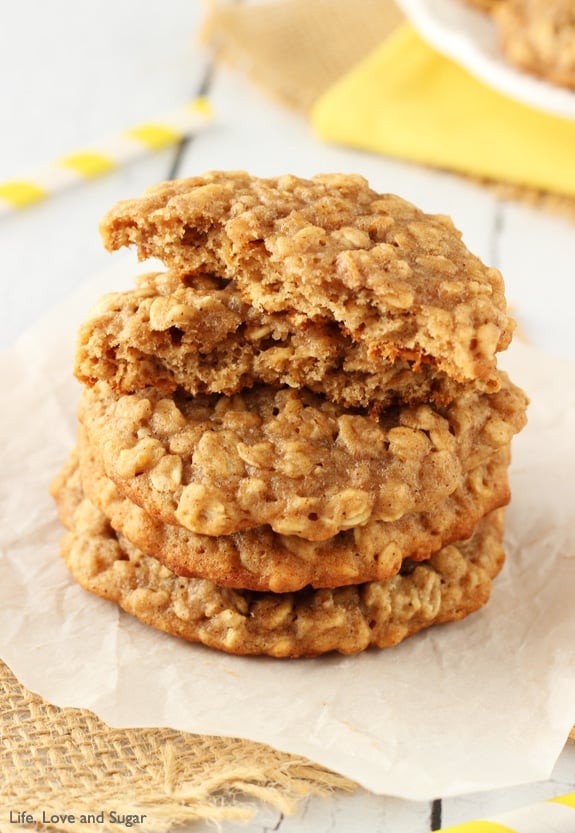 Anyways, I don't really know where this recipe came from. The paper looks like it was on a flier from their square dancing group or something (they were big into square dancing). It's definitely from West Virginia, where they lived.
Either way, I'm so glad to finally share a recipe from her book with you! I made a few changes to make them thicker and puffier and they are delicious. There will be more to come from her recipe book, but for now enjoy the banana. 🙂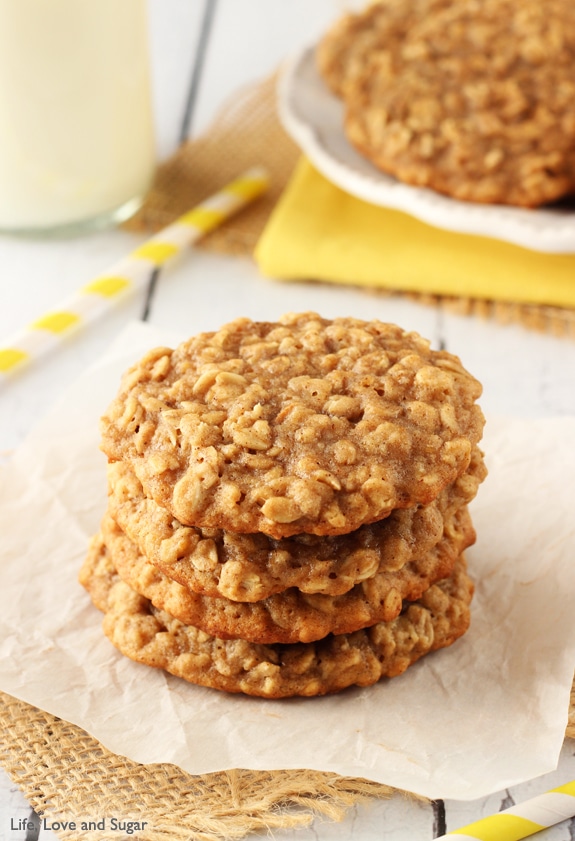 You might also like
Banana Chocolate Chip Cookies
Easy Banana Bread
Banana Cream Cheesecake
Banoffee Cupcakes
Soft and Moist Banana Cake
Print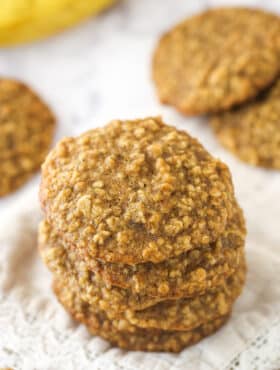 Recipe
Moist and Chewy Banana Oatmeal Cookies
Author:

Prep Time:

20 minutes

Chill Time:

2 hour

Cook Time:

10 minutes

Total Time:

2 hours 30 minutes

Yield:

35-40 Cookies

Category:

Dessert

Method:

Oven

Cuisine:

American
---
Description
These Moist and Chewy Banana Oatmeal Cookies are hands down the best banana flavored cookie I've ever had. Not only are they moist and chewy for days, they are unmistakably banana-y!
---
Ingredients
1 1/2 cups

(195g) all-purpose flour (

measured accurately

)

1 tsp

baking soda

1 1/2 tsp

ground cinnamon

1/4 tsp

ground cloves

1/2 tsp

salt

2 tsp

cornstarch

3/4 cup

(168g) unsalted butter, melted

1 cup

(225g) packed brown sugar

1/2 cup

(104g) sugar

1

large egg

1 tsp

vanilla extract

1 cup

mashed over ripe bananas

3 cups

(240g) quick 1-minute oats
---
Instructions
Add the flour, baking soda, cinnamon, cloves, salt and cornstarch to a medium sized bowl and whisk together. Set aside.

Add the melted butter and sugars to a large bowl and whisk to combine. 

Add the egg and vanilla extract and whisk together until well combined.

Add the mashed bananas and whisk together until well combined.

Add the dry ingredients and fold together just until well combined.

Add the oats and fold together until well combined. 

Create cookie dough balls that are 1 ½ tablespoons in size. You can refrigerate the cookie dough before baking, if you'd like, but you don't have to. I think the flavors get even better if you refrigerate the cookie dough for at least 2-3 hours, or overnight. 

When you're ready to bake the cookies, preheat the oven to 350 degrees F. Line a cookie sheet with a silicon baking mat or parchment paper. (No need to bring the cookies to room temperature. You can bake them immediately after pulling them from the fridge.)

Bake the cookies for about 10 minutes or until golden around the edges and lightly golden on top.

Allow the cookies to cool for about 5 minutes, then move to a cooling rack lined with parchment paper to cool completely. The cookies can stick to the parchment paper a little bit. I find that it helps them to release if you give them a little twist on the paper before lifting them up. 

Store cookies in an air-tight container with parchment paper between the stacks of cookies so they don't stick to each other. Cookies are best if eaten within 4-5 days.
---
Nutrition
Serving Size:

1 Cookie

Calories:

119

Sugar:

8.3 g

Sodium:

71.7 mg

Fat:

4 g

Carbohydrates:

17.9 g

Protein:

1.8 g

Cholesterol:

15.3 mg
Keywords: oatmeal cookies recipe, banana oatmeal cookies, best oatmeal cookies, easy oatmeal cookies, easy oatmeal cookies recipe, banana cookies, banana cookies with oatmeal, banana cookies recipe, healthy oatmeal cookies, healthy banana cookies
Filed Under:
Enjoy!
This post may contain affiliate sales links. Please read my disclosure policy.