This Lemon Cake recipe features alternating layers of moist lemon cake, lemon Bavarian cream and lemon curd filling – plus lemon buttercream! It's the ultimate easy cake recipe for lemon lovers!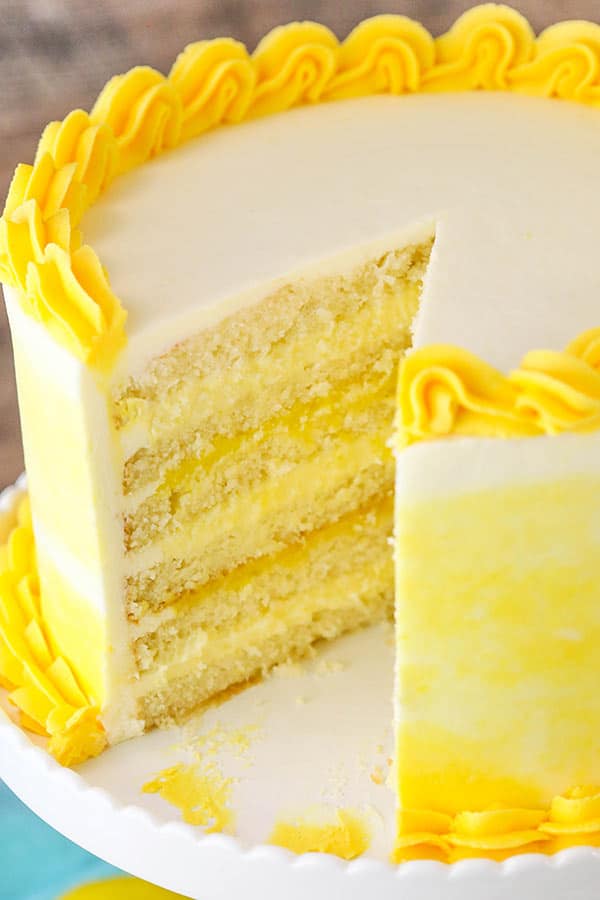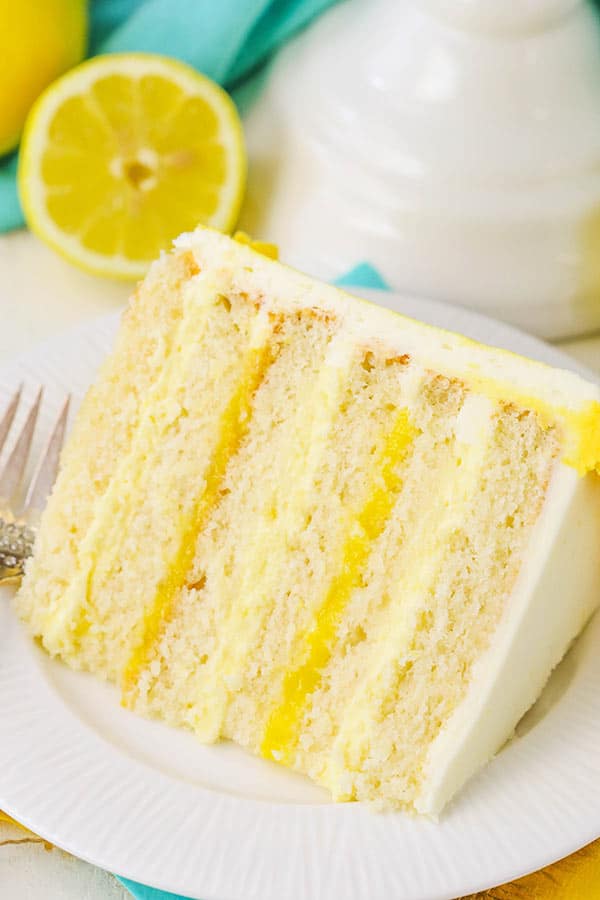 So two big things are happening in our house this week. First, my blog turns 6 on Wednesday! It's crazy to think that I've been sharing recipes and bits of life here for that long. If you've been hanging around since the beginning (thank you!), then you know things have come a long way since those first posts and photos, ha! I've gone back and updated photos on a couple posts like this Cheesy Hashbrown Casserole, but for the most part, they are the originals.
And although the photos may not be great, I still make this Funfetti Cake Batter French Toast Casserole for breakfast every year for my birthday, this Sweet Potato Casserole every year for Thanksgiving and Christmas and this Caramel Macchiato Tiramisu Trifle (or these Caramel Clusters) whenever I want a quick and easy dessert. Not to mention that I'm still pretty proud of this 70th birthday hat cake, even though I don't make cakes like that these days. Oh, and these Funfetti Cake Batter Pancakes – they make regular appearances. Some of those original recipes really are my faves!
The other big thing this week is that we are taking the boys on their first road trip! We aren't going far, but it'll be a bit of an experiment. I'm pretty sure we'll drive at night and hope they just sleep. Fingers crossed!
Speaking of the boys, it's amazing how much they've been growing and changing recently! They are almost 6 months old and getting so big and even more adorable. If you don't follow me on Instagram, you totally should. I share photos and videos of them pretty regularly. Not only are they super close to being able to sit on their own, they are scooting around and getting ready to start army crawling. We also introduced them to solids (rice cereal – boring) and will probably give them their first veggie tonight. Flavor! Real food! Such excitement! They are becoming so much more aware of their surroundings and are curious about everything and they're even starting to really interact with each other. It's so fun to watch them.
How to make this Lemon Cake
Back to the food! I suppose that's why you're really here, right? So let's talk about this lemon cake.
When I posted my Banana Cream Cheesecake that was topped with bavarian cream a bit ago, I had a bit of a request for a lemon cake with some bavarian cream layers. It was such a tempting idea, I just had to make it! Moist lemon cake with fresh bavarian cream? Oh yea! I decided to include some lemon curd in there too, for good measure, but you could totally leave out the curd and add more bavarian cream.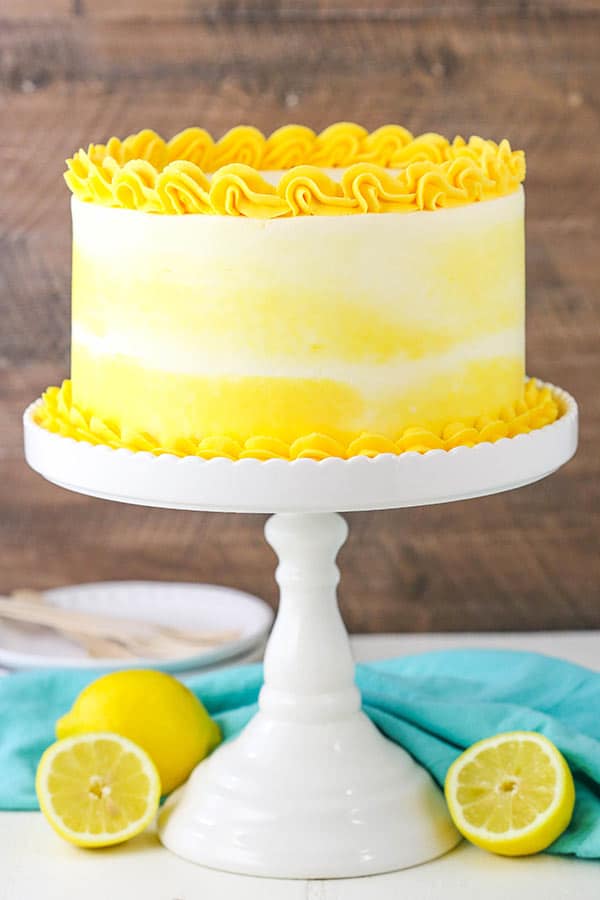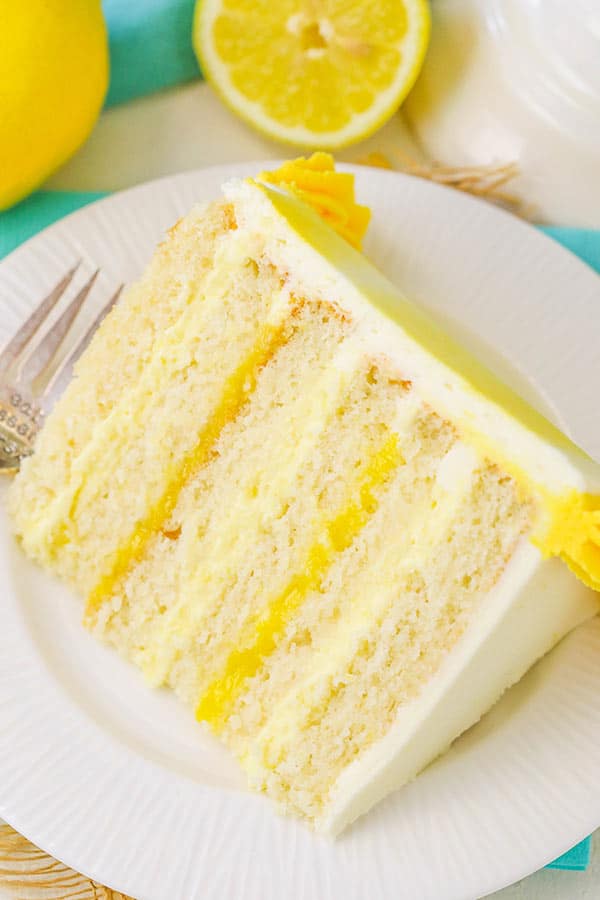 So to get started making this cake, you'll first make the lemon curd. Just throw some lemon juice and zest, sugar, egg yolks and a bit of butter in a double boiler and cook until it reaches between 170 and 180 degrees. I like to use a thermometer to test the temperature, just to be sure it'll be cooked to the exact thickness I want it at.
Once the lemon curd is made, set it in the fridge to cool and thicken.
The lemon bavarian cream is next. I spent a little extra time on this one, since the acidity of the lemons can have an effect on the gelatin needed to firm up the cream. In this case, the lemon juice does soften the gelatin a bit and you'll see that at room temperature, it's not as firm as it normally would be. But once refrigerated, it firms up nicely and since this cake gets stored in the fridge, it's all good. Plus, it's still thick enough when at room temperature, it's just not rock solid. Who would want that between cake layers anyway, right?
The lemon bavarian cream is set in the fridge to firm up along with the lemon curd. One of the nice things about this cake is that both fillings can be made ahead of time. I actually made both the fillings and the cake layers the day before assembling everything.
The lemon cake layers themselves are a variation of my Moist and Fluffy Vanilla Cake. It's super buttery and has such a lovely texture to it. With the addition of the lemon, it's perfectly moist, tender and lemon-y! I'm in love! It's so soft, I'd actually recommend using a cake lifter to move the thin cake layers around.
To put the cake together, you'll need to also make the lemon buttercream. It's full of butter, sugar and lemon juice and zest – all the things you need in a great buttercream. When you're ready to use the fillings, you'll want to stir them up well and smooth them out a bit.
I layered the cake with three layers of the lemon bavarian cream and two layers of lemon curd. To help hold everything in place, I piped small dams of the lemon buttercream between each layer. I tend to use a pretty large tip for my dams, but since these are thinner cake and filling layers, I used a smaller round tip – the Ateco 804 (the Wilton 2A is similar).
Once everything is layered together, I suggest adding a crumb coat and then refrigerating the cake until it's had a chance to set. Then frost the cake with the remaining lemon buttercream. For decorating, I decided to create a bit of a watercolor effect. Once the cake is frosted, color the remaining frosting to a nice shade of yellow. Place little blobs of the yellow frosting around the cake, then finish smoothing out the sides and you've got a lovely watercolor look going on. I did the piping around the edges with the yellow buttercream as well and I love the final look! So bright, summery and lemon-y!
This cake was a big hit! Everything from the texture and flavor of the cake layers to the fillings was spot on and so tasty! If you're a lover of lemon, this cake should be the next treat you try!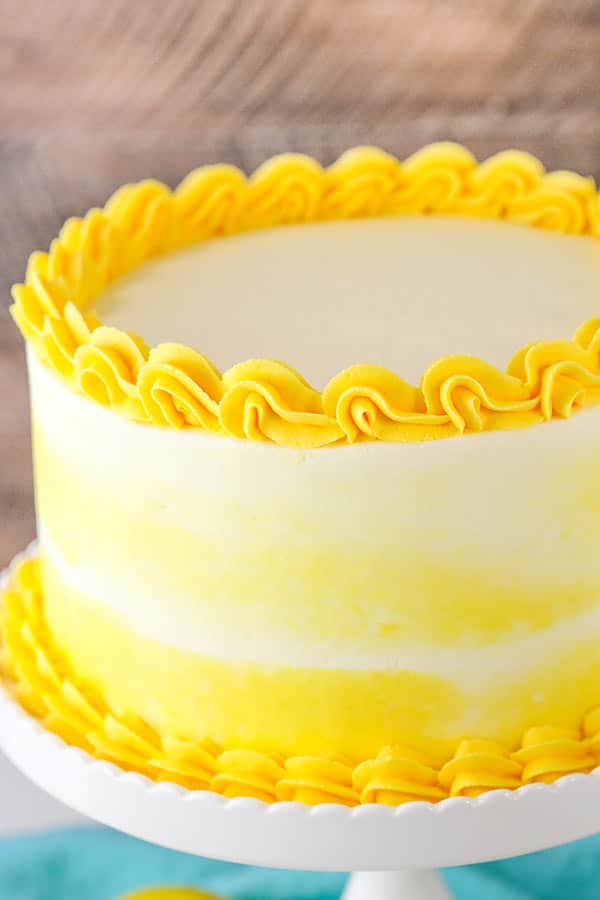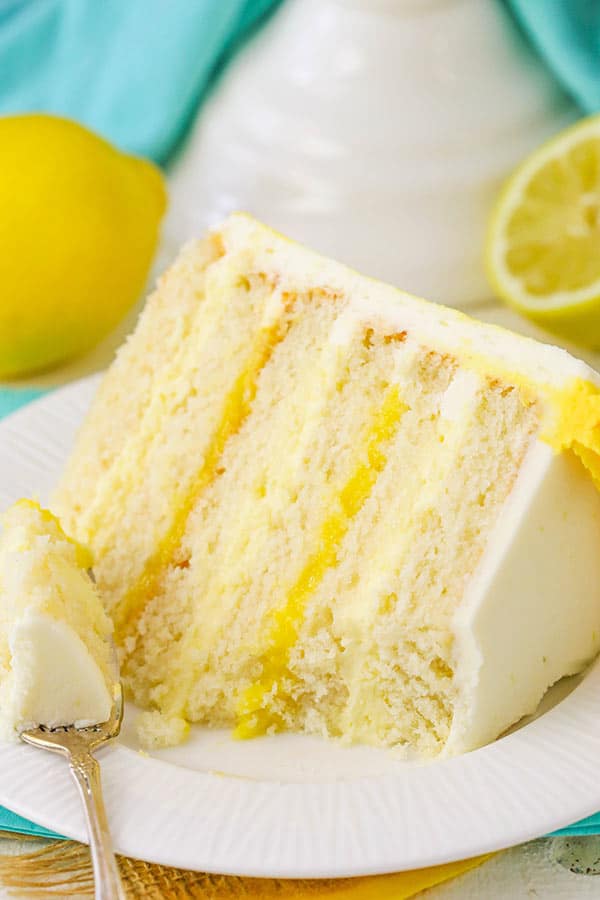 Read transcript
More lemon cakes and desserts:
Triple Lemon Cake
Lemon Mascarpone Layer Cake
Lemon Meringue Cheesecake
Lemon Blueberry Poke Cake
Lemon Raspberry Layer Cake
Lemon Cake Roll
Lemon Cheesecake Cake
Print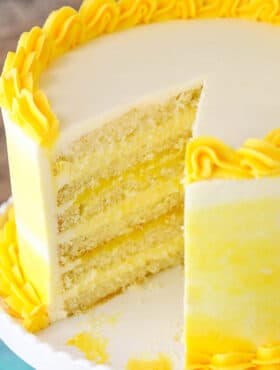 Recipe
The Ultimate Lemon Layer Cake
Author:

Prep Time:

1 hour 45 minutes

Cook Time:

1 hour 10 minutes

Total Time:

7 hours, 55 minutes

Yield:

12-14 Slices

Category:

Dessert

Method:

Oven

Cuisine:

American
---
Description
Made with moist and fluffy cake, a velvety buttercream frosting, silky bavarian cream and a zesty curd filling, this is The Ultimate Lemon Layer Cake! You won't find this much fresh lemon flavor in any other dessert.
---
Ingredients
For the Lemon Cake
3 cups

(

390g

) all-purpose flour

1/4 tsp

baking soda

2 3/4 tsp

baking powder

1 tsp

salt

1 1/2 cups

(

336g

) unsalted butter, room temperature

2 cups

(

414g

) sugar

4

egg whites

1 1/2 tsp

vanilla extract

1 1/4 cups

(300ml) milk

1/4 cup

lemon juice

2 tbsp

lemon zest
For the Lemon Buttercream
2 1/4 cups

(

504g

) unsalted butter, room temperature

9 1/2 cups

(

1093g

) powdered sugar

1/2 tsp

salt

1 tsp

vanilla extract

2 tsp

lemon zest

2

–

3

tbsp lemon juice
Yellow gel icing color
For the Lemon Curd
1/4 cup

(60ml) fresh lemon juice (about

1

–

2

lemons)

2 tsp

finely grated lemon zest

1/3 cup

(

69g

) sugar

4

egg yolks

2 tbsp

(

28g

) salted butter
For the Lemon Bavarian Cream
1 1/2 tsp

powdered gelatin

4 1/2 tbsp

(68ml) lemon juice

3

egg yolks

1 3/4 cup

(420ml) heavy whipping cream, divided

3 tbsp

(

26g

) sugar

3/4 tsp

vanilla extract

1 tbsp

lemon zest

1/2 cup

(

58g

) powdered sugar
---
Instructions
Make the Cake
Preheat the oven to 350°F (176°C). Line three 8-inch cake pans with parchment paper in the bottom and grease the sides.
Combine the flour, baking soda, baking powder and salt in a medium sized bowl. Set aside.
Cream the butter and sugar in a large mixer bowl on medium speed for about 2-3 minutes, until light and fluffy.
Add the egg whites and vanilla extract and mix until well combined. Scrape down the sides of the bowl, as needed, to make sure everything is combined.
Add about one-third of the flour mixture to the batter and beat on medium speed until incorporated.
Add about half of the milk and the lemon juice and zest and beat on medium speed until incorporated.
Continue alternating adding dry and wet ingredients, scraping down the sides of the bowl as needed, and beating until incorporated after each addition. There should be three total additions of dry ingredients and two total additions of milk. End with the dry ingredients.
Divide the batter evenly between the cake pans.
Bake the cakes for 25-30 minutes, or until a toothpick inserted into the middle of the cakes comes out clean. Don't be alarmed if the tops are a little browned, that is normal.
Remove the cakes from the oven and allow to cool for 1-2 minutes, then remove to a cooling rack to cool completely.
Make the Buttercream
Add the butter to a large mixer bowl and beat until smooth.
Slowly add about half of the powdered sugar, mixing until well combined and smooth.
Add the salt, vanilla, lemon zest and lemon juice and mix until well combined and smooth.
Slowly add the remaining powdered sugar and mix until well combined and smooth.
Add additional lemon juice, if needed, to thin out the frosting.
Make the Curd
Combine all the ingredients in a double boiler (or in a metal bowl over a pot of simmering water). Heat while whisking constantly until mixture thickens and reaches 170-180 degrees, or coats the back of a spoon.
Pour the lemon curd into a heat proof bowl, cover with clear wrap pressed onto the the top of the curd to avoid a film developing, and refrigerate until cold and firm.
Make the Bavarian Cream
In a small bowl, sprinkle the gelatin onto the lemon juice and set aside.
In a medium bowl, whisk the egg yolks together and set aside.
Add 3/4 cup of the the heavy whipping cream, sugar, vanilla extract, lemon zest to a large saucepan and heat over medium heat until warm.
Remove the cream mixture from heat and slowly pour the hot cream into the eggs to temper them.
Add the egg and cream mixture back into the saucepan and return to the heat. Continue cooking over medium heat until the mixture is thick enough to coat the back of a spoon, or reaches about 160°F. It should happen fairly quickly.
Add the gelatin mixture to the hot cream and stir until smooth.
Pour the custard into another bowl and set that bowl inside another bowl over ice. Allow to cool to room temperature.
While the custard cools, add the remaining cup of heavy whipping cream and powdered sugar to a large mixer bowl and whisk on high speed until stiff peaks form.
When the custard is ready, gently fold the whipped cream into the custard. Be sure it's at least room temperature, so the whipped cream doesn't wilt/melt.
Assemble
The cake layers should be pretty flat, but if there's a dome, trim the tops of the cakes so they are flat. Cut each cake in half, so that you end up with 6 layers of cake. Get the lemon curd and bavarian cream from the fridge and stir them until smooth. The bavarian cream may need a little hand whisking to work out any lumps.
Place the first layer of cake on a serving platter. Pipe a small dam of frosting around the outer edge.
Fill the dam with 1/3 of the bavarian cream.
Place the second layer of cake on top of the cream. The cake layers are very tender, so I recommend using a cake lifter.
Add another dam of frosting around the out edge of the cake. Fill the dam with about half of the lemon curd.
Repeat with another layer of cake, dam of frosting and 1/3 of the bavarian cream.
Repeat with another layer of cake, dam of frosting and 1/2 of the lemon curd.
Repeat with the another layer of cake, dam of frosting and remaining 1/3 of the bavarian cream.
Add the final layer of cake on top, then frost the outside of the cake with a crumb coat and refrigerate for at least 2-3 hours for the cake to firm up.
Frost the outside of the cake and decorate as you wish. To create the watercolor look I used, frost the outside of the cake roughly, then color the remaining frosting with yellow gel icing color. Place a few blobs of yellow frosting around the outside of the cake, then smooth out the cake a few more times to spread the yellow frosting around and create the effect. Use the remaining yellow frosting to pipe around the edges.
Refrigerate the cake until ready to serve. The cake is best when stored in an air tight container and eaten within 3-4 days.
---
Notes
You'll need about 5 hours total of cooling time.
Keywords: lemon curd cake, lemon buttercream, easy lemon cake
Enjoy!
This post contains affiliate links.

This post may contain affiliate sales links. Please read my disclosure policy.