Sparkling Cranberry White Chocolate Bundt Cake
This Sparkling Cranberry White Chocolate Bundt Cake is a moist vanilla cake filled with fresh cranberries! It's topped with white chocolate ganache and sugar-covered sparkling cranberries for a cake that is perfect for the holidays!
I hope you had a wonderful Thanksgiving holiday! We spent time with my family and enjoyed all the food. I didn't actually do any baking myself and while I genuinely enjoyed all the food and pie, the store-bought pumpkin pie left me feeling like I really need to finally get my pumpkin pie recipe perfected. I started on it a couple years ago and haven't gone back to perfect it yet. The flavor is just so perfect, I need to do it finally.
But of course for now I'm onto gingerbread, peppermint and all things Christmas. 🙂 Do you think cranberries are more Thanksgiving or Christmas? I kind of feel like they are meant for both. Cranberries definitely go with Thanksgiving dinner, but sparkling cranberries are just so pretty and snow-covered like that they scream Christmas to me. What do you think?
We are going to start pulling out our decorations and Christmas shopping this week (my cookbook would make a great gift! 😉 ) now that we are back in town and I am ready! It's really the only holiday I decorate for and I love it. Bring on the sparkle!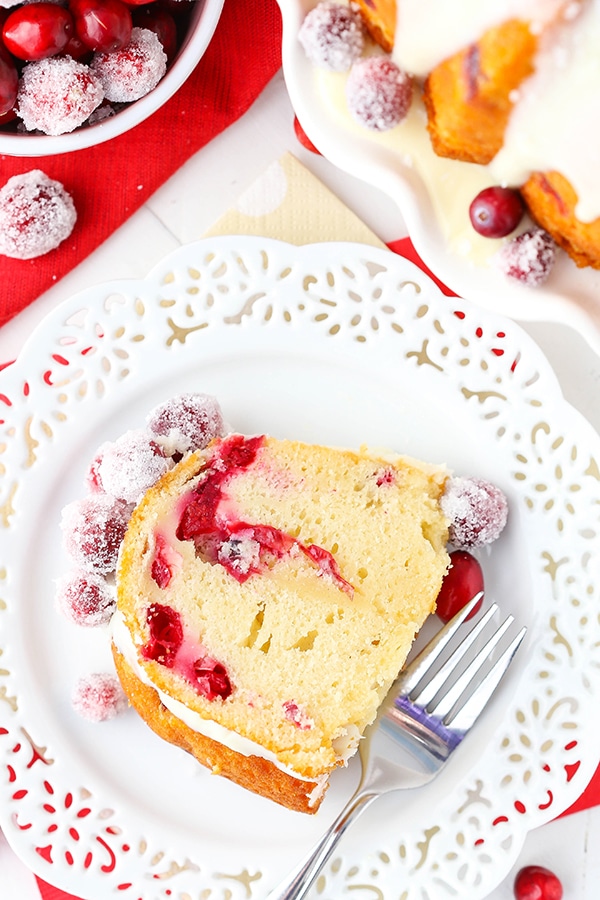 Speaking of sparkle, let's get back to this cake. Sparkling cranberries are one of my very favorite things for decorating cakes. I'm a big fan of using food from the cake as decoration and the sugar-covered berries are the perfect way to do that here.
The cake starts off with a moist vanilla cake. It's not as light and fluffy as some of my cakes, but it's also not super dense. Kind of in between. It works great for keeping the cranberries afloat so they don't all sink to the bottom of the pan. You start out by creaming the butter and sugar to get a fluffier cake so be sure not to skimp on the the creaming time.
The white chocolate ganache on top is the perfect sweet balance to the tart berries. One of the best combos! It's super easy to make too. You heat the cream, pour it over the white chocolate to melt it, then whisk until smooth. Ganache can seem so intimidating, but once you try it you'll wonder what took you so long. 🙂
And because it's the season of giving, I've got a great giveaway for you! 🙂 My friend, Julie, opened an online Home Decor and Gift ware store called Drops of Sunshine and put together a few fun things to give away. I got a cake stand from her store recently and can't wait to use it! I included it in my list of great gifts for bakers, but I'm even in love with some of her clothing! So cute! Be sure to enter the giveaway below for the gift package or a $100 gift card and you can stock up! 🙂 Good luck!
Sparkling Cranberry White Chocolate Bundt Cake
Yield:

12

-

14

Slices

1

x
Category:

Dessert

Method:

Oven

Cuisine:

American
Ingredients
SPARKLING CRANBERRIES
1 1/2 cup

s (310g) sugar, divided

1/2 cup

(120ml) water

1 cup

(104g) fresh cranberries
CRANBERRY CAKE
3/4 cup

(168g) unsalted butter, room temperature

1 1/2 cup

s (310g) sugar

1 cup

(231g) sour cream

1 tbsp

vanilla extract

5

large eggs

3 cup

s (390g) all purpose flour, sifted

4 tsp

baking powder

3/4 tsp

salt

1 cup

(240ml) milk, room temperature

2 tbsp

(30ml) water, room temperature

2 1/2 cup

s (260g) fresh cranberries
WHITE CHOCOLATE GANACHE
12 oz

white chocolate chips

1/2 cup

(120ml) heavy whipping cream
Instructions
1. To make the cranberries, bring 1/2 cup sugar and the water to a simmer in a saucepan. Simmer until sugar is completely dissolved.
2. Pour simple syrup into a heatproof bowl and allow to cool for about 10 minutes.
3. Add cranberries and stir to coat.
4. Refrigerate cranberries in syrup overnight, stirring a couple times to coat with syrup.
5. Prepare a bundt pan with baking spray. Preheat oven to 350°F (176°C) .
6. In a large mixing bowl, cream butter and sugar together until light in color and fluffy, about 3-4 minutes. Do not skimp on the creaming time.
7. Add sour cream and vanilla extract and mix until well combined.
8. Add eggs in two batches, mixing until well combined after each. Scrape down the sides of the bowl as needed to be sure all ingredients are well incorporated.
9. Combine dry ingredients in a separate bowl, then combine the milk and water in a small measuring cup.
10. Add half of the dry ingredients to the batter and mix until well combined. Add the milk mixture and mix until well combined. Add remaining dry ingredients and mix until well combined. Scrape down the sides of the bowl as needed to be sure all ingredients are well incorporated.
11. Gently stir in the cranberries.
12. Pour the batter evenly into the prepared bundt pan.
13. Bake for 47-50 minutes.
14. Remove the cake from the oven and allow to cool in the pan for about 15-20 minutes.
15. Turn the cake out onto a cooling rack to cool completely.
16. To make the white chocolate ganache, place the white chocolate chips in a large bowl.
17. Heat the heavy whipping cream until it begins to boil, then pour it over the white chocolate chips. Allow to sit for 2-3 minutes, then whisk until smooth. If it doesn't get completely smooth, microwave in 10-15 second increments, whisking in between each increment, until smooth.
18. Set ganache aside to cool slightly. You want it to still be pourable, but thick enough that it won't all just slide down the sides of the cake.
19. Drizzle the ganache over the top of the cake. Set cake aside.
20. Remove the sparkling cranberries from the syrup and roll in the remaining cup of sugar. You'll need to roll them a few times to get a couple layers of sugar on them. Set cranberries aside to dry for about 30 minutes to an hour.
21. Top the cake with the sparkling cranberries. Refrigerate until ready to serve.
Enjoy!


You might also like:
Sparkling Cranberry White Chocolate Cake

No Bake Sparkling Cranberry Orange Cheesecake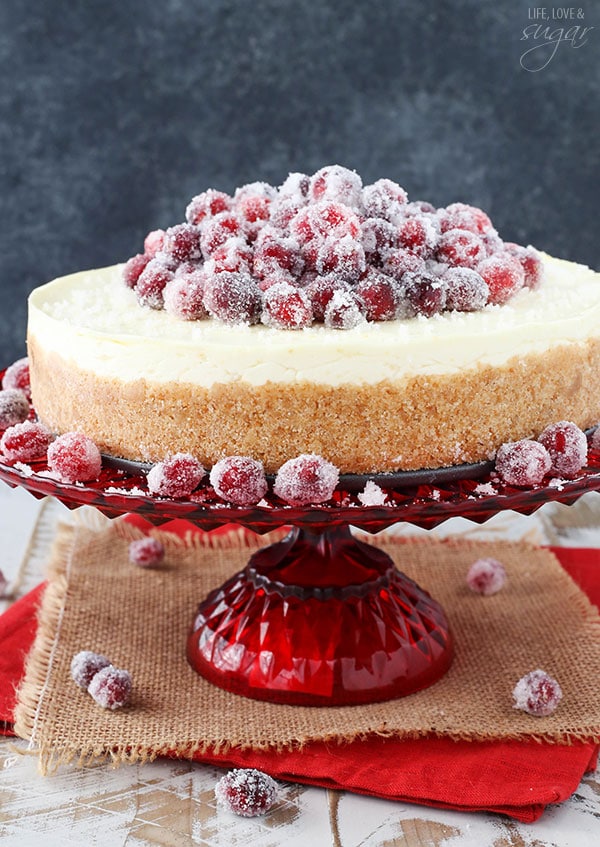 White Chocolate Dipped Cranberry Oatmeal Cookies

Recipes from friends:
Cranberry Custard Pie from The Food Charlatan
Cranberry Orange Holiday Punch from The Gunny Sack
Cranberry Pecan Coffee Cake from The Lemon Tree Dwelling