This post may contain affiliate sales links. Please read my disclosure policy.
This No Bake Sparkling Cranberry Orange Cheesecake is the perfect holiday dessert. Cranberry and orange really do make the perfect flavor combination. The smooth, creamy orange cheesecake with the sweet but tart cranberries is to die for. If you've never tried these two flavors before, it's a must!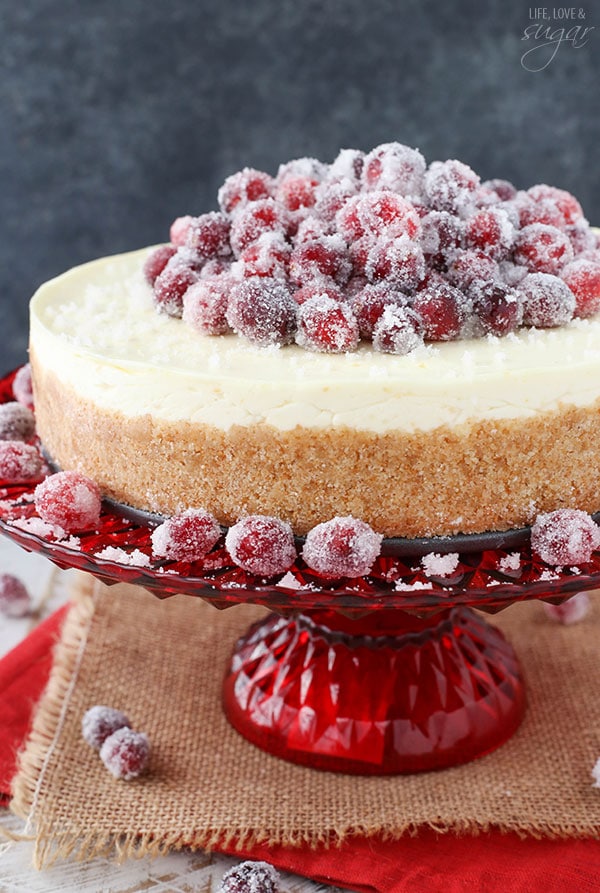 Can you believe Thanksgiving is Thursday?! I can't even. My head is so not in that mode yet.
Between all the baking for the cookbook and for the blog, I have cake on the brain. I was at the grocery store over the weekend getting baking ingredients (as I do most days) when I realized while walking through the meat department that there were turkeys in the section that normally has the ground beef.
Then it hit me.
Thursday! Thanksgiving is Thursday! And I need a turkey – like now. It has to thaw for several days and I need to make sure I'm not showing up Wednesday night to the store when there are no turkeys left.
*facepalm*
So next to my sugar and flour, I tossed a big, frozen turkey into the cart. I kind of wanted to just get all the things I'd need for Thanksgiving, but had no idea if I'd miss something, so that's tonight's activity.
I did go ahead and buy a couple cans of sweet potatoes. I KNOW I'll need those babies. I pretty much need an entire sweet potato casserole to myself and I'd die if the grocery store ran out of those before I could get some. Like, die. Like Thanksgiving would be over.
So while I'm not entirely prepared, I do have sweet potatoes and turkey. If nothing else, those will at least be delicious together. 🙂
And we'll surely have plenty of cake.
If you are as behind as I am, I'm here to save the day! If you need a last minute dessert, look no further. This cheesecake is no bake and you are welcome. It can also be made a couple days ahead. You are welcome again. In fact, you could totally make it today or tomorrow and it'd be great for Thursday.
It's also super easy to put together. You've got your standard crust to start. I actually use vanilla wafers because I love their added sweetness, but you could go with graham crackers if you have those on hand.
The cheesecake is flavored with orange zest and fresh orange juice. While it might seem kind of like you're going to end up eating orange juice, it's totally not true! It's SO SO good!
The next step (which I'd actually do first) is the sparkling sugar-covered cranberries. These can totally be made ahead. In fact, you'll want to make them ahead. They soak in simple syrup (a sugar and water mixture) overnight before being covered in sugar. Once covered in sugar, they dry and can stay fresh in the fridge for several days. Once your cheesecake is ready to go, just pile those beauties on top and you've got a party.
So now you're officially ready for Thanksgiving, right? I sure hope so, because it's coming fast!
You might also like:
Sparkling Cranberry White Chocolate Layer Cake
Sparkling Cranberry White Chocolate Cupcakes
White Chocolate Cranberry Fudge
Sparkling Cranberry White Chocolate Bundt Cake
Cranberry Fudge Swirl Cheesecake
White Chocolate Dipped Cranberry Oatmeal Cookies
Print
Recipe
No Bake Sparkling Cranberry Orange Cheesecake
Yield:

14-16 Slices

Category:

Dessert

Method:

Stove

Cuisine:

American
---
Description
Smooth, creamy no bake orange flavored cheesecake with sweet but tart cranberries
---
Ingredients
CRANBERRIES
2 cups

sugar, divided

1 cup

water

2 cups

fresh cranberries
CRUST
2 cups

vanilla wafer crumbs

3 tbsp

sugar

1/2 cup

butter, melted
CHEESECAKE
24 oz

cream cheese, room temperature

1/2 cup

sugar

1 tbsp

orange juice

1/2 tbsp

orange zest

8 oz

Cool Whip (or homemade whipped cream*)
---
Instructions
1. To make the cranberries, bring 1 cup sugar and water to a simmer in a saucepan. Simmer until sugar is completely dissolved.
2. Pour simple syrup into a heatproof bowl and allow to cool for about 10 minutes.
3. Add cranberries and stir to coat.
4. Refrigerate cranberries in syrup overnight, stirring a couple times to coat with syrup.
5. While cranberries soak, make the crust. Combine vanilla wafer crumbs with sugar. Add melted butter and stir to coat.
6. Grease the bottom and sides of a 9 inch springform pan. Press crumbs into the bottom and halfway up the sides of the pan. Set in refrigerator to firm.
7. Mix cream cheese, sugar, orange juice and orange zest together in a large bowl until smooth and well combined.
8. Gently stir in 8 oz of Cool Whip.
9. Spread filling evenly into the crust and smooth the top.
10. Refrigerate for about 4-6 hours or until firm.
11. Remove cranberries from syrup and roll in remaining cup of sugar. You'll need to roll them a few times to get a couple layers of sugar on them. Set cranberries aside to dry for about 30 minutes to an hour.
12. Remove cheesecake from springform pan and top with sugared cranberries. Refrigerate until ready to serve.
*If using homemade whipped cream, I use 1 1/4 cups heavy whipping cream and 3/4 cup powdered sugar to replace the Cool Whip.
---
Nutrition
Serving Size:

1 Slice

Calories:

481

Sugar:

56.7 g

Sodium:

170.7 mg

Fat:

25.7 g

Carbohydrates:

63.2 g

Protein:

3.4 g

Cholesterol:

60 mg
Filed Under:
Enjoy!