This post may contain affiliate sales links. Please read my disclosure policy.
This Nutty Gingerbread House is made from scratch and decorated with a fun assortment of nuts! It's a fun holiday activity and makes a beautiful centerpiece! I've even got a template for you to work with!
If you love gingerbread recipes you should also try this Gingerbread Cheesecake Trifle and this Gingerbread Caramel Gooey Bars recipe!
This post is sponsored by Diamond of California, but all opinions are my own.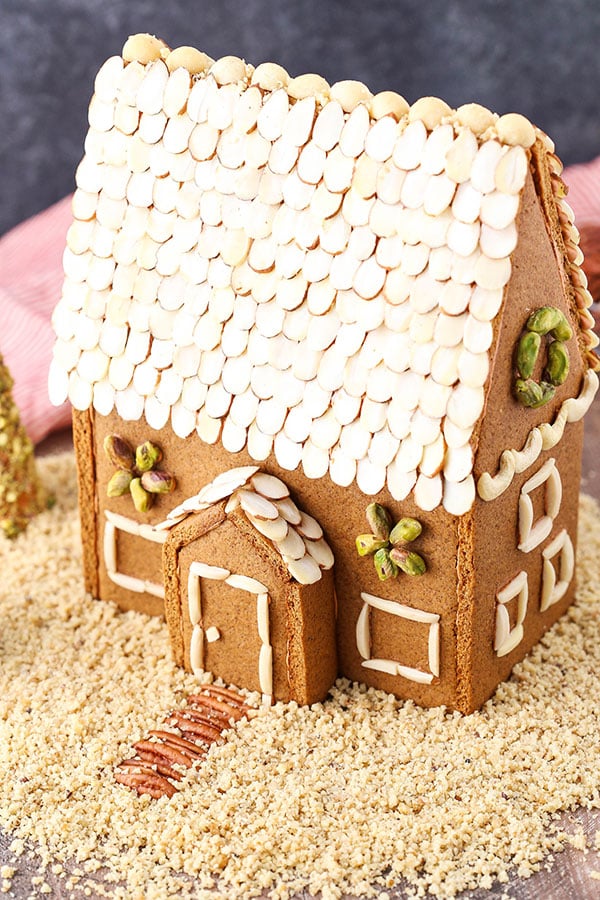 As A Kid I Made Gingerbread Houses With Friends
A gingerbread house is one of those things that we didn't actually decorate at home as a kid. I usually decorated them at friends' houses and it was always fun. I've been crafty and into making things – anything – ever since I was a kid. As an adult, I haven't done a whole lot of gingerbread house decorating since we don't have kids yet. A candy-covered house just seems like it's something that I'll wait to do with kids, but I do hope to make that a fun tradition one of these days.
This Nutty Gingerbread House Looks Great With My Christmas Decor
However when Diamond of California asked me to make a gingerbread house out of nuts, I was totally on board! It absolutely appeals to my crafty side and the nuts give it a super awesome rustic look that appeals to my decorator side. 🙂 Ask the hubs – he'll tell you just how particular I am about my Christmas decor.
But this house is PERFECT! It fits right in with any decorations. Plus, the nuts make this a little bit of healthier treat, which isn't such a bad thing this time of year. You may not eat the house, but you'll definitely snack on the nuts while you decorate it. 😉
Plus, it's easy to put together.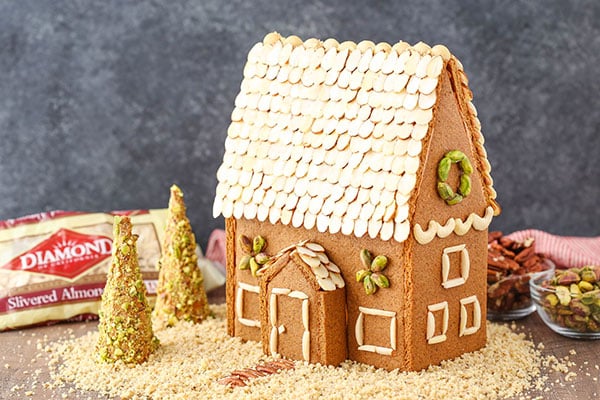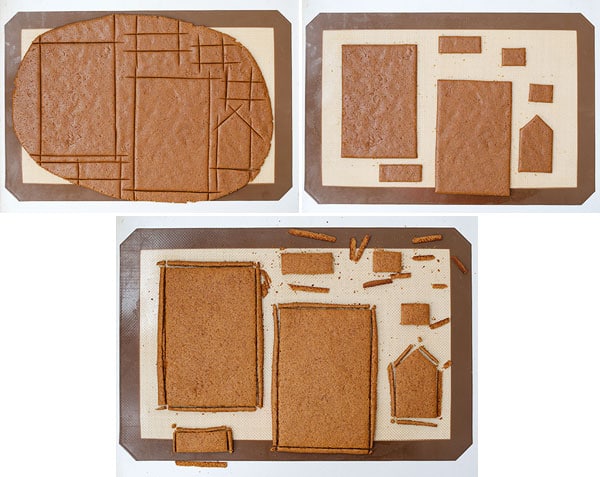 How Do You Make A Homemade Gingerbread House?
The gingerbread house pieces are made totally from scratch with a delicious gingerbread recipe. The dough is fairly thick – much like when you make cutout cookies. Unlike some of my other cookie recipes, this one doesn't start out with creaming butter and sugar together. In this case, the wet ingredients are simply combined and then the flour is added along with a little more water to help things come together. Easy peasy! Refrigerate it for a bit, then you're ready to go!
Of course you can also make the dough a day or two ahead, if you like. I find that when I bring it back to room temperature, it speeds it up a bit if I break the dough into pieces first. I'm a bit impatient sometimes. 🙂
The dough should be rolled out on parchment paper or a silicone baking mat that's right on top of the cookie sheet you'll use to bake it. You don't want to have to lift the cookie once it's been cut or it'll likely mess up the shape.
What Is The Best Way To Cut The Gingerbread?
I like to cut everything with a pizza cutter. Because the lines are all straight, it's easy to do. Plus, when you drag a knife through dough, it tends to pull a bit. The pizza cutter gives a really smooth cut.
Once the cookies are baked, you'll put the template back over the top of them and re-cut out the shapes. The cookies do spread a bit while baking, so this ensures clean lines and edges. You'll want to be careful though – the cookies are hot!
What Do You Use To Hold The Gingerbread House Together?
To put the house together, you'll use royal icing. It works like a charm and dries fast, which is great when you don't want to hold things together for too long before they stick.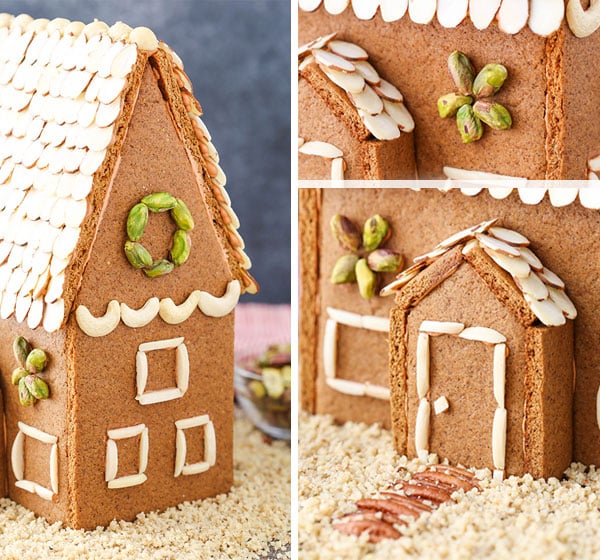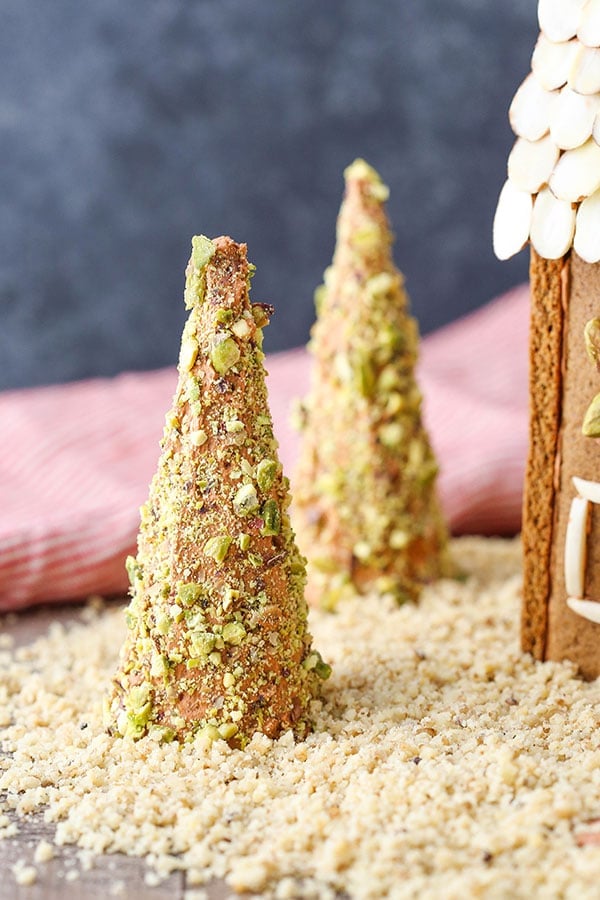 Decorating With Nuts Gives The Gingerbread House A Rustic Look
Once the house is ready to go, it's time for the fun part – decorating!
I started with the roof and used sliced almonds. It gives it a great tiling effect. I went one row at a time, starting at the bottom, and overlapping them a bit as I moved up to the next row. The place where the two roof cookies join at the top has a few macadamia nuts to complete it.
Next I added the door and window frames using almond slivers. They're nice and thin so they work great! You might have to break some to get the right size.
I used pistachios for some fun green decorations that are totally Christmas appropriate. I made some cute little flowers and a couple wreaths. They worked perfectly! The cashew halves look great strung together like garland too!
I finished things off with pecan halves for the walkway and finely diced walnuts for the "snow". The final touch were a couple trees made with sugar cones and crushed up pistachios. They were the perfect finishing touches to the house!
Feel free to make a house like mine – I've got the instructions and template below – or switch it up and decorate your nutty house your own way. Either way, this nutty little house will be perfect for the holidays! If only I could fit my nutty family in there too. 😉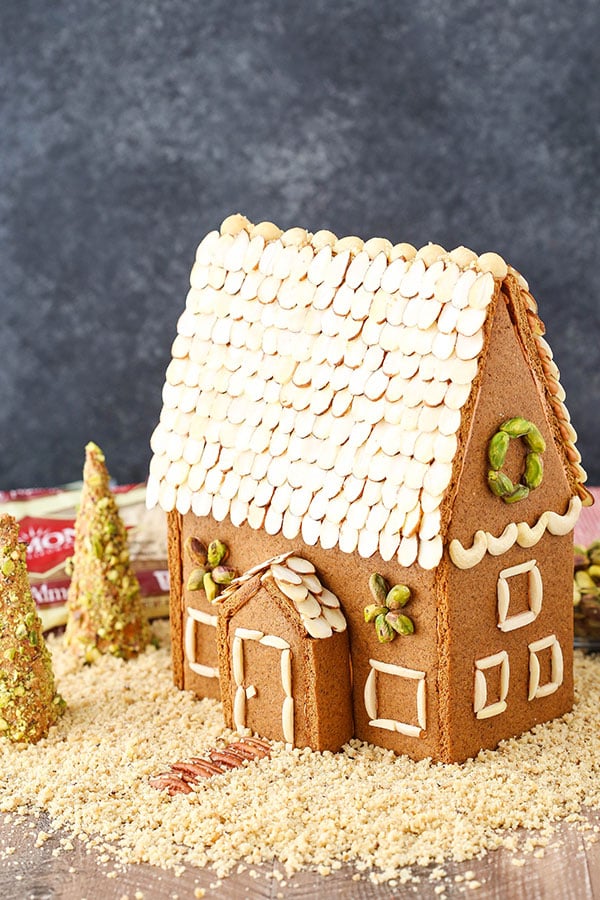 Print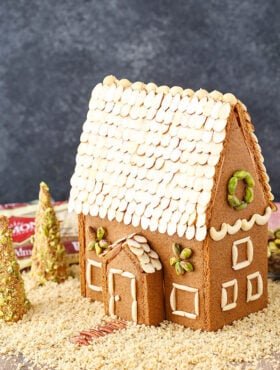 Recipe
Nutty Gingerbread House
Author:

Prep Time:

2 hours 30 minutes

Cook Time:

10

Total Time:

2 hours 40 minutes

Category:

Dessert

Method:

Oven

Cuisine:

American
---
Description
This Nutty Gingerbread House is made from scratch and decorated with a fun assortment of nuts! It's a fun holiday activity to do with friends and family and makes a beautiful centerpiece! I've even got a template for you to work with!
---
Ingredients
GINGERBREAD HOUSE
1 cup

salted butter, room temperature

1 cup

light brown sugar

1/2 cup

molasses

2 tbsp

ground cinnamon

2 tbsp

ground ginger

1 tbsp

ground cloves

2 tsp

baking soda

4 cups

all purpose flour

4 tbsp

water
NUTTY DECOR
Diamond of California sliced almonds
Diamond of California chopped macadamias
Diamond of California slivered almonds
Diamond of California shelled pistachios
Diamond of California cashew halves
Diamond of California pecan halves
Diamond of California finely diced walnuts
ADDITIONAL
Brown icing gel, optional

2

sugar ice cream cones
---
Instructions
1. In a large mixer bowl, mix the butter, brown sugar, molasses, cinnamon, ginger, cloves and baking soda together until smooth.
2. Add the flour and water and blend until it makes a firm dough.
3. Refrigerate the dough for at least 30 minutes or until firm.
4. When ready to bake the cookies, bring the cookie dough back to room temperature so it's easier to work with. Print out the gingerbread house pattern and cut out the shapes.
5. Preheat the oven to 375 degrees.
6. Roll the cookie dough out onto a large cookie sheet lined with either parchment paper or a silicone baking mat to about 1/8 to 1/4 inch thick.
7. Place the patterns onto the cookie dough and cut out the shapes. I like to use a clean pizza cutter to get clean edges. You'll likely need to do this 2 or 3 times to get all the shapes completed.
8. Once the pieces are cut, leave them in place. Place in the oven and bake for 10-15 minutes or until the cookies are lightly browned on the edge and seem firm.
9. Remove cookies from the oven and place the paper patterns back over the cookies. Use the pizza cutter to trim the cookie edges to make sure they're sharp. Be careful – the cookies are hot!
10. Allow cookies to cool completely.
11. Make the royal icing according to the directions. Color the icing with the brown icing gel, if you'd like the icing to blend in with the house a little more.
12. To put the house together, start with the front door section. Attach the two side pieces to the front and hold in place for 30 seconds or so until they stick together. Attach the two roof pieces, then set aside to dry.
13. To put together the main house, attach the sides to one of the front/back pieces and hold in place for about 30 seconds or so until they stick together. Attach the other front/back piece and set aside to dry 5-10.
14. Once the main part of the house feels firm, attach the two roof pieces.
15. Attach the front door section, then set house aside to firm for about 10 minutes.
16. When firm, attach the bottom of the house to a cardboard cake circle, or something similar where the house will stay attached.
17. To make the roof, add one row of almond slices at a time. Pipe lines of icing horizontally as you go and attach almonds starting at the bottom of the roof and work your way to the top. Complete the full roof of the house and the roof over the door. Attach chopped macadamia nuts to the center of the main roof to cover where the gingerbread pieces join.
18. Use slivered almonds to create the window and door outlines. You may need to break some pieces to get some that are the same size.
19. Use shelled pistachios to create the little flower decorations above the front and back windows. Make a "wreath" out of pistachios for the side of the house.
20. Use the cashew halves to create "garland" along the side of the house, between the windows and "wreaths".
21. Use pecan halves to create the sidewalk in front of the house, then use the finely diced walnuts to create the "snow" around the house. I added my finely diced walnuts to a food processor to make them even finer, but you could just leave them as is.
22. To make the trees, crush up some of the shelled pistachios. Add a layer of icing to the sugar cones, working one at a time, then sprinkle them with the chopped pistachios. Place the trees beside the house.
23. Allow the entire house to dry, then display in your home.
---
Keywords: gingerbread house ideas, gingerbread for house recipe, gingerbread house recipe, how to make gingerbread house, gingerbread house gingerbread recipe, homemade gingerbread house
Filed Under:
Enjoy!
Recipe modified from the Food Network.