This Salted Honey Pie is not only my new favorite pie – it's my favorite pie EVER! A BIG statement! The custard-based filling gets its amazing caramel flavor from brown sugar and honey. It's absolutely delicious and so easy to make, it may become your new favorite too!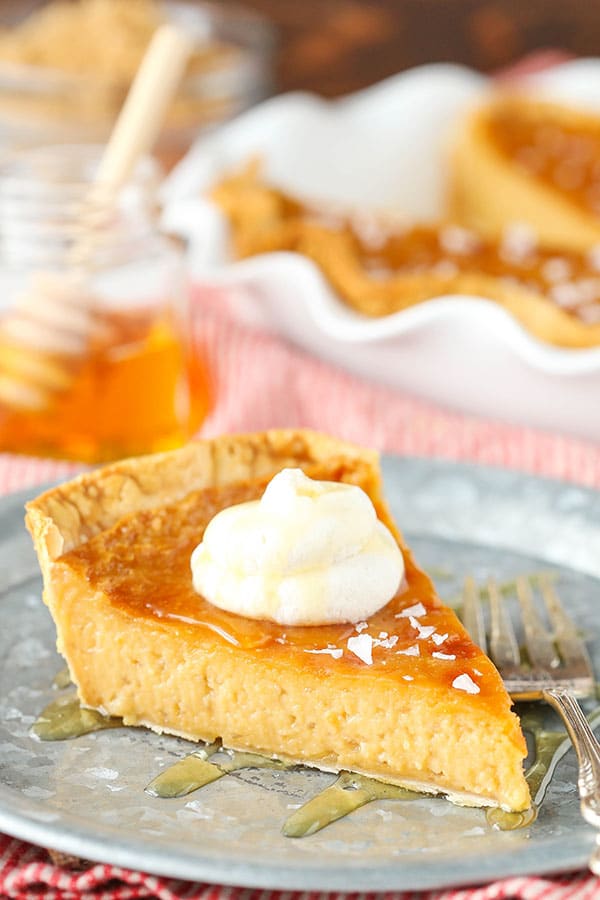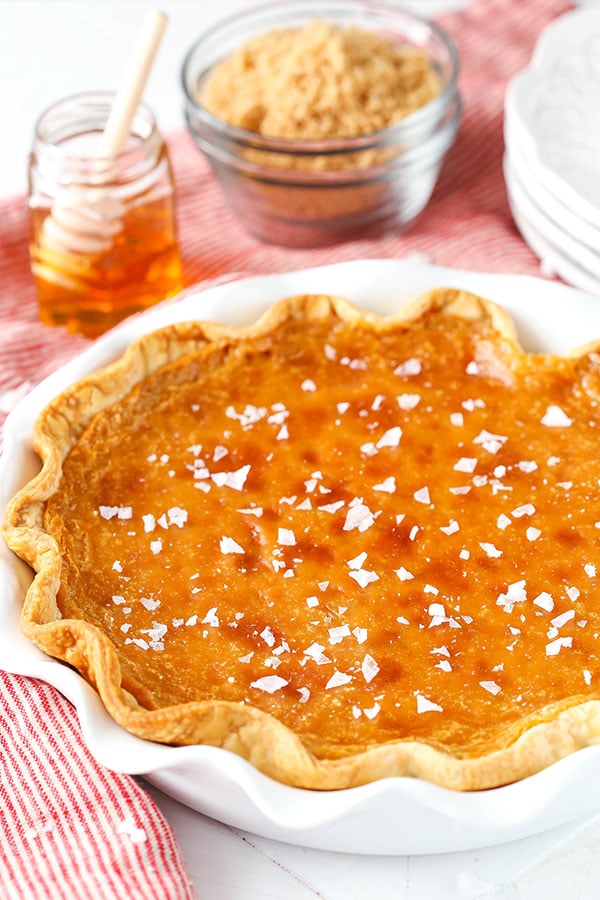 Salted Honey Pie
Back in July, I traveled to visit my friend Julianne to eat our way through the desserts of Portland. We had everything from donuts to cake to ice cream. We even had some pie.
One of the pies we tried was a Salted Honey Pie. Now I have to admit I didn't think all that much of it when I first saw it. I wouldn't even describe myself as a big honey person – or pie person for that matter. As you know I love my cake. But for some reason it called to me and I got a slice.
The first bite was pure bliss! I mean seriously. There was a lot of moaning involved. I have never been so into a pie in my life. It tasted like creamy salted caramel in a perfect pastry crust. And yet that description doesn't even do it justice.
And while a straight caramel pie could be a bit overwhelming, this was honey pie that tasted like caramel. It managed to be sweet and amazing without being too much. Perfection. Just pure perfection. I had to find a way to make my own version.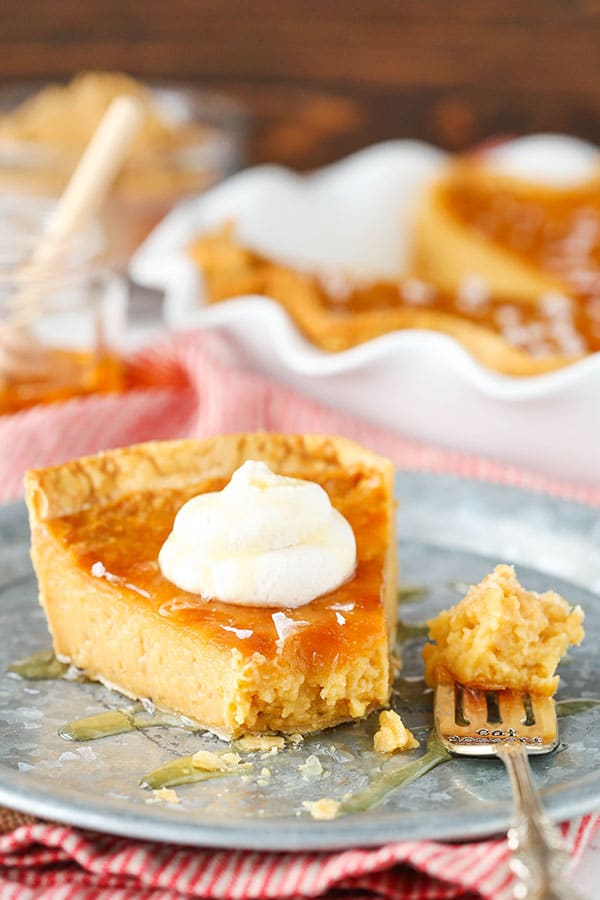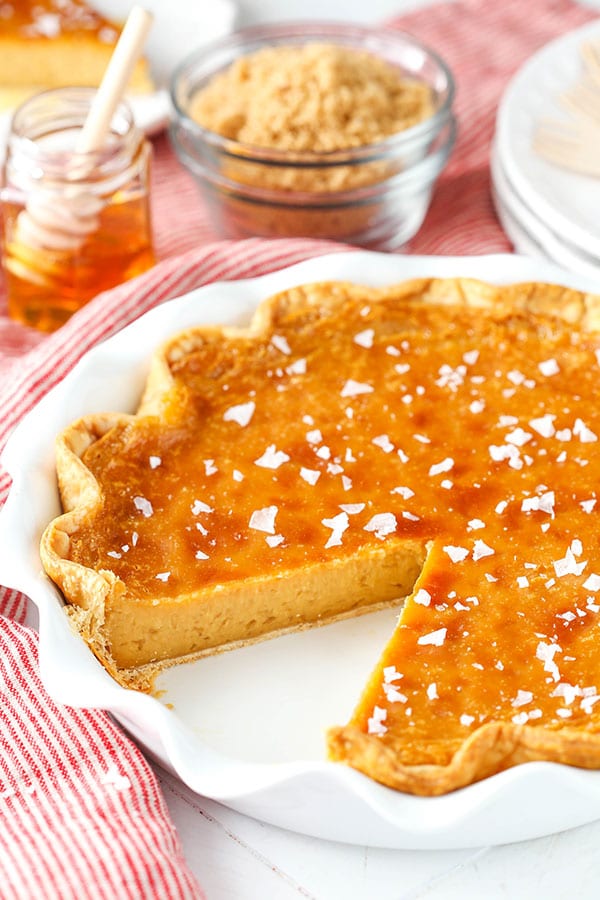 My own version proved to not be the easiest task. The flavor and texture were so unique. I played around with different amounts of eggs – plus whole eggs vs just yolks. I played around with the amount of sugar and brown vs regular. I played around with the amount of cream and thus thickener. I even tried putting straight caramel sauce into one version. There was a good bit of pie.
Earlier versions of the pie were almost more like a chess pie. Heavy on the sugar, low on the cream. While the flavor was delicious, the texture of the pie wasn't quite right. If you've ever had a chess pie, you know that it isn't exactly creamy.
Ultimately I went with egg yolks over whole eggs to add to the creamy texture. I added a good bit of heavy whipping cream to have a nice custard-based pie, so there's also cornstarch to help thicken things. Brown sugar also won out over white sugar and it definitely gives the pie it's caramel flavor.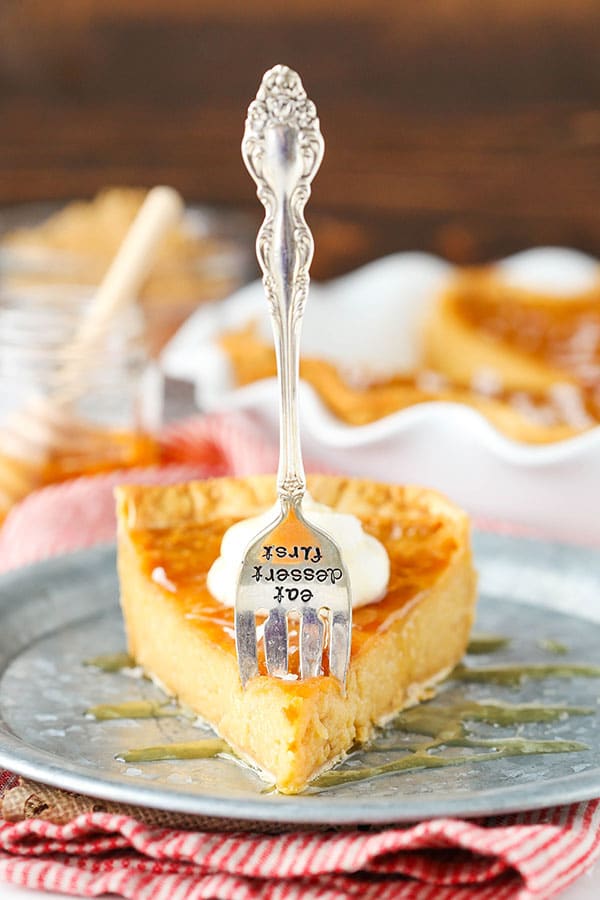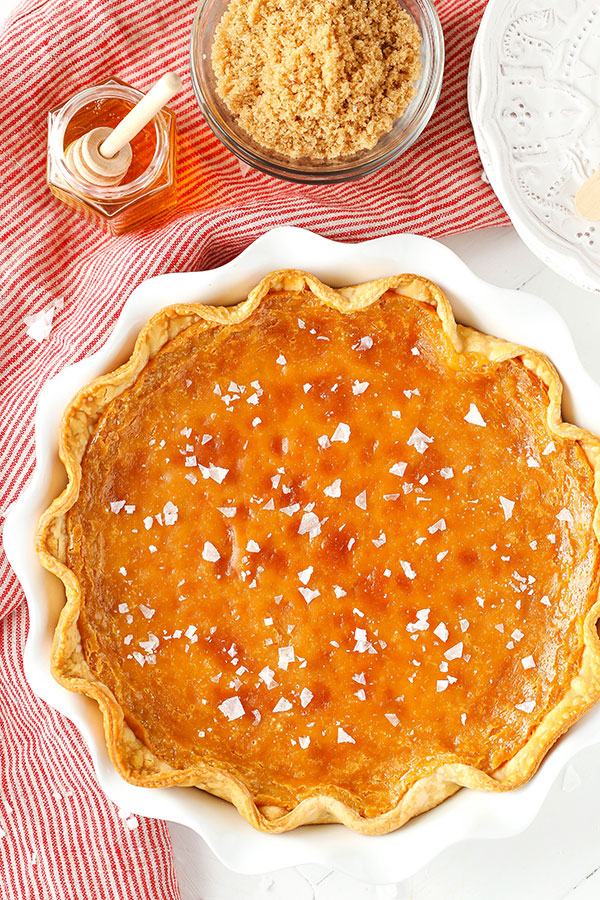 How to Make This Delicious Honey Pie
The cream, brown sugar, cornstarch and salt are cooked over the stove first. The melted brown sugar gives the caramel flavor and the cornstarch thickens the cream. You'll notice it really start to thicken right before you temper the eggs. The honey and vanilla are added last and then the pie is baked.
The pie bubbles up a good bit in the oven and when it's done cooking, it'll still be relatively jiggly. The edges of the pie crust should start to brown and the top of the pie will have browned as well. The pie will thicken as it cools, both on the counter and in the fridge.
The final pie was TO DIE FOR! You guys! I'm not even messing with you – it's amazing! The name doesn't do it justice. It's one of those things I wish I could give samples of through the computer screen so you could understand just how awesome it is and how you need to make it. If you like caramel, you will love this pie.
I took an earlier version to our church group and just about every week since then, one person in particular has told me how good it was. Then I took the finally version to the office and everyone was just as unsuspecting as I initially was at hearing about a Salted Honey Pie. One bite and I turned them into believers!
YOU HAVE TO MAKE IT! 🙂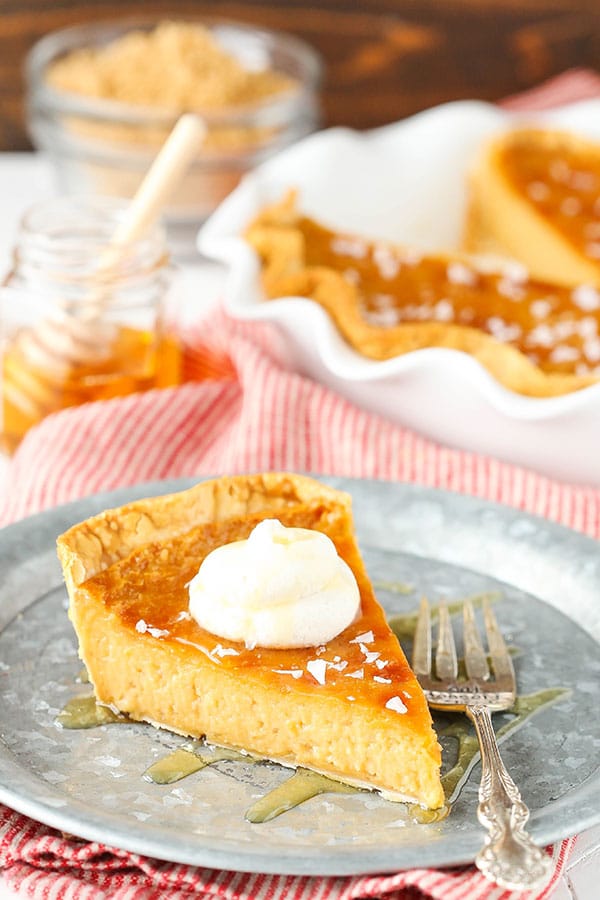 Read Transcript
For more great pie recipes, check out this
Classic Pumpkin Pie
,
Apple Crumb Cheesecake Pie
, and
more
!
You might also like
Coconut Cream Pie
Blueberry Crumb Cheesecake Pie
No Bake Pumpkin Pie in a Jar
Banana Cream Pie
Almond Joy Pie
Pina Colada Pie
Print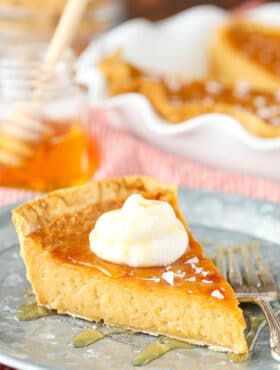 Recipe
Salted Honey Pie
Author:

Prep Time:

15 minutes

Cook Time:

40 minutes

Total Time:

55 minutes

Yield:

10

Category:

Dessert

Method:

Oven

Cuisine:

American
---
Description
I couldn't be more excited to help you make this insanely scrumptious Salted Honey Pie! It has a classic butter pie crust and a creamy custard-based filling that's full of caramel flavor, thanks to the honey and some melted brown sugar. It's by far my favorite pie of all time!
---
Ingredients
Pie crust, refrigerated or homemade

4

large egg yolks, lightly beaten

2 1/2 cups

(600ml) heavy whipping cream

1 cup

(

144g

) unpacked light brown sugar

1/3 cup

cornstarch, sifted

1/2 tsp

 salt

1/2 cup

(120ml) honey

2 tsp

vanilla extract
Sea salt, optional
---
Instructions
Prepare the pie crust in a deep dish 8 inch pie pan, or a 9 inch pie pan, and set it in the fridge. Do not pre-bake it. Preheat the oven to 375°F.
Add the egg yolks to a large bowl. Set aside.
To make the filling, heat the heavy cream, brown sugar, cornstarch and salt in a medium saucepan on medium heat until it comes to a rolling boil, stirring regularly. It should start to thicken.
Once the mixture comes to a full boil, remove it from the heat.
Temper the eggs by adding a little bit of the cream mixture to the eggs and whisking, then adding a little more. Add the remaining cream mixture and stir until combined and smooth.
Add the honey and vanilla extract to the custard and stir until well combined.
Pour the mixture into the chilled pie crust.
Bake the pie for 40-45 minutes. It will bubble up and start to brown on top.
Remove the pie from the oven. It will still be pretty jiggly. Set it on the counter to cool until it comes to room temperature. It will firm up as it sits.
Refrigerate the pie until it's cold and fully firm.
Sprinkle the sea salt onto the pie and serve.
Notes
Makes 8-10 slices.
To Store: Refrigerate leftovers in an airtight container for up to 3 days. To enjoy at room temperature, remove pie from the fridge 30-45 minutes before serving. Do not freeze.
Nutrition
Serving Size:

1 Slice

Calories:

449

Sugar:

29.8 g

Sodium:

466.8 mg

Fat:

29 g

Carbohydrates:

45.5 g

Protein:

3.5 g

Cholesterol:

141 mg
Keywords: caramel pie, easy pie, salted honey
Enjoy!
This post may contain affiliate sales links. Please read my disclosure policy.