This Strawberry Cream Pie is the stuff dreams are made of. It is strawberry and cream heaven and as soon as I tasted it, I knew I'd be in love forever.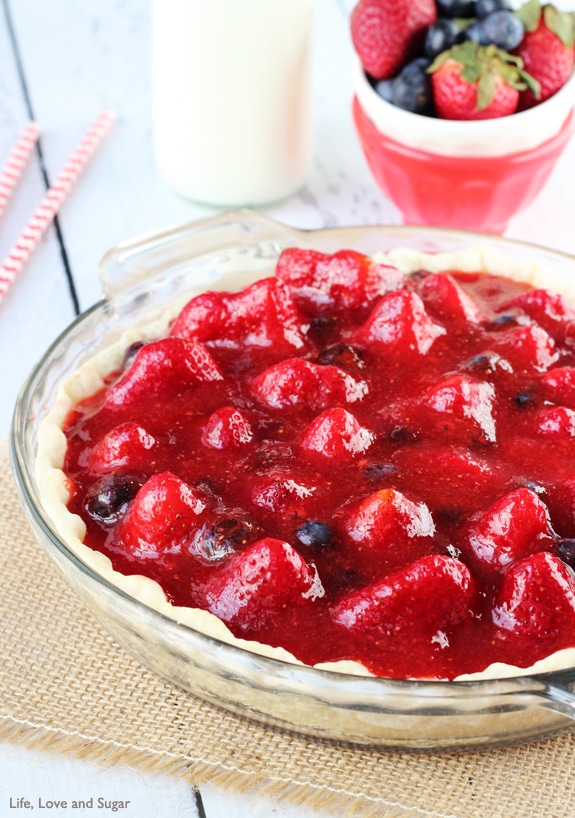 So did you guys know that today is Pi Day?! You know, as in March 14th —> 3.14 – like the math number? All the math geeks come out in droves, fill the streets and eat pie until they explode!
Ok, so not really. But it is a great day to celebrate the number pi with some actual pie. So a bunch of us bloggers have come together to bring you all kinds of amazing pie! Best. day. EVER! 🙂
My contribution is this beautiful and delicious Strawberry Cream Pie. I've actually been wanting to make this pie for quite some time. Since last summer, as a matter of fact.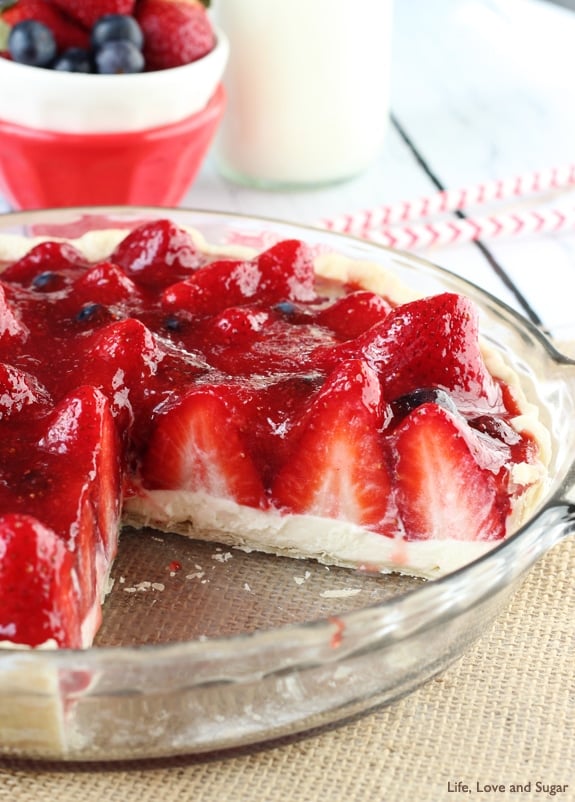 I have always loved strawberries, especially when covered in sugar which is basically what this pie is. So let's talk about what's in it.
I went easy this time and used a Pillsbury crust. You don't have to worry about making the dough and letting it refrigerate, which is quite nice. Follow the instructions on the box and you will have one great crust. It compliments the pie perfectly!
Next is the cream filling. I actually went a bit light on the cream. Some versions of this pie have twice the amount of cream, but I opted for less. I really love the flavor of the strawberries and didn't want it to be overpowered by too much cream.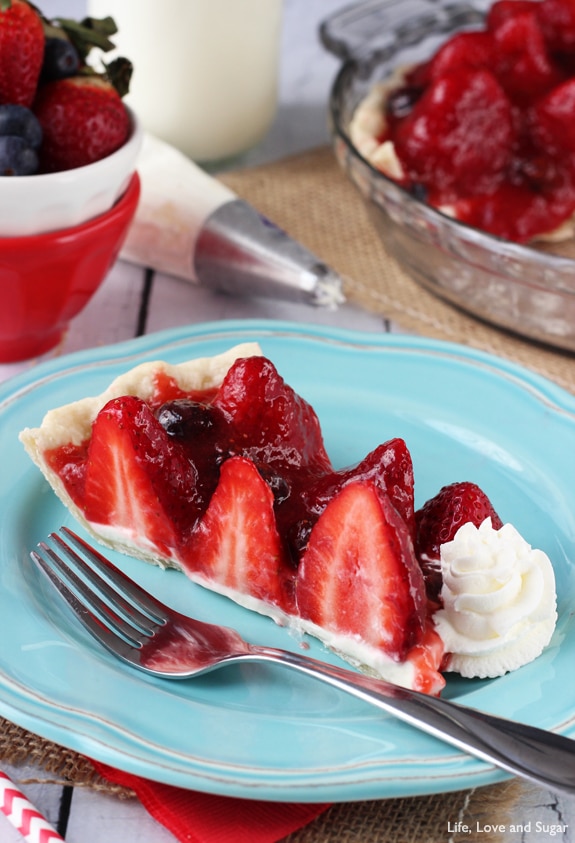 I totally think it was the right call. Just the right amount. It's made from a simple combination of cream cheese, whipped cream, sugar and vanilla. Make that and spread it in the slightly cooled crust.
Next is the strawberries. You're going to want to cut the stems off of the ones that will go on top of the filling. Those stems wouldn't be very tasty. Making the glaze takes a little longer – 15-20 minutes – because you slowly bring the strawberry mixture to a boil, but it's by no means hard. Just a little patience required.
Once the glaze is made and slightly cooled, you pour it over your strawberries on the pie and refrigerate for about 4 hours or more before serving.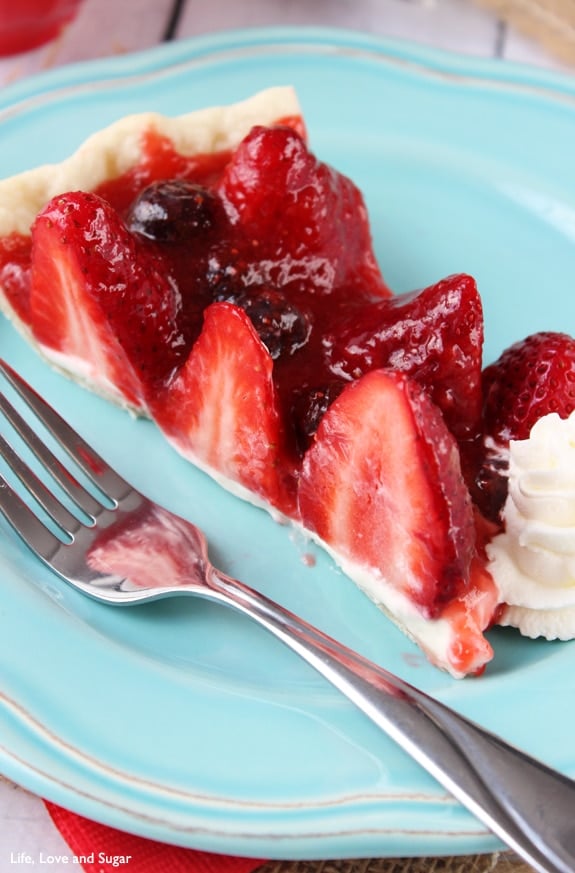 You'll notice that I added some blueberries to mine. That's totally not necessary. With all the strawberry flavor going on, you barely notice them. But I like the touch of color they bring. And the extra antioxidants. Why not add a little health punch to the sugar. 🙂
This will seriously be one of the best things you've ever tasted if you dig strawberries.
And the hubs was completely in love with it to. I hate that I can't better describe to you in words how good it is. I wish I could hand out samples through the screen.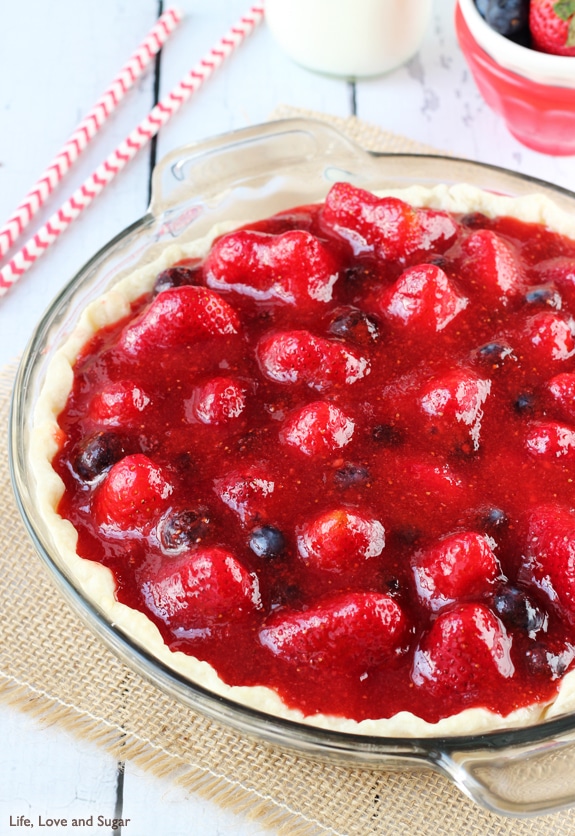 The day after we finished the pie, I got a text message from him at work telling me how sad he was that the pie was gone. That's a first!
So join us in celebrating pi with pie! Strawberries are on sale like crazy right now, so this pie is perfect!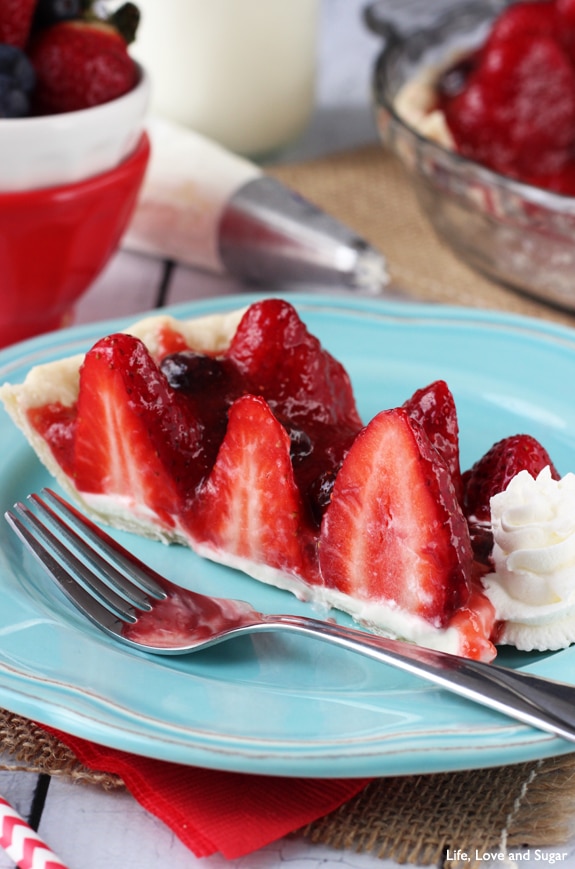 Be sure to check out the amazing pies from all the other bloggers in the collage below! And a big thanks to Julie from White Lights On Wednesday for organizing everything! What a talented group!
Print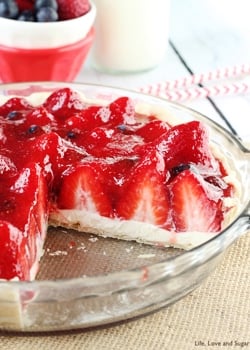 Recipe
Strawberry Cream Pie
Author:

Prep Time:

10 minutes

Cook Time:

20 minutes

Total Time:

30 minutes

Yield:

8-10 Slices

Category:

Dessert

Method:

Stove

Cuisine:

American
---
Description
This Strawberry Cream Pie is the stuff dreams are made of. It is strawberry and cream heaven and as soon as I tasted it, I knew I'd be in love forever.
---
Ingredients
FILLING
4 oz

. cream cheese, softened

1/4 cup

sugar

1/2 tsp

vanilla

1/2 cup

heavy whipping cream, whipped
roughly

3 cups

whole strawberries, stems removed

1/2 cup

blueberries, optional
GLAZE
1 cup

pureed strawberries (from about

1 cup

strawberries)

1 cup

sugar

2 tbsp

cornstarch

1/3 cup

water

1/4 tsp

vanilla
---
Instructions
1. Bake pie crust in a 9 inch pie pan according to package. Set aside to cool.
2. Beat cream cheese, sugar and vanilla together in a medium sized bowl until smooth. Stir in whipped cream.
3. Pour filling into pie crust.
4. Add 1/3 cup water to pureed strawberries.
5. Combine sugar and cornstarch in a saucepan. Stir in strawberry puree.
6. Cook over medium heat, stir constantly until mixture thickens and come to a boil, about 15 to 20 minutes.
7. Allow to boil for 1 minute, then remove from heat.
8. Stir in vanilla extract and allow to cool for about 10 minutes.
9. While glaze cools, place blueberries (if using) and whole, de-stemmed strawberries on top of the cream.
10. Pour slightly cooked glaze over top of strawberries and blueberries.
11. Refrigerate at least 4 hours before serving.
---
Keywords: strawberry dessert recipe, strawberry pie recipe, summer dessert recipe
Enjoy!
You can see all the amazing pie recipes being shared today by clicking the images below.

This post linked to Buns In My Oven, Wine and Glue, Gingersnap Crafts, Lambert's Lately, Living Well Spending Less, What's Cooking Love?
You might also like:
No Bake Strawberry Lemon Cookie Pie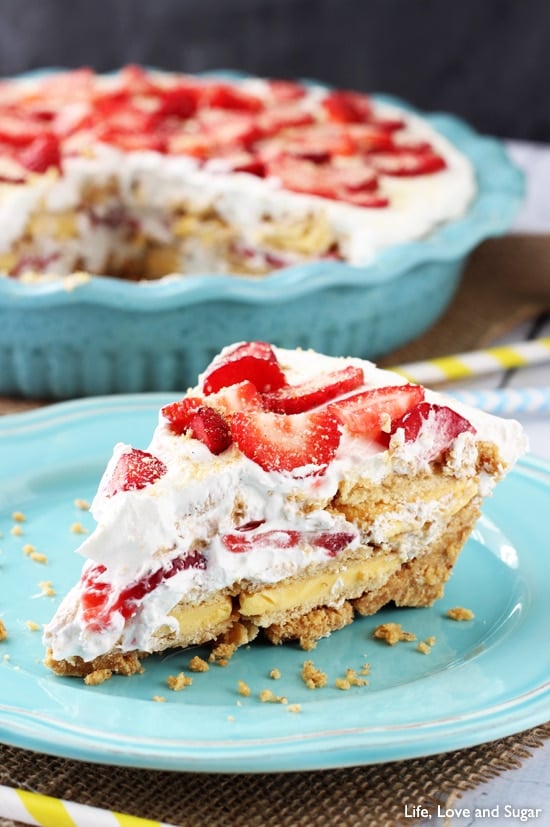 Strawberry and Blueberry Oatmeal Cheesecake Cookie Bars

This post may contain affiliate sales links. Please read my disclosure policy.