This post may contain affiliate sales links. Please read my disclosure policy.
Learn to blind bake your pie crust for your pie recipes! You can partially bake it for a baked pie or fully bake it for a no-bake filled pie. Either way, I've got you covered!
What is Blind Baking?
Blind baking a crust is basically when you pre-bake it. You can either partially bake it or fully bake it. Which way you go depends on the pie filling. The main difference is the length of baking time.
Partial Bake: If you are going to be baking the pie filling but the filling doesn't take as long to bake as the crust, you'd want to partially bake the crust prior to adding the filling.
Full Bake: If you are making a filling that is no-bake or is cooked on the stove, then you'd want to fully bake the crust so that when you add the filling, the crust is ready to go.
Blind baking isn't hard, but it is a process to ensure a nice crust that doesn't shrink or bubble up.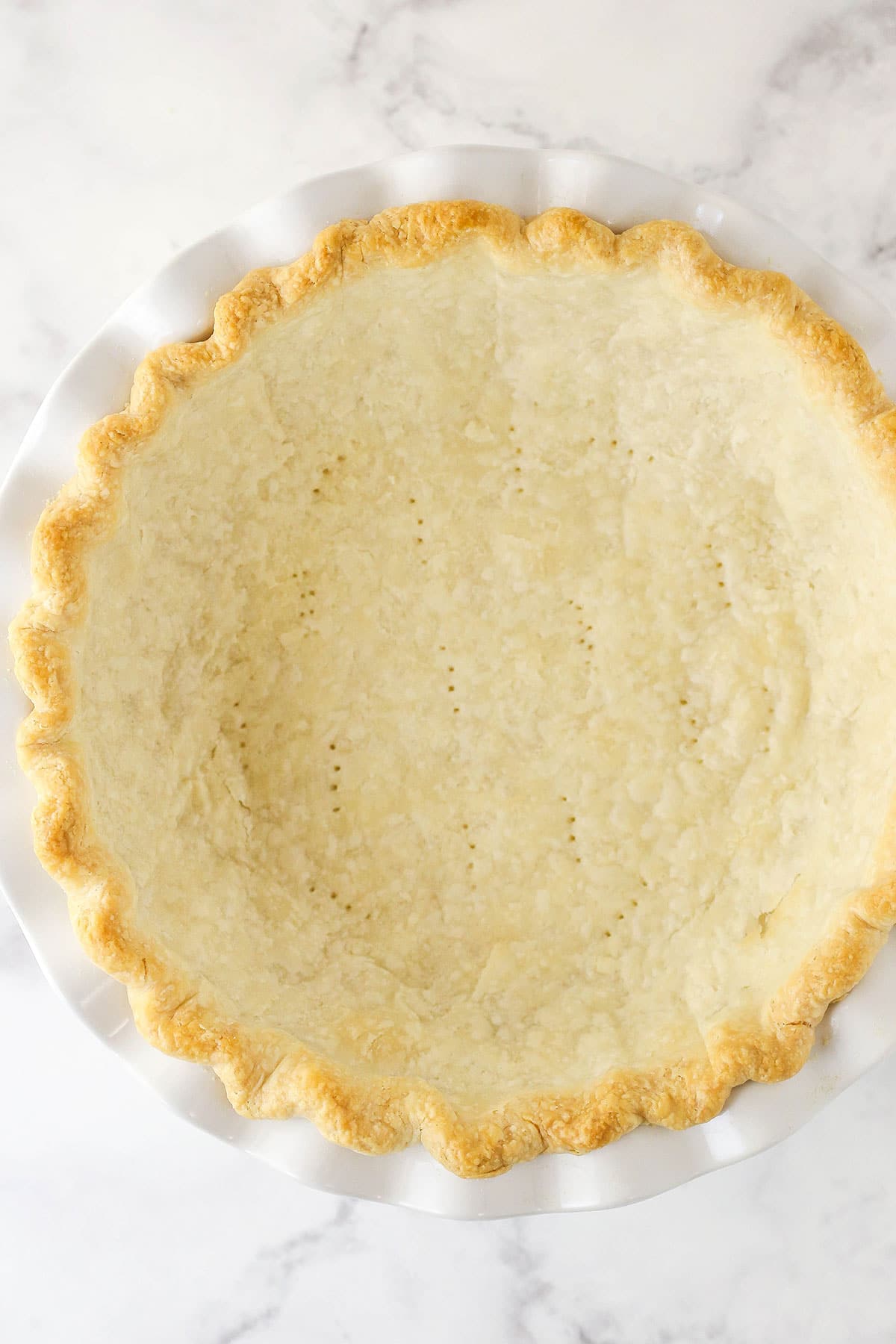 How to Blind Bake Pie Crust
The first thing you need is a good Flaky All-Butter Pie Crust. Once made, it's time to blind bake it. To successfully blind bake your crust, you'll want to do two things. One is to dock your crust, the other is to weigh it down.
Dock The Crust
"Docking" the crust refers to poking holes it in. I use a fork and poke holes around the sides and bottom of the crust. Why? As the pie bakes and the butter melts, steam is released. The steam can create air pockets that then bubble up on your crust. Docking the crust gives it little holes where the steam can release so your crust won't bubble up so much.
Weigh It Down
Our other tool for blind baking is to use pie weights. Pie weights have two important uses. One is to contribute to reducing air bubbles by pushing them down. The second use is to help keep the sides of the crust in place as it bakes so that it doesn't fall down the sides of the pan or shrink.
You have several options for pie weights. I have two packs of these ceramic pie weights, which work well. There are also metal pie weights. And if you don't want to buy special equipment, there's always dry rice or dry beans.
While I've used ceramic pie weights a good bit, I have come to love using rice. The smaller pieces ensure better coverage. There's no space between or gaps, where a bubble could pop up.
You also want to be sure to use parchment paper underneath whatever pie weight you decide to use. Try to lay it as flat against the crust as you can, then add the weights.
Now your crust is ready to be baked!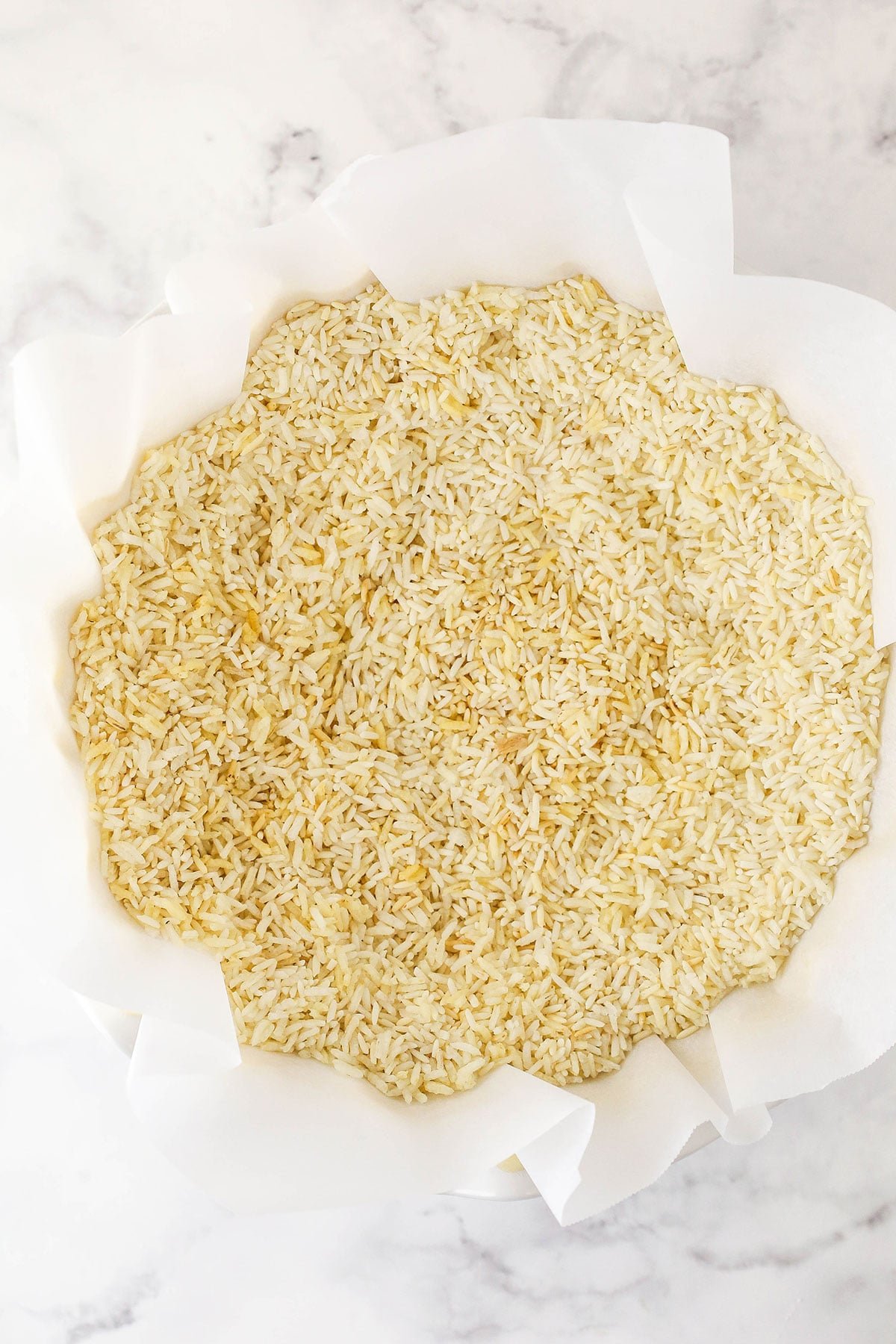 Bake the Crust
How long you bake the crust depends a little on the particular pie crust recipe and whether or not you are partially or fully baking the crust. For a partially baked crust, I recommend baking for 20-25 minutes at 350 degrees F, or until it's just beginning to turn golden. If you want it fully baked, remove the pie weights after 20-25 minutes and then bake another 5-10 minutes or until it's nice and golden.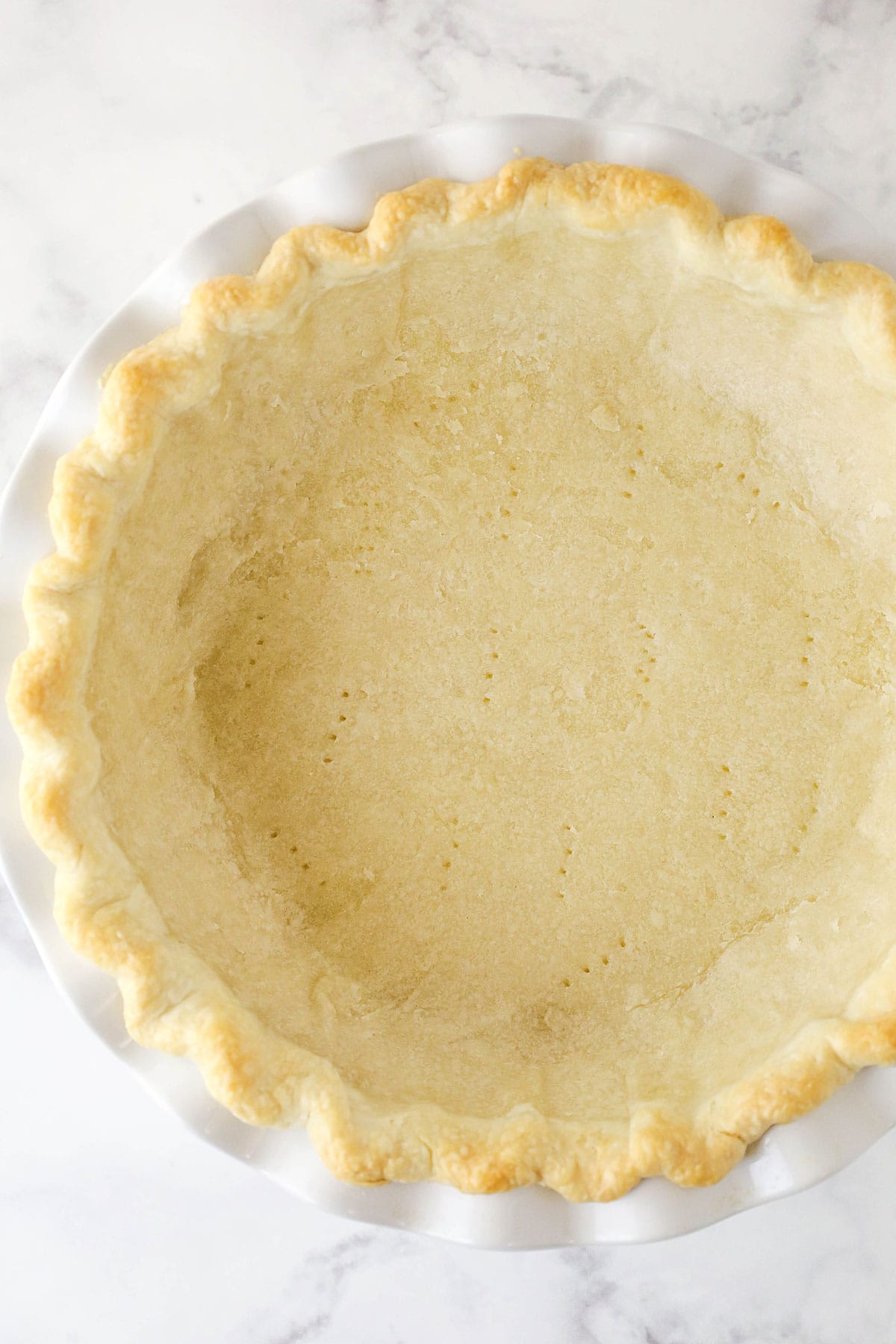 Why Did My Pie Crust Shrink?
While it can be hard to say with certainty why it shrank, here are a few tips and tricks to ensure that it doesn't happen.
Use Pie Weights: I talked about this before, but the weights help keep the crust in place, so you'll want to have something to weight it down.
Don't Use Glass: Glass pans with smooth sides are more likely to have the crust slide down the sides or shrink.
Refrigerate The Crust: After you prep your crust in the pie plate, refrigerate it for at least 3-4 hours or freeze it for 1 hour.
Lower Temperature: Higher baking temperatures lead to more shrinkage. At higher temperatures, the gluten tightens up and leads to shrinking. Rather than baking at 400 degrees or higher, try 350 degrees.
Extra Crust: If all else fails, you can make your crust a little larger. If you make your crust a little bigger than necessary, it gives a little wiggle room so that if it does shrink a bit, all is still well. If you make my homemade crust recipe, it actually gives you two crusts so you'll have extra to work with to make a little bit bigger crust.
I hope you find this method helpful. I have found it to be very successful and produce a great crust!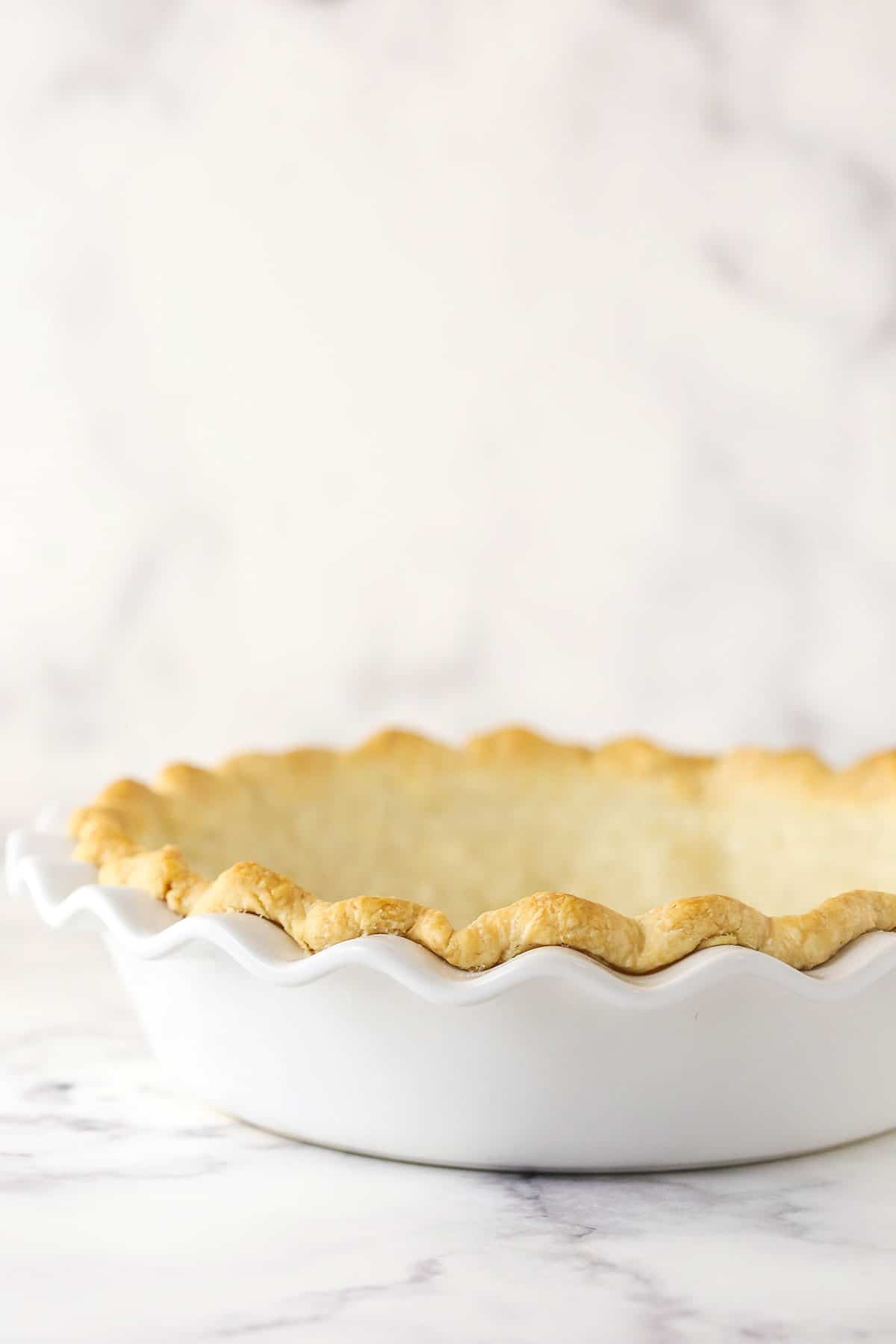 Watch How to Blind Bake Pie Crust
Print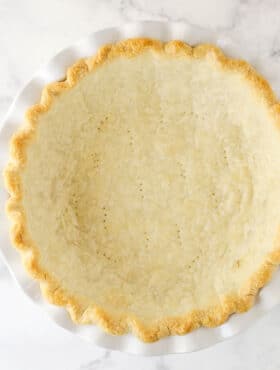 Recipe
How to Blind Bake Pie Crust
Author:

Prep Time:

15 minutes

Cook Time:

25 minutes

Total Time:

40 minutes

Yield:

1 crust

Category:

Dessert

Method:

Oven

Cuisine:

American
---
Description
Learn to blind bake your pie crust for your pie recipes! You can partially bake it for a baked pie or fully bake it for a no-bake filled pie!
---
Ingredients
---
Instructions
Prepare pie crust according to instructions. Place it in a 9 inch pie plate and flute or crimp the edges as desired. "Dock" the crust by pricking the crust with a fork to allow steam to escape evenly. This helps the crust not bubble up and cook unevenly.
Refrigerate the crust for 3-4 hours or freeze for about an hour. You want to be cure the crust is very cold.
Preheat oven to 350 degrees F and line the pie crust with parchment paper. Be sure the parchment paper presses all the way against the crust so that it's flush.
Fill the pie crust with pie weights, rice or beans.
Bake for 20-25 minutes, or until the crust just begins to brown. At this point, the crust is partially baked and it is done if that's what you want. For a fully baked crust, remove the parchment paper and pie weights and bake for another 5-10 minutes, or until the crust is golden.
For a no bake pie filling, let the crust cool completely before adding the filling. For a filling that will be baked, you can add it to the crust while warm.
---
Keywords: how to blind bake pie crust