These Easter Bunny Peeps in a Blanket Brownies are a super fun Easter dessert recipe! Moist and chewy brownies are topped with cute bunny peeps and dipped in chocolate. Kids love them!
Looking for more brownie recipes? Try these easy homemade brownies, or my favorite fudgy brownie recipe!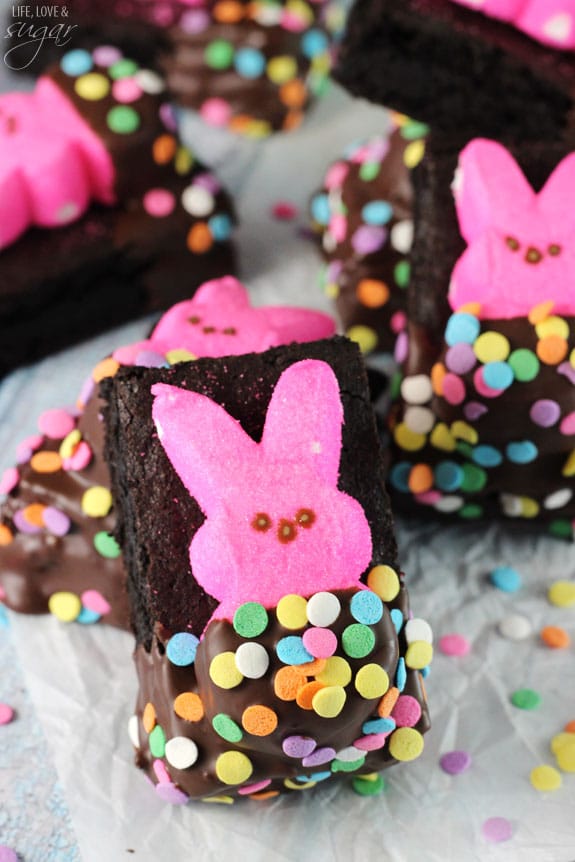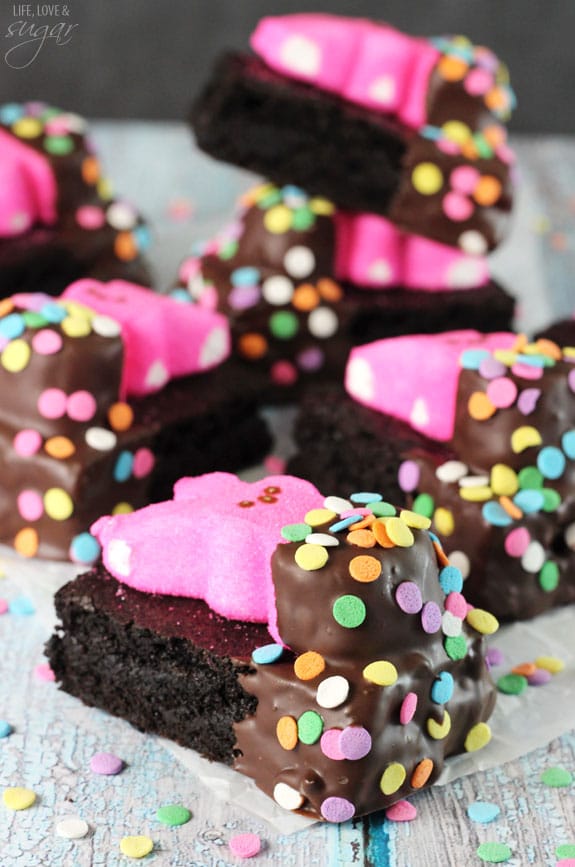 Easter Bunny Peep Brownies
So I know this type of recipe isn't really my usual thing. I'm normally about the big, the bold, the beautiful. Not to say that peeps aren't beautiful, but you know what I mean. But this idea popped into my head and I had to run with it. I mean – peeps in a blanket? You know you can't help but love it. They're funny and festive and they have sprinkles. How can you not love them?
Plus, marshmallow and brownies dipped in chocolate? Delish. Dipping things in chocolate always makes them exponentially better. I don't know what it is about putting a candy coating on a brownie or a cookie, but it's just plain yummy. The chewy brownie, the soft marshmallow peep and the chocolate candy coating make for a fun mix of textures and I wanted to eat them all.
It seems that I'm doing more than just baking things out of the norm lately, I'm also doing things out of the norm. It finally warmed up this past weekend – like really warm. Like, you could wear shorts warm. So the hubs decided it would be a great day to wash our cars.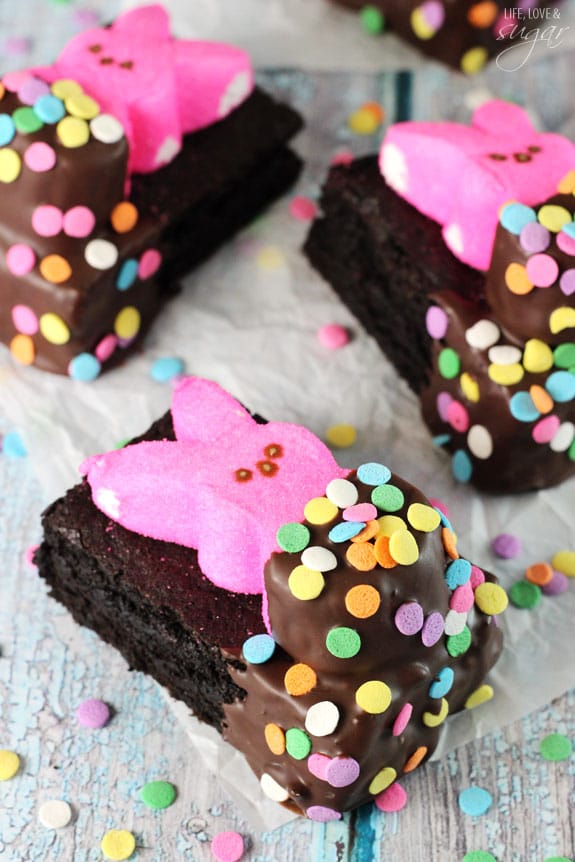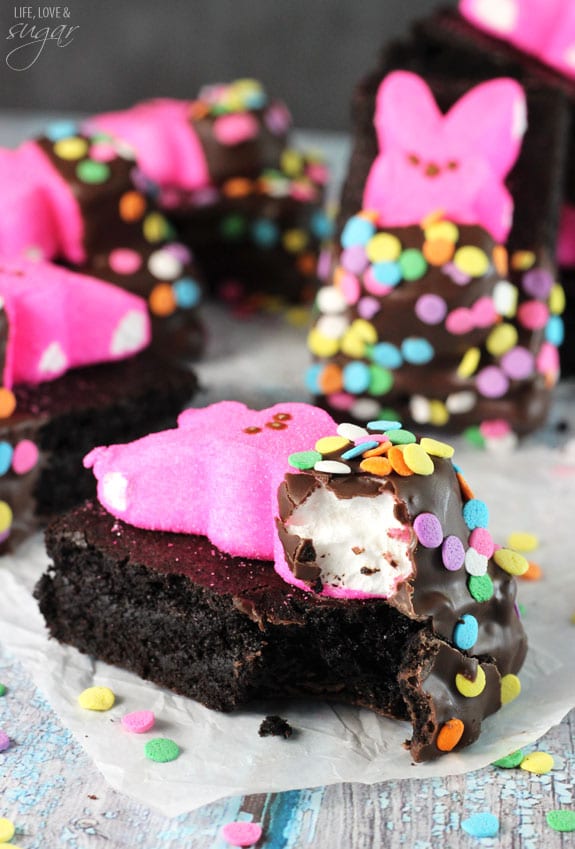 Now normally my response would be like, "Great! I'll bake!" 🙂
But it was just so nice out. I wanted to be out there soaking in the Vitamin D. So I joined in and washed my car.
You guys. It has been years since I've spent an afternoon washing my car. In high school, I probably washed my car at least every other week. If I didn't, it was like – I need to get on it. And when I say wash my car, I don't mean wet it, rub some soap on it, rinse it. I mean I washed it, towel dried it, opened the doors and dried and cleaned the inside edges, windexed the windows, treated the seats, cleaned and sprayed the tires, vacuumed. It was a multiple hour ordeal. I was always very proud of myself. It was a thing of mine.
Then I went to college, then moved to Florida, and the opportunities to wash my car were fewer. College campuses and condos don't have great spaces for car washing and I didn't have the usual supplies that my dad would keep stocked.
Then we moved to Atlanta and I was married and had a husband who would do it while I baked. Who was I to object?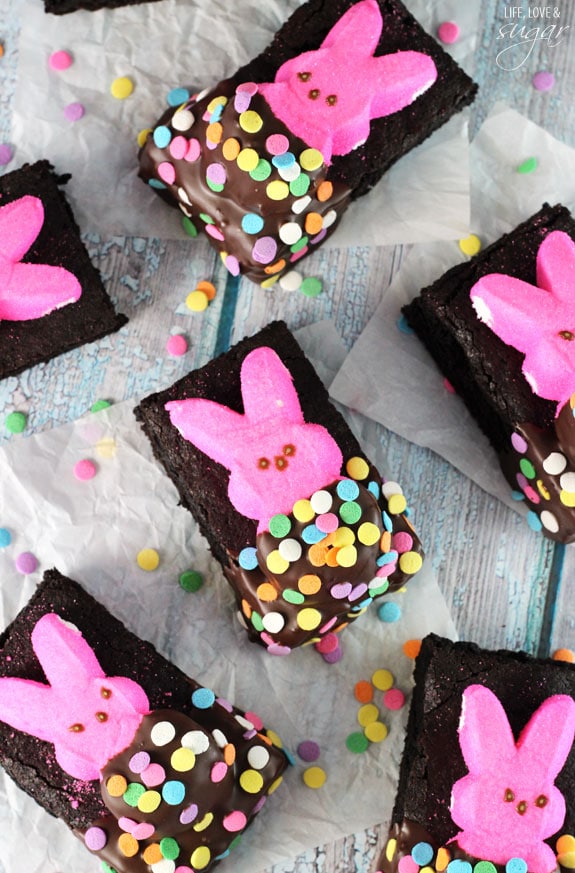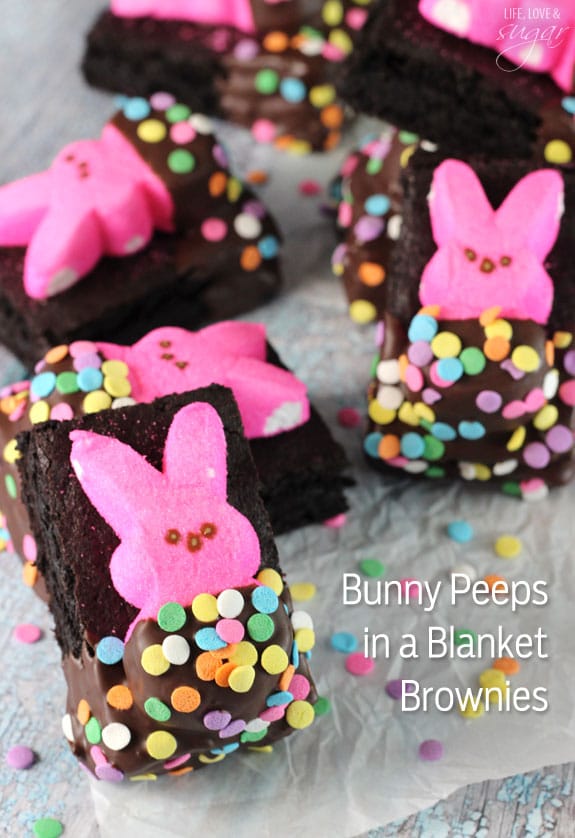 But he loved having me out there helping and I was brought right back to high school. So fun!
For a second there though, I had totally forgotten what I used to even do when I washed my car. No joke, the hubs filled up the bucket with soap and water, I grabbed a sponge and just started scrubbing the front of the car. Next thing I know the hubs is like, "Are you going to wet the car first?"
I just stopped and was a little shocked with myself. So was he. He knew me back in the day. We started dating in high school. We'd washed cars together. It was a thing of mine. He looked at me like he didn't even know me! Who is this person that I've become?!?! 🙂
Ok so that's a little dramatic, but still. After that wake up call, I dug deep into my memory and it came back. I got the vacuum out and the tire cleaner. I opened up those doors and scrubbed them. It felt good. I'm sure it sounds weird, but it's the truth.
So yea, out-of-the-ordinary is my thing this week. And these brownies are out of the ordinary. But they just feel so good. And they taste good too. 🙂 And festive. I like festive.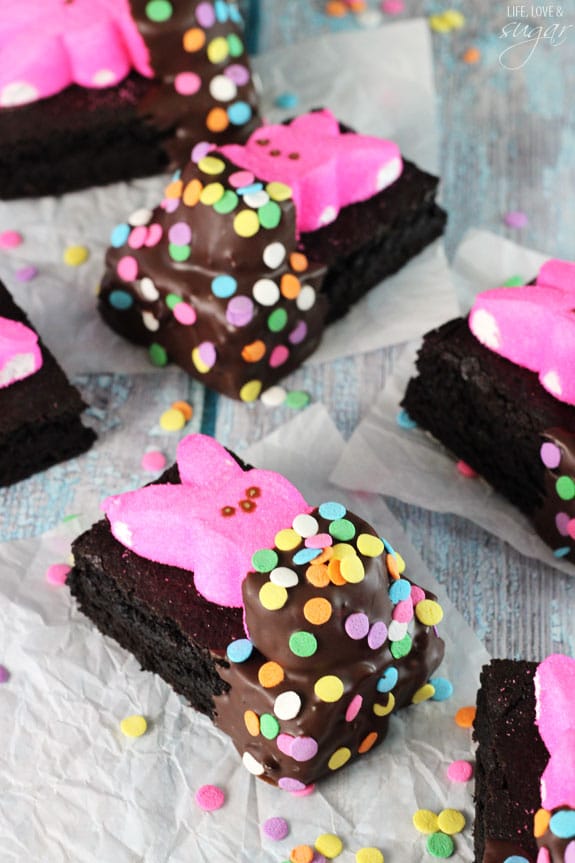 Other Tasty Treats You Might Like
Coconut Blondie Cheesecake
Easter Egg Chocolate Cupcakes
Malted Easter Egg Chocolate Cheesecake
Carrot Cake Gooey Bars
Peeps Brownie Bombs
Swimming Peeps Jello Cups


Print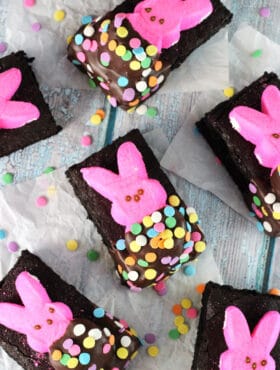 Recipe
Easter Bunny Peeps in a Blanket Brownies
Author:

Prep Time:

30 minutes

Cook Time:

30 minutes

Total Time:

1 hour

Yield:

12-15 brownies

Category:

Dessert

Method:

Oven

Cuisine:

American
---
Description
These Easter Bunny Peeps in a Blanket Brownies are a super fun Easter dessert recipe! Moist and chewy brownies are topped with cute bunny peeps and dipped in chocolate. Kids love them!
---
Ingredients
3/4 cup

vegetable oil

1 1/2 cups

sugar

1 1/2 tsp

vanilla extract

3

eggs

3/4 cup

flour

1/3 cup

+

2 1/2 tbsp

cocoa

1/4 tsp

+

1/8 tsp

baking powder

1/4 tsp

salt

2

packages bunny Peeps

10 oz

candiquick, or similar chocolate candy coating
sprinkles
---
Instructions
1. Preheat oven to 350 degrees. Grease a 9×9 square baking pan and line it with parchment paper that sticks up above the edges. You use the parchment paper to lift the bars out of the pan later.
2. Mix together the oil, sugar and vanilla extract.
3. Add eggs and mix until well combined.
4. Combine flour, cocoa, baking powder and salt.
5. Slowly add to the egg mixture until well combined.
6. Pour the batter into the pan and spread evenly.
7. Bake for 25-30 minutes, or until a toothpick comes out with a few crumbs. Allow brownies to cool completely.
8. Place candiquick in a microwave safe bowl and melt according to package directions. I usually melt it in about 30 second intervals, so I don't burn it.
9. Use a knife to spread a little chocolate on the back of each peep and stick them to the brownies, leaving them evenly spaced. You'll use 12-15 peeps, depending on how you space them out. I had three rows of five. Allow the chocolate to dry.
10. Use the parchment paper sticking above the edges of the pan to lift the brownies out of the pan.
11. Cut brownies.
12. Dip brownies, one at a time, into the chocolate candiquick. Place brownies onto parchment paper and add sprinkles. Allow to dry completely. Store in an airtight container.
---
Keywords: easter dessert, easter dessert idea, easter dessert recipe, easter recipe, best brownies recipe, homemade brownies, chocolate brownies, chocolate brownies recipe
Enjoy!
This post may contain affiliate sales links. Please read my disclosure policy.