This Resurrection Easter Cake is decorated as a tomb, with a cross and crown of thorns on top. It's perfect for celebrating Easter! And when you cut into the tomb, it reveals that it's empty inside!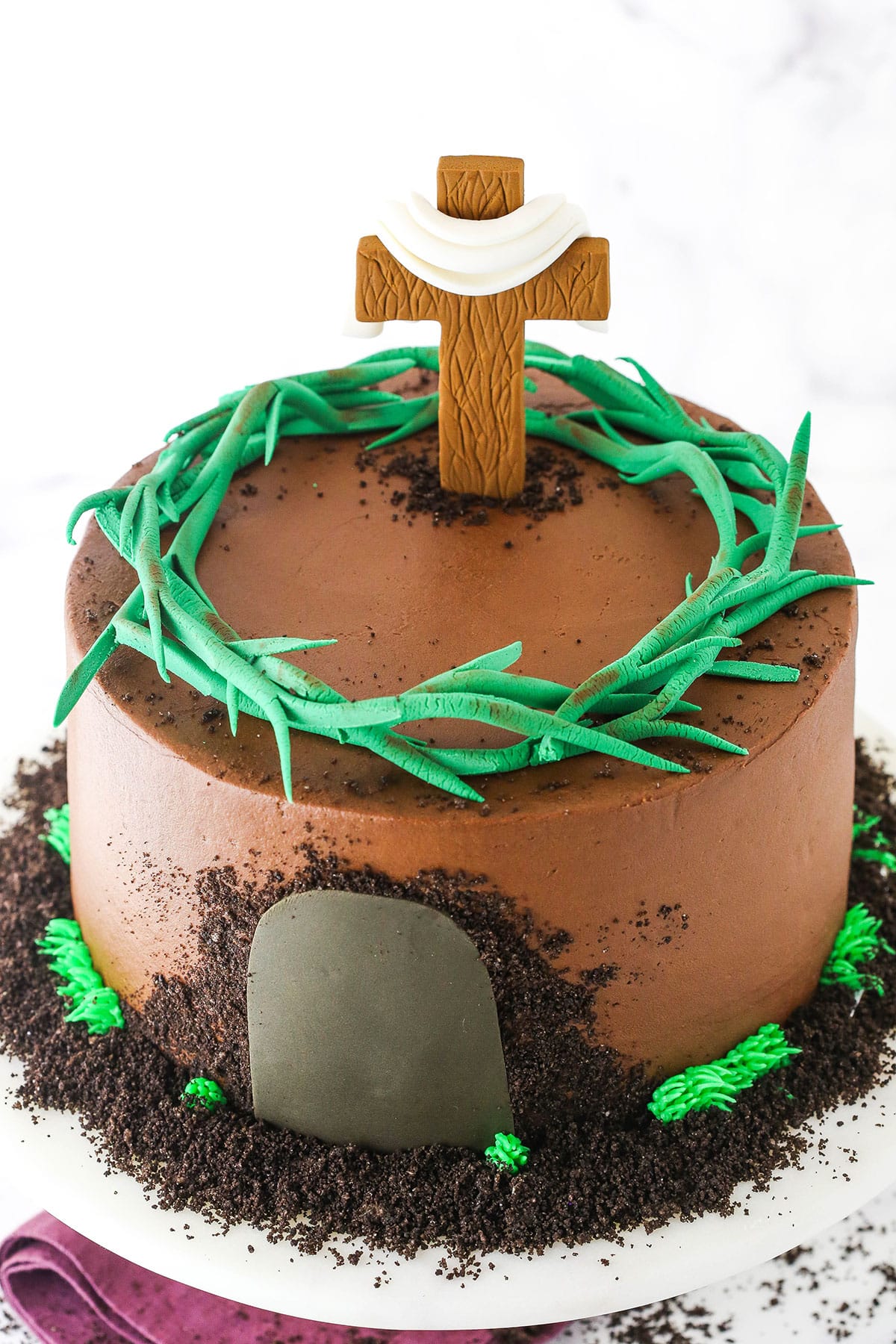 Easter Resurrection Cake
So this cake was kind of inspired by some similar things I've seen around Easter, like these Resurrection Rolls. While we often think of tasty candy and bunnies when we think of Easter, for our family the real reason for Easter is Christ's death and resurrection. It's the foundation of our faith. I loved the idea of making a cake that honored Christ's sacrifice and the amazing gift of salvation we were given. It's a great way to remind ourselves of what's important and if you make it with your kids – it's also a wonderful way to teach them about the meaning of Easter and get them involved.
And it doesn't hurt that after all that work is done, you get to eat some chocolate cake.
Speaking of the chocolate cake, it's a very tender and delicious chocolate cake. It's one I like to use when I'm leaving the center of the cake open like this. I've done something similar with my Chocolate Piñata Cake and then recently with my Pot of Gold Cake. After playing around with my different chocolate cake recipes, I decided that this one is the best – super tasty and yet it has a tight enough crumb to not fall apart with the center missing.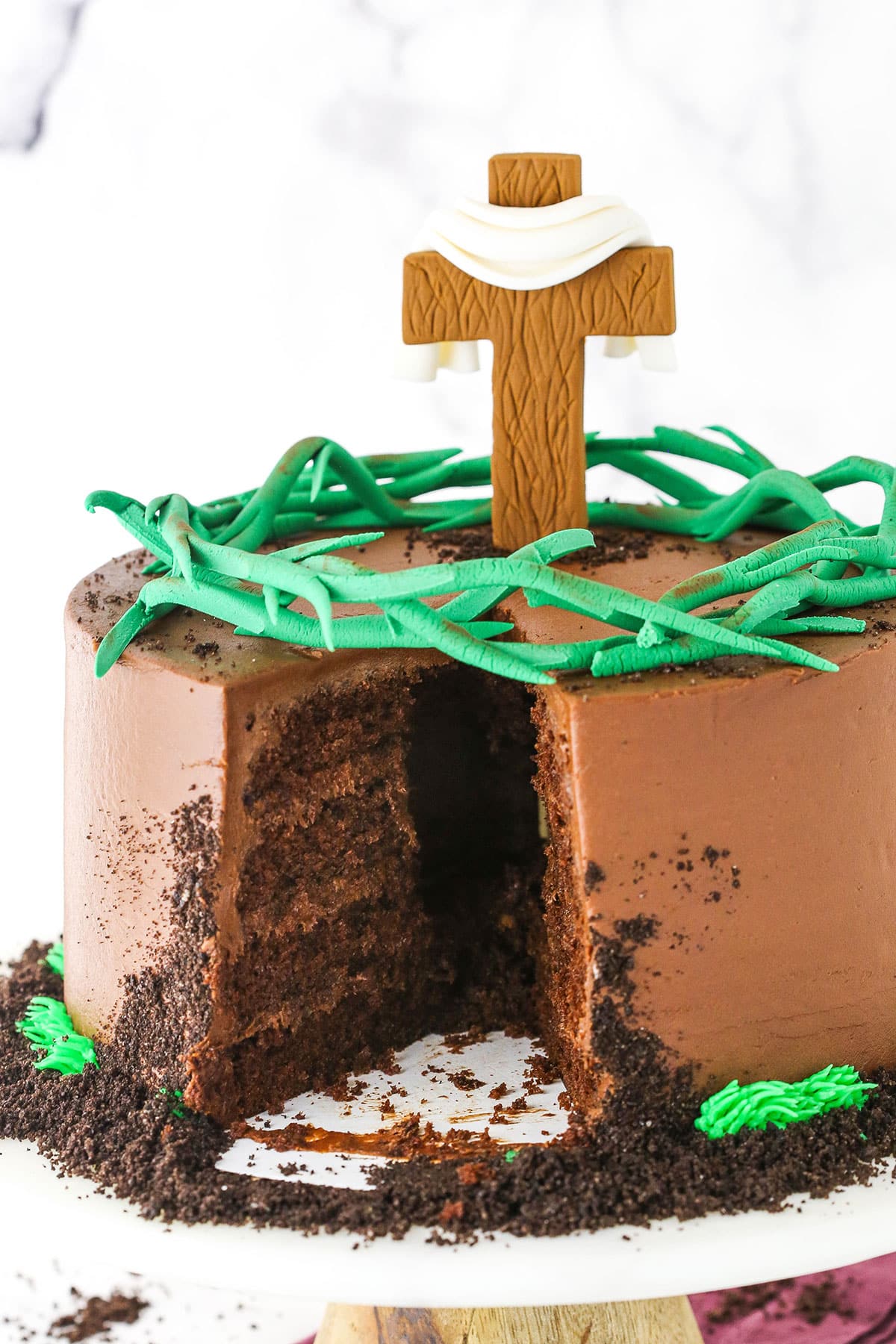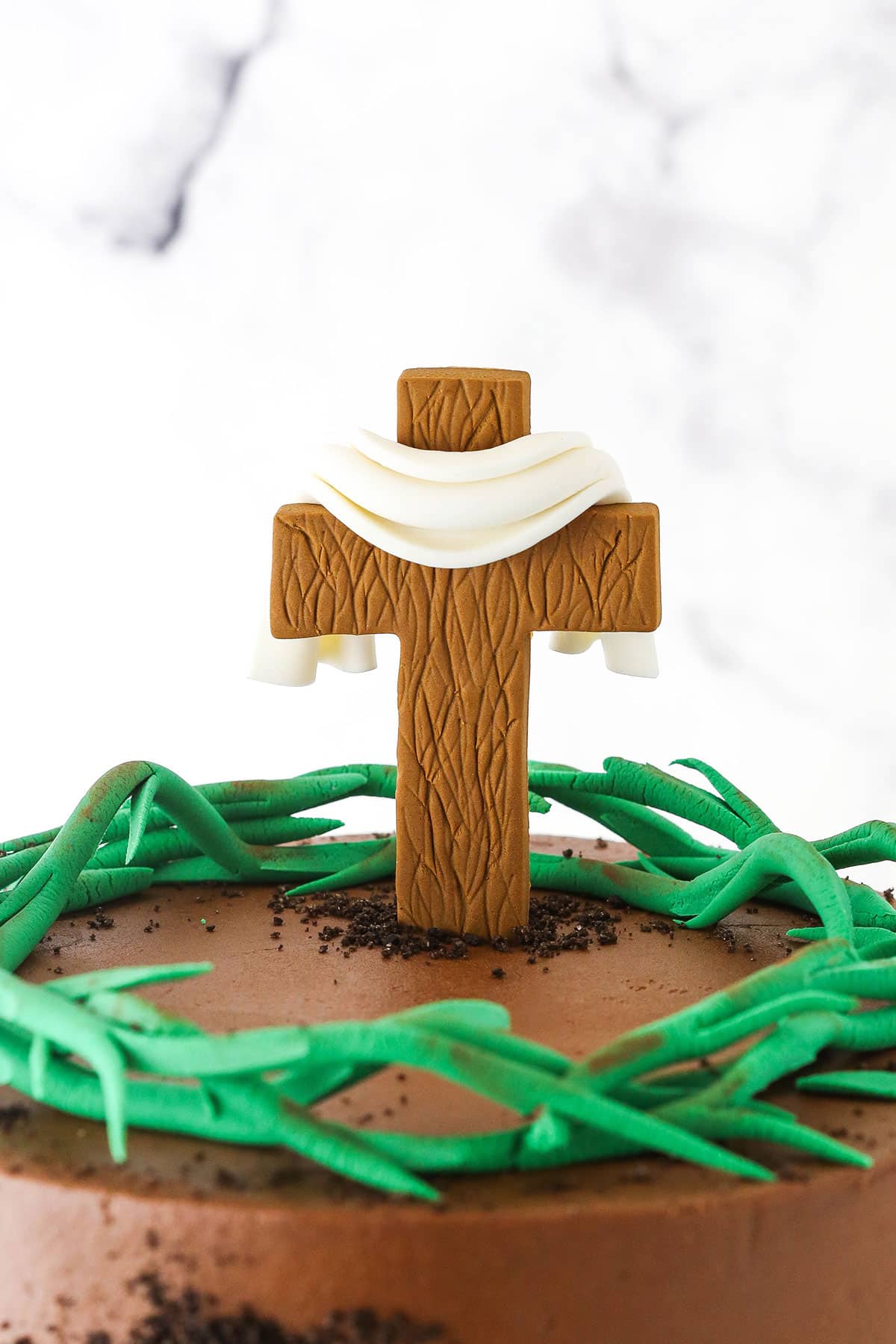 How to make a Resurrection Cake
The first thing you'll want to do to make this Resurrection Cake is make your fondant decorations for the top of the cake. They'll need a few days to dry out and harden, so definitely do those first.
The Cross
To make the cross, you'll need some brown fondant. Roll it out to about a quarter inch thick. You want it thick enough that you can put a skewer in it, but not so thick that it ends up super heavy.
You can cut out the cross by hand with a knife, or use the cookie cutter I used and bought on Amazon (link in recipe below). The cutter makes it super easy, but either way gets the job done.
Next, stick your skewer into the bottom part of the cross. I pressed my hand down on the fondant a little to keep things in place and then pressed the skewer in until it reached the piece of the cross that actually crosses.
Finally, use a toothpick to draw some wood grain lines into the cross and then let it dry and harden.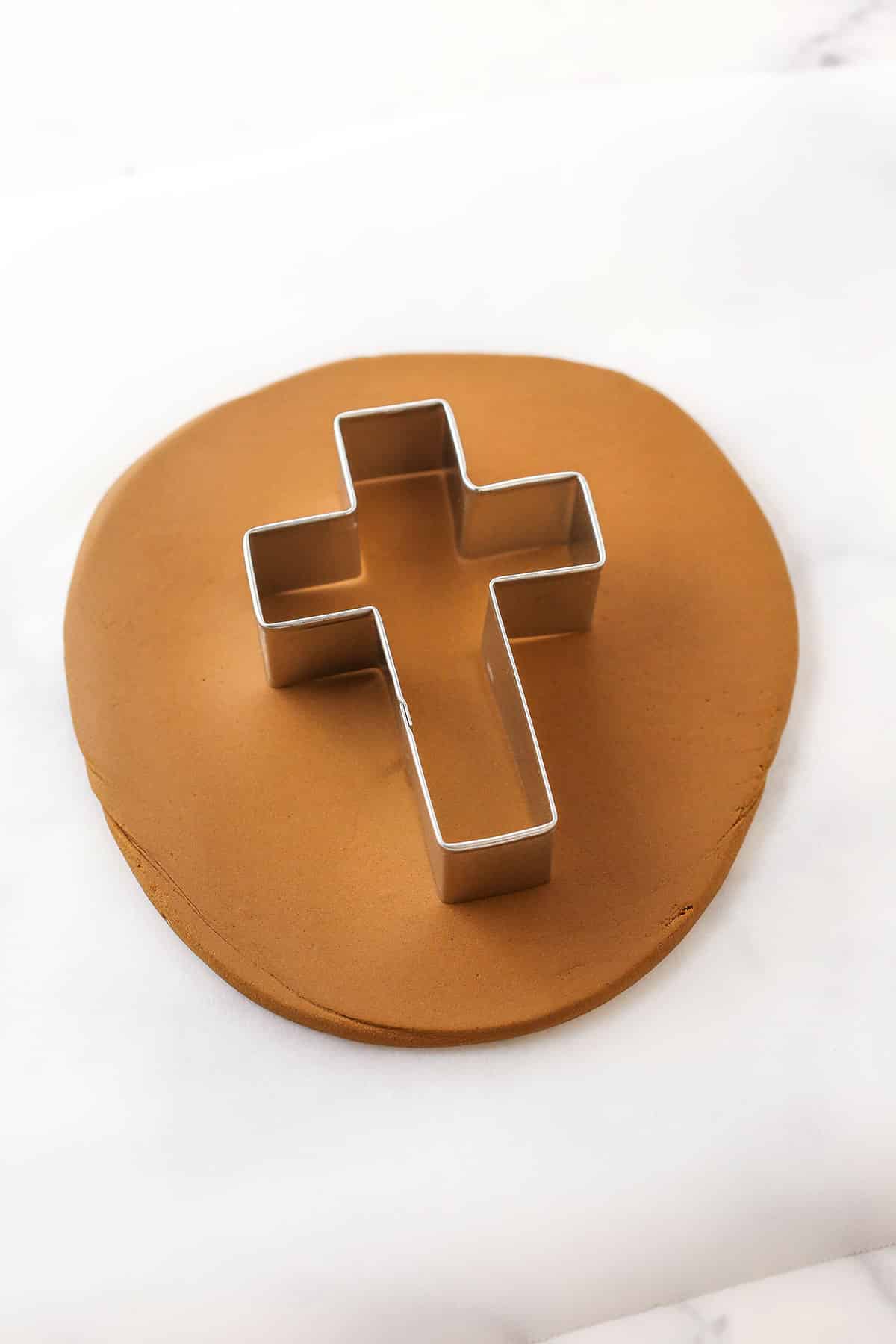 The Crown of Thorns
For the crown of thorns, I used green fondant. You'll want to trace your cake pan that you'll bake the cake in onto a piece of parchment paper to help use as a guide for the size of your crown.
Roll out the green fondant so it loops around the inside of your cake circle about 3 times. You want it rolled thick enough that you can cut some thorns out of it and it won't fall apart.
Next, use a sharp knife to cut the thorns. It might helps to straighten out your rolled rope that you made so that you can cut it more easily. I cut from one side, then the other and went back-and-forth.
After your thorns are cut, you'll want to wind it back into a crown. As you're doing that, add some rolled up pieces of paper towels in a few places to help give the crown some movement so it isn't just flat.
Let the crown dry and harden.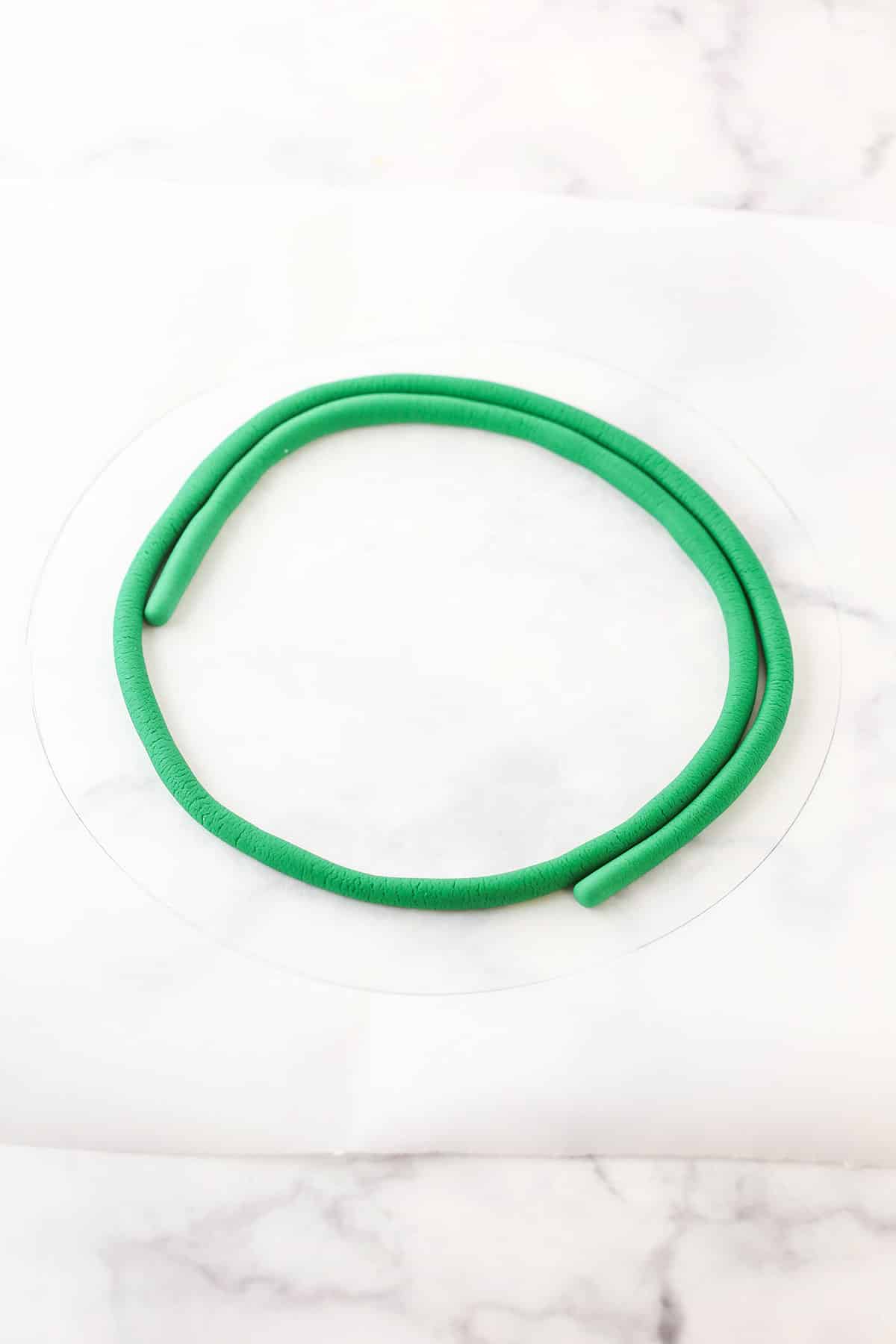 Chocolate Cake
When you're ready to put the cake together, make the chocolate cake.
After it's baked and cooled, you'll want to remove the centers of two of the four cake layers, which will create the "empty tomb" inside the cake.
To remove the center, I used a 3 inch biscuit cutter. Feel free to also just use a knife. Either way, you want to be sure to center the holes so that they line up inside the cake. I used a ruler to measure and make sure there was the same amount of space on all sides of the circle.
After your cake is layered together, you'll add the fondant door (which I just cut freehand), some Oreo crumbs to resemble dirt and a little grass. You'll want to add the fondant toppers you made shortly before serving the cake. The moisture from the cake will slowly soften your fondant decorations, so don't add them too soon.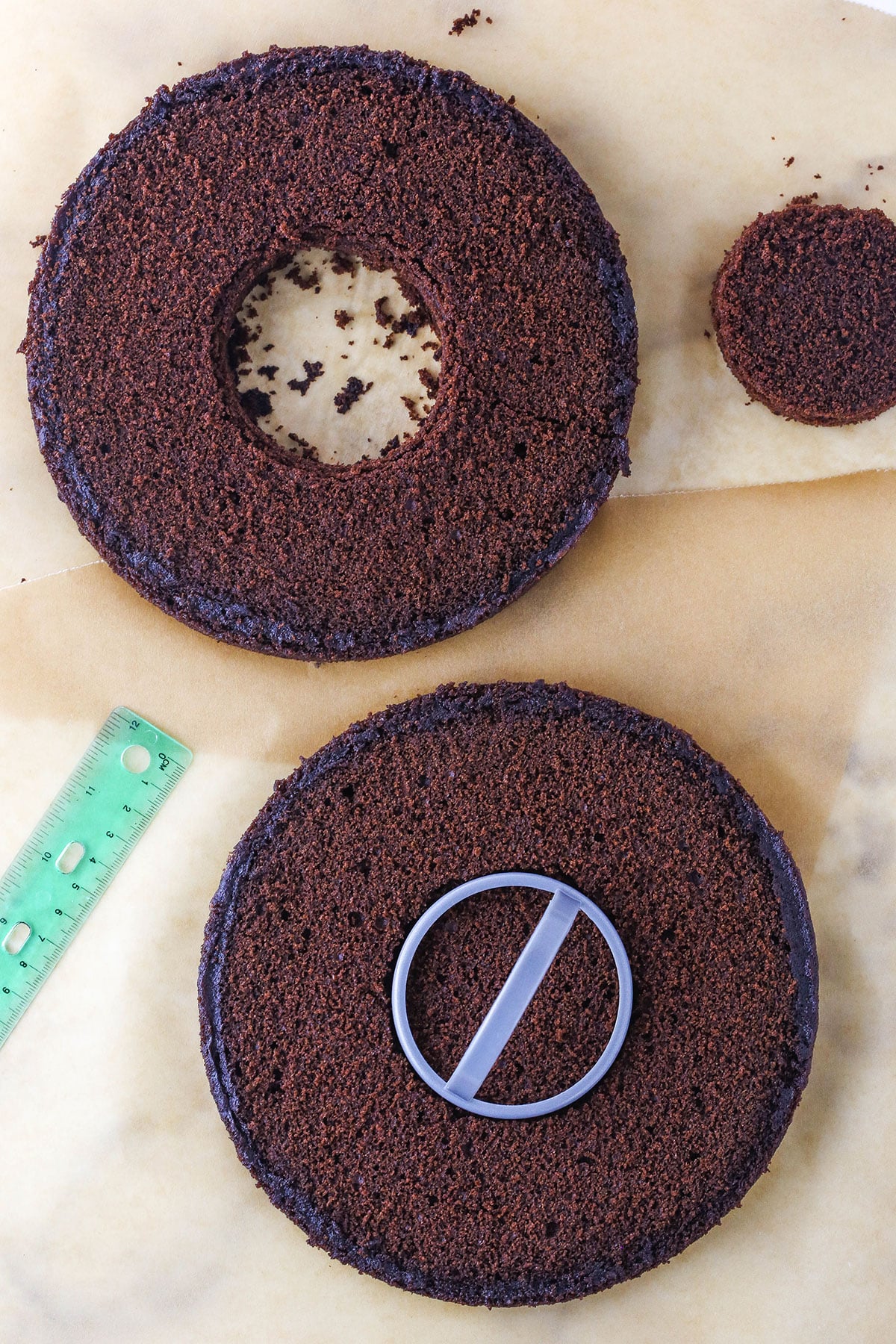 Special Easter Cake
I really love this Resurrection Cake. While I don't think I'm the most talented when it comes to fondant (I haven't really had much practice), I love the meaning behind it. It's hard to decide which part is most impactful for me, because it's all emotional if you really think about the meaning behind it.
To think of all that Jesus endured – it's gut wrenching and hard to read about (or watch in a movie). But it's also an amazing display of His love for us and His obedience to God. An incredible example to follow. There are so many amazing things in the details of the story of his death and resurrection. If interested, you can read more here.
I hope you enjoy this cake as much as I did and I hope you get a chance to enjoy it for Easter!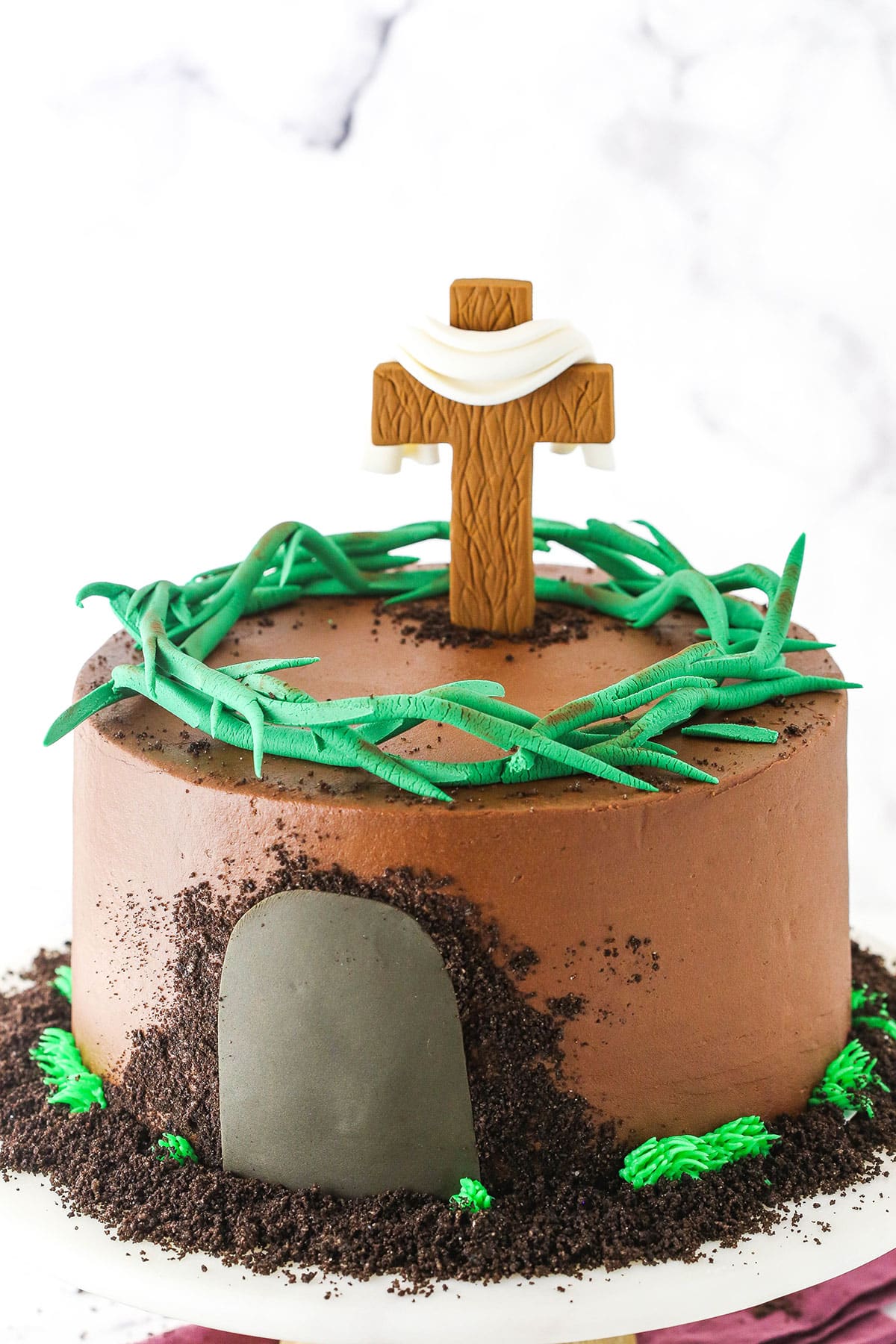 Print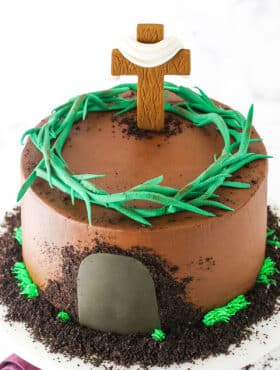 Recipe
Resurrection Cake
Author:

Prep Time:

3 hours 30 minutes

Cook Time:

18 minutes

Total Time:

3 hours 48 minutes

Yield:

12-14 slices

Category:

Dessert

Method:

Oven

Cuisine:

American
---
Description
This Resurrection Cake is perfect for celebrating Easter! The cake is decorated as a tomb, with a cross and crown of thorns on top. And when you cut into the tomb, it reveals that it's empty inside!
---
Ingredients
Decorations
Chocolate Cake
2 cups

(

260g

) all purpose flour

1 tsp

baking soda

1/2 tsp

salt

1 cup

(

224g

) unsalted butter

2 cups

(

414g

) sugar

4

large eggs

1 tsp

vanilla extract

3/4 cup

(180ml) warm water

3/4 cup

(

85g

) natural unsweetened cocoa powder

3/4 cup

(180ml) milk
Chocolate Frosting
2 1/2 cups

(

560g

) butter

9 cups

(

1035g

) powdered sugar

1 cup

(

114g

) natural unsweetened cocoa powder

2 tsp

vanilla extract

4

–

5

tbsp (60-75ml) water/cream

1 cup

Oreo crumbs
---
Instructions
1. The first thing you'll want to do is make your fondant pieces so that they have time to dry out and firm up. I'd suggest making them 3-5 days in advance. To start, roll the brown fondant out to about 1/4 inch thickness and cut out a cross. You could do it by hand, or use a cross cookie cutter. I used the 3.5 inch cookie cutter in this cross cutter set.
2. Apply gentle, but firm pressure to the bottom of the cross and gently push the skewer in as far as it will easily go.
3. Use a toothpick to create wood grain lines in the cross, then set it aside to dry out.
4. To make the crown of thorns, trace the cake pan that you'll be using onto a piece of parchment paper to use as a guide.
5. Roll out some green fondant into a long rope that will loop around the inside of the cake circle you drew about 3 times. It can hard to roll something out that long, so you can make a few pieces and join them together, if needed.
6. Use a sharp knife to gently cut away pieces of the side of the rope, creating "thorns". I alternated cutting back and forth from one side to the other. You may need to straighten out your rope in order to cut all the way around.
7. Next, you'll want to re-loop your crown. Be sure to use your parchment circle so that you know your crown will fit properly on your cake. As you loop it around (be very careful, because it will come apart easily. If it does, just pinch it back together), use little pieces of paper towels to prop up some areas, so that the crown isn't just flat. You want the rope/thorn to look like it kind of wraps around itself a little as you loop it. Let the crown dry out.
8. Preheat the oven to 350°F (176°C). Line the bottom of four 8-inch (20cm) cake pans with parchment paper and grease the sides.
9. Combine flour, baking soda and salt in a medium sized bowl. Set aside.
10. Cream butter and sugar until light in color and fluffy, about 3-4 minutes. Don't skimp on creaming time.
11. Add the eggs one at a time, beating just until blended after each.
12. In another medium sized bowl, combine the cocoa, vanilla and water. Stir until combined, then add to cake batter and mix until well combined.
13. Alternate adding the flour mixture and milk to the batter. Begin by adding half of the dry mix, then mix well. Add the milk and mix well, scraping down the sides as needed. Add the remaining flour mixture and mix until well combined and smooth. Don't over mix.
14. Divide batter between the cake pans. Bake for 18-22 minutes, or until a toothpick inserted comes out with a few crumbs.
15. Remove cakes from the oven and allow to cool for 2-3 minutes, then remove from pans to a cooling rack to finish cooling.
16. To make the frosting, beat the butter until smooth.
17. Slowly add 4 cups (460g) of powdered sugar and mix until smooth.
18. Add the vanilla extract and half of the water or cream and mix until smooth.
19. Slowly the other 5 cups (575g) of powdered sugar and mix until smooth. Add some additional water or milk, if needed.
20. Set aside about 1/3 cup of the frosting (it should not have any cocoa added yet). You'll use this for the green "grass".
21. Add the cocoa powder and mix until well combined.
22. Add the remaining water or milk until the frosting is the right consistency.
23. To build the cake, you'll need something to be able to cut through the cake layers with. I used a 3 inch biscuit cutter, but a round cookie cutter, something similar, or a sharp knife would be fine too. Use your cutter to cut a hole all the way through two of the cake layers. Cut the hole to be in the center of the cake.
24. Place one of the full cake layers onto a cake plate or cardboard cake circle and spread about 1 cup of frosting evenly onto the top of the cake.
25. Place the next cake layer on top – one of the ones with the center removed – then add another even layer of frosting. I used about 1/2 cup of frosting.
Add the second layer with the center removed and another layer of frosting.
26. Add the final layer of cake on top, then frost the outside of the cake. Feel free to use my tutorial for frosting a smooth cake.
27. Use a little bit of the remaining brown fondant and add a touch of black gel icing color to it (if you like) and then roll it out to cut out a door. Use a little water brushed onto the back of the fondant door to attach it to the cake. Press some Oreo crumbs onto the cake, around the outside of the door to resemble dirt.
28. Grab the white frosting you set aside earlier and color it with green gel icing color. Add any additional cream or water, if needed for consistency.
29. Pipe the "grass" around the bottom of the cake using the Wilton tip 233.
30. Add additional Oreo crumbs around the bottom of the cake to resemble dirt.
31. Place the fondant decorations on the top of the cake. It's best to add them shortly before serving the cake, as the moisture from the cake can cause them to soften up. I used a little brown color dust to brush onto parts of the crown to make it look a little "dirty" once it was on top of the cake. Try to set the cross back a little on top of the cake, so that you press the skewer into a part of the cake that isn't hollow – it'll give it more support to stand up.
32. Roll out some white fondant into a thin rectangle. You want it long enough to be able to drape it over the cross and have it hang down a bit. It should be wide enough to fold a couple of times. Create the fold in the middle first, the create a fold on each side. Drape the "fabric" over the cross.
33. Cake is best if stored well covered and eaten within 2-3 days.
---
Nutrition
Serving Size:

1 slice

Calories:

963

Sugar:

107.6 g

Sodium:

233.8 mg

Fat:

50.2 g

Carbohydrates:

130.7 g

Protein:

6.9 g

Cholesterol:

175.4 mg
Keywords: resurrection cake, easter cake, easter cake ideas, easter desserts, easter dessert ideas
Categories
This post may contain affiliate sales links. Please read my disclosure policy.