No Bake Oatmeal Cream Pie Cheesecake
This No Bake Oatmeal Cream Pie Cheesecake is an easy, delicious treat that makes use of one of my favorite cookies – the oatmeal cream pie! The combination of the soft, chewy cookie with the smooth, creamy cheesecake makes this dessert a must make.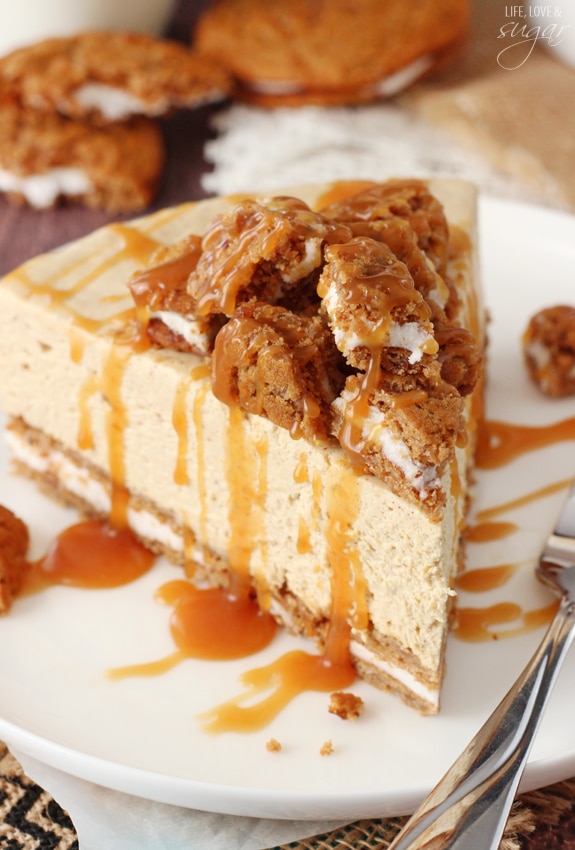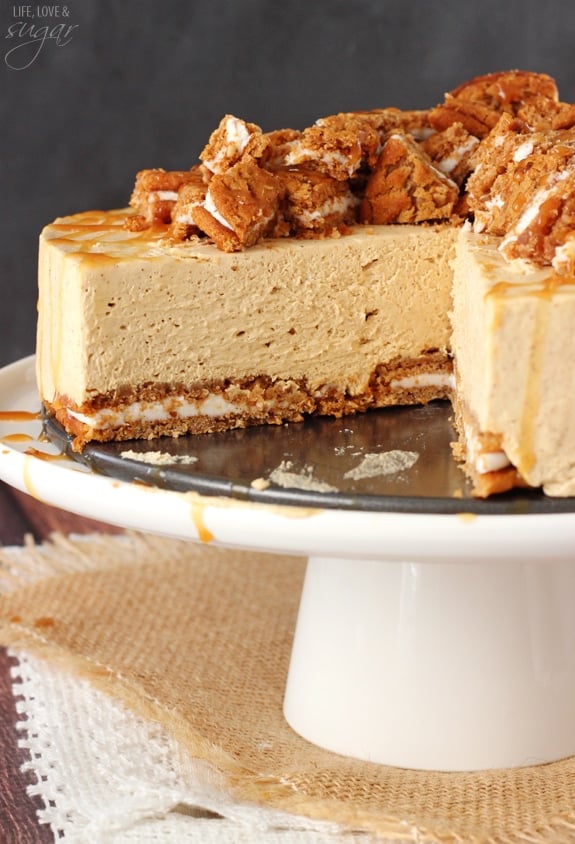 So this past Saturday I went for dessert with some friends to celebrate a birthday. We went to a restaurant that has one of the best bakeries around here. They have 4 or 5 cases full of the biggest, most wonderful cakes, pastries, cupcakes and more. I've never been disappointed by a dessert there. In fact, it was their millionaire cake with layers of flourless chocolate cake, NY cheesecake and chocolate mousse than inspired my Funfetti Millionaire Cake. To die for.
Deciding what to get is always the hardest part. A friend and I went and browsed the cases so that we could decide. I am always indecisive when it comes to so many options that all look wonderful. I'm not known for holding back with dessert either. I not only love eating dessert, I also love seeing how different bakeries make different things.
In the end, someone got the Oreo cake so that we could taste it and I got 2 other kinds of cake, a napoleon and a cupcake. 🙂 See? I can't get just one. It was delicious. And of course I shared with everyone. We all passed them around so everyone could try them. That's the best way to do dessert, don't you agree? And now I'm already inspired on some new recipes.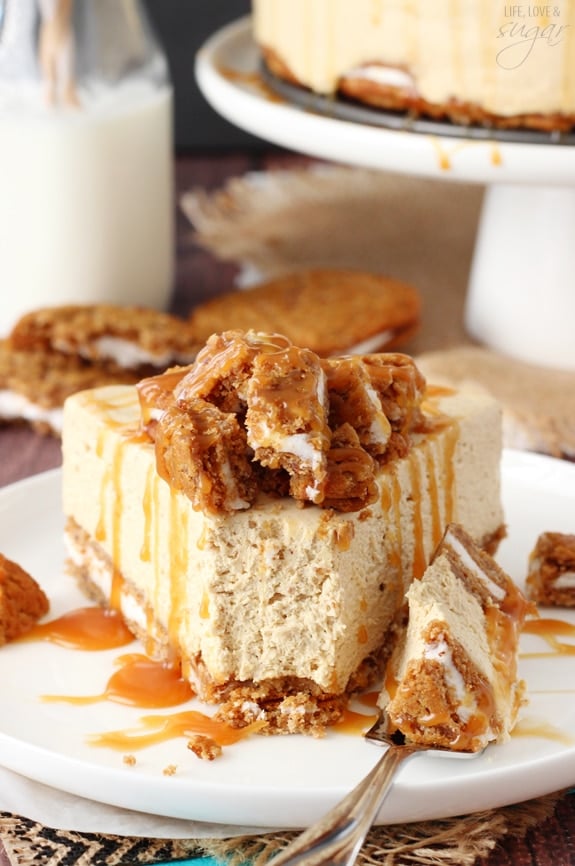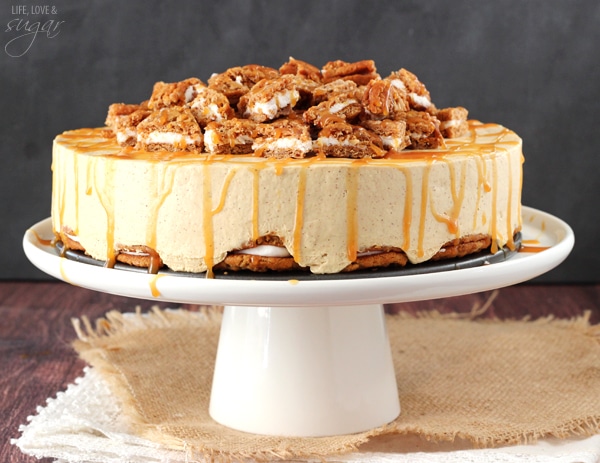 But before I get to those, I have to share this cheesecake with you. I've been dying to post it! Oatmeal Cream Pies are a cookie I have loved since I was kid. I really can't even buy them unless I know they are going into a recipe or I will eat the entire box way too quickly. Sometimes I get a craving and buy an individual one though. And sort of like an Oreo, the more filling in the middle of the cookies, the better. I always eat the edges first, then the center because there's more filling there. 🙂
Anywho.
I didn't want to mess with the amazing-ness that is the filling of the cookie, so rather than crush them up and try to turn them into a more traditional cheesecake crust I decided to leave them whole. I love the final result!
And the no bake cheesecake on top is filled with brown sugar, cinnamon and some ginger to give hints of the flavor of the actual cookie. To die for, I tell you! And even easier to make than your average cheesecake since the crust is simplified and the cheesecake no bake. Once everything is put together, the hardest part is waiting for it to set. It's oatmeal cream pie heaven!
I mean really, why wouldn't you make this cheesecake?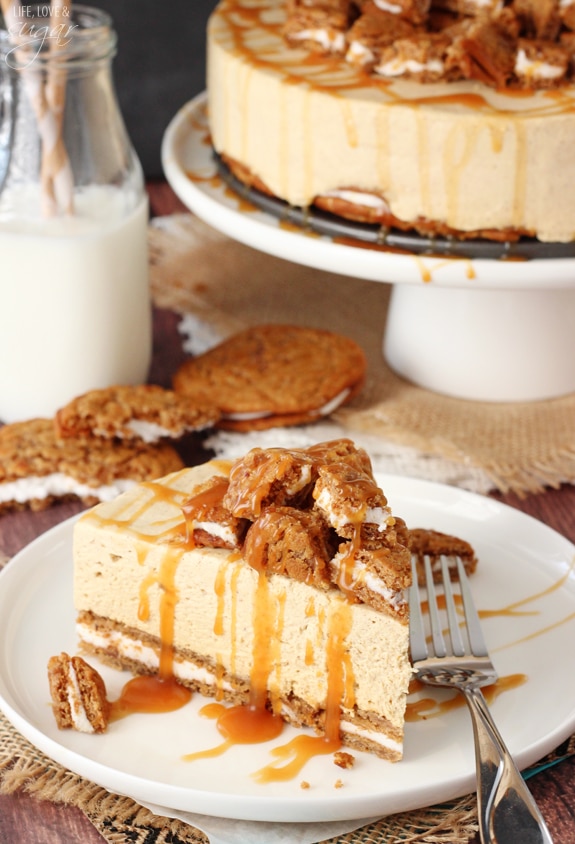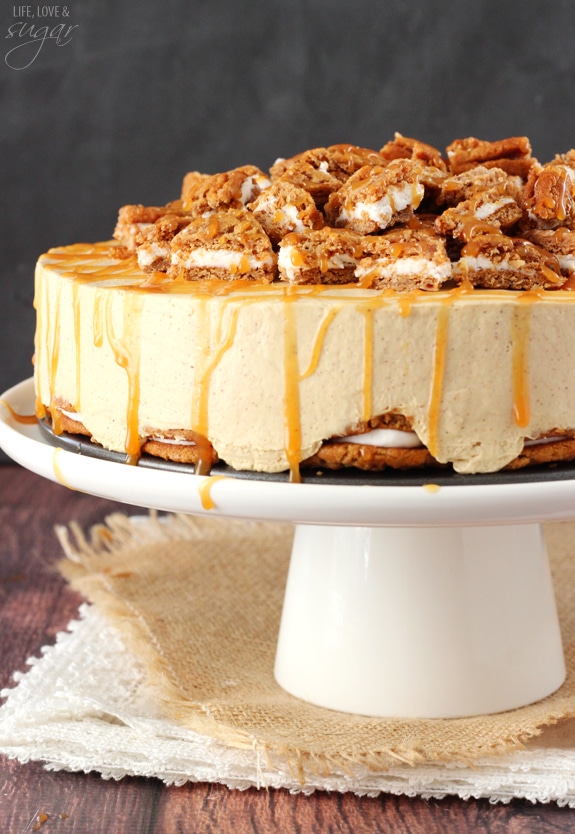 You might also like:
Oatmeal Cream Pie Gooey Bars
Oatmeal Chocolate Chip Cookie Ice Cream Cake
Oatmeal Chocolate Chip Cookie Ice Cream
Oatmeal Chocolate Chip Cookies
Oatmeal Cream Pie Ice Cream Pie
No Bake Oatmeal Cream Pie Cheesecake
Yield:

14

-

16

Slices

1

x
Category:

Dessert

Method:

No Bake

Cuisine:

American
Ingredients
15

oatmeal cream pies, divided

24 oz

cream cheese, room temperature

1/2 cup

brown sugar

1 tsp

vanilla extract

1/4 cup

molasses

1 1/2 tsp

cinnamon

1/2 tsp

ginger

1/4 tsp

allspice

8 oz

Cool Whip (or homemade whipped cream)
Caramel sauce
Instructions
1. Grease the bottom and sides of a 9 inch springform pan.
2. Place a layer of oatmeal cream pies in the bottom of the pan to form the "crust".
3. In a large mixer bowl mix cream cheese, brown sugar, vanilla, and molasses together until smooth and well combined.
Add spices and mix until combined.
4. Gently fold in Cool Whip (or homemade whipped cream).
6. Spread filling evenly over the cookie crust and smooth the top.
7. Refrigerate for about 4-6 hours or until firm.
8. Remove cheesecake from springform pan and top with remaining oatmeal cream pies, chopped, and caramel sauce. Refrigerate until ready to serve.
Notes
If using homemade whipped cream instead of Cool Whip, I suggest using about 1 1/4 cups heavy whipping cream and 1/2 cup powdered sugar. For instructions, click here.
Enjoy!