These Mini Tiramisu Trifles have layers of mascarpone cheese, ladyfingers and espresso. They're super easy to make and are a fun twist on one of my favorite Italian desserts – tiramisu!
Looking for a classic Tiramisu? Check out my Easy Tiramisu Recipe! I also have dozens of irresistible trifle recipes for you to try!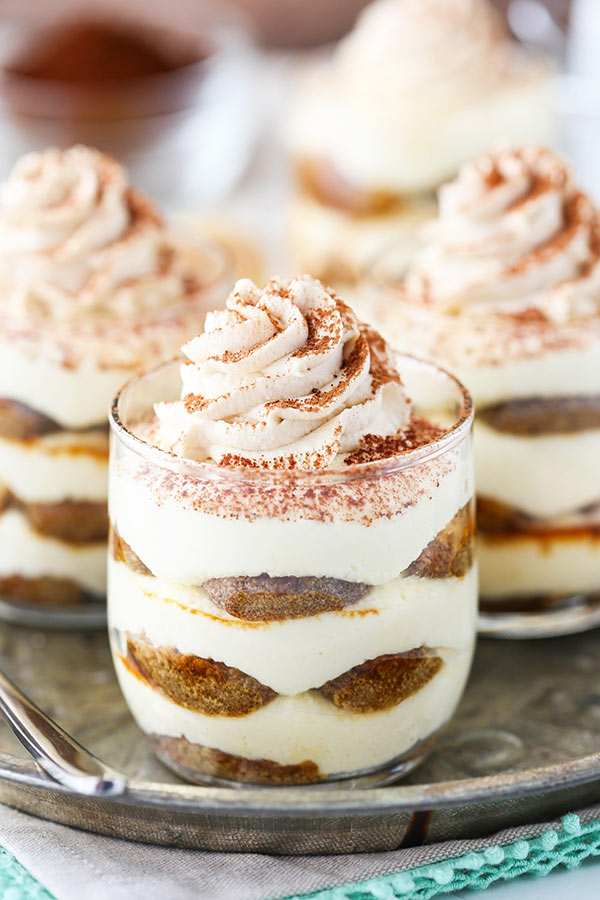 Mini Tiramisu Trifles
So winter is not my favorite. We don't really have the worst winters in the South as far as cold, but the lack of sunlight and abundance of rain and clouds is not my fave. We've had very few days with nice sunlight in the last couple of months, which makes photo taking more complicated. I had no idea when we bought our home 6 years ago that sunlight would be my best friend. Fortunately we've always been lovers of big windows and natural light so when it is sunny, I have plenty of places to chase the sun around the house. 🙂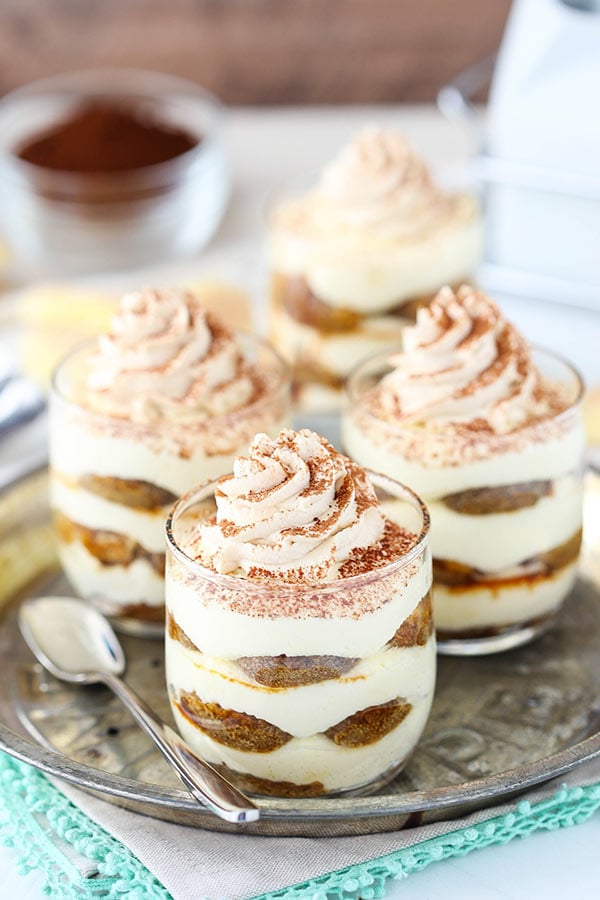 In December we were actually considering moving to a new home not too far away. Same general area, but with more office space for me. The equipment I have for this blog just seems to grow, especially as I work to create more video content (and stock up on cake stands 😉 ). The biggest challenge in finding a new home was finding a similar amount of windows and sunlight, as well as a home that faced the general direction of the sun. Most homes we looked at were eliminated purely because of sunlight and direction. So ridiculous, right? Part of the reason we didn't move forward with a house was that the home we loved and would have build didn't have a good lot option with good sunlight. We could either have the sunlight I wanted, or the lot that would really be a better purchase.
The whole thing made me realize just how perfect our house is set up for good light. I love my windows! They are exactly where I need them. 🙂 I guess we'll stay put and I'll just take over another room – ha! After all, I need space so I can make you trifles like these!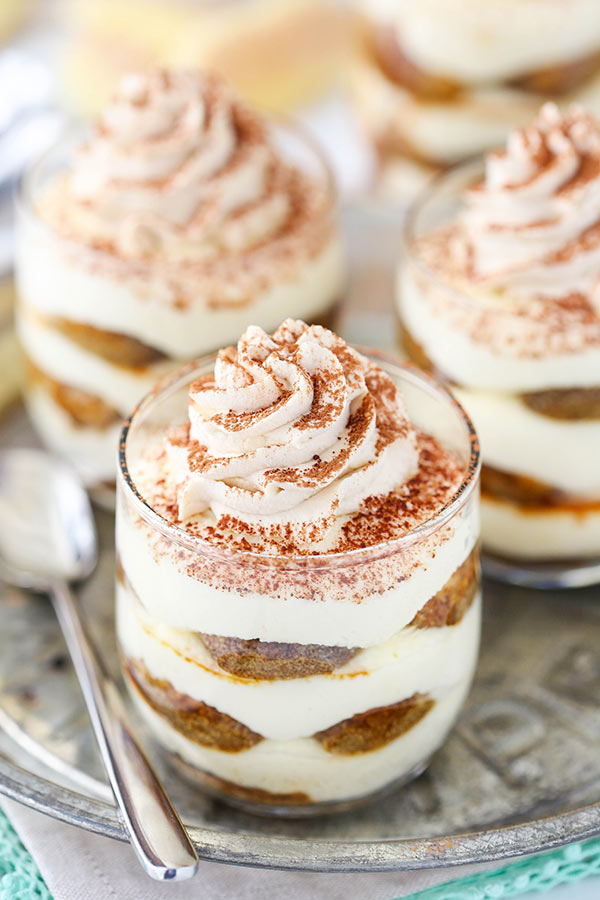 How to Make Mini Tiramisu Trifles
These trifles are super easy to make and even easier to eat. The hard part is not eating them all yourself in one sitting.
The mascarpone layer is just a few ingredients. A little sugar is mixed into the mascarpone to sweeten it up a bit. I used my mixer, but mascarpone cheese is generally fairly soft, even when cold. It's pretty easy to mix, so just combine the cheese and sugar however you prefer. Be sure not to over mix them though, as mascarpone cheese can break down and become really soft and almost watery when over mixed. Added to the mascarpone cheese is some whipped cream, which lightens in up perfectly.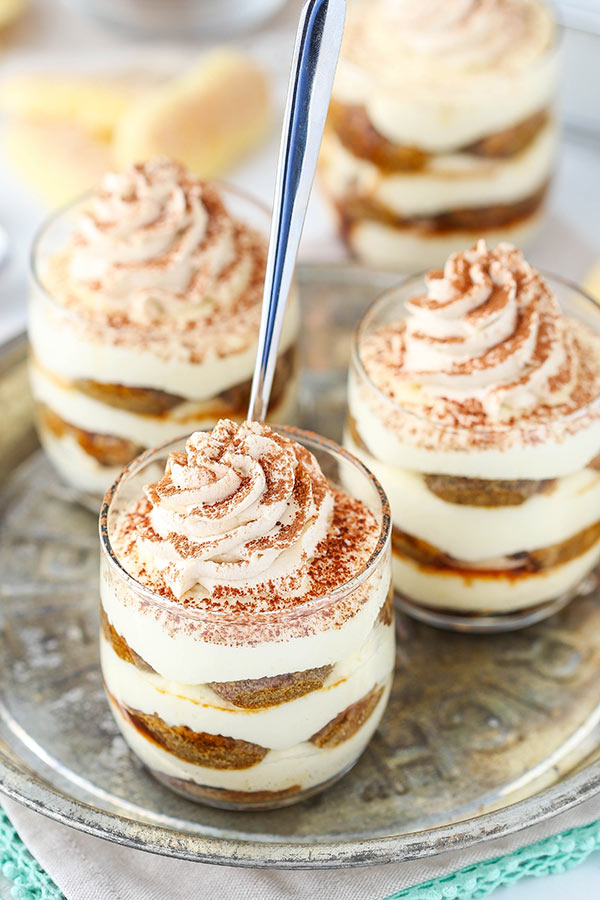 For the espresso layer, dissolve some espresso powder in hot water, along with a little sugar. Typically I use Kahlua, but decided to switch it up this time and just go with espresso. The biggest difference between using one or the other is that Kahlua naturally is sweeter. Espresso on its own is quite bitter, so don't leave out the sugar thinking it's a great way to reduce the sugar and sweetness in the recipe – unless you are really a fan of bitter. The sugar is just enough to sweeten the espresso and make it enjoyable in a dessert. 🙂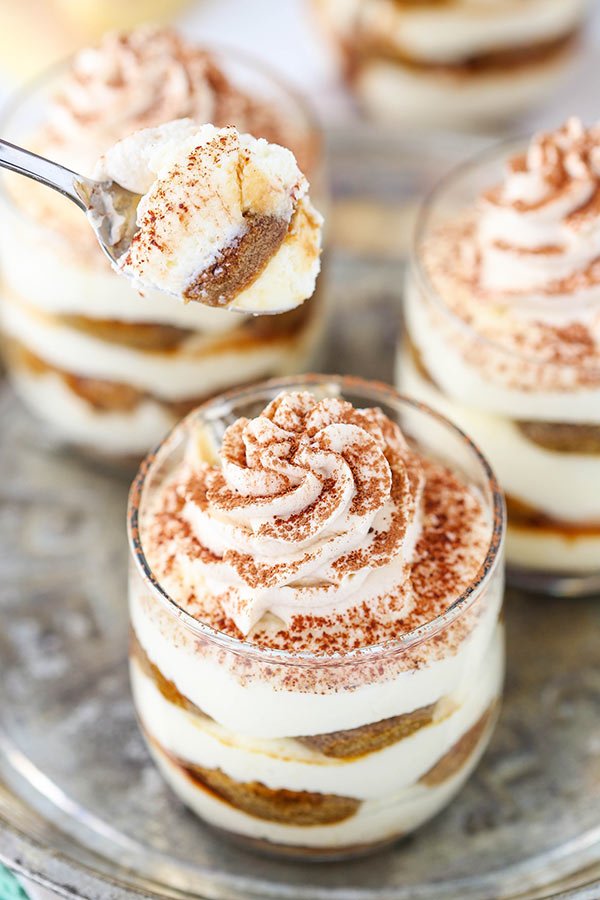 The ladyfingers I used are the softer ones you typically find at a grocery store. I love the more traditional firm ladyfingers, but I wanted these trifles to be a little simpler. With the firm ladyfingers, they're usually thicker and take longer to soften. The ones I used this time make more manageable (less thick) layers and you can eat them more quickly because there's no wait time for softening. Score!
The trifles are topped with some whipped cream and a sprinkle of cocoa. I did use Kahlua in the whipped cream (I just couldn't resist!) but you could swap it out for a little vanilla extract or something if you want. Either way, these trifles are light, easy to make, delicious and perfect for sharing!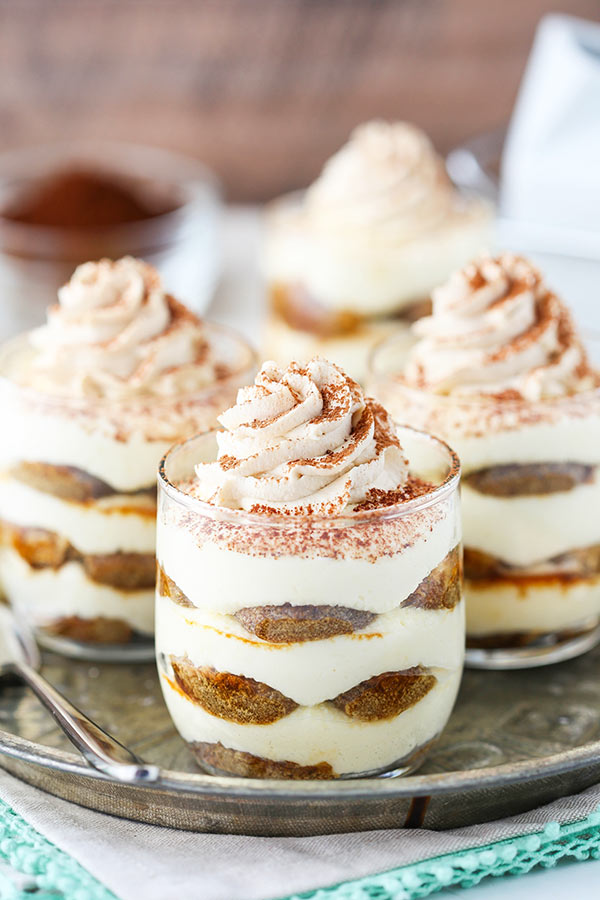 Read transcript
You might also like:
Pumpkin Tiramisu Layer Cake
Oreo Brookie Tiramisu
No Bake Tiramisu Cheesecake
Tiramisu Cupcakes
Classic Tiramisu
Easy Tiramisu Poke Cake
Print
Recipe
Mini Tiramisu Trifles
Author:

Prep Time:

30 minutes

Total Time:

30 minutes

Yield:

5-6 Mini Trifles

Category:

Dessert

Method:

No Bake

Cuisine:

American
---
Description
Mini Tiramisu Trifles with a layer of mascarpone cheese, ladyfingers and espresso! A delicious, easy & fun way to enjoy tiramisu & trifle at the same time!
---
Ingredients
MASCARPONE FILLING
20 oz

(

565g

) mascarpone cheese

3 tbsp

(

39g

) sugar

1 cup

(240ml) heavy whipping cream, cold

1/2 cup

(

58g

) powdered sugar

1 tsp

vanilla extract
ESPRESSO MIXTURE
3/4 cup

(180ml) hot water

3 tbsp

(45ml) instant espresso powder

3 tbsp

(

39g

) sugar

36

lady fingers*
WHIPPED CREAM
1/2 cup

(120ml) heavy whipping cream

1/4 cup

(

29g

) powdered sugar

2 tbsp

(30ml) kahlua
---
Instructions
1. Mix mascarpone cheese and sugar together until combined. Do not over mix or the mascarpone cheese can thin out. Set aside.
2. In another bowl, add the heavy whipping cream, powdered sugar and vanilla extract and whip until stiff peaks form.
3. Carefully fold the whipped cream into the mascarpone cheese mixture. Set aside.
4. In another bowl, combine the hot water, espresso powder and sugar.
5. To layer the trifles, dip the ladyfingers into the espresso mixture one at a time and place into the bottom of the trifle cup. Use two to three ladyfingers and break into pieces as needed so they fit in the cup and create a full layer.
6. Pipe or spoon a layer of mascarpone filling on top of the ladyfingers.
7. Repeat another layer of ladyfingers and mascarpone filling.
8. After completing the trifles, make the whipped cream.
9. Add the heavy whipping cream, powdered sugar and kahlua to a large mixer bowl and whip until stiff peaks form.
10. Pipe a swirl of whipped cream on top of each trifle, then sprinkle with cocoa powder, if desired.
11. Refrigerate trifles until ready to serve. Trifles are best for 2-3 days.
* I used the softer more cake-like ladyfingers in these trifles, as opposed to the more traditional hard ladyfingers.
---
Keywords: tiramisu trifle, mini tiramisu, mini trifle recipe, tiramisu dessert, mini trifles
Enjoy!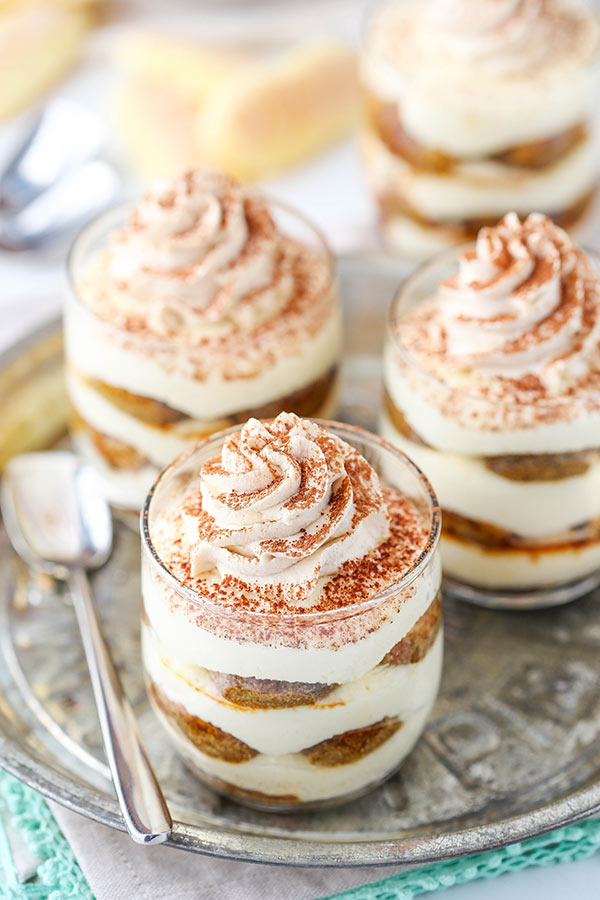 This post may contain affiliate sales links. Please read my disclosure policy.