Creamy homemade Tiramisu with layers of espresso soaked Ladyfinger cookies, fluffy mascarpone cream and plenty of chocolate. Try this easy Tiramisu recipe and fall in love with a timeless Italian dessert!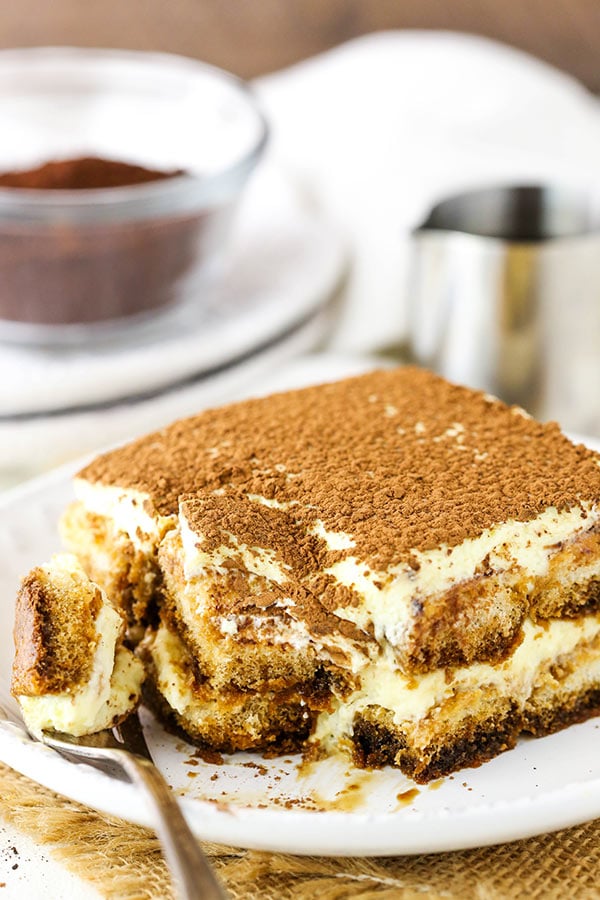 An Easy Homemade Tiramisu Recipe
Prior to making homemade tiramisu, I'd never considered myself a fan. An old friend loved it, so I'd share it with her when we were out at a restaurant, but it had always seemed a little "blah" to me. Honestly, even these days I tend to find it disappointing when I get it out somewhere.
Fortunately I had a request for it a while back and made it myself for the first time! This recipe is an update of a version I posted back in 2013 and it's still my favorite way to eat tiramisu! Homemade definitely tends to be better when it comes to dessert and this tiramisu is proof!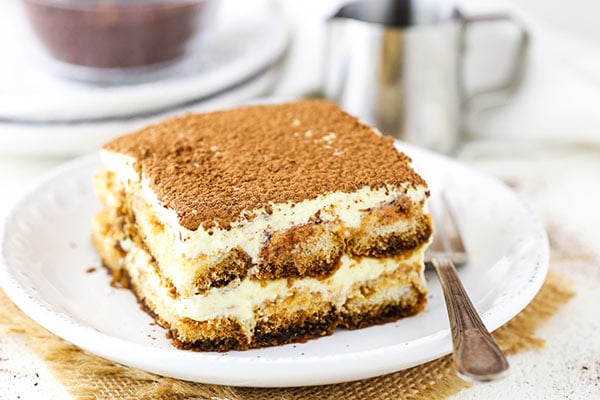 What Is Tiramisu?
Tiramisu is a classic Italian no-bake dessert. It's made with Ladyfinger cookies that are dipped in a mixture of espresso + liqueur, then layered with mascarpone cream and grated chocolate or cocoa powder.
What does Tiramisu mean? The word "Tiramisu" means "carry me up" or "pick me up," which is a reference to the caffeinated shot of espresso in the dessert. Sometimes it is also called a Tuscan Trifle. Tiramisu is pronounced tee-ruh-mee-soo.
What does Tiramisu taste like? Each bite of tiramisu tastes like the perfect mix of cream, coffee and chocolate. It's hard to resist!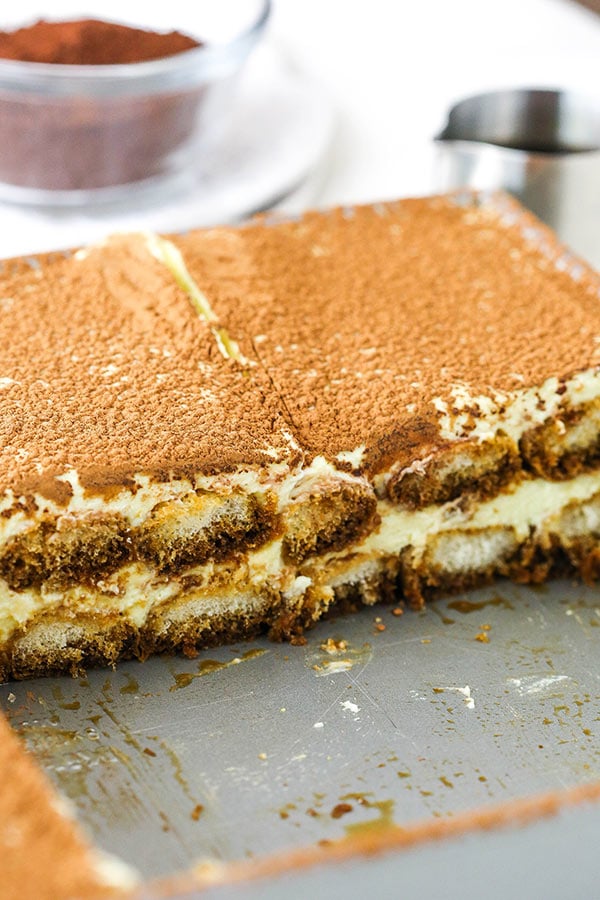 Tiramisu Ingredients
You only need a few ingredients to make tiramisu. Here's what you'll need:
Eggs

Sugar

Mascarpone cheese

– This is similar to cream cheese, except it is made with whole cream instead of milk. 

Heavy whipping cream

Ladyfingers – If you can't find these at your local market, you can buy authentic Italian lady fingers on Amazon. Get real deal ladyfingers (the firm ones, not the soft ones). These are also called Savoidari. 

Hot water

Espresso powder

– This adds the signature coffee flavor to tiramisu.

Kahlua

Cocoa powder
How To Make Tiramisu from Scratch
Tiramisu is where I fell in love with mascarpone cheese have since used it in so many desserts and toppings, including my Stabilized Mascarpone Whipped Cream. Yum!
And even though tiramisu may seem difficult to make, it really isn't. Bonus – it's no bake. Sure you use your stove, but not for long.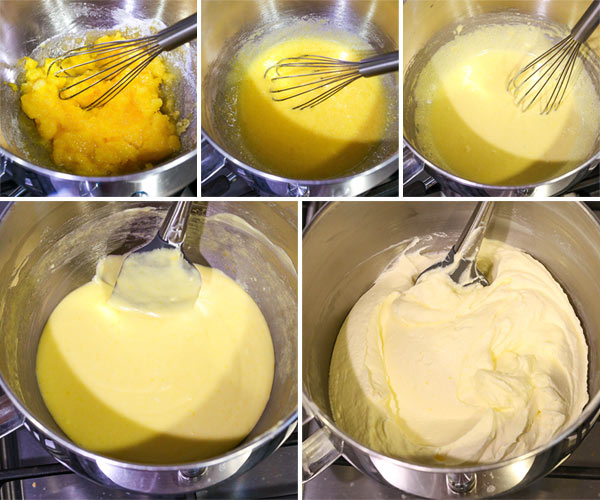 Step 1: Make Your Mascarpone Cheese and Egg Mixture
To get started, you'll combine the egg yolks and sugar in the top of a double boiler (or in your metal mixer bowl over the top of some simmering water, as I use). When you first whisk the eggs and sugar together, it'll be chunky and funky, but as it heats up it'll thin out.
Continue whisking while the mixture heats up and cooks. You don't want to scramble your eggs, so keep it moving and keep an eye on it. Cook the mixture for about 5-8 minutes or until the mixture grows in volume, thickens and turns a pale yellow. You want the sugar to melt, but if it's still a little gritty, that's ok. It will smooth out as you go on.
Set the egg mixture aside to cool until they are just a little warmer than room temperature. Add the mascarpone cheese and gently combine it all using a folding motion until well combined.
Step 2: Fold In Whipped Cream
Next you'll add the whipped cream. (You can see my tutorial on how to make homemade whipped cream here.) Fold it gently into the mascarpone/egg mixture and then set that aside. If you're anything like me, you'll have tasted it about 5 times before setting it aside because it's basically the best stuff EVER! You could just eat it with a spoon and be perfectly happy!
Step 3: Make a Simple Espresso Mixture
For the espresso mixture, I like to add some Kahlua. I love the flavor it adds, but feel free to turn it down a notch, or leave it out completely. I added a note about how to adjust.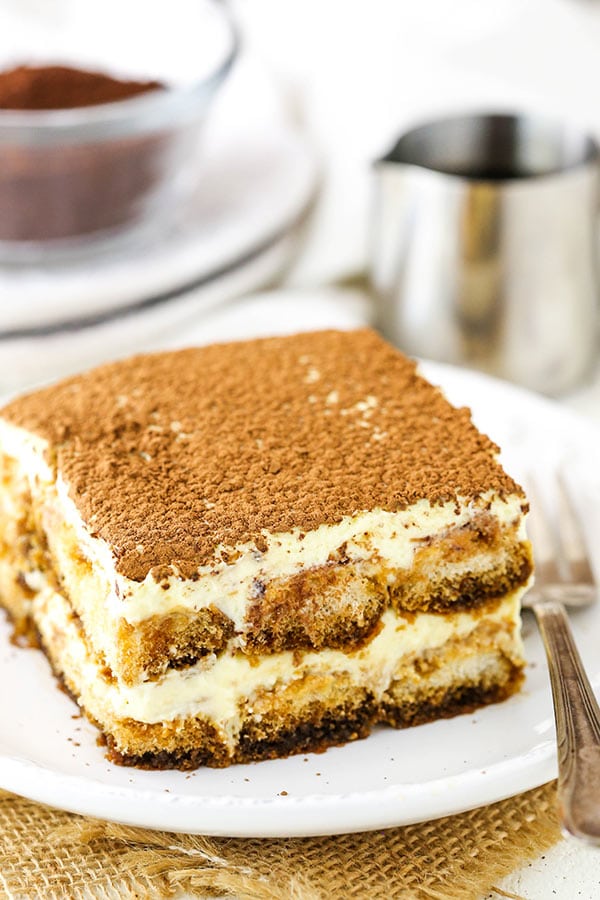 How To Assemble Tiramisu
The rest is just layering. Dip the ladyfingers into the espresso mixture for about 3-5 seconds. The longer you dunk them, the more moisture they'll soak up and the stronger the flavor will be.
This recipe has two layers of ladyfingers and two layers of mascarpone mixture. Once you're done layering, sprinkle some cocoa on top and maybe some chocolate shavings. Refrigerate overnight and enjoy! Trust me, it won't last long.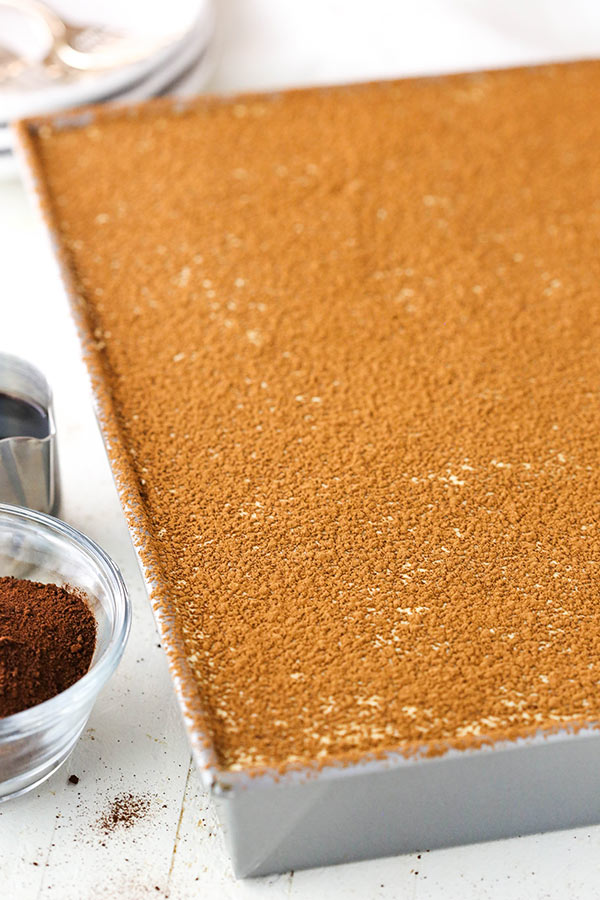 How Long Will Tiramisu Keep in the Fridge?
Tiramisu will keep in the fridge for up to one week. You might find that the flavors actually get even better after it has been stored for a couple days.
Since tiramisu keeps well in the fridge you can make it in advance. The flavor really peaks around two days in, so I'd recommend making it no earlier than two days in advance.
Can I Make Authentic Tiramisu without Alcohol?
While the Kahlua does add a nice depth of flavor, it is not essential. If you would prefer not to use alcohol in this recipe you can easily skip it and just soak your ladyfingers in espresso instead.
Tiramisu Inspired Desserts to Try:
Recipe originally posted 10/15/13. It has been updated but if you'd like a copy of the original version, download it here.
Print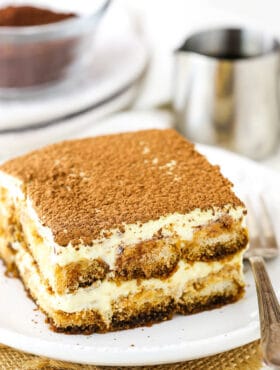 Recipe
Easy Authentic Tiramisu Recipe
Author:

Prep Time:

45 minutes

Total Time:

45 minutes

Yield:

12

-

14

1

x

Category:

Dessert

Method:

No Bake

Cuisine:

American
---
Description
This Easy Tiramisu Recipe is made with ladyfinger cookies soaked in Kahula and espresso, then layered with fluffy mascarpone cream and topped with chocolate.
---
Scale
Ingredients
6

 egg yolks

1 cup

sugar

1 1/4 cups

mascarpone cheese*

1 3/4 cups

heavy whipping cream, cold

1

 (17.5 ounce) package ladyfingers

1 cup

hot water

6 tbsp

 espresso powder

1 1/4 cups

Kahlua*

1 1/2 tbsp

 cocoa powder, for dusting
---
Instructions
Prepare a 9×13 baking dish. If you want to be able to remove the tiramisu from the pan when done so that you can see the layers, I suggest lining the pan with parchment paper that sticks up over the sides, then putting a cardboard cake rectangle in the bottom of the pan. The tiramisu will be supported by the cardboard when you remove it using the parchment paper.

Combine egg yolks and sugar in the top of a double boiler (or in a metal mixer bowl over a pot of simmer water). Whisk to combine. The mixture will seem a little chunky at first, but will thin out as it heats up.

Continue cooking and whisking for about 5-8 minutes, until mixture grows in volume, thickens and turns a pale yellow. The sugar should melt, but if it's still a little grainy, that's ok. It will smooth out as you go.
Set the egg mixture aside to cool to a little warmer than room temperature.
While eggs cool, make the whipped cream. Add the heavy whipping cream to a large mixer bowl and whip on high speed until stiff peaks form.

When the egg mixture has cooled, add the mascarpone cheese and gently fold together until combined.

Gently fold the whipped cream into mascarpone/egg mixture in two parts. Set mixture aside

Dissolve the espresso powder into the hot water, then combine with the Kahlua.

One at a time, dip the ladyfingers into the Kahlua mixture for about 3-5 seconds. The longer you dip the ladyfingers, the stronger the flavor will be. As you dip the ladyfingers, lay them into the bottom of the 9×13 pan. You should be able to get two rows in a layer.

Spread half of the mascarpone mixture over the ladyfingers.

Repeat ladyfinger layer, then top with remaining mascarpone mixture. Dust the top with cocoa powder.


Refrigerate for several hours or overnight, then remove from pan (if desired) and serve.
---
Notes
Get the mascarpone cheese out of the fridge about 15-20 minutes before using. You want it to warm up a bit, but still be a little chilled.
If you'd like to make this tiramisu without the Kahlua, use this espresso mixture:
2 1/4 cups hot water
6-8 tbsp instant espresso powder
6 tbsp sugar, optional
Keywords: what is tiramisu, how to make tiramisu, easy tiramisu recipe, best, authentic, classic, homemade
Enjoy!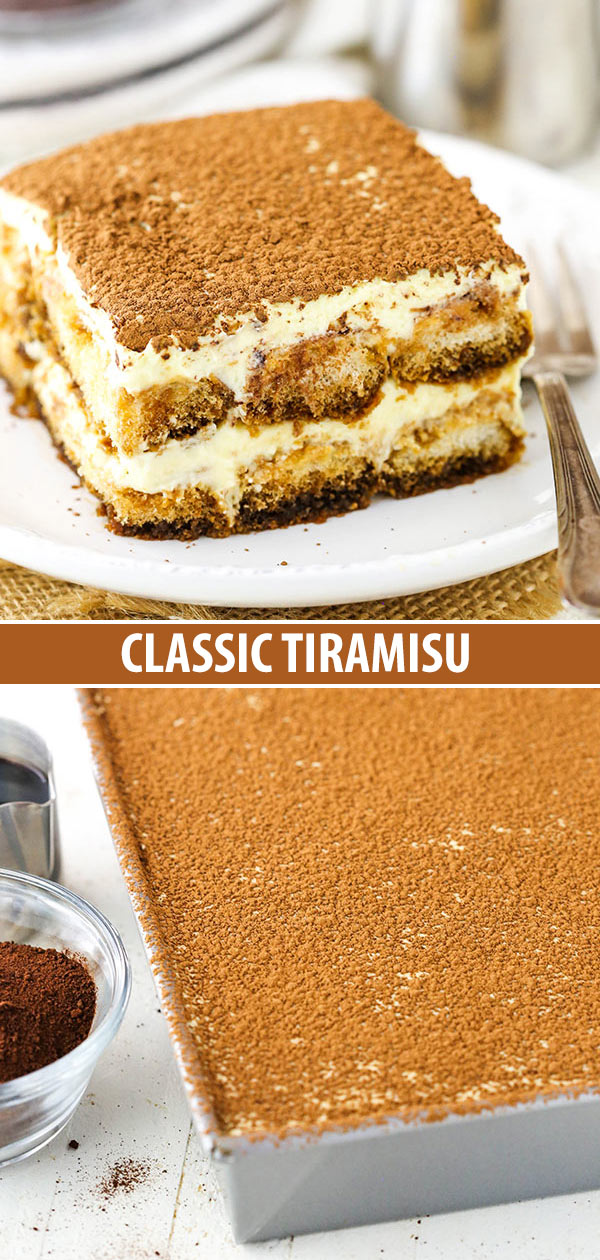 This post may contain affiliate sales links. Please read my disclosure policy.