October 15, 2013
Classic Tiramisu
This classic tiramisu recipe is fan-freaking-tastic. No joke. An easy, classic Italian recipe, if you haven't made tiramisu before now's the time!
Whether you're a big tiramisu fan, don't really care much for it or couldn't care either way, you need make this. If you aren't a lover now, you might be after you try this. And if you're already a fan, you might become an even bigger one. 🙂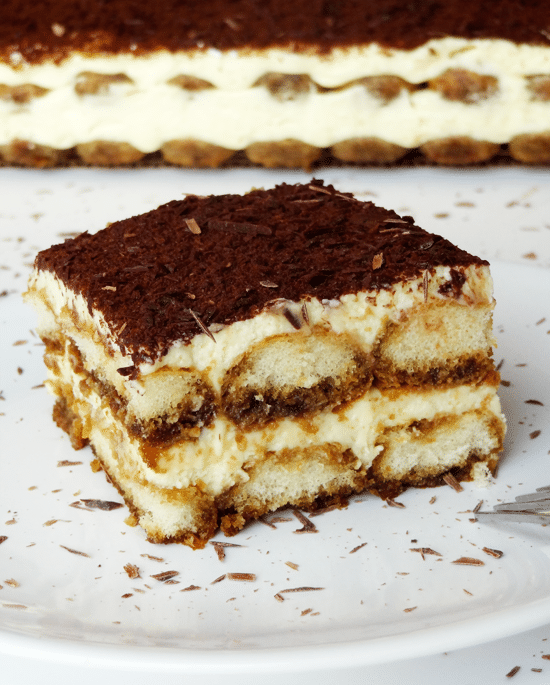 I'd never really considered myself a tiramisu fan before. I had a friend in high school who loved it, so I'd eat it with her. I've tried my share, usually at restaurants, but I'd never made it. I was in the indifferent category and it seemed a little scary to make.
Well thank goodness my co-worker requested it one day. I am officially a BIG fan of this homemade tiramisu.
How to Make Classic Tiramisu
When I set out to make tiramisu, I figured if I was going to do it, I had to do it right. So I got the real deal ladyfingers and mascarpone cheese and went for it.
I learned that making it isn't actually that scary. In fact, it's fairly simple. And totally worth it. Plus, you don't have to turn on your oven. Sure the stove is involved, but that seems easier to me.
Start off by combining the egg yolks and sugar in the top of a double boiler (or in my case, my metal mixer bowl), over boiling water and cook for about 10 minutes. It's hard to screw this part up. Just boil the water, combine the egg yolks and sugar, then cook 10 minutes.
When done, whip the yolks with your mixer until they start to thicken and yellow. It's not like they get bright yellow, but they will become a little yellow-er. Then add the mascarpone cheese.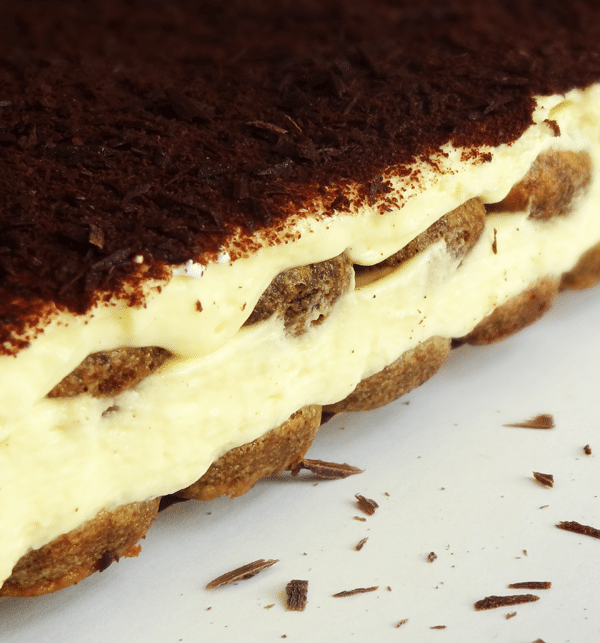 At this point I transfer the mixture to another bowl, because I need my metal mixer bowl again. If you have 2 metal bowls for your stand mixer, I'm jealous.
Of course you can make this dessert with a hand mixer as well, but I do love my stand mixer. Just turn it on and walk away. Best invention ever.
Next, you're going to make the whipped cream. The first time I made this tiramisu was the first time I'd ever made homemade whipped cream. I was terrified. I think this was what I was most afraid of. How in the world can a liquid turn into the solid-ish state that is whipped cream without anything else being added?? Is it magic? Maybe. But whatever it is, it works. And SO effortlessly. Blew my mind.
No really, it did.
Put your bowl and whisk in the freezer for about 15-20 minutes. You want them really cold. Like, your tongue sticking to the ski lift in 'Dumb and Dumber' cold. Then you add the whipping cream and whisk away until it thickens, usually 5-7 minutes. That's it!
Fold it into the mascarpone mixture and set aside. That is, if you can keep your fingers out of it. SO yummy! Seriously, I think this is part of what makes this tiramisu so good. I don't know why it's so much better than any other I've had, but this stuff could be eaten on its own. Yummy with a capital Y.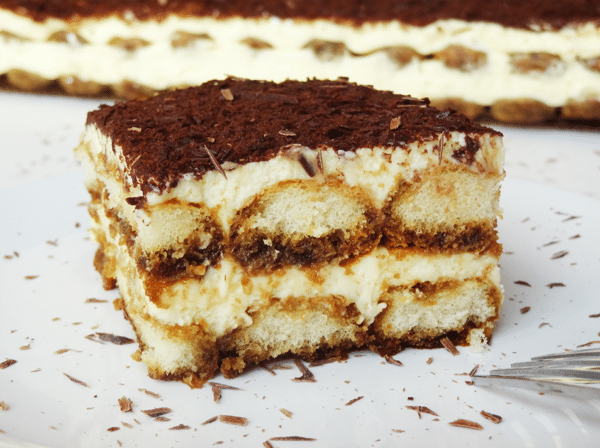 The rest is just layering. It can take a bit of time to dip all the ladyfingers, but it's easy peasy. Just mix together some warm water, espresso and Kahlua. I went a little off the beaten path here, just so you know. You could up the expresso factor and take down the Kahlua factor if you want, but I have to say I LOVED the Kahlua in it. But as a warning, a couple co-workers were concerned they may end up drunk after one piece. 🙂 Like I said, you can cut it back if you want, just add more water and expresso.
Dip each ladyfinger for about 4-6 seconds. The longer you dunk it, the more liquid it will absorb, therefore the stronger the coffee/Kahlua flavor.
This recipe has two layers of ladyfingers and two layers of mascarpone mixture. Once you're done layering, sprinkle some cocoa on top and maybe some chocolate shavings. Refrigerate overnight and enjoy!
Trust me, it won't last long. 🙂
Classic Tiramisu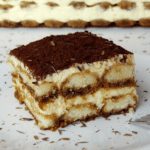 This classic tiramisu recipe is fan-freaking-tastic. No joke. If you've always wanted to make tiramisu then this easy recipe is what you're looking for!
Author:
Prep Time:

45 minutes

Cook Time:

0 minutes

Total Time:

45 minutes

Yield:

12

-

14

Servings

1

x
Category:

Dessert

Method:

Stove

Cuisine:

American
Ingredients
6

egg yolks

1 1/4 cup

s sugar

1 1/4 cup

s mascarpone cheese

1 3/4 cup

s heavy whipping cream

1

(17.5 ounce) package ladyfingers

6 tbsp

warm water

4 tbsp

espresso powder

2 cup

s Kahlua

1 tsp

cocoa powder, for dusting
Instructions
1. Prepare a 9×13 baking dish. If you want to be able to remove the tiramisu from the pan when done so that you can see the layers, I suggest lining the pan with parchment paper that sticks up over the sides, then putting a cardboard cake rectangle in the bottom of the pan. The tiramisu will be supported by the cardboard when you remove it using the parchment paper.
2. Combine egg yolks and sugar in the top of a double boiler, over boiling water. If you don't have a double boiler, you can use a metal mixing bowl set over a pot.
3. Cook for about 10 minutes, with heat on low, stirring constantly.
4. When done, whip yolks with mixer until they thicken and yellow a bit.
5. Add mascarpone to whipped yolks and mix until combined.
6. If you have a second metal mixing bowl, use it for your whipped cream. If not, put mascarpone mixture into another bowl and get your metal mixer bowl clean.
7. Add whipping cream to bowl and whip with mixer. Whip until soft peaks form, about 5-7 minutes.
8. Fold whipped cream into mascarpone mixture.
9. Dissolve espresso into warm water, then combine with the Kahlua.
10. One at a time, dip the ladyfingers into the Kahlua mixture for about 4-6 seconds. The longer you dip the ladyfingers, the stronger the flavor will be. As you dip the ladyfingers, lay them into the bottom of the 9×13 pan. You should be able to get two rows in a layer.
11. Spoon half of the mascarpone mixture over the ladyfingers.
12. Repeat ladyfinger layer, then top with remaining mascarpone mixture.
13. Dust the top with cocoa powder.
14. Refrigerate for several hours or overnight, then remove from pan (if desired) and serve.
Notes
If you prefer a less strong (in terms of alcohol content) tiramisu, then reduce the amount of Kahlua and add more water and espresso.
Keywords: classic tiramisu, tiramisu recipe, authentic tiramisu, how to make tiramisu, easy tiramisu
Enjoy!

Recipe modified from AllRecipes.com
This post linked to This Gal Cooks, Lady Behind The Curtain, Living Well Spending Less, Lamberts Lately, Shaken Together, Skip To My Lou, Tidy Mom, Flour Me With Love, What's Cooking Love?, I Should Be Mopping The Floor, Kitchen Meets Girl, Say Not Sweet Anne, Simply Sweet Home, Simple Living and Eating, The Mandatory Mooch, Recipes For My Boys, Ginger Snap Crafts and Hungry Little Girl.
You might also like:
Caramel Macchiato Tiramisu Trifle with Nutella
No Bake Baileys Irish Cream Cookie Balls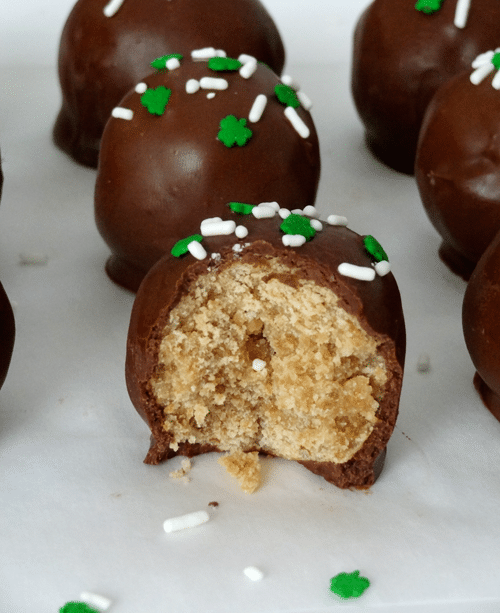 Fudgy Brownies with Crunchy Butterfinger Crust