This Oreo Brookie Tiramisu has layers of brownies, Oreos AND chocolate chip cookies. They're all nestled between a creamy tiramisu filling featuring kahlua and espresso. You won't be able to resist this dessert. It's pure awesomeness!
Looking for a classic tiramisu recipe? Try my homemade tiramisu.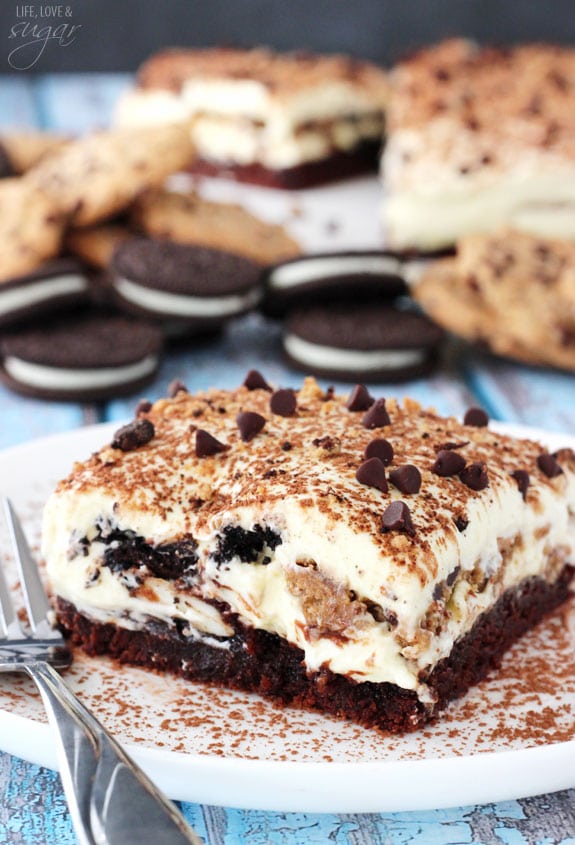 Oreo Brookie Tiramisu
So a few weeks ago, I made my mom her very own Facebook account. She had been using mine for years. She didn't want her own because she wasn't sure she wanted people to be able to find her (she's an outlaw like that).
But then I started blogging. And slowly, over the past three years, my news feed has changed from updates about friends (that my mom knows) and family to all things blogging. She no longer liked my Facebook.
So she finally got her own page and all her friends rejoiced!
Then my mom had a birthday yesterday. As soon as I called her, she told me she wasn't so sure about this social media thing.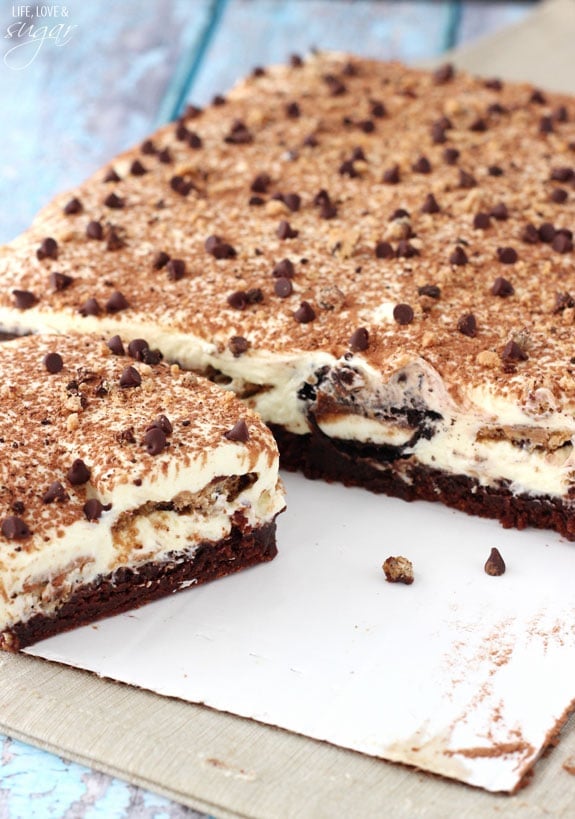 It was getting to be late in the afternoon and she felt like she'd spent her whole day answering birthday wishes from people who used to not even know it was her birthday. And now everyone knows everything! Where she is, when her birthday is – she is no longer living in obscurity! The horror!
"Welcome to the modern world, Mom," I said.
She's not so sure about it.
Then she told me greeting cards would soon go out of business, since everything is done on Facebook now.
My response?
"So you're saying I should start wishing you a Happy Birthday on Facebook now?"
I'm naughty. 😉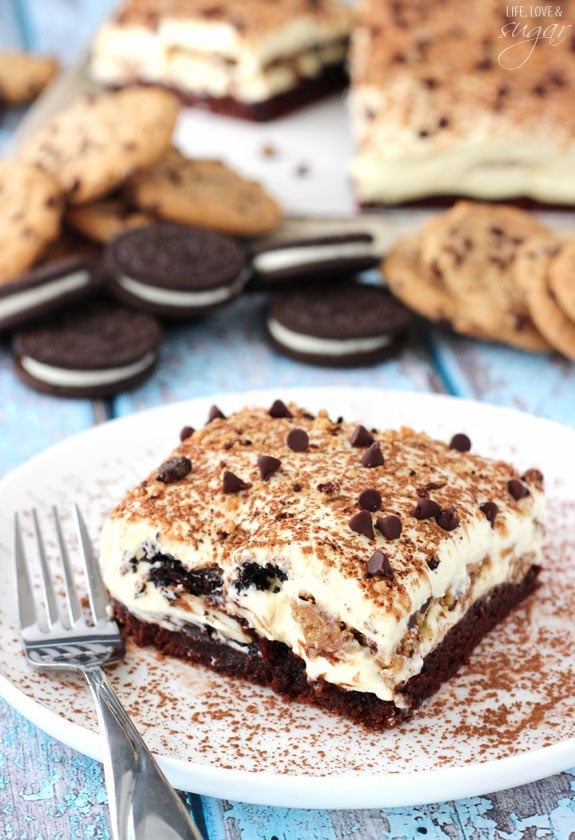 And of course we were laughing. Of course she loves birthday wishes. She just couldn't believe what a difference the response to her birthday was once Facebook notified everyone of it for the first time. I mean, if you think about it – it is a funny thing. Facebook forever changed the way people interact with each other. Crazy!
Anywho, this tiramisu is no laughing matter. No. It's serious – seriously good.
It actually came about from a conversation with a friend. We were joking about crazy names of food and things that people come up with and the next thing you know – "slutty tiramisu" popped out of his mouth.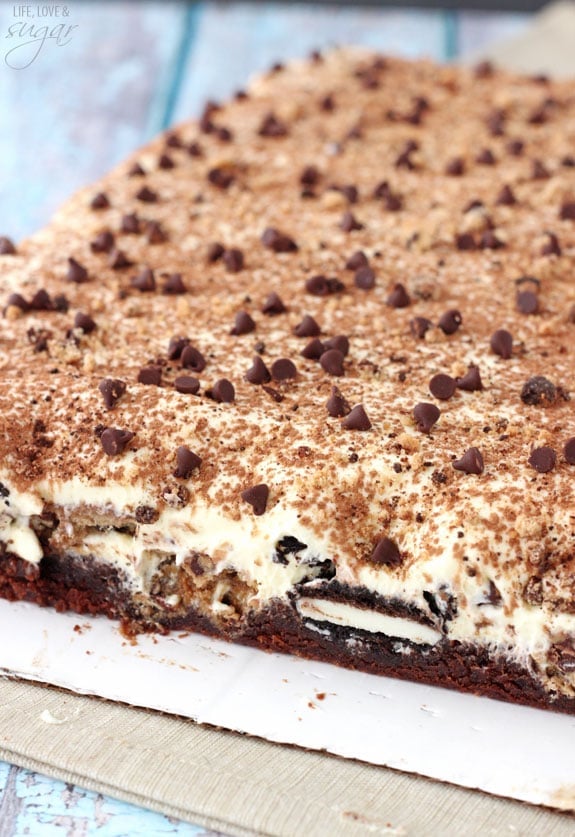 Of course he thought it was nonsense. I was like, wait a second! You might have something there!
Have you ever heard of slutty brownies? They are a layer of cookie, Oreo and brownie. They were ALL OVER pinterest for a while. So immediately my mind went to those brownies and I started wondering how I could combine them with tiramisu to make the MOST EPIC TIRAMISU DESSERT EVER! 🙂
Then this was born.
What's in Each Layer of Brookie Tiramisu?
The layers? Oh they are pure awesomeness. Here is what they are:
A brownie, drizzled with espresso and Kahlua
Tiramisu filling (my love! it's so much better homemade!)
Oreos and chocolate chip cookie, dipped in espresso and Kahlua
More tiramisu filling
A dusting of cocoa powder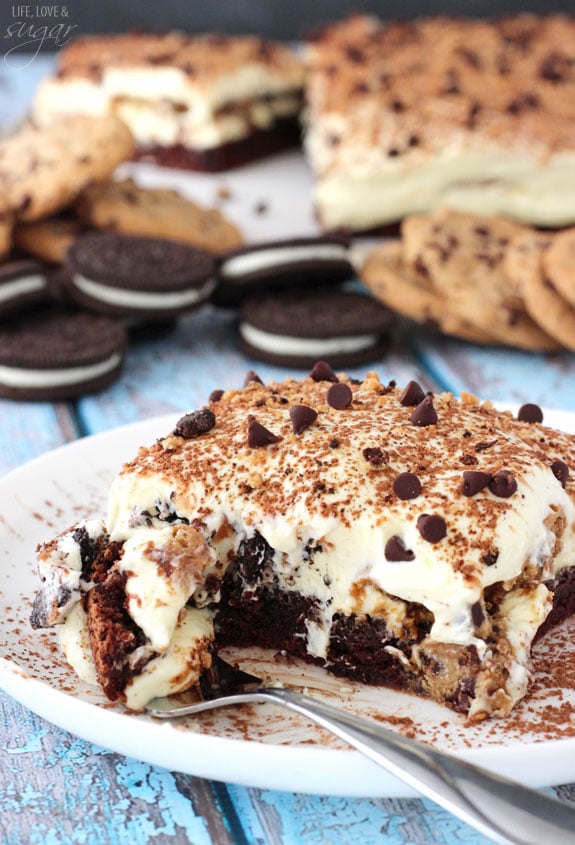 I made it, set if in the fridge overnight and hoped for the best. The next morning I took the photos and held my breath as I took a bite.
Oh.my.goodness.
Dessert heaven.
Who knew tiramisu could be exponentially better? I mean for reals. This thing is the bomb. Brownie, cookies, Kahlua, coffee, tiramsiu filling! I know I keep saying it, but can't you just taste it all just thinking about it?!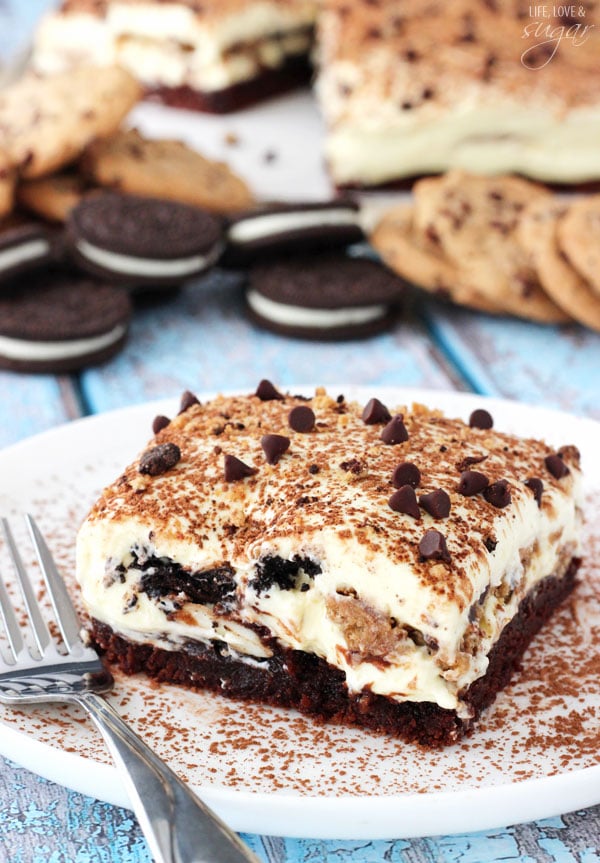 Best idea ever. I need to have random conversations like that more often.
I thought about calling it slutty tiramisu, but didn't want to insult anyone. So I went with the more descriptive name of Oreo Brookie Tiramisu. You can, however, call it slutty tiramisu if you'd rather. It's kinda fun and certainly sparks people's interest. 🙂
Whatever you call it, make it. You'll thank me later.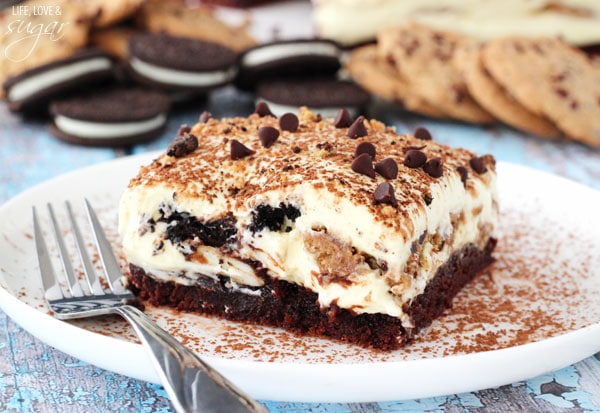 You might also like:
Print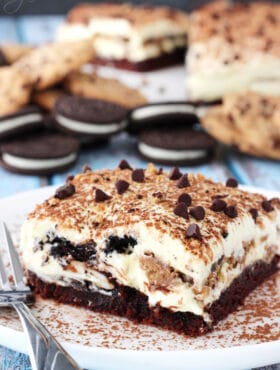 Recipe
Oreo Brookie Tiramisu
Author:

Prep Time:

25 minutes

Cook Time:

20 minutes

Total Time:

45 minutes

Yield:

15-18 Servings

Category:

Dessert

Method:

Oven

Cuisine:

Italian
---
Description
This Oreo Brookie Tiramisu has layers of brownie, Oreos and chocolate chip cookies, kahlua and espresso, and tiramisu filling!
---
Ingredients
BROWNIE
3/4 cup

vegetable oil

1 1/2 cups

sugar

1 1/2 tsp

vanilla extract

3

eggs

3/4 cup

flour

1/3 cup

+

2 1/2 tbsp

cocoa

1/4 tsp

+

1/8 tsp

baking powder

1/4 tsp

salt

2 tsp

instant espresso coffee granules
FILLING
6

egg yolks

1 1/4 cups

sugar

1 1/4 cups

mascarpone cheese

1 3/4 cups

heavy whipping cream
ADDITIONAL
1 1/2 tbsp

warm water

1 tbsp

instant espresso coffee granules

1/2 cup

Kahlua

15

Oreos

10

–

15

chocolate chip cookies (depending on size)

1 tsp

cocoa powder, for dusting
---
Instructions
Make the Brownies
Preheat oven to 350 degrees. Grease a 9×13 baking pan, or line it with parchment paper that stick above the sides of the pan. You can use it to lift the brownies out of the pan later, if desired.
Whisk the oil, sugar and vanilla extract together until well combined.
Add eggs and whisk until well combined.
Combine flour, cocoa, baking powder, salt and espresso granules in a separate bowl.
Slowly add dry mixture to the egg mixture until well combined.
Pour the batter into the pan and spread evenly.
Bake for 20-25 minutes, or until a toothpick comes out with a few crumbs.
Allow brownie to cool completely.
Make Tiramisu Filling
To make filling, combine egg yolks and sugar in the top of a double boiler, over boiling water. If you don't have a double boiler, you can use a metal mixing bowl set over a pot with simmering water in it.
Cook for about 6-8 minutes, with heat on low, stirring constantly, or until mixture is light in color and sugar is dissolved. If mixture starts to get too thick and a darker yellow, it's overcooked
When done, whip yolks with mixer until they thicken and yellow a bit.
Fold mascarpone into whipped yolks.
Add heavy whipping cream to another mixer bowl and whip until stiff peaks form, about 5-7 minutes.
Fold whipped cream into mascarpone mixture.
Assemble
To assemble tiramisu, first add espresso granules to warm coffee in a small bowl and stir to dissolve.
Add Kahlua to espresso mixture.
Drizzle about 3 tbsp of Kahlua mixture over the brownie.
Spread half of the filling evenly on top of the brownie.
One at a time, dip Oreos and chocolate chip cookies into kahlua mixture and place them on top of filling. I did alternative rows of each cookie for two rows of Oreos and two rows of chocolate chip cookies. Your rows and number of needed cookies may vary depending on their size.
Top cookies with remaining filling, then dust with cocoa powder. Refrigerate until ready to serve.
---
Keywords: brookie dessert, no bake dessert, oreo tiramisu, cookie tiramisu,
Enjoy!

This post may contain affiliate sales links. Please read my disclosure policy.