Tiramisu Cupcakes
These Tiramisu Cupcakes are amazing! They're like little individual tiramisu cakes! Each one is drizzled with an espresso Kahlua mixture, filled with tiramisu filling and topped with a light Kahlua mascarpone buttercream.
If you love tiramisu desserts as much as I do, you should also try my recipe for the Best Classic Tiramisu!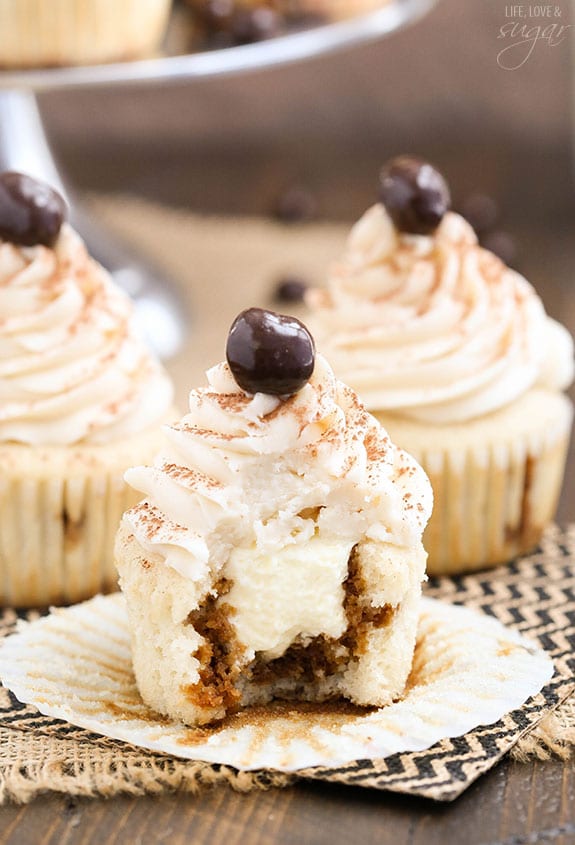 Tiramisu Cupcakes
I hope you had a great new years weekend! I spent it with my parents and some friends I've known since elementary and middle school. It was so nice. There was certainly lots of football watching given all the bowl games. And as we are getting into NFL playoff season (yay Panthers!), I'm pretty sure I'll be making these Eggless Chocolate Chip Cookie Dough Footballs again soon. They are perfect for football watching. 🙂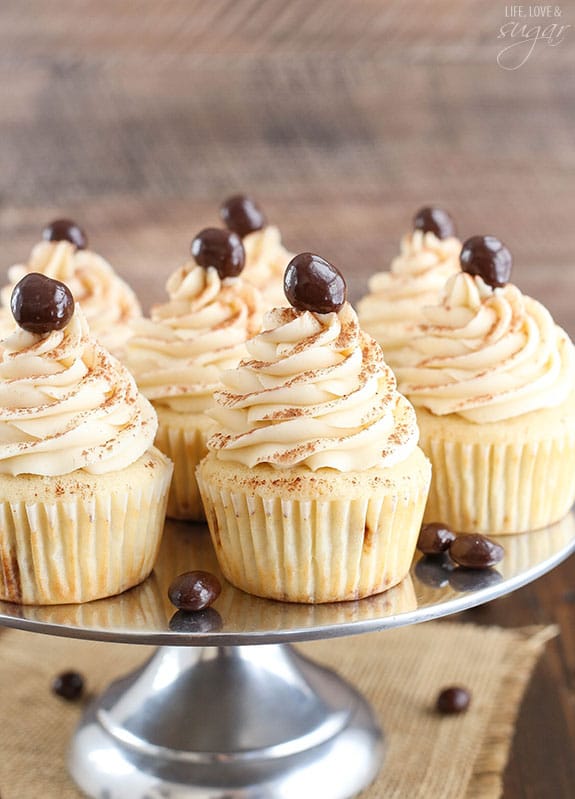 Though I don't really believe in New Year's resolutions because I think you can and should make a change whenever you see the need, I have spent some time this past week reflecting over the past year and thinking about the coming year over. There have been some truly amazing things happening that I am so excited and thankful for. If you've followed our struggle with starting a family, you know that's one thing that's not been terribly easy. I feel like lately I've had a tendency to focus on that one thing that isn't right and not fully appreciate all the things that are so good.
Since realizing that I've decided to change my focus. I'm reminded that I have to let go of the things I can't control and let God. It's such a freeing feeling. And I am SO PUMPED for 2016 and all that God has in store for us. I don't know what it'll be but I think it could just be our best year yet. 🙂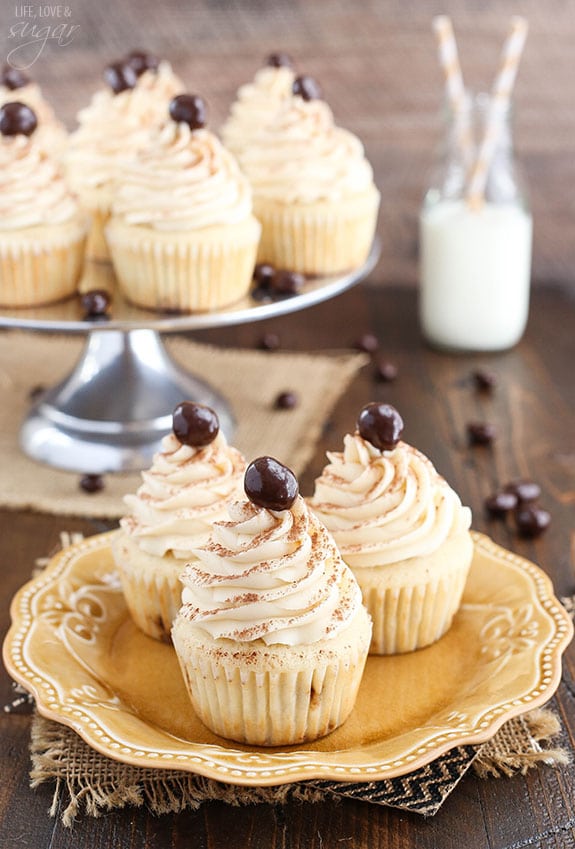 And kicking it off with these cupcakes is definitely an awesome way to get started. They are setting the tone with how yummy they are. Irresistible really. If you love tiramisu, these cupcakes are your new favorite dessert. I could seriously just sit down with a spoon and a bowl of tiramisu filling and be a happy camper. It's the bomb.com (yes, I still live in the 90s in my head).
How to Make Tiramisu Cupcakes
I started off with a new vanilla cupcake. Perhaps you are familiar with these vanilla cupcakes? Well, this is a new recipe. It's a little more traditional and uses the creaming method. They are equally as awesome but are a lighter cupcake.
Once they are baked and cooled, cut out the center. It's a shame to have to do it, but the filling is worth it. If you end up a little left over filling, I suggest tossing the cupcake cores into a bowl with the filling and devouring it. 🙂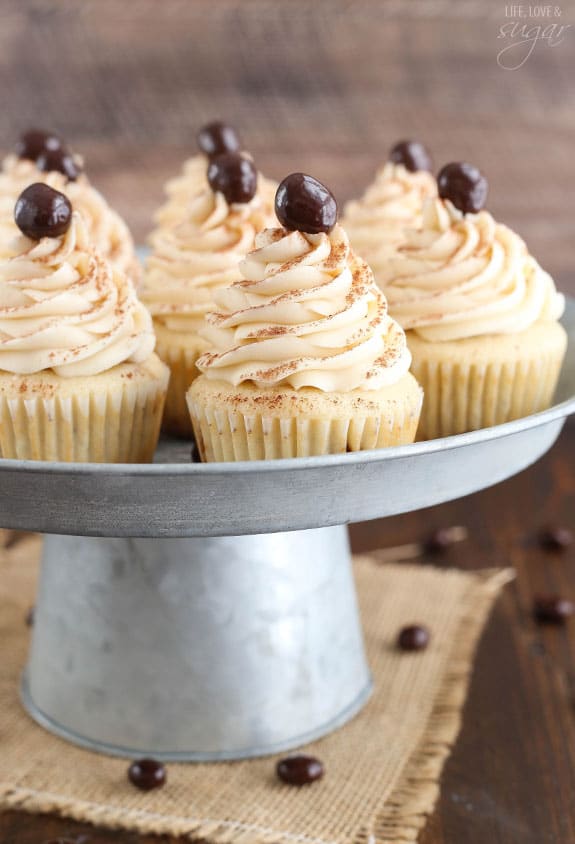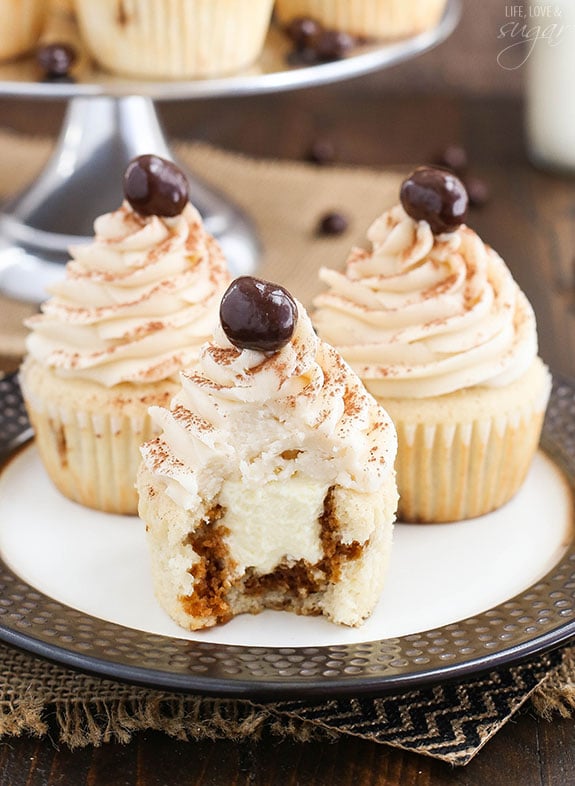 I'm a big fan of combining espresso and Kahlua in my tiramisu, but if you prefer a non-alcoholic version you can definitely replace the Kahlua with more espresso. Drizzle the espresso over the hole in the cupcake. The more the merrier in my opinion.
Fill that hole with the tiramisu filling, then pipe on the buttercream. The buttercream uses a mix of butter and mascarpone cheese, which is also in the tiramisu filling. It's got such a wonderful flavor and isn't too sweet. The method is a little different than my usual buttercream. You might be temped to add the mascarpone cheese at the same time you add the butter, but I really don't advise it. Mascarpone cheese seems to get softer the more you beat it and then it doesn't firm up as well when refrigerated again. Because of that, I suggest carefully folding it in just before the final bit of powdered sugar is added.
I've already said it, but I'll say it again. These cupcakes rock. There's nothing better than homemade tiramisu, and homemade tiramisu cupcakes are easy just as awesome. Let's both start our new year out right and enjoy these babies together. What do you say? 🙂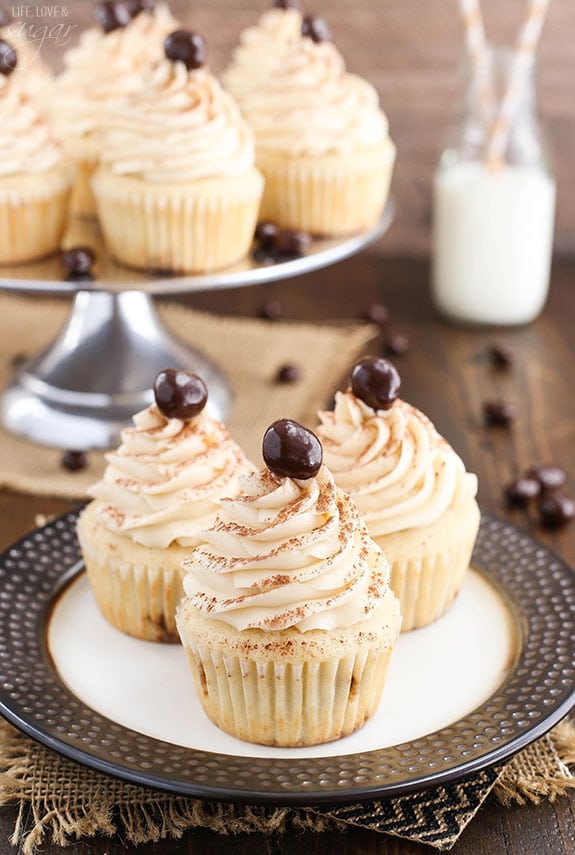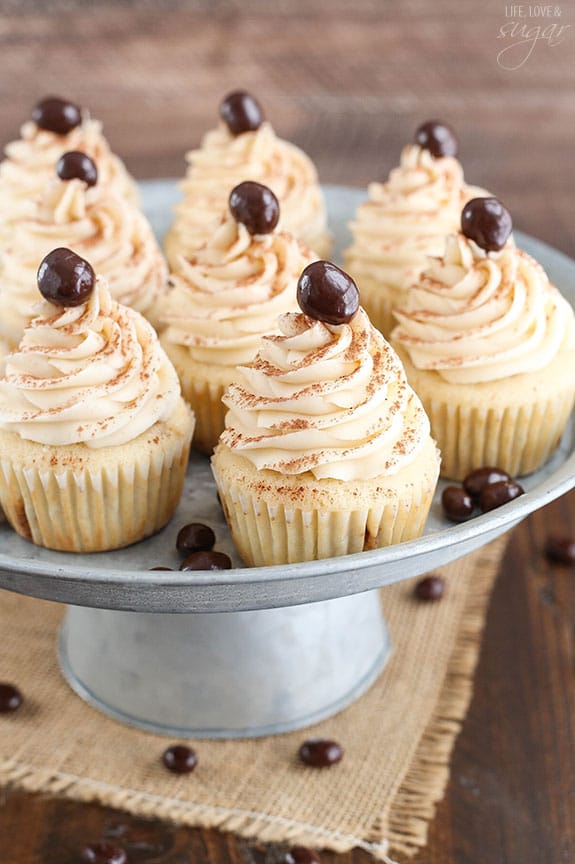 More Tiramisu Recipes To Enjoy
Classic Tiramisu
Easy Tiramisu Cheesecake
Kahlua Coffee Brownie Cheesecake
Mini Tiramisu Trifles
Tiramisu Dip
Tiramisu Cupcakes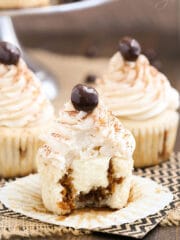 These Tiramisu Cupcakes are amazing! They're like little individual tiramisu cakes! Each one is drizzled with an espresso Kahlua mixture, filled with tiramisu filling and topped with a light Kahlua mascarpone buttercream.
Author:
Prep Time:

30 minutes

Cook Time:

17 minutes

Total Time:

47 minutes

Yield:

12

-

14

Cupcakes

1

x
Category:

Dessert

Method:

Oven

Cuisine:

American
Ingredients
CUPCAKES
6 tbsp

salted butter, room temp (I use Challenge Butter)

3/4 cups

sugar

2 tsp

vanilla extract

6 tbsp

sour cream

3

egg whites

1 1/4 cups

all purpose flour

2 tsp

baking powder

6 tbsp

milk

2 tbsp

water
TIRAMISU FILLING
2

egg yolks

6 tbsp

sugar

1/2 cup

mascarpone cheese

1/2 cup

heavy whipping cream

2 1/2 tbsp

warm water

1 tbsp

instant espresso coffee granules

1/4 cup

Kahlua
FROSTING
1/2 cup

unsalted butter, room temperature

4 cups

powdered sugar

2 1/2 tbsp

Kahlua or espresso

1/2 cup

mascarpone cheese, room temperature
Instructions
1. Preheat oven to 350 degrees and prepare a cupcake pan with cupcake liners.
2. Beat butter and sugar until light in color and fluffy, about 2-3 minutes.
3. Add vanilla extract and sour cream and mix until well combined.
4. Add egg whites in two batches, mixing until well combined.
5. Combine dry ingredients in another bowl, then combine milk and water in another bowl.
6. Add half of the dry ingredients to the batter and mix until well combined. Add the milk mixture and mix until well combined. Add remaining dry ingredients and mix until well combined.
7. Fill cupcake liners about halfway. Bake for 15-17 minutes, or until a toothpick inserted comes out with a few crumbs.
8. Remove cupcakes from oven and allow to cool for 2-3 minutes, then remove to cooling rack to finish cooling.
9. While cupcakes cool, make the filling. Combine egg yolks and sugar in the top of a double boiler, over boiling water. If you don't have a double boiler, you can use a metal mixing bowl set over a pot with simmering water in it.
10. Cook for about 6-8 minutes, with heat on low, stirring constantly, or until mixture is light in color and sugar is dissolved. If mixture starts to get too thick and a darker yellow, it's overcooked.
11. When done, whip yolks with mixer until they thicken and yellow a bit.
12. Fold mascarpone cheese into whipped yolks.
13. Add heavy whipping cream to another mixer bowl and whip until stiff peaks form, about 5-7 minutes.
14. Fold whipped cream into mascarpone mixture.
15. In another small bowl, combine warm water, espresso and Kahlua.
16. Once cupcakes are cool, cut out the centers. I use a cupcake corer.
17. Drizzle about 1 tbsp of the espresso mixture over the inside of the holes of the cupcakes, then fill in the holes with the tiramisu filling.
18. To make the frosting, beat the butter until smooth.
19. Add 2 cups of powdered sugar and 1 tbsp of Kahlua and mix until smooth.
20. Add another cup of powdered sugar and remaining Kahlua and mix until smooth.
21. Carefully fold in the mascarpone cheese.
22. With mixer on low speed, add the remaining cup of powdered sugar and mix just until smooth. You don't want to over mix the msacarpone cheese or it could become too thin.
23. Pipe the frosting onto the cupcakes and sprinkle with some cocoa and top with chocolate covered espresso beans, if desired.
Store in the refrigerator. When ready to serve, I recommend letting them sit out for 20-30 minutes, so they aren't too cold and firm.
Keywords: tiramisu cupcakes, tiramisu dessert, mini tiramisu cakes, mascarpone desserts, easy tiramisu dessert idea, espresso dessert
Enjoy!