This Tiramisu Poke Cake is easily one of my new favorites. There are so many things to love. It's very similar to tiramisu, but easier to make. It is incredibly moist. And it tastes amazing. I could eat the whole cake in one sitting. SO good.
Looking for a more classic tiramisu dessert? Try my homemade Easy Tiramisu Recipe!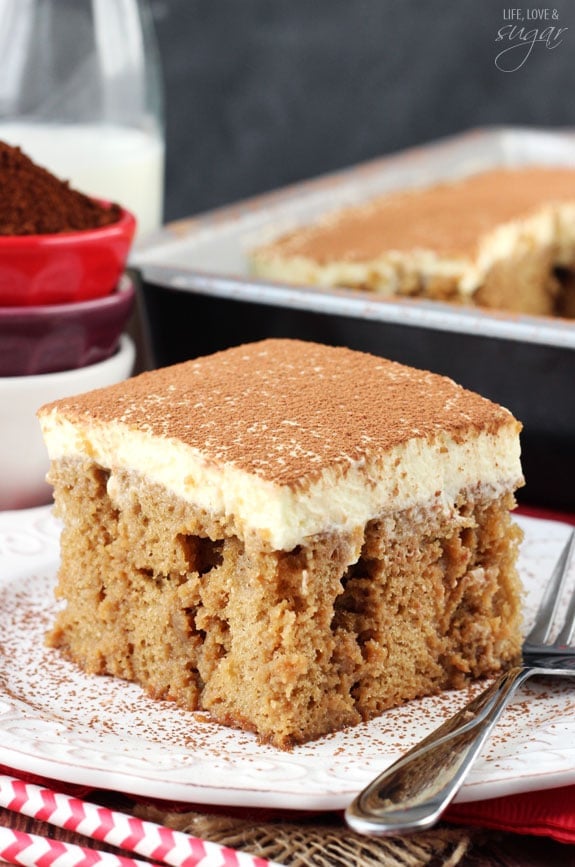 Tiramisu Poke Cake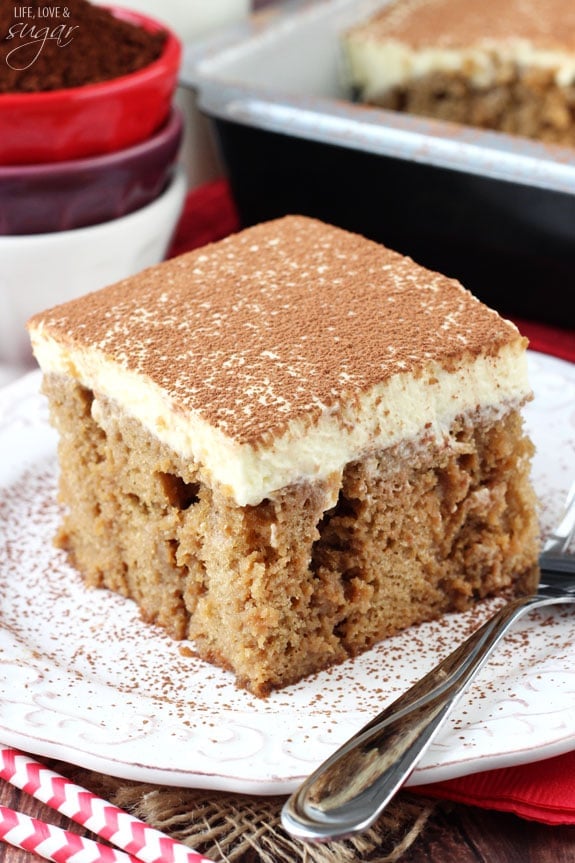 So we had quite a nice weekend. We spent a little time out on the lake before it gets too cold. It was tad chilly when the boat got and the sun was behind the clouds, but other than that it was quite nice.
Since it was a little cooler, Jessie loved it. She spent most of the afternoon up on the front of the boat enjoying the breeze. She's probably the only lab that doesn't like water though, so there was no swimming.
And yesterday we watched the Carolina Panthers.
I usually spend so much time baking, that when it comes to making stuff to eat while watching football, I'm usually running the the store to get something already made. Publix has a pretty taste spinach artichoke and buffalo dip, so those are our usuals. But yesterday I decided I was tired of the usuals and made Ashley from Kitchen Meets Girl's Cheesy Warm Bacon Dip. It was delicious!
It was also quite nice to put aside the baking for a bit. I do love me a good dip. What do you say I start sharing some dips and other fun food recipes? I'm sure they'd pair well with cake. 😉
Then the craziest thing happened. The Panthers tied. Football ended in a tie game. What?! There have been a couple others, but it's not typical at all and it's the first one I've seen.
I watched through a couple commercials after it was over, just to make sure it was actually over. The hubs laughed at me. Then it reminded us of this youtube video, An American Coach in London: NBC Sports Premier League Film. It's plain awesome. If you haven't watched it, you must. If you want to see the part about ties, start at about 43 seconds.
But back to this cake. Poke cakes kind of rock and I've been loving making a few versions.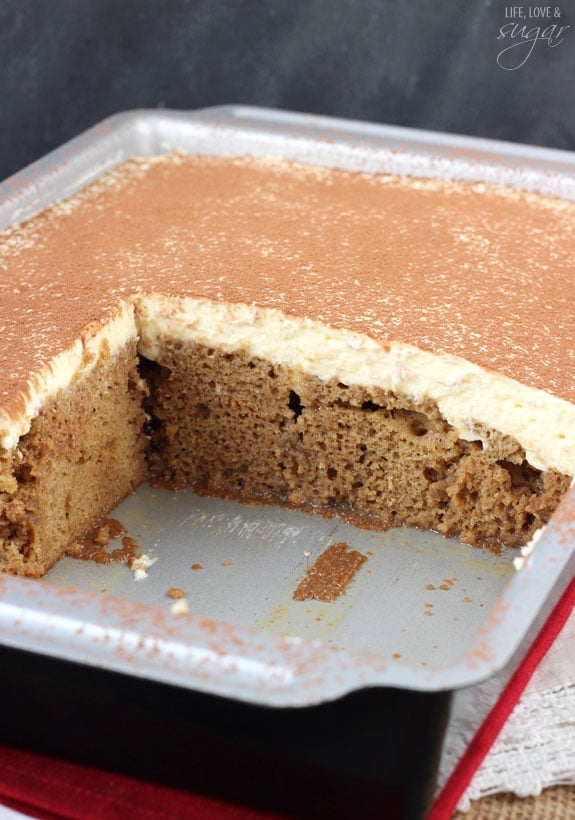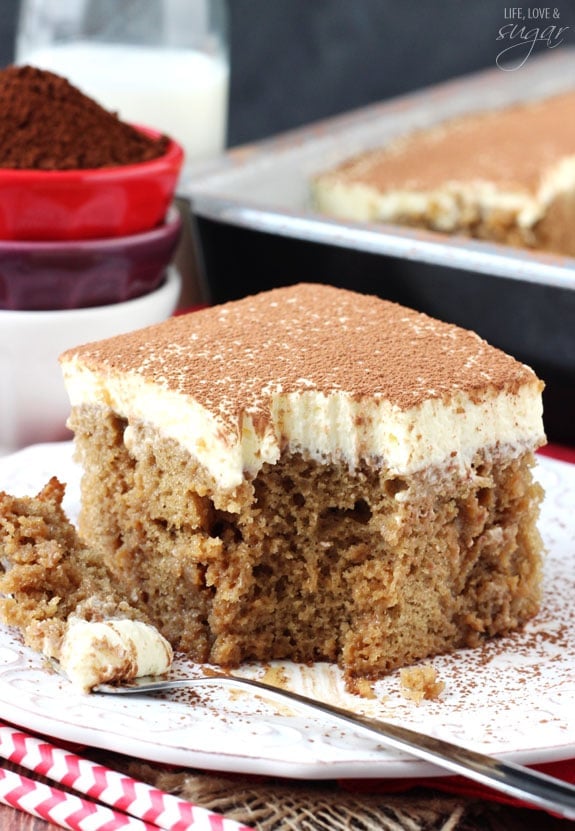 How to Make Tiramisu Poke Cake
I absolutely love my tiramisu, but don't make it often because it can be a bit of a hassle. The store where I get my lady fingers is about 45 minutes away. And all the dipping and layering takes some time. It's totally worth it, but I figured it'd also make an amazing poke cake.
I was so totally right.
You start with a cake mix. You could use your favorite vanilla cake, if you really want, but I was going for easier. I added some espresso to the cake mix by adding some espresso to some of the water. Water is part of the ingredients on my box mix, but if the one you get calls for a different liquid such as milk, you can add the espresso to that instead.
Poke cakes get their name from the holes that are poked into the cake while it's warm. Delicious-ness is poured over the cake and soaks into those holes. The deliciousness that is poured over this cake includes sweetened condensed milk, espresso and kahlua. You could skip the kahlua, but urge you not to. Seriously amazing.
If you do decide to skip it though, you don't have to replace it with anything. I would just suggest adding another tablespoon of espresso for a little extra flavor.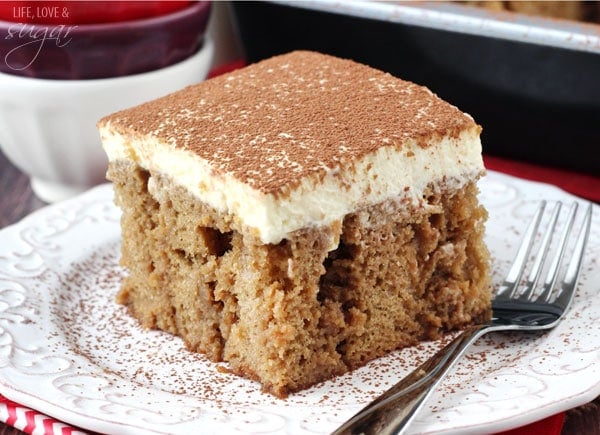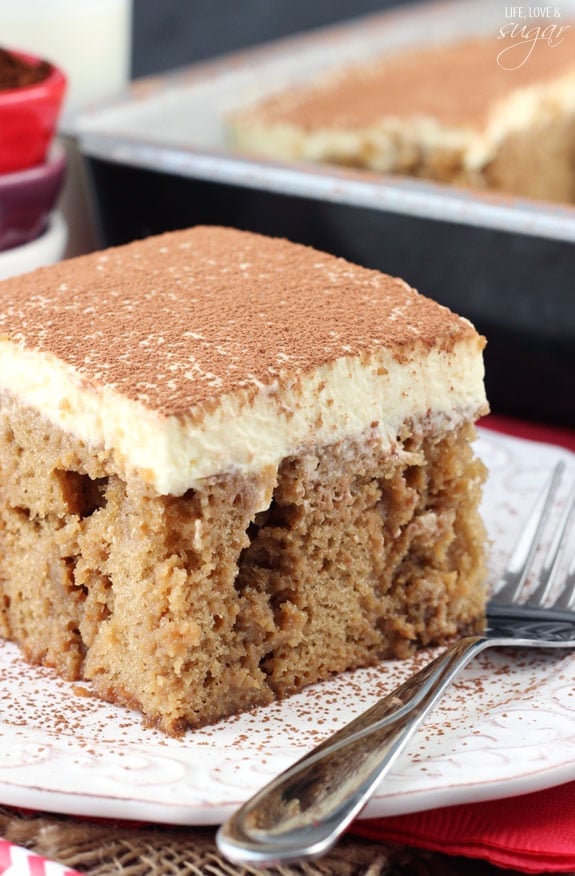 The topping is exactly the same as the filling in tiramisu. Amazing stuff I tell you.
It might seem a little intimidating, but I promise you it's not hard. And once you make it the first time, you'll want to make it and eat it every week.
The combination of the soaked cake and the tiramisu topping is sheer heaven. It tastes just like tiramisu, but without as much fuss. Please, please make it. You won't regret it.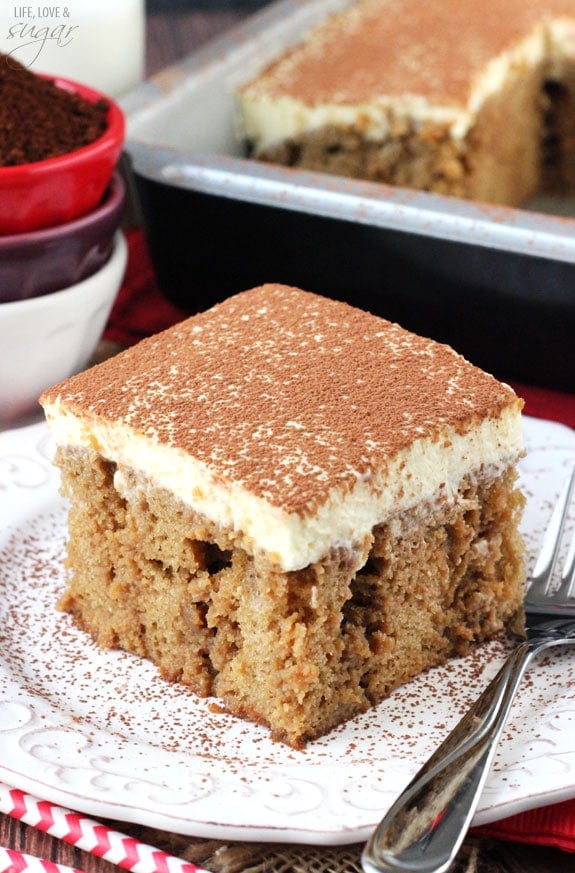 You might also like:
Classic Tiramisu
Mini Tiramisu Trifles
Tiramisu Cheesecake
Tiramisu Cupcakes
Cinnamon Roll Poke Cake
Chocolate Espresso Bean Cookies
Print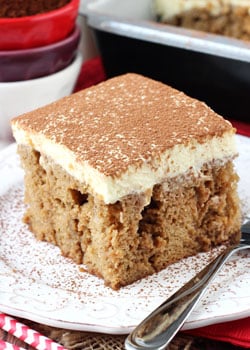 Recipe
Tiramisu Poke Cake
Author:

Yield:

15-18 Servings

Category:

Dessert

Method:

Oven

Cuisine:

American
---
Description
Tiramisu Poke Cake is similar to tiramisu, but easier to make. It is incredibly moist. And it tastes amazing. I could eat the whole cake in one sitting.
---
Ingredients
CAKE
15.25 oz

(or similar) box white cake mix*

1 cup

water

4 tbsp

expresso powder, divided

1/2 cup

vegetable oil

3

eggs

1/2 cup

kahlua, divided

1 cup

sweetened condensed milk
TOPPING
6

egg yolks

1 1/4 cups

sugar

1 cup

(

8 oz

) mascarpone cheese

1 1/4 cups

heavy whipping cream
---
Instructions
NOTE: The water, vegetable oil and eggs for the cake are the ingredients required for the box of cake mix I used (betty crocker). Adjust ingredients for the box mix you have and use the liquid called for in the steps 2 and 3.
1. Preheat oven to 350 degrees and prepare a 9×13 inch cake pan.
2. Measure out water into a measuring cup, then remove 4 tbsp and put it in a small bowl.
3. Microwave the water in the small bowl until warm, then add 2 tbsp espresso powder. Stir until dissolved.
4. Combine ingredients, including espresso, according to box instructions and bake in 9×13 pan.
5. Once cake comes out of the oven, poke holes in the top of the cake. I used a knife sharpener.
6. Place 3 tbsp of kahlua into a small bowl and heat until warm. Add remaining 2 tbsp espresso powder and stir until dissolved.
7. Combine kahlua espresso mixture, remaining kahlua and sweetened condensed milk in a medium sized bowl, then pour evenly over the warm cake.
8. Refrigerate cake until cool.
9. While cake cools, make the topping. Combine egg yolks and sugar in the top of a double boiler, over boiling water. If you don't have a double boiler, you can use a metal mixing bowl set over a pot.
10. Cook for about 8-10 minutes, with heat on low, stirring constantly.
11. When done, whip yolks with mixer until they thicken and yellow a bit.
12. Add mascarpone to whipped yolks and mix until smooth, scraping down the sides as needed.
13. If you have a second metal mixing bowl, use it for your whipped cream. If not, put mascarpone mixture into another bowl and get your metal mixer bowl clean.
14. Place metal bowl and whisk into freezer for about 15-20 minutes.
15. Remove bowl and whisk from freezer, add whipping cream to bowl and whip with mixer until stiff peaks form, about 5-7 minutes.
16. Fold whipped cream into mascarpone mixture.
17. Spread mixture evenly over the cooled cake and sprinkle cocoa over topping
18. Refrigerate until ready to serve.
---
Keywords: tiramisu, tiramisu cake, tiramisu dessert idea, poke cake, easy tiramisu
Enjoy!
This post may contain affiliate sales links. Please read my disclosure policy.