July 22, 2015
Cherry Chocolate Chip Cake
This Cherry Chocolate Chip Cake is so fun and has a great cherry and chocolate flavor! I'm totally in love with the naturally pink color too. 🙂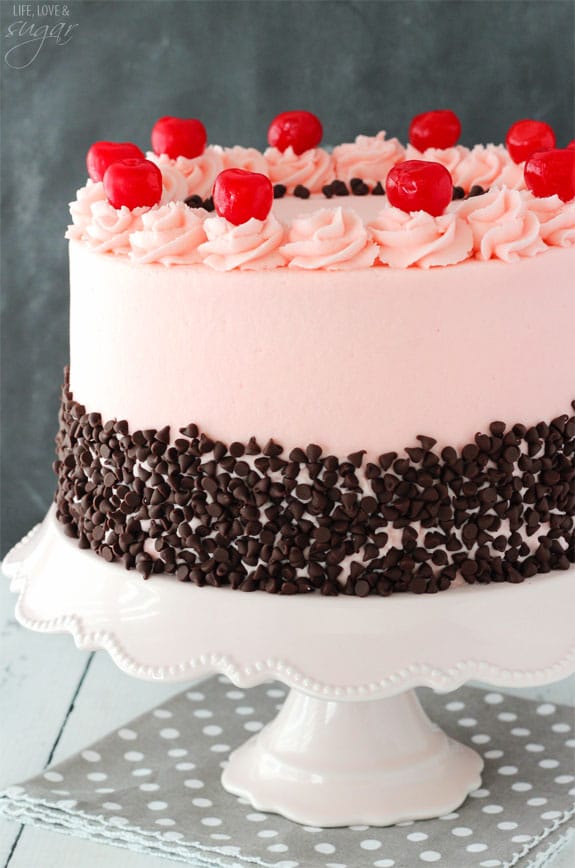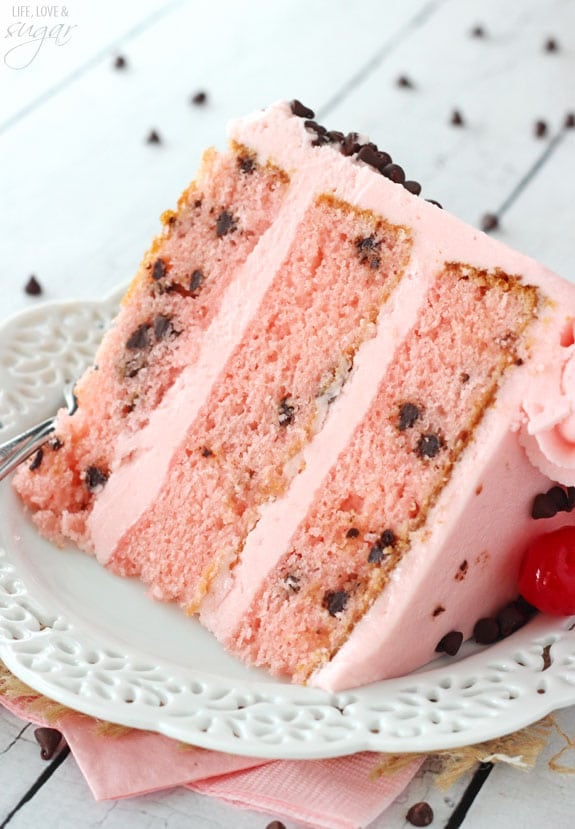 So this past weekend, I tried to throw a legit virtual baby shower. Like for reals.
If you are a regular blog reader, you may have seen bloggers celebrate a virtual baby shower for another blog. It's totally a thing (a couple examples – here and here).
Well, one of my best and oldest friends (since we were 9) is pregnant and due in August. Our little group of friends has all known each other forever, but as time has gone on, we've moved away – even to different countries. So we weren't going to be able to celebrate with her in person. 🙁
So inspired by blogger virtual showers where we all post on the same day about a blogger and her new addition, I decided to take it literally. I emailed our friends and arranged a day and time for us to all "get together" online in a google hangout. With a google hangout (free) you can all join using a link and "hangout". Sort of like a group FaceTime.
We all mailed our gifts ahead of time to her house so that she'd have them to open during the virtual shower. I thought it'd be a fun way for us all to still get a chance to celebrate with her and give her some things for the new baby girl.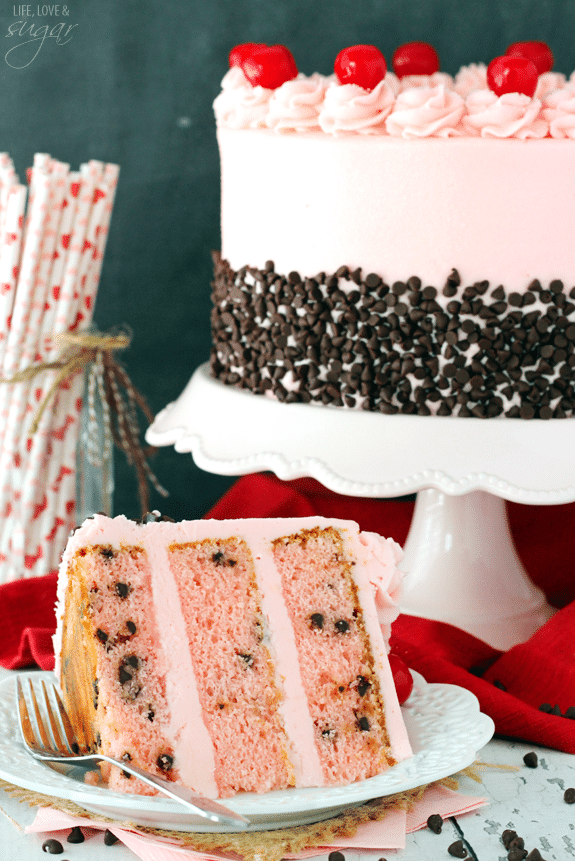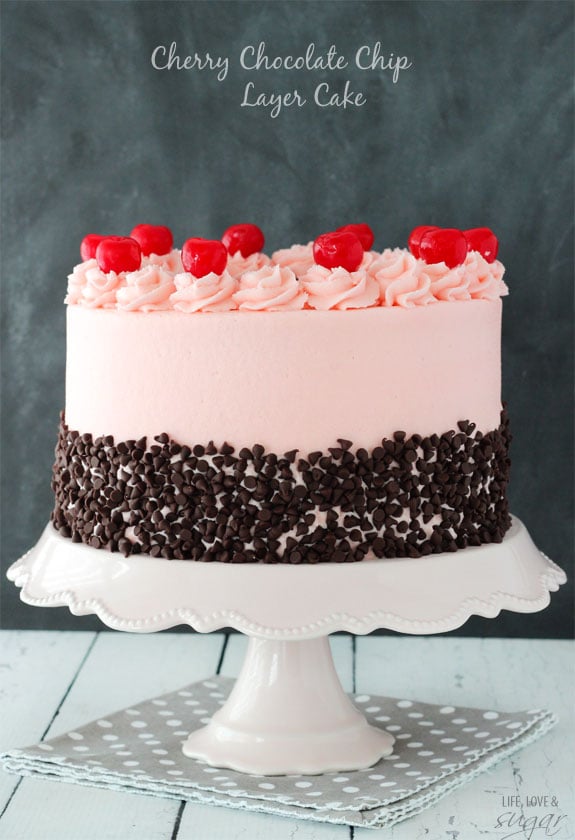 Unfortunately, at the last minute she scheduled birthing classes and that was the only day and time she could do before the baby's arrival, so we had to move it to another day. It ended up not working out for everyone, so it was really just us two hanging out, which was bummer for the shower, but still fun to catch up.
So if you have a group of friends but you're all in different locations, that could totally be a fun thing to do. Just be sure birthing classes are already scheduled. 😉
This cake would've been perfect for celebrating a baby girl shower, actually. So pink! And I love me some pink!
I'd been wanting to do a cherry chocolate chip cake for a while. I started off using fresh cherries because they are so in season and on sale, but they just didn't lend the kind of flavor I wanted. It was also much more subtle and I really do prefer a stronger flavor.
So I ended up going with maraschino cherries. I think it was a good call. The cake is delicious! The cherry and chocolate chips go great together. I used mini chocolate chips and would definitely recommend them. I think regular sized chocolate chips might be a little too much and overpower the cherry.
It also worked well because the cherry juice gave the icing the beautiful pink color – no need at all for coloring icing. My arm was really glad about that. 🙂
This Cherry Chocolate Chip Cake is moist and delicious and makes a really fun presentation! Enjoy!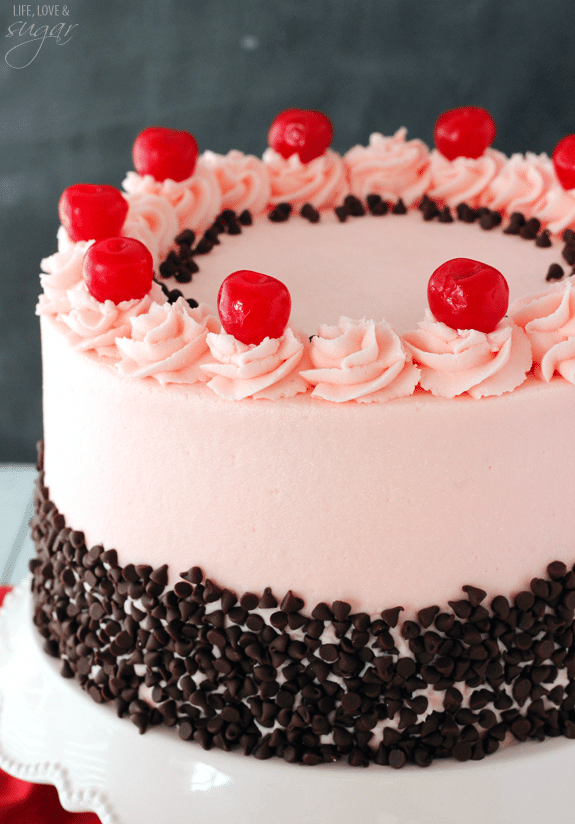 Cherry Chocolate Chip Cake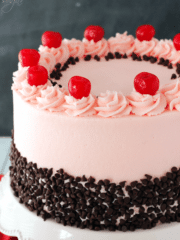 Yield:

12

-

14

Servings

1

x
Category:

Dessert

Method:

Oven

Cuisine:

American
Ingredients
1 1/2 cup

s sugar

3/4 cup

salted butter

1/2 tsp

vanilla extract

3/4 cup

sour cream

4

egg whites

1

egg

2 1/2 cup

s all purpose flour

4 tsp

baking powder

1/4 cup

milk

1/2 cup

maraschino cherry juice

3/4 cup

mini chocolate chips (plus more for decorating the outside of the cake)
1 1/2 cup

s butter

1 1/2 cup

s shortening

12 cup

s powdered sugar

5

–

6

tbsp cherry juice
Instructions
1. Preheat oven to 350 degrees (F) and line three 8 inch cake pans with parchment rounds and grease the sides.
2. Cream butter and sugar in a large bowl on medium speed until light in color and fluffy.
3. Add vanilla extract and sour cream and beat until well combined.
4. Add the egg whites and egg in two batches, stirring until well combined after each addition.
5. In a separate bowl, combine flour and baking powder.
6. Add about half of the flour mixture to the batter and mix until combined. Scrape down the sides of the bowl as needed.
7. Add milk and cherry juice and mix until combined, scraping down the sides of the bowl.
8. Add remaining flour mixture and mix until smooth and well combined.
9. Fold in mini chocolate chips
10. Divide batter evenly between cake pans and bake for 24-26 minutes, or until a toothpick inserted comes out with a few crumbs.
11. Allow cakes to cool for about 5 minutes, then remove cakes to cooling rack to finish cooling.
12. 
To make icing,
 combine butter and shortening in a large and beat on medium speed until smooth.
13. Add 4 cups of powdered sugar and mix until smooth.
14. Add 3 tbsp of cherry juice and mix until smooth.
15. Add another 4 cups of powdered sugar and mix until smooth.
16. Add another 2 tbsp of cherry juice and mix until smooth.
17. Add remaining powdered sugar and mix until smooth.
18. Add additional cherry juice if needed to get the right consistency of icing. Icing should be thick, but slightly sticky to the touch.
19. 
To assemble the cake,
 first remove the cake domes from each cake layer.
20. Place the first cake layer on a cake plate or cardboard cake round. Top with 1 1/2 cups icing, spread into an even layer.
21. Repeat step 20 with the next layer of cake.
22. Top with remaining layer of cake.
23. Ice the outside of the cake with remaining icing.
24. Before the icing has a chance to crust and firm, add additional mini chocolate chips around the bottom.
25. Pipe icing around the top edge of the cake and top with cherries.
Notes
Cake can be made a day or two ahead, but is best served shortly after making. Also best to not refrigerate cake. You'll beed a 16 oz jar cherries without stems for the cake. You'll use most of the juice and some of the cherries.
For help with how to add the mini chocolate chips to the sides of the cake, visit this tutorial. The method is the same.
For help with how to add the mini chocolate chips to the sides of the cake, visit this tutorial. The method is the same.
Enjoy!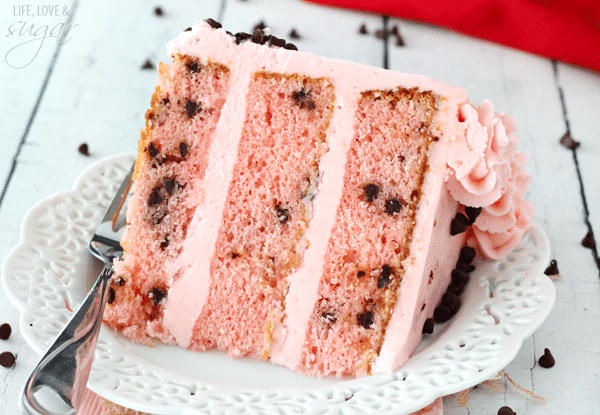 You might also enjoy:
Chocolate Cherry Ice Cream Pie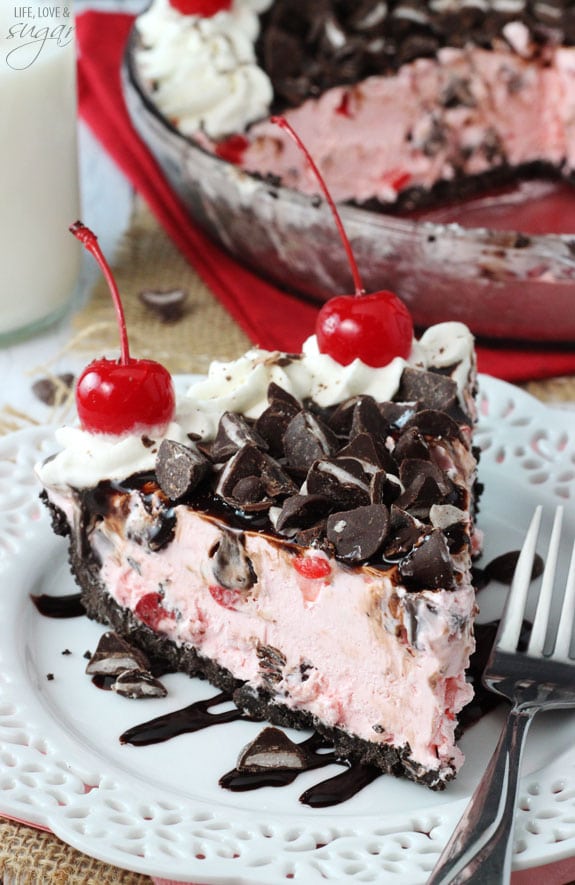 Cherry Almond Amaretto Ice Cream Cake