This Pecan Streusel Pumpkin Cheesecake recipe is one of my favorite fall pumpkin desserts! The thick and creamy pumpkin cheesecake with the streusel on top and the crunch from the pecans is pure heaven!
If you love fall inspired desserts as much as I do, be sure to try these Apple Streusel Cheesecake Bars and this easy Pumpkin Cheesecake With Cream Cheese Whipped Cream. They are sure to get you in the fall spirit!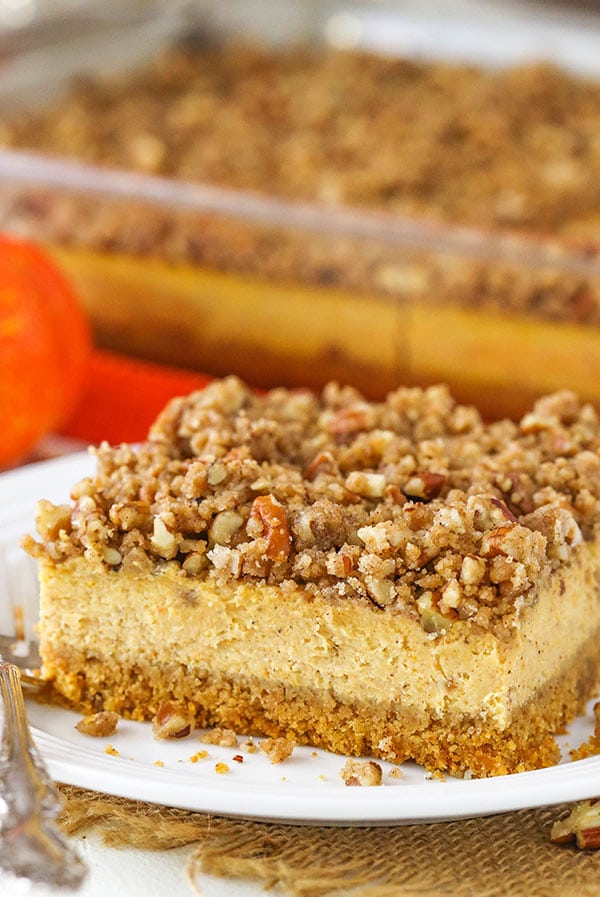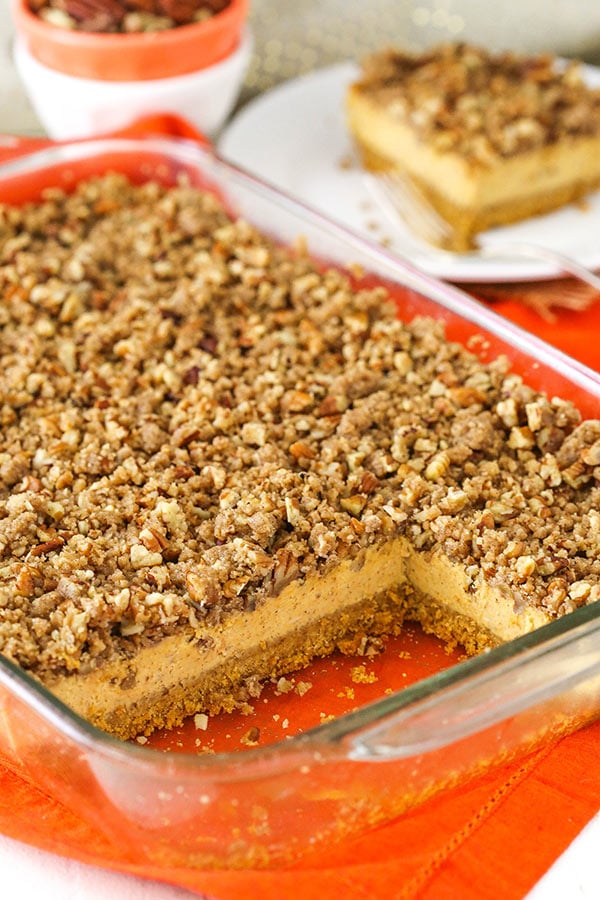 An Easy Pumpkin Cheesecake For Fall
Now that football is back in season, it is basically what consumes our weekends. College football on Saturday, which the hubs is into. Then the NFL on Sunday, which is more my thing, but a shared thing for us as well. The hub's favorite college team, the Georgia Bulldogs, is doing really well so far. Our NFL team, the Carolina Panthers, not so much. Their record doesn't really reflect it, but it hasn't really been very pretty so far.
The nice thing about all the football watching though is it means relaxing, eating and plenty of napping on the couch. All of my favorite things while pregnant. 🙂 The eating isn't quite an interesting as it would normally be for football food, since my stomach doesn't tolerate anything that isn't simple, but that's fine.
We did venture out for breakfast on Sunday morning and I got my pumpkin on with some pumpkin spice pancakes. I wasn't sure how they'd sit with my stomach, but fortunately these two little babies are on board with pumpkin so far. Good thing! 🙂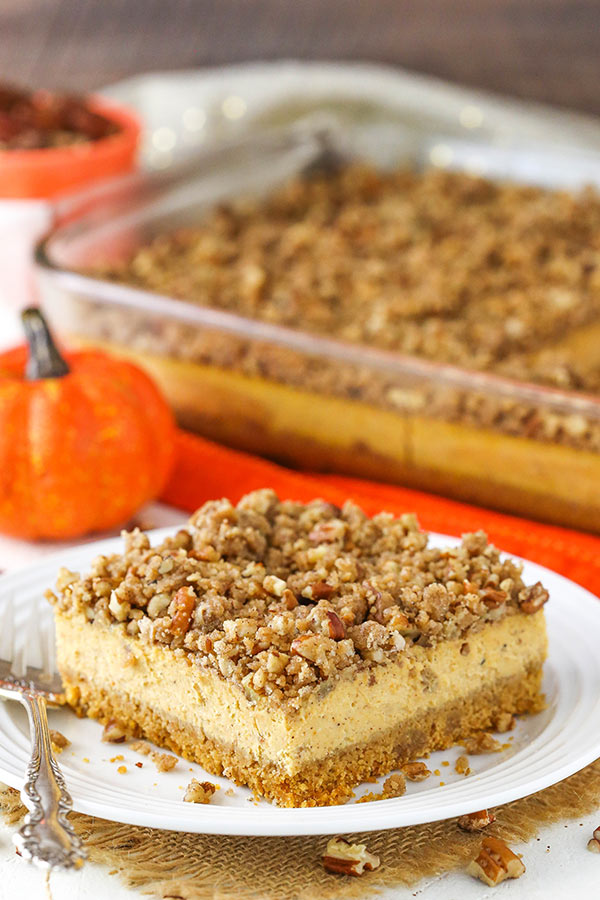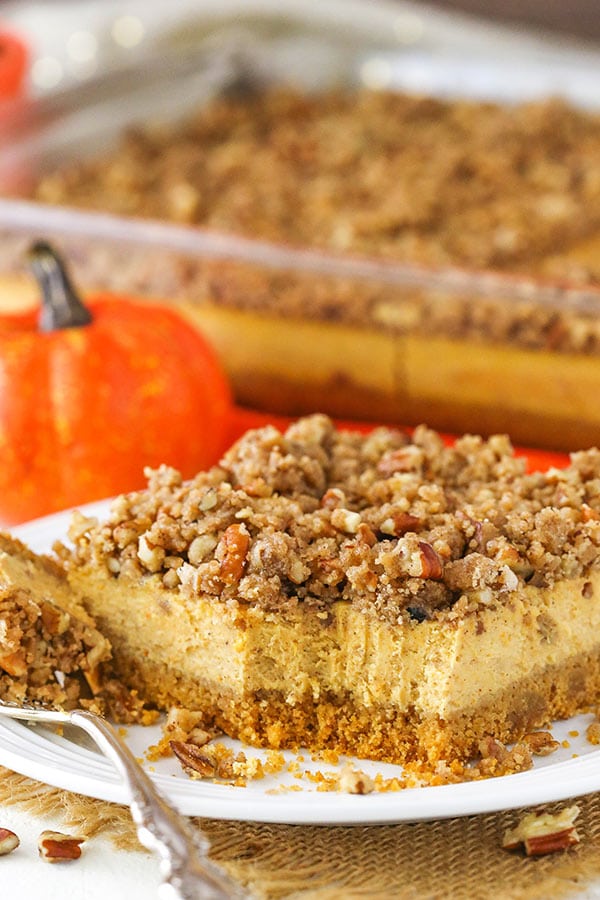 We were all pretty big fans of this cheesecake too. In fact, it's one of my new favorite pumpkin treats. It's seriously so good!
To start, there's the pecans. They are added to the streusel later, but you want to first toast them. Is softens them up a bit and releases their flavor. I like to toss them with a little butter and brown sugar for some additional flavor too. If you aren't a pecan fan though, you could just leave them out of the streusel.
Next up is the crust. I went with a classic graham cracker crust, but feel free to change it up. I liked the simplicity of the graham crackers here because it doesn't take away from all the flavor in everything else.
What Size Pan Do I Use For This Cheesecake Recipe?
The filling has a full cup of pumpkin in it, along with my favorite fall spices – cinnamon, nutmeg and cloves. This particular cheesecake is made in a 9×13 pan, which makes it great for transporting and sharing for the holidays. It also doesn't require a water bath, which is nice and easy. Definitely a bonus with everything going on during the holidays.
I still use the slow cooling process that I use on most of my cheesecakes and in this case, it's during that process that the streusel is added. Part way through cooling in the oven, you add the streusel. The cheesecake is still slowly cooling in the hot oven, so the residual heat melts the streusel on top of the cheesecake. Once finished, it's time to cool it until it's cold and firm.
The finished cheesecake is pumpkin cheesecake perfection! A nice, thick crust, thick and creamy filling with plenty of flavor, and a spiced streusel with a little crunch from the pecans. What's not to love?!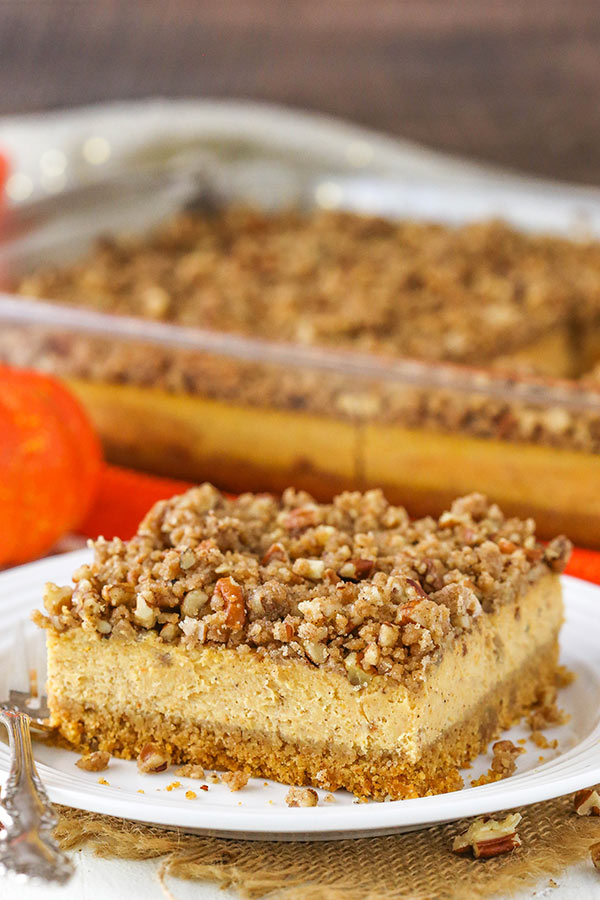 Print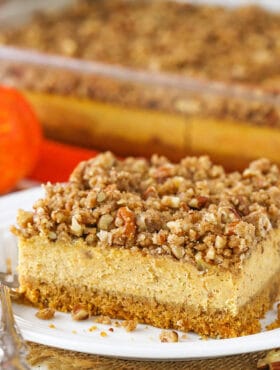 Recipe
Pecan Streusel Pumpkin Cheesecake
Author:

Prep Time:

45 minutes

Cook Time:

65 minutes, plus 3-4 hours cooling

Total Time:

32 minute

Yield:

12-15 Servings

Category:

Cheesecake

Method:

Oven

Cuisine:

American
---
Description
This Pecan Streusel Pumpkin Cheesecake recipe is one of my favorite fall pumpkin desserts! The thick and creamy pumpkin cheesecake with the streusel on top and the crunch from the pecans is pure heaven!
---
Ingredients
TOASTED PECANS
1 cup

(

163g

) finely chopped pecans

1 tbsp

light brown sugar, loosely packed

1 tbsp

(

14g

) salted butter, melted
CRUST
2 cups

(

268g

) graham cracker crumbs

3 tbsp

(

39g

) sugar

1/2 cup

(

112g

) salted butter, melted
FILLING
24 ounces

(

678g

) cream cheese, room temperature

1 cup

(

207g

) sugar

3 tbsp

(

24g

) all purpose flour

1 cup

(

232g

) pumpkin puree (canned pumpkin)

1/2 tbsp

vanilla extract

1 1/2 tsp

ground cinnamon

1/2 tsp

nutmeg

1/8 tsp

cloves

4

large eggs, room temperature
STREUSEL
2/3 cup

(

87g

) all purpose flour

2/3 cup

(

150g

) light brown sugar, packed

1 tsp

ground cinnamon

1/4 tsp

nutmeg
Pinch of cloves

5 tbsp

(

70g

) salted butter, melted
---
Instructions
1. To toast the pecans, preheat the oven to 350°F (176°C). Line a cookie sheet with parchment paper or a silicone baking mat.
2. Combine the melted butter, pecans and brown sugar in a medium sized bowl and toss to coat.
3. Spread the pecans evenly onto the cookie sheet and bake for 5-7 minutes, or until toasted.
4. Set pecans aside to cool.
5. Change the oven temperature to 325°F (163°C). Grease a 9×13 pan.
6. Combine the crust ingredients in a small bowl. Press the mixture into the bottom of the prepared pan.
7. Bake the crust for 10 minutes, then set aside to cool.
8. Reduce the oven temperature to 300°F (148°C).
9. In a large bowl, blend the cream cheese, sugar and flour on low speed until well completely combined and smooth. Be sure to use low speed to reduce the amount of air added to the batter, which can cause cracks. Scrape down the sides of the bowl.
10. Add the pumpkin puree, vanilla extract and spices and mix on low speed until well combined.
11. Add eggs one at a time, mixing slowly to combine. Scrape down the sides of the bowl as needed to make sure everything is well combined.
12. Pour the batter into the pan with the crust and spread evenly.
13. Bake the cheesecake for 35-40 minutes.
14. While the cheesecake is baking, make the streusel. Combine all the ingredients for the streusel in a medium bowl, then add the pecans. Mix until crumbly and well combined.
15. Turn off the oven and leave the cheesecake in the oven with the door closed for 10 minutes.
16. Remove the cheesecake from the oven (by this point, the top of the cheesecake should be more firm so it can hold the topping), and sprinkle the pecan streusel over the top.
17. Place the cheesecake back in the oven with the oven door closed for another 15 minutes.
18. Crack the door of the oven, with the cheesecake inside, for 15 minutes. This slow cooling process helps prevent the cheesecake from cracking.
19. Put the cheesecake in the fridge to cool completely, 3-4 hours.
20. Cut the cheesecake into slices and serve.
---
Nutrition
Serving Size:

1 Slice

Calories:

462

Sugar:

33.8 g

Sodium:

383.7 mg

Fat:

25.4 g

Carbohydrates:

52.7 g

Protein:

8 g

Cholesterol:

102.6 mg
Keywords: pumpkin cheesecake, pumpkin desserts, fall desserts, easy cheesecake, how to make cheesecake, pecan cheesecake
Categories
Enjoy!

This post may contain affiliate sales links. Please read my disclosure policy.