These Pumpkin Butterscotch Chip Cookies are the perfect pumpkin cookie! I'm totally in love with how dense, moist and chewy they are and the butterscotch chips are the perfect compliment to them! You'll definitely want to make these over and over.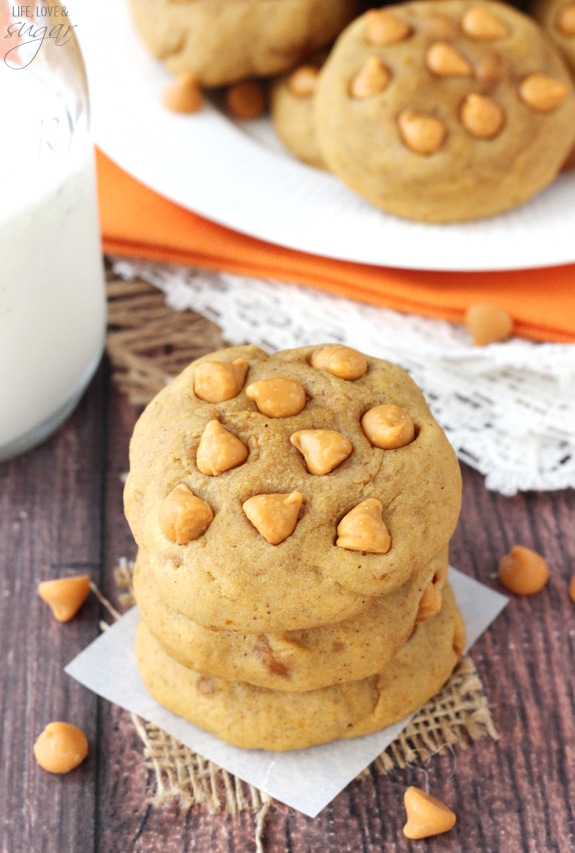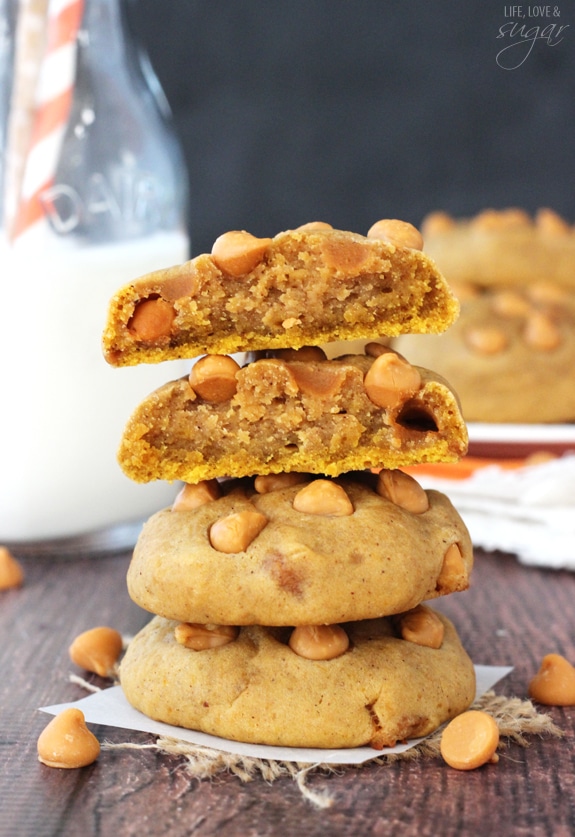 So there are two things I don't recommend when going grocery shopping. The first one you've surely heard before – don't grocery shop hungry. That's a sure way to end up buying all the things. My cart ends up full of cookies, cakes and anything else that looks enticing when I'm hungry. No good.
The next one, and more common for me, is to not grocery shop without a list. Seriously. It's like I'm totally lost in the grocery story without a list. I was at the store the other day and had forgotten what I'd needed to get. In addition, I needed to get a couple things for dinner for the week but hadn't decided what I wanted to make. I was going to see what caught my eye.
The problem with that is that then I have to remember what all to get on the fly. I end up walking around looking like a total space ball. I stop on the middle of aisles, looking around like I don't know where I am when really I'm just trying to remember what I've forgotten. I double, triple, quadruple back to aisles I've already been to because I forgot something else. Drives me nuts and I'm sure people think I'm totally crazy.
It's one of those grocery trips that makes you feel like you could use a good cookie. 🙂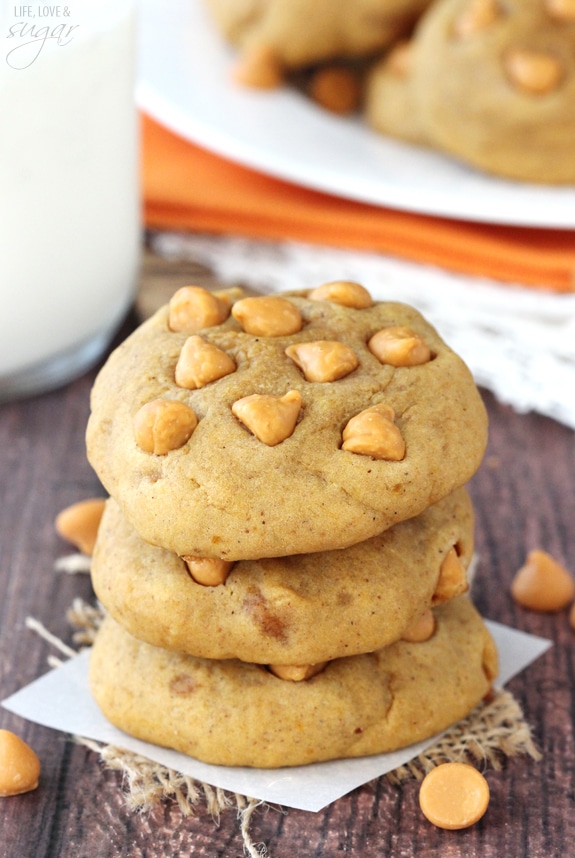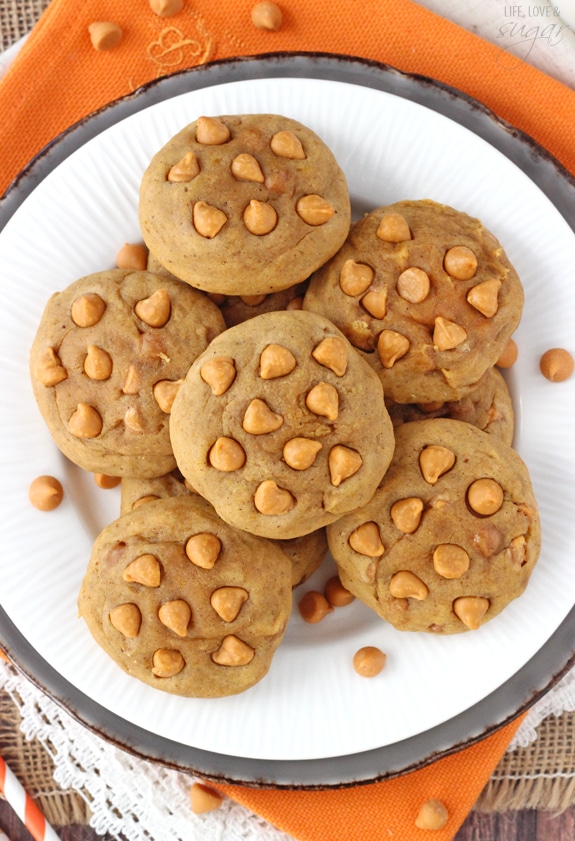 These Pumpkin Butterscotch Chip Cookies are exactly the cookie I'll be craving from now on. I love the combination of pumpkin and butterscotch!
I can't even remember how many times I made these babies trying to get them just right, but I'm pretty sure it was 5 or 6 times. Getting a perfectly dense and chewy pumpkin cookie rather than a cakey one, like these Pumpkin Cookies with Cinnamon Glaze, is not an easy task. Pumpkin puree is a natural leavener so I played around with the eggs and baking soda/baking powder until I had them just right.
Ultimately I left the baking soda and baking powder out completely. They aren't needed with the pumpkin puree. I did end up keeping one egg white. It definitely adds to the chewiness, flavor and texture of the cookie and I much preferred them with it.
These cookies are nice and easy to make too. No need to cream the butter or anything. The wet ingredients are combined, then the dry ingredients are added. The dough does end up being a little sticky from all the moisture.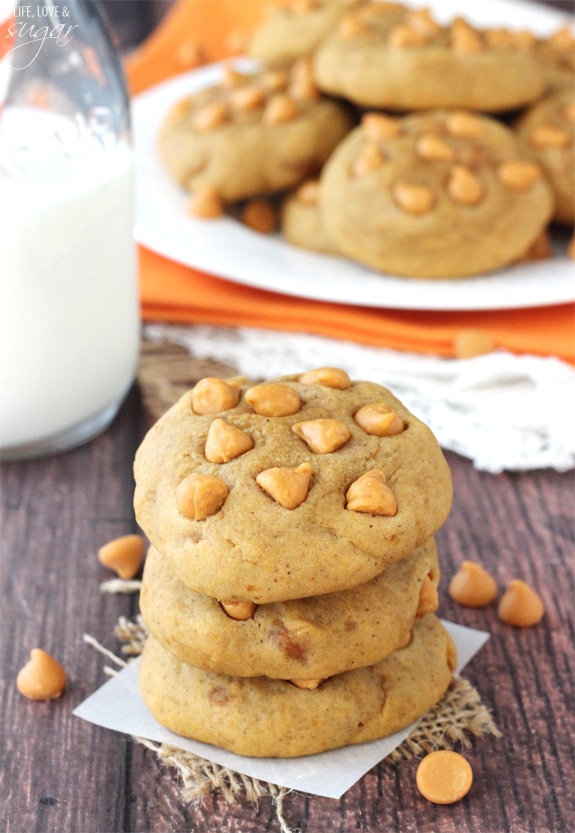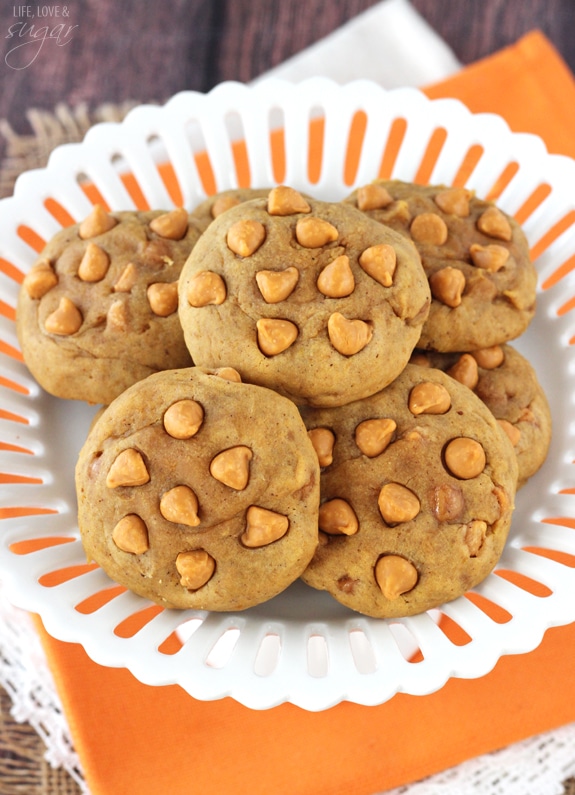 The only hard part is waiting while the dough refrigerates for a about 30 minutes to an hour. While you could skip that step, I really do recommend it. Not only does it make the cookie dough easier to work with and a little less sticky, it also allows all the ingredients come together and makes a nicer chewy texture in the cookie. However, in a pinch you could skip it.
Be sure not to over bake the cookies. Nobody likes a dry, over-baked cookie. They're ready to come out of the oven when the edges are firm and cooked and center still looks a little undercooked. The center will continue to cook as the cookie cools.
I really can't even tell you accurately how good these cookies are. You just have to trust me. If you like chewy cookies and pumpkin, this is your new favorite cookie. They were definitely a hit with everyone that tried them!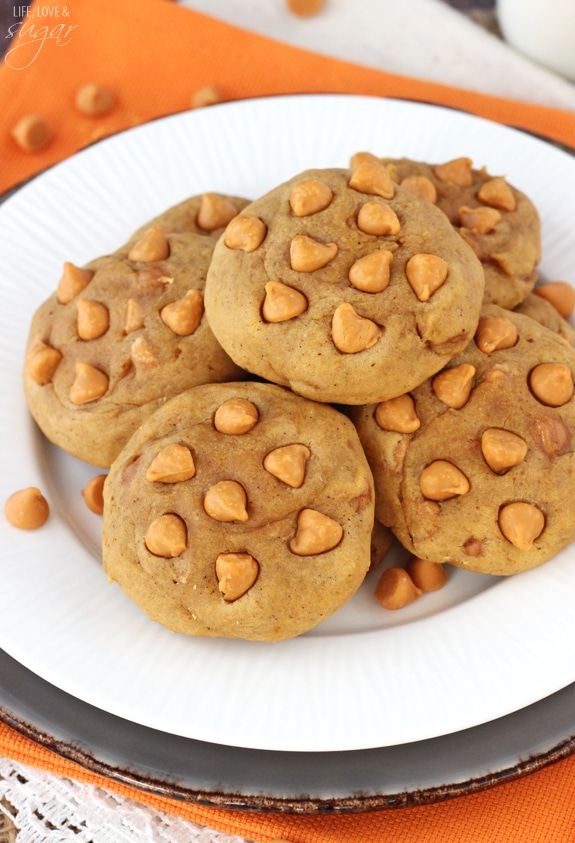 You might also like:
Pumpkin Cupcakes with Cream Cheese Frosting
Pumpkin Sheet Cake
Pumpkin Cookies with Cinnamon Glaze
Pumpkin Chocolate Brownie Cheesecake
Pumpkin Chocolate Chip Cookie Sandwiches
Chocolate Pumpkin Cheesecake Cake
Pumpkin Caramel Ice Cream Pie
Print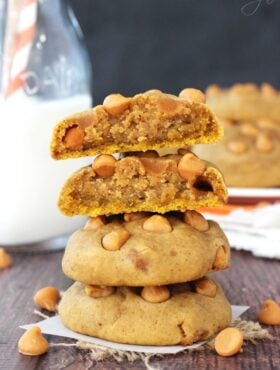 Recipe
Pumpkin Butterscotch Chip Cookies
Author:

Yield:

30-35 Cookies

Category:

Dessert

Method:

Oven

Cuisine:

American
---
Description
These Pumpkin Butterscotch Chip Cookies are the perfect pumpkin cookie! They are dense, moist, chewy and the butterscotch chips are the perfect compliment to them!
---
Ingredients
3/4 cup

salted butter, melted

1 cup

brown sugar, lightly packed

1/4 cup

sugar

1 tsp

vanilla extract

1 cup

pureed pumpkin

1

egg white

2 3/4 cups

all purpose flour

1 1/2 tsp

ground cinnamon

1/2 tsp

nutmeg

1/2 tsp

cloves

1/2 tsp

ginger

1 1/2 tsp

cornstarch

1 cup

butterscotch chips
---
Instructions
1. Preheat oven to 350 degrees.
2. Mix together butter, brown sugar, sugar, vanilla extract, pumpkin puree and egg white until well combined.
3. Add the spices, flour and cornstarch and mix until well combined.
4. Stir in butterscotch chips. Dough will be thick and sticky.
5. Refrigerate for about 30 minutes to an hour.
6. Scoop 2 tbsp of dough per cookie onto a cookie sheet lined with parchment paper or a non-stick baking mat. They'll spread a bit while baking
7. Bake for 12-13 minutes. The edges should be firm and the center will still look a little undercooked, but will continue cooking and firm up as it cools.
8. Remove cookies from oven and allow to cool for about a minute on cookie sheet.
9. Move cookies to a cooling rack to finish cooling.
---
Nutrition
Serving Size:

1 cookie

Calories:

133

Sugar:

10.1 g

Sodium:

40.9 mg

Fat:

6.1 g

Carbohydrates:

18.2 g

Protein:

1.5 g

Cholesterol:

15.8 mg
Enjoy!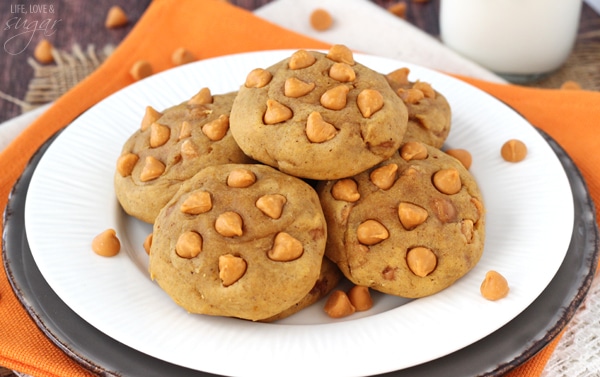 This post may contain affiliate sales links. Please read my disclosure policy.