This post may contain affiliate sales links. Please read my disclosure policy.
This Raspberry Goat Cheese Cheesecake is ridiculously smooth & creamy with a wonderful raspberry swirl that compliments the goat cheese and a hint of honey in the crust! It's an incredible cheesecake.
This post is sponsored by Eggland's Best, but all opinions are my own.
So, if you read through my Sparkling Cranberry White Chocolate Cupcakes post last week, then you'll recall that I asked to hear about your family favorite recipes for the holidays so that I could share one with you. Well as expected, you guys totally came through for me and sent some great recipes! I couldn't wait to try them.
This Raspberry Goat Cheese Cheesecake really stood out to me. As soon as I saw it, I couldn't wait to try it. You guys know I love some cheesecake and crazily enough I'd never tried one with goat cheese before. I'd always been curious and this cheesecake did not disappoint. In fact, it exceeded any expectation I could have had!
You guys, this cheesecake is not just creamy and amazing, it's totally dreamy. This is one of those cheesecakes that you eat slowly, savoring every bite. There are layers of flavor in there that you'll completely miss if you don't really take your time and savor it. You could get lost in all its deliciousness! How have I not tried cheesecake with goat cheese before?!
The Secret to This Creamy Cheesecake: 3 Kinds of Goat Cheese
This Goat Cheese Cheesecake is made with three cheeses – goat cheese, mascarpone cheese and cream cheese. The goat cheese definitely shines through, but the other two cheeses really compliment it well. The crust is made with homemade cookies that are quick to make and flavored with honey. And it can actually be made with lots of different berries – cranberries, blackberries, blueberries – but since I used cranberries last week, I decided to go with raspberries. The combination of goat cheese, honey and raspberries is my new favorite thing – yum!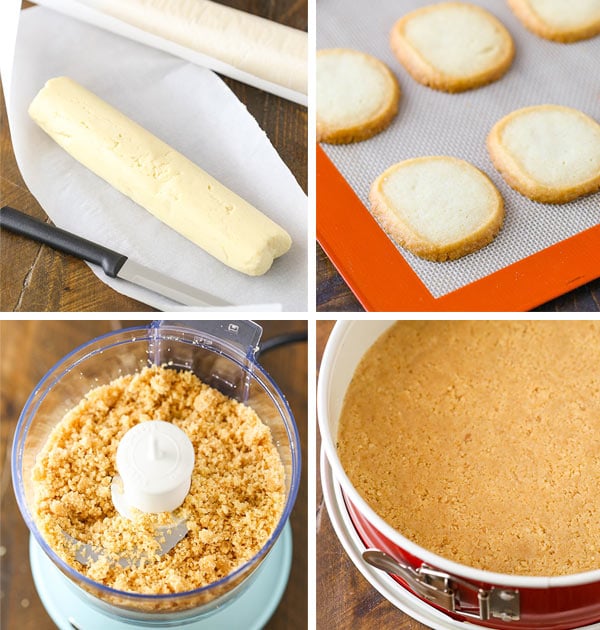 How to Make Goat Cheese Cheesecake
So, to get started making this cheesecake, you'll first make the crust. And to make the crust, you'll first make the cookies that are used in the crust. I know it's some extra steps to make the cookies yourself, but they really are tasty. They're made with honey, which really compliments the goat cheese, and adding that into the cheesecake through the cookie crust is just brilliant!
That said, the cookies are pretty much honey flavored shortbread, so if you really are short on time and don't want to make the cookies yourself, you could simply make a shortbread crust with store bought shortbread cookies. It'd still be great and you could add some honey flavor by drizzling it onto the cheesecake, or even try adding some to the crumbs when you make the crust.
But assuming you bake the cookies, you'll make the dough and roll it into logs in some parchment paper. Refrigerate it for a bit, so it can firm up, then slice into cookies and bake them. You could definitely make the dough ahead and refrigerate it for a couple days prior to baking, if you wanted. You could even make the cookies ahead, so they are ready to go when you want to put the cheesecake together.
When the cookies are ready, pop them in a food process and grind into crumbs. Combine the crumbs with a little more butter to help hold it all together and then bake it for about 10 minutes. When it's done, let it cool.
The raspberry swirl is pretty straightforward to make. Combine some cornstarch – which will help thicken the swirl – with some fresh lemon juice and warm water. Stir it all together until the cornstarch is dissolved.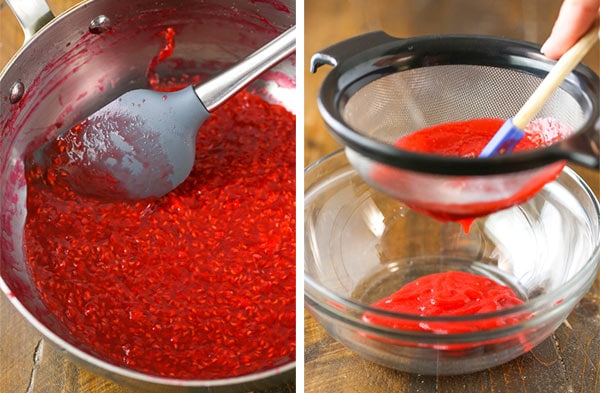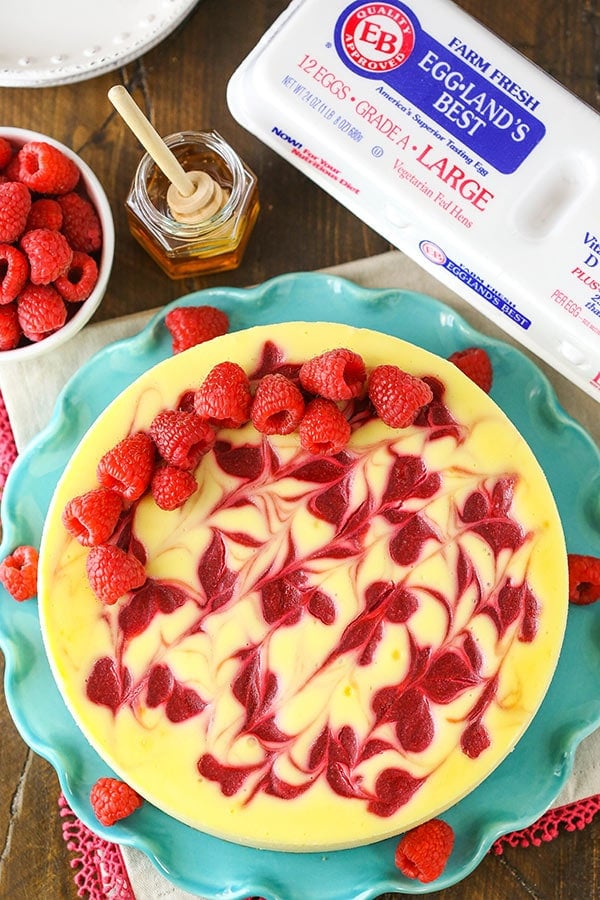 Next, add the raspberries and sugar to a saucepan and cook them for a few minutes to release the juices. Add the cornstarch mixture to the raspberries and cook for another 3 minutes, mashing the raspberries as it cooks and letting it just start to thicken. When it's done, puree the mixture and then strain it through a fine mesh sieve to remove the seeds. Set it aside to cool while you make the cheesecake filling.
The cheesecake filling is really quite simple to put together too. Combine the cream cheese and goat cheese and beat until well combined and a little fluffy. I tend to use a lower speed to mix my cheesecakes, but in this first step, beat it at more of a medium speed to get a bit of fluff in there.
Once those are combined, add the mascarpone cheese and sugar. While the cream cheese and goat cheese should be softer when adding, I tend to add mascarpone cheese while it's still more chilled and firm. It still incorporates really well, but I find that if it gets too warm, it messes with the texture of the cheese.
The final ingredients are the sour cream and vanilla extract, and then the eggs. Of course, here I'm using Eggland's Best eggs. They have six times more vitamin D, more than double the Omega 3s, and 38% more lutein when compared to ordinary eggs. And, they're only 60 calories! They are perfect for eating anytime and perfect for this cheesecake. Why not add some extra vitamins to our cheesecake?!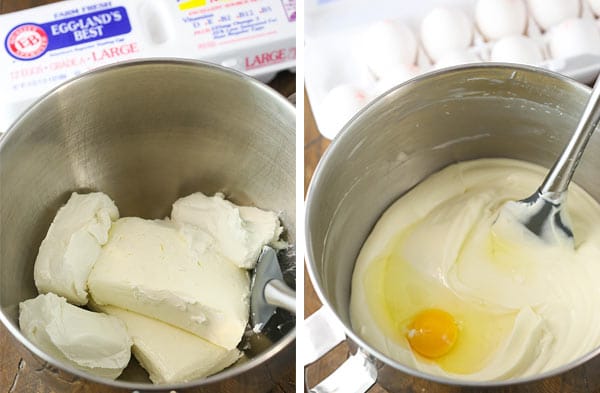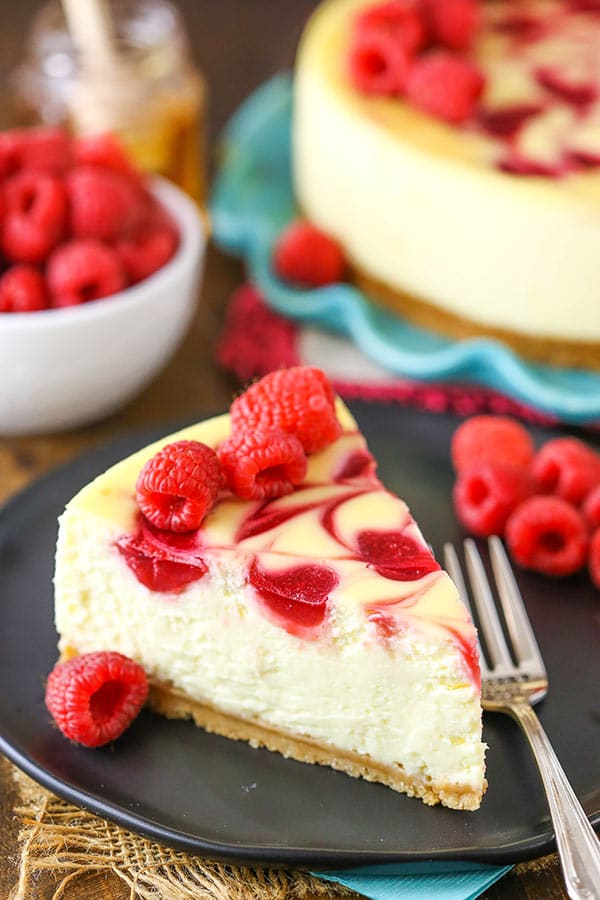 As with pretty much all of my cheesecakes, this one bakes in a water bath. I know the water bath seems like a pain, but I promise it's worth it. It gives you a creamier cheesecake with a better appearance and shouldn't crack. For a dessert you put this much love and care into, why wouldn't you take the extra couple steps to ensure it turns out perfectly?
One thing about water baths is that they can often cause leaking problems from springform pans that don't seal well. So I actually have a great little tutorial on my water bath method you can use with some tips and tricks for keeping that water bath from leaking!
So, once you've got your cheesecake baked and cooled, it's time to dig in! The long wait is finally over and it will totally be worth it! I can see why this is a family favorite – it's seriously amazing. Once of the best cheesecakes I've had! The cheesecake has just the right amount of goat cheese flavor – it doesn't take over everything. The raspberry swirl is delicious. And the touch of honey in the crust is such a great little bonus! I actually loved the honey with it, so I drizzled just a touch over my slice before I dug in. You don't want too much, but just a bit is the perfect finishing touch! This is one seriously great cheesecake that is totally holiday worthy. Time to get baking!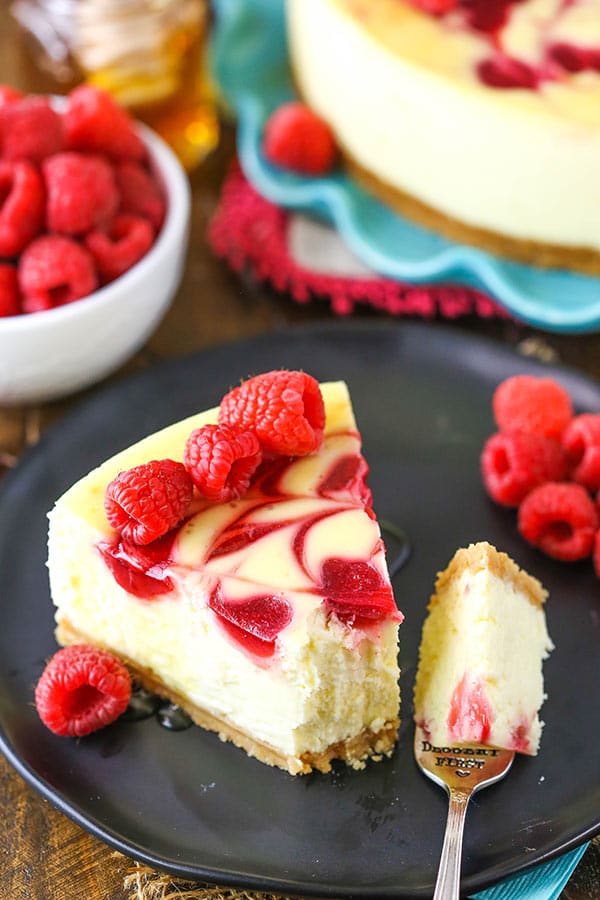 Print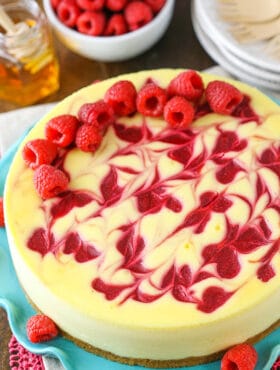 Recipe
Raspberry Goat Cheese Cheesecake
Author:

Prep Time:

1 hr 15 minutes

Cook Time:

2 hrs 40 min

Total Time:

3 hrs 55 minutes, plus cooling

Yield:

12-14 slices

Category:

Dessert

Method:

Oven

Cuisine:

American
---
Description
This Raspberry Goat Cheese Cheesecake is ridiculously smooth & creamy with a wonderful raspberry swirl that compliments the goat cheese and a hint of honey in the crust! It's an incredible cheesecake.
---
Ingredients
Crust*
1 cup

, plus 3 tablespoons (

266g

) unsalted butter, room temperature

1/2 cup

(

104g

) sugar

3 tbsp

honey

2 cups

(

260g

) all purpose flour
Pinch of salt
Raspberry Swirl
2 tsp

cornstarch

1 tsp

fresh lemon juice

1 tbsp

warm water

2 cups

(

255g

) fresh or frozen raspberries

2 tbsp

sugar
Goat Cheese Cheesecake
16 oz

cream cheese, room temperature

12 oz

goat cheese, room temperature

4 oz

mascarpone cheese, slightly softened

1 1/2 cups

(

310g

) sugar

1 cup

(

230g

) sour cream

2 tsp

vanilla

4

large Eggland's Best eggs
Additional
Honey, for serving, optional
---
Instructions
1. To make the crust, add 1 cup of butter, sugar and honey to a large mixer bowl and cream on medium speed until fluffy.
2. Add the flour and salt and mix until combined.
3. Divide the dough in half and place each half on a piece of parchment paper. Spread the dough out into a long log, about 1 1/4 inches in diameter, and wrap the parchment paper around it. Wrap with plastic wrap.
4. Freeze the dough for 30 minutes or refrigerate for 2 hours until firm (you could also make the dough ahead and refrigerate it for 2 days before using).
5. Preheat the oven to 325°F and line a cookie sheet with a silicone baking mat or parchment paper.
6. Cut the rolled dough into 1/4 inch pieces and place 1/2 inch apart on the lined cookie sheet.
7. Bake for 15-20 minutes, or until the edges are golden and cookies are fully cooked, and let cool completely.
8. Add the cookies to a food processor and crush into crumbs. You want to have 2 1/4 cups of crumbs (you might have some cookies left over).
9. Melt the remaining 3 tablespoons butter and add it to the cookie crumbs. Stir to combine well.
10. Press the cookie crumbs into the bottom of a springform pan that has been greased on the sides and lined on the bottom with parchment paper.
11. Bake the crust for 10 minutes, then let cool. Cover the outsides of the pan with aluminum foil (I also use a plastic crock pot liner – see method here) so that water from the water bath cannot get in. Set prepared pan aside.
12. To make the raspberry swirl filling, add the cornstarch, lemon juice, and warm water to a small bowl and whisk together until the cornstarch has dissolved.
13. Combine the raspberries and sugar together in a small saucepan and heat over medium heat, stirring continuously for 3 minutes as the juices release.
14. Add the cornstarch mixture and continue cooking for another 3 minutes, smashing the raspberries as you go. The mixture should bubble a little bit and just start to thicken.
15. Puree the raspberry mixture in a food processor and then strain the puree. Set puree aside to cool.
16. To make the cheesecake filling, preheat oven to 350°F. Add the cream cheese and goat cheese to a large mixer bowl and beat on medium speed until fluffy. Scrape down the sides of the bowl, as needed to make sure things are well combined.
17. Add the mascarpone cheese and sugar mix until well combined.
18. Add the sour cream and vanilla extract and mix on low speed until well combined.
19. Add the eggs one at a time, beating until fully incorporated and scraping the sides of the bowl after each addition.
20. Pour the filling into the prepared crust.
21. Drop spoonfuls of raspberry sauce all over the top of the cheesecake filling.
22. Using a toothpick or knife, gently swirl the raspberry sauce.
23. Place springform pan (covered with aluminum foil) inside another larger pan. Fill the larger pan with enough warm water to go about halfway up the sides of the springform pan. The water should not go above the top edge of the aluminum foil on the springform pan.
24. Bake the cheesecake for 1 hour, then turn off the oven and leave the door closed for another hour. The cheesecake will continue to bake as it cools.
25. Remove the cheesecake from the oven and wrapping and set in the fridge to chill until firm, 5-6 hours or overnight.
26. Refrigerate the cheesecake until ready to serve. Cheesecake is best when stored well covered and eaten within 3-4 days. Serve cheesecake with a little drizzle of honey, if desired.
---
Notes
For a shortcut with the crust, use 2 1/4 cups of shortbread cookie crumbs and 3 tablespoons of melted butter. Combine the crumbs and butter and press into the bottom of the springform pan. Bake as directed above.
Nutrition
Serving Size:

1 Slice

Calories:

607

Sugar:

37.4 g

Sodium:

258.9 mg

Fat:

36.8 g

Carbohydrates:

54.8 g

Protein:

15.7 g

Cholesterol:

153.4 mg
Keywords: raspberry cheesecake recipe, how to add a swirl to your cheesecake, easy cheesecake recipe, valentines day dessert, goat cheese cheesecake recipe
Filed Under:
Enjoy!