This post may contain affiliate sales links. Please read my disclosure policy.
These Champagne Cupcakes are filled with white chocolate champagne truffle filling and topped with champagne frosting! They are moist, light and FULL of champagne flavor! Perfect for a New Year's Eve party or any celebration!
Champagne Cupcakes
So, it has been busy around here lately. Brooks started crawling about a week and a half ago and now he's everywhere all the time. He's also getting SO close to walking – often standing completely on his own for 10 to 20 seconds at a time while clapping for himself and smiling and laughing. 🙂 It's the cutest!
And Ashton just started crawling yesterday! I know I'm biased, but they are seriously the most adorable things ever. They get so excited for themselves when they hit these milestones and we get so excited with them. Ashton also isn't far from walking and they are both so busy right now, it's hard to keep up. Lately, it feels like they are just crushing milestones!
I'm always a little torn between being so excited for them and celebrating the milestone, and also knowing in the back of my mind that it's a new phase and we've officially left an old one that will forever be gone. It's the most amazing thing to watch them grow up, but I also want them to just stay my babies! Ultimately though, celebrating wins and if they were old enough, I'd totally give them a champagne cupcake to celebrate all the big things they've been doing lately. 🙂
But since they aren't old enough, we'll all have to celebrate for them. And since News Year's Eve is a week away, we can also celebrate that, I guess. 😉 We aren't really the type to go out and do much for New Year's and this year that's even more true, since we'll be at home watching a couple babies on a monitor. But if there's any good way to celebrate at home, it's definitely with some tasty cupcakes.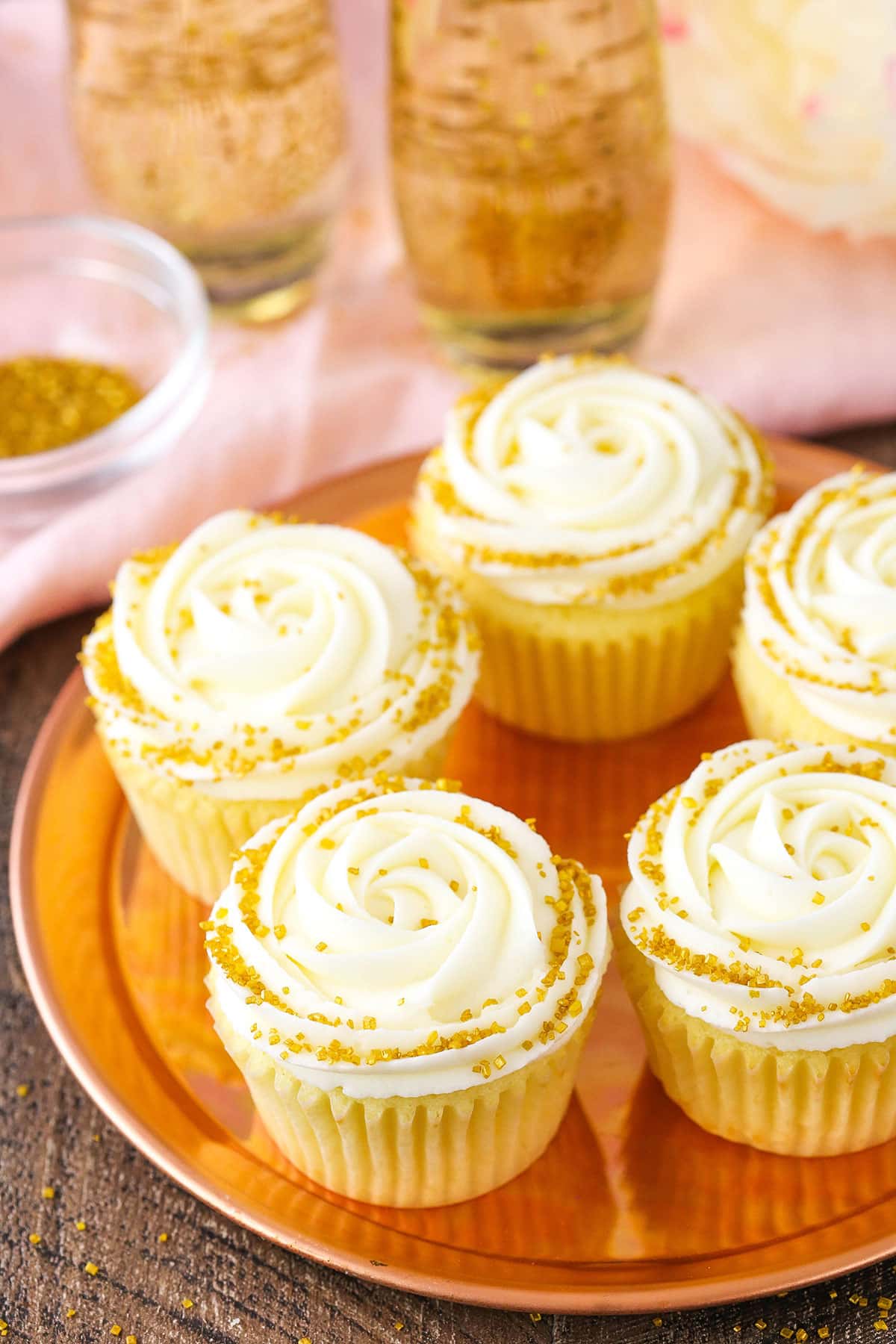 And these champagne cupcakes are where it's at! I have an older champagne cupcake recipe, but these would be my new and updated version. The other recipe features a denser cupcake, where as these are lighter. Both are super moist though! And these have the wonderful truffle filling, which makes them seem even lighter! So delicious and so much champagne flavor!
HOW TO MAKE CHAMPAGNE CUPCAKES
Step 1: Make a Champagne Reduction
So to get started making these champagne cupcakes, you want to start with the champagne. There's a full two cups of champagne in here, but it's cooked down (reduced) to 1 cup. It's reduced by half, so you basically end up with twice the amount of flavor in half the amount of champagne. The benefit of doing that is that you're able to add more champagne flavor with less liquid.
Step 2: Make the Truffle Cupcake Filling
After you've reduced the champagne, you can make the truffle filling. Truffles are basically made with a chocolate ganache center, and these cupcakes have a whipped white chocolate champagne ganache filling. You take the "truffle" and whip it up so that it's light and fluffy. To put the filling together, you'll heat the champagne reduction with some heavy whipping cream and then pour it over the white chocolate chips and allow the heat to melt the chips. Whisk it all together until it's nice and smooth!
If you find that the white chocolate doesn't completely melt, you can microwave it for another 10 to 20 seconds and then it should be good. Chill the ganache until it's nice and firm.
Step 3: Make the Cupcakes & Ganache
Next up are the cupcakes! I started with the cupcake version of my Moist Vanilla Cake, which I love. It uses both butter and oil to create a cupcake that is both flavorful and moist.
While the cupcakes cool, take the chilled white chocolate ganache and whip it with your mixer until it forms soft peaks. You'll notice it lighten in color and get light and fluffy. It's pure heaven!
Step 4: Fill and Frost the Cupcakes
Cut the centers out of the cupcakes and fill them with the whipped white chocolate truffle filling. The last thing to make is the champagne frosting, then frost the cupcakes. The final combination is wonderful! So much champagne flavor in one cupcake – I'm in love! They really are so moist and light – perfect for celebrating with!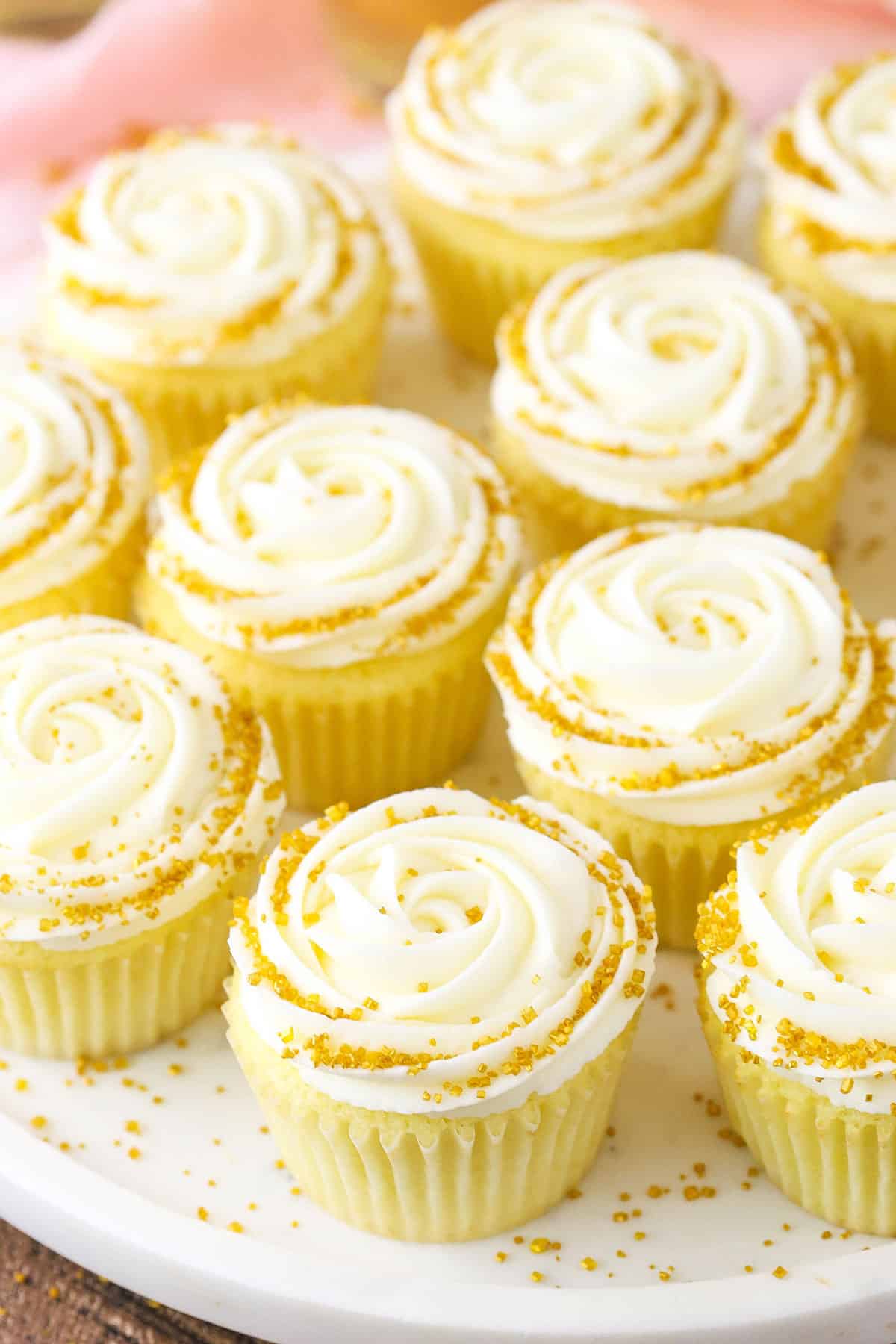 More Champagne Desset Recipes:
Strawberry Champagne Layer Cake
No Bake Champagne Cookie Pops
Mini Strawberry Champagne Cheesecakes
Mini Strawberry Champagne Trifles
Champagne Mousse with Chambord
Champagne Macarons
Print
Recipe
Champagne Cupcakes with Champagne Truffle Filling
Author:

Prep Time:

1 hr 15 min

Cook Time:

15 min

Total Time:

1 hr 30 min, plus cooling

Yield:

12-14 cupcakes

Category:

Dessert

Method:

Oven

Cuisine:

American
---
Description
Champagne Cupcakes with white chocolate champagne truffle filling & topped with champagne frosting! This cupcake recipe is perfect for a celebration!
---
Ingredients
Champagne Truffle Filling
8 oz

white chocolate chips

1/4 cup

(60ml) champagne reduction, above

1/4 cup

(60ml) heavy whipping cream
Champagne Cupcakes
1 1/4 cups

(

163g

) all purpose flour

1 1/2 tsp

baking powder

1/4 tsp

salt

6 tbsp

(

84g

) unsalted butter, room temperature

3/4 cups

(

155g

) sugar

1 1/2 tbsp

vegetable oil

1/2 tsp

vanilla extract

2

large eggs

1/2 cup

(120ml) champagne reduction, above

2 tbsp

(30ml) milk
Champagne Frosting
3/4 cup

unsalted butter, room temperature

1/4 cup

shortening

4 cups

(

460g

) powdered sugar

4 tbsp

champagne reduction, above

1/8 tsp

salt
---
Instructions
1. To make the champagne reduction used in the cupcakes, filling and frosting, add all of the champagne to a medium sized saucepan and cook over medium heat until you've got 1 cup remaining. Don't boil. To measure how much champagne remains, pour into a glass measuring cup. Add it back to the pan if it needs longer to cook down. When done, refrigerate until cool.
2. To make the filling, put the white chocolate chips in a medium sized bowl.
3. Put the champagne reduction and heavy whipping cream in a microwave safe measuring cup or bowl and microwave until it begins to boil.
4. Pour the cream over the white chocolate chips and allow to sit for 2-3 minutes, then whisk until smooth. If needed, microwave the mixture for 10-20 more seconds, then whisk until smooth.
5. Set the ganache in the fridge to firm up, about 2-3 hours.
6. To make the cupcakes, prepare a cupcake pan with cupcake liners and preheat the oven to 350°F (176°C).
7. Combine the flour, baking powder and salt in a medium sized bowl and set aside.
8. Add the butter, sugar and oil to a large mixer bowl and beat together until light in color and fluffy, about 3 minutes. Do not skimp on the creaming time.
9. Add the eggs one at a time, mixing until mostly combined after each. Add the vanilla extract with the second egg. Scrape down the sides of the bowl as needed to be sure all ingredients are well incorporated.
10. Add half of the dry ingredients to the batter and mix until mostly combined.
11. Slowly add the milk and champagne and mix until well combined. The batter might look a little curdled, but that's ok.
12. Add the remaining dry ingredients and mix until well combined and smooth. Scrape down the sides of the bowl as needed to be sure all ingredients are well incorporated. Do not over mix the batter.
13. Fill the cupcake liners about 3/4 full and bake for 14-16 minutes or until a toothpick inserted into the center comes out clean.
14. Remove cupcakes from the oven and place on a cooling rack to cool.
15. While the cupcakes cool, finish the filling. Put the chilled mixture in the bowl of a mixer and whip with the whisk attachment until soft peaks form, about 5-7 minutes. You'll notice the mixture lighten in color.
16. Cut out the centers of the cupcakes. You can use a cupcake corer or a knife.
17. Fill the centers of the cupcakes with the filling. Set the cupcakes in the fridge while you make the frosting.
18. To make the frosting, combine the butter and shortening in a large mixer bowl and beat until smooth.
19. Add about half of the powdered sugar and mix until smooth and well combined.
20. Add 3 tablespoons of the champagne reduction and the salt to the frosting and mix until well combined.
21. Add the remaining powdered sugar and mix until smooth. Add additional champagne reduction as needed to get the right consistency.
22. Pipe the frosting onto the cupcakes. I used Ateco tip 844. To see how to create the rosette design, see my cupcake frosting tutorial.
23. Sprinkle the edges of the frosting with sprinkles, if desired.
24. Refrigerate cupcakes until ready to serve. Serve cool, but not cold. Cupcakes are best if eaten within 2-3 days.
---
Notes
The frosting recipe makes enough to top the cupcakes with full swirls. If you frost the cupcakes as shown, with rosettes, you could cut down on the frosting amount by about half.
Nutrition
Serving Size:

1 Cupcake

Calories:

500

Sugar:

47.2 g

Sodium:

236.4 mg

Fat:

26.9 g

Carbohydrates:

57.5 g

Protein:

3.4 g

Cholesterol:

73.9 mg
Keywords: champagne cupcakes, new years eve dessert, champagne desserts, celebration dessert, celebration cupcakes
Enjoy!