This Carrot Cake Cheesecake is made with a layer of carrot cake on the bottom and vanilla cheesecake on top! It's finished off with piped carrots made from whipped cream for a festive dessert that's perfect for Easter!
Looking for a classic carrot cake recipe? Try my easy recipe for The Best Carrot Cake!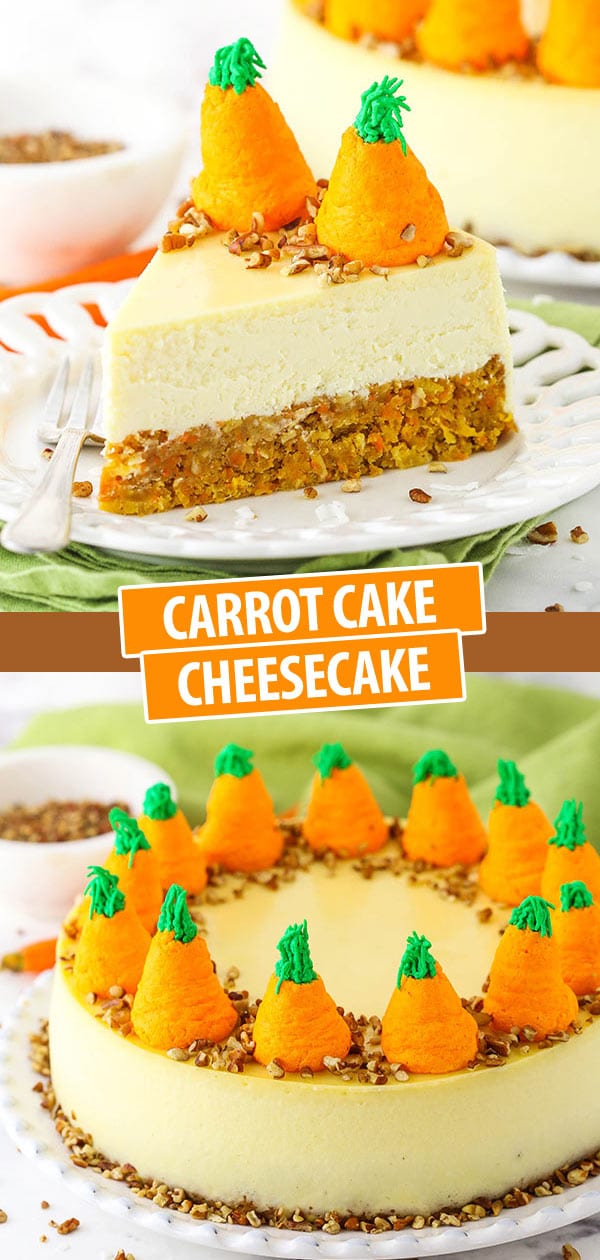 Well, life has been a little…different lately, to say the least. Our grocery store shelves are all but wiped clean every week when the hubs makes our weekly trip. If the current state of the world isn't unsettling and upsetting enough, the grocery stores certainly add to that. It actually makes it hard to feel good about creating new recipes. Not only is it hard to get the ingredients I need, it's also hard to want to use what we can get when it seems like things are always so hard to get. I certainly don't want to take more than our share, since I know we are all trying to feed our families.
That said, I typically prepare my content about two months ahead, so I already have a lot of new Easter recipes to share with you. I don't know what Easter will look like this year for everyone, but hopefully we'll still be able to do some fun baking and enjoy the holiday. I hope everyone stays healthy!
Carrot Cake Cheesecake
This Carrot Cake Cheesecake is totally delicious and addicting. The carrot cake base is made from my favorite Carrot Cake Recipe, and it's seriously amazing. It's made with both pureed carrots and shredded carrots for the ultimate in flavor and moisture.
The cheesecake top is my classic vanilla cheesecake. It's thick, creamy and wonderful. The whole thing is topped with whipped cream made to look like carrots. So darn fun! The whole thing is like eating a cheesecake with a little carrot cake with it. Does it get any better?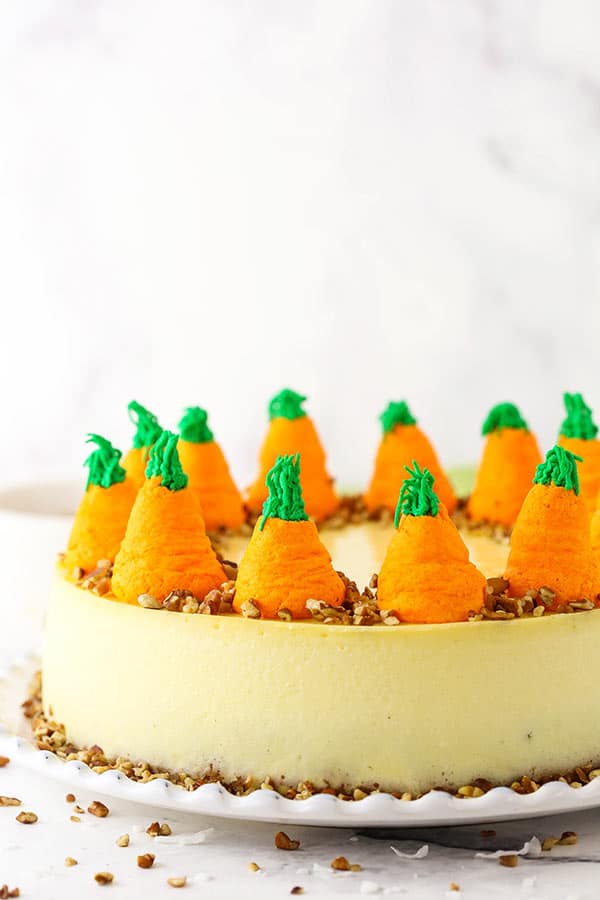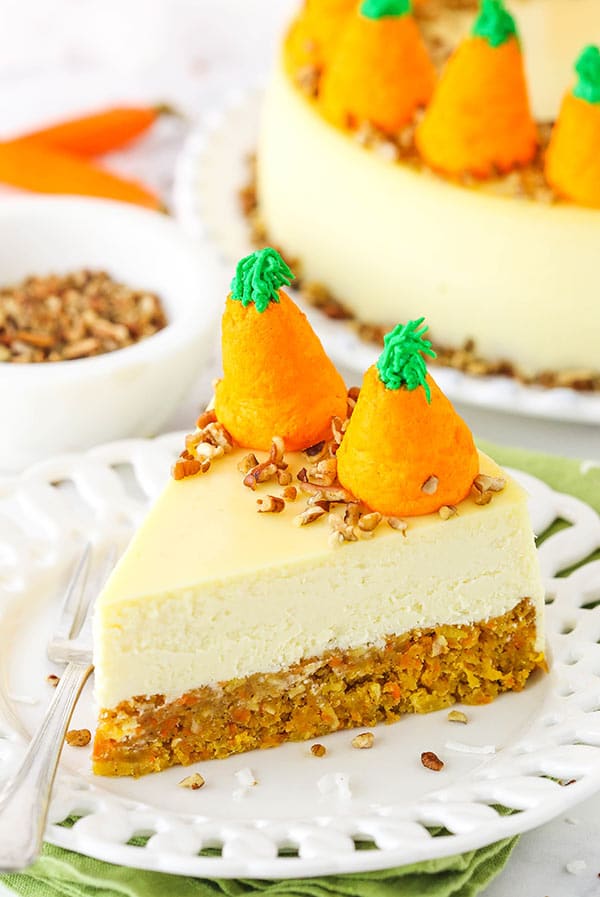 How to make Carrot Cake Cheesecake
To start, you'll get your carrots ready. Shred your carrots until you have about 1 1/4 cups, then steam the rest. Once tender, puree the carrots in a food processor or blender until smooth. Set them aside to cool while you make the rest of the cake batter.
The rest of the cake is pretty straight forward. You'll cream your butter, oil, sugars and vanilla extracttogether, then add your egg. Alternate adding the dry ingredients with the carrot puree, then stir in the mix ins you'd like to use and you're ready to bake!
While your cake bakes, you can work on the cheesecake filling. Combine your softened cream cheese with some sugar and flour. Next, add the sour cream and vanilla extract. Finally, you'll add the eggs one at a time.
As with other cheesecakes, you'll want to be sure to mix things on a low speed to avoid adding to much air to the filling, which can cause cracks.
After the cake layer has baked, you can add the cheesecake filling on top. I like to take the cake out of the pan first and wash it. Then I add a new parchment circle and re-spray it with non stick spray. I think this helps makes the sides look nicer. You could go either way though.
Bake up your cheesecake and then start the slow cooling process, which helps reduce cracks as well. Despite the fact that the cake layer is technically baked twice, it doesn't actually get over baked. It really just bakes once and then hangs around while the cheesecake bakes. I promise it works.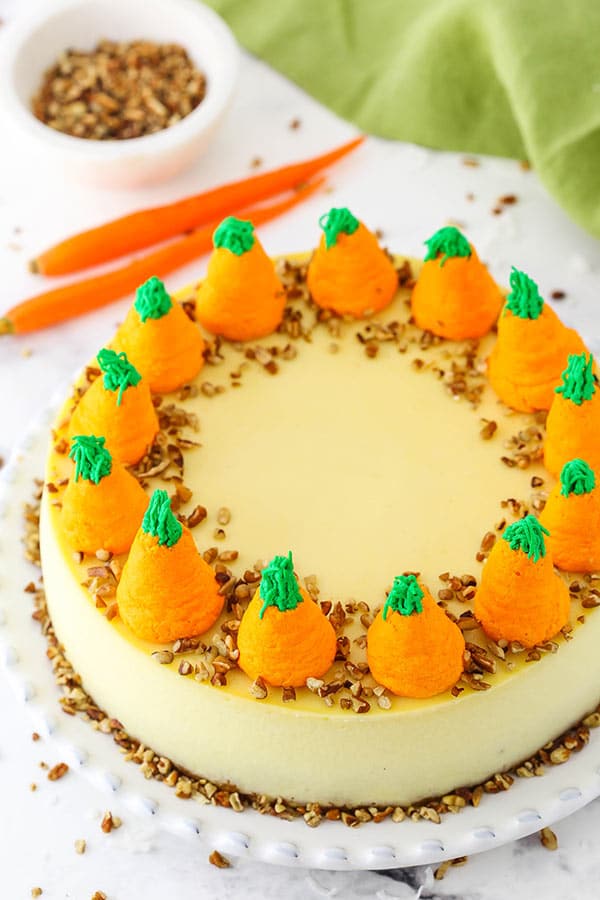 Whipped Cream Carrot Topping
After your cheesecake has baked and cooled, it's time to get it ready to serve. You could add some simple whipped cream, or make the fun whipped cream carrots like I did. They look great and are easy to make. You just need the right piping tips.
You'll pipe the carrots with a large round piping tip. I used Ateco tip 809. The method is similar to the dome piping I show in my cupcake frosting tutorial, you're just not letting the dome spread as wide. You want it taller instead. Hold your piping tip perpendicular to the cake and slowly and evenly start piping the whipped cream. Let it spread out about as wide as you want your carrot, then gently lift the piping bag as you continue to pipe the carrot taller. When it's the height you want, release the pressure on the bag and lift.
For the green tops, use the grass piping tip and just pipe a small amount of "grass" on top.
It really does go quickly and the final result is unique and fun.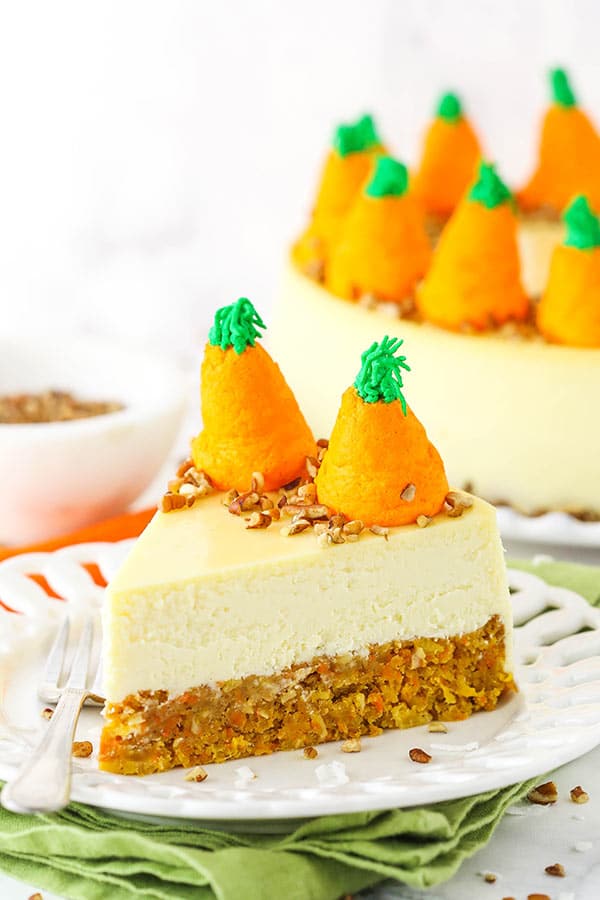 This Cake is the Perfect Easter Dessert Idea
This Carrot Cake Cheesecake is cheesecake heaven! Thick, creamy and full of flavor. The combination of creamy cheesecake with the flavorful, moist carrot cake is delicious.
Because it's fairly easy to prep ahead, it's perfect for making for Easter. You could make the cake layer one day, add the cheesecake the next and then decorate it shortly before serving. I'm a big fan of making things in sections when I can and this is definitely one where you can do that. Cheesecakes hold up great to making ahead.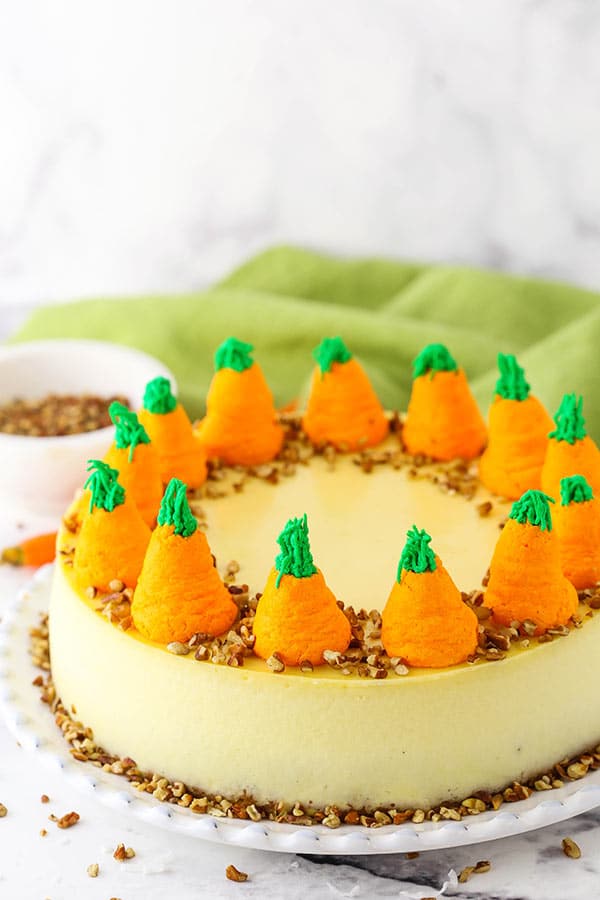 More Great Easter Recipes:
The BEST Carrot Cake Recipe
Hummingbird Cake
Carrot Cake Cheesecake Swirl Cupcakes
Carrot Cake Cheesecake Cake
Easter Egg Chocolate Cupcakes
Toasted Coconut Bunny Tails
Easter Bunny Peeps in a Blanket Brownies
Print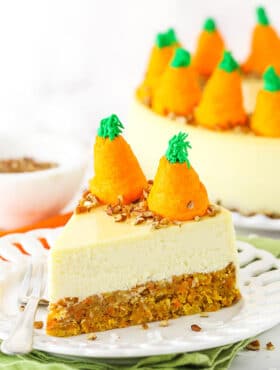 Recipe
Carrot Cake Cheesecake
Author:

Prep Time:

1 hour 30 minutes

Cook Time:

2 hours 42 minutes

Total Time:

4 hours 12 minutes

Yield:

14

Category:

Dessert

Method:

Oven

Cuisine:

American
---
Description
Moist carrot cake meets creamy cheesecake in this next-level treat. Topped with fluffy dollops of whipped cream decorated as carrots, each piece of Carrot Cake Cheesecake is perfection on a plate!
---
Ingredients
For the Carrot Cake Base
1

lb (454g) raw carrots

3/4 cup

+ 1 tbsp (

106g

) all-purpose flour

3/4 tsp

baking powder

1/4 tsp

baking soda

1/4 tsp

salt

3/4 tsp

ground cinnamon

1/4 tsp

ginger

1/8 tsp

nutmeg
Pinch of cloves

1/4 cup

(

56g

) unsalted butter, room temperature

1 tbsp

vegetable oil

1/3 cup

(

75g

) packed light brown sugar

2 tbsp

(

26g

) granulated white sugar

1/4 tsp

vanilla extract

1

large egg

4 oz

(

114g

) drained crushed pineapple, optional (a full

8oz

canned that's drained is

4 oz

)

1/4 cup

+ 2 tbsp (

27g

) sweetened coconut flakes, optional

1/4 cup

(

27g

) chopped pecans or walnuts, optional

3 tbsp

(

28g

) raisins, optional
For the Cheesecake Filling
24 ounces

(

678g

) cream cheese, room temperature

1 cup

(

207g

) sugar

3 tbsp

(

24g

) all purpose flour

1 cup

(

230g

) sour cream, room temperature

1 tbsp

vanilla extract

3

large eggs, room temperature
For the Whipped Cream Carrots
3/4 cup

(180ml) heavy whipping cream, cold

6 tbsp

(

53g

) powdered sugar

3/4 tsp

vanilla extract
Orange gel icing color
Green gel icing color
---
Instructions
Make the Carrot Cake
Peel the carrots, then grate them just until you have 1 1/4 cups (125g) of grated carrots. Cover the grated carrot and set in the fridge.
Chop the remaining raw carrots (about 188g) into pieces small enough to go into a food processor or blender. Put chopped carrots in a steamer basket (or a colander, if you don't have a steamer basket) set over a pot of boiling water. Cover and steam the carrots until very tender, about 10-15 minutes.
Put the warm carrots into a food processor or blender and puree (do not add the water used to steam the carrots, JUST the carrots). The puree will be thick. You should end up with about 1/2 cup + 2 tbsp (150ml | 156g) of carrot puree. Set aside to cool while you make the cake batter.
Prepare a 9-inch springform pan with parchment paper circle in the bottom and grease the sides. Preheat oven to 350°F (176°C).
Combine the flour, baking powder, baking soda, salt and spices in a medium-sized bowl and set aside.
Add the butter, oil, sugars and vanilla extract to and large mixer bowl and beat together until light in color and fluffy, about 3-4 minutes. Do not skimp on the creaming time, but do not over mix either.
Add the egg, then mix until well combine. Scrape down the sides of the bowl as needed to be sure all ingredients are well incorporated.
Add half of the dry ingredients to the batter and mix until mostly combined.
Add the carrot puree (it can be warm or cold) and mix until well combined.
Add the remaining dry ingredients and mix until combined. Do not over mix the batter.
Stir in the grated carrots, pineapple, coconut, pecans and raisins (if using them all). Do not over mix.
Add the batter to the prepared pan and bake for 27 minutes, or until a toothpick comes out clean.
Make the Cheesecake Filling
In a large bowl, beat the cream cheese, sugar and flour on low speed until well completely combined and smooth. Be sure to use low speed to reduce the amount of air added to the batter, which can cause cracks. Scrape down the sides of the bowl.
Add the sour cream and vanilla extract and mix on low speed until well combined.
Add the eggs one at a time, mixing slowly to combine after each addition. Scrape down the sides of the bowl as needed to make sure everything is well combined.
When the carrot cake is done baking, reduce the oven temperature to 300°F (148°C). Remove the cake from the oven and pour the cheesecake batter evenly over the cake (I like to remove the cake and wash the pan, then add a new parchment circle and re-spray the sides of the pan with non-stick spray before adding the cake back to the pan and adding the cheesecake filling on top, but you don't have to. I just think the sides come out nicer that way).
Wrap the outside of the pan with aluminum foil, then place the springform pan inside another larger pan. (See my tutorial for preventing springform pans from leaking. I also like to use a slow cooker liner.) Fill the outside pan with enough warm water to go about halfway up the sides of the springform pan. The water should not go above the top edge of the aluminum foil on the springform pan.
Bake for 1 hour 30 minutes. The center should be set, but still jiggly.
Turn off the oven and leave the door closed for 30 minutes. The cheesecake will continue to cook, but slowly begin to cool as well.
Crack the door of the oven for 30 minutes to allow the cheesecake to continue to cool slowly. This process helps prevent cracking.
Remove the cheesecake from the oven and water bath wrapping and refrigerate until firm, 5-6 hours or overnight. Once completely cool and firm, remove from the springform pan.
Make the Whipped Cream & Decorate
To make the whipped cream, add the heavy whipping cream, powdered sugar and vanilla extract to a large mixer bowl. Whip on high speed until stiff peaks form.
Set aside about 1/4 cup of the whipped cream and color the rest with orange gel icing color. Color the 1/4 cup of whipped cream with green gel icing color.
Use a large round piping tip (I used Ateco tip 809) and pipe the orange whipped cream onto the cheesecake so that it looks like the tops of carrots.
Use the grass piping tip (Wilton tip 233) to pipe the green whipped cream on top of the "carrots".
Sprinkle some chopped pecans on top of the cheesecake, if desired.
Refrigerate cheesecake until ready to serve.
---
Notes
Makes 12-14 slices.
To Store: Cake is best when stored in the fridge well covered for 3-4 days.
To Freeze: Wrap fully set cake (without whipped cream topping) in a tight layer of plastic wrap followed by a layer of heavy-duty foil. Place in a freezer-safe container if desired. Freeze for up to 1 month, thawing in the fridge overnight before decorating and serving.
Nutrition
Serving Size:

1 slice

Calories:

460

Sugar:

32.5 g

Sodium:

279.9 mg

Fat:

29.1 g

Carbohydrates:

43.9 g

Protein:

7.7 g

Cholesterol:

124 mg
Keywords: homemade cheesecake, easter cake ideas, carrot cake decorations
Filed Under:
This post may contain affiliate sales links. Please read my disclosure policy.