This post may contain affiliate sales links. Please read my disclosure policy.
This recipe for The Best Carrot Cake is wonderfully moist, tender and easy to make. It's covered in a homemade cream cheese frosting for the perfect, classic cake. And with so many ways to make this recipe your own, it's seriously the best carrot cake around!
What Ingredients Make The Perfect Carrot Cake?
Carrot Cake is such a classic, especially this time of year with Easter approaching. Many have strong opinions about what makes the perfect carrot cake, but there's no doubt that it should be moist, simple to make and full of carrots. Beyond that, variations include everything from pineapple and coconut to pecans and raisins. I wanted to be sure that this cake could satisfy all with just a few adjustments, so I thoroughly tested SO many versions to make sure they all work perfectly!
How To Make Carrot Cake
A great thing about making a carrot cake from scratch is that you can control what you decide to put into it. This cake has many options, allowing you to personalize to your tastes. It's written as I like it best, but you can make adjustments as you like.
One of the less common things this carrot cake contains is carrot puree. You could replace it with milk if you like and just use grated carrots, but it genuinely adds the BEST flavor and moisture to this cake. I had my taste testers do blind tests and every time they picked the version with the puree. Still, you can leave it out if you want.
To make the grated carrots and puree, you'll need about 2 1/3 pounds of carrots. This cake is not short on carrots! Peel them and then grate as much as you need to get about 3 1/2 cups. I played around with the amount of grated carrots a bit and this seemed just right – not too much, not too little. You also want to be sure to grate the carrots with a box grater or a food processor. I wouldn't suggest using the shredded carrots from the store. They are little thick for my preference in a cake.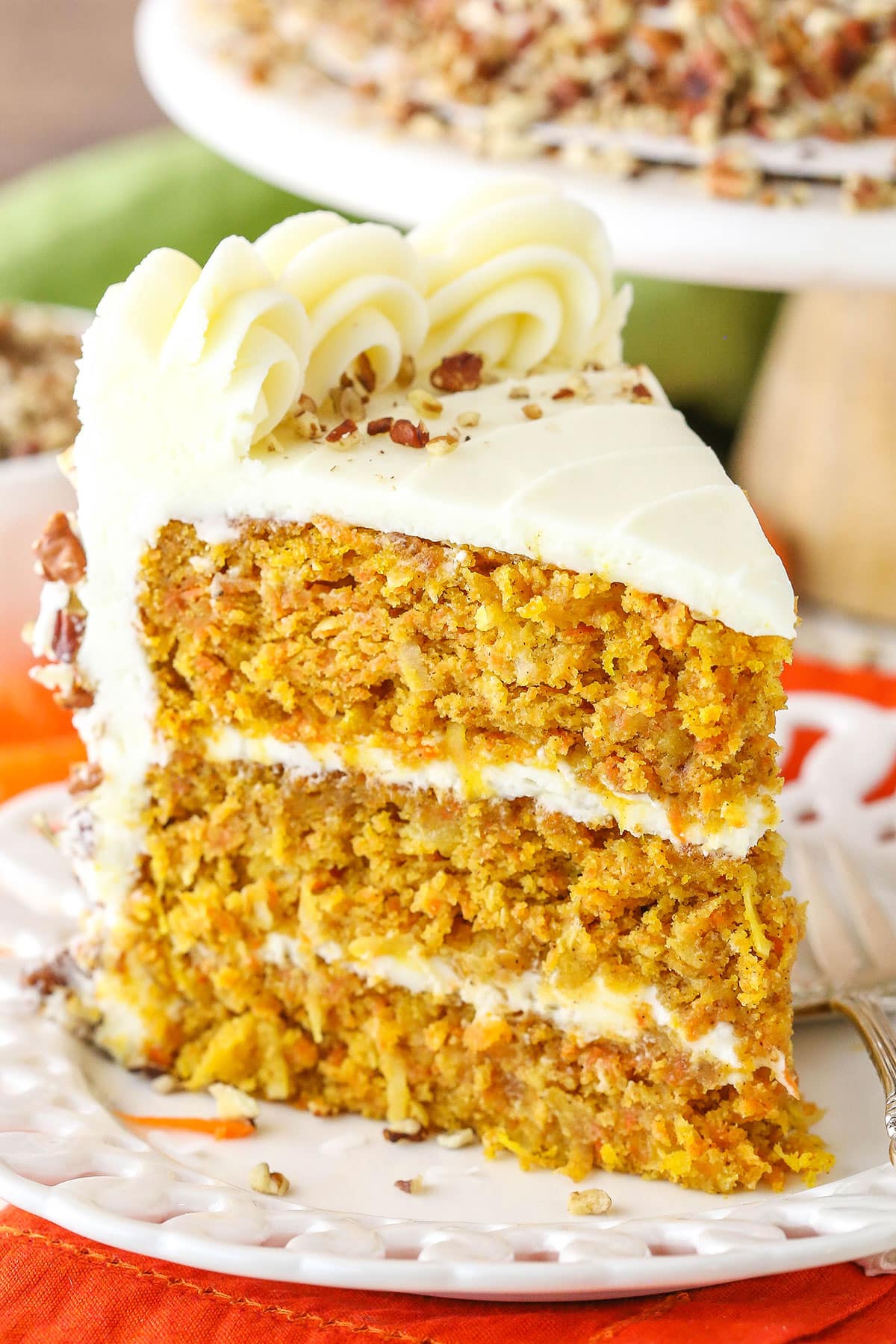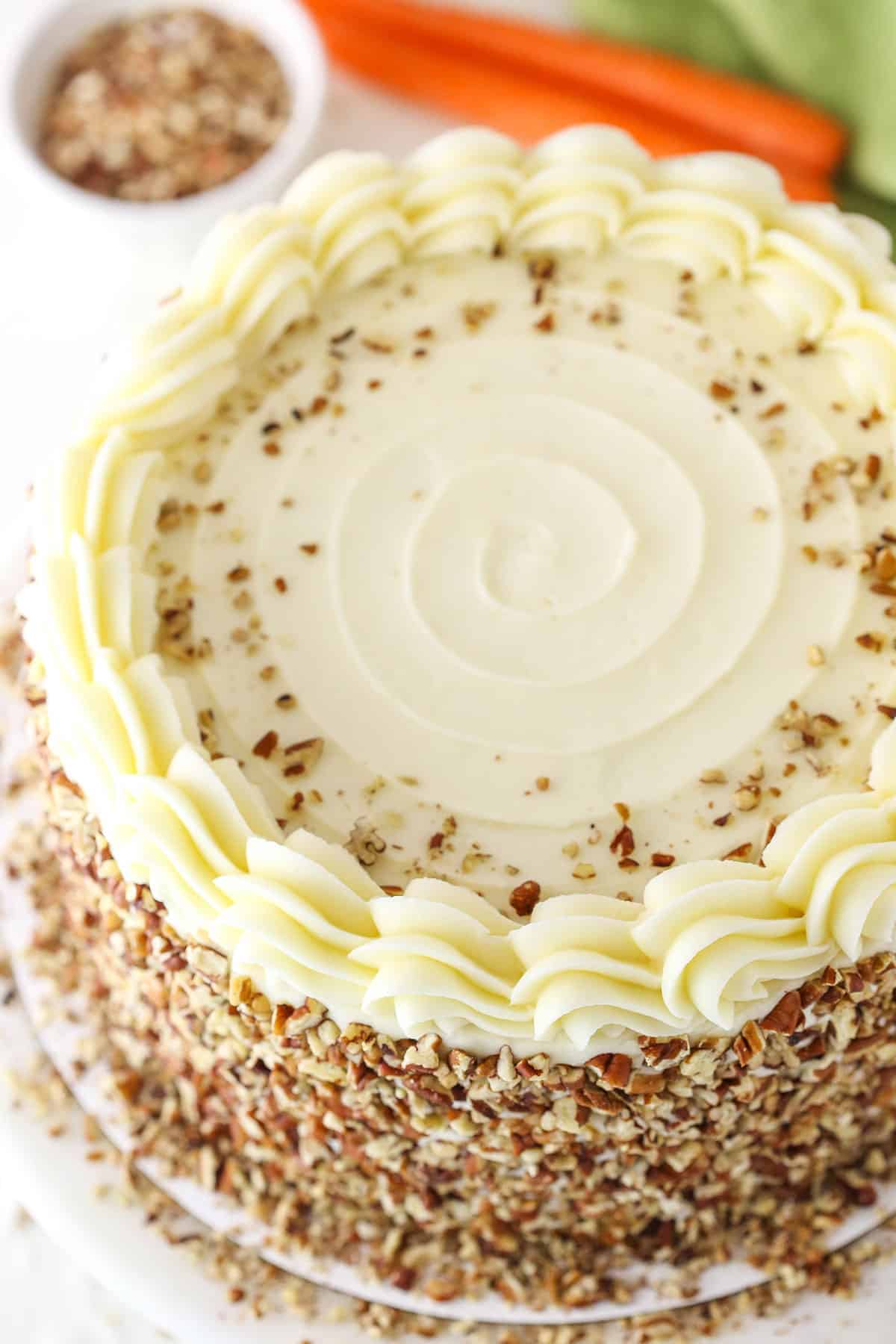 Chop up the remainder of the carrots and then steam them. When they are fork tender, add the carrots only (not the water used to steam them) to a food processor and puree them until smooth. Set the carrots all aside.
Next you'll combine the dry ingredients, including the spices. I like plenty of flavor in my carrot cake, but feel free to adjust any you'd like.
This cake benefits from the use of both butter and oil. I used equal parts of both so you get both the flavor of butter you love and the moisture you need for a great cake. While it was one of the few things I didn't test, substituting applesauce for oil should be fine, if you prefer that. I also used both brown sugar and regular granulated sugar, but used a majority of brown sugar. It not only adds moisture to the cake, but adds a deeper flavor that really is perfect in this cake.
The rest of the main ingredients are as you'd expect – a little vanilla extract and eggs. After adding those, the dry ingredients are added alternatively with the carrot puree (or milk, if you prefer).
At this point, the decisions are up to you! You'll want to add the grated carrots, but then you can also add pineapple, coconut, pecans or walnuts, and/or raisins. The recipe is such that you don't need to make any other adjustments – just add the ones you want and leave out the rest.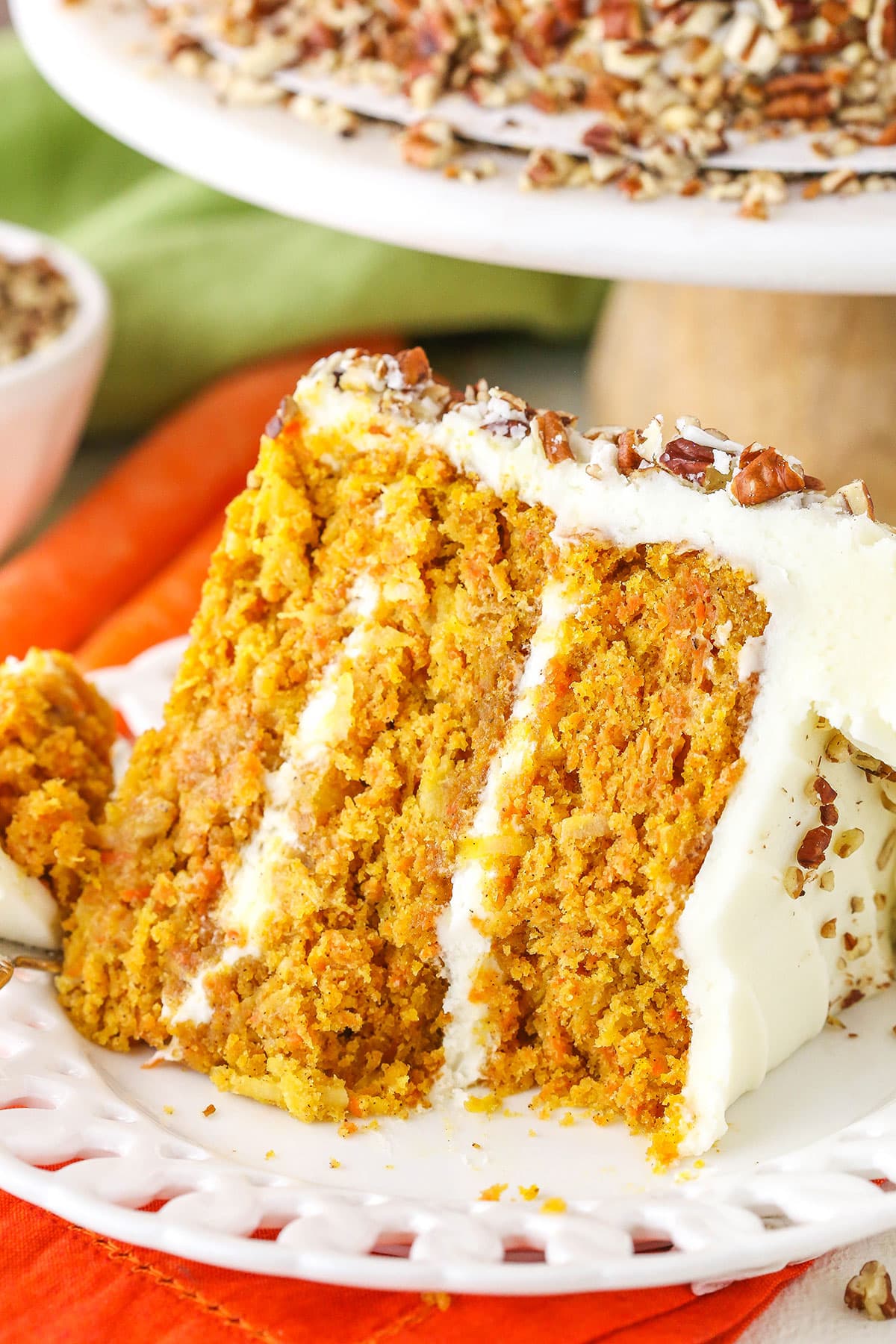 You Can't Have Carrot Cake Without Cream Cheese Frosting
Once the cake is baked, frost it with the most classic frosting you can – cream cheese frosting. The two pair perfectly together and there couldn't be a better combination. I finished the carrot cake off with some pecans on the outside, rather than baking them into the cake itself, but you could you also just keep it simple and just frost the cake.
Once frosted, the carrot cake should be refrigerated. I don't refrigerate the layers prior to frosting though. As with most cakes, I prefer serving at room temperature, so let the cake sit out for a couple of hours prior to serving it.
What Makes This The Best Carrot Cake Recipe?
This is the best carrot cake you will ever make – and I don't say that lightly! It's moist, but not too moist, and it's FULL of flavor! The perfect blend of spices, carrots and depth of flavor. I not only tested it against all the different versions, but also against some other popular versions. Taste testers all agreed this was the best! It's a great dessert for Easter and any time you get a craving for carrot cake. I hope you enjoy it as much as we did!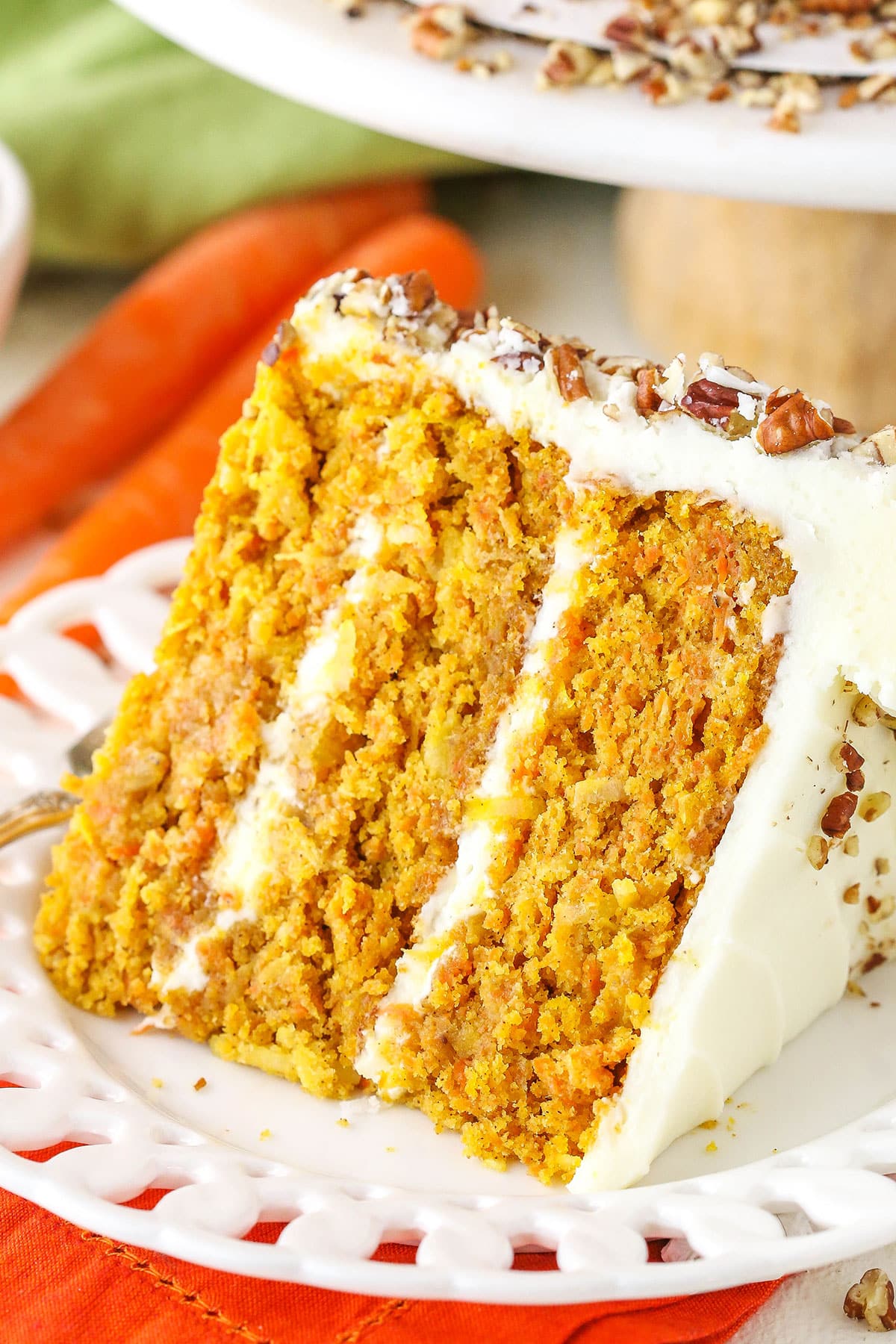 [adthrive-in-post-video-player video-id="x0XabQ9F" upload-date="2019-04-01T09:00:00.000Z" name="LLS – Carrot Cake – HL" description="This Carrot Cake is wonderfully moist, tender and easy to make! It's covered in cream cheese frosting for a perfect, classic cake!"]
More Carrot Cake Desserts You Might Like:
Carrot Cake Cheesecake Cake
Carrot Cake Cheesecake Swirl Cupcakes
Carrot Cake Shortbread Bars
Carrot Cake Cheesecake
Carrot Cake Gooey Bars
Print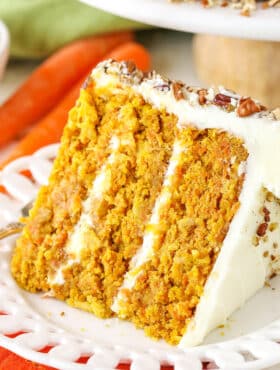 Recipe
The Best Carrot Cake Recipe
Author:

Prep Time:

2 hours 30 minutes

Cook Time:

47 minutes

Total Time:

3 hours 17 minutes

Yield:

12-14

Category:

Dessert

Method:

Oven

Cuisine:

American
---
Description
This recipe for The Best Carrot Cake is wonderfully moist, tender and easy to make. It's covered in a homemade cream cheese frosting for the perfect, classic cake.
---
Ingredients
Carrot Cake
2 1/3

lbs (1,060g) raw carrots

2 1/2 cups

(

325g

) all purpose flour

2 tsp

baking powder

1 tsp

baking soda

1/2 tsp

salt

2 tsp

ground cinnamon

1 tsp

ground ginger

1/2 tsp

ground nutmeg

1/8 tsp

ground cloves

1/2 cup

(

112g

) unsalted butter, room temperature

1/2 cup

(120ml) vegetable oil

1 cup

(

225g

) packed light brown sugar

1/2 cup

(

104g

) granulated white sugar

1 tsp

vanilla extract

3

large eggs

1

large egg white

1/2 cup

(

12oz

|

341g

) drained crushed pineapple, optional

1 1/4 cup

(

91g

) sweetened coconut flakes, optional

3/4 cup

(

80g

) chopped toasted pecans or walnuts, optional

1/2 cup

(

75g

) raisins, optional
Cream Cheese Frosting
16 oz

(

452g

) cream cheese, room temperature

3/4 cup

(

172g

) butter, room temperature

10 cups

(

1150g

) powdered sugar

2 tsp

vanilla extract

1 1/2 cups

(

165g

) chopped pecans
---
Instructions
Make the cake layers
Peel the carrots, then grate them just until you have 3 1/2 cups (350g) of grated carrots. Cover the grated carrot and set in the fridge.
Chop the remaining raw carrots into pieces small enough to go into a food processor or blender. Put chopped carrots in a steamer basket (or a colander, if you don't have a steamer basket) set over a pot of boiling water. Cover and steam the carrots until very tender, about 10-15 minutes.
Put the warm carrots into a food processor or blender and puree (do not add the water used to steam the carrots, JUST the carrots). The puree will be thick. You should end up with about 1 3/4 cups (420ml) of carrot puree. Set aside to cool while you make the cake batter.
Prepare three 8 inch cake pans with parchment paper circles in the bottom and grease the sides. Preheat oven to 350°F (176°C).
Combine the flour, baking powder, baking soda, salt and spices in a medium sized bowl and set aside.
Add the butter, oil, sugars and vanilla extract to and large mixer bowl and beat together until light in color and fluffy, about 1 1/2 to 2 minutes. Do not skimp on the creaming time, but do not over mix either.
Add the eggs one at a time, mixing until mostly combined after each, then add the egg white. Scrape down the sides of the bowl as needed to be sure all ingredients are well incorporated.
Add half of the dry ingredients to the batter and mix until mostly combined.
Add the carrot puree (it can be warm or cold) and mix until well combined.
Add the remaining dry ingredients and mix until combined. Do not over mix the batter.
Stir in the grated carrots, pineapple, coconut, pecans and raisins (if using them all). Do not over mix.
Divide the batter evenly between the cakes pans and bake for 29-32 minutes, or until a toothpick comes out clean.
Remove the cakes from the oven and allow to cool for about 10 minutes, then remove to cooling racks to cool completely.
Frosting and assembly
To make the frosting, add the cream cheese and butter to a large mixer bowl and beat until well combined and smooth.
Add about half of the powdered sugar and mix until well combined and smooth.
Add the vanilla extract and mix until well combined.
Add the remaining powdered sugar and mix until well combined and smooth. Add more or less powdered sugar, as desired for consistency purposes.
To put the cake together, use a large serrated knife to remove the domes from the top of the cakes so that they're flat, if needed. These cakes don't have a large dome, but I like to make sure they're completely flat.
Place the first cake on a serving plate or a cardboard cake round.
Spread about 1 cup of frosting evenly on top of the cake.
Add the second layer of cake and another cup of frosting.
Top the cake with the remaining layer and frost the outside of the cake. Refer to my tutorial for frosting a smooth cake, if needed.
Use a 9 inch offset spatula to create the spiral pattern on top of the cake. Place the tip of spatula in the center of the cake and slowly turn the cake in circles, dragging the spatula through the frosting and moving outwards with each completed turn until you reach the outer edge of the cake.
Press the pecans into the sides of the cake.
Use the remaining frosting to pipe shells around the outer edge of the cake. I used Ateco tip 847.
Refrigerate cake until ready to serve. Set cake out for about 2 hours before serving. Store cake in an air tight container. Cake is best if eaten within 3-4 days.
Notes
If you'd prefer to leave out the carrot puree and just use grated carrots, replace the carrot puree with 1 1/4 cups of milk. You'll need to increase the baking time by about 3-5 minutes.
To bake in two 9 inch cake layers, bake for 38-42 minutes.
Nutrition
Serving Size:

1 slice

Calories:

879

Sugar:

102.8 g

Sodium:

372.9 mg

Fat:

39.1 g

Carbohydrates:

129.2 g

Protein:

9 g

Cholesterol:

74.8 mg
Keywords: carrot cake recipe, best carrot cake, carrot cake with cream cheese frosting