June 2, 2016
Toasted Coconut Chocolate Ice Cream Cake
This Toasted Coconut Chocolate Ice Cream Cake is the stuff ice cream dreams are made of! The chocolate cake is moist and so chocolatey and the coconut ice cream is full of flavor and so refreshing! It's the perfect way to enjoy the summer!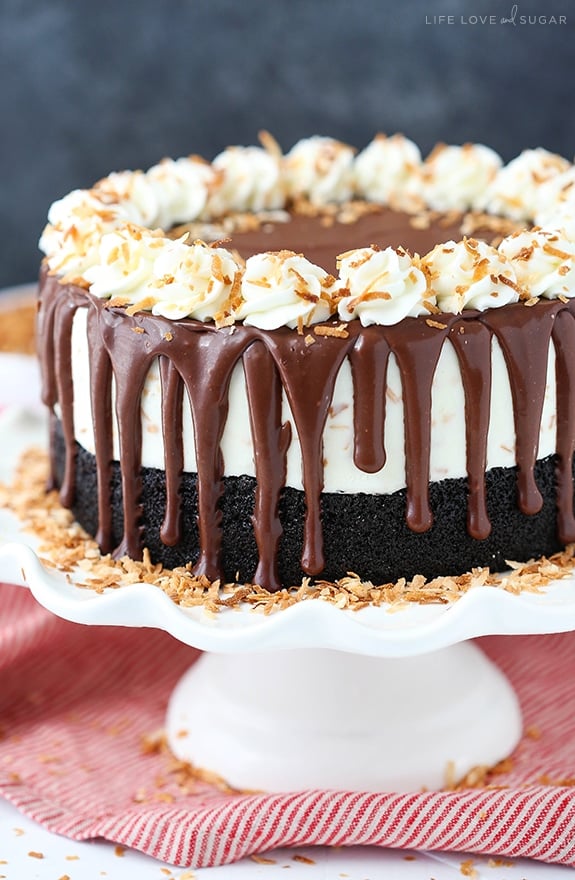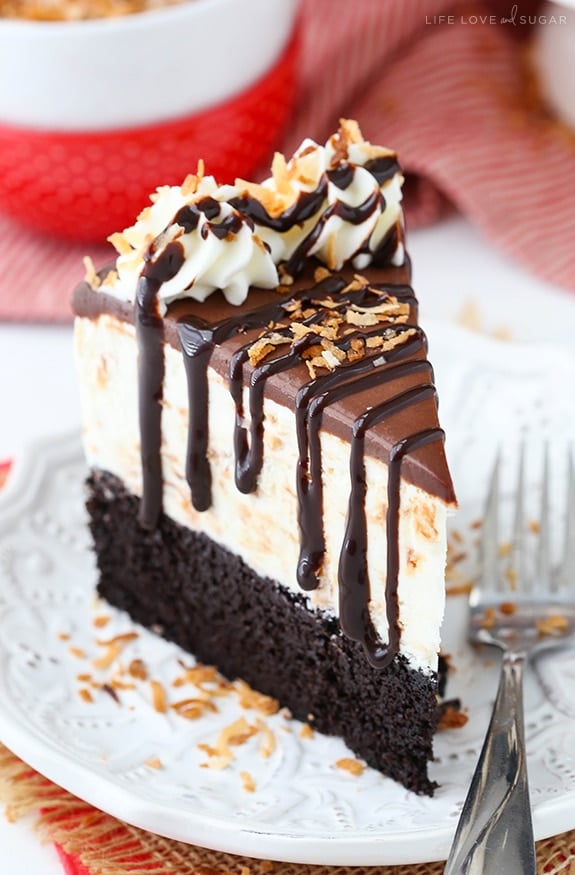 So recently I've been switching things up at the gym a bit. Things are finally slowing down with the cookbook so I've been trying to get back into my routine. Usually that means 30-45 minutes of cardio followed by some mix of weights – either free weights or machine – and crunches, etc. Basically as much torture as I can fit in an hour. 😉
While I have tended to do some reading while cardio-ing in the past, lately I've been working out extra hard so reading has gotten harder. In exchange, I've been re-watching Prison Break on Netflix. Did you know that it's coming back to tv next year?! I cannot wait! I've been re-watching from the beginning in preparation. Since it's been so long since watching the original episodes, it's kind of like watching them for the first time all over again. I generally know what's going to happen with the big picture, but there are small details in every episode that I've forgotten and keep the suspense high. There's a new surprise every episode.
The other day I got a real surprise while watching. 🙂 It was all intense – like the show is – and all of a sudden someone popped out unexpectedly, seriously catching me off guard and scaring the crap out of me. My hands flew up in the air so hard that I almost fell off of my elliptical machine. No joke. I actually started to fall and then caught myself on the handles. Fortunately there weren't many people around so I got away with it. It was dangerously close to being super embarrassing. 🙂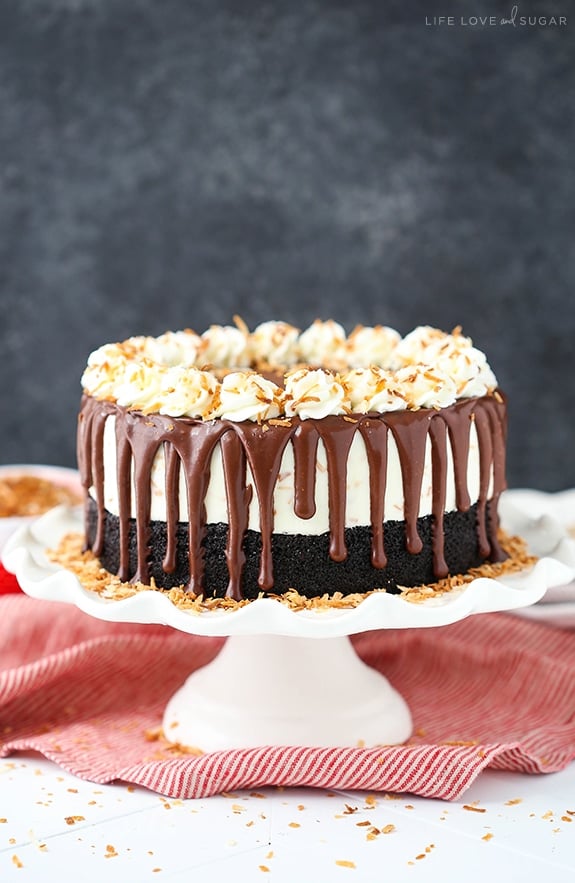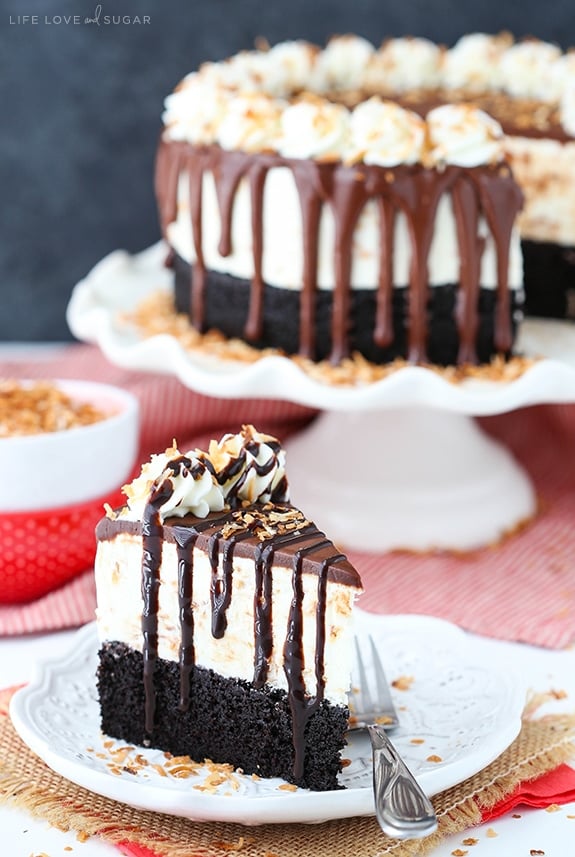 Perhaps this cake will catch you off guard with how awesomely delicious it is? Coconut is one of those flavors that I fall in love with all over again every time I make something with it. It's seriously so, so good.
The start of this cake is the chocolate cake layer on the bottom. It's a super moist, really easy cake to make. I use Hershey's Special Dark Cocoa because I really think it's the best and makes an even better cake, but feel free to use regular cocoa as well.
On top of the cake sits that wonderfully beautiful toasted coconut ice cream. It's a no churn ice cream, which I'm a big fan of for ice cream cakes. The base is actually made with cream cheese and whipped cream, then has other flavorings and such added. You would never guess that it's made with cream cheese – nobody ever does. The texture is super smooth and creamy and is just like regular ice cream. I love that when the no churn ice cream is put together, it's thick enough to layer the cake together and isn't super melty, like when you use store-bought ice cream. The toasted coconut adds great flavor and a bit of texture to the ice cream.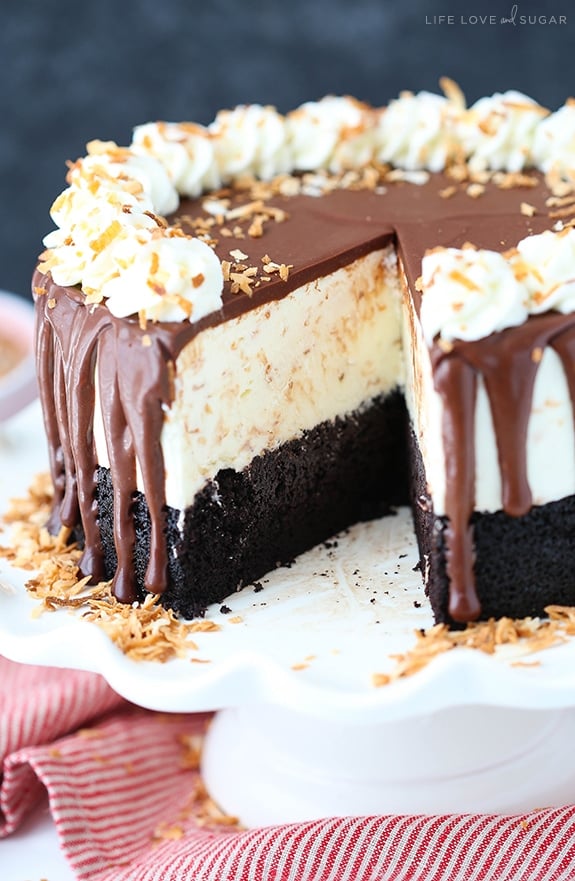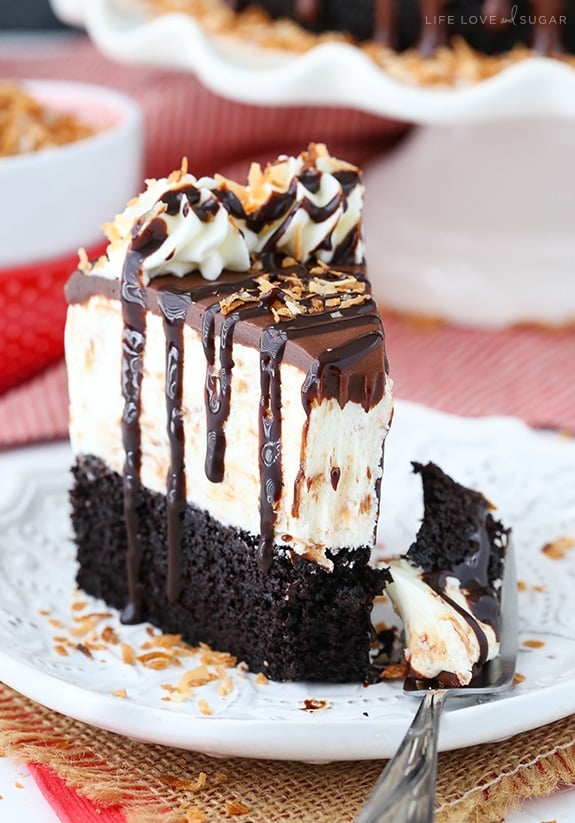 Putting the cake together is where you have a few choices on how to move forward. I typically build my ice cream cakes in an 8×3 inch cake pan, then extend the top of the sides a bit with parchment paper. If you don't have a springform pan that size, then put some clear wrap under the parchment paper before you add it – you'll use the clear wrap later to help lift the cake out of the pan. The cake is then layered in the pan and frozen. I often put a cardboard cake circle directly underneath the cake as well, for stability and ease of moving the cake around once it's made.
Of course another option is to use cake collars. Lately I've been using them and they are SO easy. I purchased these and it's so nice to have them in my cabinet for when I need them.
The cake is layered, frozen, then topped with chocolate ganache, coconut whipped cream and more toasted coconut. It's basically a tower of chocolate and coconut awesomeness. It was a huge hit with our small group and I definitely love it! So much flavor and so much yum all in one! Definitely perfect for summer!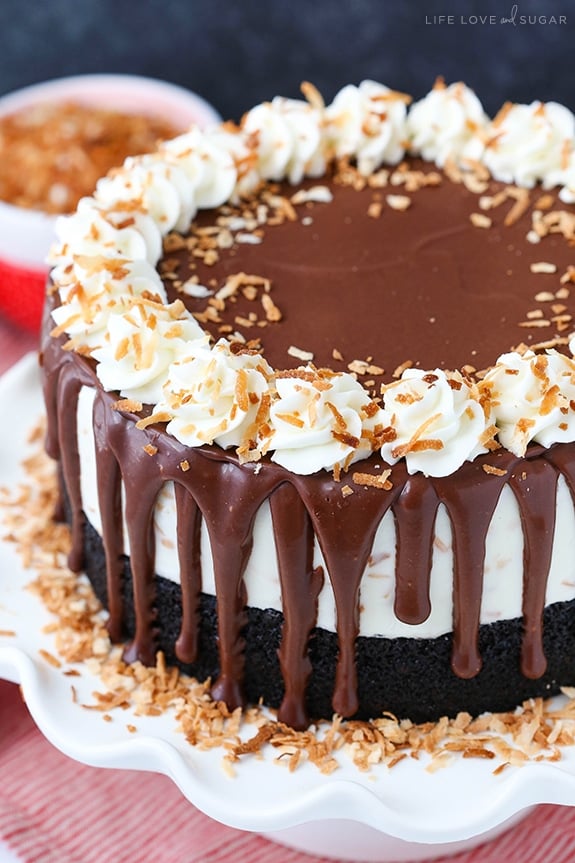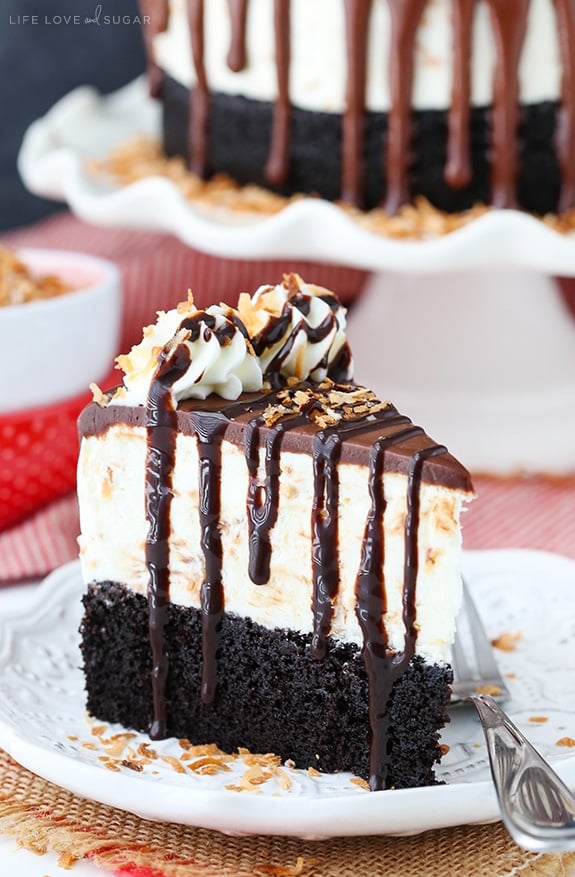 Toasted Coconut Chocolate Ice Cream Cake
Yield:

12

-

14

Slices

1

x
Category:

Dessert

Method:

Oven

Cuisine:

American
Ingredients
CHOCOLATE CAKE
1 cup

(130g) all purpose flour

1 cup

(207g) sugar

6 tbsp

(43g) Hershey's Special Dark Cocoa

1 1/2 tsp

(8g) baking soda

1/2 tsp

salt

1/2 cup

(120ml) hot coffee

6 tbsp

(90ml) milk

6 tbsp

(90ml) vegetable oil

3/4 tsp

vanilla extract

1

large egg, room temperature

1

large egg white, room temperature
TOASTED COCONUT ICE CREAM
1 cup

(76g) coconut, divided

12 oz

(339g) cream cheese, room temperature

3/4 cup

(155g) sugar

3 tbsp

(45ml) milk

1 tbsp

coconut extract

1 3/4 cup

s (420ml) heavy whipping cream, cold

3/4 cup

(86g) powdered sugar
CHOCOLATE GANACHE
6 oz

semi sweet chocolate chips

1/2 cup

heavy whipping cream
WHIPPED CREAM TOPPING
1/2 cup

heavy whipping cream

1/4 cup

powdered sugar

1/2 tsp

coconut extract
Instructions
NOTE: 8-inch springform pans are best for building this cake so that you can easily remove the cake once it's been assembled. If you do not have a springform pan, line your pan with clear wrap before adding your parchment paper and cake board. You can use the clear warp to lift your cake out of the pan once it's assembled and frozen. You want to make your cake layers in the same pan you'll use for layering the ice cream and cake together so that they cake layers fit in the final pan you use for layering. In lou of using a cake pan to build the cake, you could also use cake collars.
TO MAKE THE CAKE:
1. Preheat the oven to 350°F (176°C). Line the bottom of an 8-inch cake pan with parchment paper and grease the sides.
2. In a large mixer bowl, combine the first 5 ingredients for the cake.
3. In another medium bowl, combine hot coffee, milk, vegetable oil and vanilla extract. Add eggs and whisk until combined.
4. Pour wet ingredients into dry ingredients and mix until smooth. Batter will be thin.
5. Pour the batter into the prepared cake pan and bake for 30-35 minutes, or until a toothpick inserted into the middle of the cake comes out with a few crumbs.
6. Remove cake from oven and allow to cool for 3-4 minutes, then remove cake from pan to a cooling rack to cool completely.
TO MAKE THE ICE CREAM:
7. Once the cake has cooled, make the ice cream. Spread the coconut into an even layer on a lined baking sheet.
8. Preheat the oven to 400 degrees, then allow coconut to toast for about 4-5 minutes, tossing every couple of minutes so that it toasts evenly. Keep a close eye on it – it can burn very quickly. Set toasted coconut aside to cool.
9. In a large mixer bowl, combine the cream cheese and sugar until smooth.
10. Add the milk and coconut extract and mix until well combined. Set aside.
11. In another mixer bowl, add whip the heavy whipping cream and powdered sugar until stiff peaks form.
12. Gently fold about 1/3 of the whipped cream into the cream cheese mixture until combined, then fold in the remaining whipped cream.
13. Gently fold in 1/2 cup of toasted coconut.
ASSEMBLY:
14. Line the sides of an 8-inch springform pan with parchment paper. The parchment paper should stick up above the top edge of the pan, since the cake will probably be a little taller than your pan (see example). If you want, put a cardboard cake circle in the bottom of the pan. If not using a springform pan, you pan put some plastic wrap in the bottom of the pan and up the sides and use it to lift the cake out of the pan when it's done.
NOTE: You should be using the same 8-inch pan you used for the cake. Not all 8-inch pans are exactly the same size. Your cake needs to fit in this pan.
15. Cut the dome off of the top of the cake layer, then put the cake layer into the bottom of your pan. See my tips on how to level a cake.
16. Spread the toasted coconut ice cream into an even layer on top of the cake layer.
17. Allow the ice cream cake to freeze completely, 6-8 hours.
18. Once frozen, remove from springform pan and remove parchment paper from sides.
19. To finish off the cake, make the chocolate ganache (see my tips on making chocolate ganache). Place the chocolate chips into a medium sized bowl. Heat the heavy whipping cream to a boil, then pour over the chocolate chips. Allow to sit for 3-5 minutes, then whisk until smooth.
20. Allow to chocolate ganache to cool for a few minutes, then pour over the top of the cake and use an offset spatula to spread it out towards the edge of the cake, allowing it to drizzle over the sides (see my new tips on making a chocolate drip cake). Set cake in the freezer while you make the whipped cream.
21. To make the whipped cream, whip the heavy whipping cream, powdered sugar and coconut extract until stiff peaks form. Once the chocolate ganache has firmed up, pipe the whipped cream (I used Ateco tip 844) around the top edge, then sprinkle with the remaining toasted coconut.
22. Freeze cake until ready to serve.
Enjoy!

This post contains affiliate links.
You might also like:
Hot Fudge Swirl Ice Cream Cake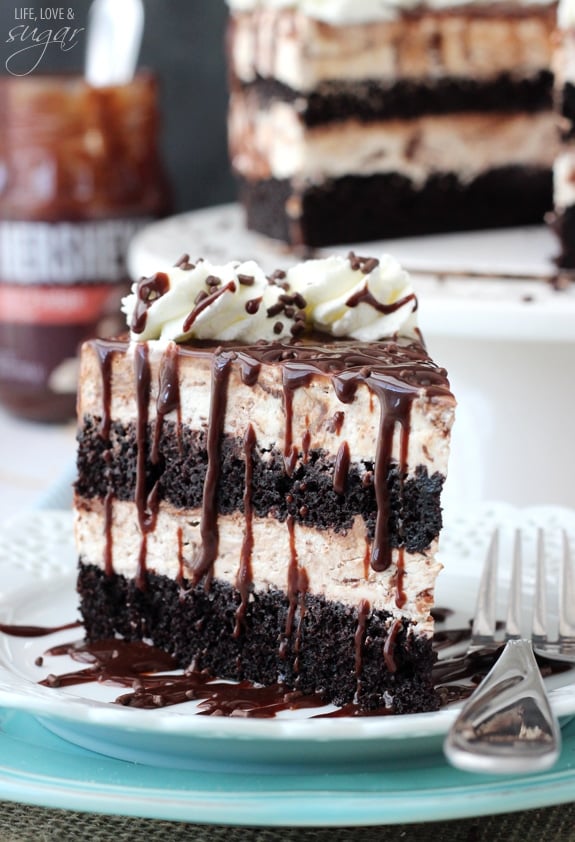 Orange Creamsicle Ice Cream Cake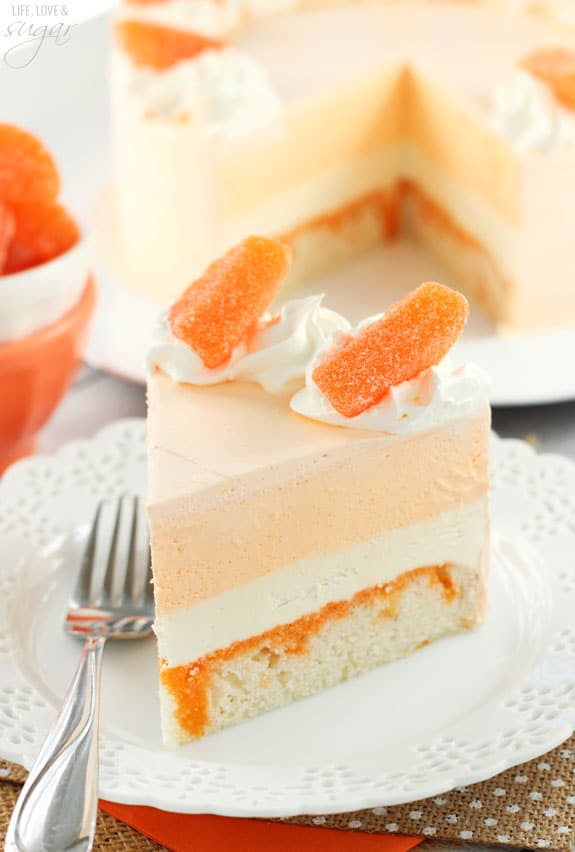 You might also like:
Chocolate Coconut Dump Cake from Chocolate, Chocolate and More
Chocolate Coconut Cookies from Cravings of a Lunatic
Chocolate Coconut Cake from Inside BruCrew Life