May 12, 2015
Orange Creamsicle Ice Cream Cake
This Orange Creamsicle Ice Cream Cake is light, fruity and just like eating an orange creamsicle in ice cream cake form! It's been a long time in the making and I'm so excited to share it with you!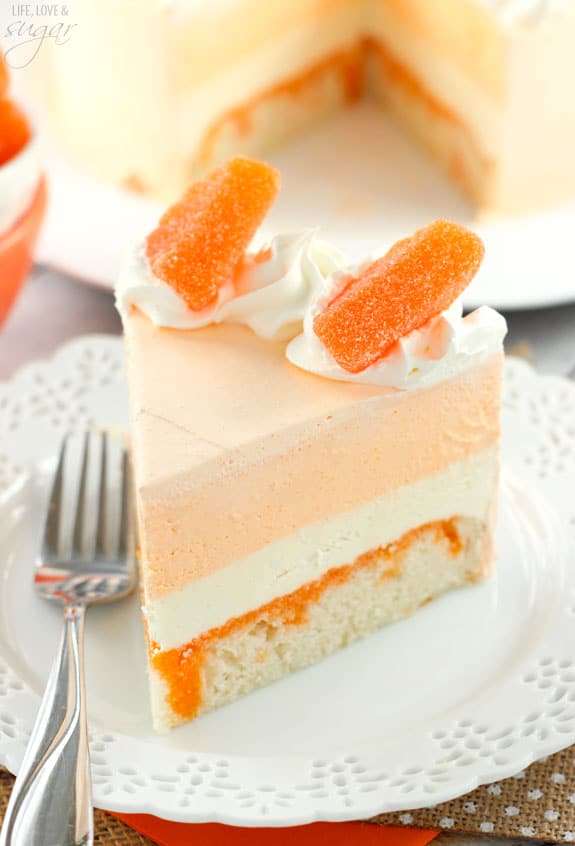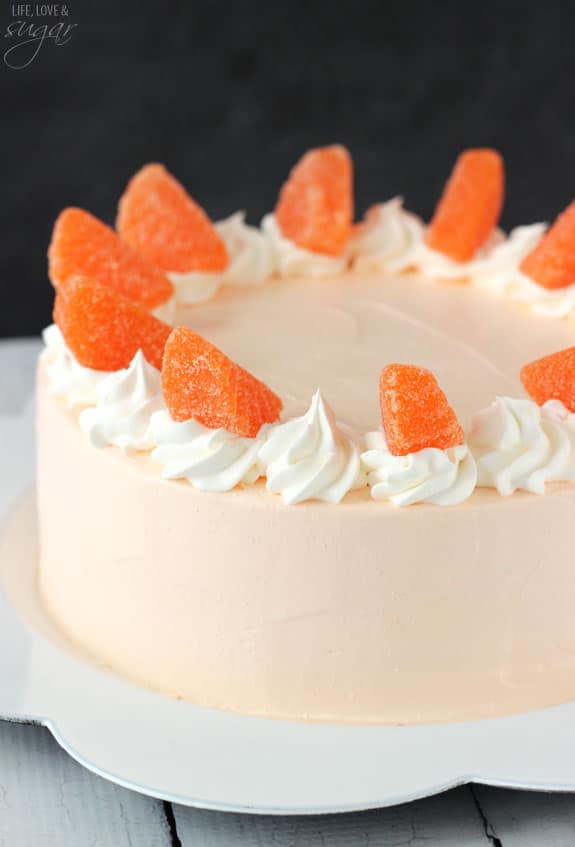 I have always been a big fan of the classic orange creamsicle pop. That combination of orange and ice cream is just heavenly. It is and always will be a favorite. Probably in part because it reminds me of being a kid.
I've been wanting to make an ice cream cake version of the pop for the longest time. I actually have an ongoing list of things I want to make but haven't quite figured out how I want to do them yet. This cake was on that list for a while.
I finally decided to go for it!
I used my favorite vanilla cupcake recipe, cut in half, to make the layer of vanilla cake. It's a great, easy, moist cake.
For the orange flavor of the cake, I used a box of orange gelatin powder. To add some orange flavor to the cake layer, I used a method similar to one you'd use on a poke cake. Once the cake cooled, I removed the dome, poked holes in the top of the cake and poured some of the orange gelatin over the cake.
It adds just enough flavor the vanilla cake and also makes it look pretty neat. 🙂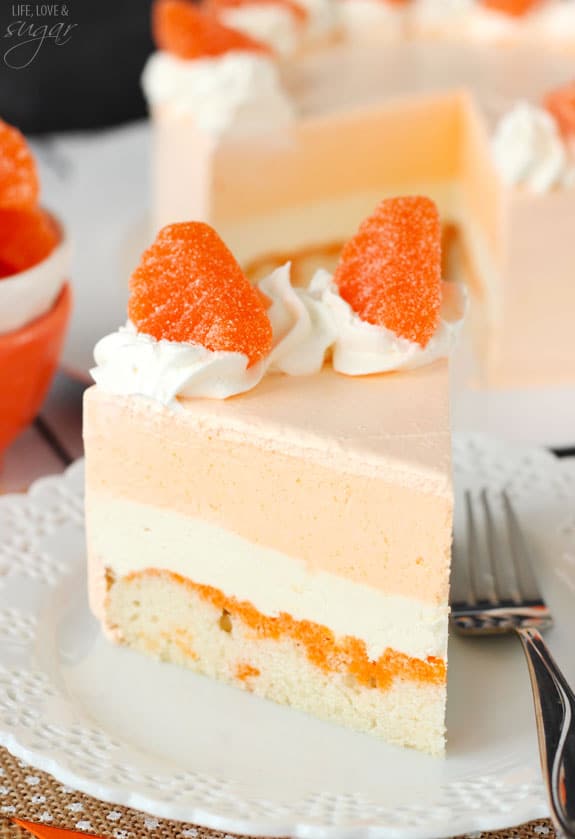 The cake is topped with a layer of vanilla ice cream and orange ice cream. The orange ice cream is again flavored with orange gelatin.
I used my favorite ice cream base. The base is made with cream cheese and cool whip (you could also use homemade whipped cream). I'm often asked if it tastes like cream cheese and it really doesn't. People are usually surprised that it isn't store bought ice cream when they have it. It's got a great, creamy consistency and is just like eating traditional ice cream – if not better. Plus, it doesn't melt as easily. Bonus!
To ice the cake, I colored additional Cool Whip with icing color to match the orange ice cream. To finish it off, a little piping around the edges and some orange candy slices. Cuteness!
This cake was a big hit and I love it! Just like eating a creamsicle, smooth, creamy and so fun. It's a great summer recipe that's sure to be loved by all.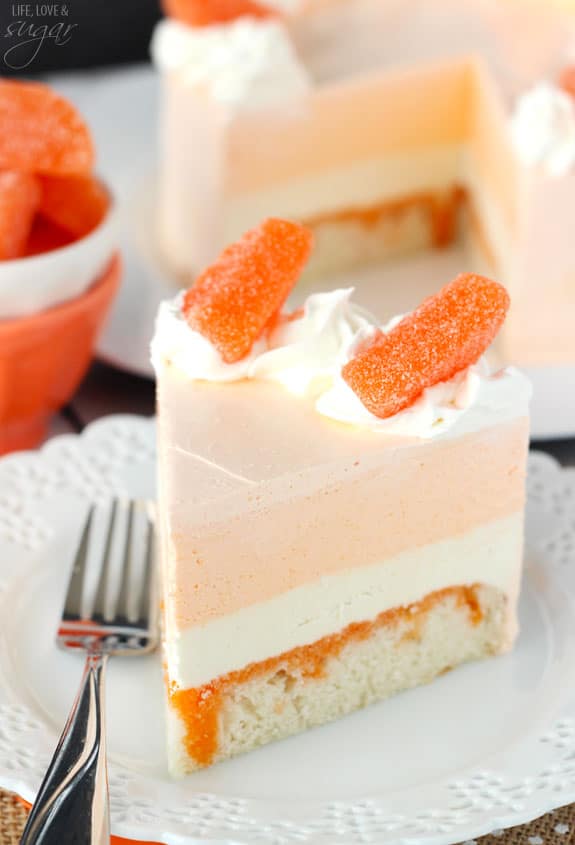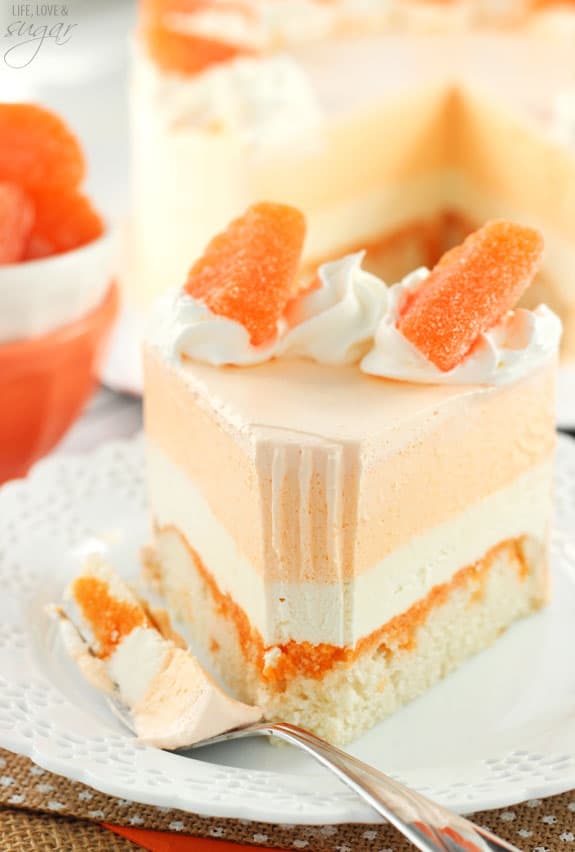 Orange Creamsicle Ice Cream Cake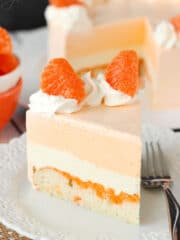 Yield:

12

-

14

Slices

1

x
Category:

Dessert

Method:

Oven

Cuisine:

American
Ingredients
CAKE LAYER
3/4 cup

+

2 tbsp

all purpose flour

1/2 cup

sugar

1 1/4 tsp

baking powder

6 tbsp

salted butter, room temperature (I use Challenge Butter)

2

egg whites

1 1/2 tsp

vanilla extract

1/4 cup

sour cream

1/4 cup

milk

3 tbsp

hot water

3 tbsp

orange JELLO powder*
ICE CREAM LAYERS
12 oz

cream cheese, softened

3/4 cup

sugar

1/4 cup

milk

12 oz

Cool Whip

3 oz

package orange JELLO powder, less 3 tbsp*

2 tbsp

hot water

2 tsp

vanilla extract
ADDITIONAL INGREDIENTS
8 oz

Cool Whip
orange candy slices
orange gel icing color
*You need one 3 oz package of orange JELLO powder. 3 tbsp will be used for the cake, the rest will go into the ice cream layer.
Instructions
NOTE: 8-inch springform pans are best for this recipe so that you can easily remove the cake once it's been assembled. If you do not have a springform pan, line your pan with clear wrap before adding your parchment paper and cake board. You can use the clear warp to lift your cake out of the pan once it's assembled and frozen. You want to make your cake layers in the same pan you'll use for layering the ice cream and cake together so that they cake layers fit in the final pan you use for layering.
CAKE
1. Preheat oven to 350 degrees. Line the bottom of an 8 inch cake pan with parchment paper and grease the sides.
2. Whisk together flour, sugar and baking powder in a large mixing bowl.
3. Add butter, egg whites, vanilla, sour cream and milk and mix on medium speed just until smooth. Do not over mix.
4. Spread batter evenly into cake pan.
5. Bake 18-20 minutes, or until a toothpick inserted comes out with a few crumbs.
6. Allow to cool for 3-4 minutes, then remove to cooling rack to finish cooling.
7. Once cake has cooled, remove dome from cake with a large serrated knife. Poke holes in the top of the cake with something like the end of a wooden spoon, or a straw.
8. Combine hot water and orange JELLO in a small bowl, then spoon mixture over the cake and spread it so that it goes into the holes.
ICE CREAM
1. To make the ice cream layers, beat the cream cheese and sugar in a mixer bowl until smooth.
2. Add milk and mix until smooth.
3. Fold in Cool Whip.
4. Divide mixture evenly between two bowls.
5. Combine hot water and remainder of orange JELLO powder in a small bowl. Fold into one of the bowls with half of the ice cream mixture.
6. Add vanilla extract to the other half of the ice cream mixture.
ASSEMBLY
1. Line the sides of an 8-inch springform pan with parchment paper. The parchment paper should stick up above the top edge of the pan, since the cake will probably be a little taller than your pan. If you want, put a cardboard cake circle in the bottom of the pan. If not using a springform pan, you pan put some plastic wrap in the bottom of the pan and up the sides and use it to lift the cake out of the pan when it's done.
NOTE: You should be using the same 8-inch pan you used for the cake. Not all 8-inch pans are exactly the same size. Your cake needs to fit in this pan.
2. Put the cake layer into the bottom of your pan.
3. The top cake with the vanilla ice cream and spread into an even layer.
4. Add the orange ice cream and spread into an even layer.
5. Allow ice cream cake to freeze completely, 6-8 hours.
6. When frozen, remove from springform pan and remove parchment paper from sides.
7. To finish off the cake, ice the outside with additional Cool Whip. You can use gel icing color to make it orange, if you prefer. Pipe additional Cool Whip around the top edges and top with orange candy slices.
8. Freeze until ready to serve.
Enjoy!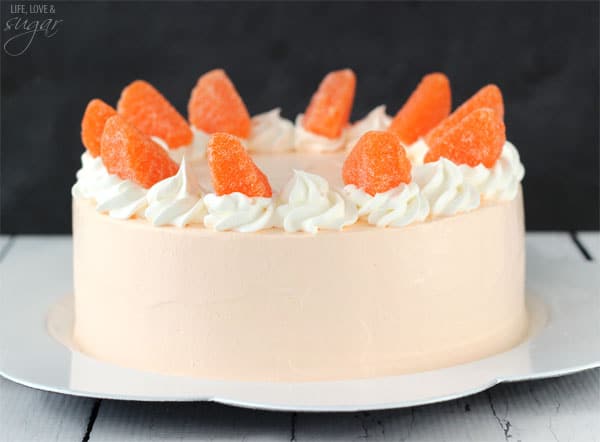 You might also like:
Cherry Almond Amaretto Ice Cream Cake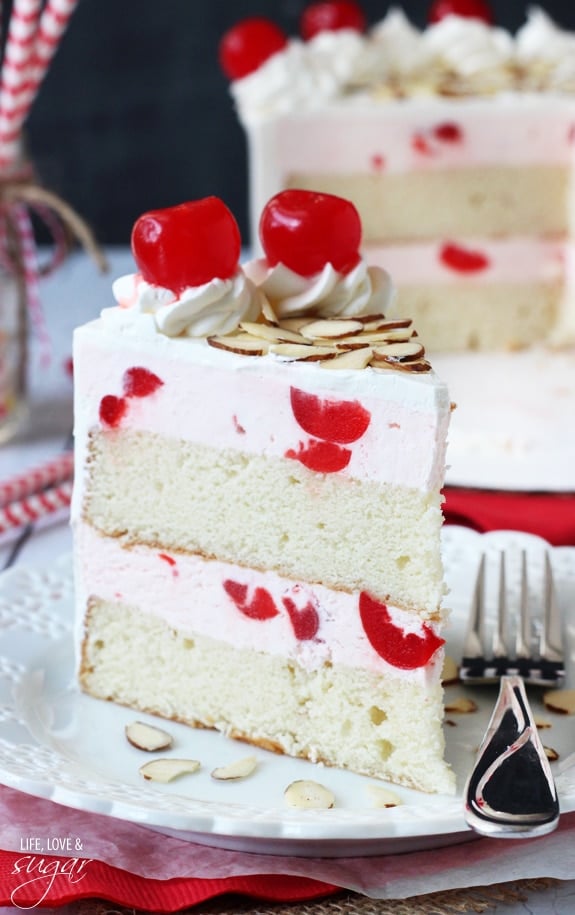 Raspberry Cheesecake Ice Cream Cupcakes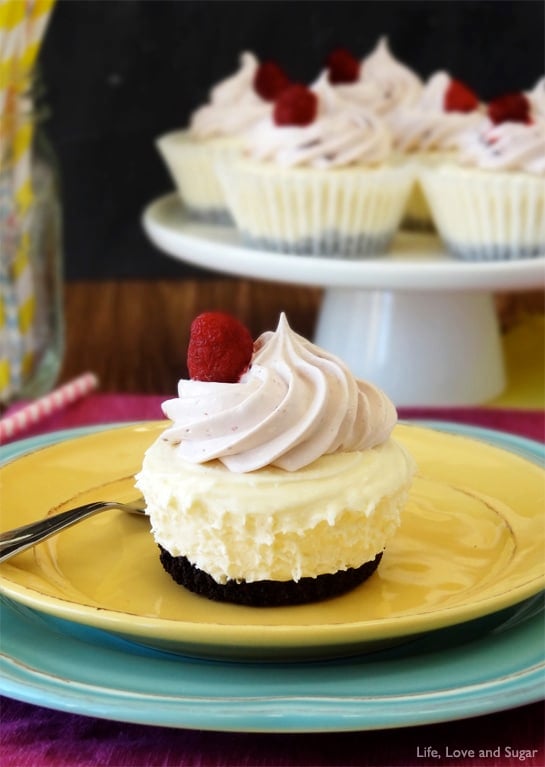 Chocolate Cherry Ice Cream Pie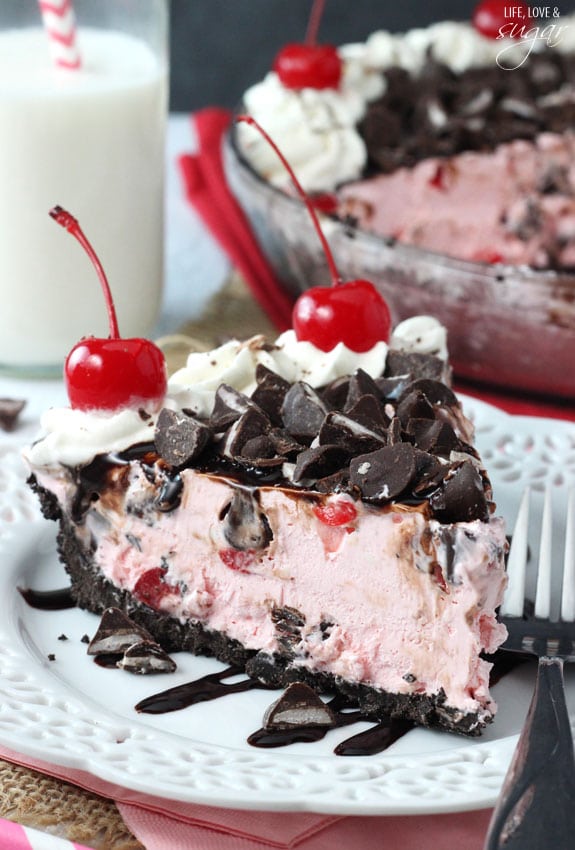 Peach Streusel Ice Cream Popsicles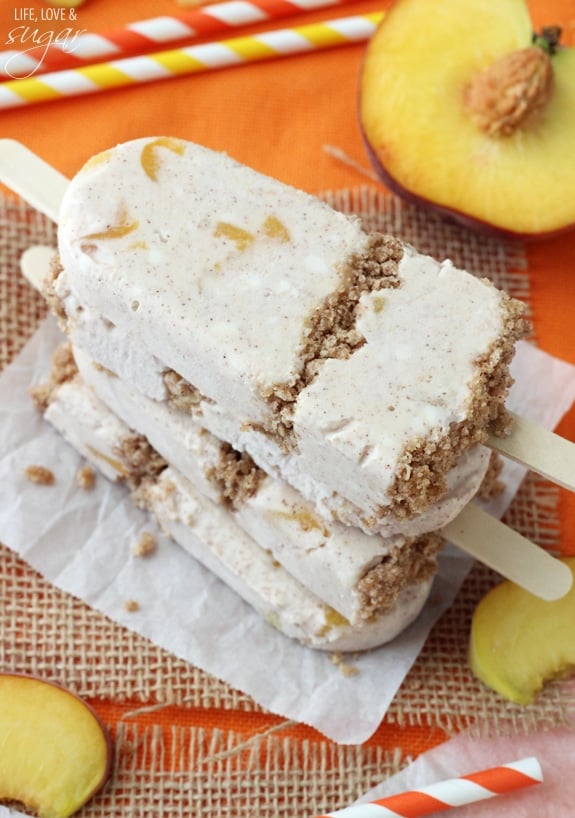 Recipes from friends:
Orange Cream Pop Cupcakes from Beyond Frosting
Skinny Orange Creamsicle Smoothie from Chelsea's Messy Apron
Ooey Gooey Orange Creamsicle Bars from The Gunny Suck