Cinnamon Roll Poke Cake
I am totally in love with this Cinnamon Roll Poke Cake. The moist vanilla cake is made with BAILEYS® Coffee Creamers Cinnamon Dolce and soaked with an amazing butter cinnamon mixture, topped with vanilla icing. I couldn't get enough of it.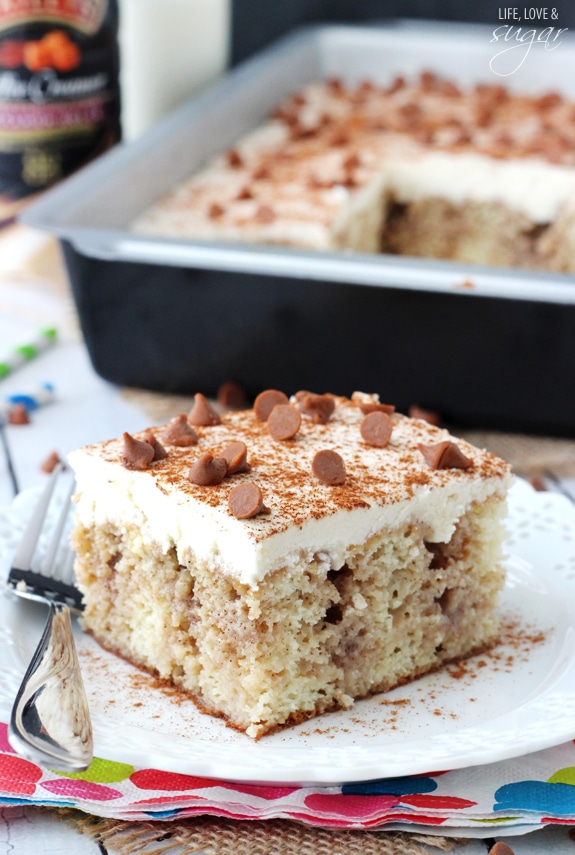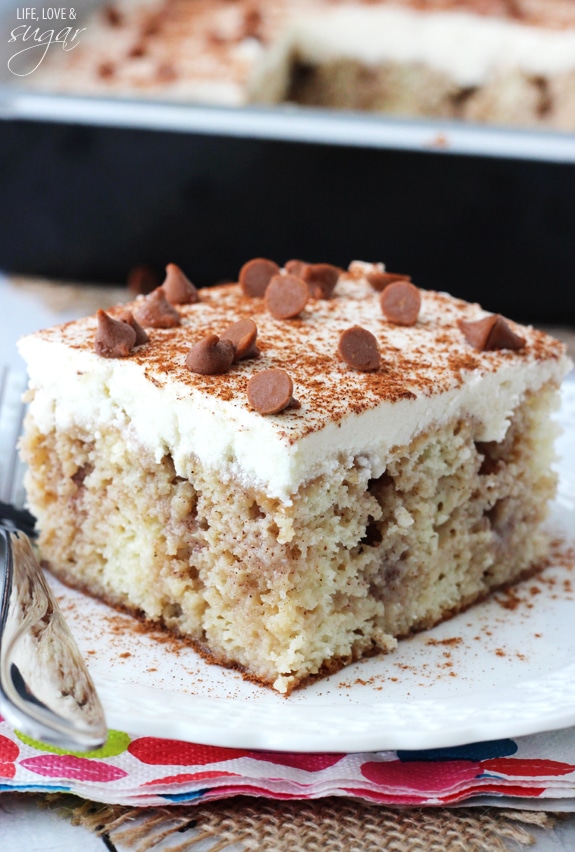 I got to meet some people from BAILEYS® Coffee Creamers at the BlogHer Food conference in May and I was totally pumped to try their new coffee creamer flavors, both in my coffee and in baking. I love Baileys brand in general. I've always loved their creamers and Baileys liqueur.
They've got three tasty new creamer flavors and the one I was most excited to try was the Cinnamon Dolce. I love me some cinnamon! And it was awe-some in my coffee!
So when they sent me a few flavors to try, I new the cinnamon one would be the first I'd bake with.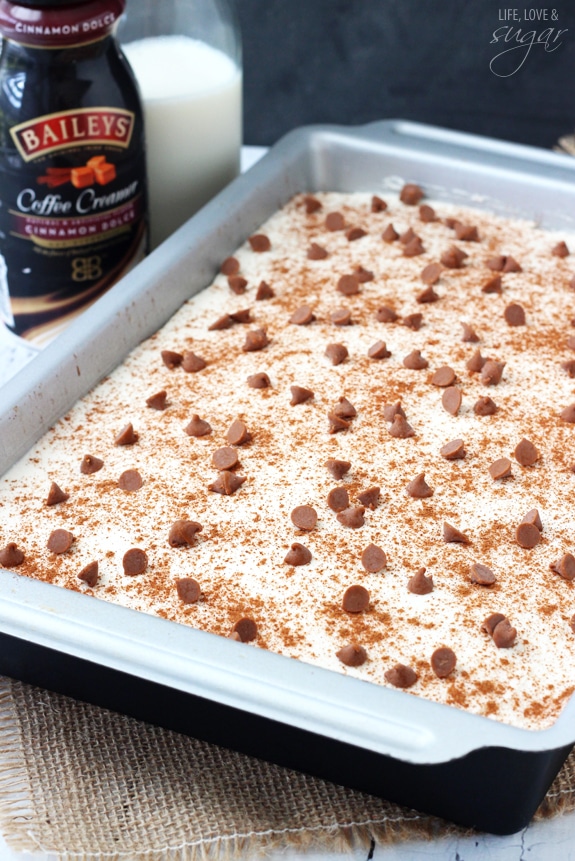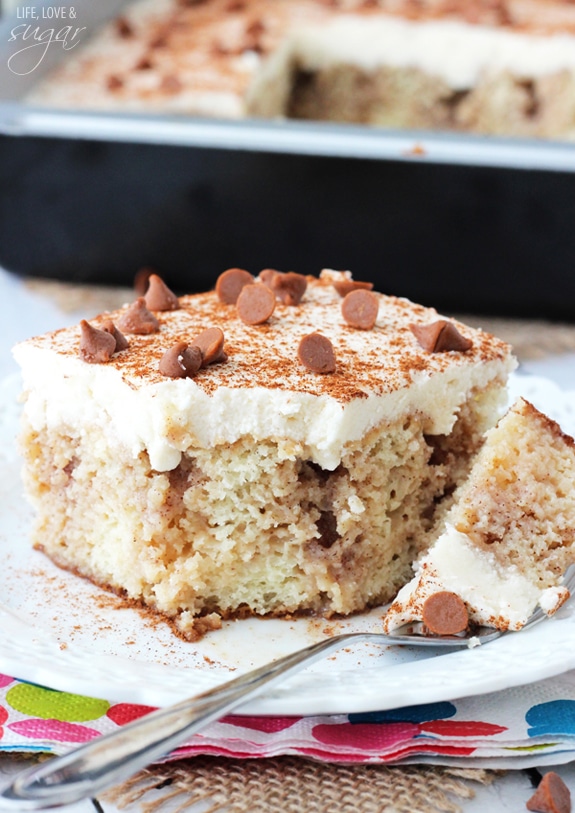 It took me a bit to decide what to bake, but once this poke cake popped into my head, I knew I had to make it. I've used coffee creamer in cake once before and it gives such an awesome flavor and moistness to the cake.
And this one is no exception! Sure, you could use regular milk and some ground cinnamon, but trust me. It would not be the same. This coffee creamer has a uniquely awesome flavor to it that really comes through in the cake. I LOVE it!
And though this is a cake, not actually a cinnamon roll, I still wanted the awesome buttery cinnamon-ness that comes in cinnamon rolls, so butter is melted with brown sugar and cinnamon, just like in actual cinnamon rolls. The butter and sugar are microwaved together, so that the sugar dissolves. You don't want to skip that step.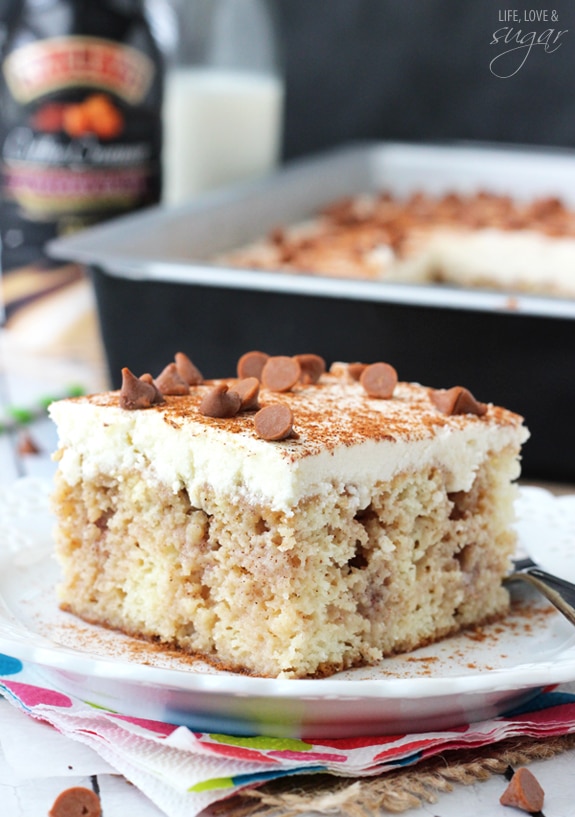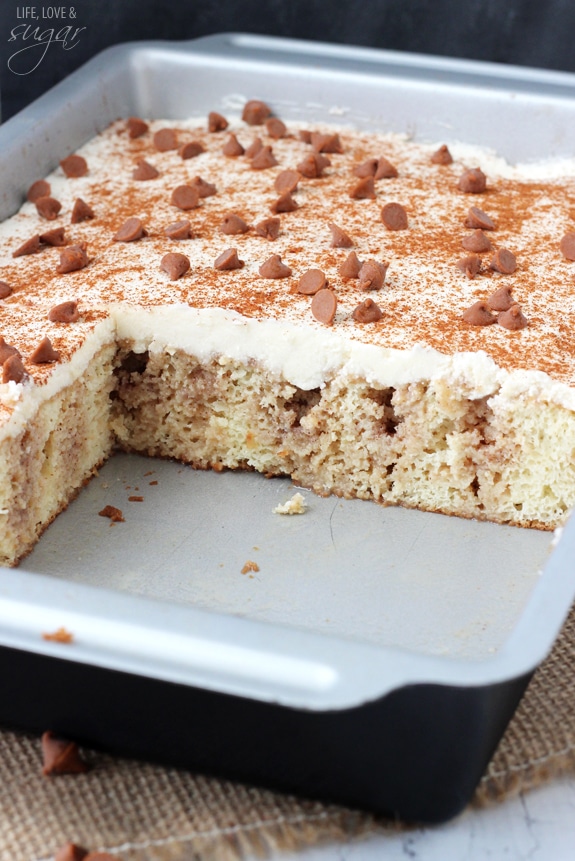 Combine it with sweetened condensed milk and you have the most delectable cinnamon roll filling that ever lived!
Pour that all over cake and you have the most wonderful cinnamon roll cake that ever lived. Honestly, it tastes so good, you could stop right there. But then you have a bunch of holes all over the cake.
So what do you do? Top it with an awesome, light vanilla icing! Duh.
It's got some whipping cream and is whipped for a couple minutes to give it that light airiness. It goes perfectly with the cake.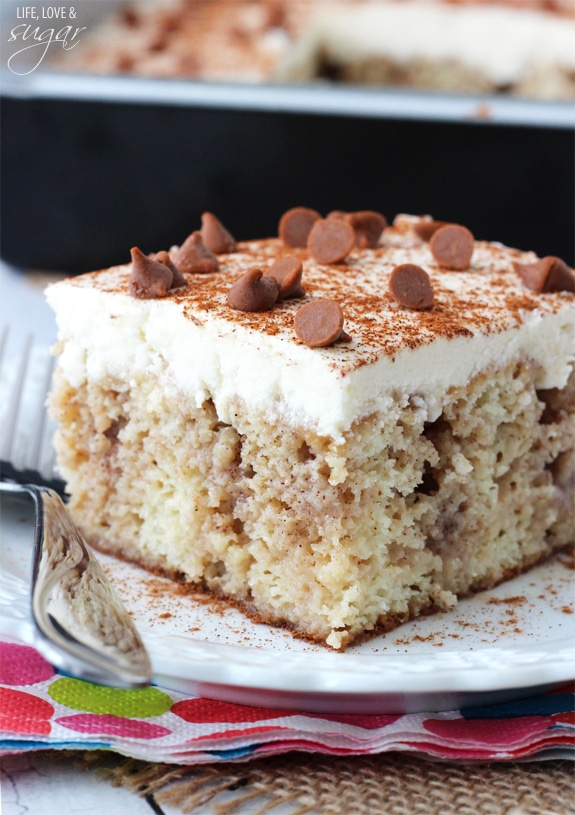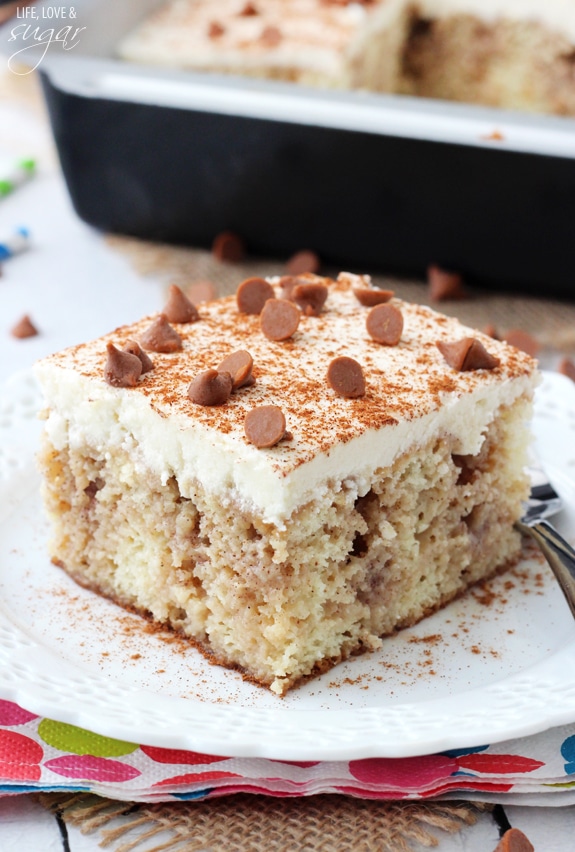 You seriously won't want to stop eating it. Every time I had another piece, it was like I'd forgotten all over again just how good it was. Like I didn't believe it until I tasted it again. And then of course I didn't want to share, but I knew I needed to or I'd eat the entire thing on my own.
So I shared. And it was agreed all around that this cake is shockingly tasty. I mean really, how can you beat a cake soaked in cinnamon, brown sugar, butter and sweetened condensed milk?
You can't.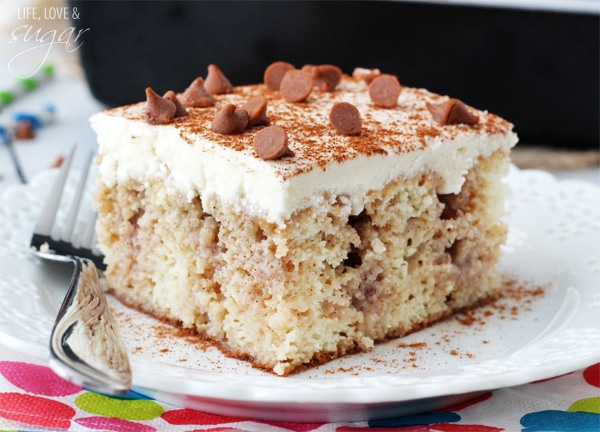 Cinnamon Roll Poke Cake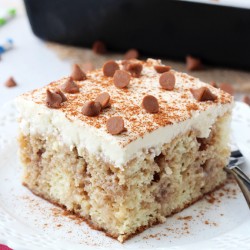 This Cinnamon Roll Poke Cake is a moist vanilla cake made with BAILEYS® Coffee Creamers Cinnamon Dolce and soaked with an amazing butter cinnamon mixture, topped with vanilla icing. I couldn't get enough of it!
Author:
Yield:

15

-

18

Slices

1

x
Category:

Dessert

Method:

Oven

Cuisine:

American
Ingredients
CAKE
15.25 oz

box white cake mix

1/2 cup

Cinnamon Dolce BAILEYS® Coffee Creamer

1/2 cup

milk

1/3 cup

oil

3

eggs

1/2 cup

butter, melted

3/4 cup

brown sugar

2 tsp

cinnamon

3/4 cup

sweetened condensed milk
ICING
1/2 cup

butter

2 cup

s powdered sugar

1/2 cup

heavy whipping cream, cold

1 tsp

vanilla
Instructions
1. Preheat oven to 350 degrees. Grease a 9×13 rectangle cake pan.
2. Add dry cake mix, coffee creamer, milk, oil and eggs to a mixer bowl and beat until smooth.
3. Pour batter into cake pan and bake for 20-25 minutes, or until a toothpick comes out with a few crumbs.
4. Allow cake to cool for about 10 minutes.
<div">
5. While cake is cooling, melt butter in a bowl in the microwave.
6. Add brown sugar to melted butter and whisk to combine.
7. Microwave butter and sugar for about 30-40 seconds more, until sugar is dissolved, whisking about half way through.
8. Add the sweetened condensed milk and cinnamon to the butter mixture and mix until combined.
9. Poke holes in the warm cake with the end of a wooden spoon or something similar.
10. Pour mixture over cake.
11. Place cake in refrigerator for 2-3 hours while it cools and soaks up mixture.
12. To make the icing, cream the butter.
13. Add 1 3/4 cup of powdered sugar and mix until smooth.
14. Add the whipping cream and vanilla and mix until combined.
15. Add remaining 1/4 cup of powdered sugar and mix for 3-4 minutes, until light and fluffy.
15. Ice cake and top with cinnamon chips, if desired. Store cake in refrigerator.
Enjoy!

You might also like:
Cinnamon Sugar Swirl Cupcakes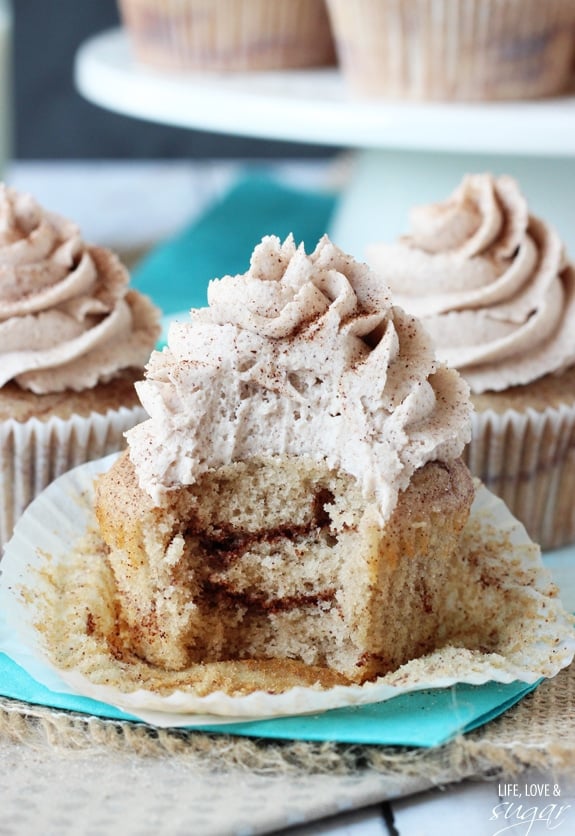 Oatmeal Chocolate Chip Cookie Ice Cream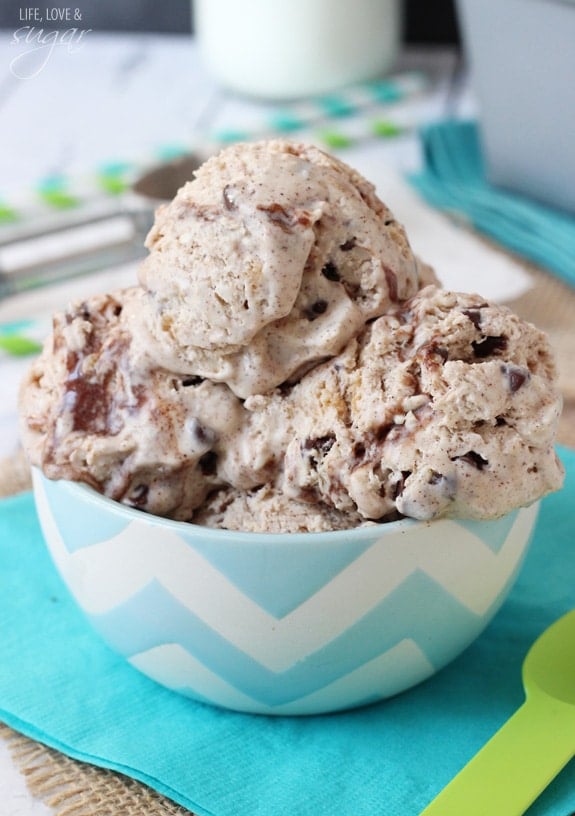 Funfetti Cake Batter Cinnamon Roll Casserole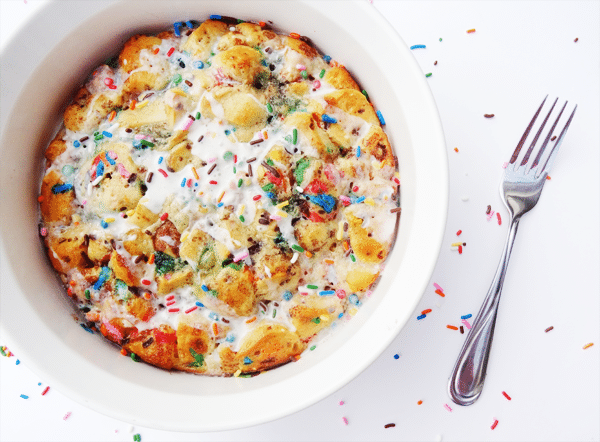 Recipes from friends:
Cinnamon Roll Cookies from Oh Sweet Basil
Cinnamon Maple Whipped Cream from Beyond Frosting
Cinnamon Swirl Quick Bread from Something Swanky