Nutella Biscoff Icebox Cake
This Nutella Biscoff Icebox Cake has delicious layers of Nutella and Biscoff filling, chocolate cookies and chocolate ganache! As a lover of both tasty spreads, I couldn't stop eating this icebox cake!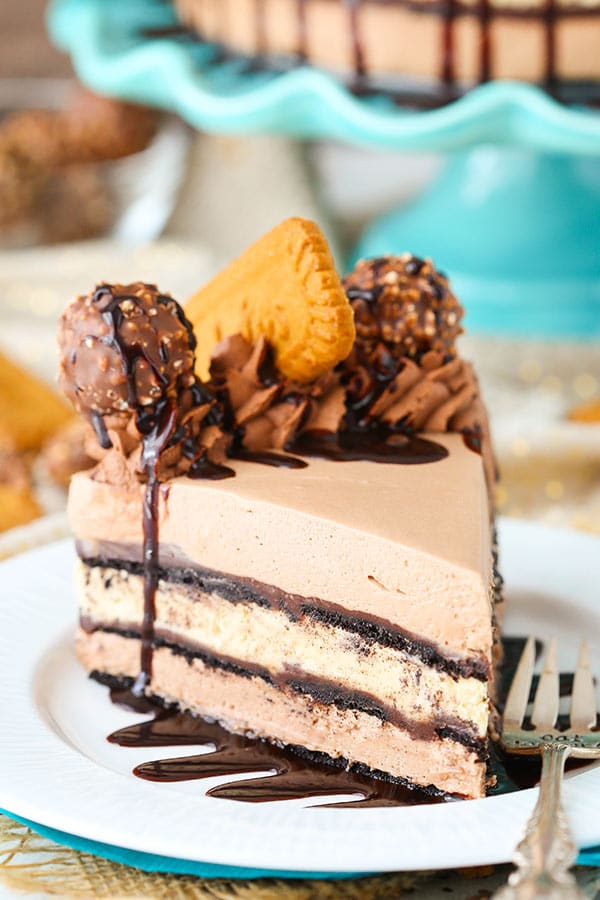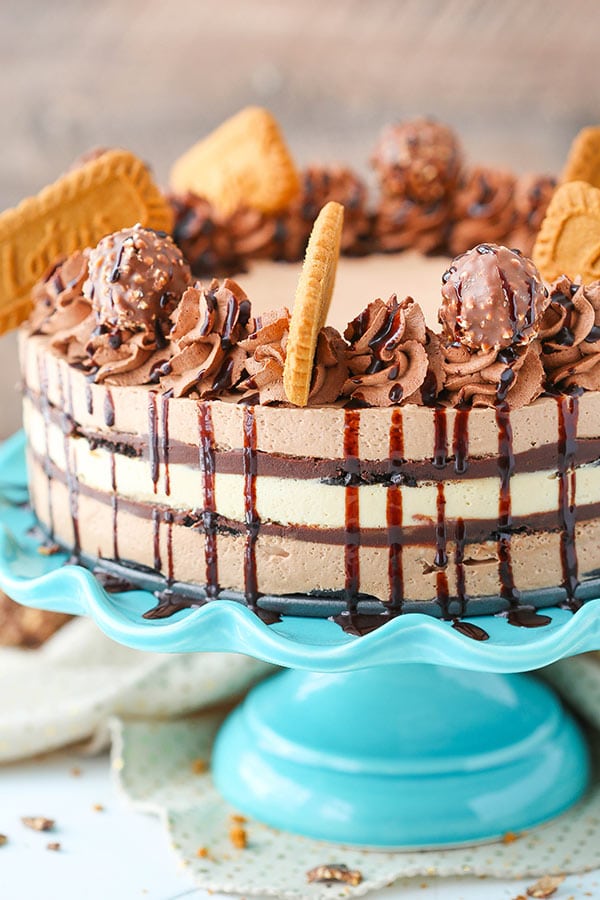 So this past weekend, I did something that was a TON of fun! Can you guess? Not baking (although I did that too).
Laundry! Ha!
I mean sure, that's like an every weekend kind of thing. But this weekend I conquered it like a boss. I did allllll the laundry. And I totally folded it all right away.
Are you laughing at me yet?
Ya'll laundry is not the most fun thing. And the hubs turns everything inside out as he removes it from himself, so it isn't just washing and folding. It's turning every right side out and then folding. And there are so many undershirts and socks. I can't even. And then it just starts all over again.
So like the rockstar that I am, I washed everything, folded it and put it all away. Sheets, towels and all.
Then yesterday morning as we were getting dressed for church, the hubs thanked me (he's good at that) and I told him that no laundry was allowed in laundry baskets for at least 24 hours.
Of course, I'd already broken that 24 hour rule – it was more to be funny. Sometimes I think I'm funny. The hubs thought I was. Thank goodness for husbands that will laugh at our jokes. 🙂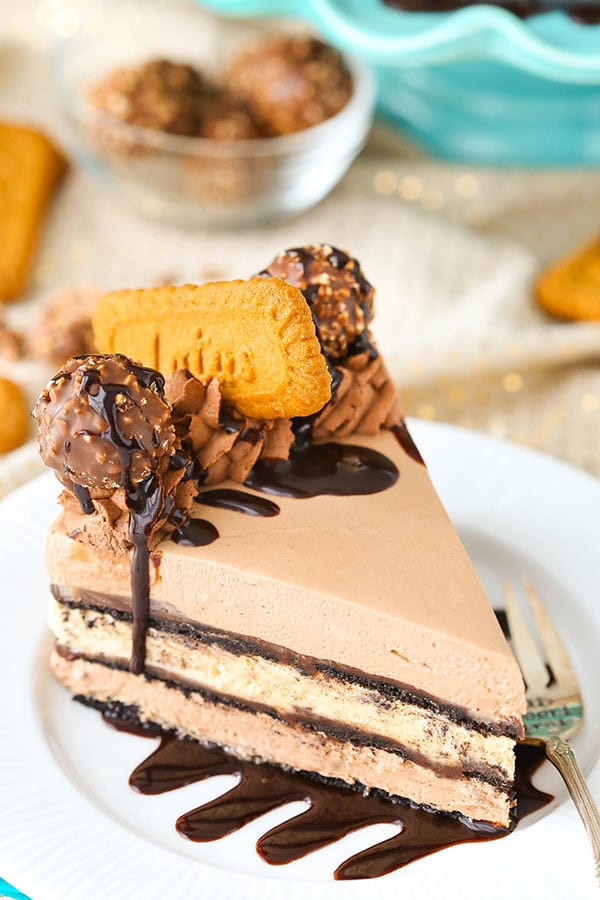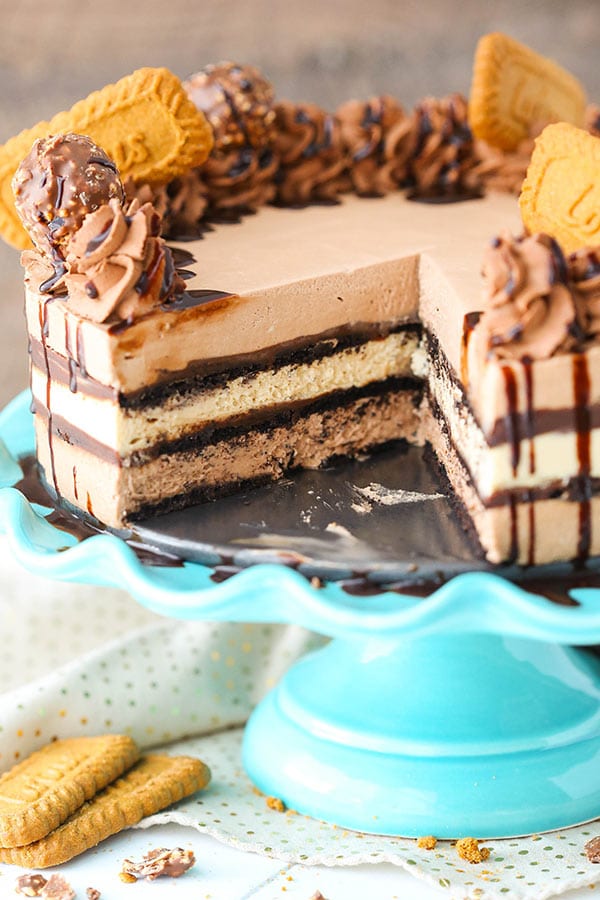 For those that don't think I'm funny, there's dessert. And it's an easy, no bake dessert too. I bet that in the time it'd take to wash and fold laundry, you could make and devour this icebox cake. I think it's worth a try. 😉
I don't know about you, but I have to make myself forget that Nutella and Biscoff are in the pantry. If I pull them out and open them and get even the slightest whiff of their delicious scent, I have to pull out a spoon and at least get a little taste. They are SO good!
So naturally if you love them as I do, you'll love the flavors of this icebox cake. The tasty spreads are added to the filling layers made mostly with cream cheese and whipped cream for a texture that's light and mousse-like.
Between the filling layers are layers of chocolate wafer cookies and chocolate ganache. Finishing off the cake is some chocolate whipped cream and Biscoff cookies and hazelnut candies.
This makes for a super easy and super fun cake! It'll definitely cure your sweet tooth – for a little bit anyways – and it'll give you something to look forward to when the laundry is done. 😉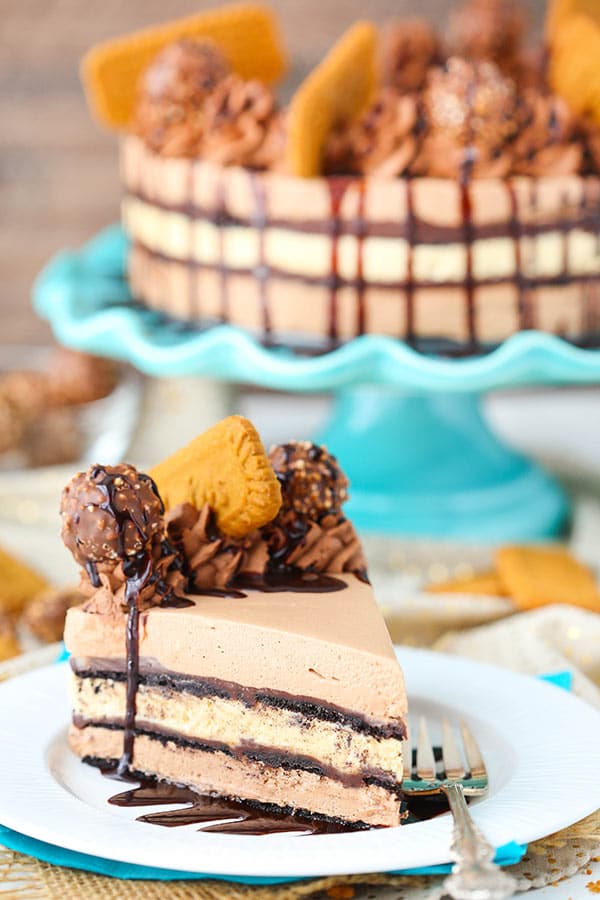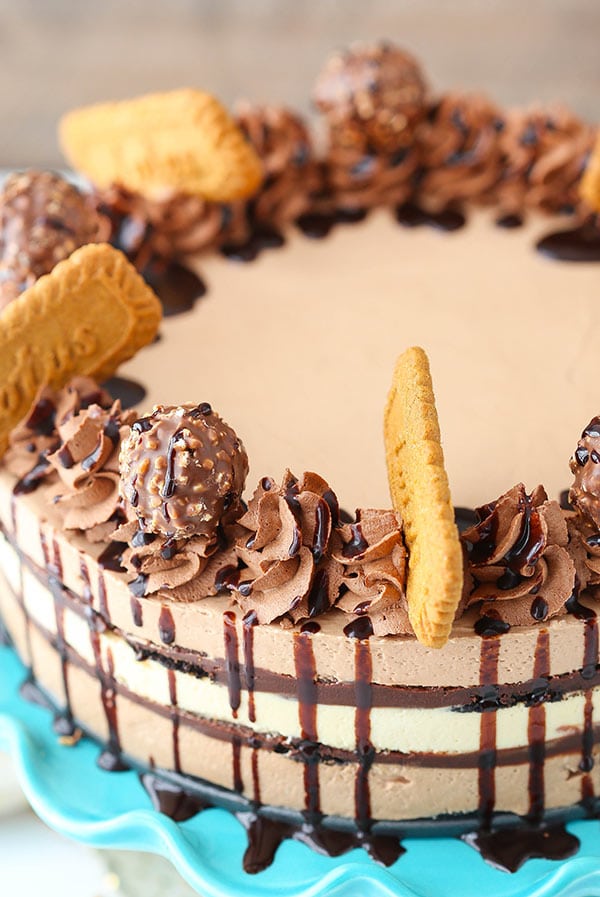 You might also like:
Nutella Cheesecake
Nutella Chocolate Cupcakes
Nutella Fluffernutter Cupcakes
Nutella Fudge Brownies
No Bake Nutella Cheesecake
Nutella Chocolate Cake
Nutella Cheesecake Chocolate Cookie Cups
Nutella Biscoff Icebox Cake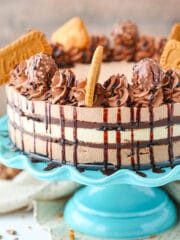 Yield:

12

-

14

Slices

1

x
Category:

Dessert

Method:

Oven

Cuisine:

American
Ingredients
MOUSE LAYERS
12 oz

(339g) cream cheese, room temperature

3/4 cup

(155g) sugar

2 tbsp

(30ml) milk

2 1/2 cup

s (600ml) heavy whipping cream, cold

1 tsp

vanilla extract

1 1/4 cup

s (144g) powdered sugar

1/2 cup

(154g) Nutella

1/4 cup

(77g) Biscoff spread
COOKIE AND GANACHE LAYERS
CHOCOLATE WHIPPED CREAM
3/4 cup

(180ml) heavy whipping cream, cold

3 tbsp

(22g) powdered sugar

3 tbsp

(21g) natural unsweetened cocoa powder
Biscoff cookies, optional
Ferrero Rocher, optional
Instructions
1. Prepare a 9-inch springform pan by lining the sides with parchment paper that sticks about an inch above the sides of the pan.
2. To make the mousse, mix the cream cheese and sugar for together in a large mixer bowl until smooth.
3. Add the milk and mix until smooth. Set cream cheese mixture aside and make whipped cream.
4. Add the heavy whipping cream, vanilla extract and powdered sugar to a large mixer bowl and whip on high speed until stiff peaks form.
5. Carefully fold 1/3 of the whipped cream into the cream cheese mixture until combined. Add the remaining whipped cream and fold together until well combined.
6. Divide the mousse into two bowls. You'll want twice the amount in one bowl as the other. You should have about 2 1/3 cups in one bowl and the rest in another.
7. Add the Nutella to the bowl with the larger amount of mousse and gently fold to combine. Set aside.
8. Add the Biscoff to the smaller amount and fold to combine. Set aside.
9. Put the chocolate chips for the ganache in a medium-sized heat proof bowl. Heat the heavy whipping cream for the ganache until it comes to a boil, then pour over the chocolate chips. Allow to sit for about 2-3 minutes, then whisk until smooth. Set aside to cool a bit and thicken.
10. Place a single layer of chocolate wafer cookies into the bottom of the prepared pan.
11. Top the cookies with half of the Nutella mousse and spread into an even layer.
12. Add another layer of chocolate wafer cookies on top of the Nutella mixture.
13. Top the cookies with half of the ganache mixture and spread into an even layer.
14. Spread the Biscoff mousse into an even layer on top of the chocolate ganache.
15. Add another layer of chocolate wafer cookies on top of the Biscoff mousse, then add the remaining ganache and spread into an even layer.
16. Top the ganache with the remaining Nutella mousse and spread into an even layer.
17. Refrigerate cake until firm, 4-5 hours. Once firm, remove icebox cake from pan.
18. To make the chocolate whipped cream for topping, add heavy whipping cream, powdered sugar and cocoa to a large mixer bowl and whip on high speed until stiff peaks form
19. Pipe the whipped cream around the top edge of the cake, then drizzle with chocolate sauce. Finish off cake with Biscoff cookies and Ferrero ocher, if desired.
20. Refrigerate until ready to serve.
Enjoy!


This post contains affiliate links.