February 29, 2016
Guinness Chocolate Poke Cake
This Guinness Chocolate Poke Cake will knock your socks off! A moist Guinness chocolate cake is soaked with a Guinness chocolate ganache and topped with Guinness chocolate whipped cream! It's FULL of chocolate and Guinness without being over the top. I'm in love!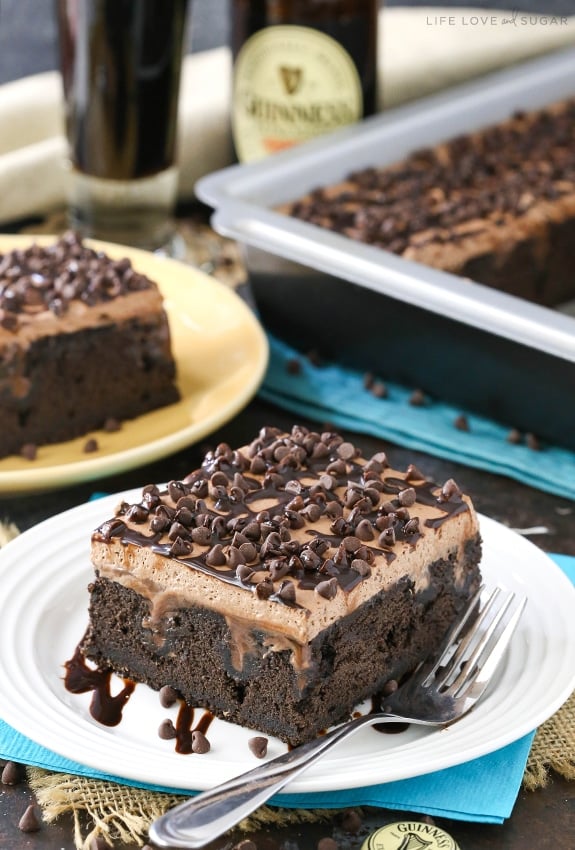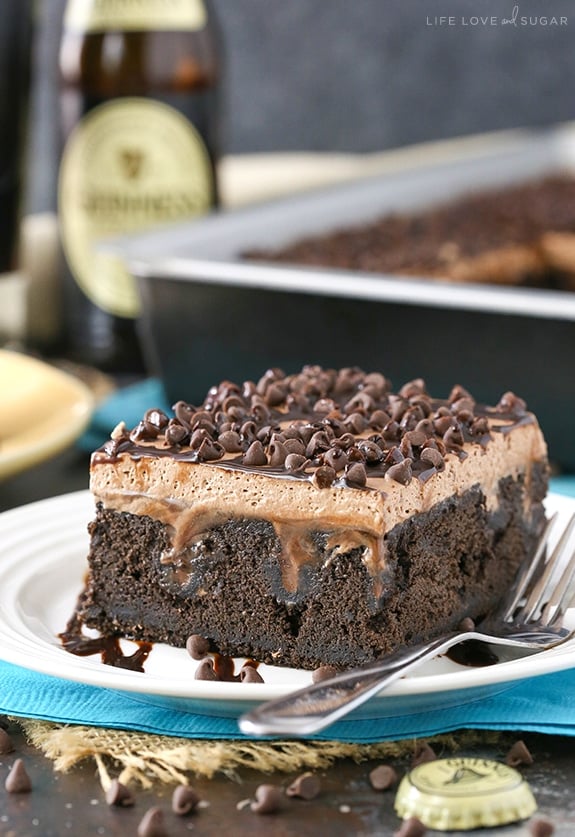 So if you know me well, you know there are just some foods I'm not a fan of. Tomatoes are one of them. I can't even with the texture of their centers. So mushy. But chop them up and turn them into bruschetta and I'm all in.
Peanut butter is another one. Couldn't stand it as a kid. I ate jelly sandwiches rather than peanut butter and jelly. #truth. Then one day I baked it into a cake and bam, I was on board. Bring on the peanut butter desserts! But don't give it to me on a spoon. Not my fave.
And then there's beer. Not even a chance. I have tried to like it. I have tried so hard. It's so much cheaper to drink when you're out. It's so very social. And I totally envy someone when it's all hot out and they throw back a beer and declare it to be the best thing they've ever tasted in the hot sun (I'm looking at you, mom). But I just can't. I blame my dad. He doesn't like it either.
But just like with peanut butter, if you bake it into a cake I'm all, "OMG YOU HAVE TO EAT THIS! IT'S SO GOOD!"
I'm not even joking. It's so weird. Maybe it's when you pair the beer with chocolate that works for me? I don't know but I'm telling you, after a few bites I craved this cake for a solid week.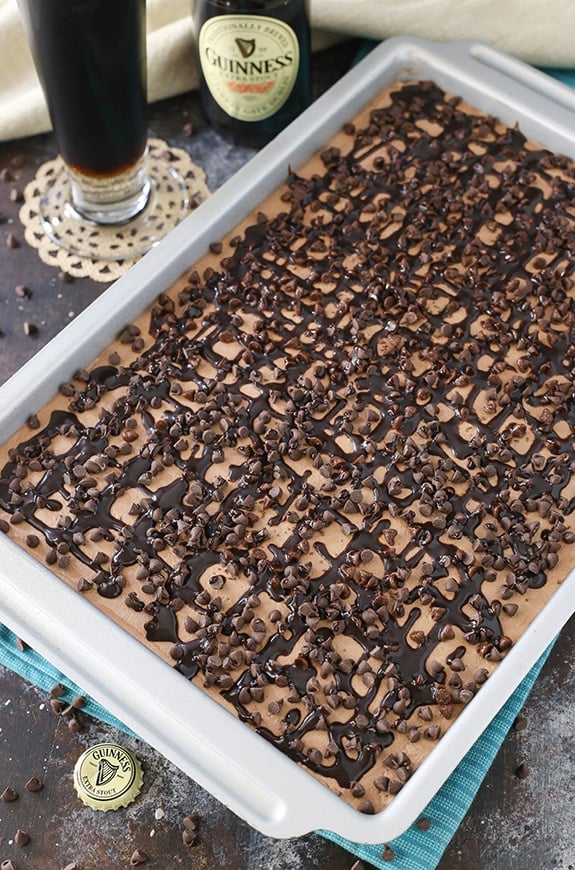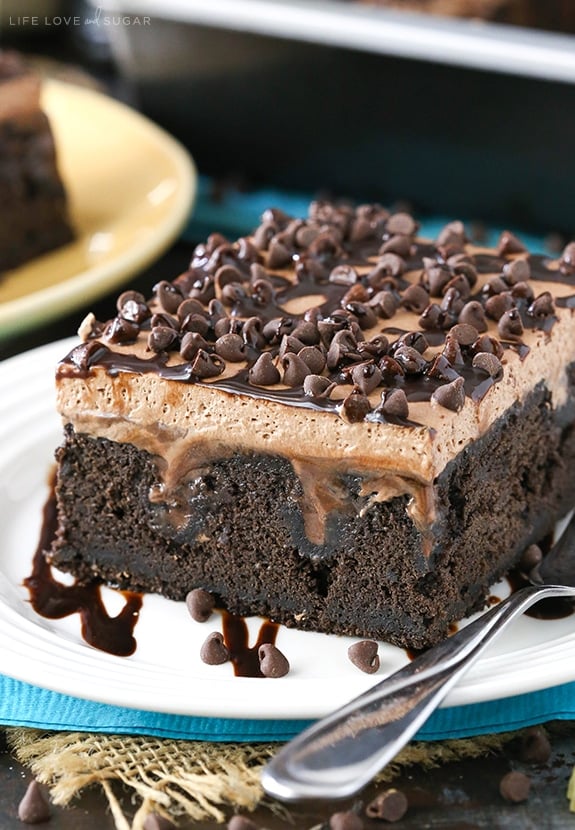 What makes it even better is that it's pretty easy to make. I love 9×13 cakes for that reason. And unlike other poke cakes on the blog, I did not start with a box mix. Nope, I upped my poke cake game and made it from scratch with Guinness.
It's your typical awesome and moist cake. 😉 Creaming of the butter and sugar – not to be overlooked. Make sure you fully cream them. Eggs – check! Flour? Check! I also use sour cream. It's the best way to add moisture and wonderful flavor to a cake. Can't leave it out. Check! And of course cocoa. I used dark cocoa for the cake and regular for the whipped cream. I'm a weirdo. I love the dark cocoa with the Guinness and totally recommend it, but in whipped cream I prefer the color you get with regular cocoa. Either way is fine.
Once the cake is baked, poke it all over the top – hence "poke" cake. You can use the end of a wooden spoon, a straw, whatever you like. I have a long, old school knife sharpener that I use.
Then with the cake still nice at hot from the oven, microwave the chocolate filling ingredients together and pour all over the warm cake. Spread it evenly over the cake and let it soak right in. Allow the cake to sit, cool and soak for about an hour, then put in the fridge until completely cool.
The cake is topped with a whipped cream topping that is again kissed with chocolate and Guinness. Seriously, a Guinness lover's dream. And perfect for St. Patrick's Day, if you're a fan of celebrating.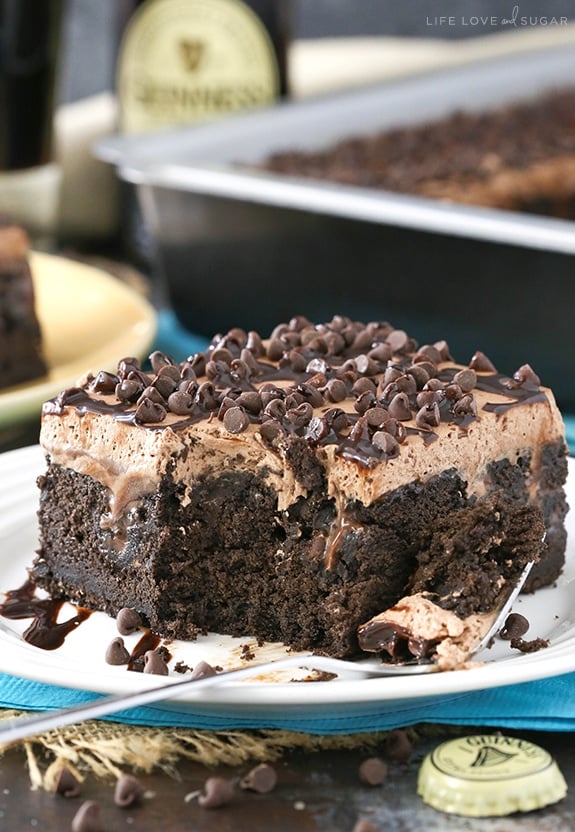 Guinness Chocolate Poke Cake
A moist Guinness chocolate cake, soaked with a Guinness chocolate ganache and topped with Guinness chocolate whipped cream! To die for!
Yield: About

15

Slices

1

x
Category:

Dessert

Method:

Oven

Cuisine:

American
Ingredients
GUINNESS CHOCOLATE CAKE
3/4 cup

(168g) unsalted butter, room temperature

1 1/2 cup

s (310g) sugar

1/2 cup

packed brown sugar (90g)

3/4 cup

(180ml) sour cream

1 tsp

vanilla extract

3

eggs

2 cup

s (260g) all purpose flour

3/4 cup

(70g) dark cocoa powder (I use Hershey's Special Dark Cocoa)

1 tsp

baking powder

1/2 tsp

salt

1 cup

(240ml) Guinness Beer
CHOCOLATE FILLING
14 oz

sweetened condensed milk

1 cup

(180g) semi sweet chocolate chips

1/4 cup

(60) Guinness beer
WHIPPED TOPPING
1 3/4 cup

s (420ml) heavy whipping cream

1/4 cup

(60ml) Guinness Beer

1/2 cup

(58g) powdered sugar

1/4 cup

(29g) cocoa (I used regular natural unsweetened cocoa)

1/2 tsp

vanilla extract
Mini chocolate chips
Instructions
1. Grease a 9×13 cake pan and preheat oven to 350°F (176°C).
2. In a large mixing bowl, beat the butter and sugars together until light in color and fluffy, 3-4 minutes.
3. Add the sour cream and vanilla extract and mix until combined.
4. Add the eggs in two batched and mix until incorporated. Scrape down the sides of the bowl as needed to make sure everything is combined.
5. Combine flour, cocoa powder, baking powder and salt in a medium bowl.
6. Add half of the flour mixture to the batter and mix until combined.
7. Add the Guinness to the batter and mix until combined. Scrape down the sides of the bowl as needed to ensure everything is being combined.
8. Add the remaining flour mixture and mix until smooth.
9. Pour the cake batter evenly into the prepared cake pan and bake 32-35 minutes, or until a toothpick inserted in the center comes out with a few crumbs. Remove the cake from oven and poke holes all over the top of the cake.
10. Place sweetened condensed milk, chocolate chips and Guinness in a microwave safe bowl. Microwave for about 30 seconds to 1 minute, until warm.
11. Whisk chocolate and milk until smooth, microwaving more, if needed to melt the chocolate.
12. Pour chocolate mixture over the cake while still warm and spread to fill in holes.
13. Set cake aside to cool, about an hour, then refrigerate until completely cooled.
14. To make whipped topping, whip heavy whipping cream and Guinness until it begins to thicken.
15. Add the powdered sugar, cocoa and vanilla extract and whip until stiff peaks form.
16. Spread whipped topping evenly over cooled cake.
17. Sprinkle mini chocolate chips over cake and drizzle with chocolate sauce. Refrigerate until ready to serve.
Enjoy!

This post includes affiliate links.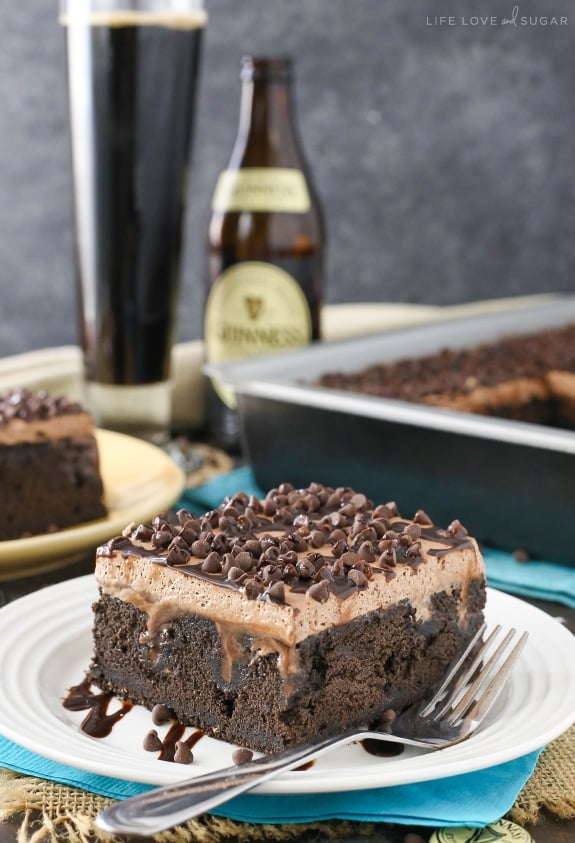 You might also like:
No Bake Baileys Irish Cream Cookie Balls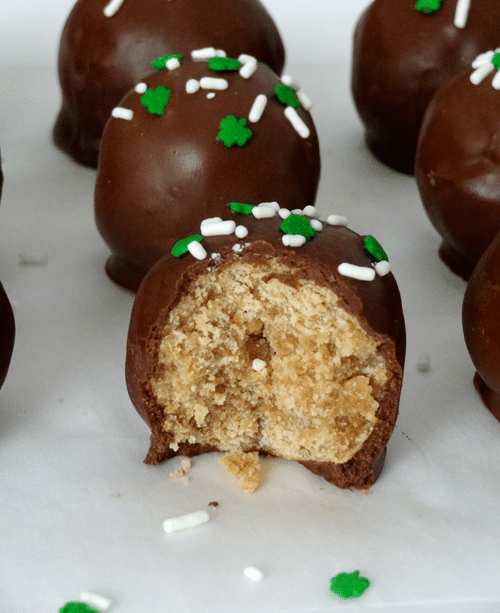 Mini Baileys Chocolate Cheesecake Trifles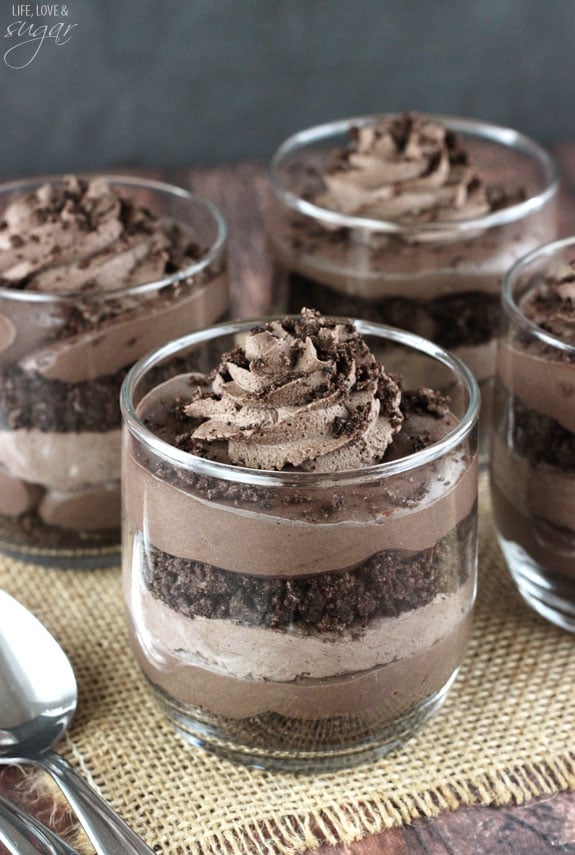 Smokey Bourbon Chocolate Cupcakes with Bacon Chocolate Bark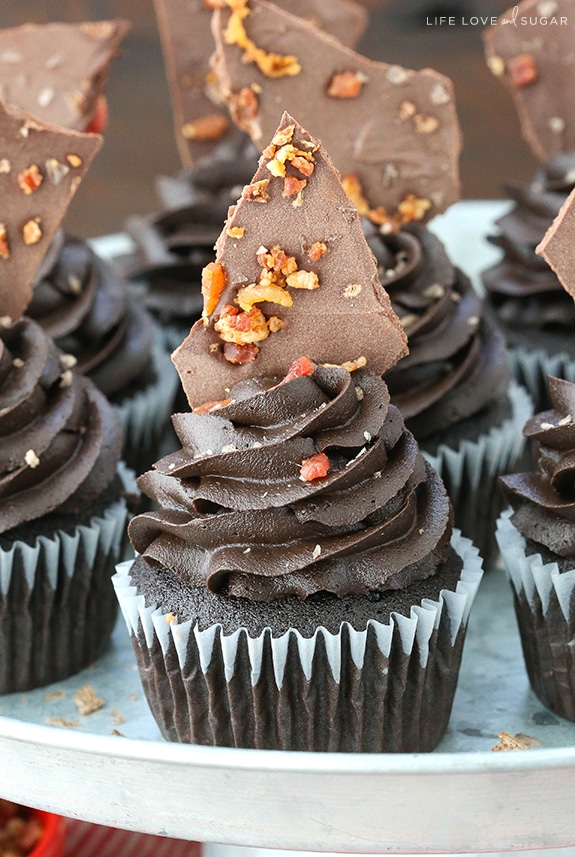 More great Guinness recipes:
Guinness Floats from Gimme Some Oven
Chocolate Guinness Waffles from Just a Taste
Soft Guinness Pretzels with Sea Salt from Baked by Rachel