Red Wine Chocolate Poke Cake is a moist chocolate cake made with red wine, then soaked with more chocolate and red wine! Topped with a fresh strawberry whipped cream, this is a dreamy & decadent chocolate cake recipe that's also easy to make!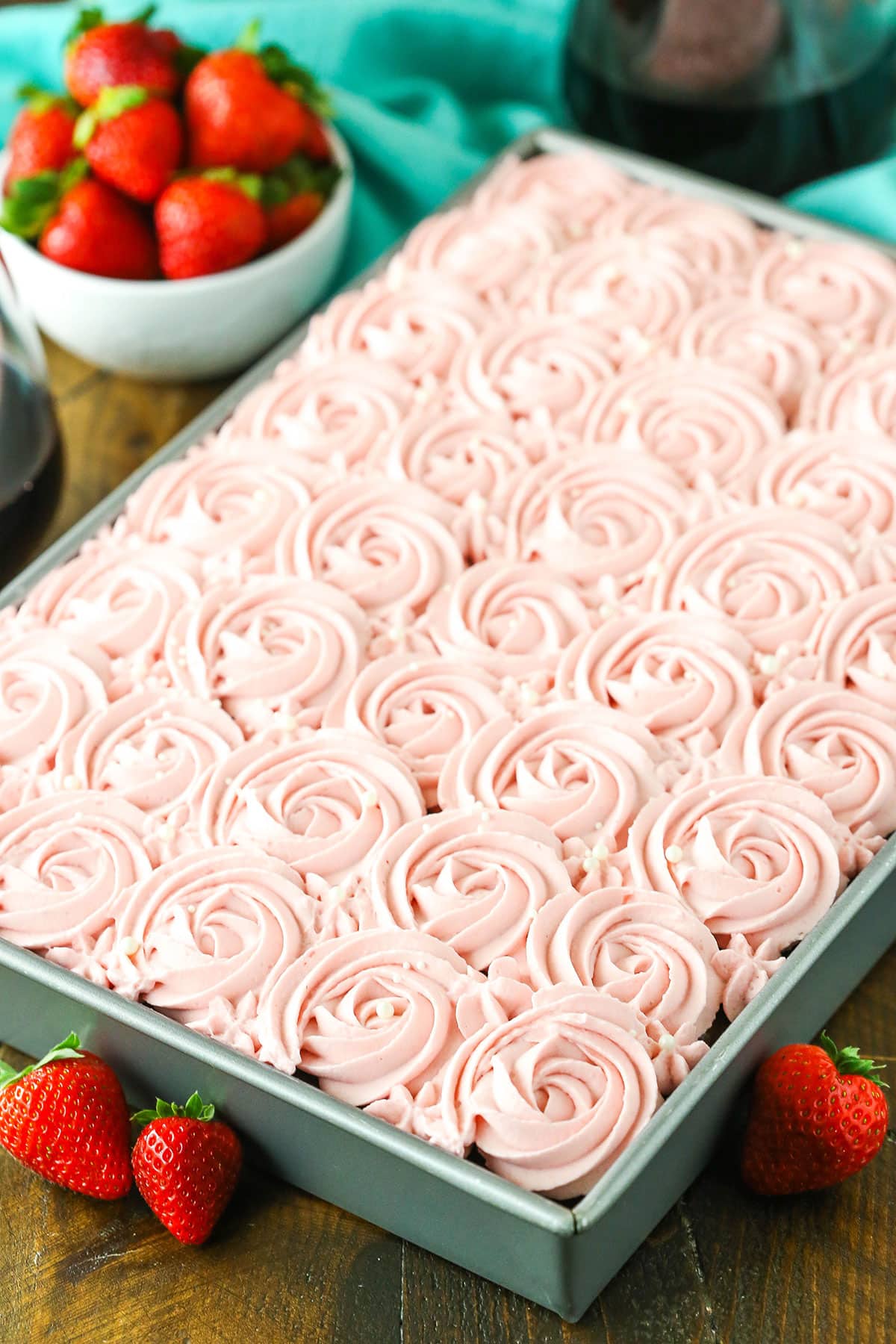 THE BEST RED WINE CHOCOLATE POKE CAKE
So by now you've probably figured out that I'm into boozy poke cakes. I've made a handful of them in more recent times, including a Baileys Chocolate Poke Cake and Kahlua Chocolate Poke Cake. I'm honestly not even that much of a drinker, but I LOVE the flavor of things like Baileys and wine in baked goods. Oh, and beer in foods like cheese. Oh em gee – beer cheese dip.
This Red Wine Chocolate Poke Cake is seriously perfect for many things – a birthday, a girls night (I mean there's roses piped on top, so hello Bachelor watching parties) and even Valentine's Day! Shoot, I'd enjoy it any old night. Why drink your wine when you can pair with chocolate and eat it?!
Plus, this is one easy cake to make and it can totally be made ahead. One of the great things about poke cakes is that they're soaked with tasty-ness that keeps them moist for days. You could easily make this cake a day or two ahead and it'd be fine. I know it may seem scary to make whipped cream ahead, but even the strawberry whipped cream can be made ahead.
I actually shared a photo of this cake on Instagram after it'd been in the fridge for about a week. I'd frozen most of it (because I seriously can't eat all the things I bake, I just can't – even though I want to), but some remained in the pan. I left it in the fridge for a full week and the whipped cream was still just as it was when I piped it. Just be sure to make it just as written and whip it nice and thick. If you have a stand mixer, that's best.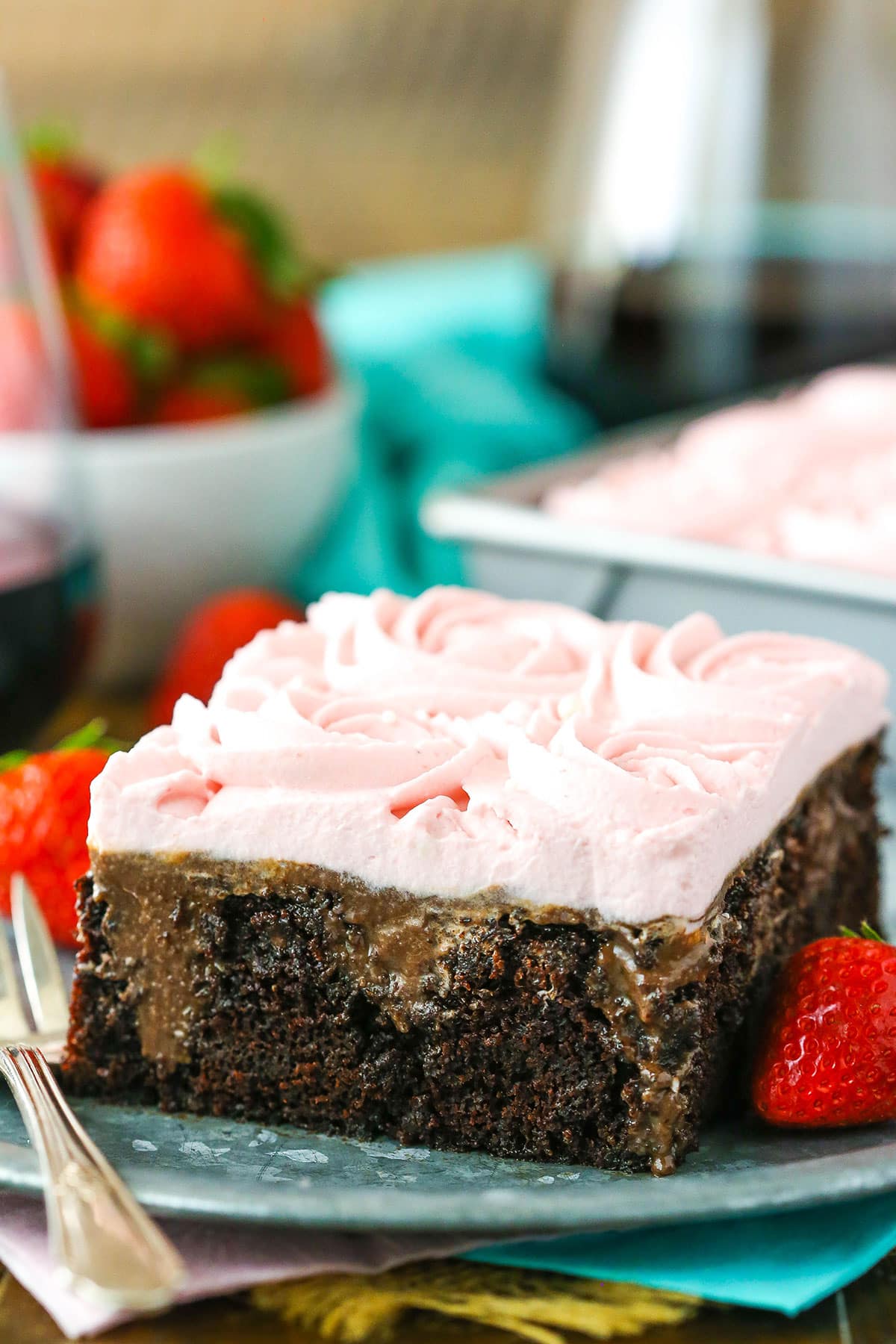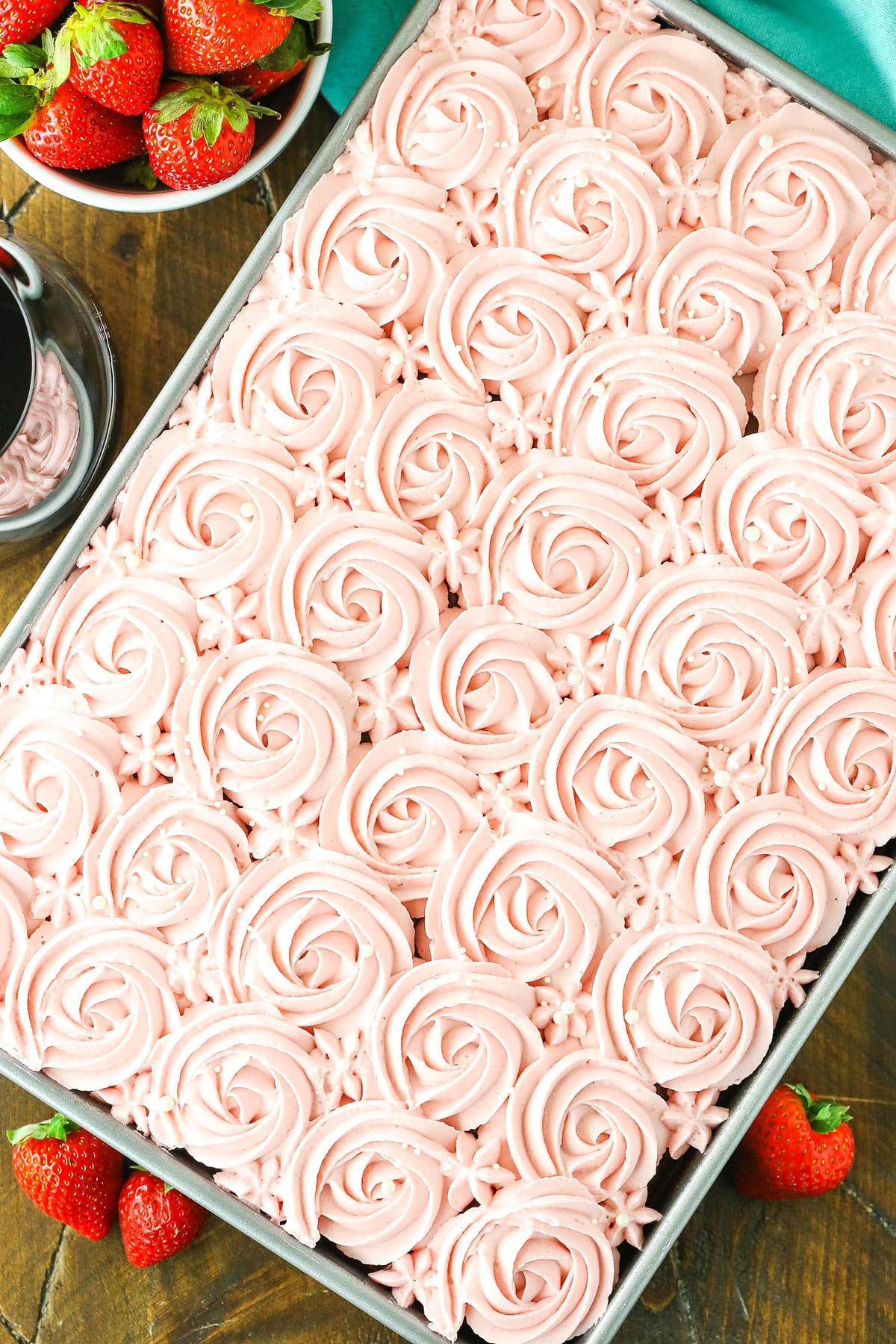 HOW TO MAKE A RED WINE CHOCOLATE POKE CAKE
So to get started with this cake, you'll make my Easy Moist Chocolate Cake. Such a great cake because it is seriously tasty and you pretty much just mix everything together in a bowl. I like to combine the dry ingredients and wet ingredients separately, then mix them all together and add the wine to make sure things all incorporate nicely, but it doesn't get much easier.
And the cake has a FULL CUP of wine baked into it! It gives it a nice wine flavor, without being overpowering. Plus, you add more wine later. BUT, if you are super into a strong wine taste, you could even cook a cup and a half of red wine down to a cup and make it even stronger. 🙂
After the cake is baked, poke it with holes and then heat up some sweetened condensed milk, mix it with more red wine and pour it over some chocolate chips. The warmth from the liquid will melt the chocolate, then whisk it until it's smooth and immediately pour it over the warm cake. You could wait until the cake has cooled, but the warmth of the cake can be helpful in getting the chocolate mixture to fall down into the holes.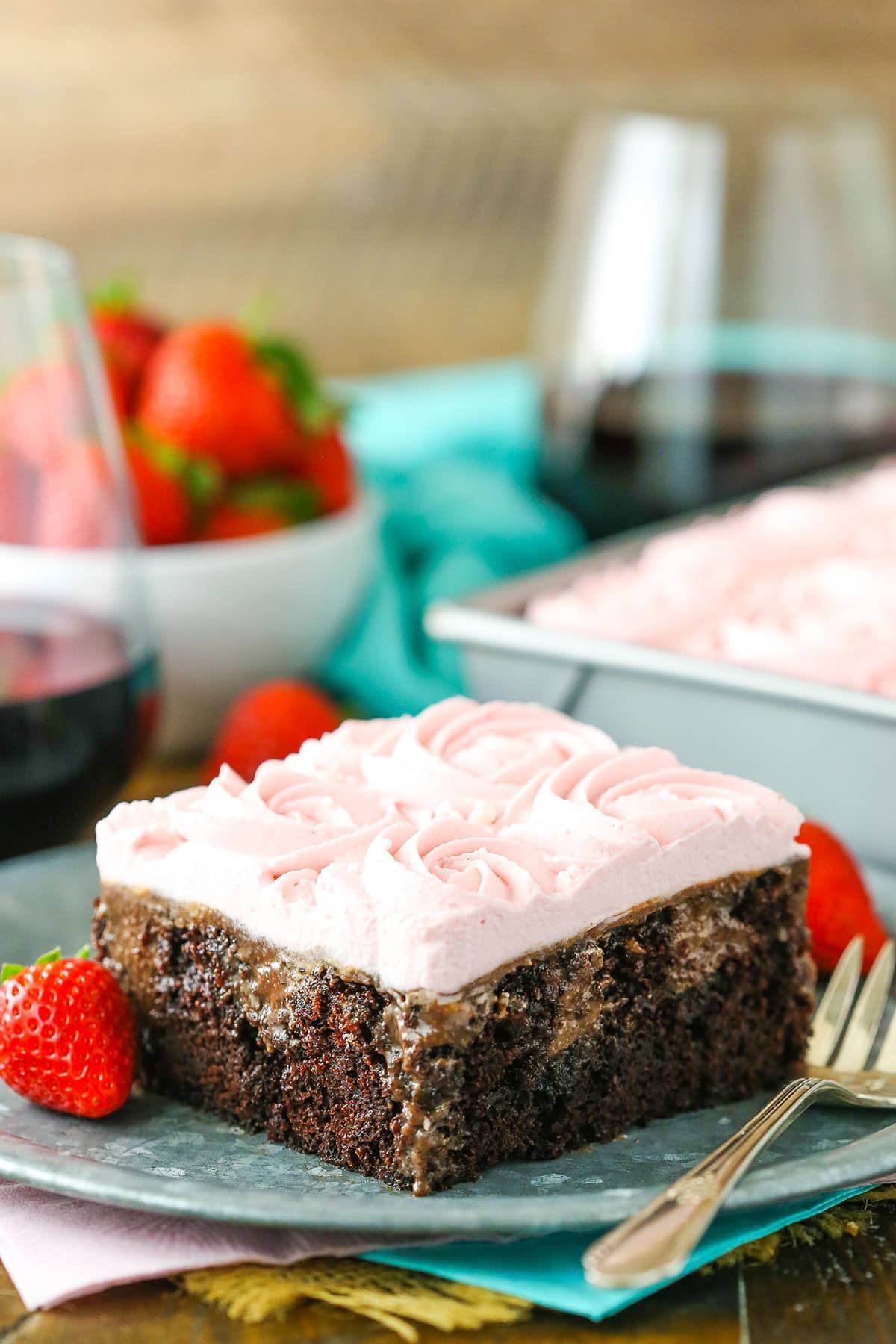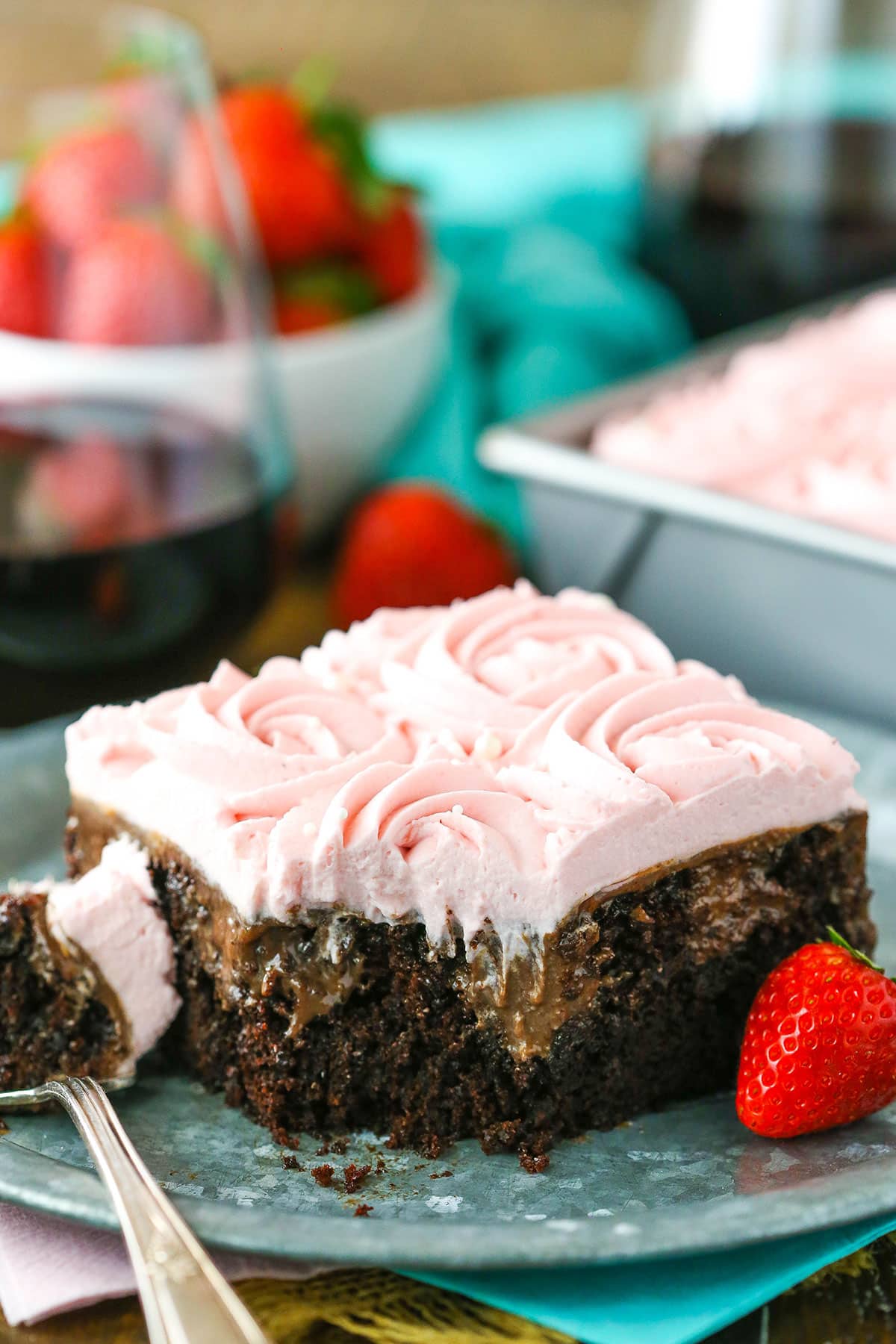 HOW TO MAKE FRESH STRAWBERRY WHIPPED CREAM
After the chocolate has been added to the top of the cake, refrigerate the cake until it's cool. You won't want to add whipped cream to a warm cake or it'll melt.
To make the fresh strawberry whipped cream, add chopped strawberries and a touch of water to a food processor (or even a blender) and puree them. Add the puree to a medium pan and heat over medium heat. You'll let the puree come to a boil and continue to boil for maybe about 15 minutes. Don't let it heat too quickly, but keep an eye on it and stir it consistently so it doesn't burn or end up clumping.
You'll know you've cooked the puree down enough when you end up with about 1/4 cup. I find the best way to measure it is to just pour it into a measuring cup and see how much you've got. Add it back to the pan and keep cooking, if needed.
AN EASY MAKE AHEAD CHOCOLATE DESSERT!
Once the puree is cooked down, let it cool completely then add it to the heavy whipping cream and powdered sugar and whip it until stiff peaks form. It's important that it's well whipped. I really do recommend a stand mixer. A hand mixer would be ok, but I have found that whipped cream doesn't get quite as thick and it's obviously going to pipe better if it's thicker.
Pipe the whipped cream onto the cake, then refrigerate it until you're ready to serve it. The strawberry flavor is really nice and totally compliments the cake, without taking over. There should be just enough whipped cream to cover the cake in rosettes, but you could also keep it super simple and just spread it on top. You do you.
However you choose to finish off the cake, you end up with a totally delicious combination of chocolate and wine. And it's such a great cake to make ahead. It'll stay tasty and moist for a solid 3-4 days, if not longer, when well covered. It's so easy to make, this super moist red wine chocolate poke cake is just what the doctor ordered. After all, red wine is good for your heart. 😉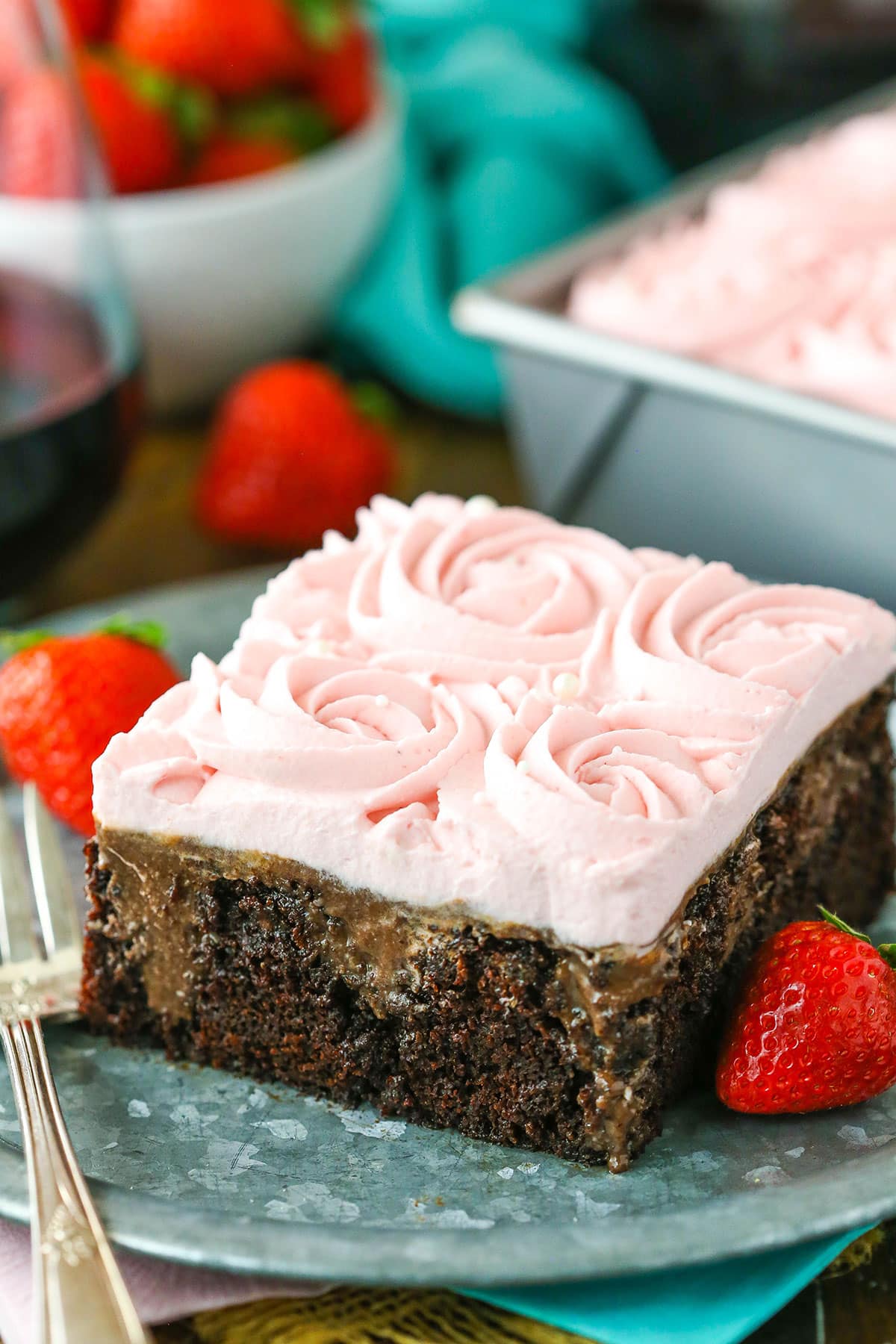 You might also like these cake recipes:
Red Wine Chocolate Cake
Red Wine Sangria
Drunken Chocolate Truffle Cake
Print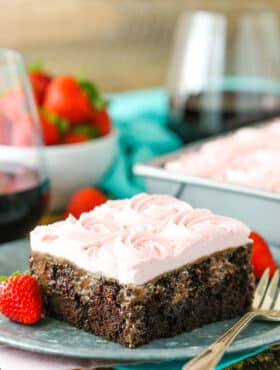 Recipe
Red Wine Chocolate Poke Cake
Author:

Prep Time:

1 hour 15 minutes

Cook Time:

55 minutes

Total Time:

2 hours 10 minutes

Yield:

12-15 slices

Category:

Dessert

Method:

Oven

Cuisine:

American
---
Description
Red Wine Chocolate Poke Cake is moist chocolate cake made with red wine, then soaked with more chocolate and red wine! The topping is a fresh strawberry whipped cream! A dreamy and easy chocolate cake recipe.
---
Ingredients
Red Wine Chocolate Cake
1 3/4 cups

(

228g

) all purpose flour

2 cups

(

414g

) sugar

3/4 cup

(

85g

) natural unsweetened cocoa powder

2 1/4 tsp

baking soda

1/2 tsp

baking powder

1 tsp

salt

1 cup

(240ml) milk

1/2 cup

(120ml) vegetable oil

1 1/2 tsp

vanilla extract

2

large eggs

1 1/2 cups

(360ml) red wine, divided, room temperature

1 cup

(240ml) sweetened condensed milk

3/4 cup

(

127g

) semi sweet chocolate chips
Fresh Strawberry Whipped Cream
1 1/2 cups

(

190g

) chopped strawberries

2 tbsp

(30ml) water

1 3/4 cups

(420ml) heavy whipping cream, cold

1 cup

(

115g

) powdered sugar
---
Instructions
1. Preheat oven to 350°F (176°C) and prepare a 9×13 inch cake pan with non-stick baking spray.
2. Add the flour, sugar, cocoa, baking soda, baking powder and salt to a large mixer bowl and combine. Set aside.
3. Add the milk, vegetable oil, vanilla extract and eggs to a medium sized bowl and combine.
4. Add the wet ingredients to the dry ingredients and beat until well combined.
5. Slowly add one cup of red wine to the batter and mix on low speed until well combined. Scrape down the sides of the bowl as needed to make sure everything is well combined.
6. Pour the batter into the prepared cake pan and bake for 29-32 minutes, or until a toothpick comes out with a few moist crumbs.
7. Remove cake from oven and poke holes all over. I use a knife sharpening rod, but you could also use a straw.
8. While the cake is still warm, add the chocolate chips to a medium sized bowl. Set aside.
9. Add the sweetened condensed milk a microwave safe measuring cup. Heat heat the milk until it begins to boil, then add the remaining 1/2 cup of wine and stir to combine. Pour the hot mixture over the chocolate chips.
10. Whisk the chocolate until smooth, then immediately pour over the cake, spreading it into the holes. Don't let the mixture sit before pouring it over the cake or it'll start to thicken and not soak in the holes as well.
11. Set the cake in the fridge to cool and soak.
12. To make the whipped cream, add the strawberries and water to a food processor or blender and puree until smooth, then strain through a fine mesh sieve to discard the seeds.
13. Add the puree to a medium sized saucepan and cook over medium heat. Allow the mixture to come to a boil and continue to boil, stirring consistently to keep it from burning, until it has thickened and reduce to 1/4 cup, about 15 minutes. To measure, pour the puree into a measuring cup. If it's more than 1/4 cup, add it back to the pan and continue to cook it.
14. When the puree has thickened and reduced, pour into a small bowl and refrigerate until completely cooled. This strawberry mixture can be made ahead, if you like.
15. When cooled, add the strawberry mixture, heavy whipping cream and powdered sugar to a large mixer bowl and whip on high speed until stiff peaks form. Be sure to use the full amount of powdered sugar, which helps stabilize the whipped cream.
16. Pipe the whipped cream onto the cake to create rosettes (I used Ateco tip 844), or just spread the whipped cream onto the cake.
17. Refrigerate the cake until ready to serve. This cake is great to make ahead and could be made 1-2 days ahead and then stored well covered in the fridge. Cake will be best for 3-4 days.
---
Notes
Feel free to use any red wine. I tried both a sweet red and cabernet and there wasn't a huge difference between them flavor wise. The cabernet might have been a touch deeper in flavor, but not much.
Nutrition
Serving Size:

1 Slice

Calories:

524

Sugar:

53.1 g

Sodium:

395.4 mg

Fat:

24.6 g

Carbohydrates:

68.7 g

Protein:

8.2 g

Cholesterol:

65.6 mg
Keywords: red wine chocolate poke cake, poke cake recipe, chocolate poke cake, how to make poke cake, strawberry desserts, strawberry whipped cream, red wine cake, romantic dessert idea, easy valentine's day dessert
Enjoy!
This post may contain affiliate sales links. Please read my disclosure policy.