Are you totally pumped for the holiday weekend? Because I am! A nice four day weekend sounds wonderful! And we are going to spend it having one last hurrah at my family's lake house in North Georgia.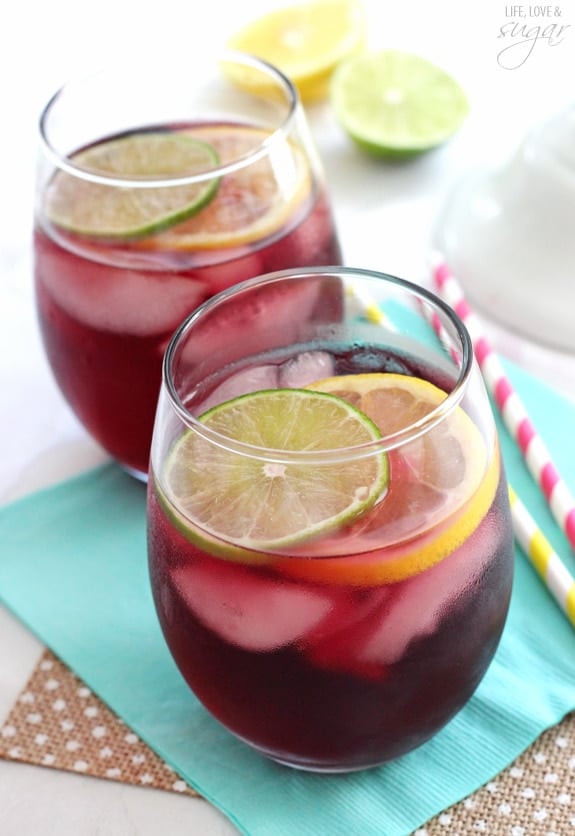 This lake house has been in our family since I was a wee little one. The memories we have there are so great and even though the house hasn't been used as much in recent years, it's sad to see it go. I actually got a little teary thinking about it the other day and am again as I write this.
It's one of those places that is in the middle of nowhere – no phone or internet. The "grocery store" is a gas station with a few staples (like bread and milk, not like you staple paper together with 🙂 ).
There was actually a crazy good lineup of candy right as you walked in the door to the gas station and my little brother and I would always get something. My candy of choice was either Fun Dip (always a lover of sugar) or a Charleston Chew.
Come to think of it, I think my older brother recently told me that gas station closed down. Another tear…
A few other memories that stick out the most:
1. The dock. When my dad bought the house, the dock was a tiny little thing – maybe 10 by 10 at the biggest. My dad has 5 brothers and I have 3 siblings and a number of cousins. We would all squish onto that thing. There is a picture of it somewhere and if I find it, I will post it on instagram. It's hilarious.
Shortly after buying the house, the guys got rid of that dock and began building a two story dock that never quite got finished until years later when my brother finally paid to have someone finish it. It was always fun to get a running start to jump off the top level prior to getting finished off with railings.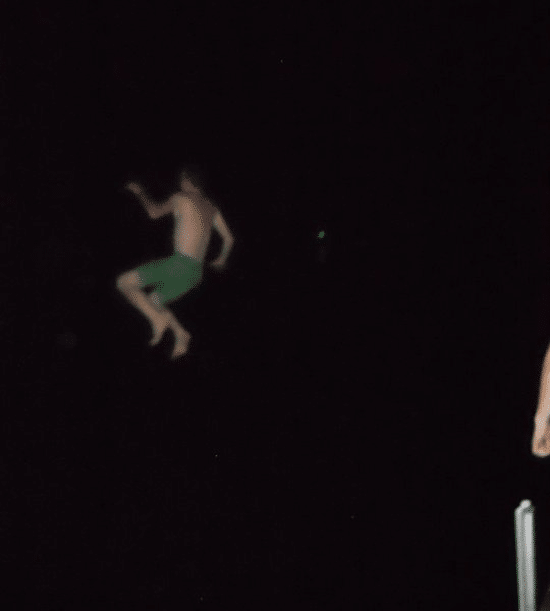 The hubs night jumping off the dock a couple summers ago.
You can't see a thing because it's so dark. Scary!
2. We have a family game that has been played countless times in countless places but there was no better time than playing it there with the whole crazy family. The crap talking never stopped and there were countless late nights.
3. My "island." There was this crazy little strip of sand in the middle of one part of the lake that I had to visit every time we were there. I called it my island. It was between 10 and 15 feet long at the most and only a few feet wide. There were a couple tiny trees and bushes and when the water was high those would be all you could see. I just loved playing on it.
4. The sunsets. Just beautiful. The best view on the lake. I will always remember my parents sitting on the edge of the dock eating cheese and crackers and watching the sun go down while my younger brother and I played in the water until the sun was all but gone.
Again, I'm sad to see it go but I can't wait to have one more awesome weekend and one more great memory with the hubs, some friends and Jessie. I will probably even try to find my island one last time. 🙂
And this sangria will make several appearances.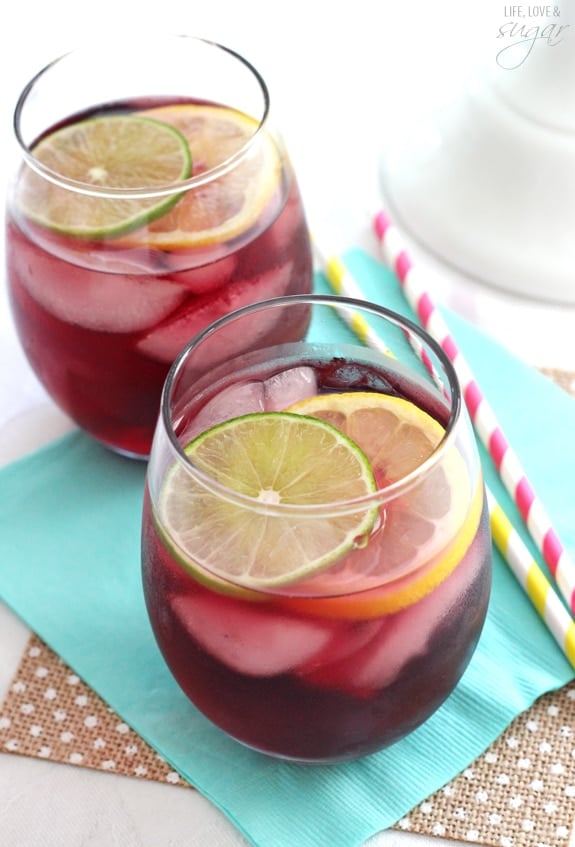 It has already made several appearances at our neighborhood pool and has quickly become a favorite of our friends. We also made it when we were at the beach at beginning of June.
I love how easy it is to throw together and once you buy the initial bottles of liquor, getting a cheap bottle of sweet red wine and some fruit is easy and inexpensive. The hubs thinks it's the most refreshing thing ever. It's nice and fruity without being too sweet.
The red wine you use doesn't seem to matter much, as long as it's a sweet red wine. I've gone to WalMart and gotten a $6 bottle and it's great! You could probably use a cabernet and add sugar, but I haven't tried it yet so I can't really advise.
Just a warning though – the alcohol in it is no joke. You don't even taste it, but you'll probaly feel it. A 99 proof banana liqueur will do that to you if you aren't careful. 😉 Of course you could use a lower proof banana liqueur if you prefer.
Print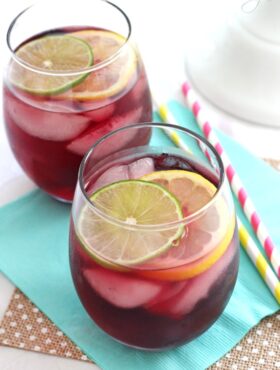 Recipe
Red Wine Sangria Recipe
Author:

Prep Time:

5 minutes

Total Time:

5 minutes

Yield:

8-10 servings

Category:

Drinks

Cuisine:

American
---
Description
Learn how to make red wine sangria with this easy and delicious drink recipe!
---
Ingredients
1

1500 ml (

1.5

L) bottle Sweet Red Wine

24 oz

Ginger Ale

1 cup

clear Rum

1/2 cup

99 Bananas liqueur (or another banana flavored liqueur)

1

lemon, sliced

1

lime, sliced

1

orange, sliced
---
Instructions
1. Mix the red wine, ginger ale, rum and banana liqueur together in a large drink container.
2. Squeeze fruit wedges into red wine mixture and toss in the fruit wedges (leave out seeds).
3. Serve cold over ice. You can serve immediately or refrigerate for about 24 hours.
---
Notes
If you plan on refrigerating the sangria overnight, I highly recommend removing the fruit or waiting to add it. The sangria has a tendency to take on the rind flavor if left in too long.
Nutrition
Serving Size:

1 serving

Calories:

223

Sugar:

13.5 g

Sodium:

6.9 mg

Fat:

0.1 g

Carbohydrates:

19.1 g

Protein:

0.3 g

Cholesterol:

0 mg
Keywords: red wine sangria recipe, how to make sangria, easy sangria recipe
Filed Under:
Enjoy!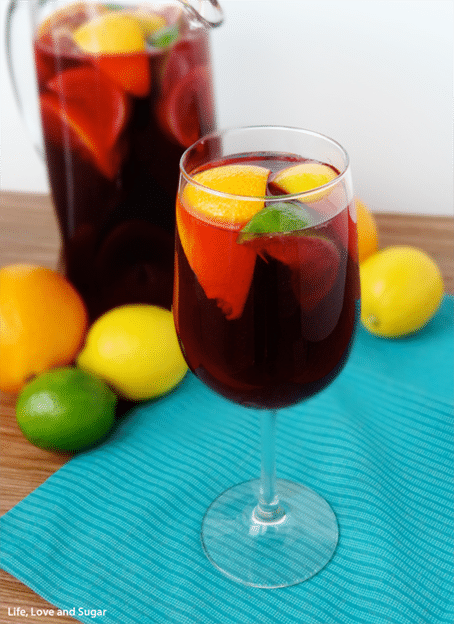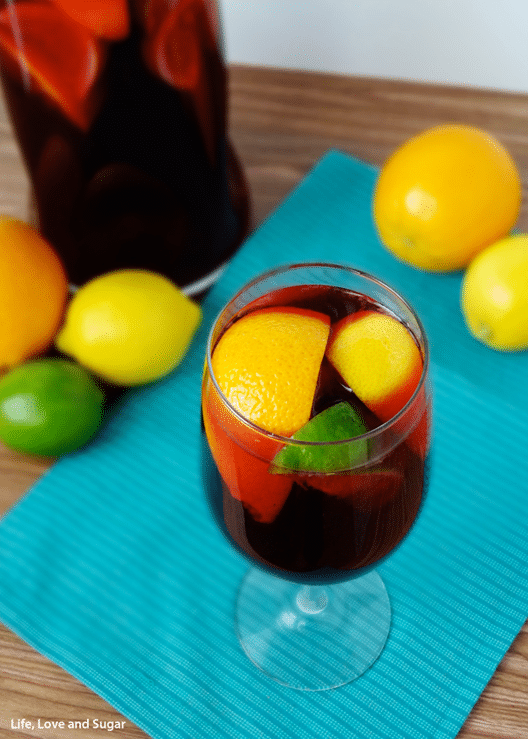 This post linked to Skip To My Lou, I Should Be Mopping The Floor, I Heart Naptime, Inside BruCrew Life, Chef In Training, Pint Sized Baker, Mandy's Recipe Box, Keeping It Simple, Love Bakes Good Cakes, Flamingo Toes and I Should Be Mopping The Floor.
This post may contain affiliate sales links. Please read my disclosure policy.